Last Updated on
Buttering Trio, an outstanding music band from Tel Aviv, Israel, will be performing live on September 22nd at Muro Art Forest, an open-air museum designed by Dani Karavan, a world-famous sculptor who is also from Tel-Aviv, Israel. They'll kick off their Japan Tour in Uda City, Nara Prefecture, and it will be their first outdoor live show. Come and enjoy the cultural fusion of modern art and music Israel has ever produced.
It is a good idea to visit Muro-ji Temple first, one of the area's historic temples, then to Muro Art Forest. From the temple, there will be shuttle buses on the day of this event, or you can even walk to the Art Forest (about 20-minute walk, see below for more details).
Sat, September 22nd, 5pm to 6pm
at Muro Art Forest
Access & information
Take a bus at Muroguchi-Ono station (室生口大野, D46) for Muro-ji (室生寺) and get off at the final stop. Walk for 20 minutes. The last bus for Muro-ji departs at 4 p.m.
Shuttle buses are available from Muro-ji Temple area to Muro Art Forest.
Shuttle buses will be running back to Muroguchi-Ono station after the concert.
This is a free concert
The show may be canceled in case of inclement weather.
For more information about the venue, please check Muro Art Forest information page
For inquiry, please contact East Nara Nabari Tourism Marketing or Embassy of Israel in Japan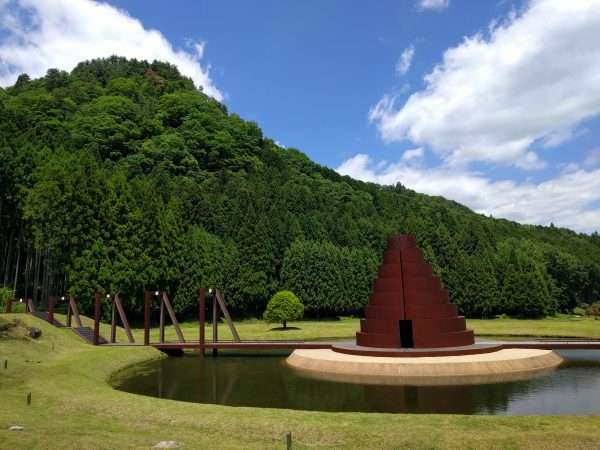 Buttering Trio
"Buttering Trio are three gentle souls from Tel Aviv trying to bring the funk to the desert. Using heavy beats, fat bass lines and sweet yet poignant lyrics, they bring some peace in a troubled region." -Buttering Trio Official Website
Buttering Trio Japan Tour 2018
September 22: Muro Art Forest in Uda city, Nara
September 24: Troopcafe in Kobe
September 25: WWW in Shibuya, Tokyo
September 26: Motion Blue Yokohama in Yokohama
*The bassist Beno Hendler will be absent for the tour and will be replaced by Yogev Glusman.
Dani Karavan
"Daniel "Dani" Karavan (Hebrew: דני קרוון‎, born 1930) is an Israeli sculptor best known for site specific memorials and monuments which merge into the environment." -Wikipedia
Link: Dani Karavan Official Website