This event has passed
Enjoy a ride and beautiful autumn scenery in Higashiyoshino
A casual cycling event will be held in Higashiyoshino, a village with clear streams and serene mountains. This event is not about competing for speed or distance but about riding a bike while enjoying the scenery.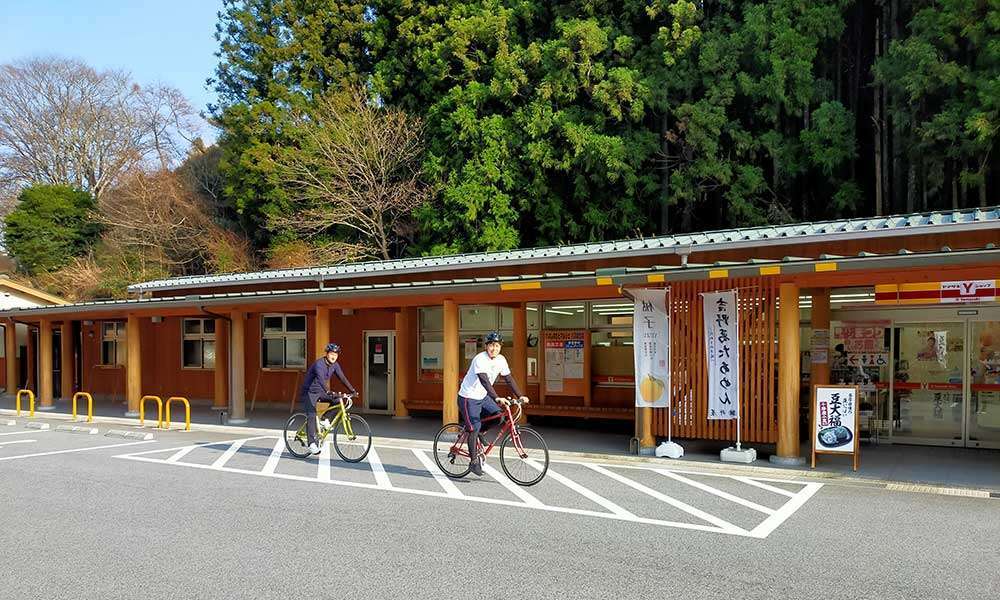 What's the fun part of this event?
You can get a prize by collecting points at checkpoints on the route. You can go around in any order you like!
Date & Time
Saturday, November 27th
Reception: 9 am - 9:45 am
Starting time: 10 am
Ending time: 2 pm
Participation
Fee: Free
Requirements: 3rd grade and up (a parent or guardian must accompany junior high school students and younger)
Advance registration required (see the bottom of this page for application)
As for food and drinks, bring your own or purchase on the route.
The event may be canceled in case of rain. (The decision will be made based on the weather forecast on the 25th and will be notified by phone.)
A limited number of rental bicycles are available. If you like to rent one(s), tell us when you apply.
Route
You will be riding in Higashiyoshino Village, mainly along the river: A total distance of 28km.
Reception & Parking
99 Ogawa, Higashiyoshino Village, Yoshino-gun, Nara Prefecture(FYI:
Higashiyoshino Village Office
)
Important Notes
There will be no traffic restrictions during the event. Please observe the traffic regulations.
Please wear a helmet.
The road surfaces in the mountainous area are rough and rocky. We recommend you carry spare tubes, etc., to resolve troubles.
Some part of the route has no phone signal.
The organizer has taken out accident insurance. The organizers will provide support in case of accidents, etc. However, participants are responsible for dealing with any problems between themselves.
The organizer will not be held accountable for any damage or theft of cars, bicycles, or personal belongings.
Parking is free of charge.
Please refrain from sleeping in cars, setting up tents, or using fire in the parking lot or nearby areas.

The organizer will check your body temperature on the day of the event.

If your temperature is 37.5℃ or over, we kindly ask that you refrain from participating in the event.
It is mandatory to have liability insurance on your bicycle in Nara Prefecture, where the event is held.
The event is subject to change or cancellation due to COVID-19 concerns.
If your earned points appear to be fraudulent, they will be invalidated.
Application
Max. number of participants:

100
First-come-first-served basis
Apply for a group of up to five people. (For example, if you are a party of 6, you can split into two groups: 3 and 3)
To apply, contact us by November 24th
Organizer: Higashiyoshino Village