Canceled for 2020 due to COVID-19 pandemic
Only in Japan!
A Free Rock Concert at a Buddhist Temple
In early summer, A hard rock concert is held at Soyu-ji Temple (宗祐寺) in Uda City. Originally having started as a part of the local event 'Okage Festival', the show is becoming more popular among rock fans. In the past, it had Earthshaker, Japan's one of the most legendary hard rock bands, as a headliner. Various tribute hard rock / heavy metal bands play their music loud on the stage set up at the entrance to the temple hall. If you like music like Judas Priest, AC/DC, and such, you will surely enjoy the show!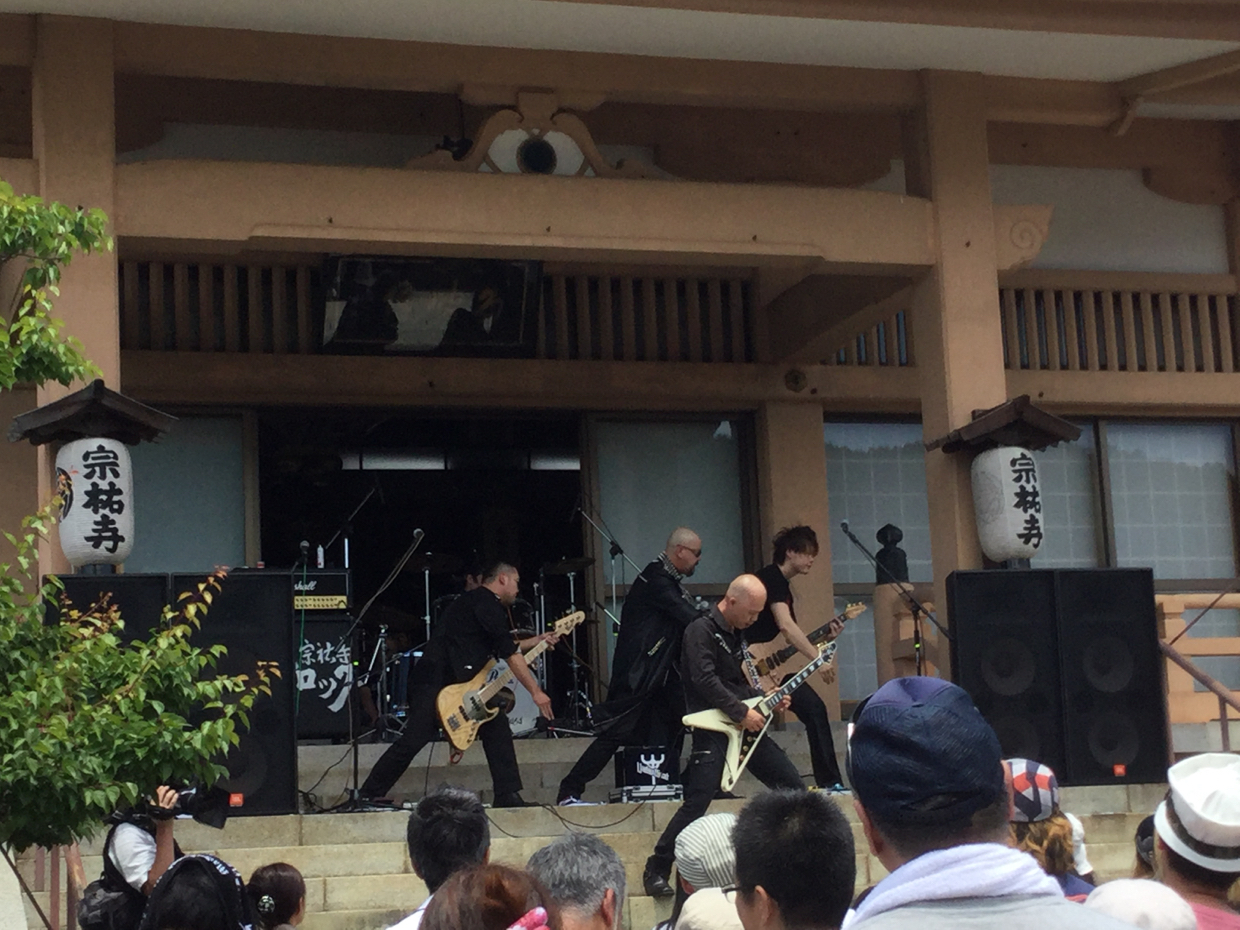 How to enjoy Tera Rock
The following is translated information from the organizer. (translated and edited by ENN staff)
From the concert organizer
Tera means 'temple' in Japanese. Tera Rock is a free rock concert held annually at Soyu-ji Temple in Uda City, Nara prefecture, to help the town thrive. We especially thank Soyu-ji Temple for their support to make this happen. We ask for your consideration and cooperation to make this event a greater one for every rock fan.
We have a donation booth at the venue. Your understanding and cooperation will be deeply appreciated.
Tera Rock is also a part of the local event called "Okage Festival of Ise Kaido". Meet the local people, enjoy many other exciting activities and delicious local food there.
Okage Festival starts at 10 am, while the concert itself is from 11:30 am.
Sunday, June 2nd 2019
at Soyu-ji Temple
Rules
Tera Rock is a standing concert. If you like to sit, you can bring your own seat such as a small folding chair. The staff will arrange seats for elderly people and people with disabilities.
No entry allowed except the audience area at the temple.
Do not enter the temple before 11:30 am.
In case of overcrowding, admission may be limited in order to secure the safety of the audience.
You can bring in beverages but no food is allowed to be brought in. Take your trash home as there are no trash cans at the venue.
No umbrellas allowed during the event, except in uncrowded areas
The event will be held unless it is heavily raining. If you are worried about unstable weather, prepare your rain gear.
Women's restrooms are located in Hondo (main temple building).
Refrain from reserving your seat with your belongings such as picnic sheets to avoid any troubles.
No video or audio recording, no photography is allowed during the performance by Earthshaker.
Follow the instructions by the staff organizers.
Prepare for hot weather. Drink water to prevent dehydration.

About cancellation
The event will be canceled in case of stormy weather
Check one of the below pages for cancellation information