Last Updated on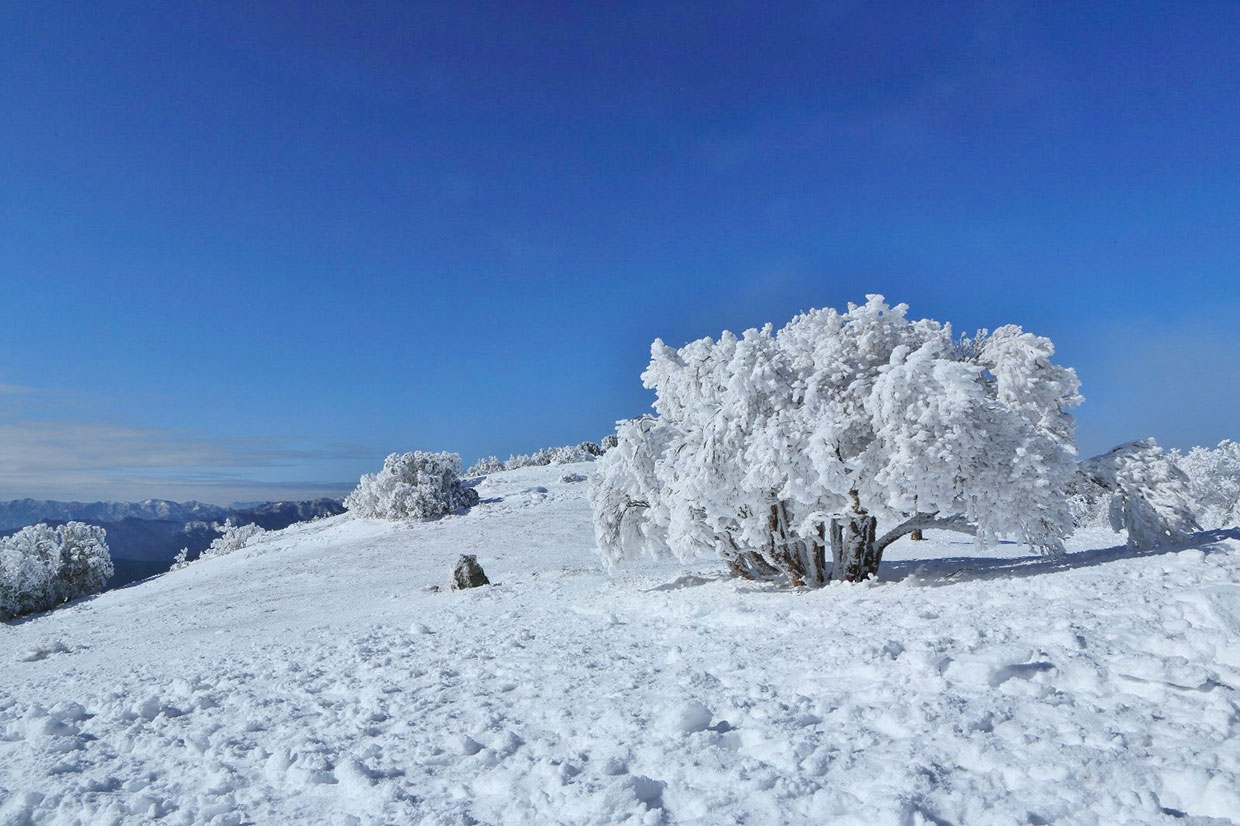 Although winter is the most severe season to climb the mountain, the reward is the view—the rime ice. Mt. Miune Rime Ice Festival is held on Saturdays, Sundays and national holidays from January 12th to February 24th, 2019. The shuttle bus called "Rime ice bus" runs from the train station during the festival.

It might be a good chance to climb with locals and become friends with them, as a lot of mountaineers gather on the days of the festivals. There are some food and drink stands at the trailhead that fill your stomach. There is also a hot spring nearby, where you can relax and warm your body after hiking. So don't miss the beautiful scenery!
General information
Mt. Miune is 1,235m high. It takes approximately 4-5 hours to climb up and down the mountain. Prepare the proper winter clothing and footwear (you will need at least snow boots but crampons work the best).
Hiking difficulty: Moderate
When
1:00 pm – 5:00 pm
January 12, 13, 14, 19, 20, 26, 27
February 2, 3, 9, 10, 11, 16, 17, 23, 24
Where
Mitsue Youth Travel Village (Located at the trailhead)
address: 1790 Kōzue, Mitsue-mura, Uda-gun, Nara-ken (Map below)
Access
By railway:
Get off at Haibara (榛原) station of Kintetsu Railway. The shuttle bus runs between the station and Mitsue Youth Travel Village, the trailhead (みつえ青少年旅行村).
Note that the rime ice bus goes to two destinations. Check the bus destination sign and look for 三峰山, which reads Mt. Miune, to join the event.
Bus departs from the south side of Haibara station at 8:15 a.m., 9:15 a.m.
Bus departs from Youth Travel Village at 3:00 p.m., 4:00 p.m.
Bus fare (one-way): JPY1,350/adult, JPY680/child
By car:
Take exit Hari (針) I.C. onto R369 or Ueno (上野) I.C. onto R368 from Meihan National Highway and drive 60 minutes.
* You will need snow tires or snow chains.
Special offer
January 12: Zoni (Japanese soup with mochi or rice cake)
January 20: Amazake (sweet hot Japanese drink made from fermented rice)
February 11: Mochi pounding event
February 24: Coffee
More information about Mt. Miune on this site
Flyer about the festival (Japanese)