Last Updated on November 25, 2021
Show us your #Nabari_kando
A Campaign by Nabari City
"Kando" means strong impression, excitement, or inspiration. We want you to share your "kando" or "wow" moments that you had in Nabari via Instagram. 
Winners get local specialty products or perks! Here's how you enter the contest.
How to Join the Contest
1. Follow
Follow the official Nabari City Instagram account (@nabari_mie_official).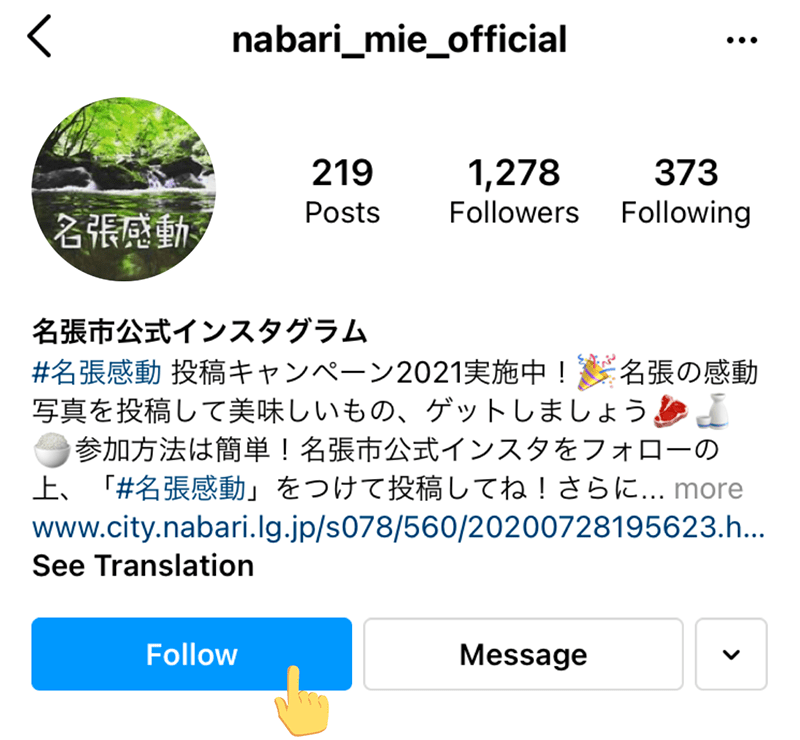 2. Post a photo (or photos!)
Post a photo to your Instagram account. Make sure your account is open to the public.
3. Tag it
Tag it with #nabari_kando or #名張感動
4. Reviewed
Your photo(s) will be reviewed by the selected judges (see below), and winners will be chosen. Please note the number of Likes is not a criterion for judging.
5. Win!
The winner will get a message on Instagram. See below for the prizes and details!
Contest Details
CONTEST PERIOD

April 5, 2021 - November 30, 2021

AWARDS

Seasonal Grand Prize: 2 winners per season. Each winner gets a ¥10,000 value Nabari's specialty gift.
Seasonal Runner-up Prize: 10 winners per season. Each winner gets a ¥2,000 value wagashi sweet gift certificate that can be used in Nabari.
Annual Grand Prize: 1 winner per year, selected from the seasonal winners. The winner will get a surprise gift!

PHOTO REQUIREMENTS

Photos posted within the contest period are eligible.
Photos should be related to what you experienced in Nabari City.
You can post as many photos as you want.
Photos taken in the past are also eligible.
Photos can be retouched, but over-edited photos such as collage or composite pictures are not qualified.
Photos that have won awards in other contests in the past are not eligible.
The photos must have the permission of the subject and the photographer for this campaign.

THE JUDGES

Miki Kawachi, photographer
Rica Miyama, graphic designer and art director
Mari Fuchigami, YouTuber and Instagrammer
Tomoko Takayama, Nabari city promotion
Nabari Tourism Association
Manager of Regional Revitalization Department of Nabari City Hall

RESULTS

Results will be announced on this page, the official Nabari City website , and the official Nabari City Instagram account  by December 31. Winners will be notified via Instagram's message. If no reply is received by the designated deadline, the right to receive the award will be revoked.

OTHER NOTES AND DISCLAIMER

Prizes are not transferable or redeemable for cash.
The city of Nabari is not held responsible for any liability issues such as infringement of portrait rights, copyrights, or other rights of third parties.
The city of Nabari reserves the right to invalidate entries for any content that does not fit the purpose of this campaign, such as: content that is offensive to public order and morals, content that defames third parties, content that violates or may violate laws and regulations, content that may lead to criminal acts, content that may disclose personal information, etc.
Do not enter private properties without permission for photo shooting. When you take pictures at a shop, please ask for permission.
Entrants will not raise any objection to the operation of the campaign or the selection process.
Please note that the city of Nabari may use the submitted photos as public relations media such as posters, leaflets, promotional videos, etc.
The personal information provided will be used only for administrative purposes related to this campaign, such as shipping products. However, the entrant's name may be published when the winning entry is announced, with the entrant's consent (or their guardian's).
This campaign is not affiliated with Instagram.
When using Instagram, please comply with the terms and conditions of Instagram. The city of Nabari will not be held responsible for the content posted by entrants on Instagram or any other social media or for any problems related to such content.
The city of Nabari will not be held responsible for any damages caused by the interruption or suspension of the campaign operation due to the operating environment of Instagram and related applications.
Entrants pay all Internet connection fees, packet communication fees, and other expenses related to the application process.
You may not be able to apply for the contest due to your smartphone model, usage conditions, connection environment, or other reasons.
We will not be able to respond to any inquiries regarding the operation of Instagram or the settings of your smartphone.
This campaign is subject to cancellation without notice.