I recently learned that grape picking is the seasonal thing to do during summer in Japan; and Nabari was the place to do it. I further discovered that grape picking gardens were located not far from my closest station, Nabari station; and that picking season had just started for 2023 (July 20th to October 31st).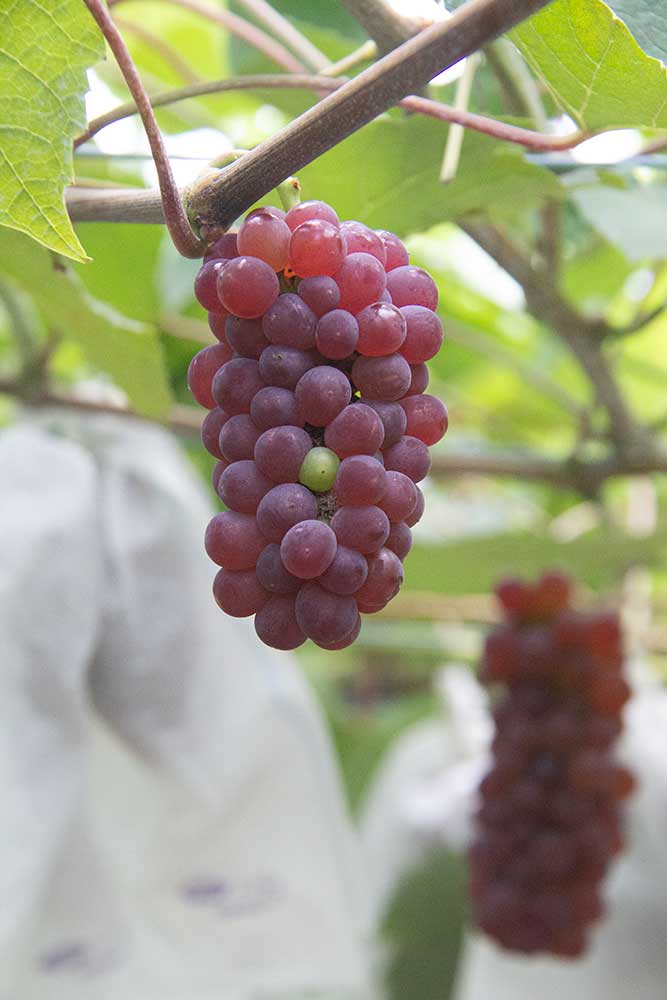 I had to try it out and see for myself, so I decided to head over on the first weekend of the season for an adventure.
Heading to the Grape Farm
Starting my day from Nabari station, I set the destination on my GPS to the Shorenji Lake Grape Farm Tourist Information Center. After a short 10-minute drive, I arrived at the information centre and parked in one of the available free parking spots.
Shorenji Lake Grape Farm Tourist Information Center

Shorenji Lake Grape Farm Tourist Information Center

Parking at the Tourist Information Center
Staff at the Information Desk greeted me. Telling them I was interested in grape picking, they allowed me to purchase a ticket, handed me a map, and pointed out where to go next.
My ticket was 1,500 yen because it was the Delaware grape picking period.
They explained that I would drive to a specific garden for grape picking. Hearing this and looking at the map, I came to realise that this was a grape garden village. Several gardens were in the area. Each grape garden is owned by a different company or family.
My 1500 yen Grape Picking ticket

Map to Tsujimoto Grape Garden 38
My grape picking adventure was to be held at Tsujimoto Grape Garden 38 (辻本園38号). 
To Grape Garden 38, it was roughly a 150m drive from the information centre.
When I reached Grape Garden 38, I got myself a free parking spot near the garden and walked to the entrance.
Parking at Tsujimoto Grape Garden 38

Arrived at Tsujimoto Grape Garden 38
I was soon greeted by a lovely lady named Tsujimoto-san, owner of the garden. She took my ticket, asked me to apply hand sanitiser, then checked my body temperature. Whilst facial masks were not necessary, staff needed to make sure that customers were healthy.
Next, Tsujimoto-san had Okamoto-san, an employee at the garden, hand me a pair of scissors, a mesh basket, then walked me to my table in the garden to begin my grape picking journey.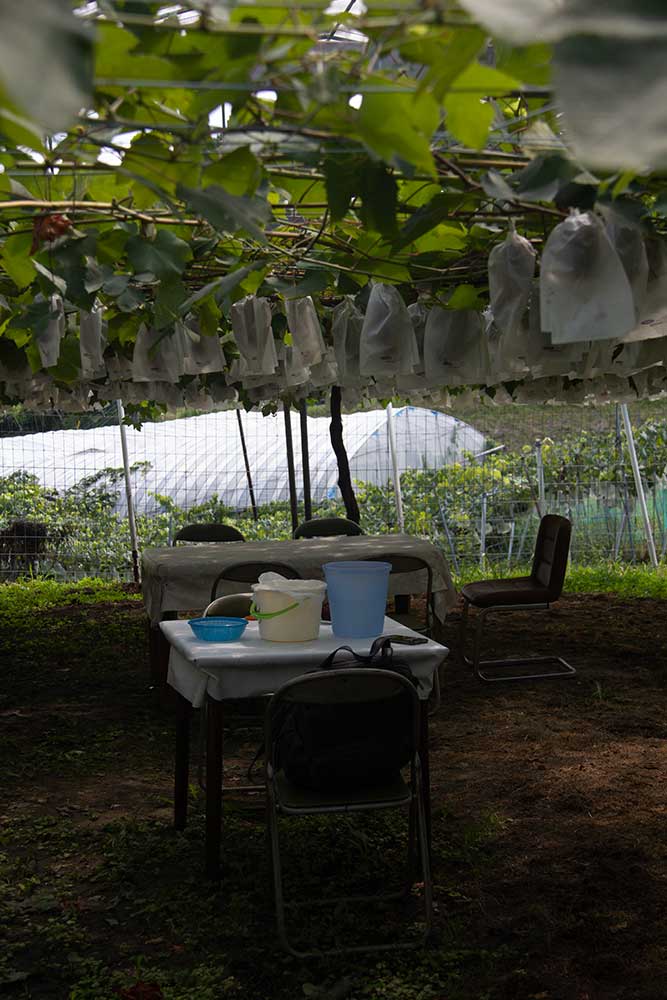 As Okamoto-san walked me to my table, she pointed out the various garden facilities - toilets, wash basin, place to collect clean water, and the different types of bins.
Where to wash hands

Where to collect clean water
Toilet facilities

Bins to put in paper bags only
Whilst listening to Okamoto-san, I looked around. The garden was beautiful.
Vines and grapes created a ceiling of the garden. Countless of bunches of grapes, protected in white paper bags, were just hanging from the vines. It was quite a sight.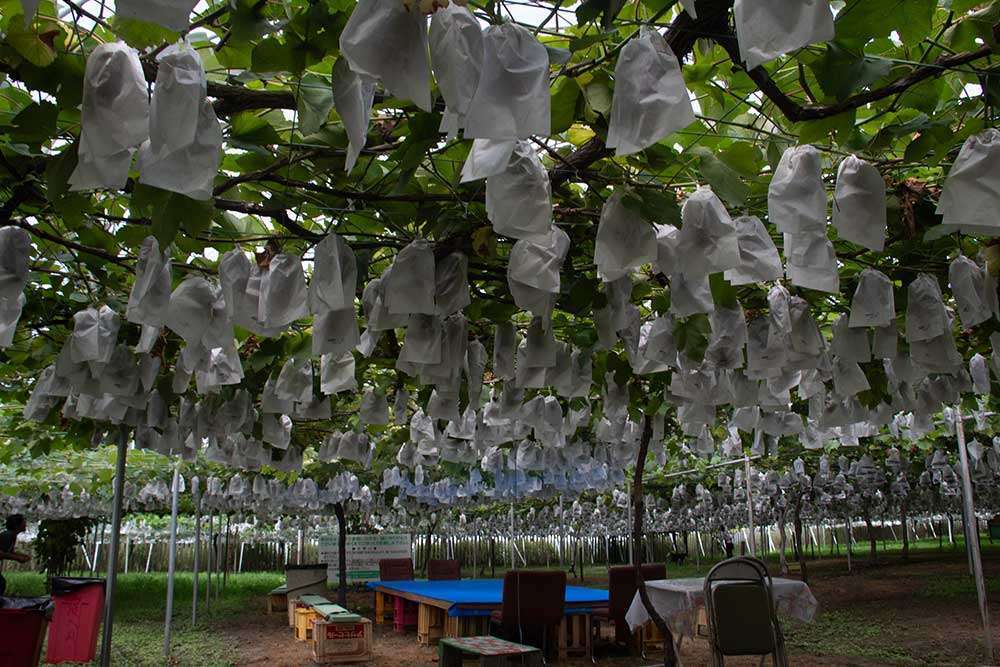 The Grape Picking Process - for the Best Delaware
Next, Okamoto-san explained how the grape picking process worked.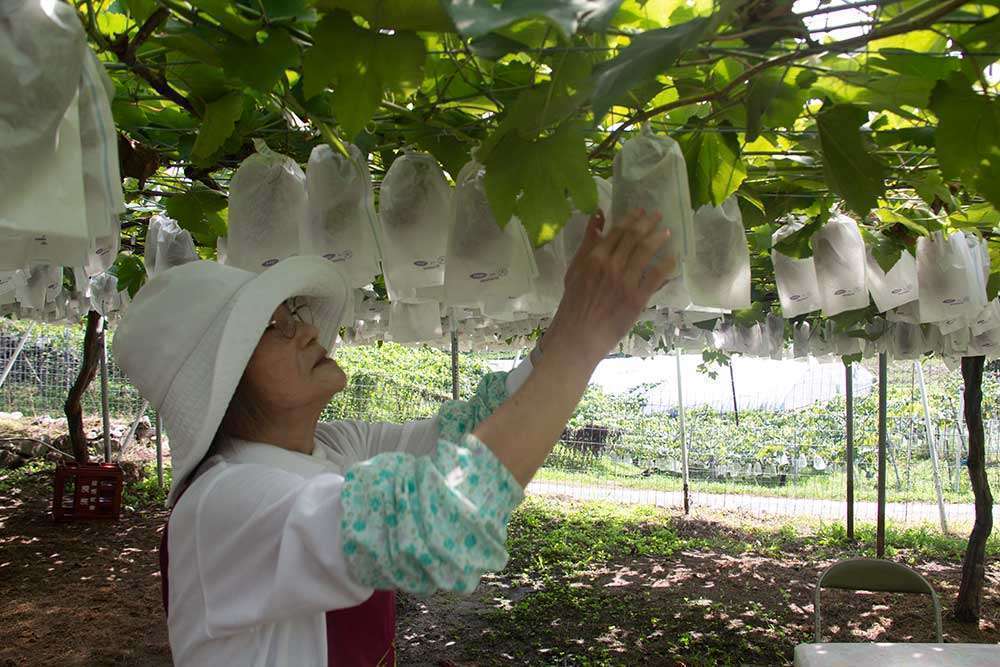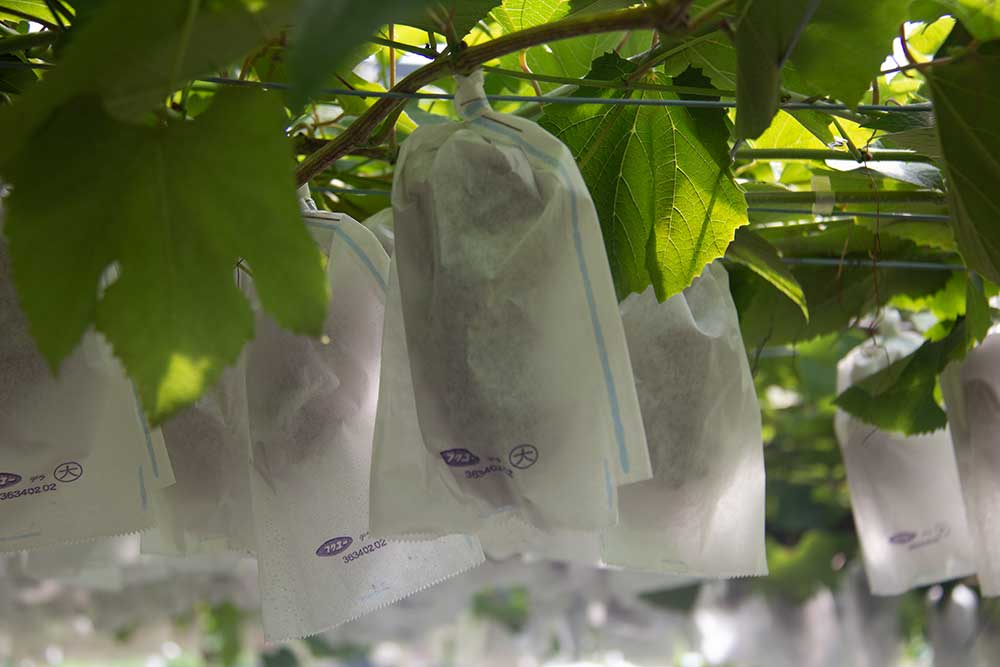 My table was in the area where the Delaware grapes were. This was the grape type in season during my visit and what I was harvesting for the day.
Okamoto-san explained a few tips to ensure you get the best Delaware grape bunch.
Tip 1: The darker the grape vine, the better
Ensure the main vine for the grapes is a darker colour. Naturally, the vines are a green colour. Darker vines indicate the grapes hanging from there are good for harvesting.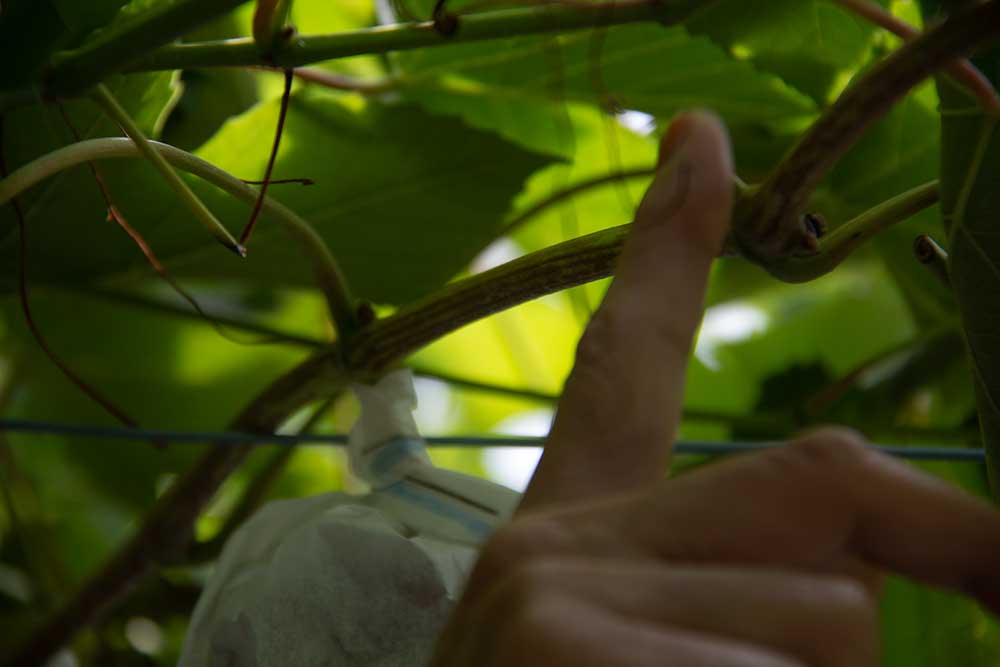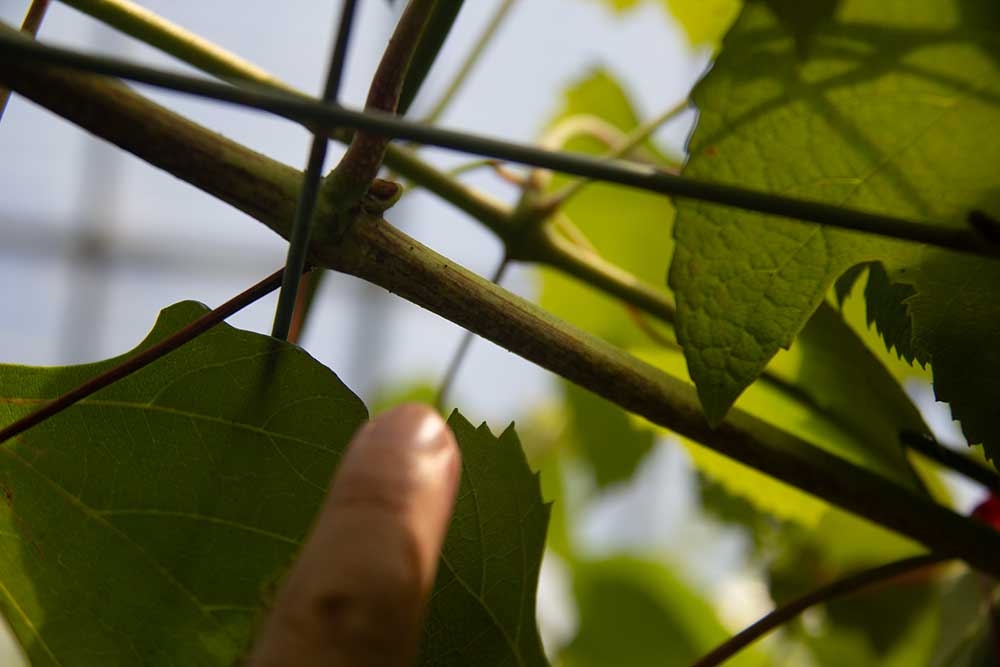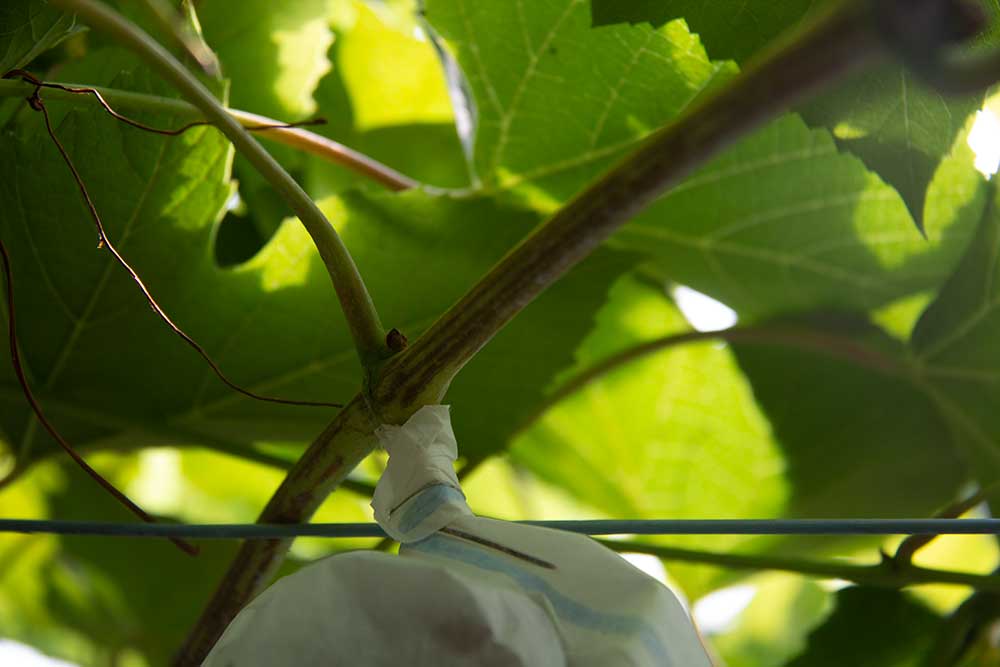 Tip 2: Watch where you cut
Cut at the top of the grape bunch, not the main vine.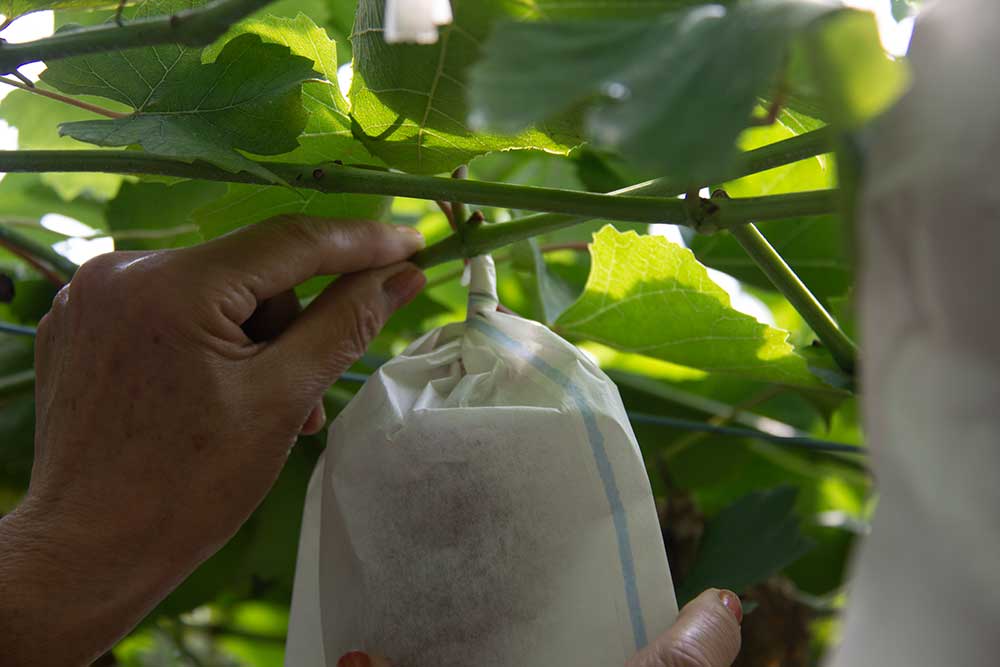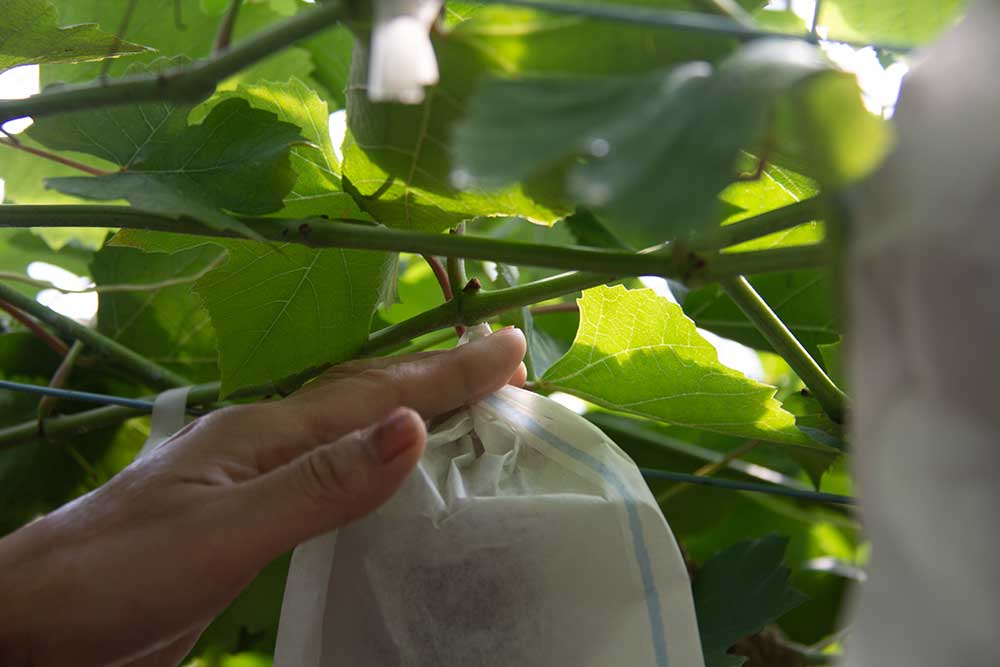 Tip 3: The darker the colour grapes, the better the Delaware
For Delaware grapes, the darker the purple, the sweeter and juicier they are.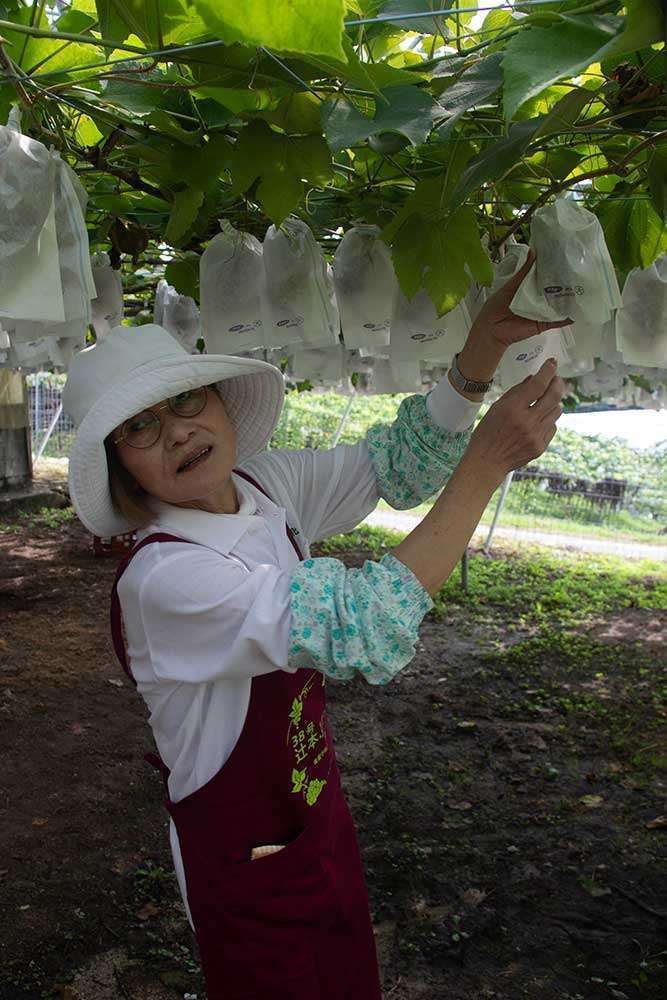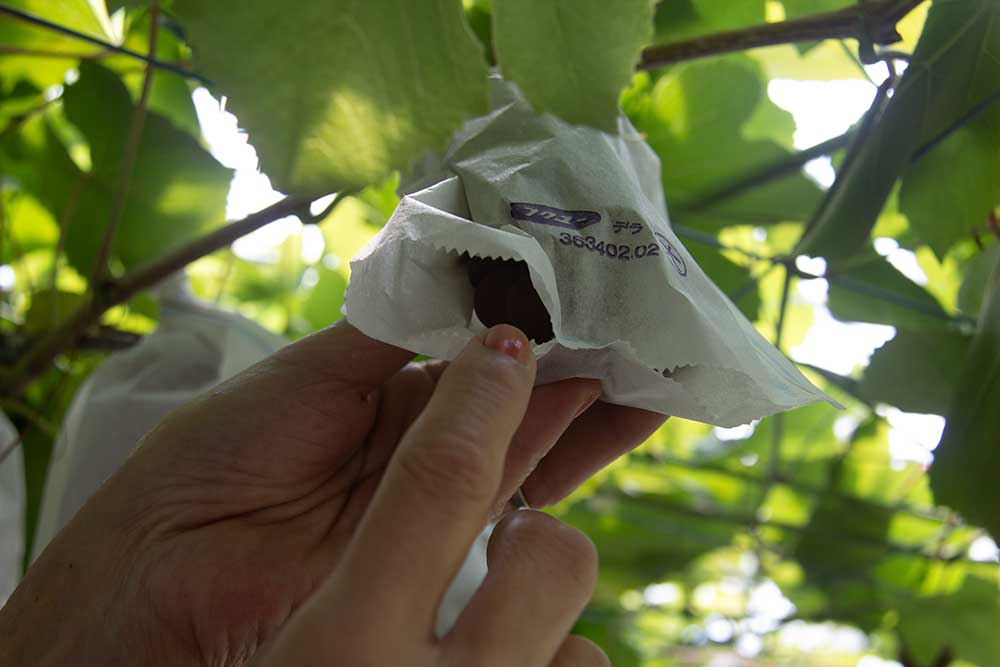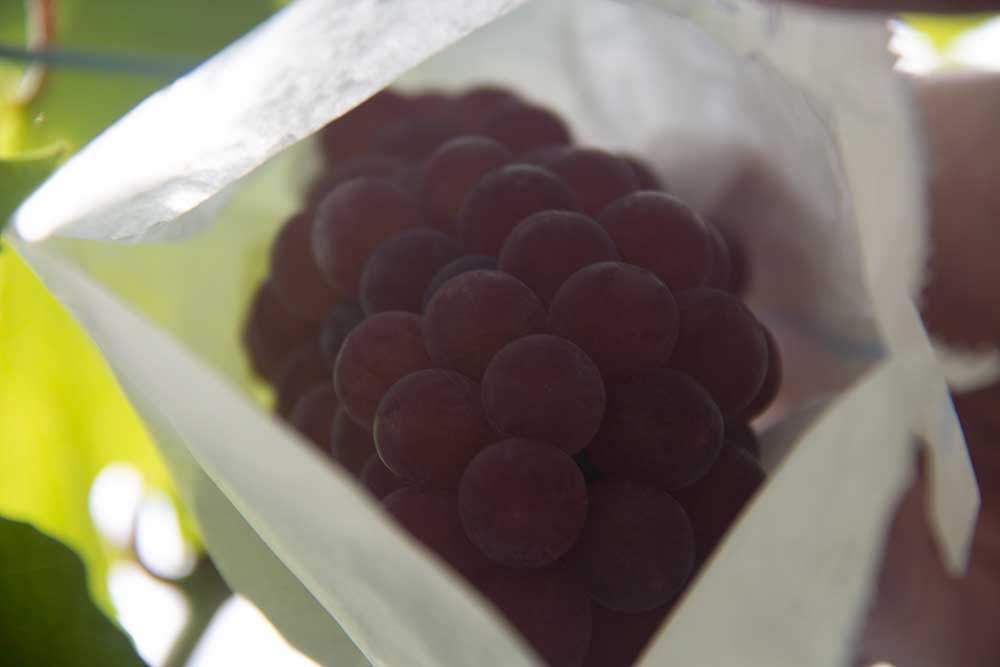 Following these tips, I chose my grapes and picked my first bunch of Delaware.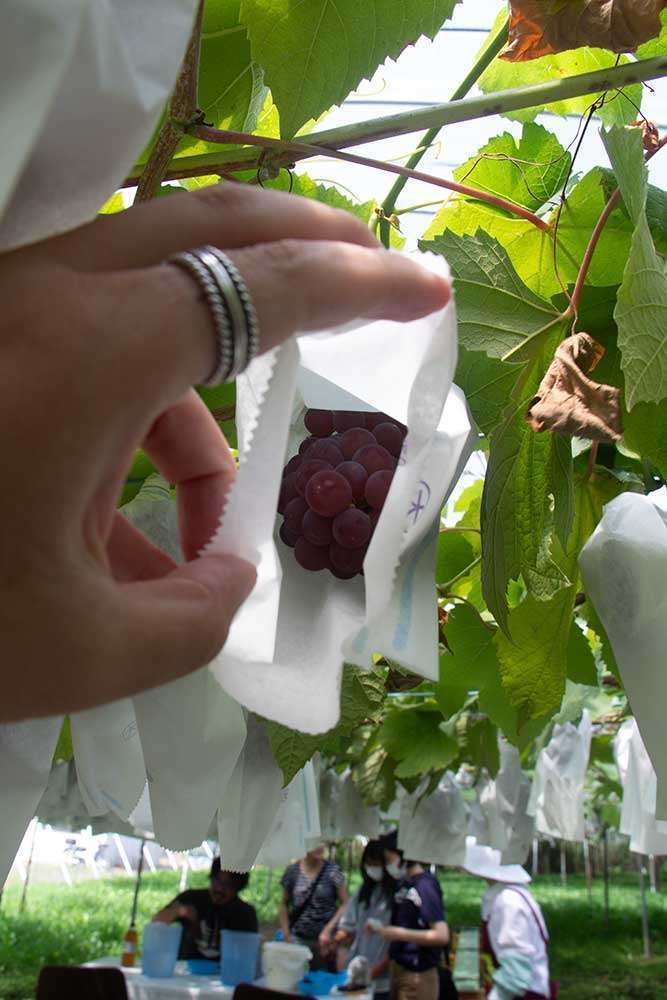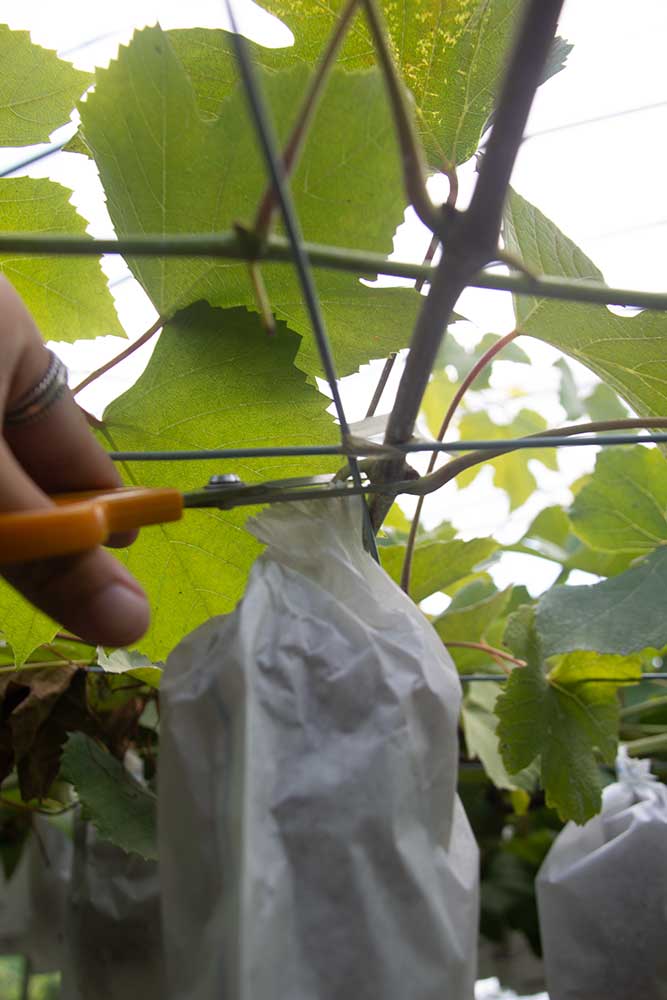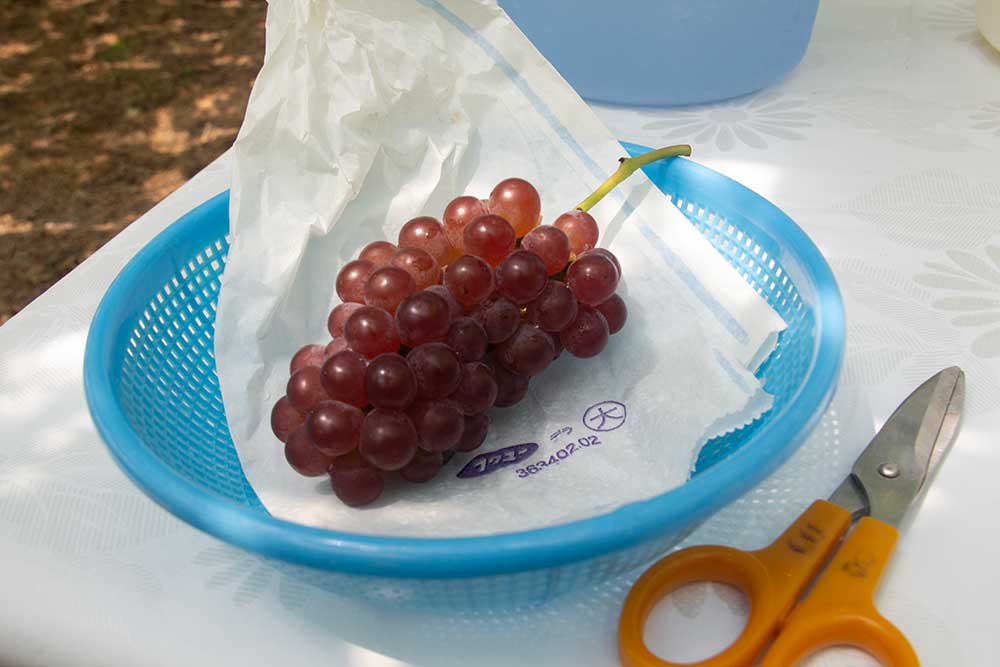 I washed them in the bucket of water and started eating them. It was so sweet – probably the sweetest grapes I have had to date.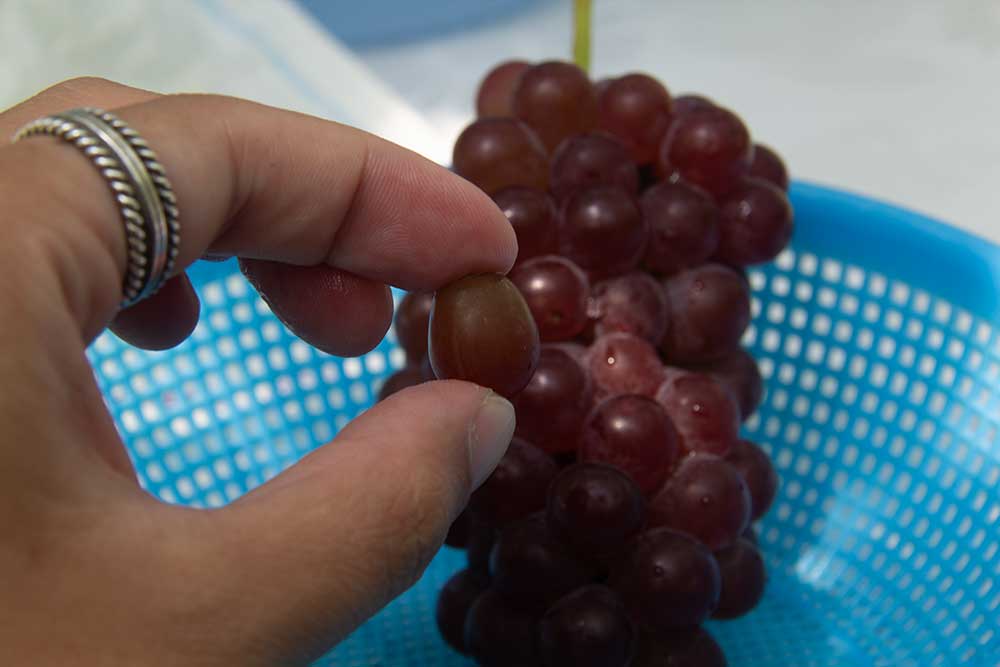 Compared to grapes from my home country, Australia, these Delaware grapes were towards the sweeter and candy tasting side. Very juicy and great flavour.
As a personal preference, I do like my grapes a bit sourer, but these Delaware grapes were no doubt delicious.
Some Garden Logistics to be Mindful of
As I enjoyed my harvested Delaware grapes, more customers (lots of families) arrived. Some carried in what looked like bento boxes with.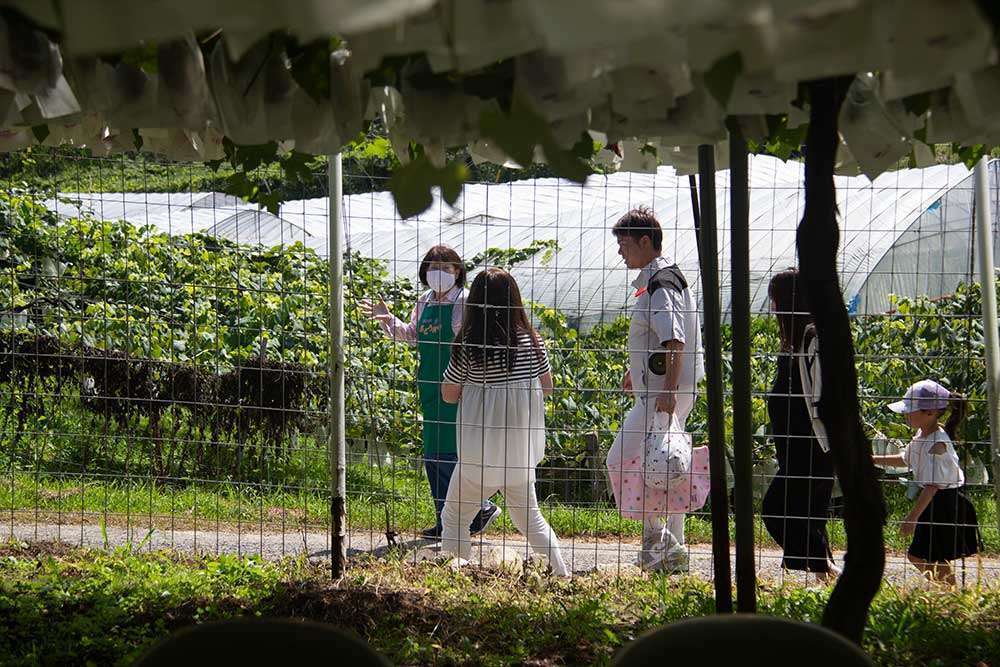 I asked Tsujimoto-san if they sold food or drinks at the garden. She explained they did not, apart from selling grapes. She welcomed customers to bring in their food and beverage to enjoy at the garden, though. She allowed customers to leave the garden, grab something, and re-enter. There was no limit to how long customers wanted to stay in the garden; up until closing time (which was 5:00pm for the garden), if they pleased.
In the centre of the garden, there was a sign with some Japanese writing.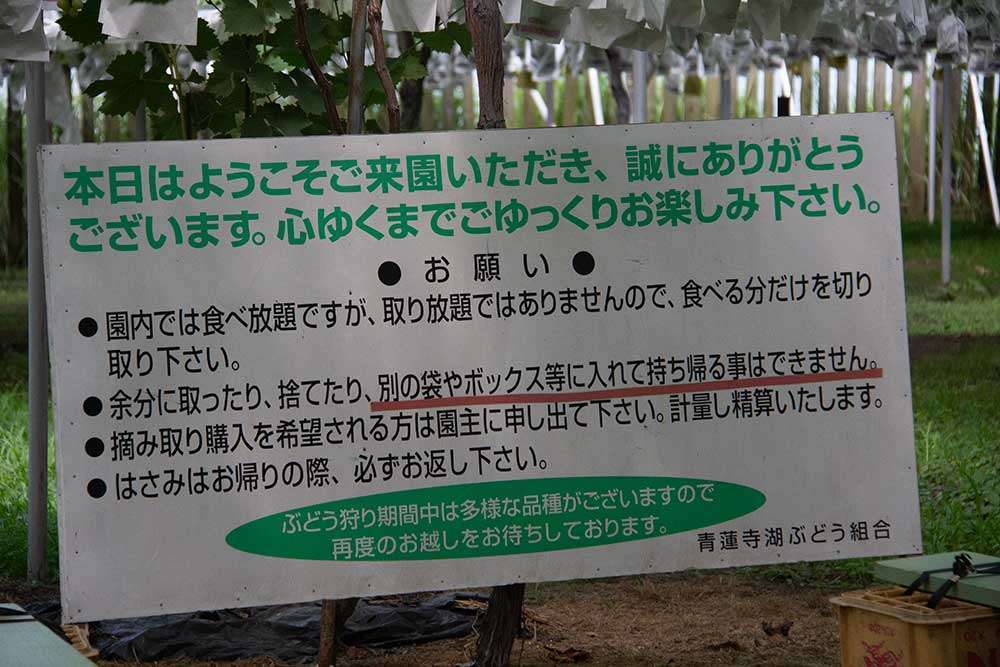 Reading this, that's when I realised this grape picking experience was like a buffet. You paid to get into the garden and do All-You-Can-Eat-Grapes there; it wasn't, on the other hand, an All-You-Can-Take deal.
Based on that sign, a few other rules existed. I translated this to English below.
Thank you for coming to our garden today. Relax and enjoy your time here.
* Important things to note for customers *
Within the garden, it is All-You-Can-Eat grapes. This experience is, however, not an All-you-can-pick-and-take-home experience. Please only harvest the amount you wish to enjoy eating.
Kindly refrain from over-harvesting, throwing away excess grapes, or

putting picked grapes into a separate bag to take home.

If you wish to take grapes home and enjoy them outside the garden, please inform the garden staff. They will inform you the pricing of the grapes, depending on the grape type and pricing.
Return all items provided to you such as scissors back to the garden staff when you are finished.
During the grapes picking season, there are many different types of grapes in the garden. We welcome you to come visit and enjoy grape picking with us again.
From the Shorenji Grapes Association
I spoke to Tsujimoto-san about how she would explain the rules to customers who did not understand Japanese. She said there was no English version available. Hearing this, I offered to write the information in English. Tsujimoto-san immediately welcomed the idea and handed me a marker and paper.
After about 20 mins, I had the information written on two pieces of papers and showed it to Tsujimoto-san.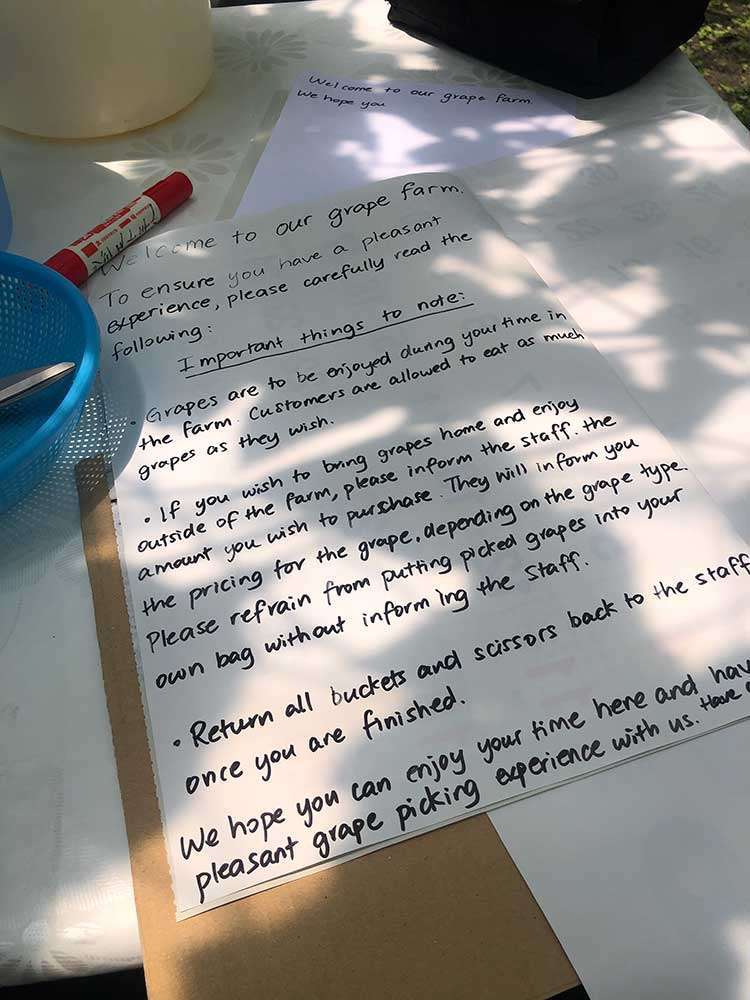 I explained what I had translated to Tsujimoto-san. She was so grateful that she handed me a free drink and bento box. It was so kind of her.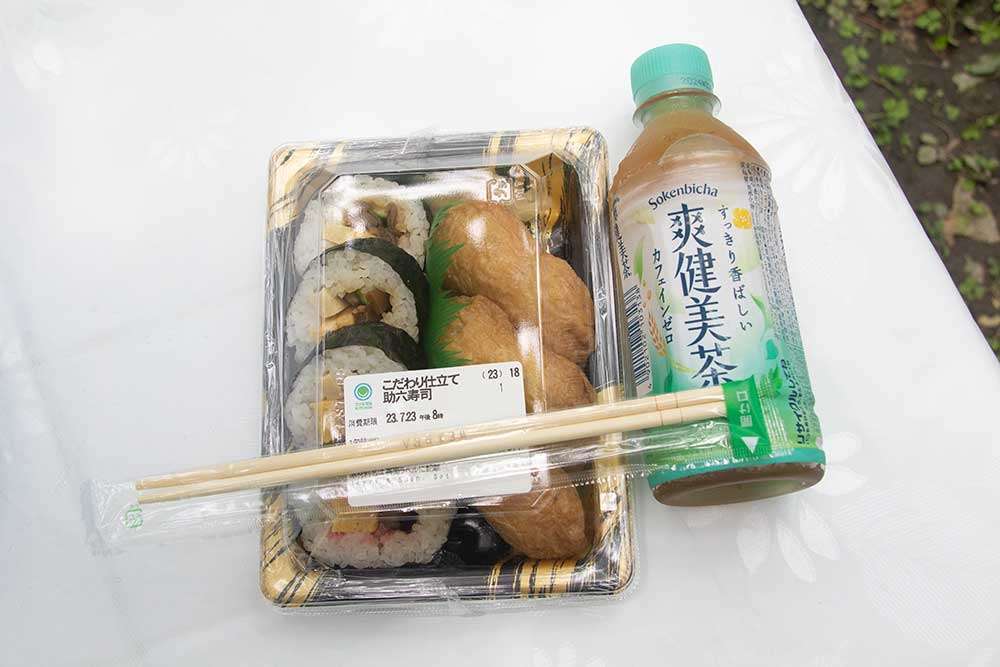 Final Thoughts
I had my drink, ate the delicious bento from Tsujimoto-san, ate a few more bunches of grapes in between walking around and taking pictures of the beautiful garden.
Finally, I decided it was time for me to call it a day. All up, I spent about 4 hours there. I cleaned up my table then head to the front to give back my scissors. As I handed back the scissors to Tsujimoto-san, she was putting out some different grapes for sale.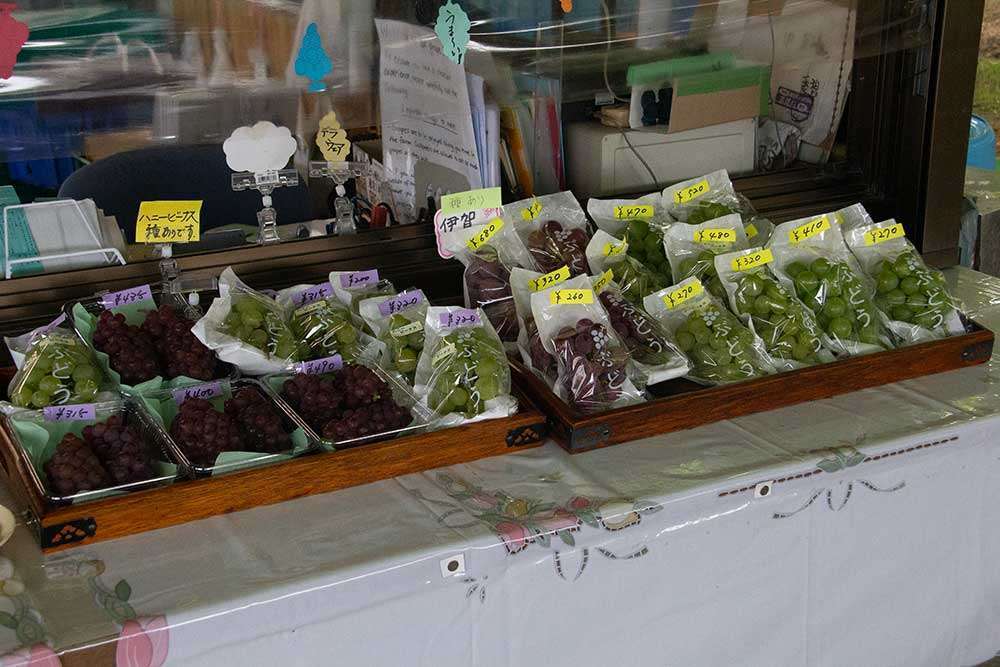 There was also a paper informing customers the cost to buy Delaware grapes if they wanted to taste them at home. The English translation is below.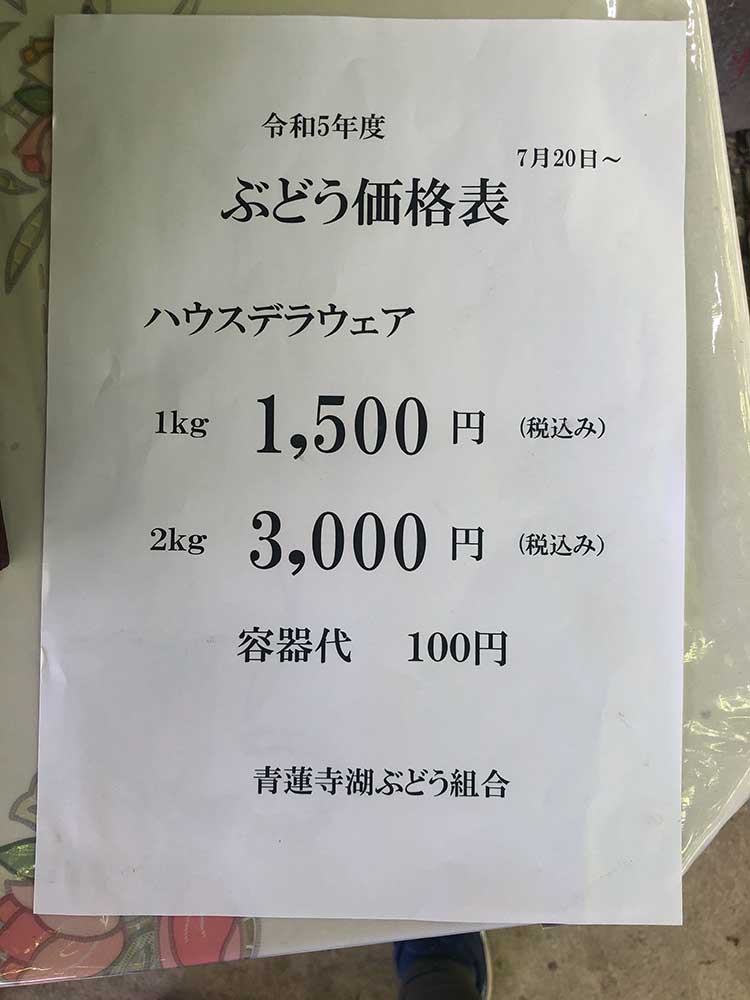 Reiwa 5th Year
July 20th ~
Grape Prices
House Delaware
1 Kg 1,500 yen (tax included)
2 Kgs 3,000 yen (tax included)
Carry Box 100 yen
From the Shorenji Grapes Association
As a last gesture of appreciation, Tsujimoto-san handed me a bag with two beautifully packed Honey Venus grapes. She insisted I take them and did not allow me to refuse. I immediately ate one grape. It was delicious.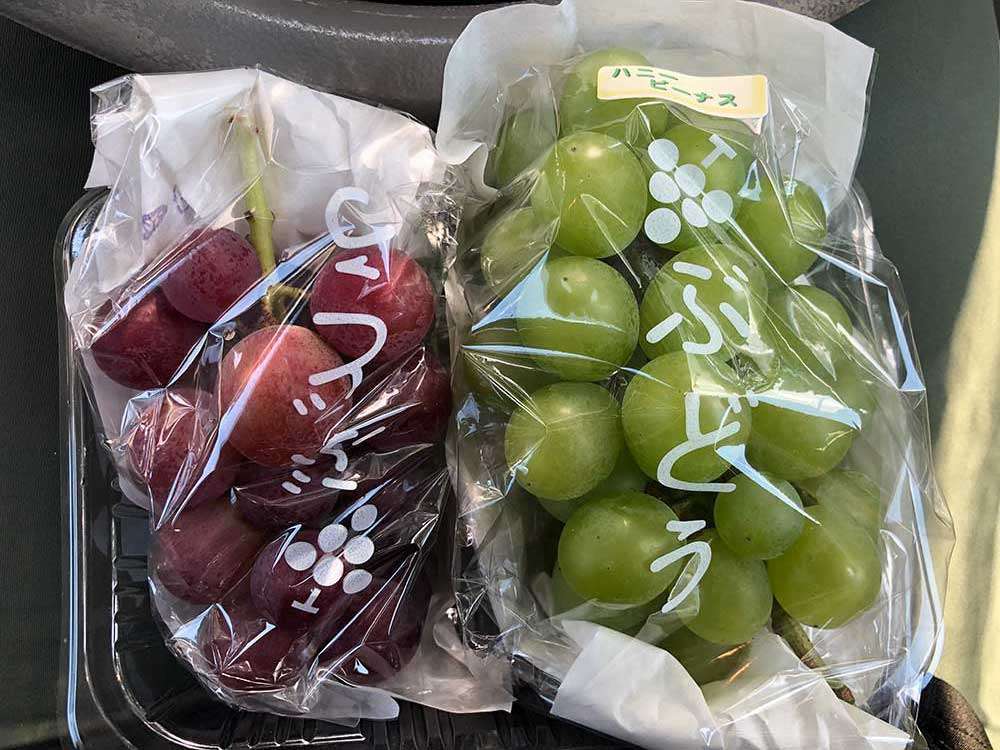 Thanks to Tsujimoto-san and Okamoto-san, I had such a great time at Garden 38! I went into this experience with no expectation; and left with a huge smile and full belly. The farm was well-equipped and allowed me to spend a wonderful, relaxing Sunday morning.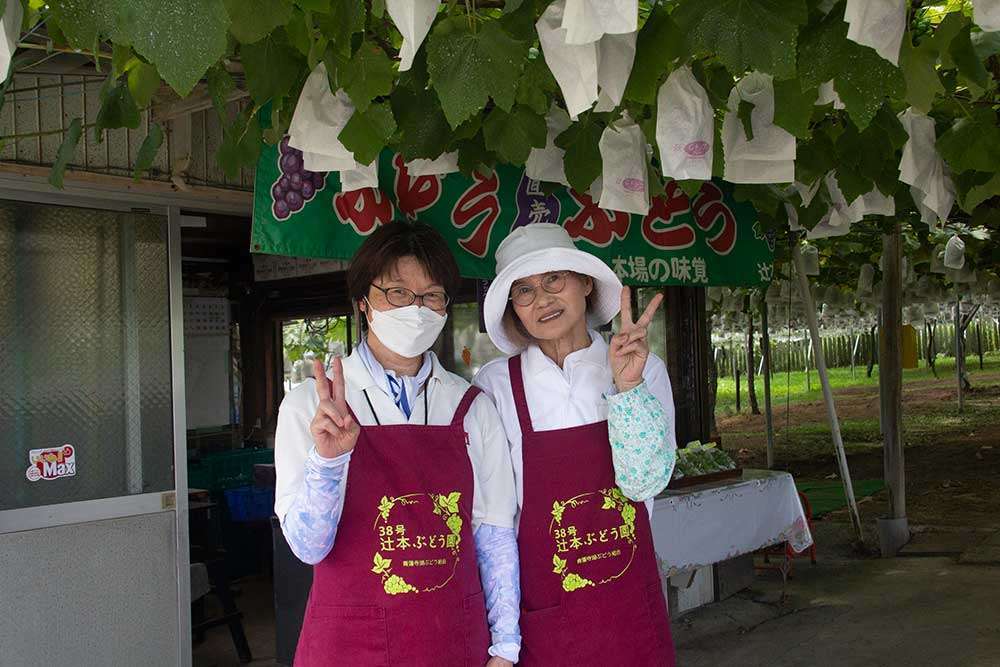 So many take aways from this experience - a visit to my first Japanese grape garden, tasted lots of yummy grapes, took some great photos, learned how to pick the best Delaware, helped a grape garden with some translation, and got a free lunch plus some yummy grapes to take home.
It was nothing less of a fruitful experience.
Best time to go grape picking (for 2023 picking season):

Delaware (デラウェア): End of July – end of August
Kyoho (巨峰): End of August to mid-September
Steuben (スチューベン): September only
Muscat Bailey A (マスカットベリーA): Beginning of September to end of October
Where to go

Shorenji Lake Grape Farm Tourist Information Center: 976 Shorenji, Nabari, Mie Prefecture. (Japanese Name: 青蓮寺湖観光村ぶどう組合; 三重県名張市青蓮寺976)
Contact Phone

(+81) (0)595-63-7000
Operating Hours

Grape garden opening hours - 9:00am to 5:00pm. The Information Centre accepts visitors from 9:00am to 4:30pm.
Reservation requirements

Prior reservation is not necessary. Only in the case for tour groups of 15 and more people, please phone to make a reservation.
Transportation options to the Shorenji Grape Village

By car: From Nabari station, the drive is about 10 to 13 minutes. Put in the GPS "Shorenji Lake Grape Farm Tourist Information Center", drive safely and it will take you there.
By train: Aim to reach Nabari train first. This is a Kintetsu train station with direct lines through to Osaka, Kyoto, Nagoya, and Nara. Take whatever train you wish to reach Nabari Station. Once you reach Nabari station, transfer to the Number 07 Yurigaoka Line Bus.
By bus: Take Number 07 Yurigaoka Line Bus to the grape village. The bus stop is located on the north side exit of Nabari Station. Ride for 9 stops and you will reach Yurigaoka (百合ヶ丘) bus stop. Walk for another 130-150 metres down the road followed by a left turn, and you have the Shorenji Lake Grape Farm Tourist Information Center.
By Taxi: There are taxi stands outside of Nabari station, both west and north exit. It may cost roughly 2,000 to 2,500 yen to get to the Information Centre.
From Information Centre to the grape garden

If you have your own transport, you can make your way to the specified garden after purchasing an entry ticket. If not, staff will drive you to your garden from the information centre.