Last Updated on July 21, 2023
Surrounded by rustic nature and clear streams, the East Nara Nabari is one of the best areas for camping in Kansai or near Osaka. Some people prefer to pitch a tent in the wilderness, but we have nice equipped campsites! If you are tired of your busy urban life, why don't you drive a few hours and spend a day or more here in East Nara & Nabari?
All campgrounds require reservations. Contact us for further information and bookings.
Yuno Camp Site
Nabari, Mie
This private campground overlooking beautiful Shorenji Lake in Nabari City, Mie Prefecture. Limited to one group per weekend.
Kotaroiwa Camping Field
Soni, Nara
This auto campground is located at the foot of Kotaro Rock in Kaochidani Valley, a popular driving route with spectacular views in the Kansai region. You can enjoy playing in the Shorenji River in summer and viewing the autumn leaves in fall.
Higashiyoshino Campground
Higashiyoshino, Nara
The campground is located near Yumebuchi, where beautiful three rivers converge in Higashiyoshino Village. Nearby is the historic Niu Kawakami Shrine.
Mitsue Youth Travel Village
Mitsue, Nara
Mitsue Youth Travel Village is located at the foot of Mt. Miune, which is designated as the Murou Akame Aoyama Quasi-National Park. You can fully enjoy outdoor activities such as hiking, swimming in the river and fishing, as well as camping. The attached adventure playground is popular among children, with a bobsleigh course and a 140m-long slide.
Country Park Oko
Yamazoe, Nara
Country Park Oko is a campground where the Stone Age remains have been converted into a park. Because of its excellent access from the Meihan Expressway, many campers come from all over the Kansai and beyond. You can enjoy fishing on the nearby Nabari River, and in spring, this campground attracts more people to view 200 cherry trees in full bloom.
Akame 48 Waterfalls Campground
Nabari, Mie
This campground is located about 10 minutes walk from the trailhead of Akame 48 Waterfalls, one of the most scenic hiking spots in Kansai. Akame 48 Waterfalls offer many fun programs such as ninja training experience, gorge walking, ascetic waterfall practice, and more. After the activities, spend the rest of your stay relaxing in the air-conditioned bungalow, having a barbecue, or chatting with the locals!
Heisei Haibara Kodomo-no-Mori Park
Uda, Nara
This campground is located within a huge park abundant with nature: Surrounded by mountains, and Uda River runs through the park. You can bring your own tent and set it up at the tent site. Cookhouses, restrooms, and showers are available for campers. This park is a great place to spend a weekend with family and friends, equipped with a barbecue site, grounds for soccer and baseball, and a playground called 'Dinosaur Land' which has a 400-meter long obstacle course. This park is home to beautiful cherry blossoms in spring, and also to many species of wild birds. Enjoy everything this park has to offer!
TAWACAMP
Soni, Nara
Opened in July 2019, TAWACAMP is located at Soni Kodama Resort near Soni Highland, a place well-known for its scenic beauty. The premises is part of the national park and adjacent to a hot spring facility, which topped the best higaeri onsen (day-use or drop-in hot spring facility) ranking in western Japan. The resort has a restaurant renovated from an old Japanese house, where they serve Japanese food with traditionally-cooked rice (rice is all-you-can-eat). They welcome campers at all levels, from beginners to solo campers. All-inclusive camping available. Open fires allowed.
Sun Village Soni
Soni, Nara
Sun Village Soni is a campground full of greenery located at Mt. Kabuto's foot, a national natural monument. Enjoy camping and various outdoor activities surrounded by beautiful nature! It offers a variety of camping styles, such as cottages, bungalows, and RV campsites. You can also enjoy an adventure playground and tennis, as well as a barbecue.
Takami Park Campground
Higashiyosino, Nara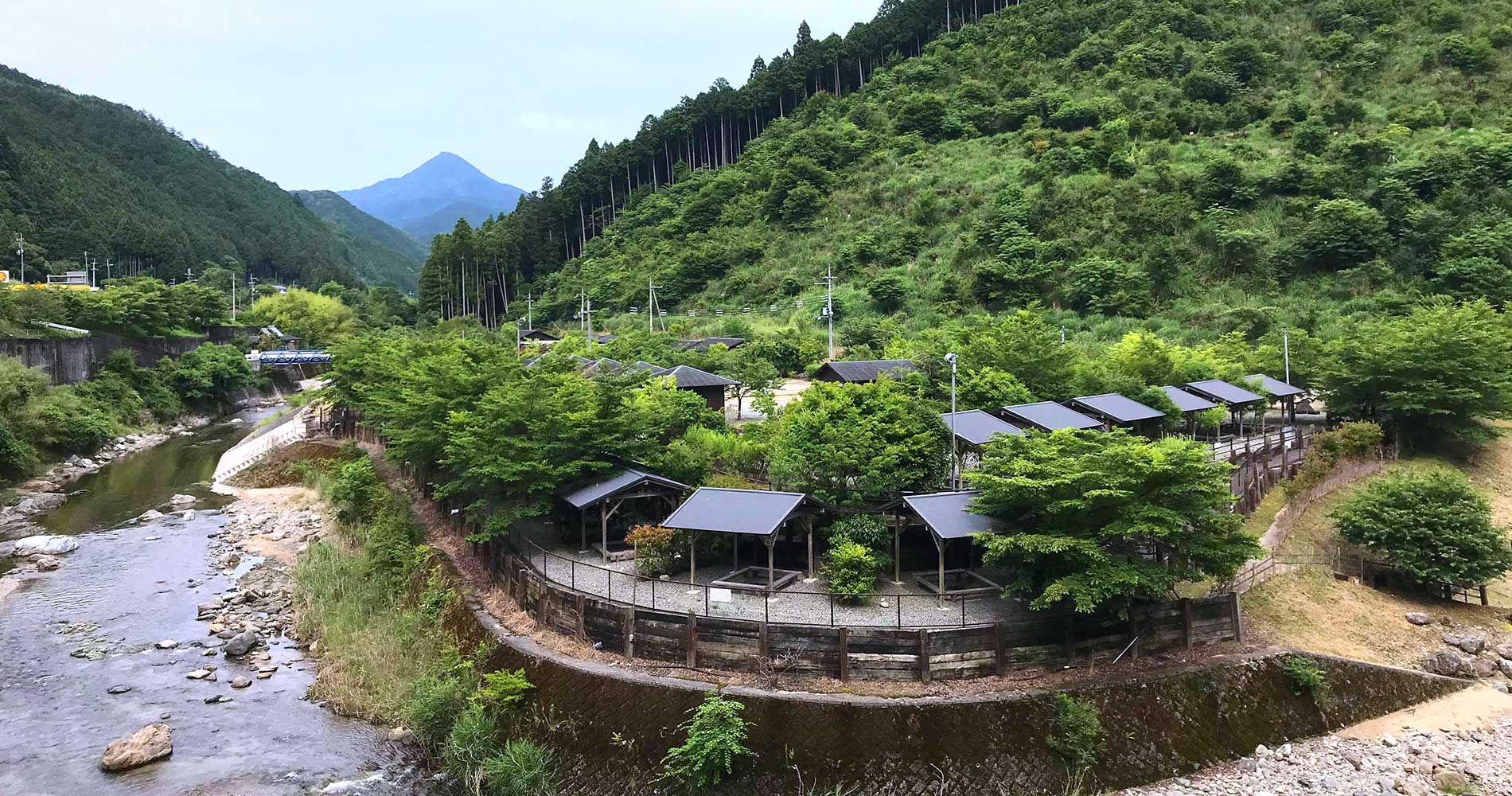 Takami Park Campground is surrounded by the greenery and clear stream of Higashiyoshino Village. Not only swimming, but you can also enjoy ayu sweetfish or amago trout fishing in the Takami River that flows close by. A 10-minute drive from the campground takes you to a hot spring facility, Takasumi Onsen. Open from April to October.
TOPOS
Soni, Nara
Opened in July 2018, TOPOS is a private campsite limited to only one group per day (by reservation only). They also rent out the place for camping events, markets, film screenings, wedding parties, etc. What makes TOPOS unique is that there is no designated area for pitching a tent, so that you can set up your tent anywhere you like. Some people hang their own hammock from the rooftop to spend the night in the breeze. Other than the tent site, they have a lounge space and a shipping container café on the site.