Mmm... image the smell and taste of...
Massaman curry....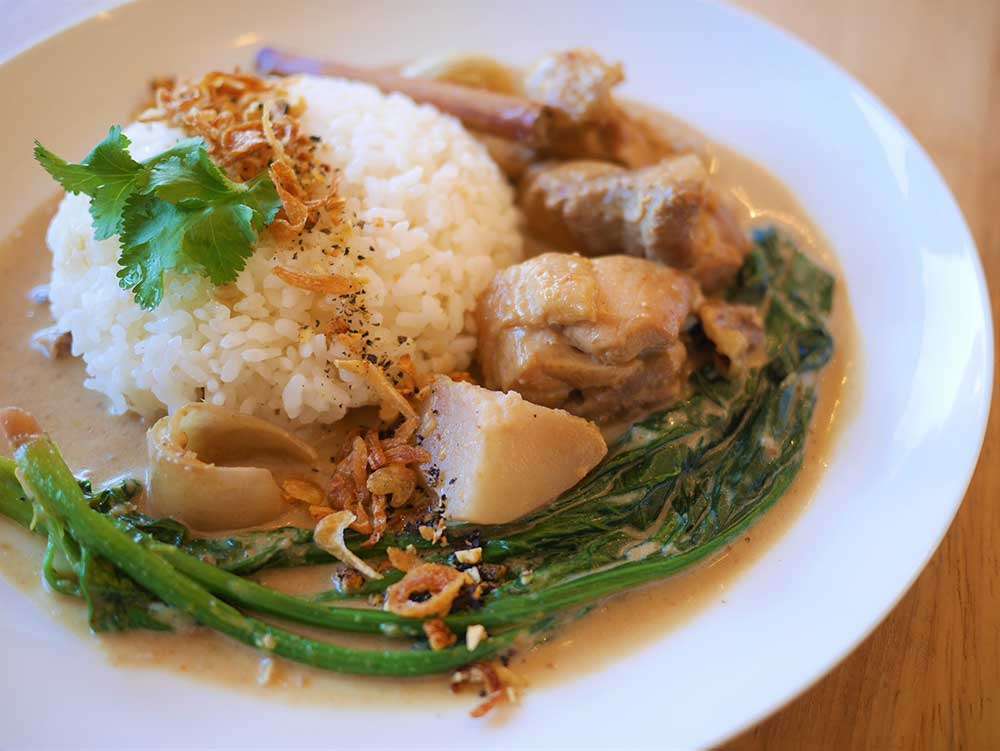 Khao Man Gai...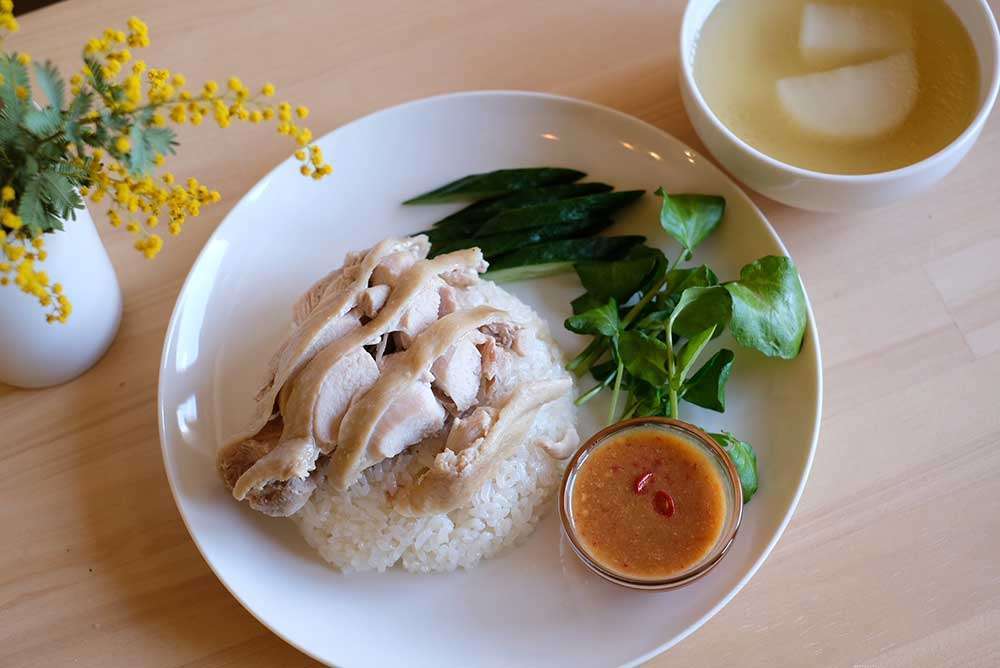 Fried spring roll..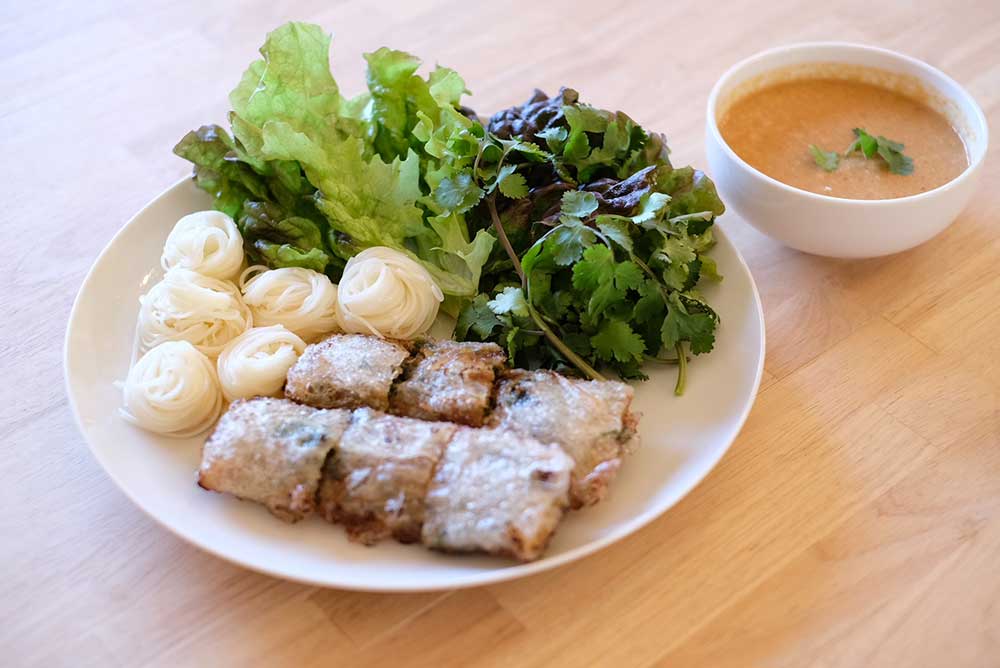 What other Thai cuisines can you imagine?
Recently, I've been hearing rumors that the smell of Ethnic Asian food is drifting in the air in Soni Village, Nara. Hungrily attracted by the topic, I realized myself gazing keenly in the place where the food workshop takes place at, "Soninowa-no-daidokoro 'Katte'".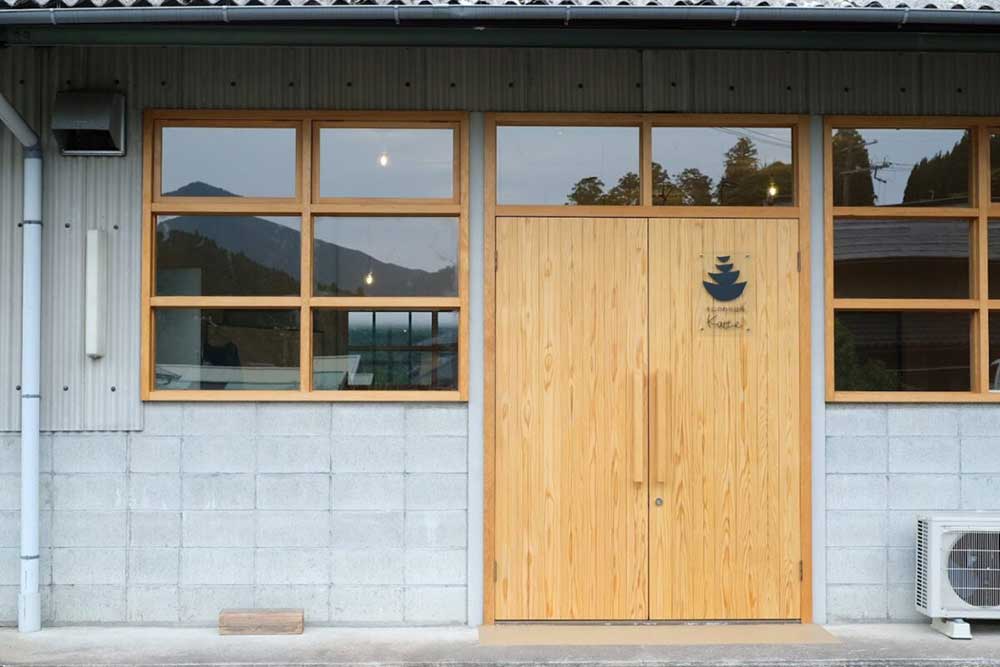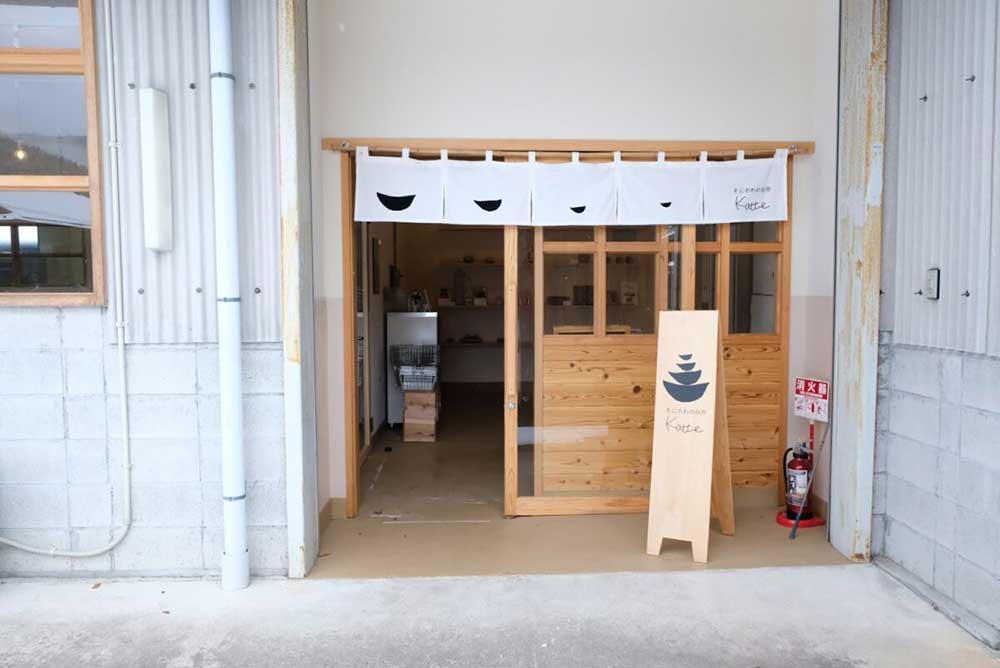 The cooking workshop, "Soni Social Kitchen*".
The dishes I mentioned in the beginning where all cooked at the workshop.
According to the cooking instructor, Ong Anothai Oupkum, who was born in Thailand, Chiang Mai, she's been researching on seasonal ingredients produced in Soni Village for over a year now. For once in 2 months, she comes up with original recipes that collaborates with Soni Villages's seasonal ingredients and combines them with Thai food.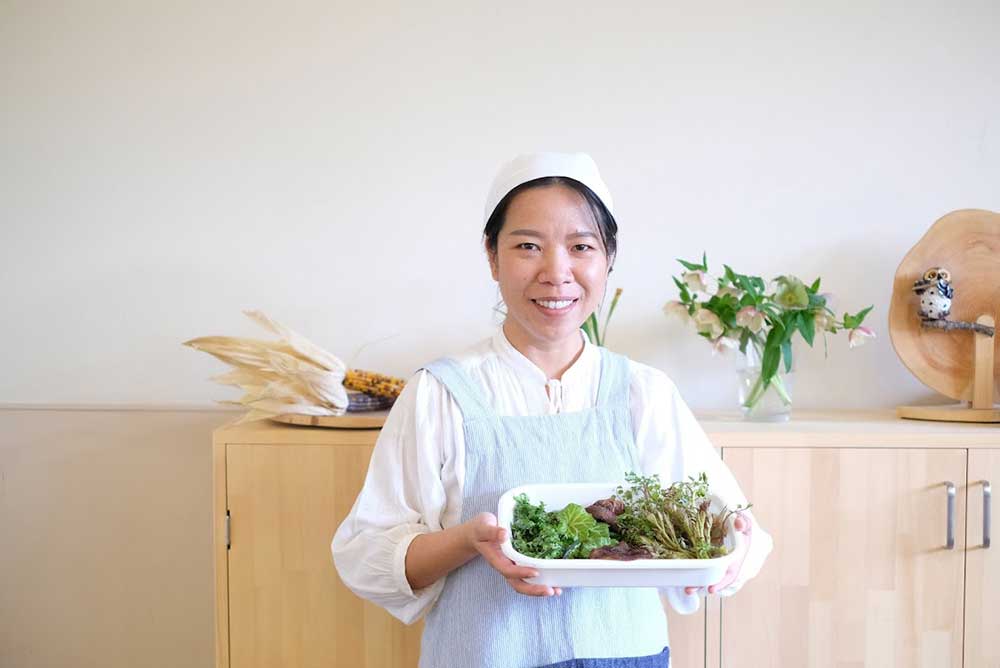 She customizes the recipes to match the Japanese people's appetites by mostly making them mild, trying to keep it less spicy than the ones that are actually served in Thailand.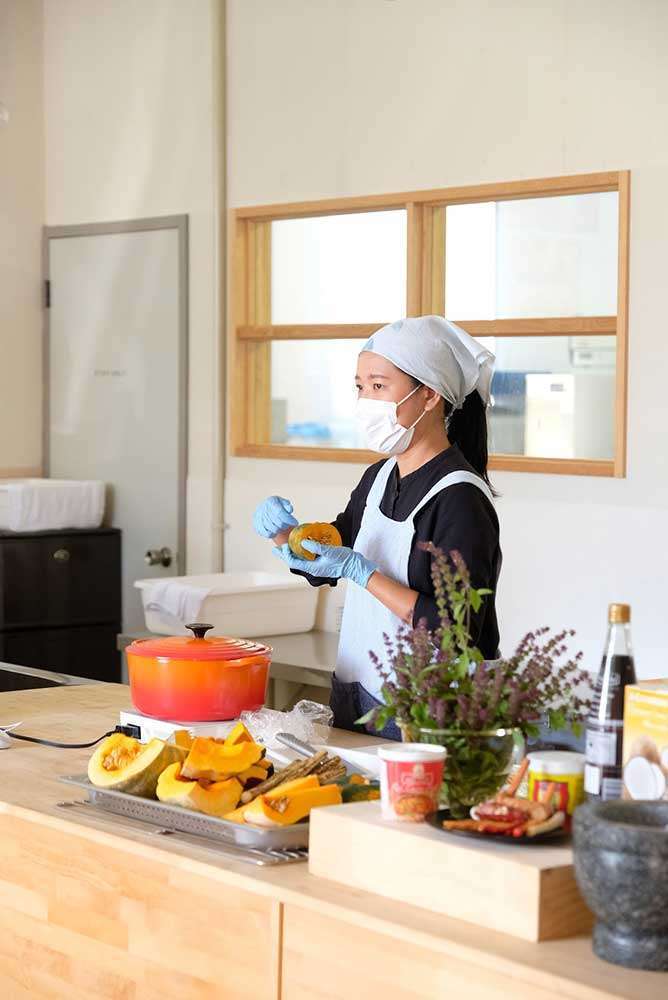 Now the question is, why is Ong doing such thing in Soni Village and what brought her here in the first place?
Well, Ong friendly shared her story to me. She told me that she grew up sparked by her parents running a business for a northern sweet in Thailand. Sometimes she followed her parents to the local markets to buy seasonal vegetables which  pushed her forward to become interested in cooking. Soon, she started to make her own fresh curry paste. By the last year of university, she even started her own small business for cooking and selling Khao Man Gai. After that, she flew to Akita, Japan, and worked as an art curator for a while, coordinating and connecting artists. She found out about Soni Village through the activity of the village's revitalizing project for preserving Japanese lacquer. Attracted by the villages activities and nature, she then finally moved to Soni in Dec. 2020.
Her wish is to provide an opportunity for people to experience her home country's cultures. This workshop became one of the best occasions.
The healthy diet of Amazake mixed with Thailand Porridge.
For the workshop I participated on Feb. 28th, it was a closed and small
event only for the villagers due to the spreading of COVID-19, but usually, any participants are welcome.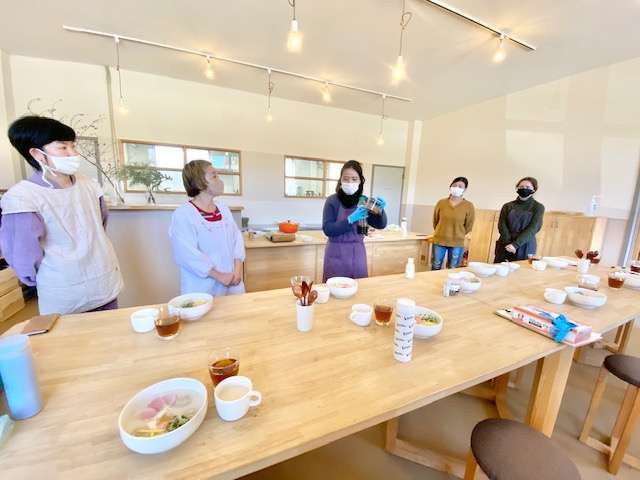 No wonder that the NHK Nara Broadcasting Station interviewed her workshop a short while ago. Her workshop is definitely one of the hottest experiences now running in Soni Village.
Anyways, let's check the food!
The theme of the cooking workshop on this day was," Amazake × Thai Porridge".
Speaking of rice porridge in Japan, it's usually acknowledged as a standard meal for sick people or a stomach-wrenching meal to eat the day after a hangover. It's not usually served as a main dish. However In Thailand, it's eaten daily for breakfast or late brunch (especially for when you wake up late).
The nutritions are not just healthy and gentle for the stomach, the power of rice warms the body up from the inside. Amazake, made from rice grown in the delicious water of Soni Village, is added there. Amazake provides a positive effect on female hormones, making the skin more full of moisture and beautiful.
Good news for the ladies out there!
How to cook.
Now let's see the procedure of cooking.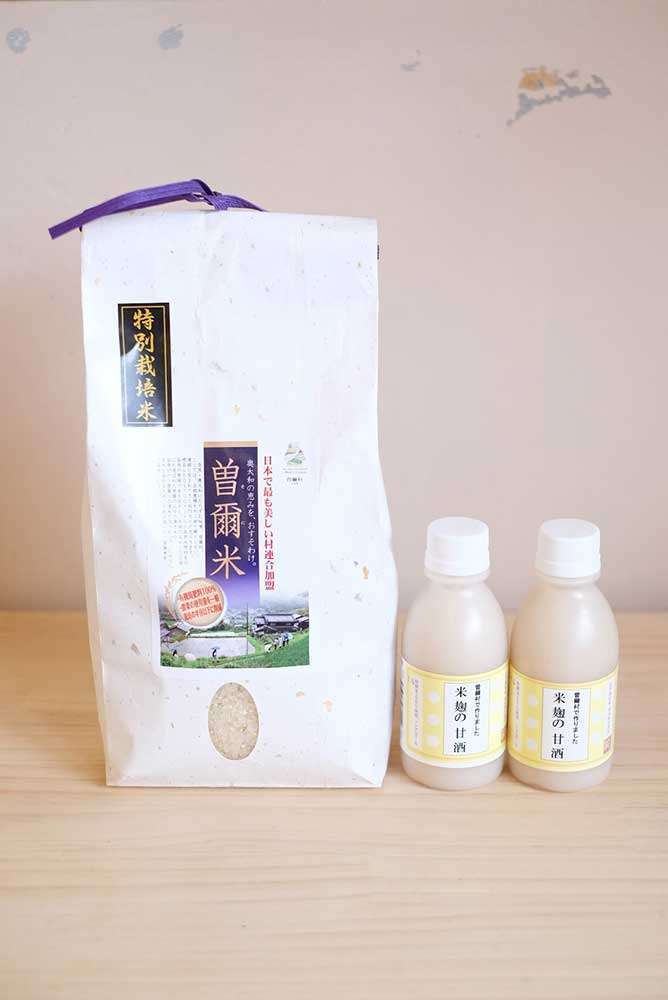 First of all, we started crushing the rice in turns with a rock mill. Unlike Japan, Thai porridge crush the rice until the rice grains are gone.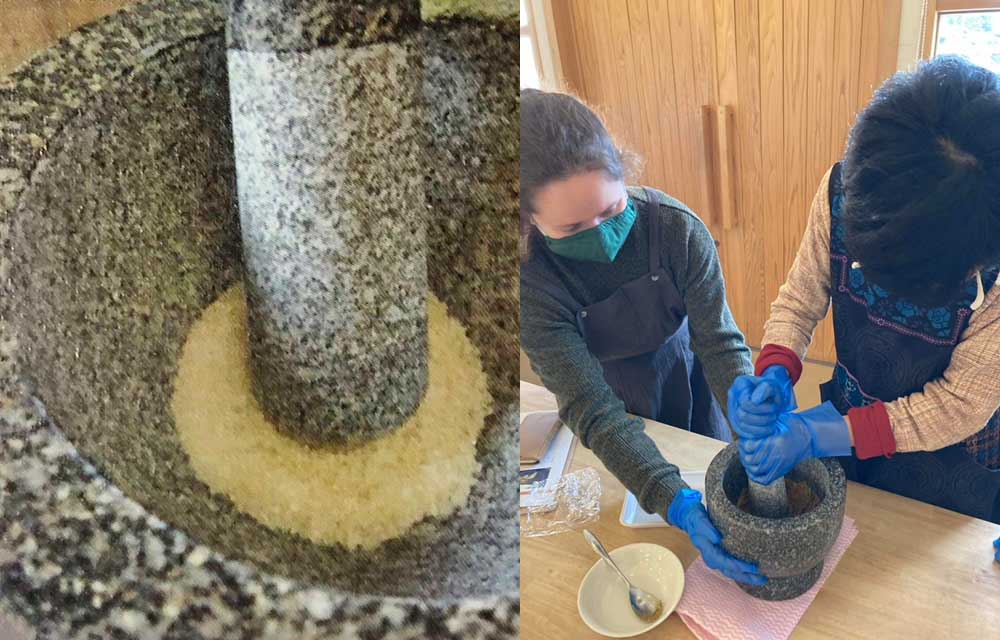 Then, put the crushed grains into the pot with water and boil it for 40 mins. Keep stirring so the rice doesn't stick to the bottom of the pot. Add Amazake, chick soup powder, and salt, then continue stirring again.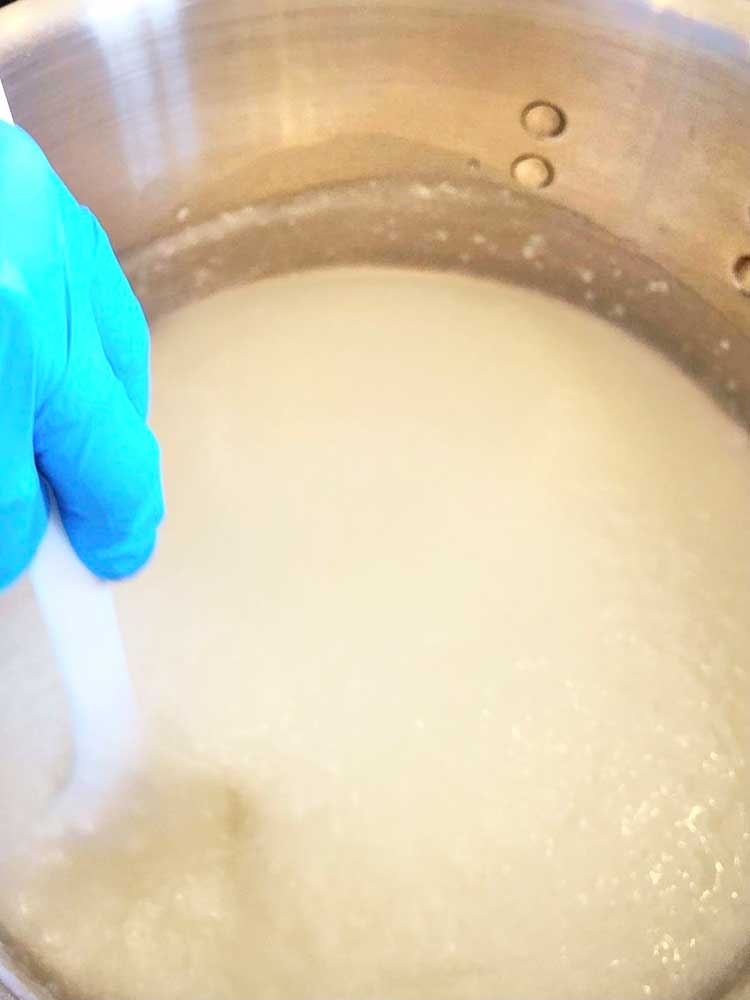 Add the pork dumplings and stir again.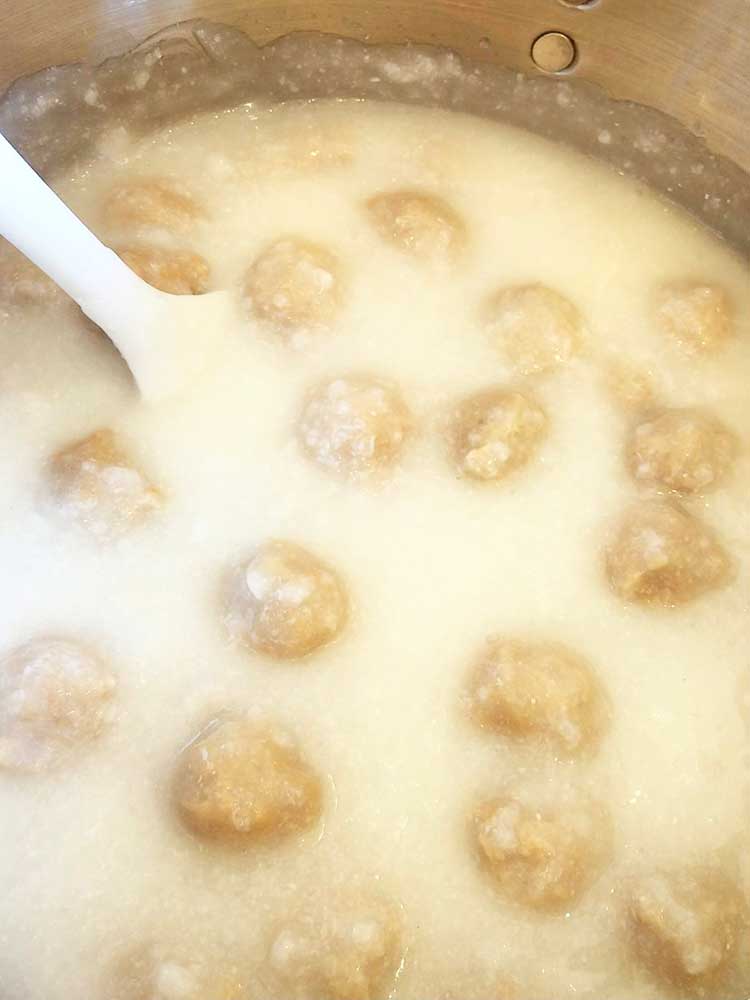 During the cooking session, participants just enjoy relaxing and talking casually about the recent episodes they have about daily life or about the villages.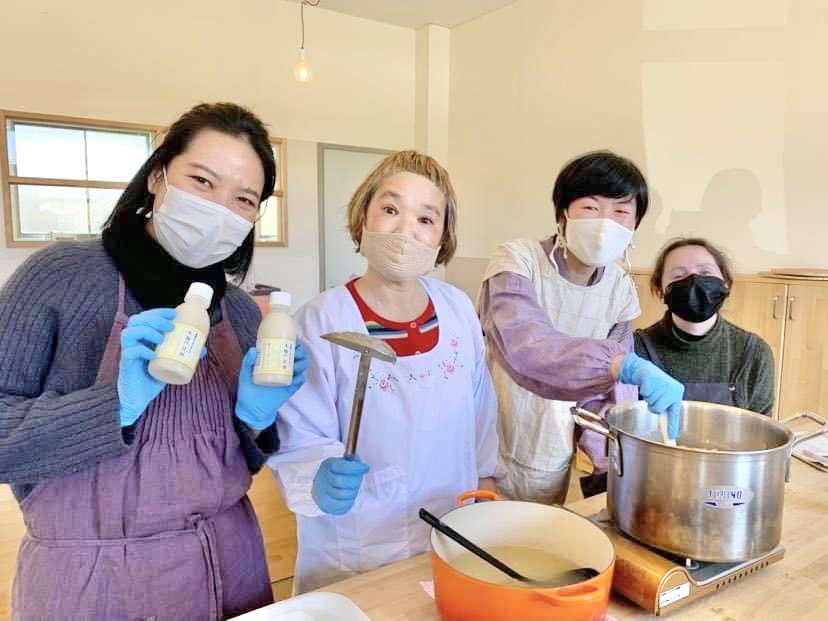 After the cooking part finishes, put it in a bowl and add boiled turnips, sliced ginger and hot spring eggs on the top. The natural sweetness of Amazake helps increase the mellowness of the rice porridge.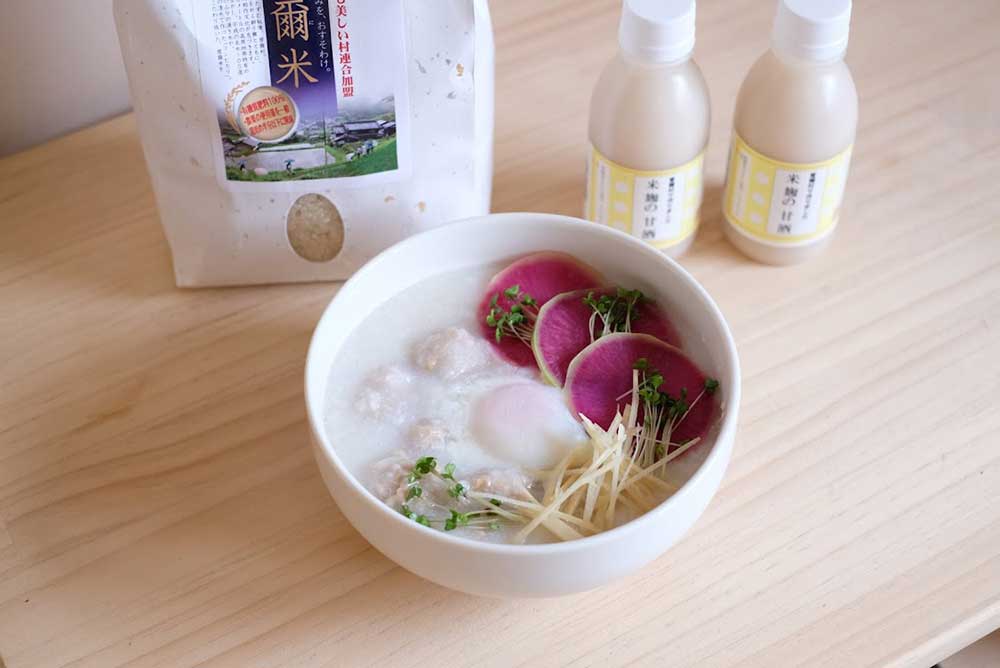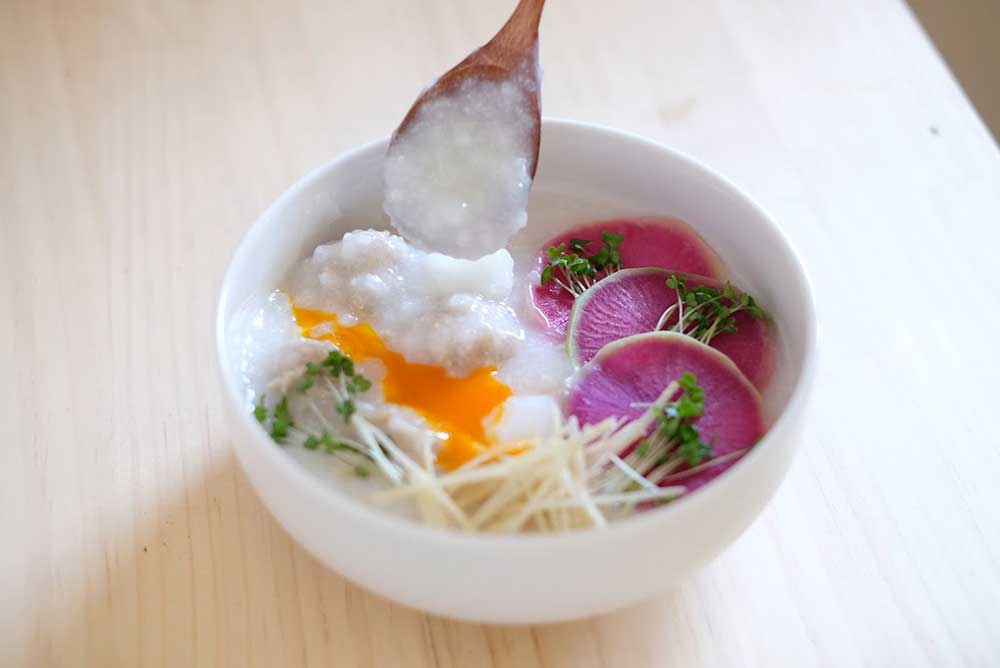 When eating, you can custom it by adding Thai soy sauce, fried onions or white pepper on the top. They  make it more tastier and is irresistibly exotic for those who are Thai food lovers.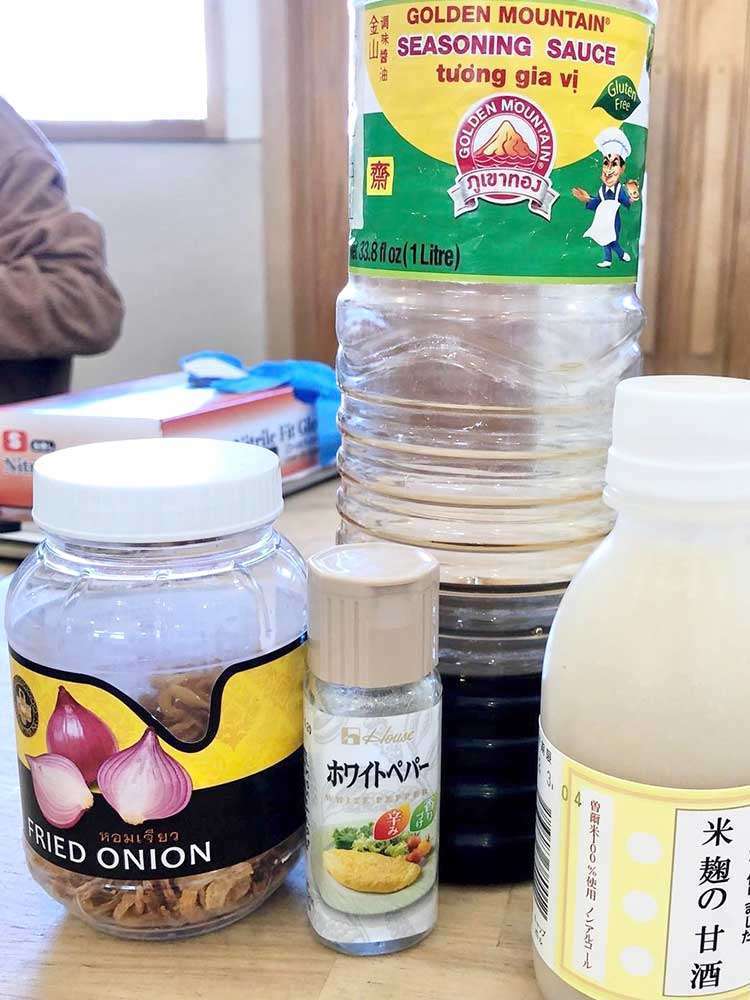 The pork dumplings have a strong meat taste and are very juicy. Thanks to the chewy pork dumplings, you'll become surprisingly full in no time!
As a little surprise, Ong also gave us a dessert drink made by mixing Amazake with Yuzu syrup that was made in Soni Village. Ong's generosity and kindness is always added somewhere to the workshop.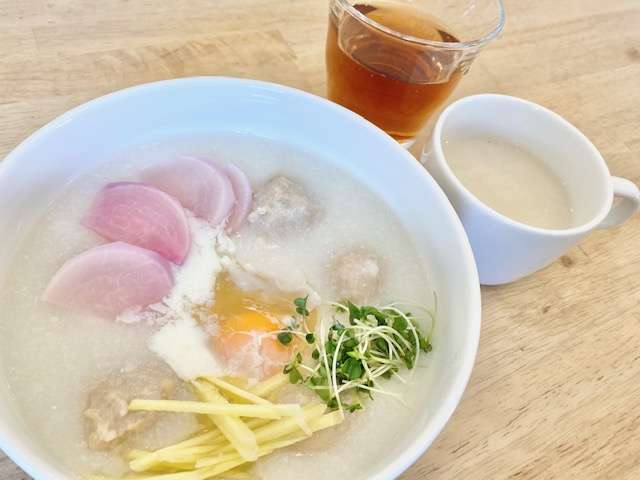 Ong's cooking workshops are held once in every month. After a face-to-face workshop, there's also an online zoom workshop so that participants living abroad can also join too.
Someday, hopefully after the COVID-19 settles down, I wish participants will gather from all over the world.
Thank you Ong, for holding this relaxing and delicious workshop!
Khop Kun Kha! (Thank you in Thai)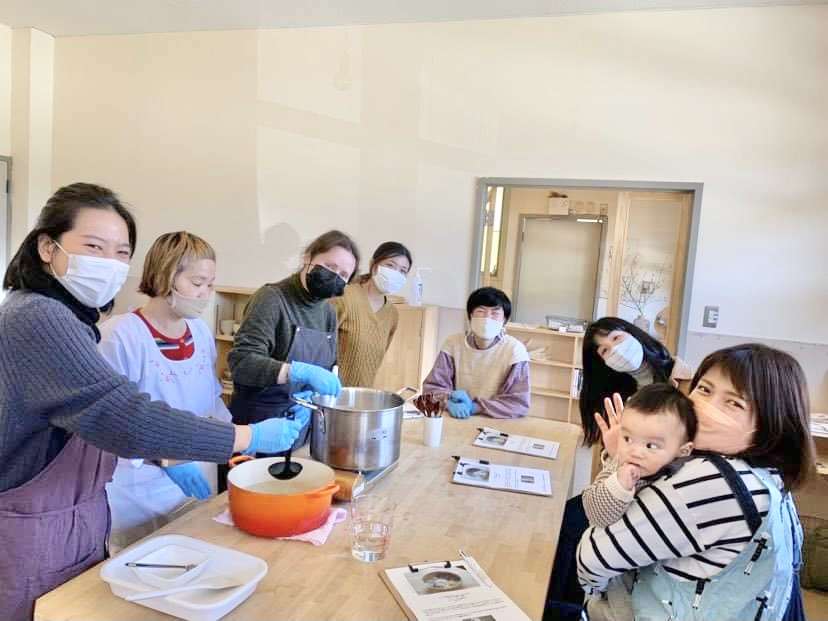 *What is "Soni Social Kitchen"?
Soni Social Kitchen is a cooking class that offers a different experience from a studio-type class and is suited for those who want to enjoy Thai foods and want to know where the ingredients come from (mostly vegetables) . The class will take participants on a journey to explore a local's life and experience a taste of Soni Village. Participants will be introduced to a new cooking method and learn a homestyle approach to cooking simple and delicious Thai dishes with Japanese local products.
Booking informations will be posted on Soninowa Glocal's facebook page or Instagram . (English speakers will reply)
Check out more on
Facebook : @soniexperience
Instagram : @beautiful.soni