World Heritage Ride in Late Autumn
We took on the challenge of a long ride of over 100km starting from Nabari, aiming for the World Heritage Site of Mt. Yoshino in late autumn. The course is full of cherry blossom spots, so a ride in spring would also be impressive.
What is "East Nara Nabari Yamanami Ride"? Learn here.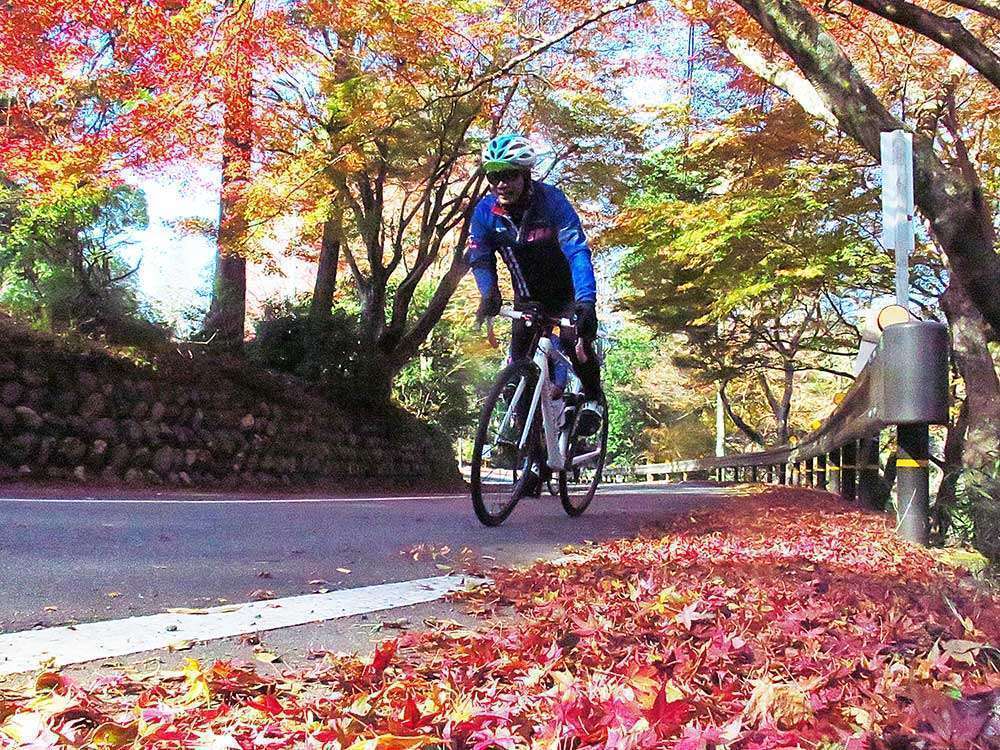 | | |
| --- | --- |
| Route | Nabari no Yu — Lake Murou — Sumisaka Shrine — Yatagarasu Shrine — Hiyoshi no Sato Marché — Mt. Yoshino (Kimpusen-ji) — Lake Tsuburo — Ouda — Uda-Matsuyama — Lake Murou — Nabari no Yu |
| Distance | 130.4 km (81 miles) |
| Elevation gain | 1,290 m |
| Date | 6:30 am - 5:30 pm, November 28 |
| Difficulty | (based on the author's impression) |
Index
From Nabari to Lake Murou via Route 165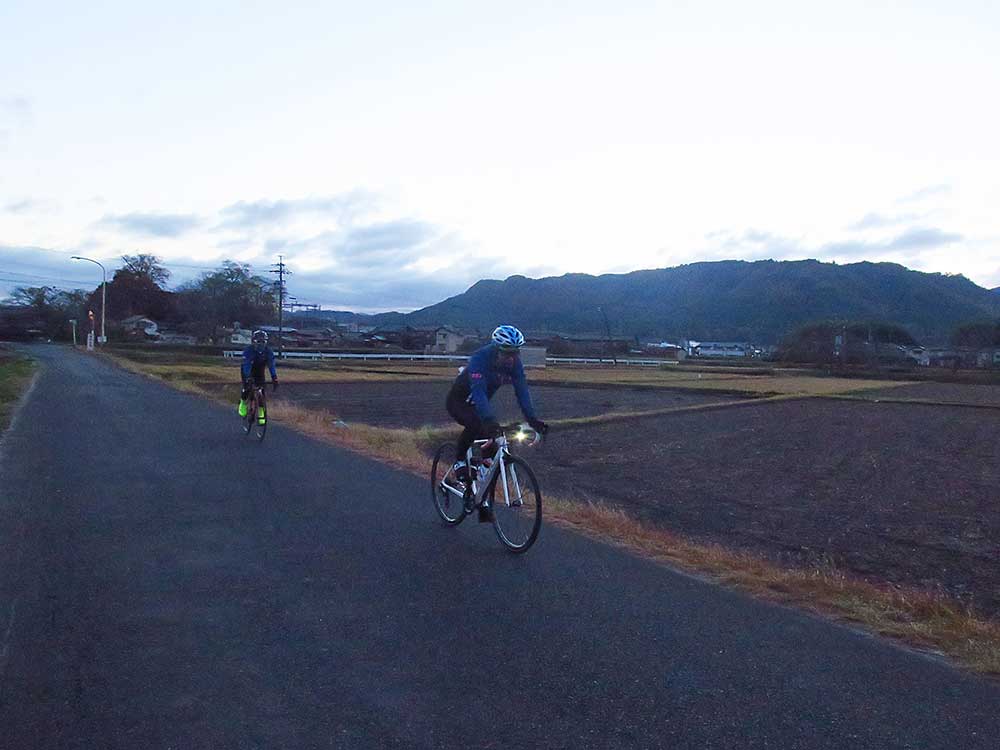 A little after 6am, just before dawn, Hori (right), Sachi (left), and me from the local bicycle team SMA set out from the starting point, "Nabari no Yu [JP] ," toward the World Heritage Site of Mt. Yoshino.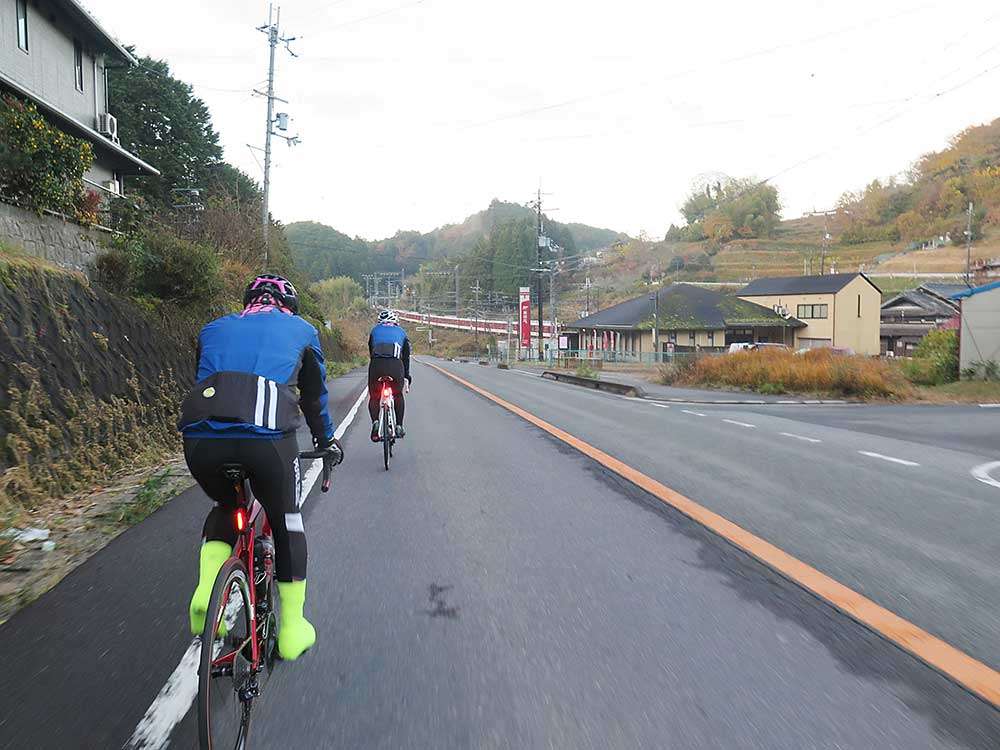 We headed west on Route 165. It was early in the morning, so there weren't many cars. We turned left at the intersection "Muroji Temple" and headed for Lake Murou.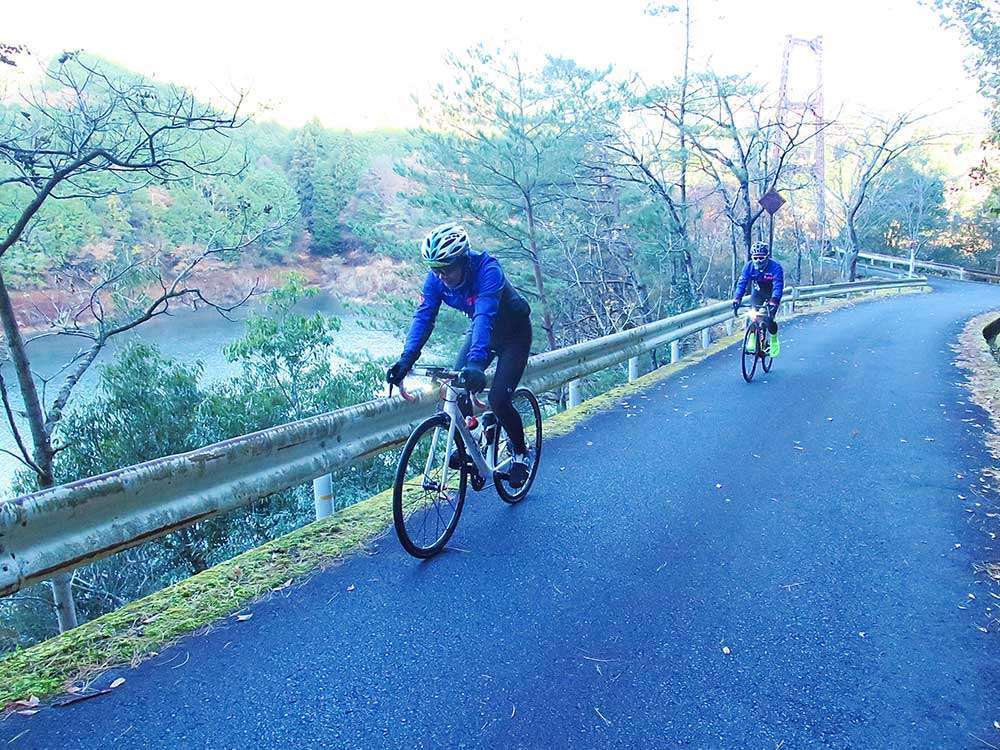 There were almost no cars on the Murou lakeside, so we could enjoy a pleasant, relaxing ride through the quiet forest. There was an observatory and restroom near the dam embankment. We went straight ahead without crossing the bridge over the lake, and a slope appeared. After riding up this slope, we went downhill on a wide road, then came out on Route 369.
Visiting Shrines and Praying for a Safe Journey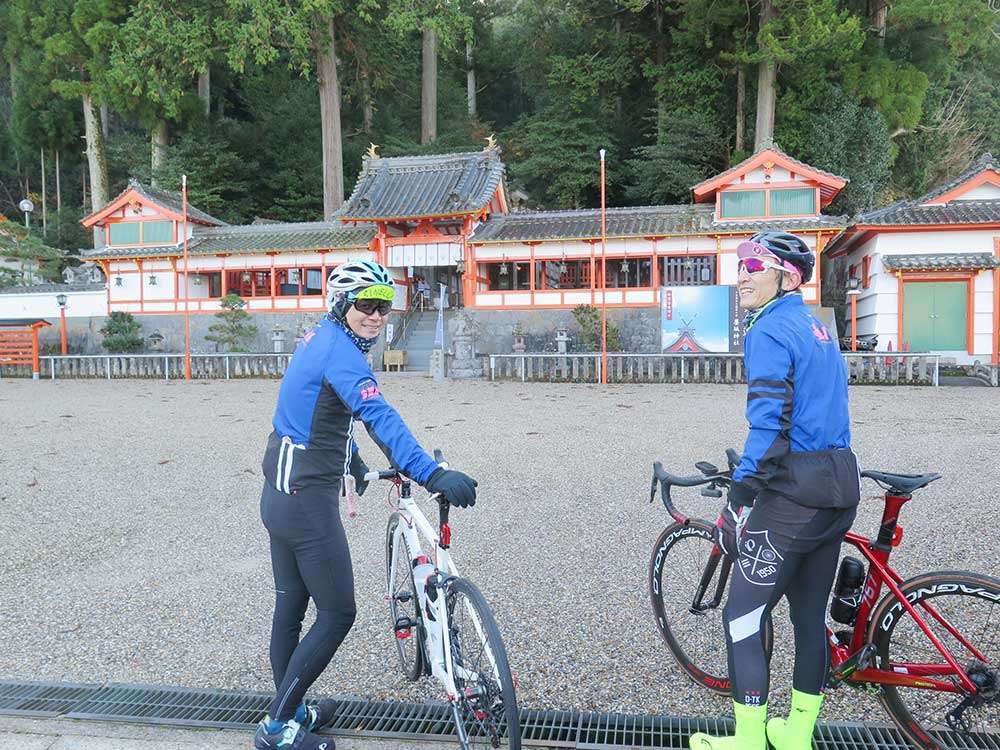 After riding for a while on Route 369 and turning left, you will find Sumisaka Shrine.
Sumisaka Shrine is said to be the oldest shrine in Japan that enshrines the deity of health. We prayed for a safe journey, as well as to "stay healthy forever to keep riding our bikes."
Ride along the river and turn left when you see a supermarket on your right. You will see a large torii gate on the right.
This place is called Yatagarasu Shrine, and it enshrines Yatagarasu, a three-legged crow that is the deity of guidance. It is said that Yatagarasu led Japan's first emperor, Emperor Jimmu, from Kumano to Uda here, contributing to the pacification of Yamato. This creature is said to have since been deified as war hero.
Yatagarasu is also the emblem of the Japan Football Association, and many soccer or football fans visit the shrine as well. The shrine has bike racks, which shows that it is also popular among cyclists. You can also find a restroom here.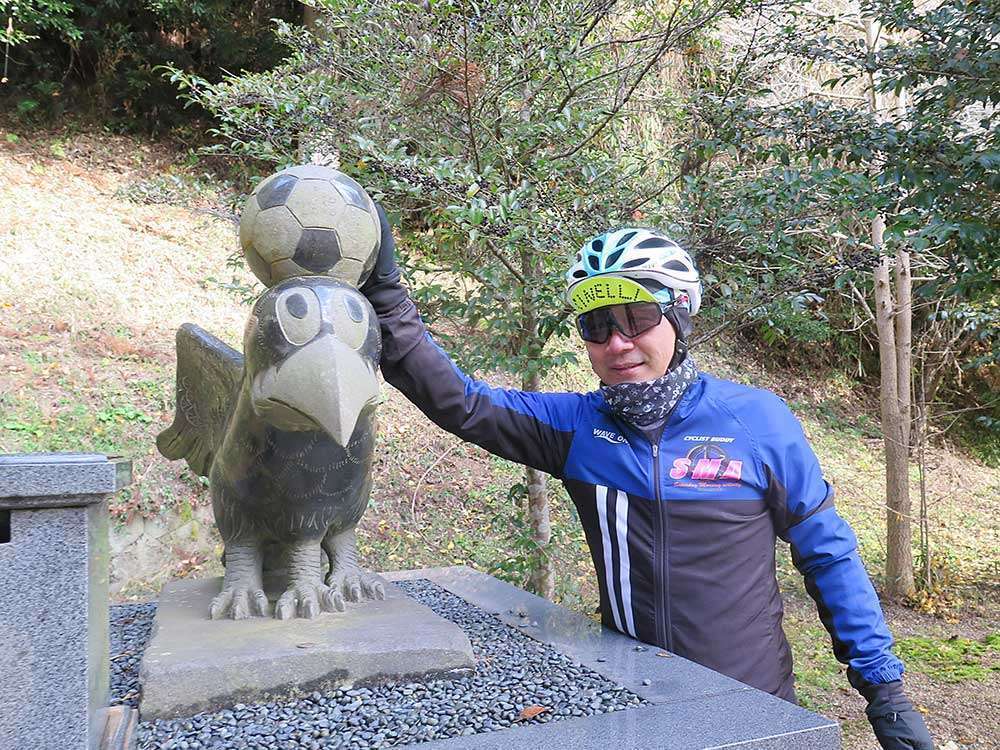 I stroked the soccer ball on the head of the Yatagarasu statue and prayed for a safe journey.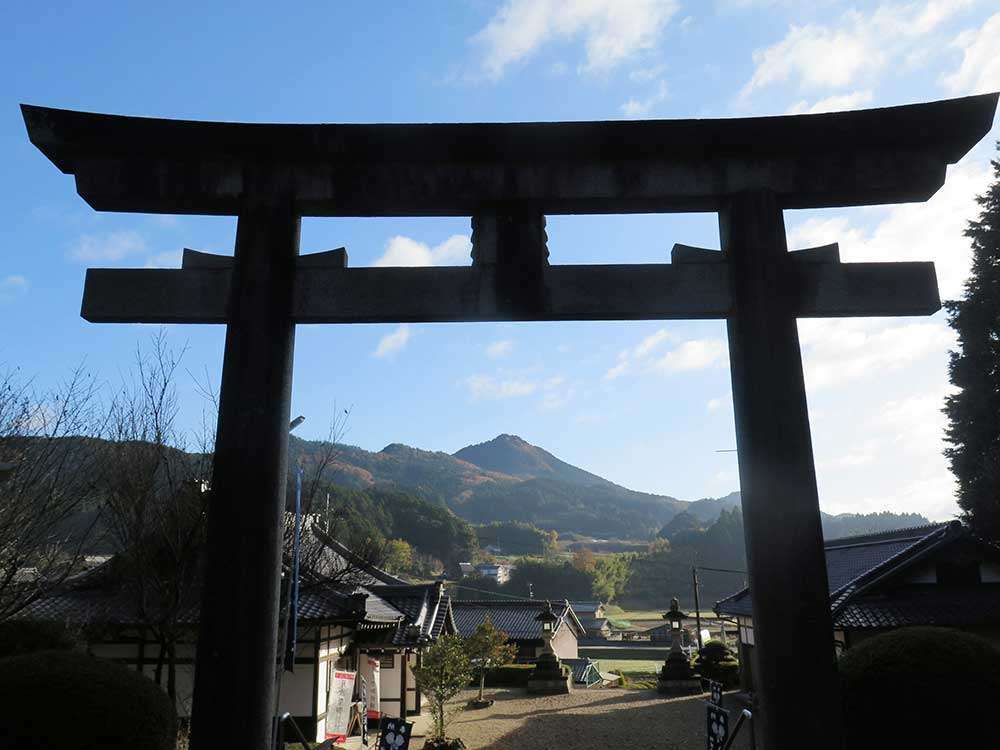 From Yatagarasu Shrine, you can clearly see Mt. Takami, dubbed the Matterhorn of Kansai. Yatagarasu is also enshrined at Takasumi Shrine at the top of this mountain. Mt. Takami is said to be a sacred place that nurtures the clear streams of Yoshino, which is where we were heading. In winter, the summit is covered with frost and attracts many visitors.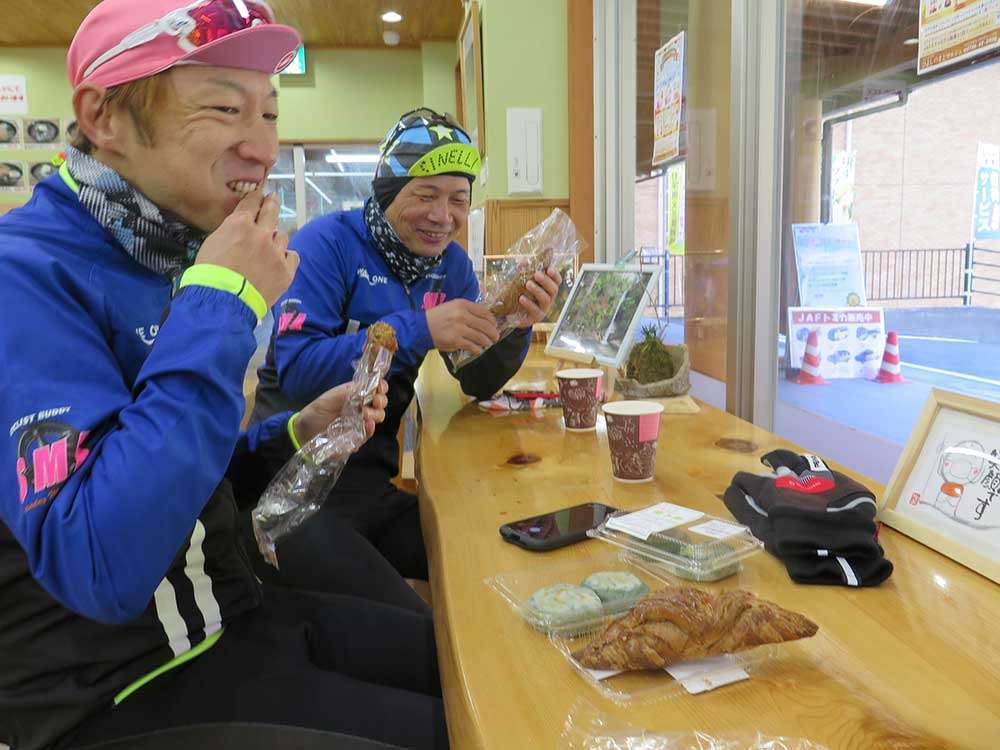 We went south on Route 166 to Higashi Yoshino. After riding for about 10km through the mountains, we came to a short tunnel. As we passed the tunnel, we found "Hiyoshi no Sato Marché." This is a small store packed with local specialties. We ate the bread freshly baked in the store and the famous kusamochi in the dining area. There is a cycle rack at the store.
Here, you can eat the famous taamen noodles. The noodles are as thick as linguine. They are made with spring water from the mountains, high quality wheat flour, and Yoshino kuzu (Japanese arrowroot), carefully hand-pulled using the traditional method. The noodles have bouncy texture with just the right amount of bite that feels smooth on the tongue.
Now to Yoshino and the World Heritage Site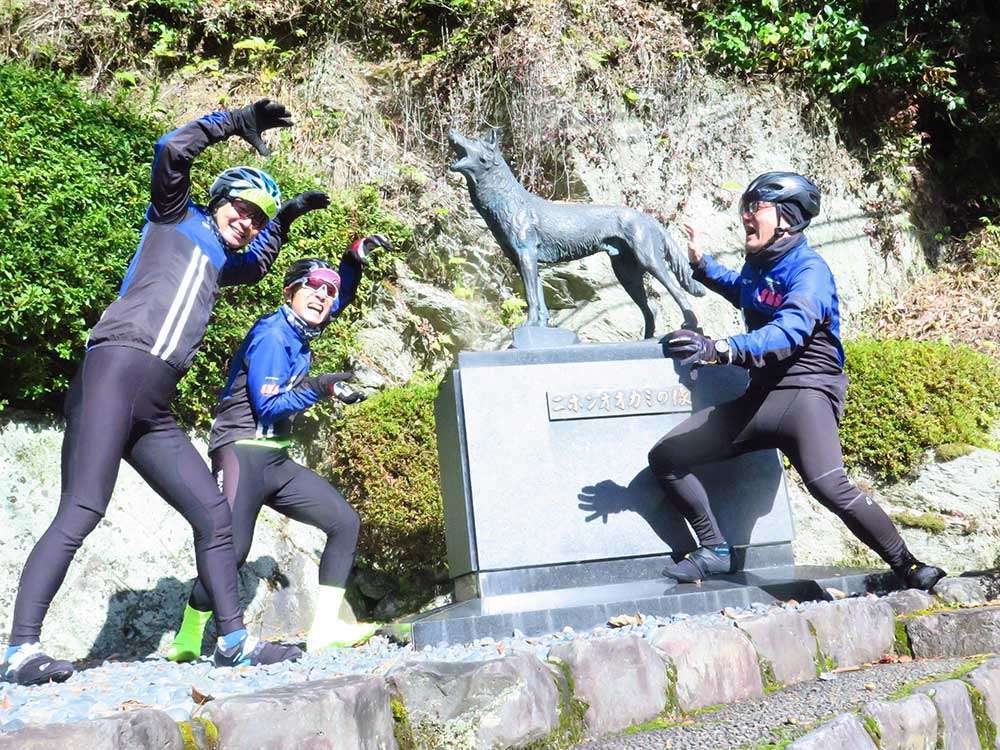 Riding back through the road we came from, we saw a statue of the Japanese wolf on our right as we rode along the Takami River.
Higashiyoshino Village is known as the last home of the Japanese wolf, which became extinct in 1905 when it was captured at Washika in the same village. The captured wolf is now reportedly displayed in the British Museum.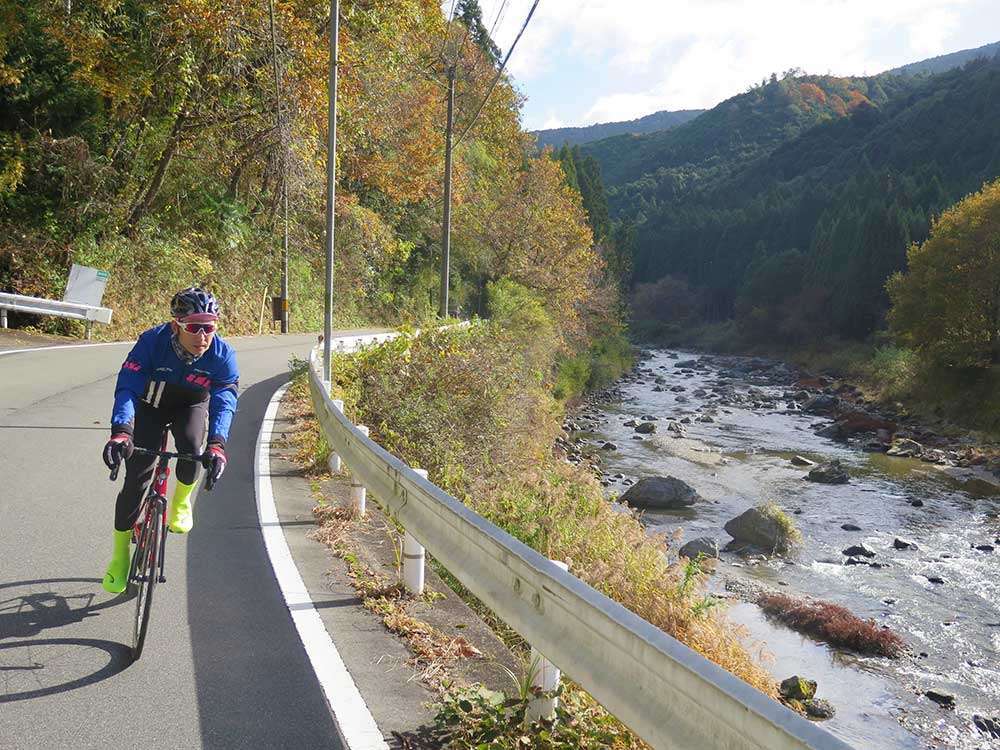 We rode along the Takami River listening to the murmuring of its clear stream, and headed toward Kashihara/Gojo on Route 169.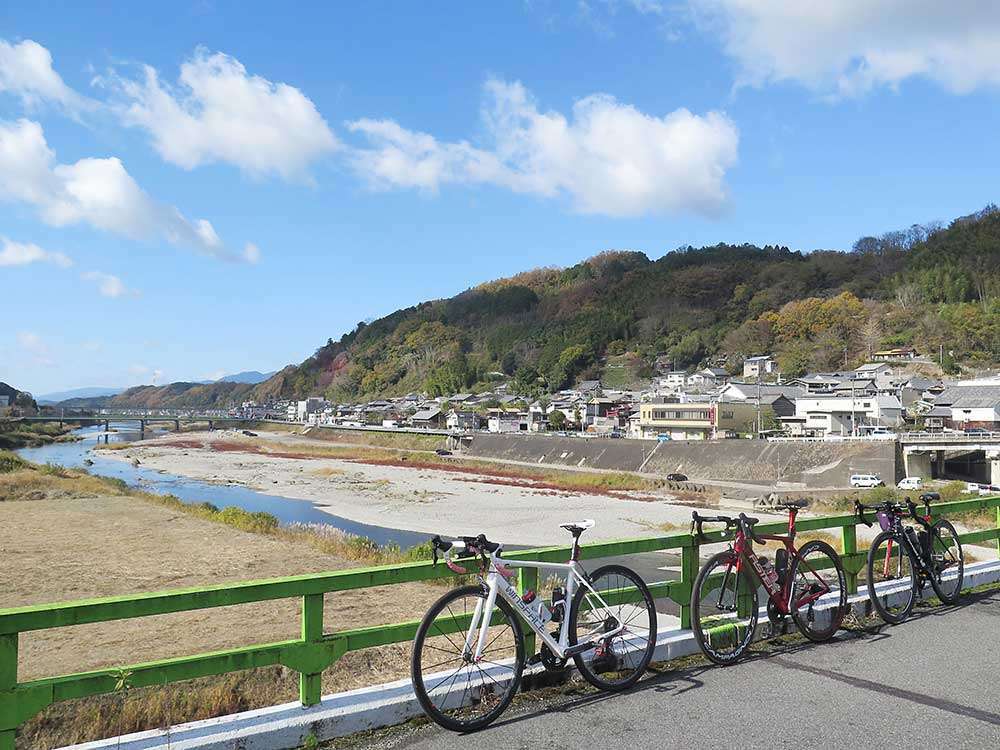 The Takami River eventually merges with the Yoshino River. The river gets wider, feeling very open and pleasant. In summer, you can find many people enjoying barbecues on the dried riverbed.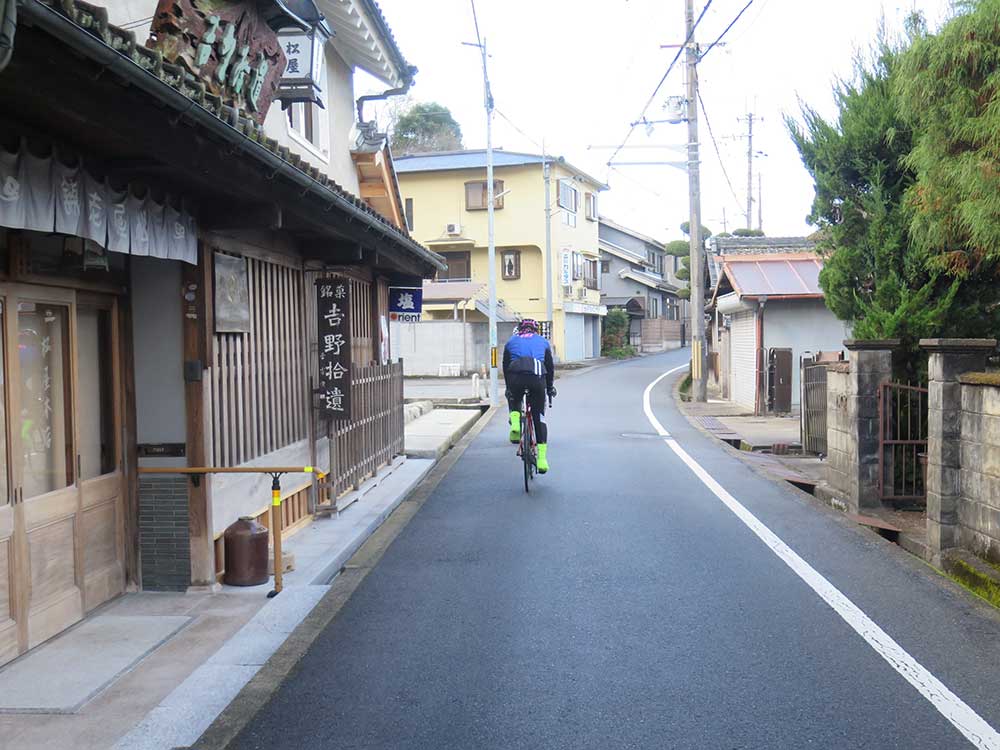 We crossed the Sakurabashi Bridge and turned right to ride along a quaint street. This time, we avoided the traffic and went up Mt. Yoshino via a forest road. The road here is narrow and splits at many points, so be sure to check your map well in advance. The slope of the forest road is not very steep, but it is narrow, so please be careful of oncoming traffic.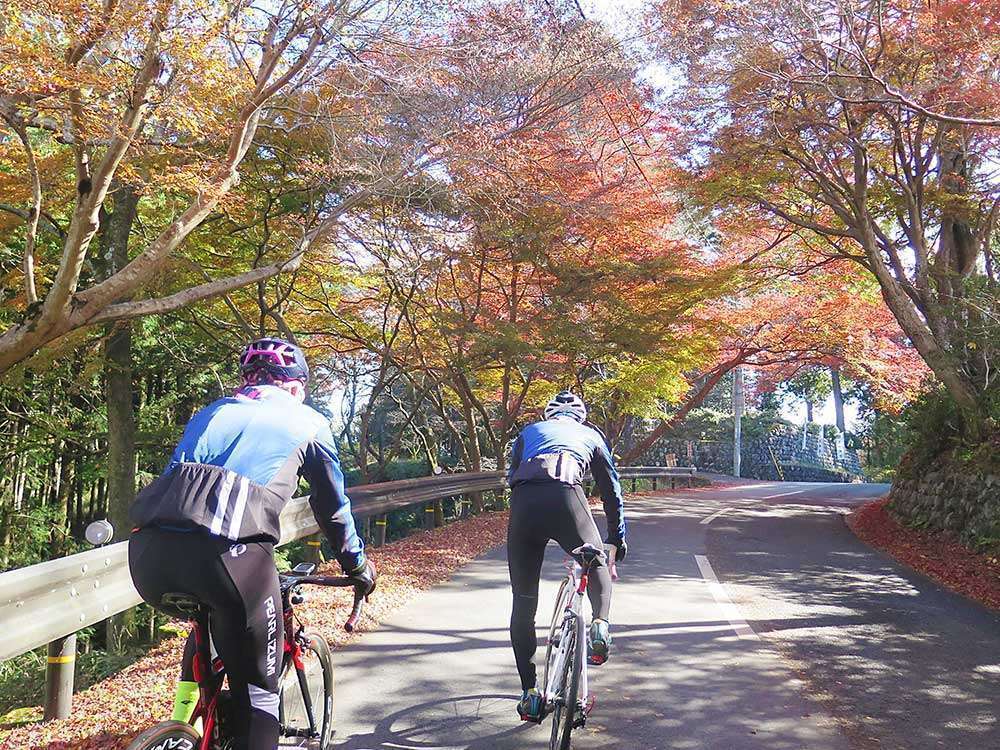 At Mt. Yoshino, we went uphill for about 5km. Seeing the beautiful autumn foliage made pedaling seem lighter.
The Sacred Sites and Pilgrimage Routes in the Kii Mountain Range were recognized as a UNESCO World Heritage Site in 2004, and the road connecting Yoshino and Kumano is called Omine Okugake-michi . The entire mountain of Mt. Yoshino is registered as a World Heritage Site.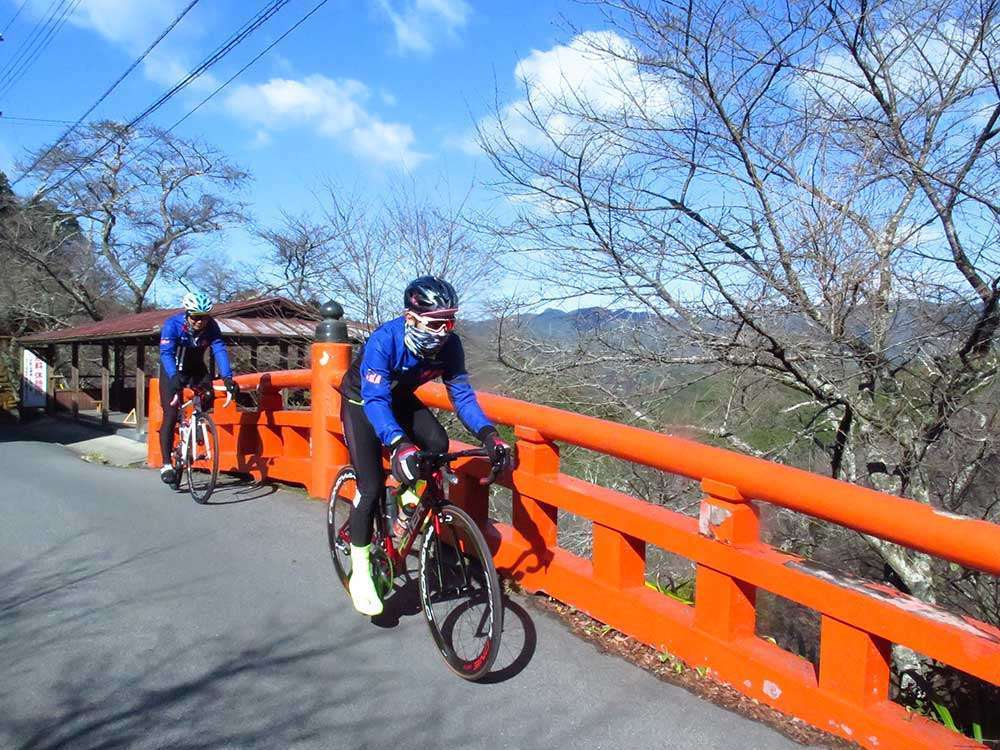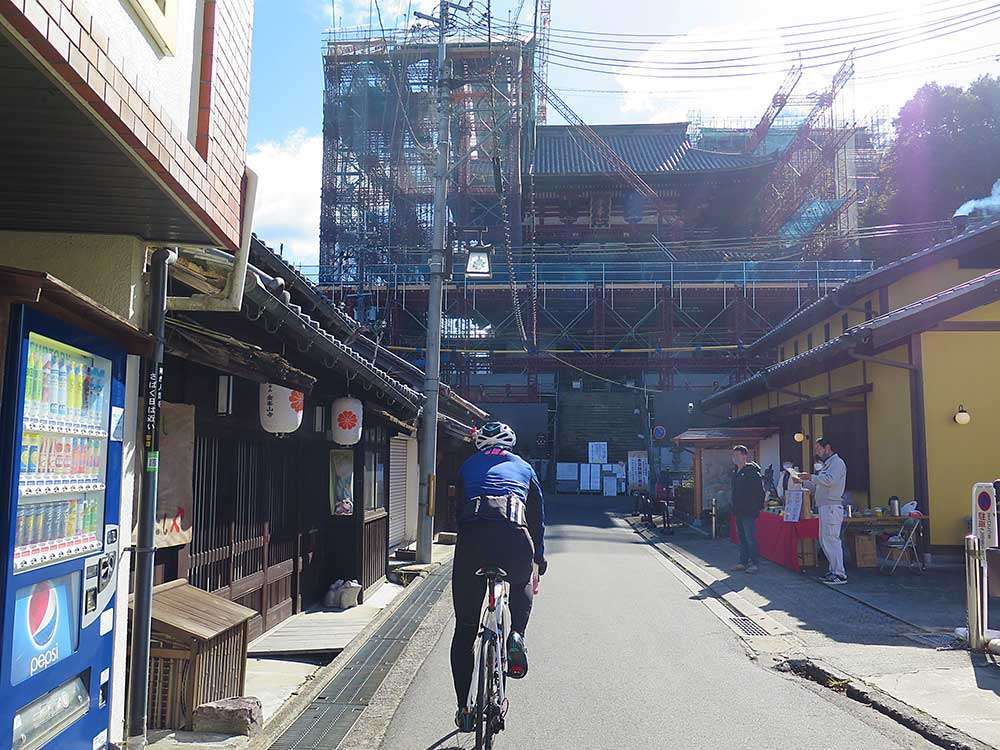 The slope continues to the town surrounding the national treasure Kinpusenji Temple , at which point the view opens up. There are many pedestrians, so proceed slowly and carefully. The Niomon Gate of Kinpusenji Temple was under renovation, and the main hall of the temple, Zaodo, was under construction.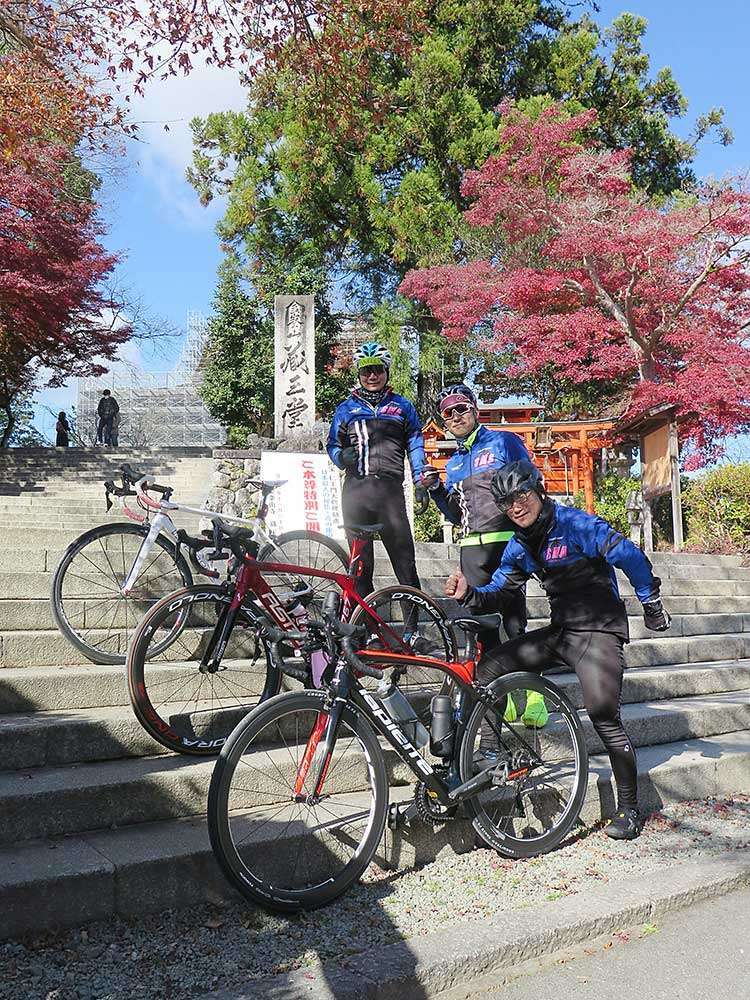 The national treasure, Zaodo, is registered as a core World Heritage asset along with Niomon Gate and the precincts. What a wonderful environment we are in, to be able to ride on a cultural heritage that gives us national pride!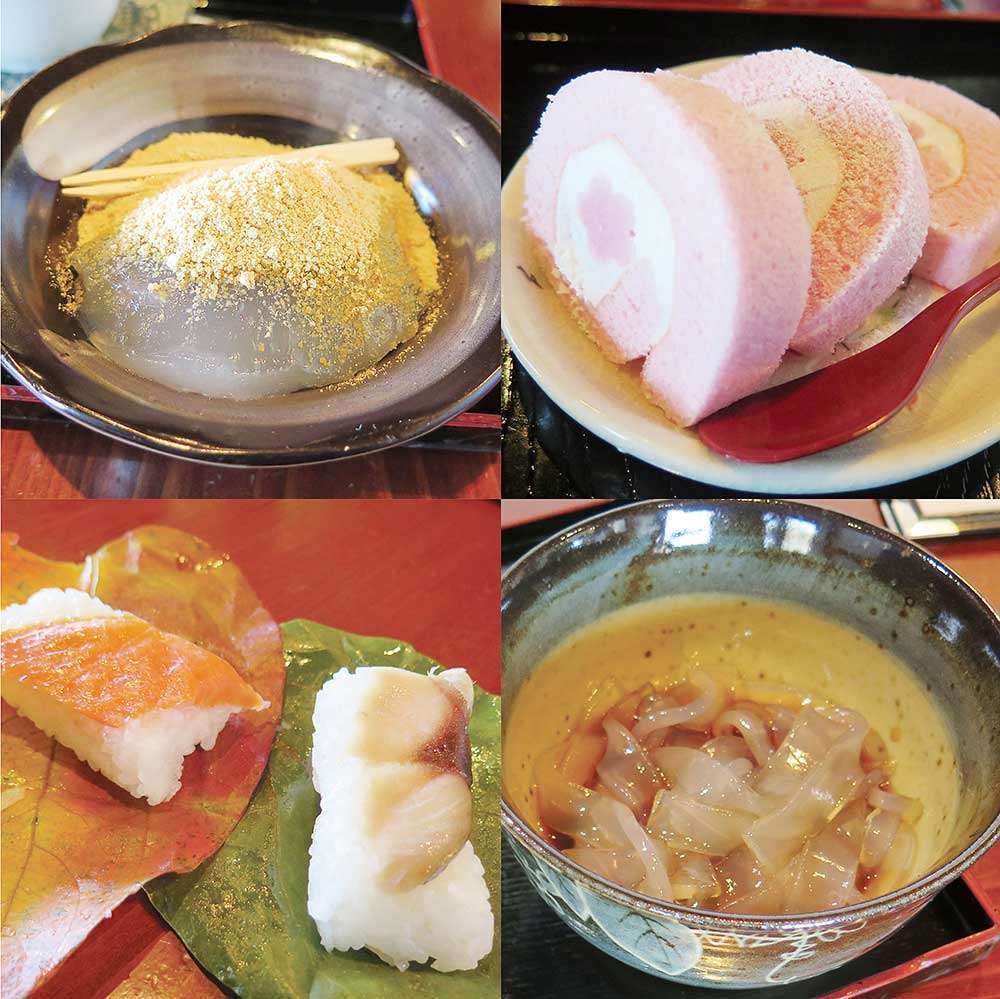 The town was filled with mouth-watering delights. We tucked into Yoshino's specialties just a short distance from Zaodo. We lost track of time and indulged in chatting.
If you are looking for kuzukiri and kuzumochi, I recommend the nearby kuzu cafe "Nakai Shunpudo" (reservation required).
Leaving Kinpusenji Temple, we descended Mt. Yoshino. In spring, the mountain is blanketed with cherry blossoms. Going down the hill, you will find Kintetsu Yoshino Station.
To Ouda Via Lake Tsuburo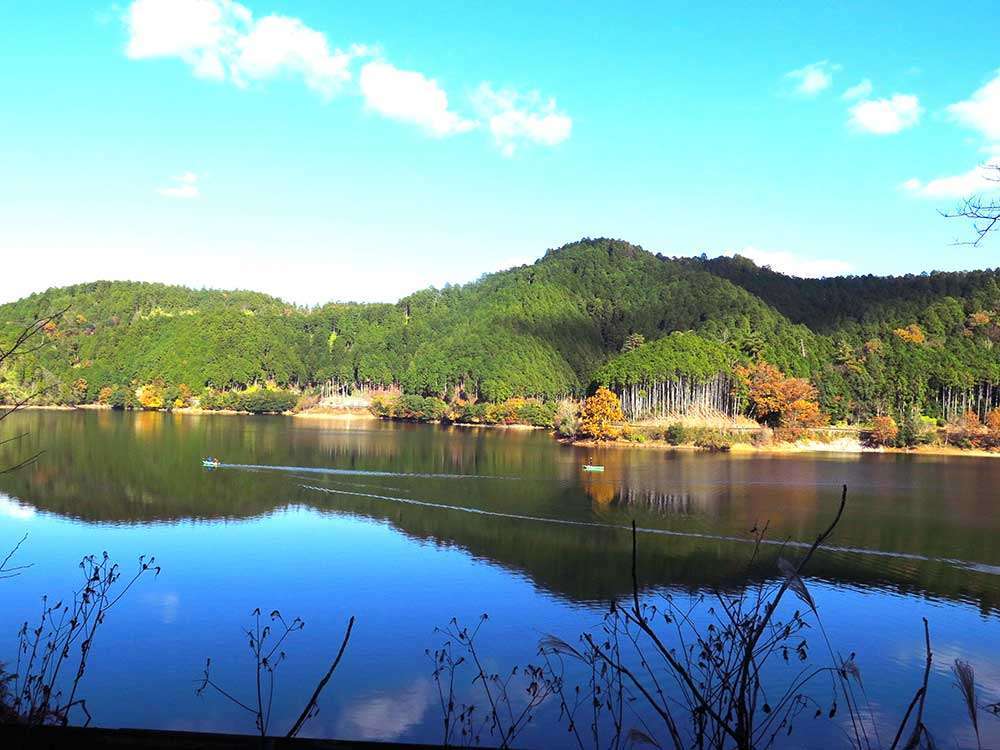 We went east on Route 169, then back the way we came and headed toward Tsuburo. Lake Tsuburo is an irrigation dam that is known for wakasagi (Japanese smelt) fishing, and was busy with anglers.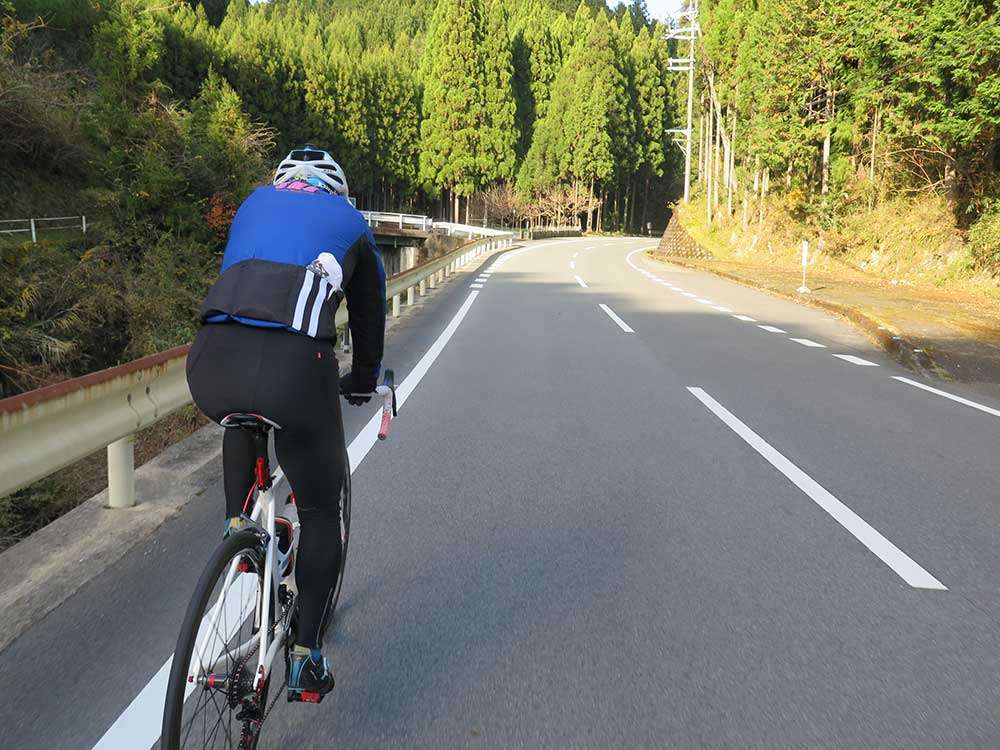 After merging with Route 370, the slope continued for about 10km to Ouda. It was not very steep, but I could feel the fatigue gradually building up, like a cumulation of body blows in boxing.
We arrived at the cafe at around 2pm. Lunch was served until 2pm, so we had just made it.
"Hill Toco Café" is in a renovated traditional country house with a nostalgic and spacious atmosphere, where it serves its popular dishes and desserts made with medicinal herbs and local vegetables. It gets busy on weekends and holidays, so there is often a wait to get in. Make sure you calculate the rest of your riding time.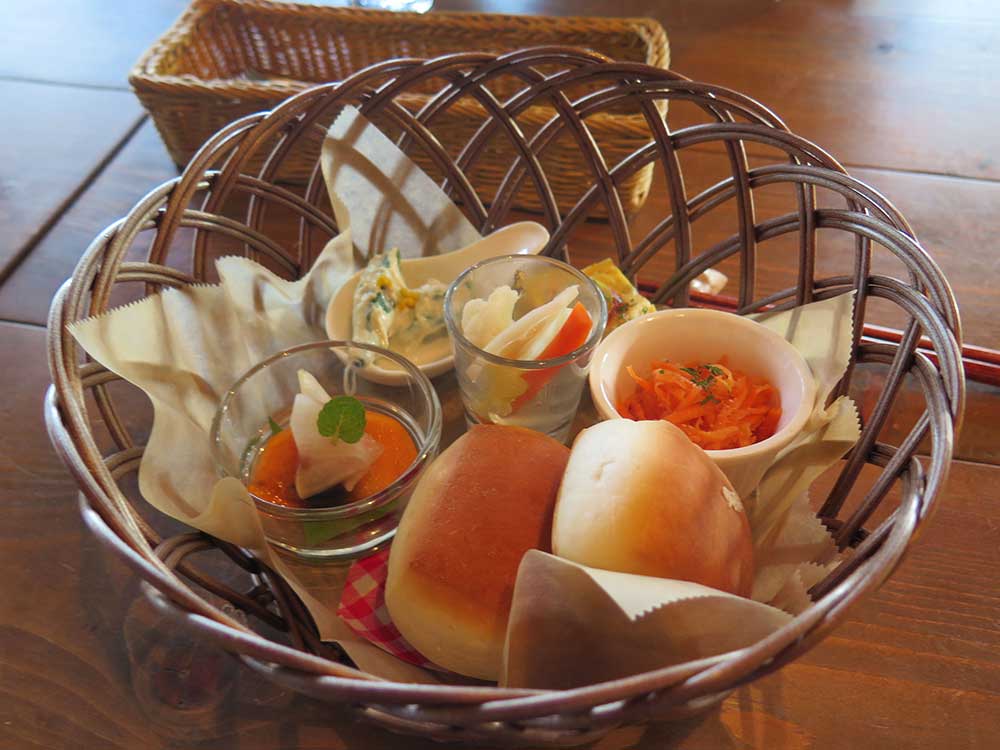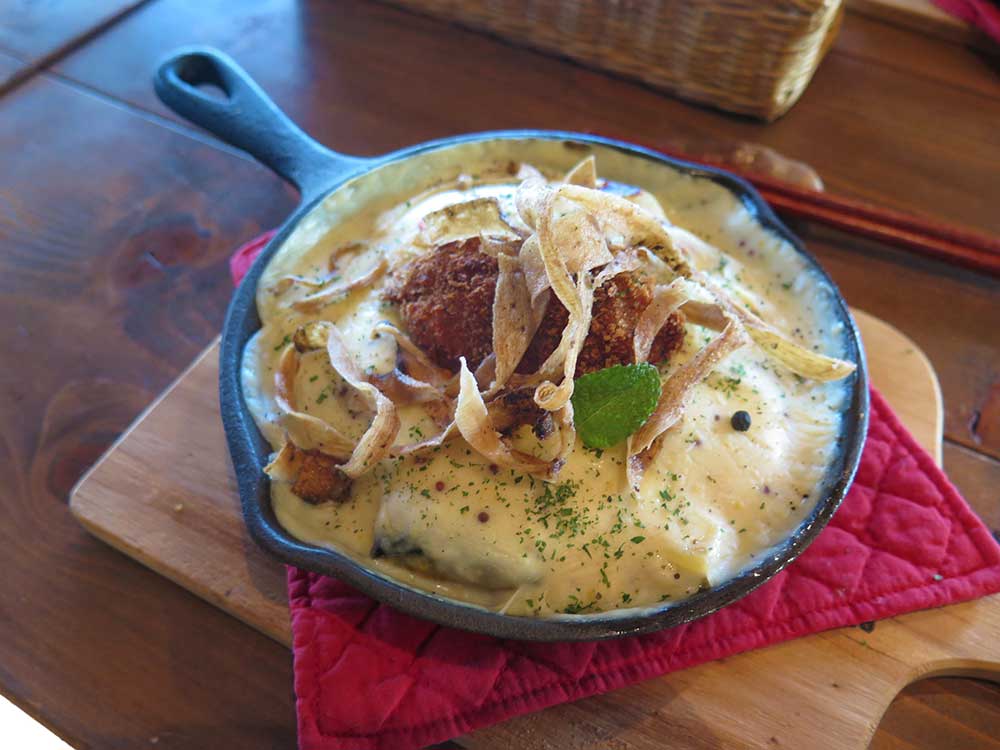 It was definitely worth the wait!
My main dish was a gratin, and it was exciting to see all sorts of vegetables like cauliflower, potatoes, pumpkin, and sweet potatoes making an appearance in the dish.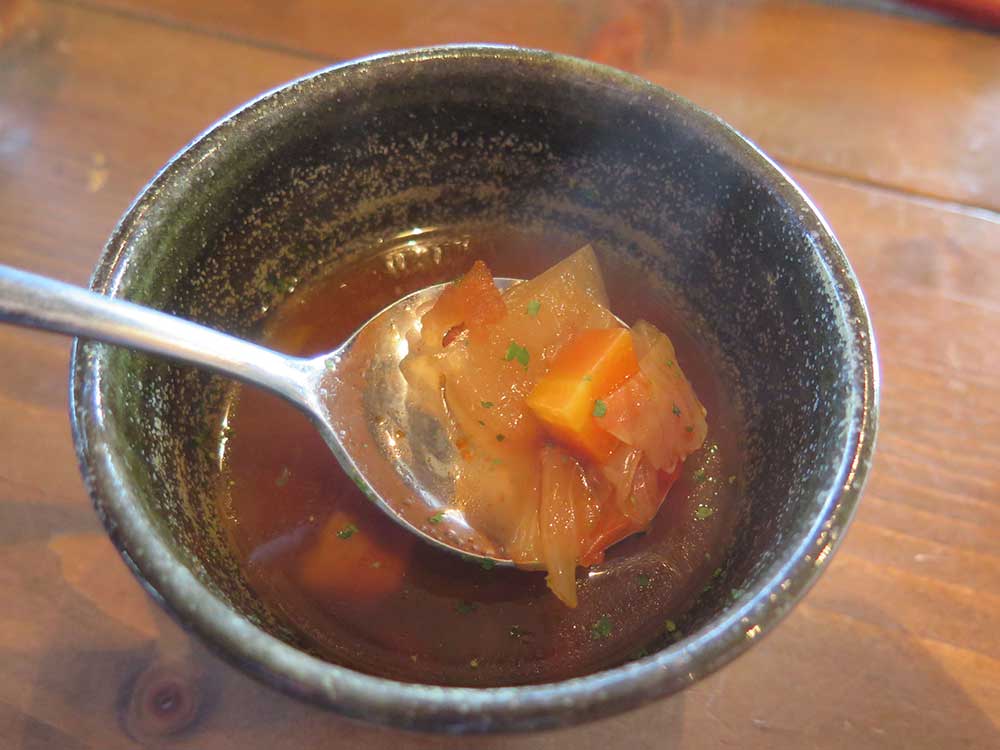 The soup had Yamato Toki (Angelica acutiloba) in it.
Ouda has been a town of medicine since the Asuka period (552-645), and is home to many places where you can eat herbal cuisine. Daigan-ji Temple , famous for its autumn foliage, also offers this cuisine, and is popular for dishes using kuzu and herb tempura (reservation required).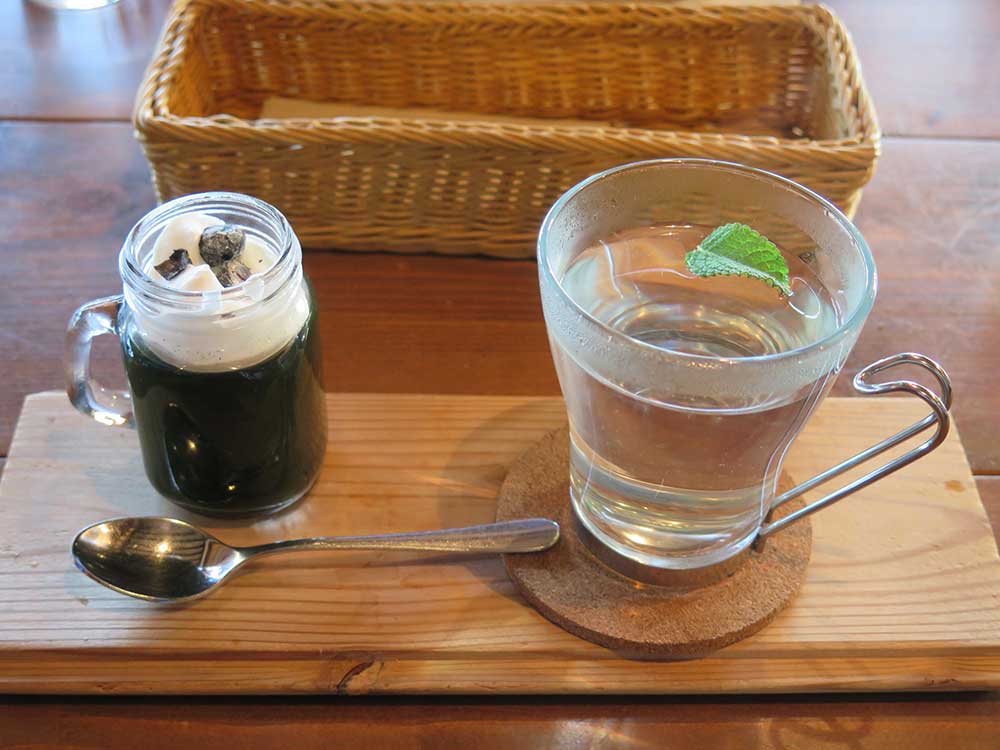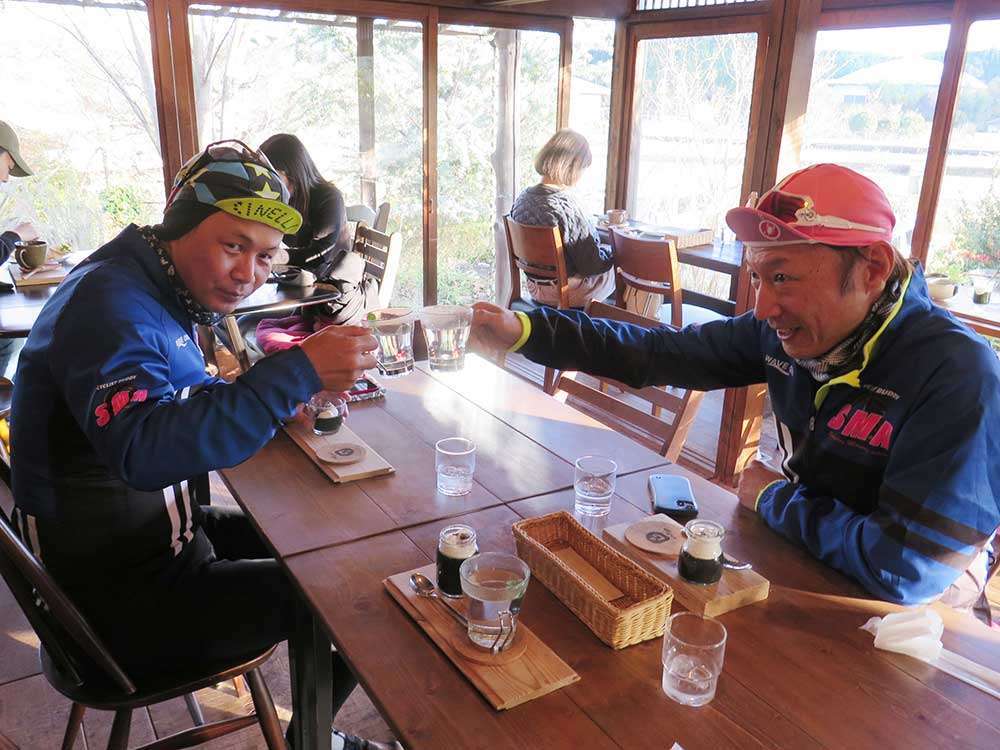 Strolling Through Ouda Before Heading Home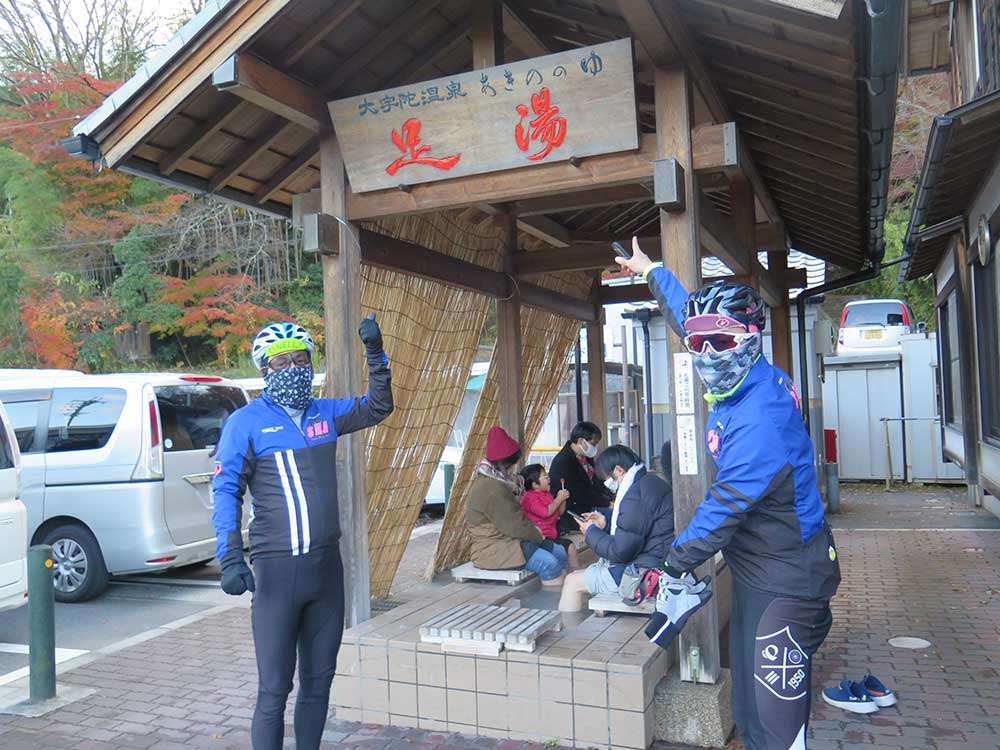 On the way back, we stopped at the nearby Roadside Station Udaji-Ouda [JP] . Here you can enjoy a footbath, souvenirs of local specialties, and a restaurant. A 70km ride around Yoshino that ends here is another great route. This station also offers a hot spring for you to relax in. As we were finishing our journey in Nabari, we were starting to worry about the time of sunset.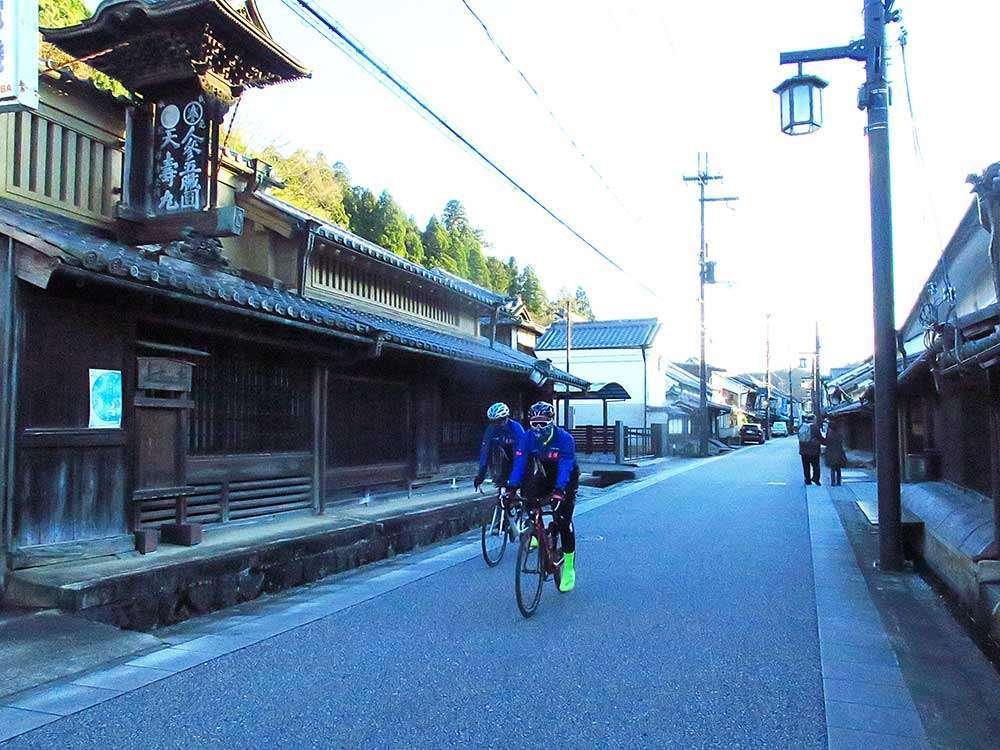 We stopped at Uda-Matsuyama, a short distance from the roadside station. Uda-Matsuyama was selected as one of the Important Preservation Districts for Groups of Traditional Buildings in 2006, and the old townscape remains to this day. The streets are lined with cafes, sake breweries, Japanese sweets shops, and medicinal herb gardens, creating a peaceful ambience.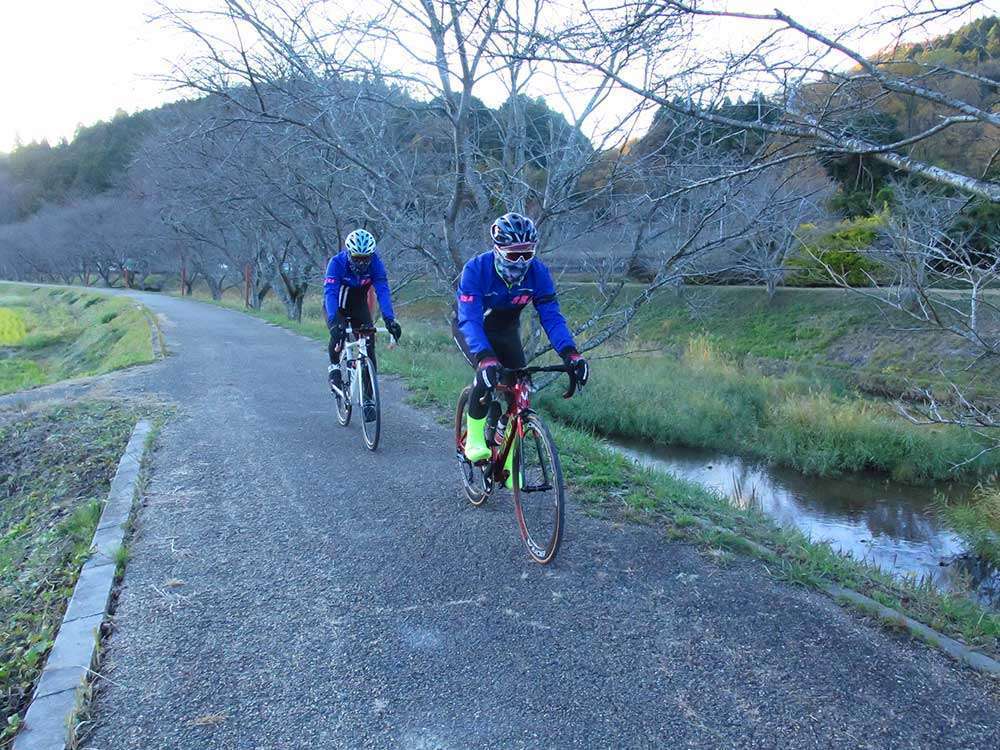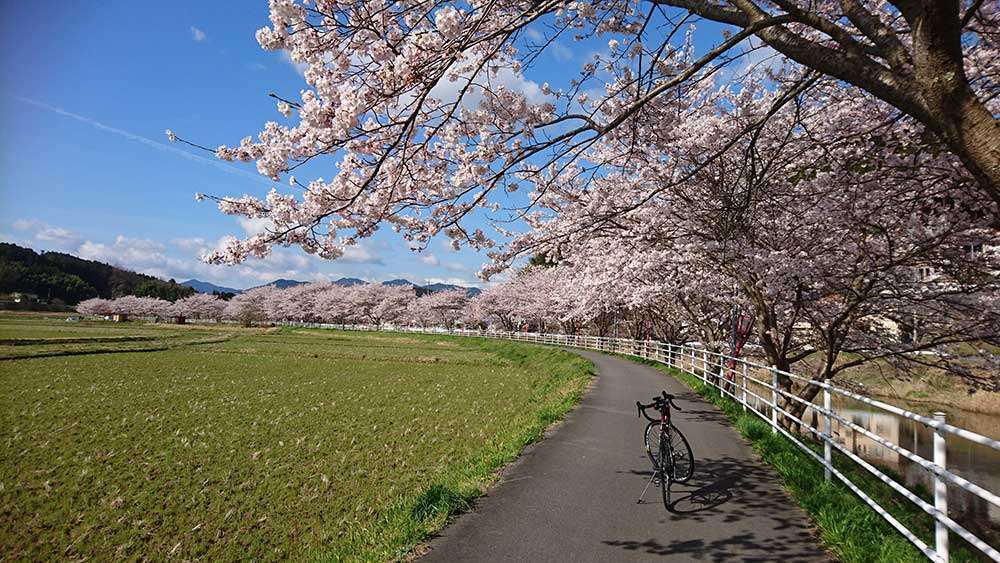 We rode along the cycling path lined with cherry blossom trees (not in bloom at this time). The road surface is covered with gravel at some parts, so please ride slowly. From here, we turned back to Lake Murou. It was getting dark, so we hurried on and managed to get through Lake Murou before the sun set. We crossed Route 165 and rode straight ahead.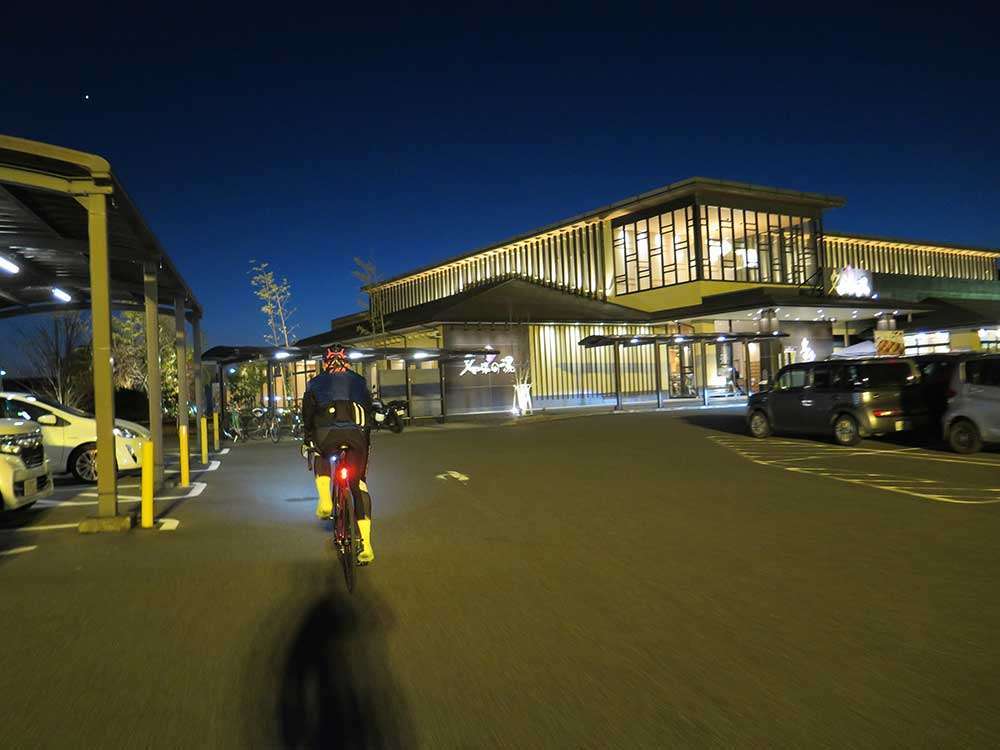 We arrived at Nabari no Yu at around 5:30pm. Night had fallen by then. The days are short in winter, so we should keep that in mind.
Other routes

Murou—Yoshino—Uda-Matsuyama