Exploring Ninja Haunts
My son, 12, pulls himself across the river along a suspended line, standing on floating tires. Most others fall into the shallow river. I don't. I cross sitting on the tires. This is the finale of the "ninja experience" at Akame 48 Waterfalls [1] in Nabari, Mie Prefecture, where Japan's top ninja once trained. Ninja haunts suit me. I don't like crowds and traffic, and I love adventure and exploring the Japanese countryside.
What is "East Nara Nabari Yamanami Ride"? Learn here.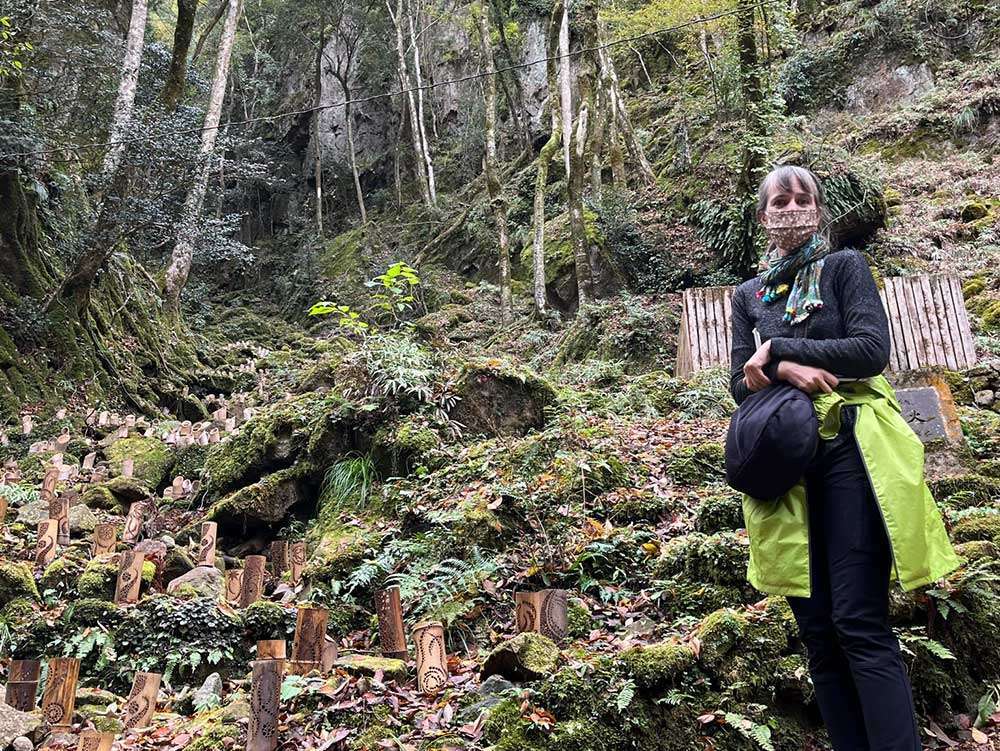 | | |
| --- | --- |
| Route | Nabari Station = Lake Shorenji (bike rental) = Kashihara Castle Ruins = Akame 48 Waterfalls = Ryuguchi= Lake Shorenji = Nabari Station  Route map |
| Distance | 20.4 km (12.7 miles) |
| Elevation gain | 307 m |
| Date | November 14 |
Two months later, on a cool sunny November day, I return to the area for a 20-kilometer cycling excursion coordinated by East Nara Nabari Tourism. The "Kintetsu Limited Express [2]" is an affordable train which can shuttle you to Nabari from Osaka, Kyoto, Nara, or Nagoya in under two hours, closer to one. I arrive at Nabari Station at 9 AM.
For this trip, I have with me my overnight bag and a backpack for the day. I am staying at Smile Hotel, next to Nabari Station. If you want to stay at a hot spring hotel or inn, many offer a shuttle service to and from Nabari Station. Nabari Station offers coin lockers or you can leave your overnight bags at the Nabari Tourist Information on the west side of the station, if you can be back by 4 PM.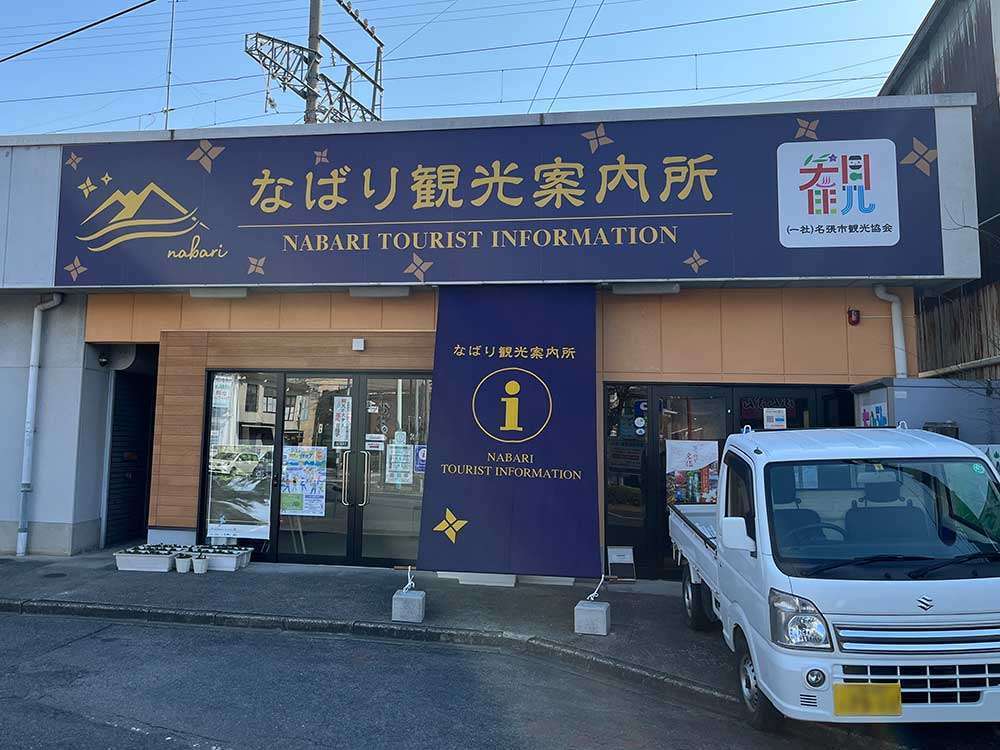 Ninja cyclist that I am (ha!) I have weather appropriate attire, two spare cell phone chargers, and my water bottle. East Nara Nabari Tourism have arranged a bicycle, helmet and guide for me. If you have ninja sense, are great at using online maps, fluent in Japanese, and have extra phone chargers, you may be fine without a guide.
It is possible to start this ride from Nabari Station. However, for this ride, the folks from East Nara Nabari Tourism drove me 3.5 kilometers to Cycle Pro Shop RPM [JP] (10 AM to 7 PM, closed Tuesdays.) Cycle Shop RPM was still closed. No worries. My bicycle for the day, a GIANT touring bicycle, magically appeared. After the ride, I took in the view from inside the shop, arguably the best view from any bicycle shop in the world.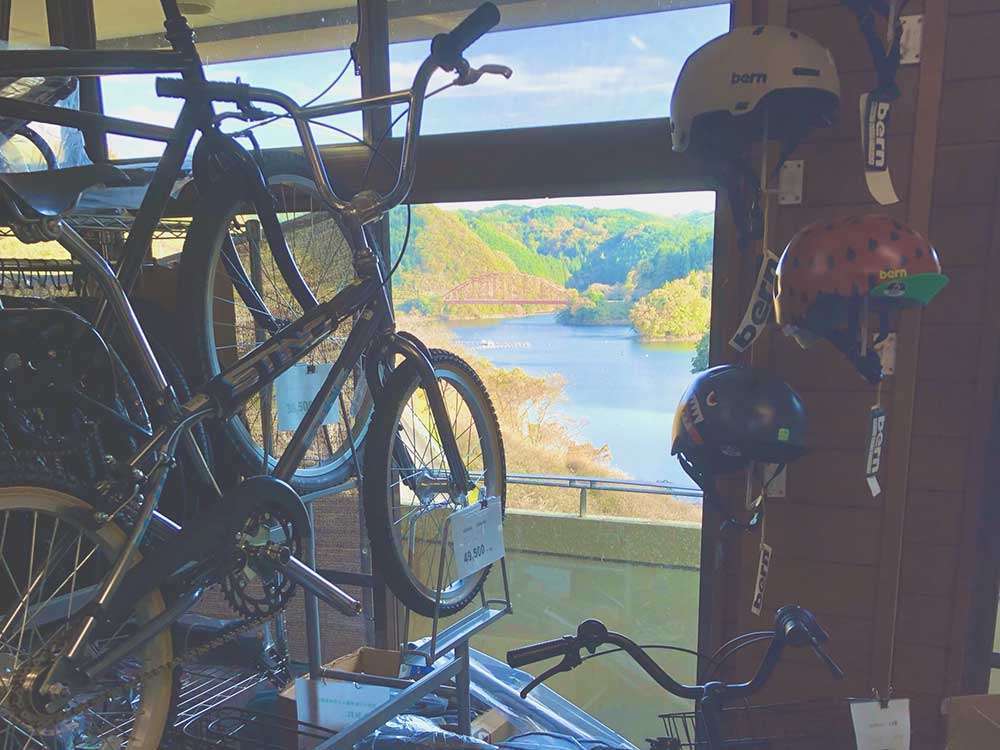 Paint me into the landscape
Japanese maples punctuate the landscape with red exclamation marks in this area in late November as the sunlight shines through the reddened leaves… take care to not get too bedazzled by the view and fall off your bike! October, April and May also tend to have optimal conditions for cycling.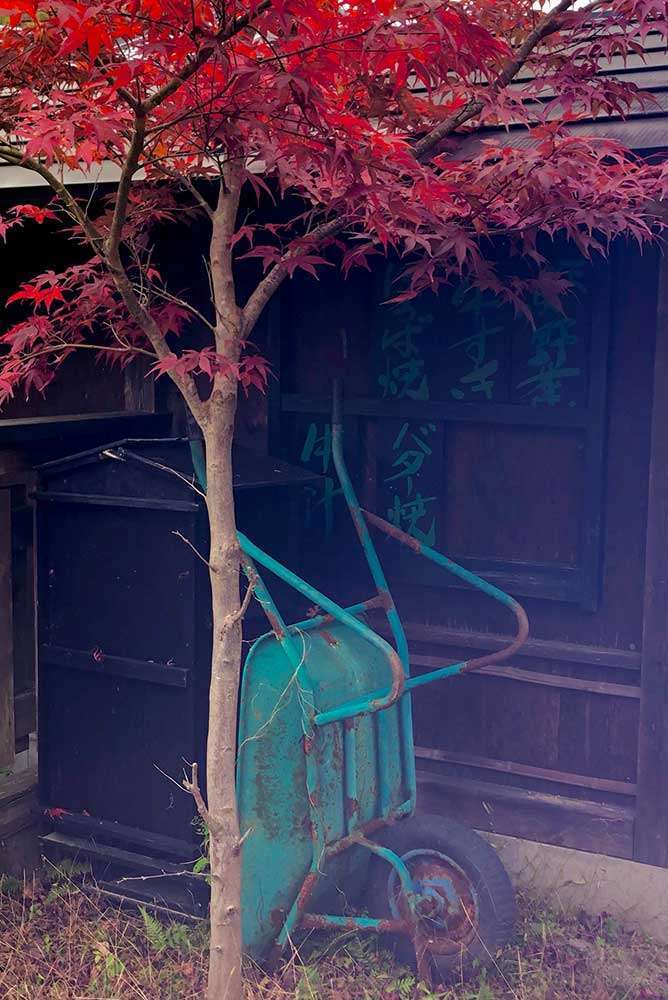 By the way, do you know the difference between Japanese maple leaves and the maple leaf on the Canadian flag? Japanese maple leaves are tiny, and delicate whereas other maple leaves, like the one on the flag, can be as wide as two outspread adult hands.
In the cooler months, you will likely also notice trees loaded with yuzu and persimmon. Yuzu is a large citrus fruit. Yuzu rind is a seasoning, and also drunk with hot water and honey. If you find one of these citrus fruits on the road, you can take it to float in your post-ride bath. The oil is fragrant and a great skin conditioner. Also, I saw many tissue-paper like flourishes of pink on dark-leafed bushes along this route—camellias.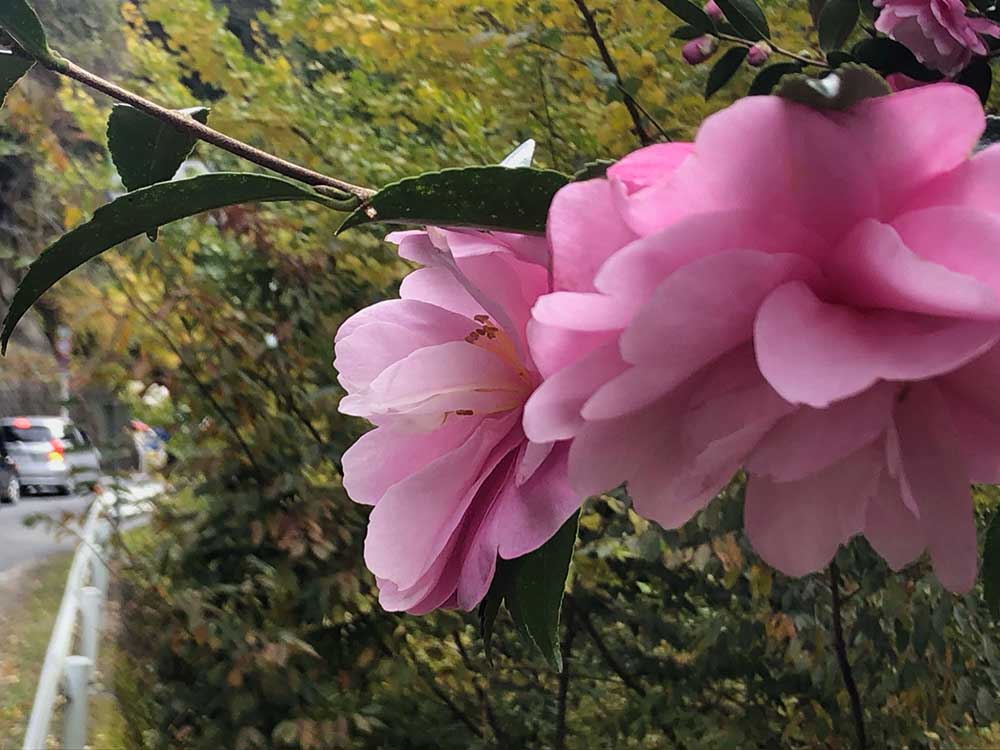 A Ninja Stronghold: Ruins of Kashihara Fort
From Cycle Pro Shop RPM, this ride starts with a long downhill stretch, past dreamy country houses and a vineyard.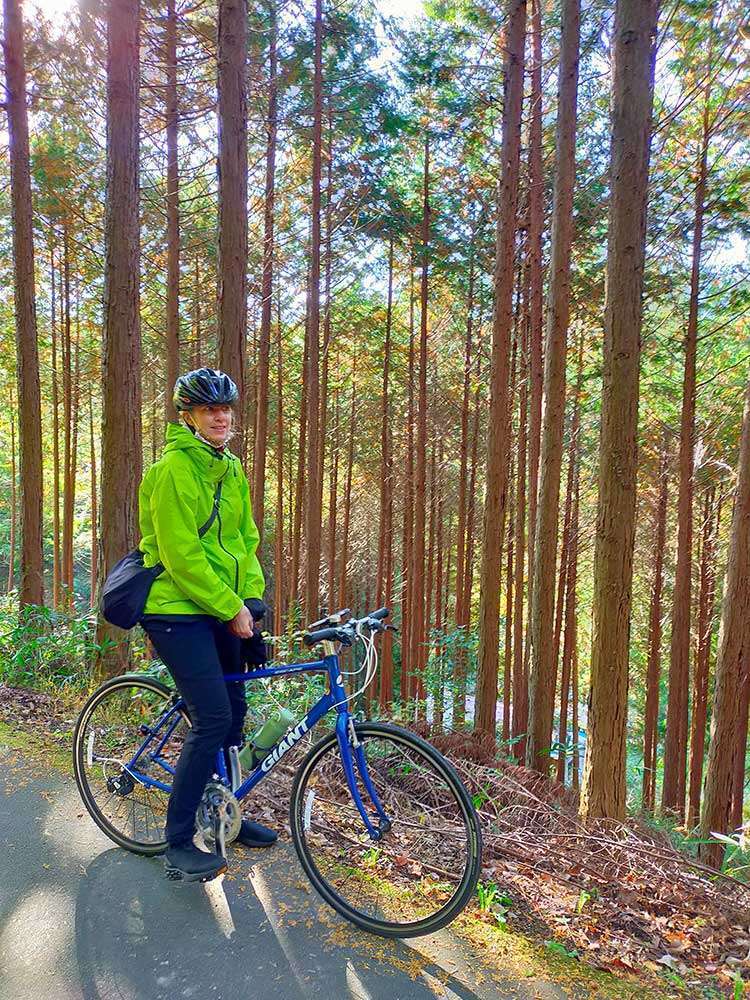 Our first stop is a ninja stronghold called Kashihara-joshi, Kashihara Fort ruins, next to Katte Shrine.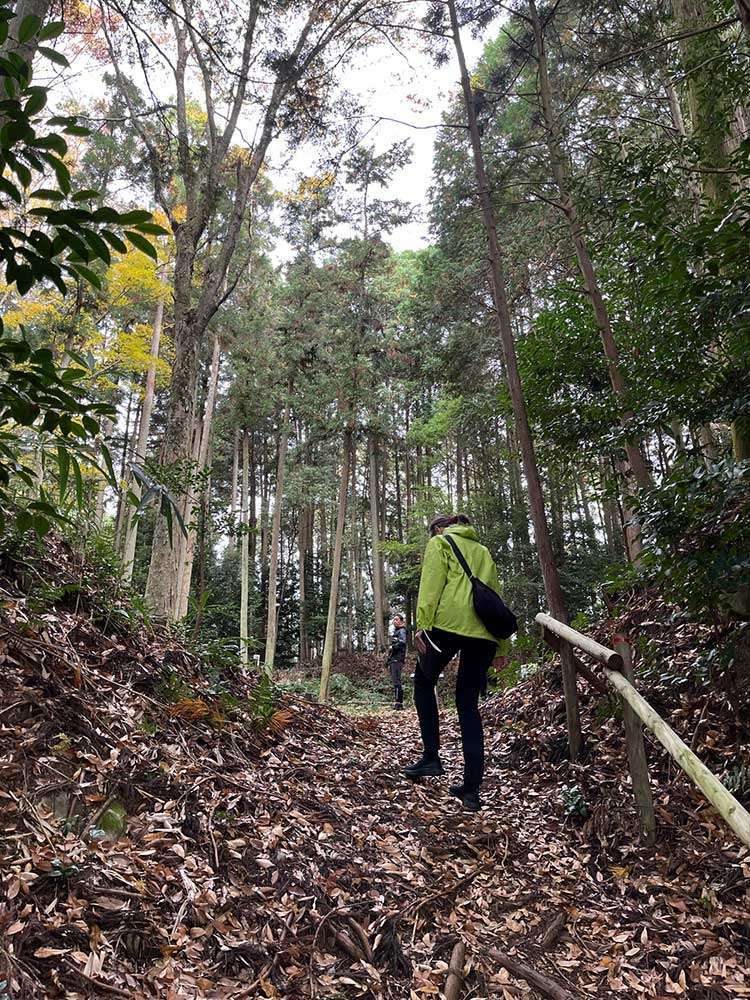 Kashihara Fort was the last holdout for the Iga ninjas in the years they were protecting their homeland from one of Japan's fiercest warriors, Daimyo Oda Nobunaga. Nobunaga conquered and united all of Kinai (the ancient capital region surrounding Kyoto) by 1580, except the Iga Province. His life and times inspired countless historical novels, dramas, films, video games, manga, and anime.
His closest fort to this last holdout was on a mountain, about five kilometers to the north. In 1579, Iga's ninja forces, led by top ninja Momochi Sandayu, won their first battle against Oda's troops; then, in 1581, outnumbered, they resisted another attack but lost. This shrine, their fort, and their villages were destroyed.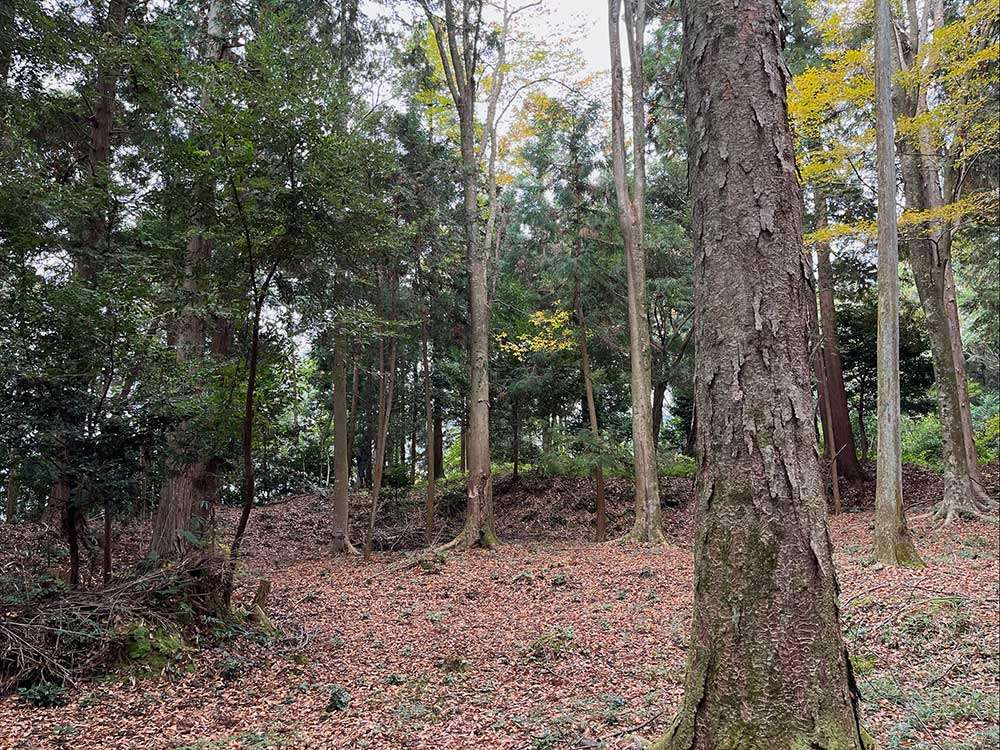 My guide takes me up a grassy path into the woods about 100 meters east of Katte Shrine to show me the remains of the moat, dug by hand. Imagine life here 500 years ago… Some people can sense the spirits here.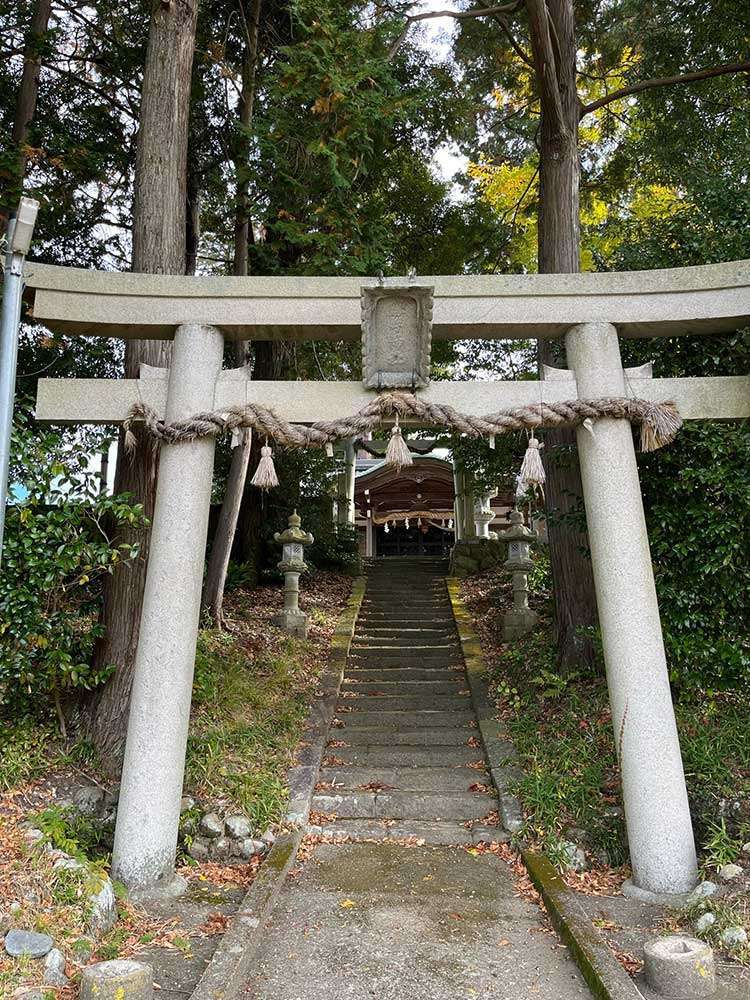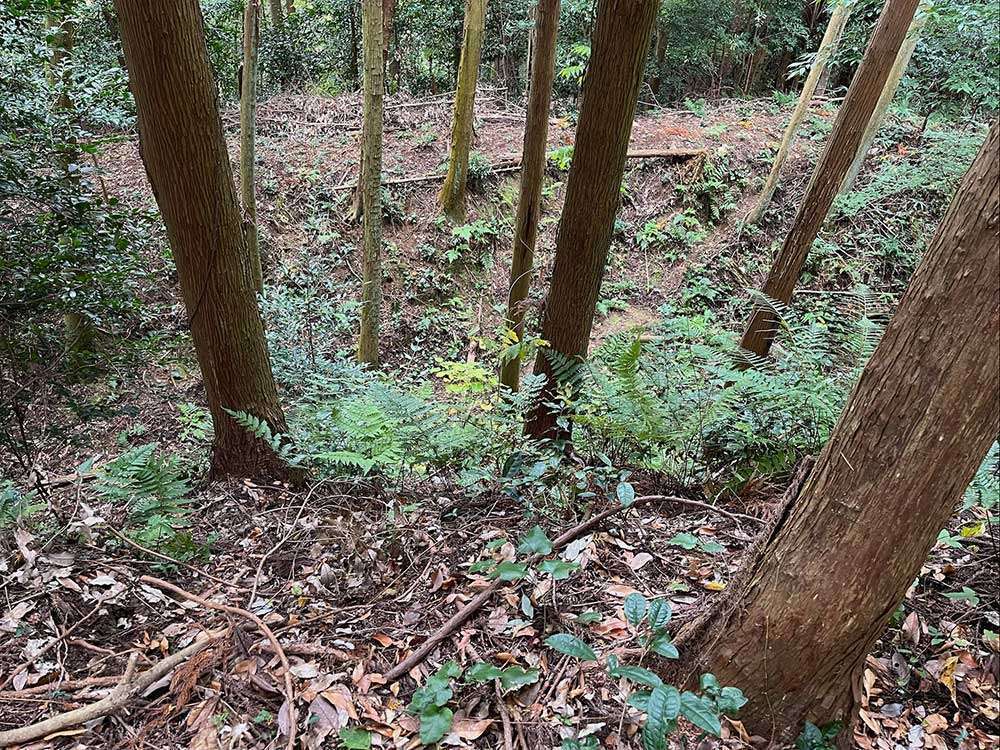 We return to our bicycles, and my guide encounters a guy leaving the shrine and starts chatting with him. They attended school together! That guy hands us canned coffees.
Akame Falls Attractions
Next comes the scenic narrow winding road to Akame 48 Waterfalls, where top ninjas trained, and where my family had the ninja training experience. It is a popular Kansai getaway. Weekend warriors flock there by car, lining up for a kilometer to get parking. Zoom by on a bicycle!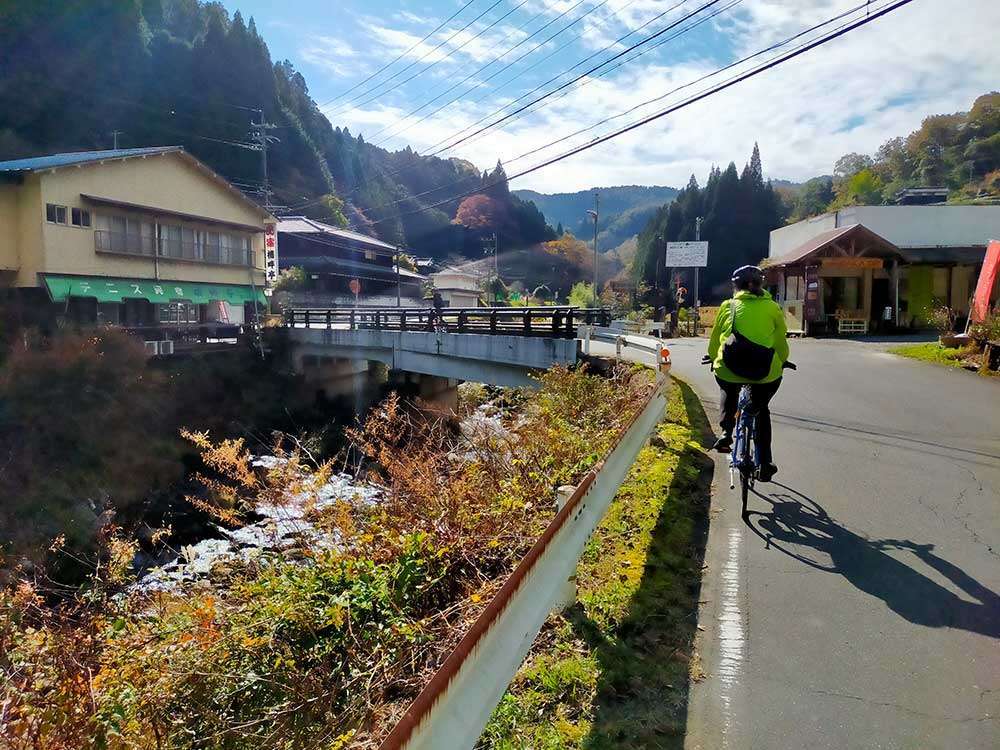 Besides beautiful waterfalls, Akame 48 Falls boasts souvenir shops, cafes, a hot spring hotel, an information and activity center (Akame Visitor Center), a riverside trail, and giant salamander aquarium. Walk your bicycle past the shops and park it at the bicycle rack in front of the visitor center, or as the parking attendants bid you. You can refill your water bottle in front of the Salamander Center.
Few people have ever seen a giant salamander, or sansho-uo in Japanese. The final "uo" of sansho-uo means fish because these salamanders live in the water. They are named after the fragrant forest herb sansho, because they emit a similar pleasant scent when frightened. Have you tried sansho? It is the delicate, multi-lobed leaf that tops eel dishes, also known as Japanese pepper. The "san" of sansho means "mountain" as it grows in shady forested areas in the mountains of Japan, places like Akame.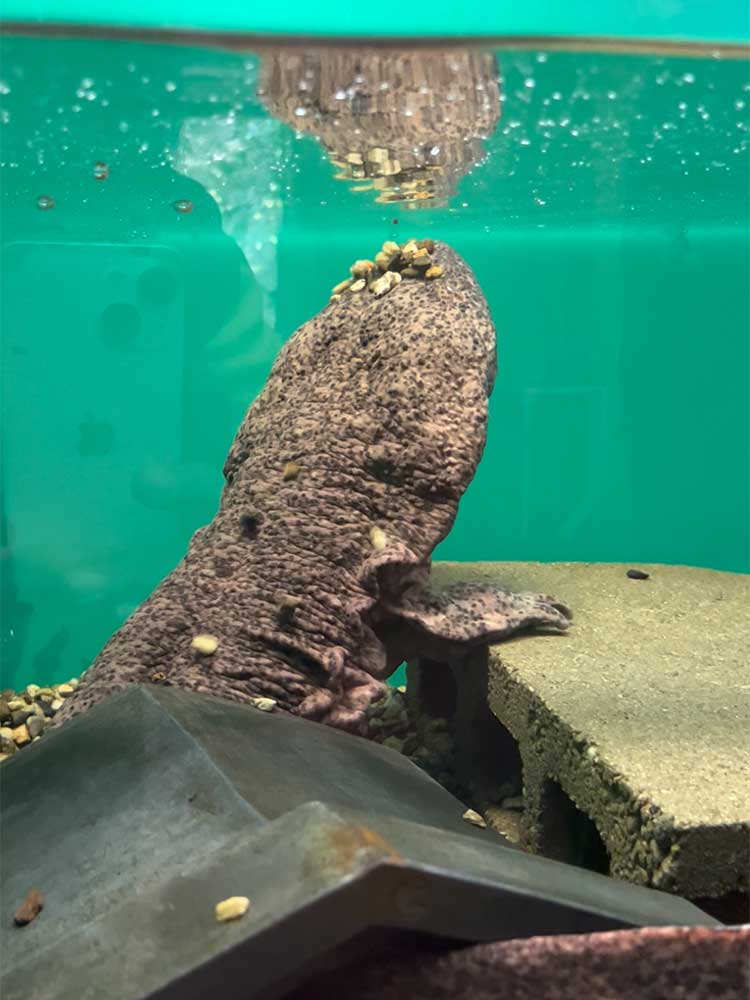 These salamanders are unlike any other creature I have ever seen. They share with ninja their ability to camouflage, hiding under boulders in shaded clear rivers. They are seemingly wise and slow, with something about their spirit like an ancient tree. They grow to more than a meter long, and can live for more than fifty years.
The Salamander Center houses dozens of salamanders in tanks. It costs 500 yen to peruse the aquarium and gain admittance to the hiking trails. For an extra 100 yen, you can come back after sundown for a bamboo lantern light up (late October – late January.) I want to see that! Tickets come from a vending machine with an English menu. I found a world map for visitors from abroad upstairs. I was the first to push a pin into Canada!
A wide scenic trail suitable for all ages extends past the Salamander Center along the riverside past waterfalls for 3.9 kilometers. There is an easy-to-understand map along the trail. Since my main mission for the day was the bicycle ride, I just walked to the first major waterfall. The intricate designs drilled into the bamboo lanterns are cool. I can just imagine how fantastic they would be lit up after sundown!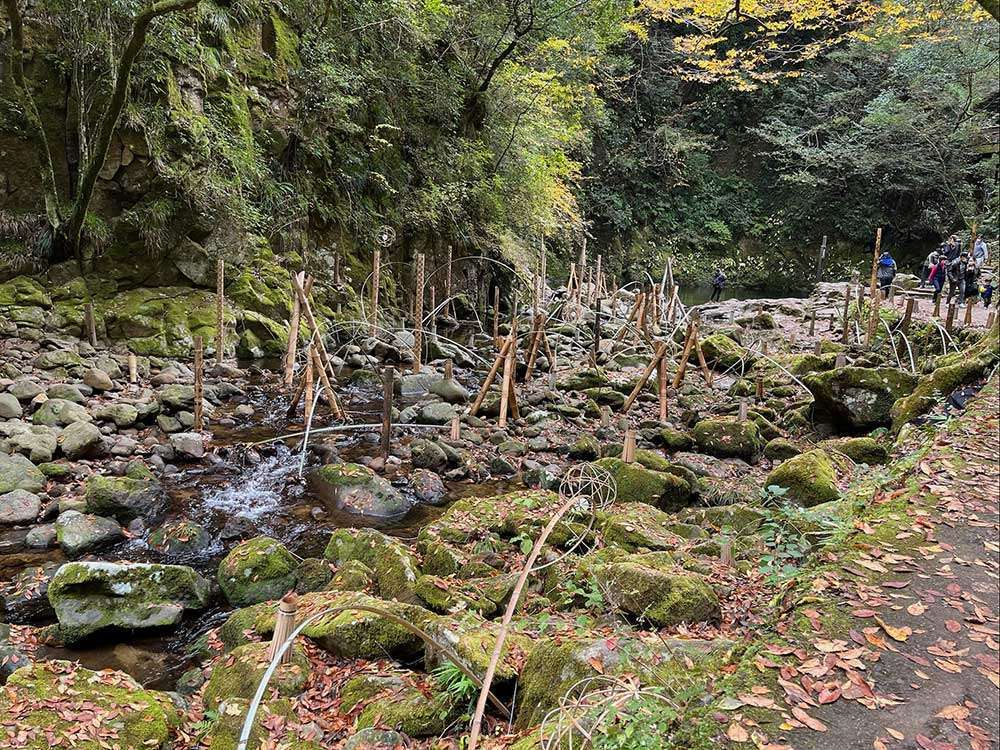 Back at the visitor center, I bypassed the ninja cookies called katayaki, which are to be sucked on, and picked a fart bun or hekoki-manju to eat at a picnic table.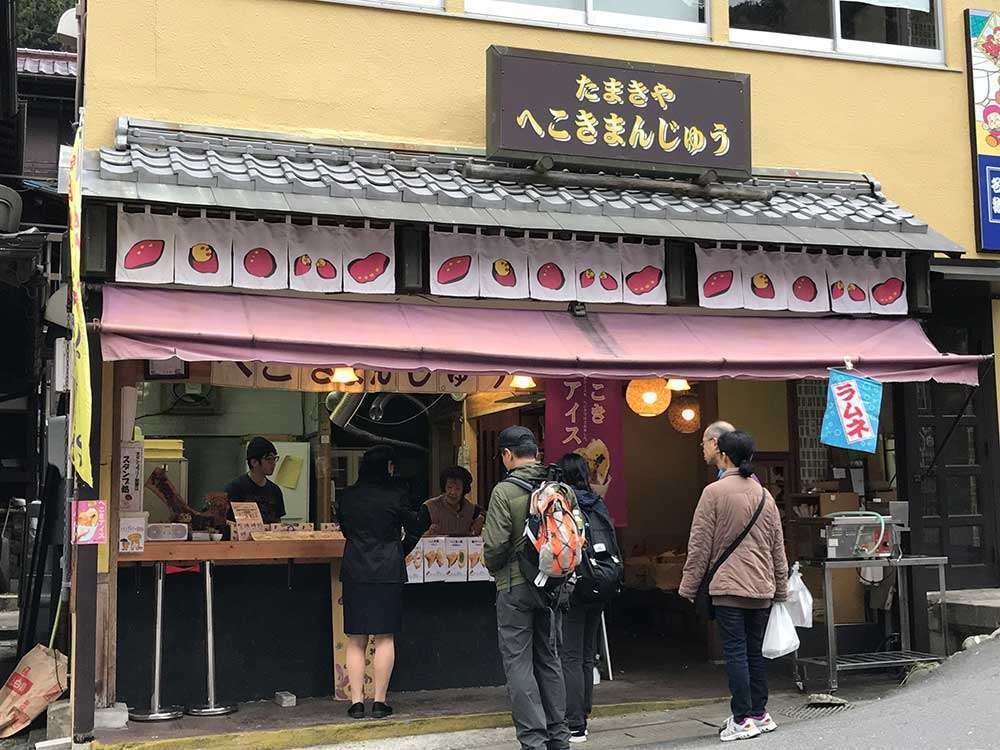 I wanted a coconut or cinnamon flavor, but they were sold out so I tried apple and pineapple and… I forget. Great cycling energy! My son would say it is fart power, but whether or not they cause gas is not clear to me. They are affordable, sweet and filling and may go nicely with gourmet coffee to go.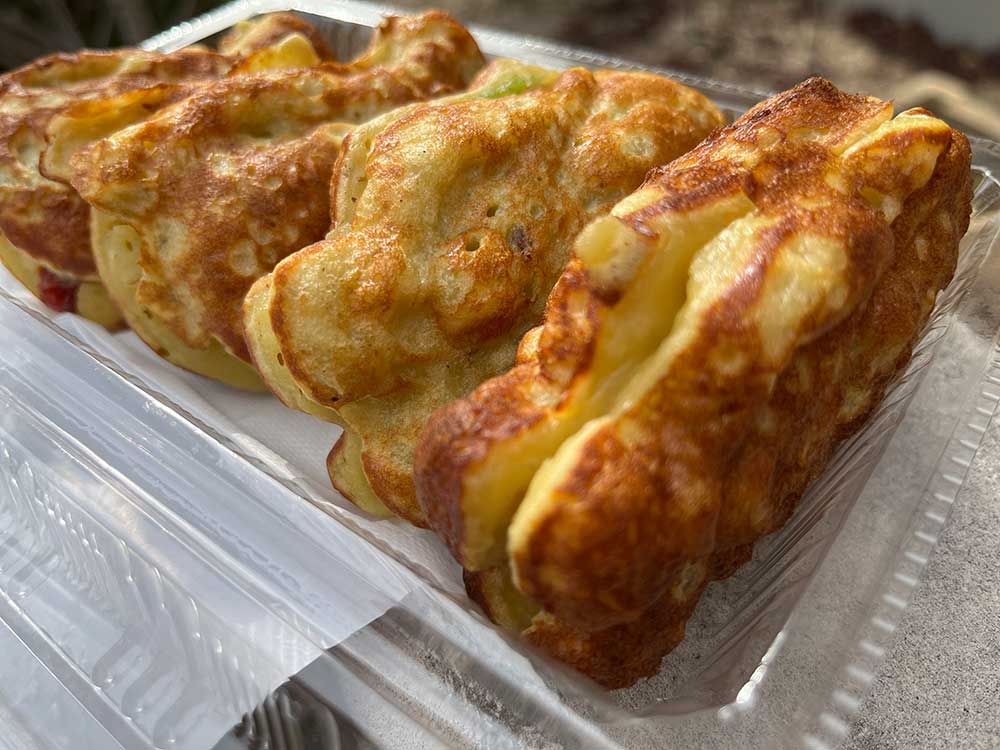 I popped into the visitor center washroom, and by chance, came across a bamboo candleholder pop-up shop. Being Canadian, the one decorated with tiny holes in the shape of a maple leaf won me over, and was small enough to carry away in my bag.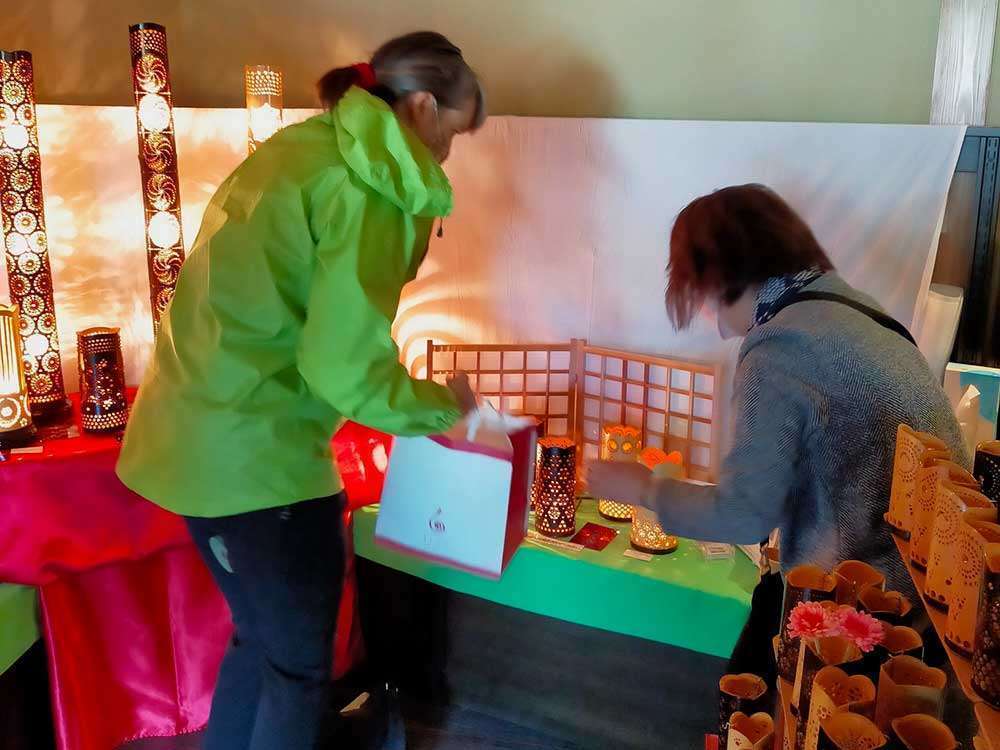 Next time I cycle this route, I want to stay in a cute little chalet at Akame 48 Falls Campground. Since the nearby Akame 48 Falls shops don't open until 10, I would sleep in and then get a late gourmet coffee and fart bun and start my cycling adventure there, near the top of the hill. The Akame 48 Falls Campground can be accessed by bus from Akameguchi Station, and it rents out two Giant cross bicycles. In the evening, they can set you up for a BBQ including the food.
Cycling Heaven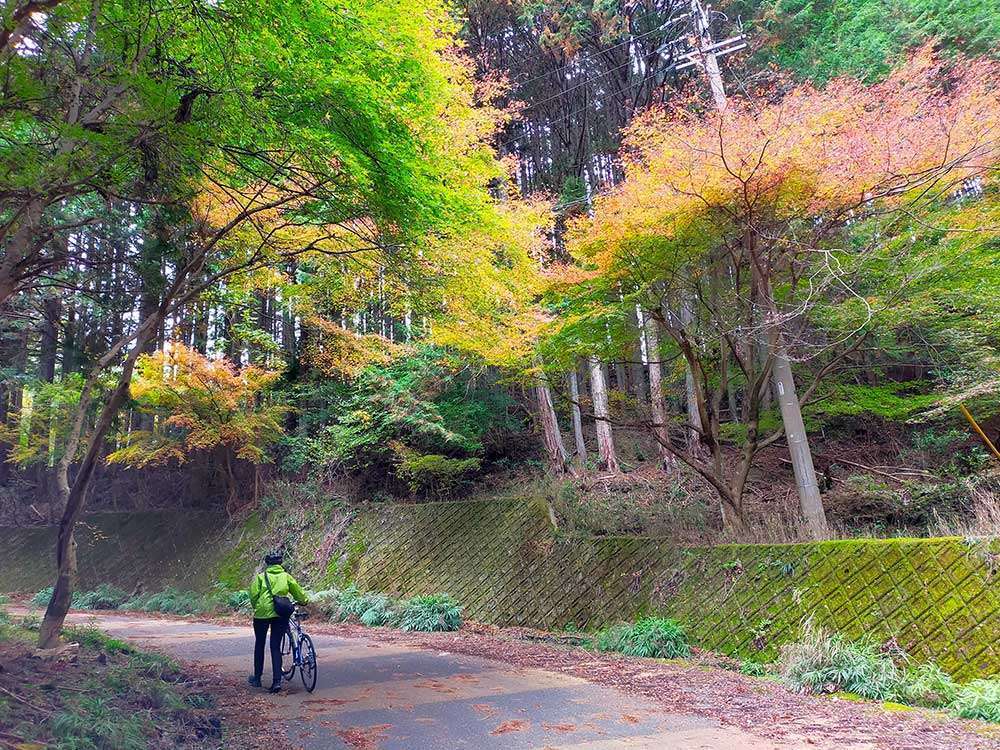 Refueled, we rode back down to near the campground chalets, crossed the river and faced a one-kilometer climb. Actually, I walked. It was a good thing I downed three fart buns. I focused on the glowing torches of red and yellow autumn leaves.
After that one hill, it is downhill or flat back to Akameguchi Station, but don't coast too fast as part way down, you are in the area called Ryuguchi, where the private family home of the descendants of Japan's highest ranking ninja, the aforementioned Momochi Sandayu, is. It may be cool in that ravine in the summer months, and come winter, I guess it is in shadow for most of the day.
A few hundred meters further along, a poster on the wall of a tatami maker caught my attention. It featured a dog wearing a jacket. Apparently, some dogs in the area are trained to protect the fields from wild boars. I didn't see any dogs or boar, but my guide saw some deer. I was going too fast. Cycling heaven. The paved lane is wide enough for just one car. There were no cars, nothing but trees and the river, no signposts, no garbage, no electrical wires. If it were a hot day, I would have stopped to soak my feet in the river.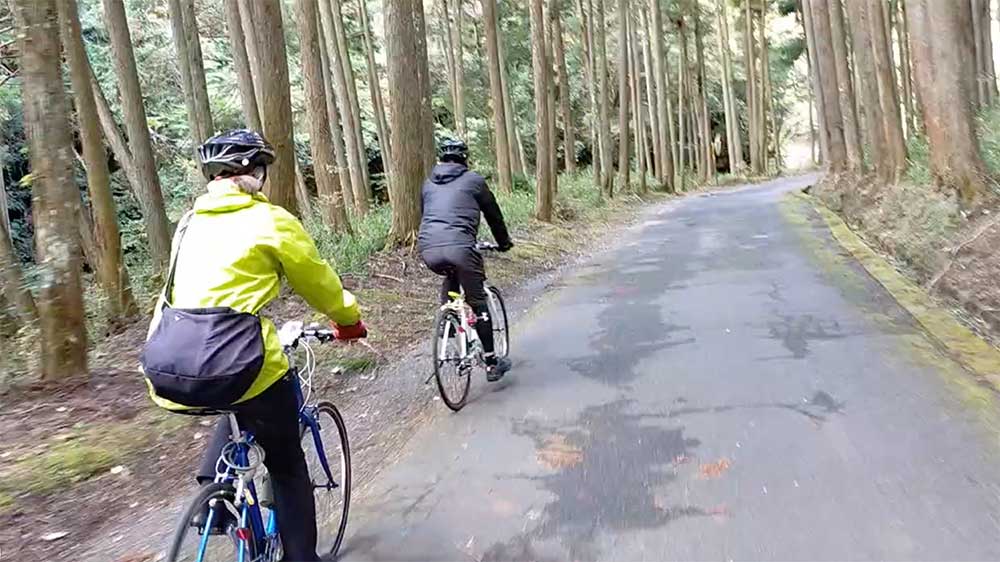 This country lane into ninjaland pops out at a steak restaurant beside a bigger river. We turned right onto a bigger busy road and followed that for about 500 meters, then turned right again, crossed the river, and wound our way between farm houses, fields, past Akameguchi Station, more farmhouses and fields and back up the big hill we set off on.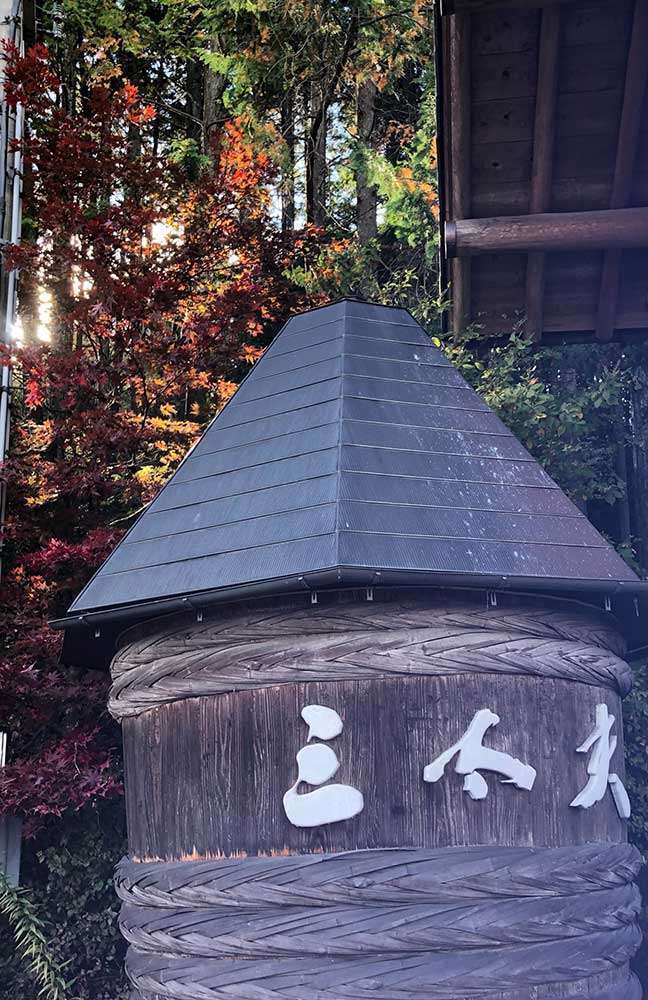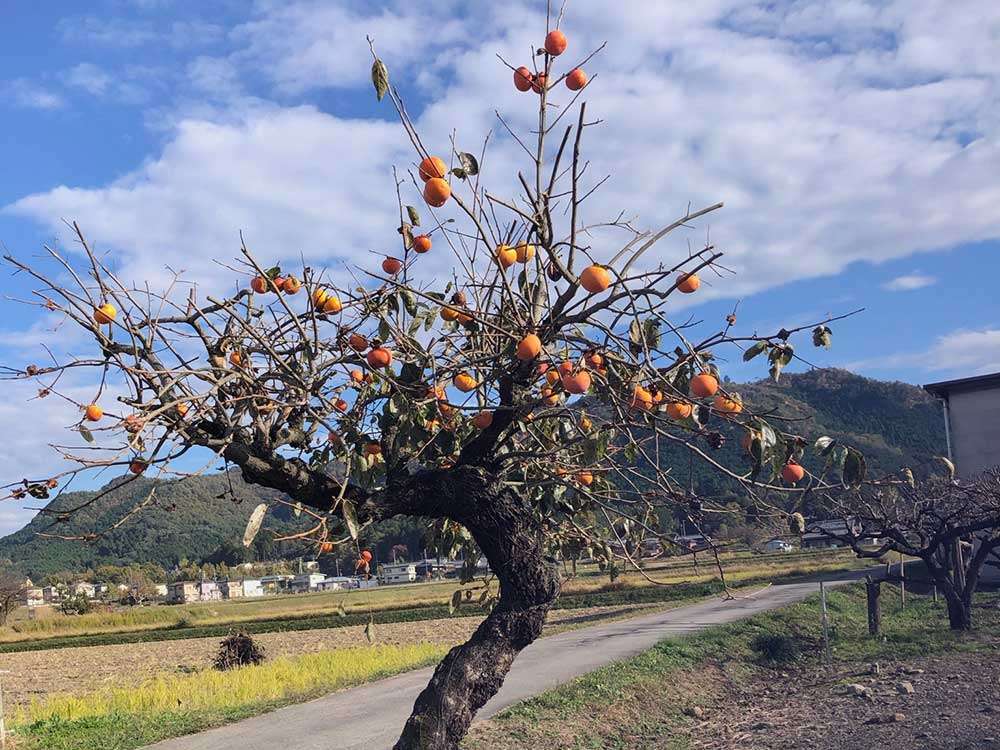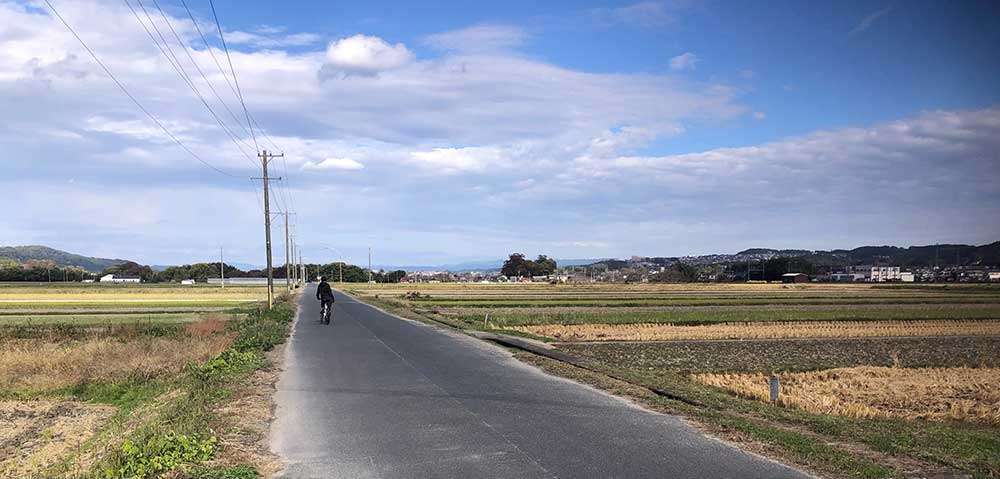 I needed every last bit of my remaining fart-bun energy to get back to Shorenji Lake Tourism Village [JP] . I noticed a soba shop, beautifully landscaped with bamboo, and a very nice cake shop just before the goal. Maybe you should try both! I want to next time…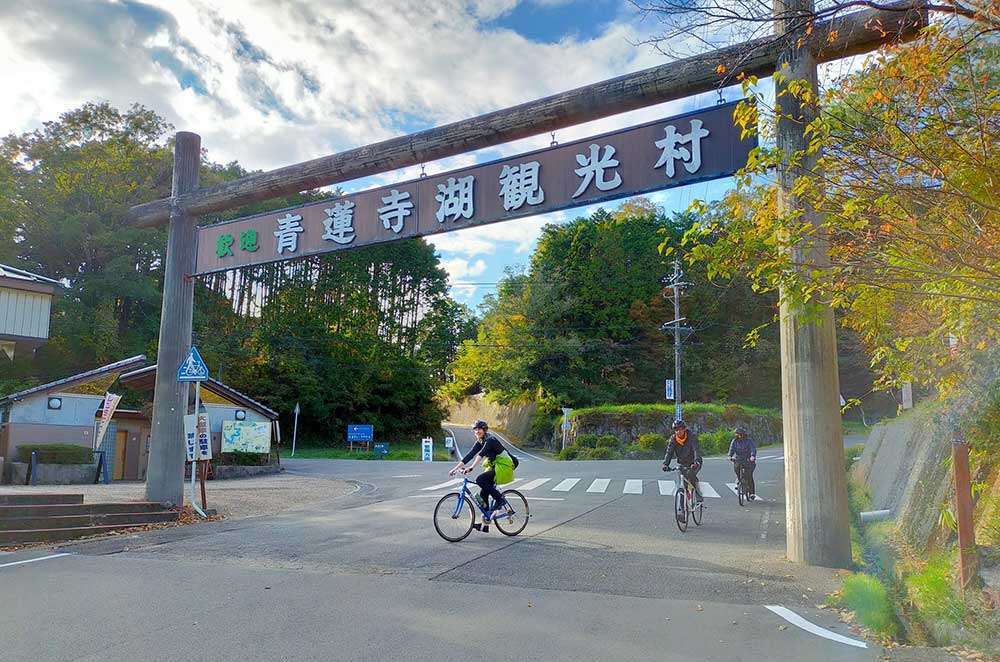 [1] "Aka" means red. "Me" is pronounced "may" and means eye(s). Forty-eight is pronounced "shi-ju-hachi" and falls in Japanese is "taki" so it is Aka-me-shi-ju-hachi-taki.
[2] "Limited Express" does not mean limited speed, which I first imagined but limited stops, thus faster than the "Express."
Other short distance routes
Contact us for further information including guided tours