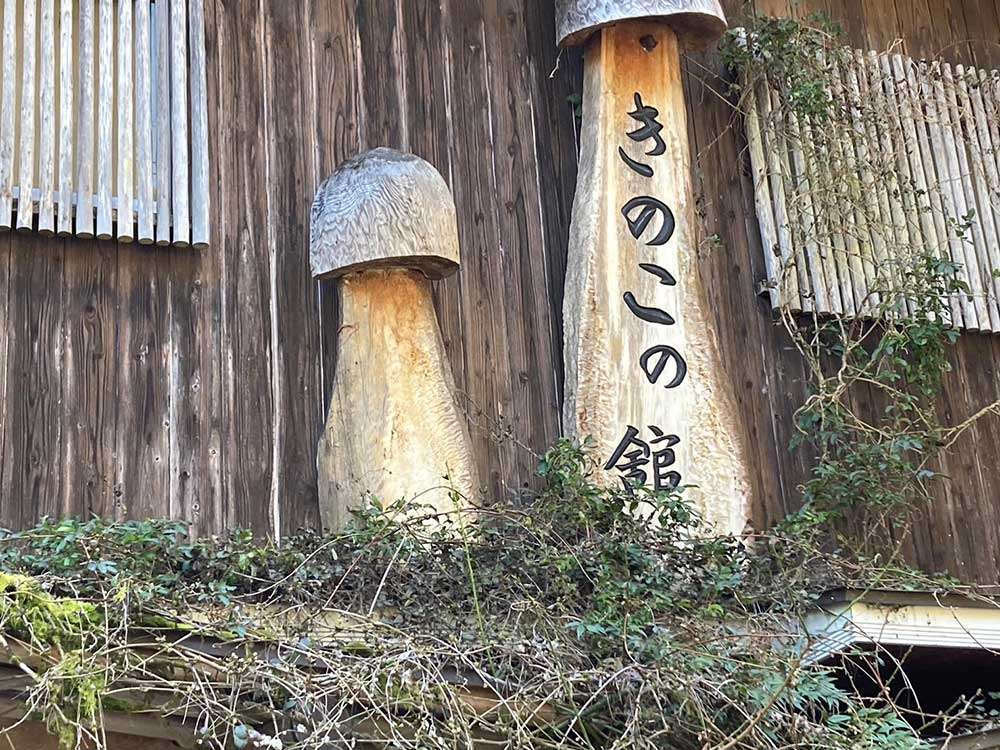 For the third time, I finally made it to Kinoko no Yakata.
Kinoko no Yakata, translated as "Mushroom House," is located in Higashiyoshino Village, Nara Prefecture. It's a mushroom specialty restaurant run by a wife and husband for those in the know. I have called in there twice before but the restaurant was full both times.
A Popular Mushroom Restaurant in a Mountain Village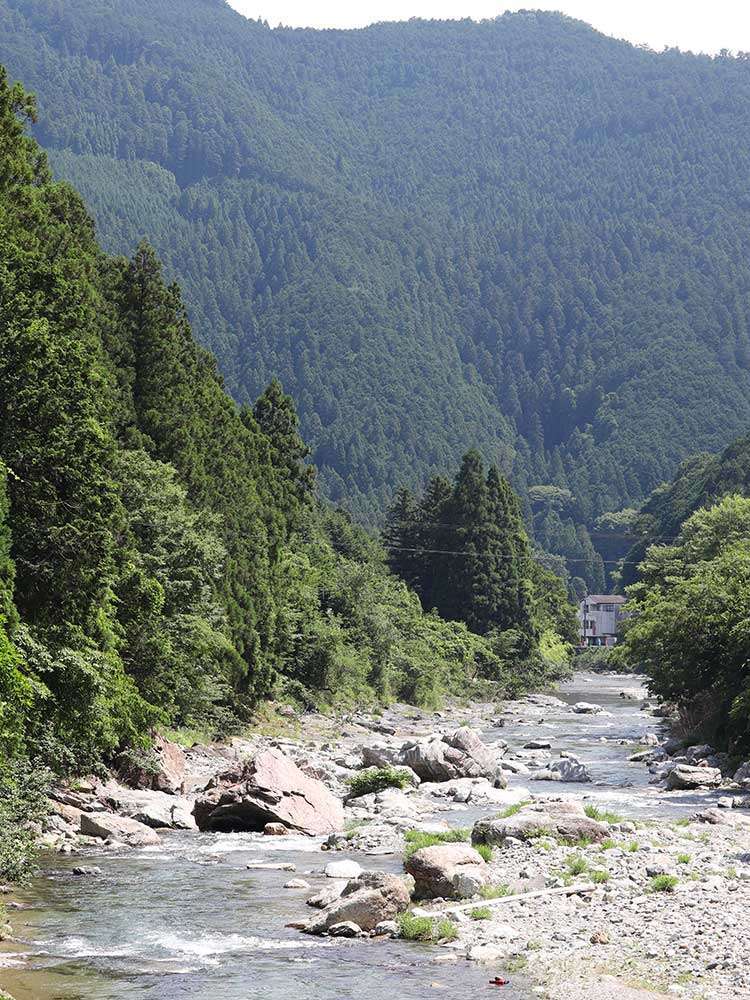 On a fine day in late winter, I headed to Higashiyoshino from Nabari, Mie Prefecture with my friend. Driving south on National Route 166 (Prefectural Route 28), which winds through beautiful mountains, I saw a sign saying "きのこの舘 (Kinoko no Yakata)." Then I turned right and drove about 150 meters, and here we are! I was so excited to finally be able to enjoy the mushroom dishes at this unique place.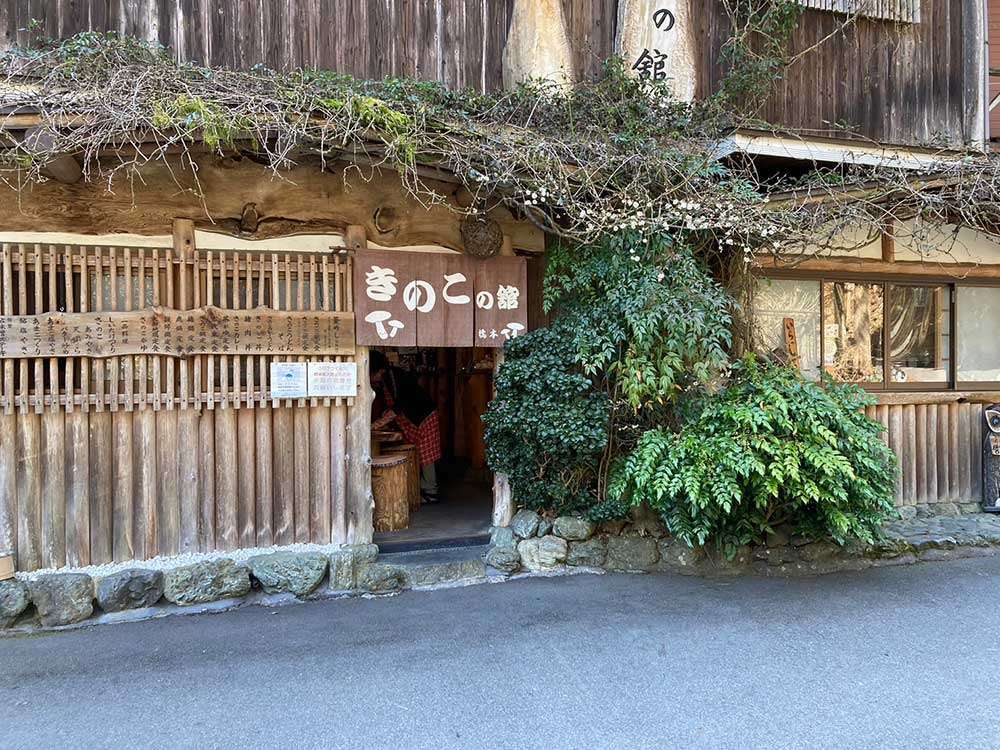 We went into a traditional Japanese-style building and were shown to the table with an irori (traditional Japanese sunken hearth). I noticed there were tables without irori. Maybe customers with reservations have priority to sit at the irori table because a man who came without a reservation had a seat at the table without an irori.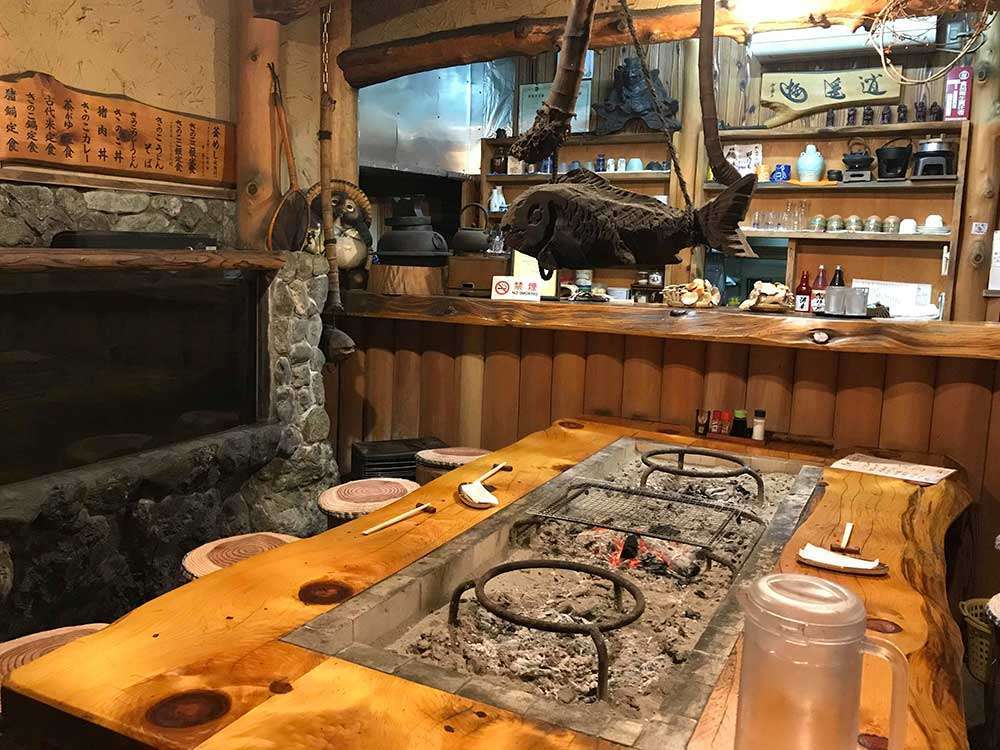 The menu included dishes unique to a mountain village, such as "wild boar hot pot set meal" and "venison hot pot set meal," as well as a la carte. This time I ordered the "Kinoko Zammai Course (a course meal with mushroom-centric dishes)," ¥2,500 per person (tax included), as the restaurant owners recommended.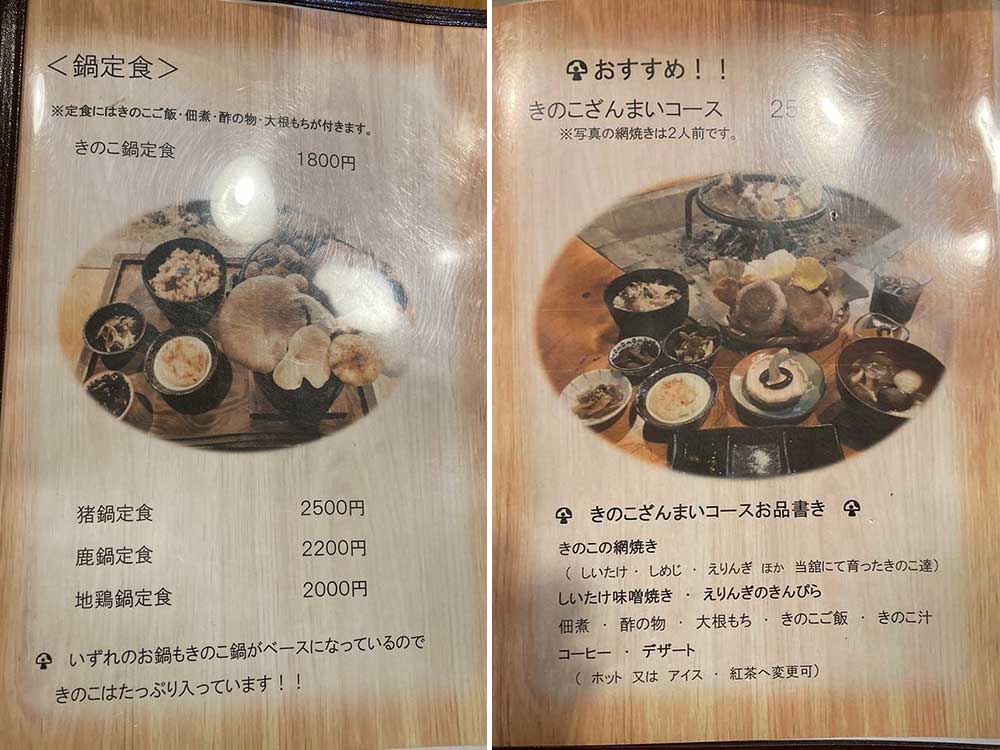 Left: Hot pot set meals Mushroom hot pot set ¥1,800, wild boar hot pot set ¥2,200, jidori chicken hot pot set ¥2,000. Each hot pot comes with mushroom broth soup.
Right: Our recommendation Kinoko zammai course meal ¥2,500. The meal includes grilled mushrooms (homegrown mushrooms such as shiitake, shimeji, eryngii), shiitake with miso, eryngii kinpira, tsukudani, vinegared mushrooms, daikon mochi, kinoko rice, kinoko soup, coffee or tea (hot or ice), and dessert.
Five minutes after our reservation time, fresh mushrooms were served in a basket, the first dish of the Kinoko Zammai Course!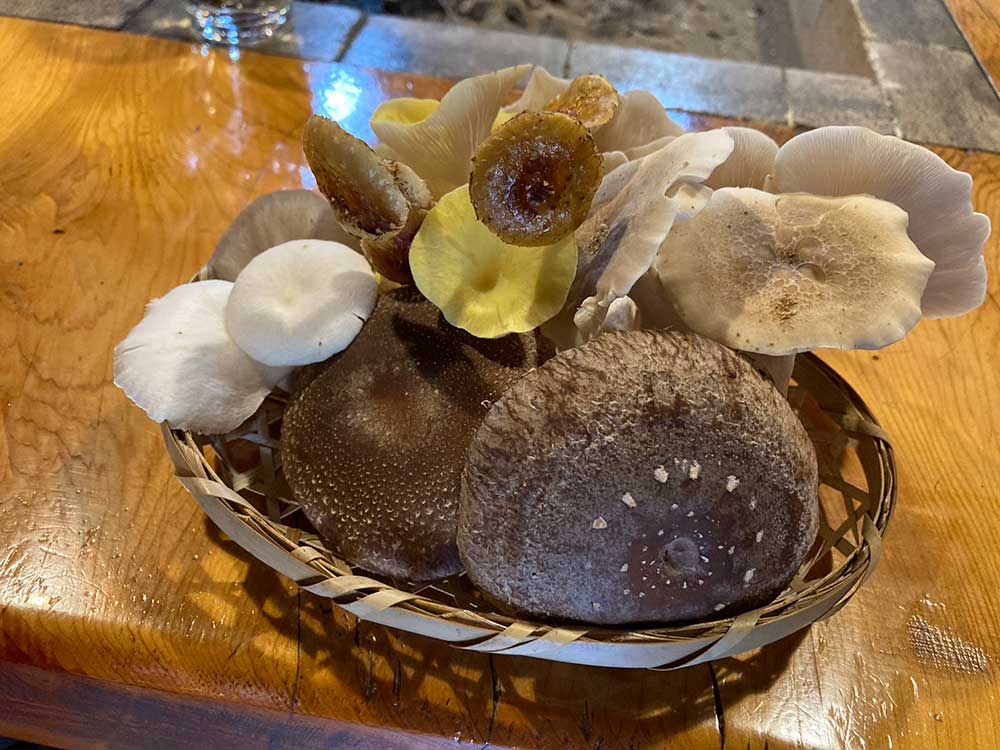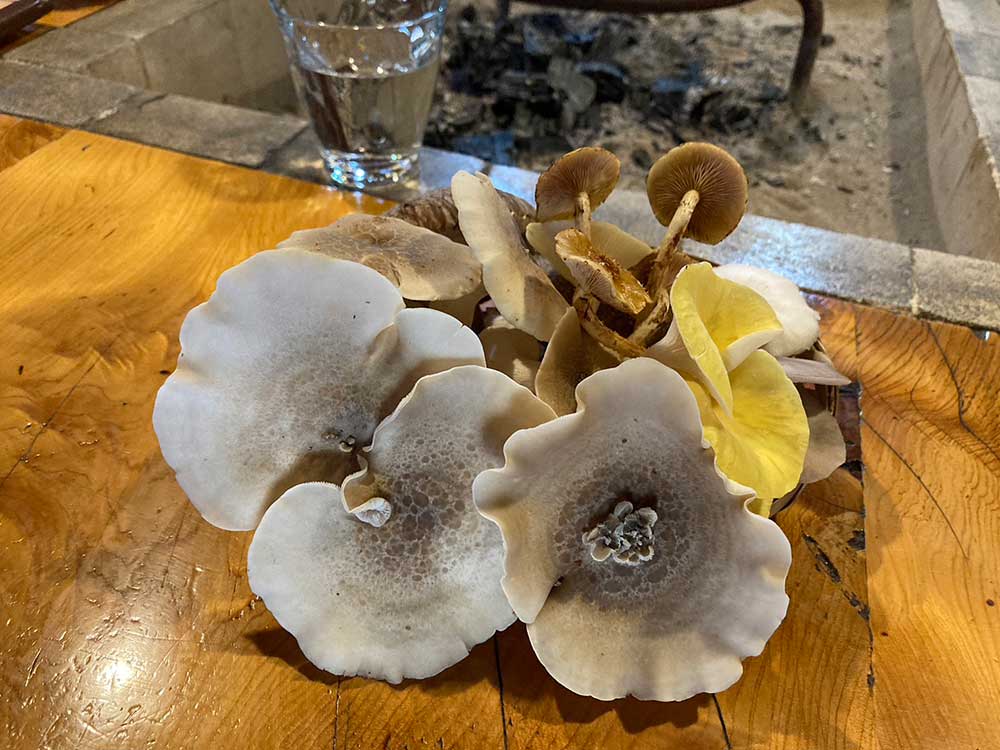 We grilled the mushrooms and ate them with ginger soy sauce, salt, or ponzu. It was that simple! Even if you are a first-timer, don't worry; there are instructions to grill in the menu book (and we translated them for you here!). The owners also come to your table to check how you are doing.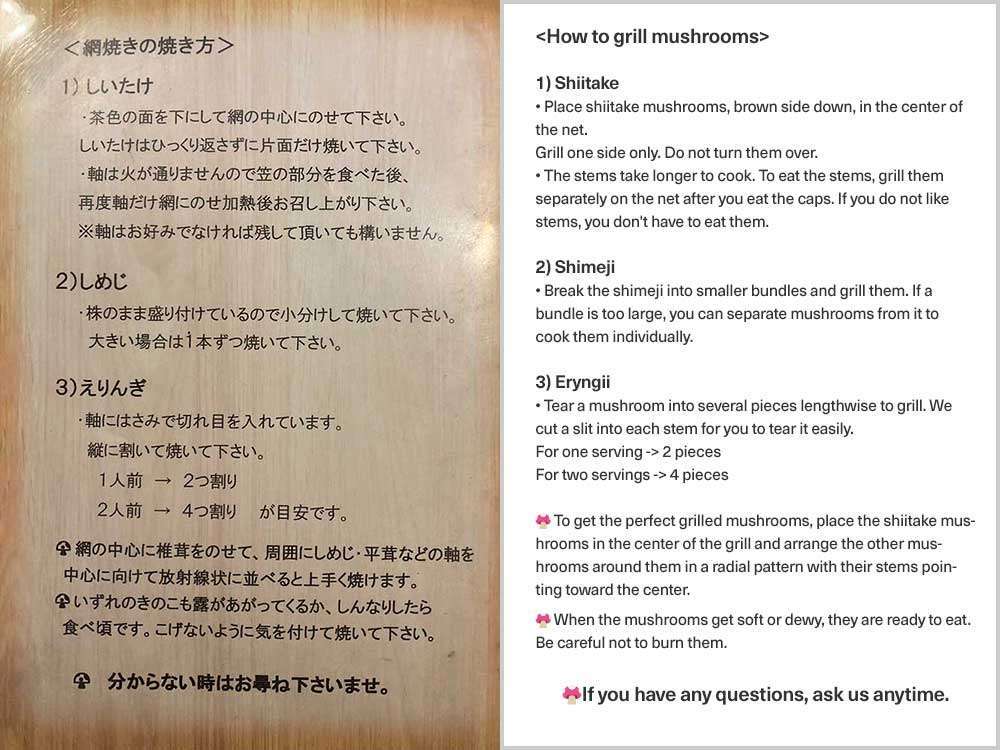 Side Dishes Were Also Excellent
While waiting for the mushrooms to be grilled, some side dishes were served. They were all so well-seasoned and exquisite.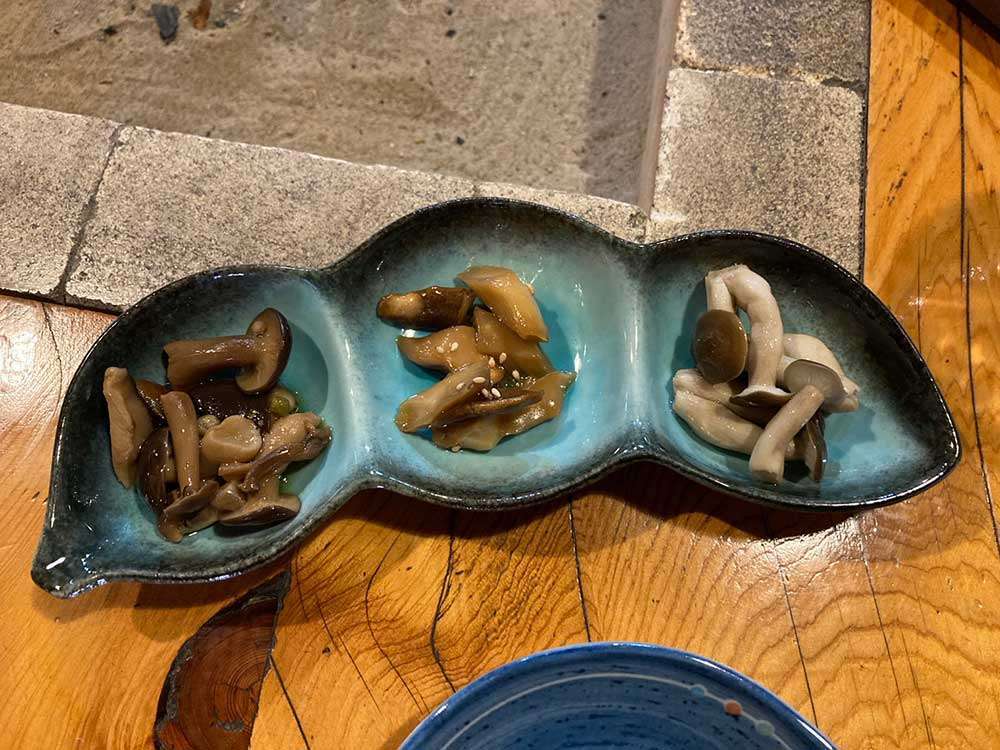 Then daikon mochi follows!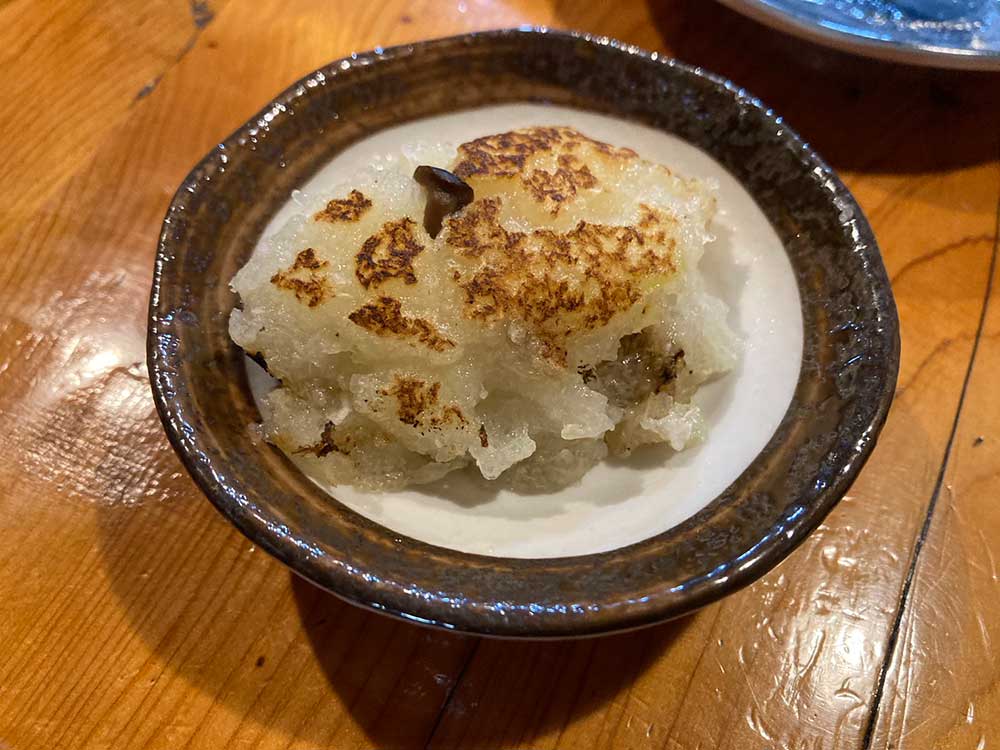 It was a mochi-like dish, as the name suggests. The restaurant was very busy at that time, and I could not ask the owners what it was made of. I think it was made from grated daikon radish mixed with flour or starch.
Let's check how our mushrooms are being cooked.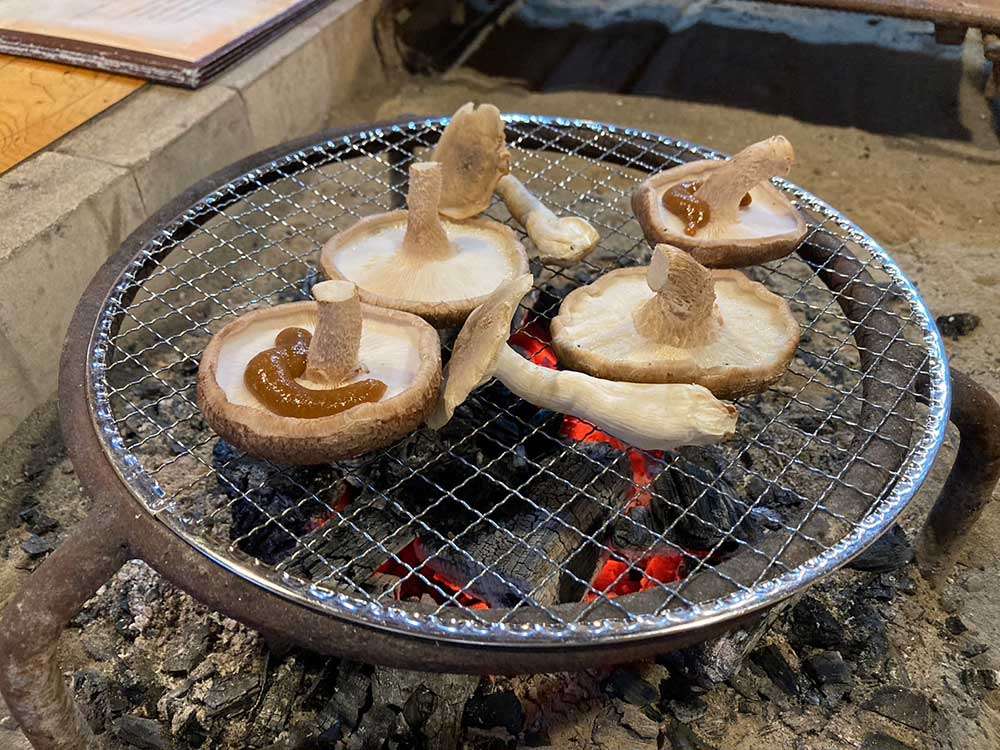 I love shiitake mushrooms and often grill them at home. I am usually satisfied with the ones I buy at the supermarket, but on that day, I was thrilled to taste their special shiitake
As you grill a shiitake mushroom over charcoal, you see water come out from the cap. We were told that was the sign that it was ready to eat. I picked my shiitake, dipped it in salt, and put it into my mouth.
Oh wow, it's so delicious!
Thick, filling, and juicy!
I ate shiitake mushrooms with miso, too. It was also good with a different taste! But I recommend eating with salt; simple, but it derives the taste of the mushroom itself.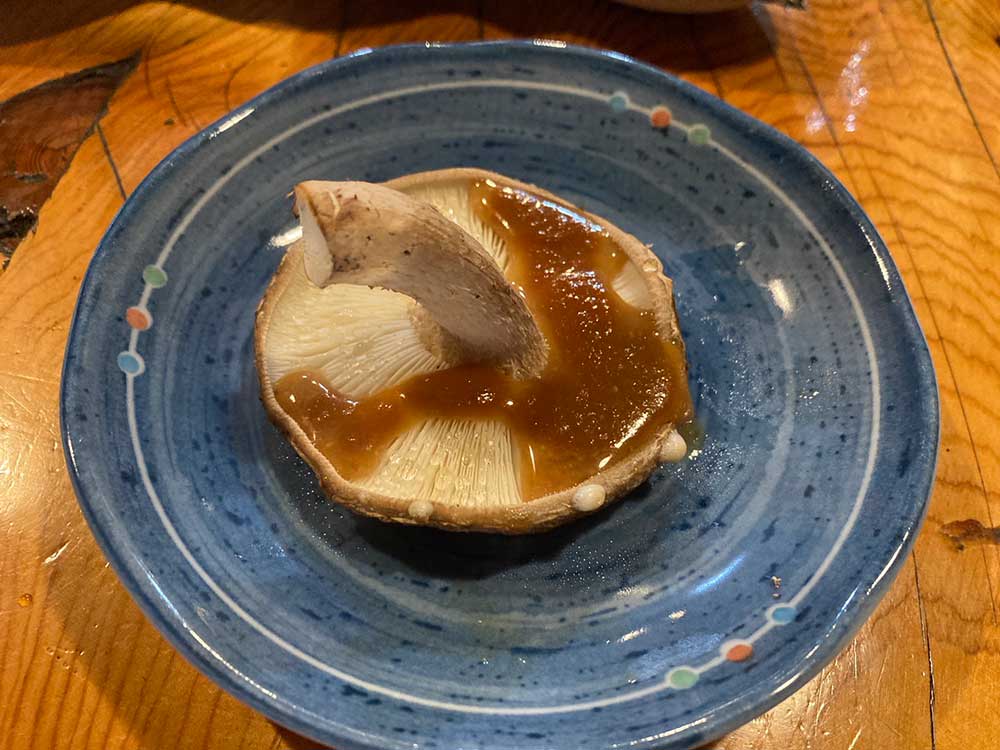 After Finishing the Mushrooms…
It took about 40 minutes for us to finish the grilled mushrooms, the main dish of the course.
Then mushroom rice and mushroom soup came.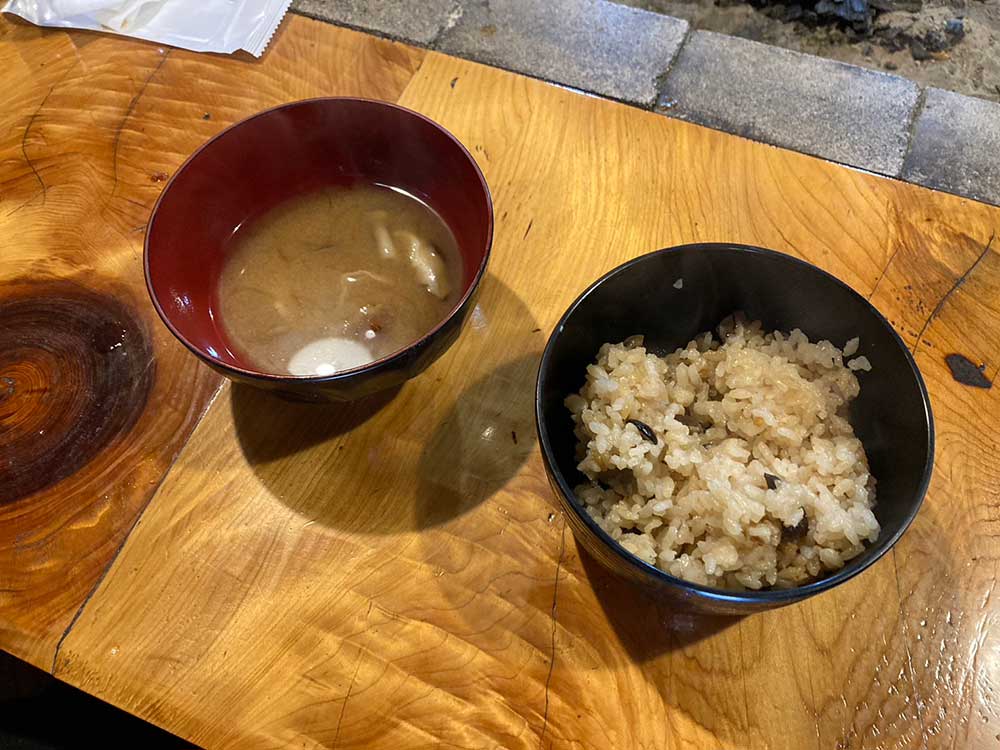 The soup in the photo is so little, isn't it? I had some of it before I took the picture. Sorry about that... So don't worry, you will be served a full bowl! It is a miso soup with the umami taste of mushrooms. The type of mushrooms varies daily.
The mushroom rice was well-seasoned, with the perfect flavor of mushrooms and soy sauce. It was so good that I finished it in one minute (I wanted to ask for more, but I couldn't...).
Finally, coffee and dessert. Since the weather was getting warmer, iced coffee was also available (or tea). Do you see "Kinoko no Yama" chocolate and cookie in the dessert cup!? The Kinoko Zammai Course was truly full of mushrooms!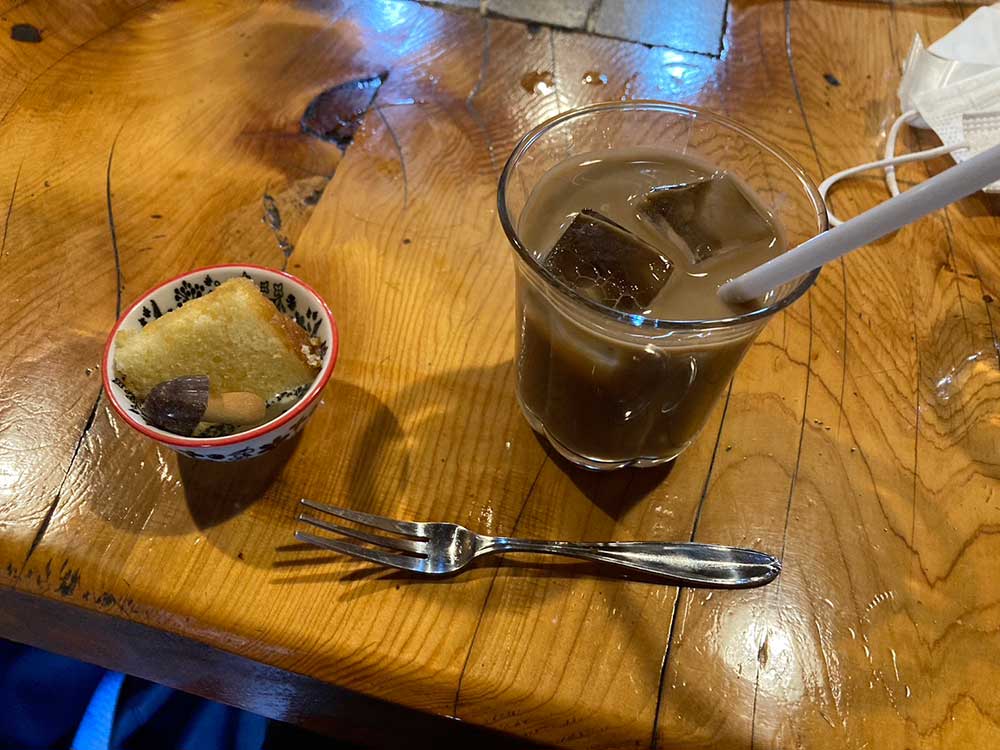 Higashiyoshino's Clean Air and Water Nurture Delicious Mushrooms
All the mushrooms served at Kinoko no Yakata are grown there. The owners will let you take a look at farmed mushrooms in the cultivation room by the restaurant if you like, so do go and check them out.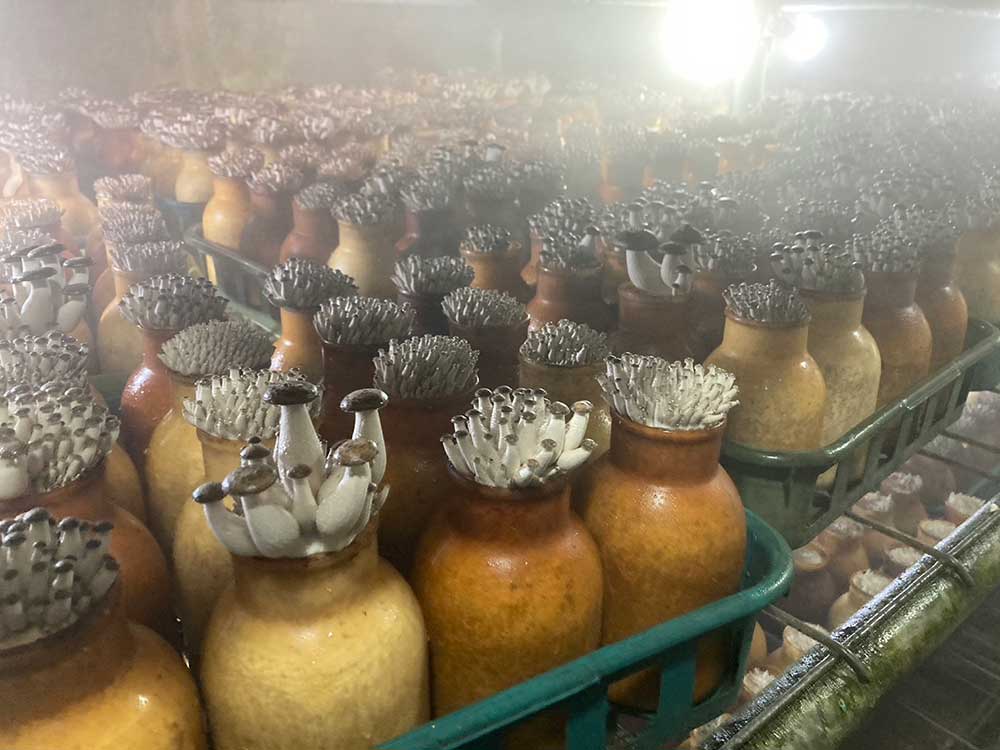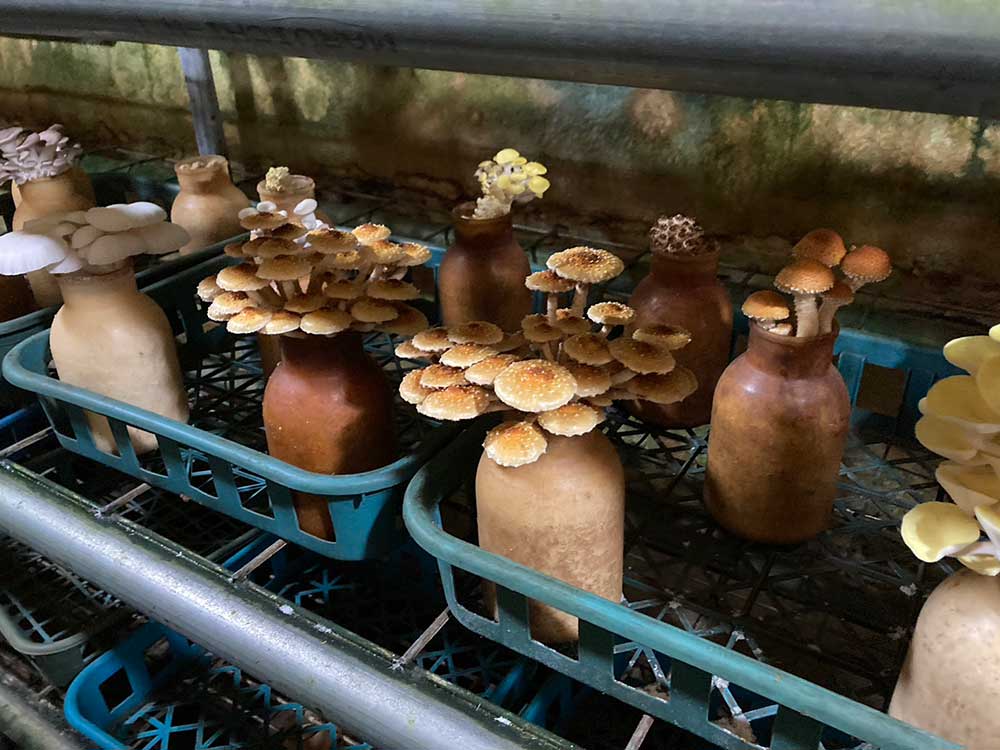 I could tell how much the owners love mushrooms by the way they talked: They treat them like their own children.
"Please come see these little mushrooms."
"These mushrooms are ready to be eaten."
All were really delicious. Thank you!
Kinoko no Yakata (きのこの舘)

Location: Washika, Higashiyoshino Village, Yoshino-gun, Nara Prefecture
Phone: 0746-42-0991
Hours: 11 am - 7 pm, closed on Thursdays (sometimes closed on other days)
Access: About 45 minutes drive from the Hari Exit of the Meihan National Expressway / About 30 minutes drive from Kintetsu Haibara Station / About 20 minutes drive from Michi-no-Eki Udaji Ouda (rest area).