East Nara Nabari is located within Muro Akame Aoyama Quasi-National Park and has many beautiful waterfalls.
Today, I would like to talk about my waterfall meditation experience, which is called takiutare (hit by a waterfall) or sometimes referred to as takigyo (waterfall training) in Japanese. I joined the Waterfall Meditation Tour at Akame 48 Waterfalls, a ninja's training ground.
Akame 48 Waterfalls is believed to be the place where En no Gyoja, the founder of Shugendo A religion that combines ancient Japanese mountain beliefs with Shintoism, Buddhism, and Taoism, started his training about 1,300 years ago. En no Gyoja is said to be the origin of the ninja, and since then, many mountain priests and ninjas have trained at this place of mountain worship.
Later, in the Meiji era (1868-1912), it became a famous waterfall spot, attracting many tourists. But it is a sacred place even today, as if it were still a place where mountain priests practice asceticism. And you can experience waterfall meditation at this holy place.
Waterfall Meditation Tour
I joined the tour to relieve daily fatigue and strengthen my mind.
On the tour day, you check-in at Eco-Tour Desk in Akame Visitor Center. If you have time before checking in, visit Akame Museum of Natural History in the same building. It's admission-free! The museum displays a variety of ninja tools handed down by the descendants of Momochi Sandayu, the founder of the Iga-ryu Ninjutsu , as well as household items from that time.
After checking in, the guide explains the tour details and precautions. Then you receive a white kimono and straw sandals for training. I recommend you bring a large backpack as you have to carry them to the destination by yourself. Also, be sure to wear comfortable clothes that dry fast.
On the day of the tour, Japan Salamander Center, located at the entrance to the waterfalls, had a special exhibit of a giant salamander larva. It was so little and cute that I spent a while watching it move.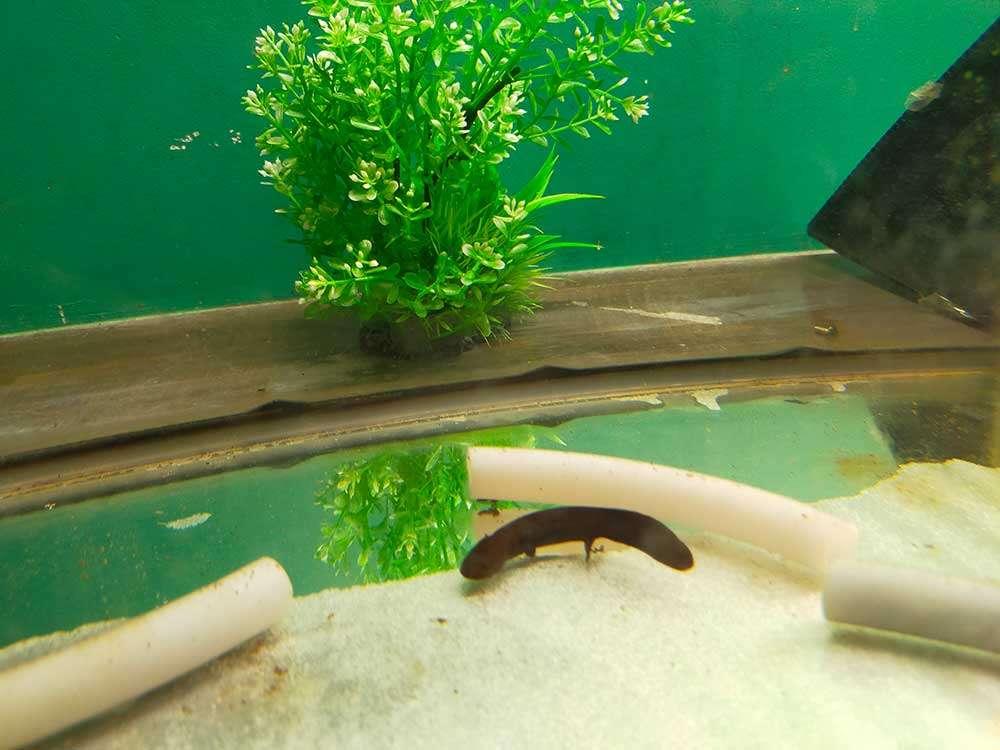 The "48" in Akame 48 Waterfalls means "many" in the Buddhist language— there are 23 waterfalls with unique names and many more without names.
The meditation takes place at Dainichi Falls, which is associated with Dainichi Nyorai or Cosmic Buddha, the most worshipped deity in Shugendo. It is called "phantom waterfall" because it's at the end of a steep mountain path across the river from the trail, and very few people usually go there.
Now to Dainichi Falls!
We climbed up the mountain to Dainichi Falls, enjoying the dazzling green scenery with natural rocks and wobbly stones. I anticipated that walking this mountain path would be a part of the ascetic practice, but it turned out more like a refreshing mountain trek.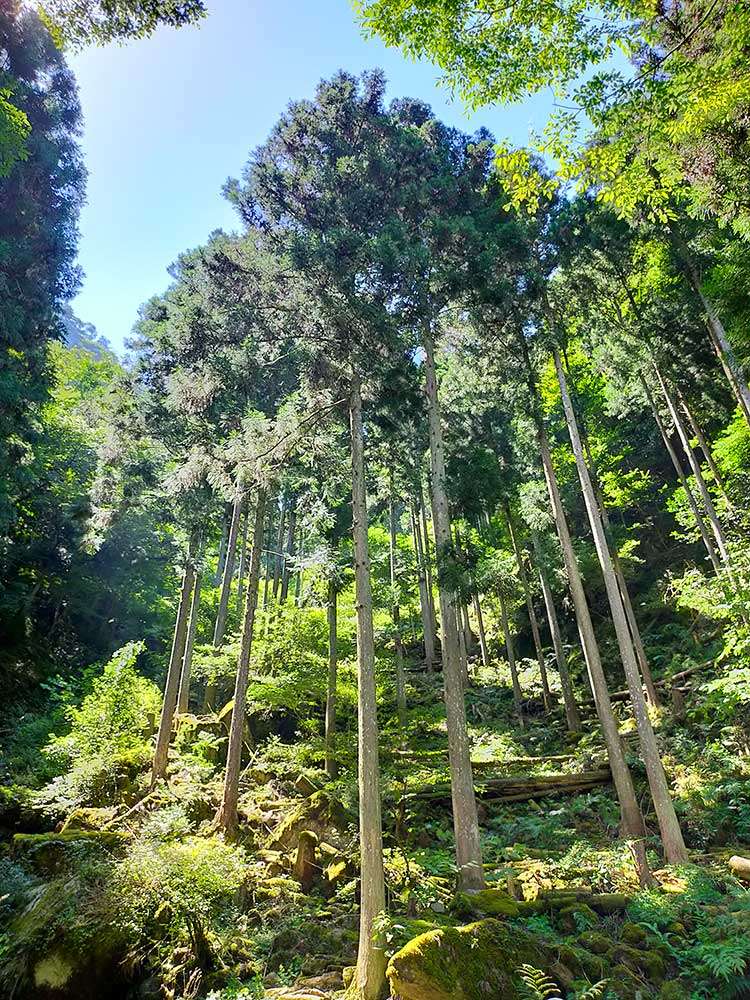 Our guide was experienced enough to check on the participants' physical strength, so we could slowly climb up the steep mountain path.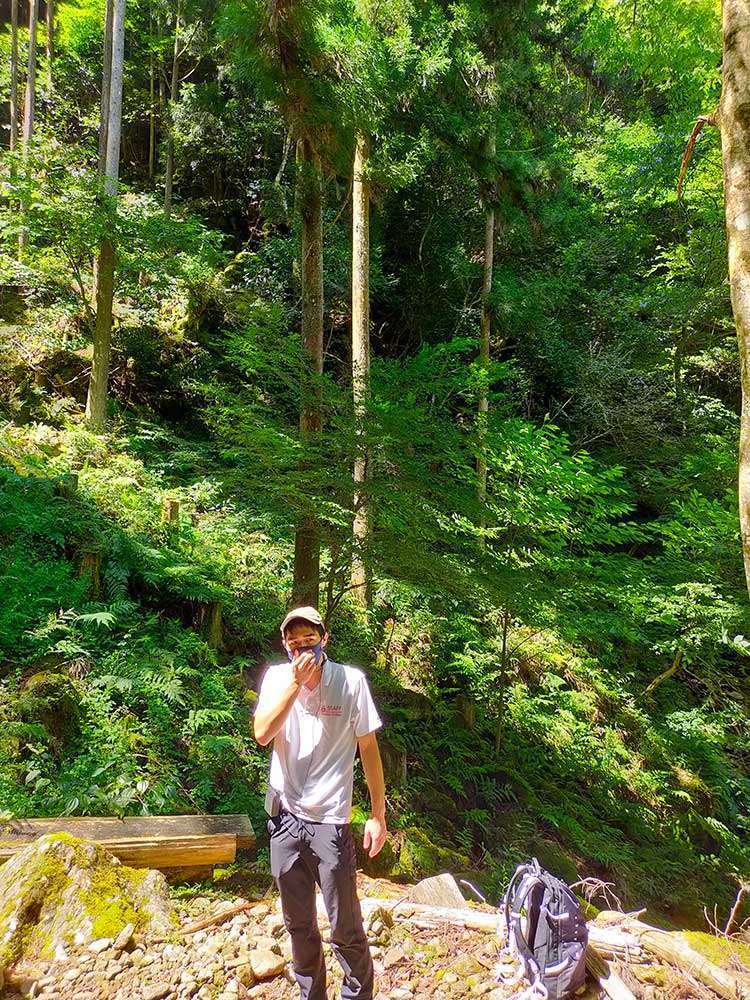 As we approached Dainichi Falls, I heard the stream sound of water, so I excitedly climbed up the mountain path. When we got to the top, I found the air was so cool that it was hard to believe a heat stroke alert was being announced on that day. The atmosphere was so calm and comfortable.
Then our guide set up tents for us there, and we changed into white kimonos and straw sandals in them.
We bowed to the sacred falls and nervously walked into it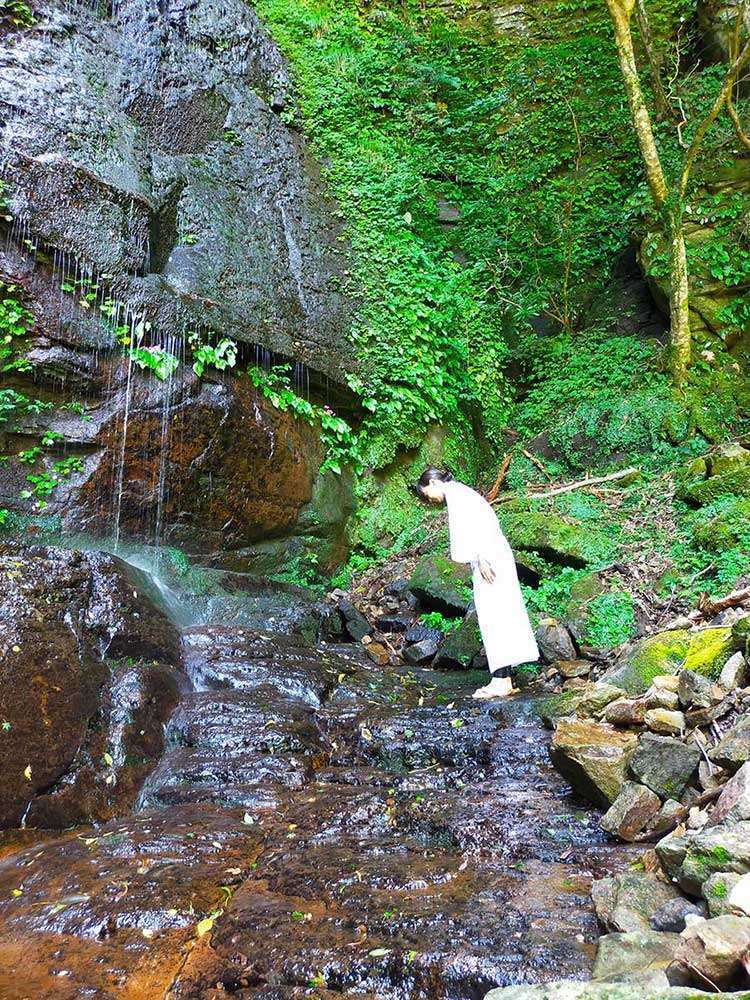 Before the tour, I had heard that the amount of water was low because of the consecutive sunny days. When I actually saw the waterfall, its flow looked kind of weak. I thought it would be far from an ascetic practice... But once I stand under the waterfall, to my surprise, the water was much colder than I expected! I flinched for a moment at the force of the water pouring over my head and body. After a short while, I got used to the coldness and the water pressure hitting me from above.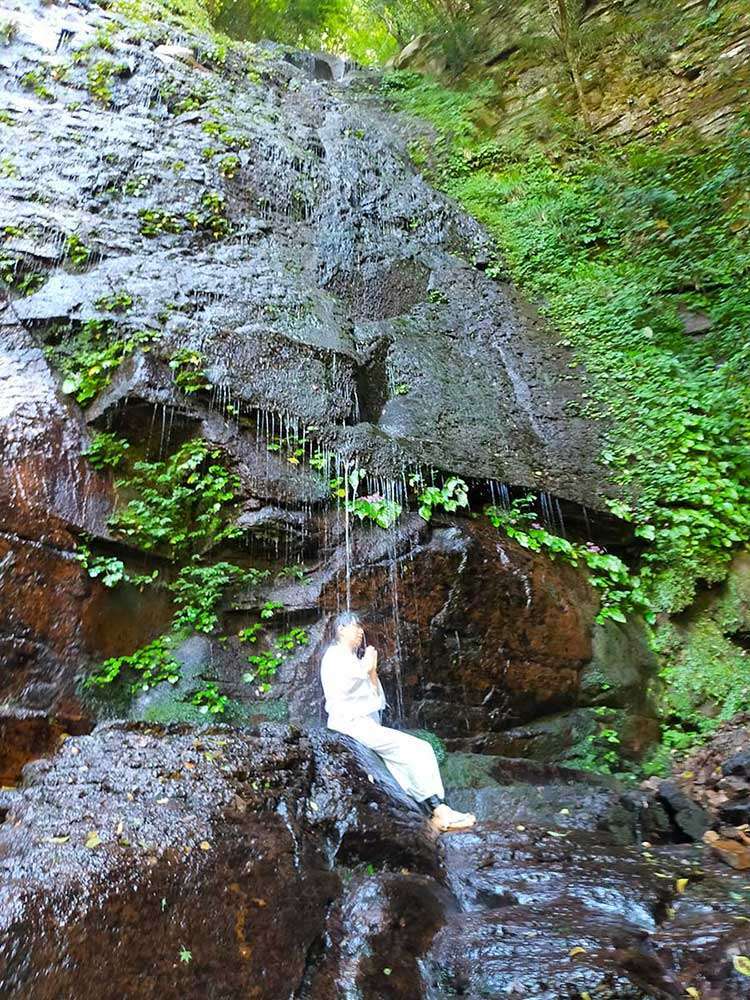 It was a time when all I could hear was the sound of water. It was a time that I could never have in my daily life. Without thinking about anything else, I experienced the state of nothingness. I felt like my body and mind had been reset — I got refreshed and energized.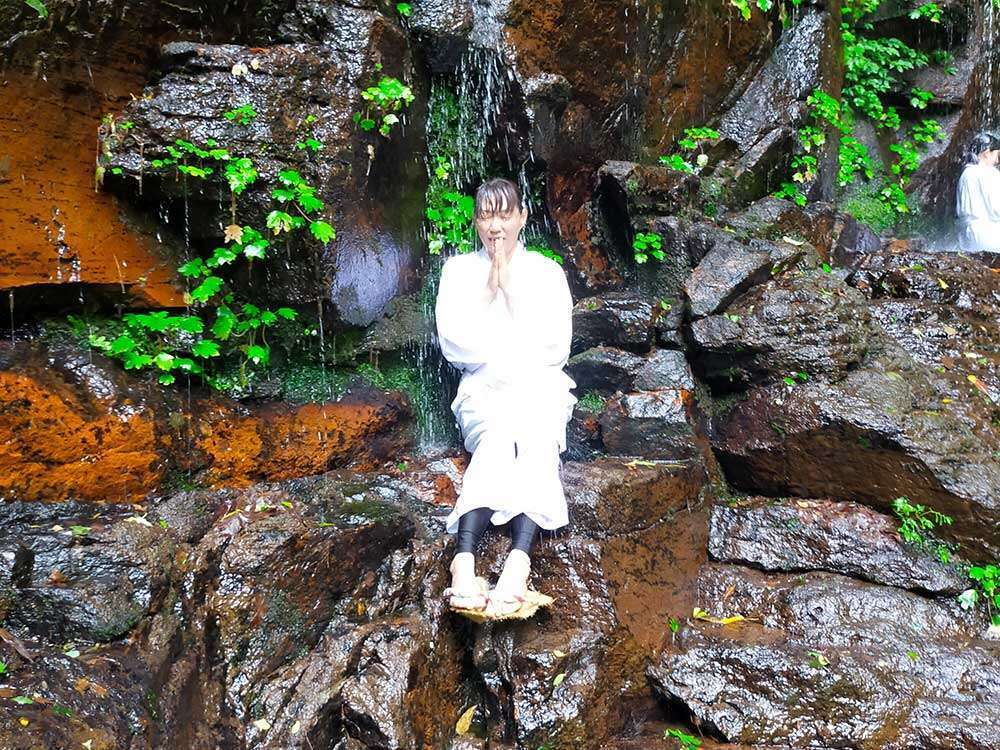 The amount of water changes depending on the weather. It increases greatly after heavy rains. If you want to experience powerful falls that make it hard to breathe, it's the best time to go after rain.
Come to think of it, mountain priests and ninja practiced waterfall asceticism in the freezing cold of mid-winter... I can now imagine the tremendous mental strength they must have had. I spent precious time that only those who experience this practice can appreciate.
After experiencing nature first-hand and the unforgettable waterfall training, we headed back down the mountain.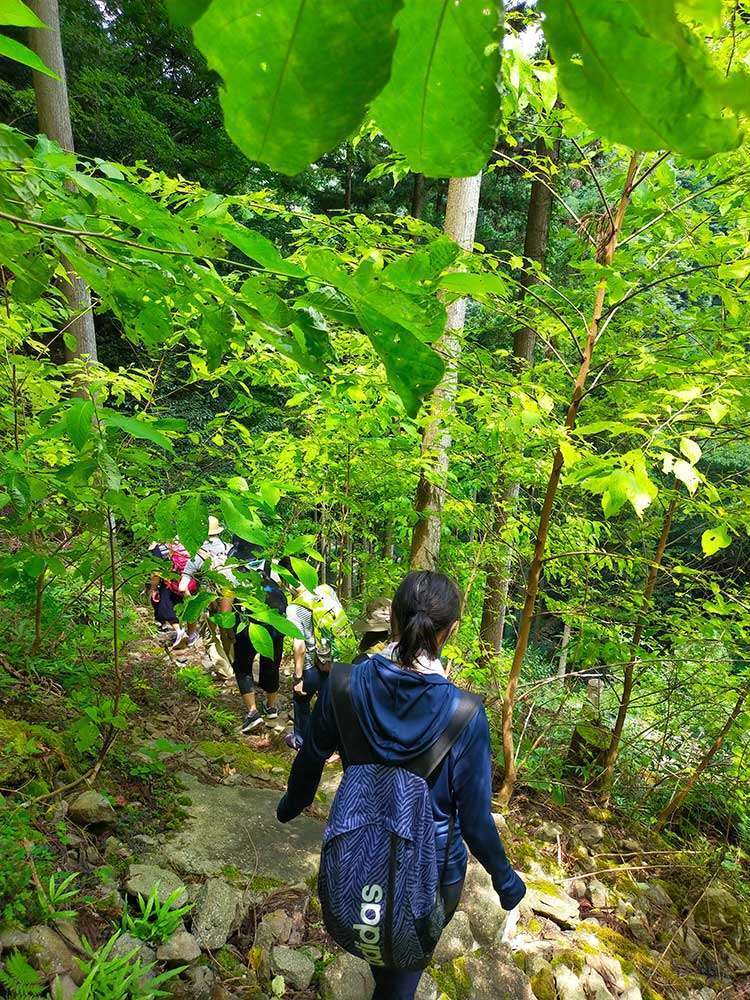 I finished the tour by relaxing in an onsen, a natural hot spring. The bathing fee is included in the tour ticket, so enjoy the nice Akame onsen before you leave.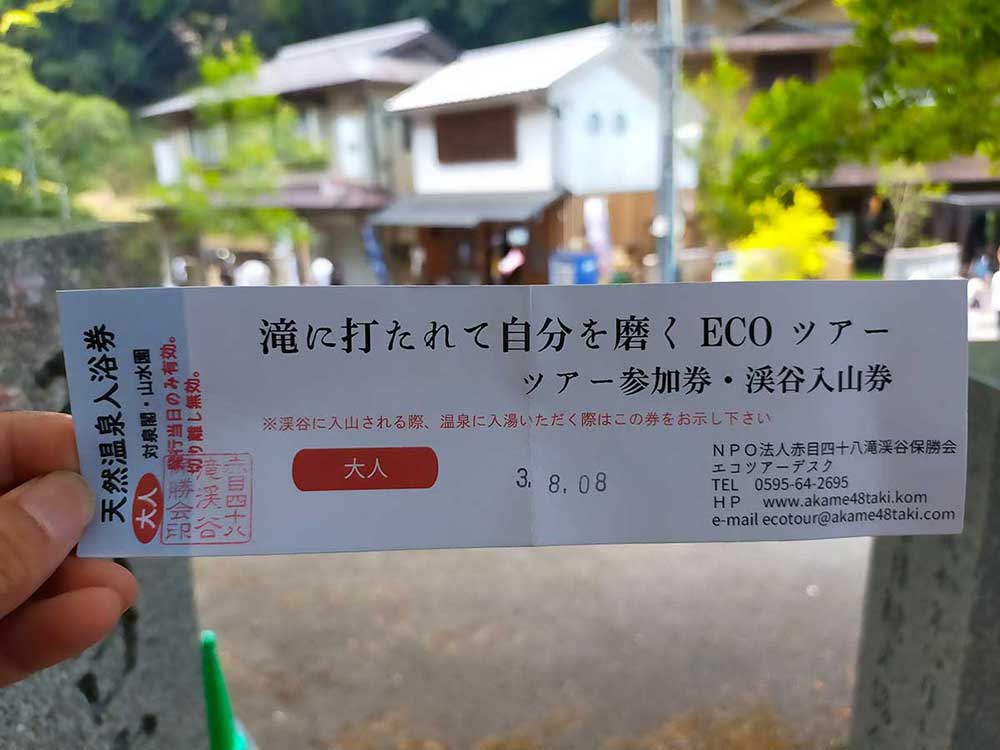 There were many participants on that day; solo and group female travelers, couples, and families. Everyone looked radiant and satisfied after the tour.
If anyone thinks;
"I want to reset my mind!"
"I want the courage to take a step forward, "
how about experiencing the extraordinary through this waterfall meditation tour?
Akame 48 Waterfalls

Location: 671-1 Nagawsaka, Akame-cho, Nabari City, Mie Prefecture
Access: Take a bus at Akameguchi Station (赤目口) bound for Akametaki (赤目滝) and get off at the final stop. 10 minutes ride from the station.
Parking: paid parking available
Links: Official website

Taisenkaku

Sansuien