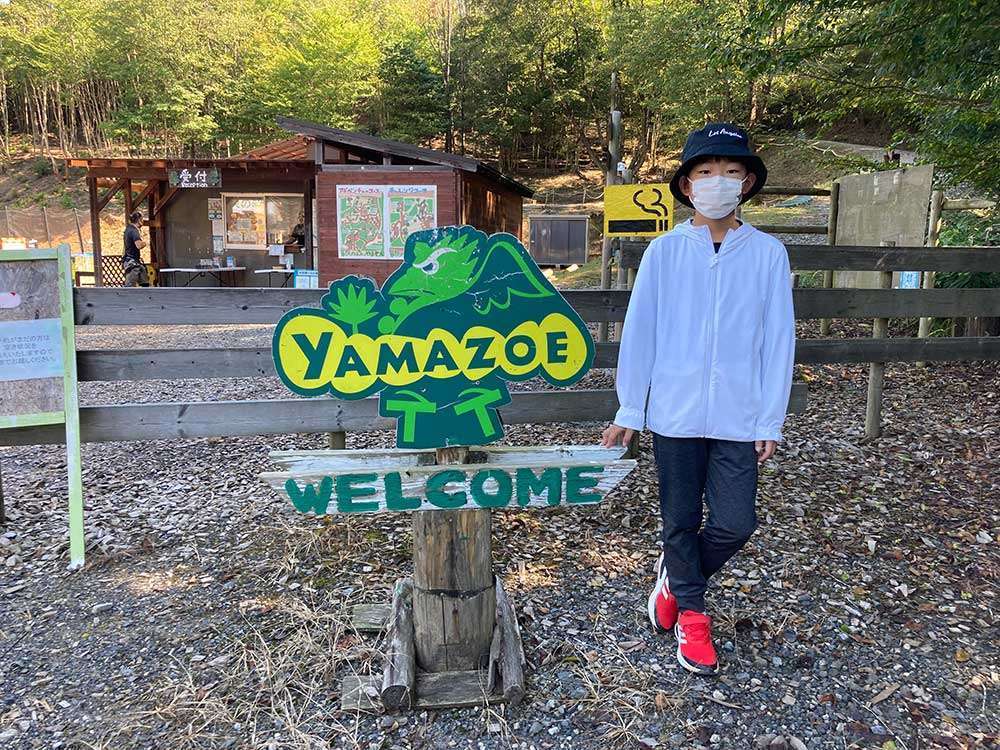 Although the summer heat is still lingering, the mornings and evenings have become much cooler and more comfortable. Today, my son, my husband, and I went to experience tree-top adventure activities at the Boken-no-mori (meaning "adventure forest") outdoor park in Yamazoe Village, Nara Prefecture.
There are 11 Boken-no-mori locations throughout Japan, and Boken-no-mori Yamazoe was the first one. They have two courses, The Adventure Course and The Challenge Course, each of which includes long and short seven zip lines. The official website says that the highlight of these courses is the 140-meter twin zip lines. My son was so excited!
The location is very convenient — less than five minutes from Konoguchi Exit off the Meihan Expressway! It took us only an hour to get there from Mie Prefecture, where we live.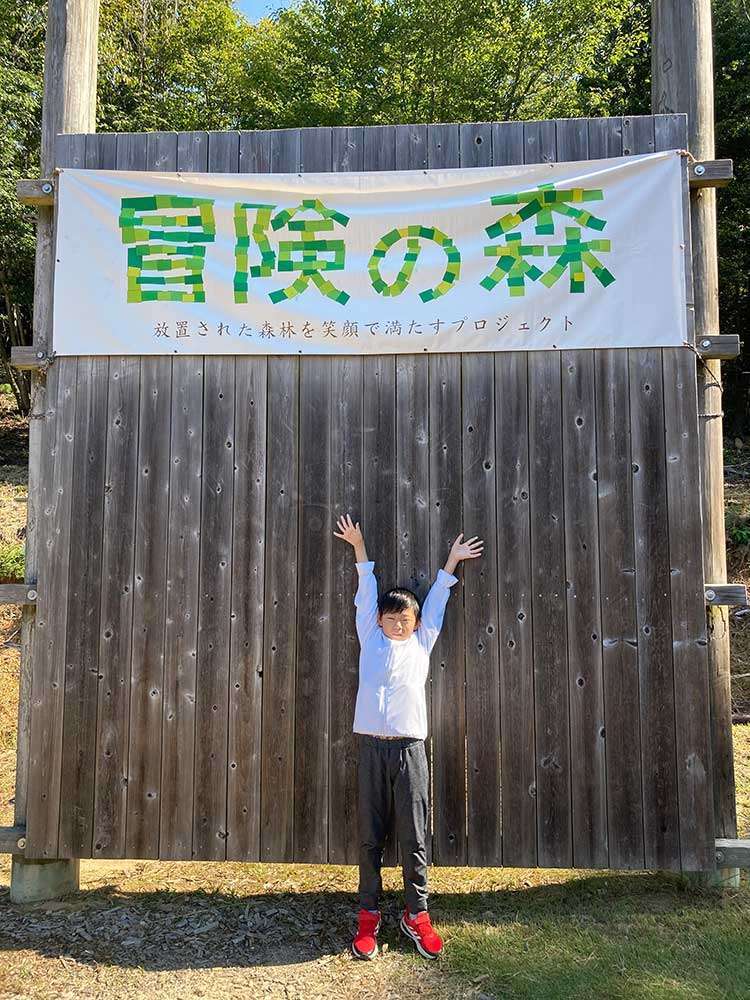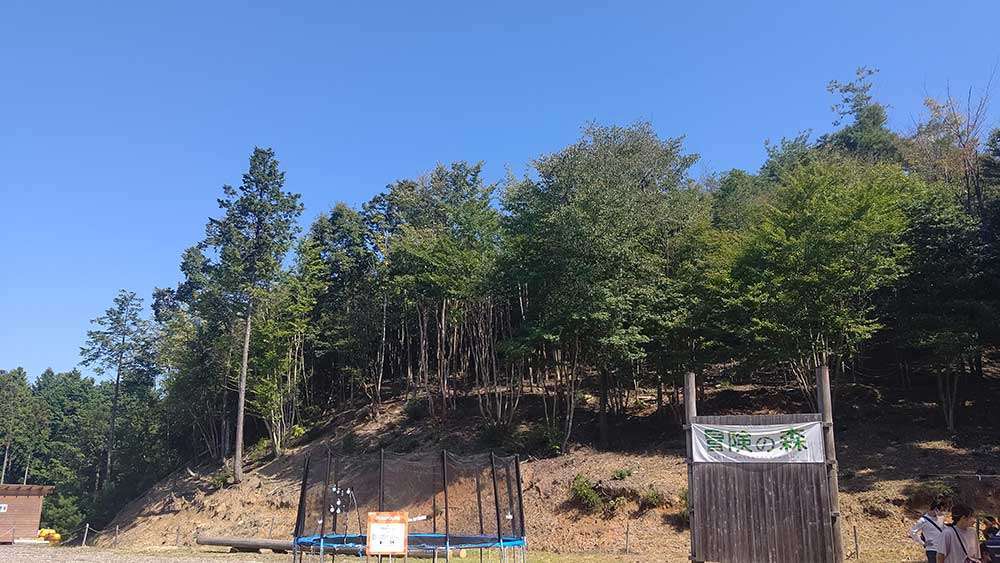 Since we left pretty early, we waited for a while upon arrival. During that time, we took a short walk with our dog, Apollo.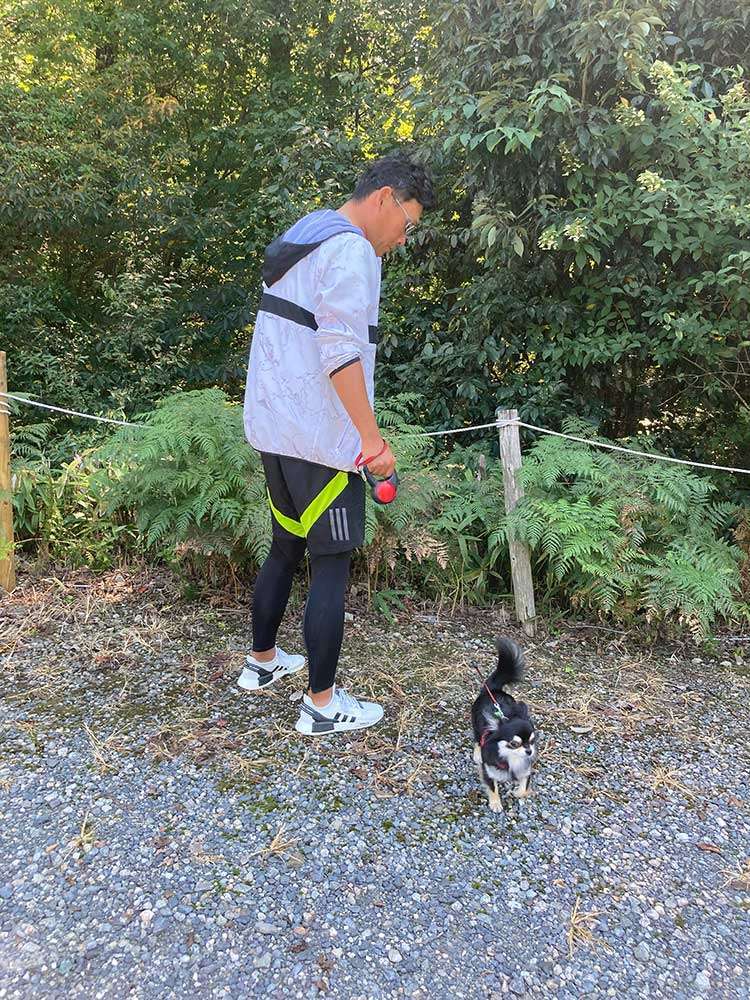 Having a dog limits your outings, but what a joy to be able to go out together.
Of course, manners must be observed, and leashes, slings, etc., are required.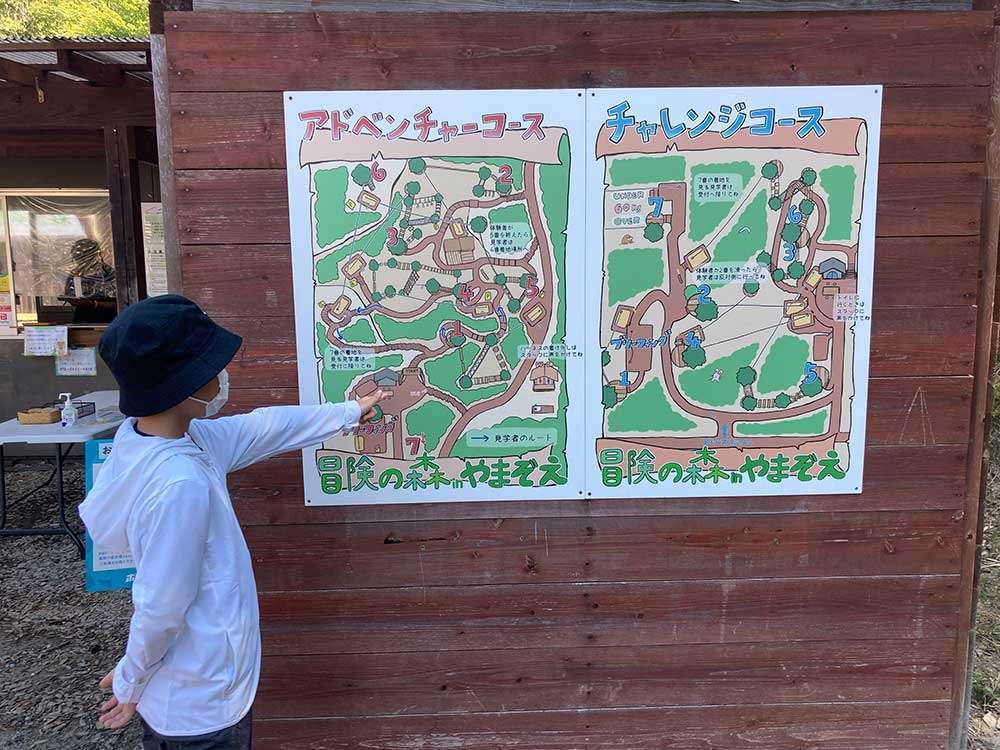 We had time to explore before the reception...
COVID prevention measures were also duly taken: body temperature check, alcohol disinfection, and masks (indoor).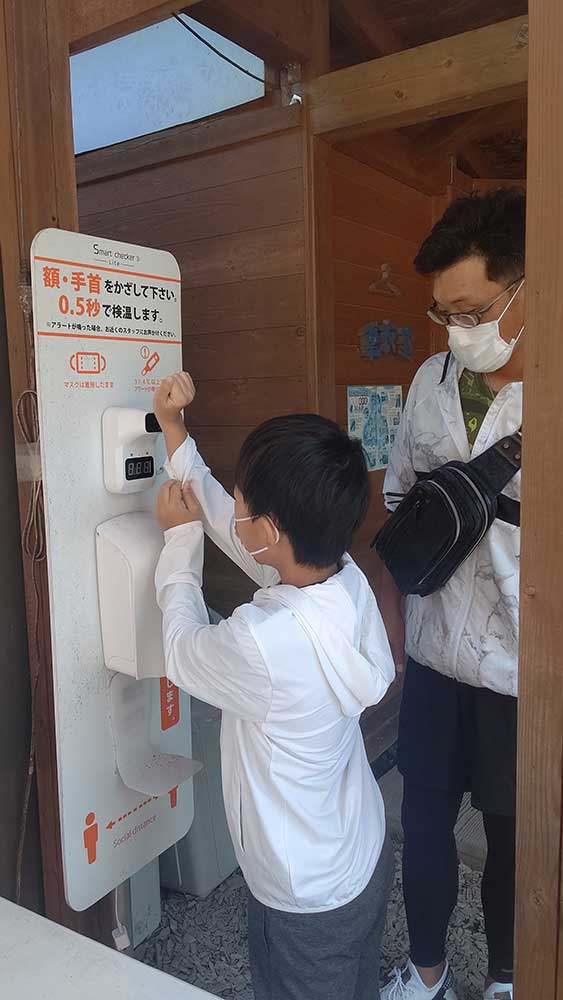 The facilities have toilets, changing rooms, lockers, and vending machines. Looking to the side, you will notice a newly opened glamping facility. And yes, pets are allowed! It might be a good idea to stay overnight there to enjoy the activities. Make sure you book early, as they rent out the whole cabin to one group per night.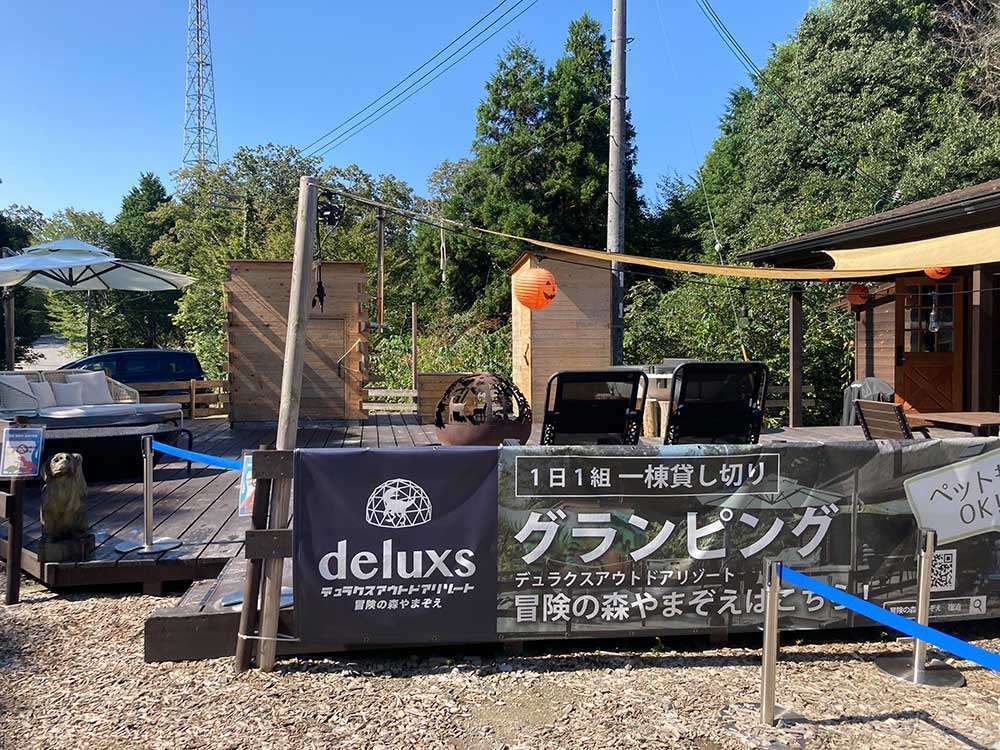 It's time for a tree-top adventure!
Now we headed to the reception desk to check our clothes (long sleeves and long pants are required, and bags should be a body bag or waist pouch if you want to carry any). Then, we donned harnesses!
The staff kindly helped us put on the harnesses, in addition to e-mailing me a video beforehand about how to do this.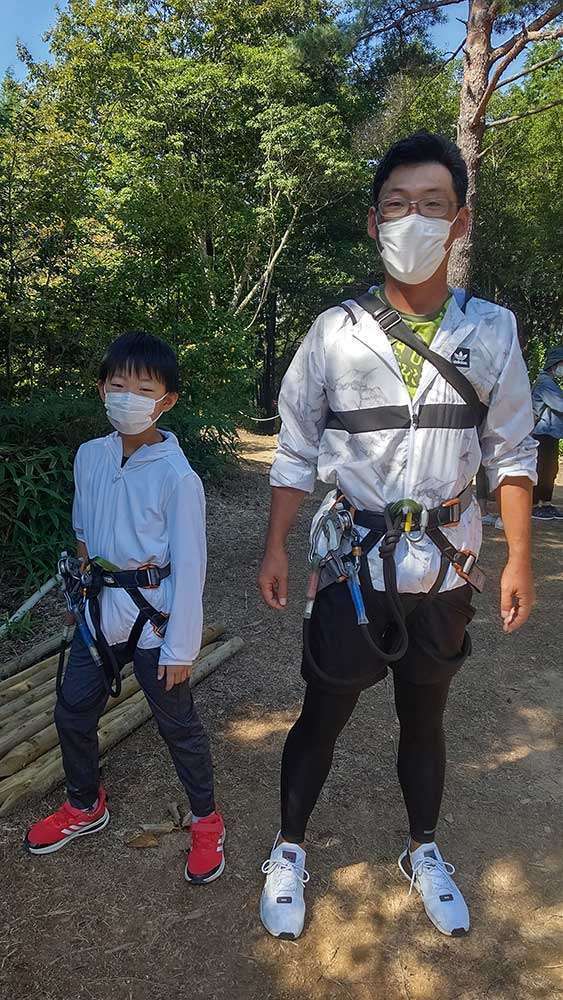 Everything is ready.
Before starting, the staff gave us detailed instructions on how to use the safety equipment.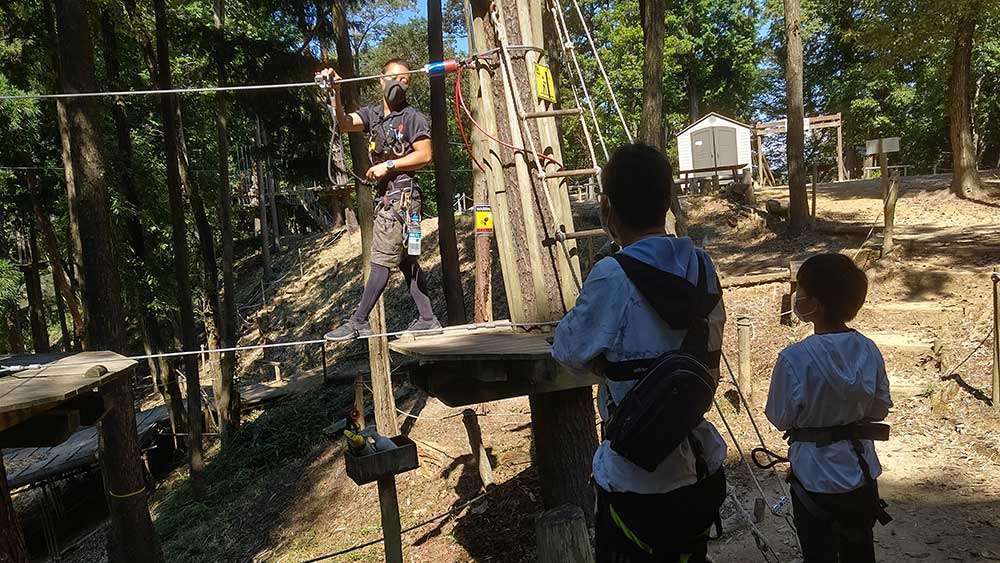 Here We Go!
This time, my two guys will go for The Adventure Course, which you should be at least 140 cm tall to try! Those under 140 cm tall can only take The Challenge Course (I know it's confusing. The Challenge Course is less challenging).
My son, a 4th grader, is very cautious and extremely timid. I was so worried about whether he could make it all the way through... well, I admit I was more nervous than he was!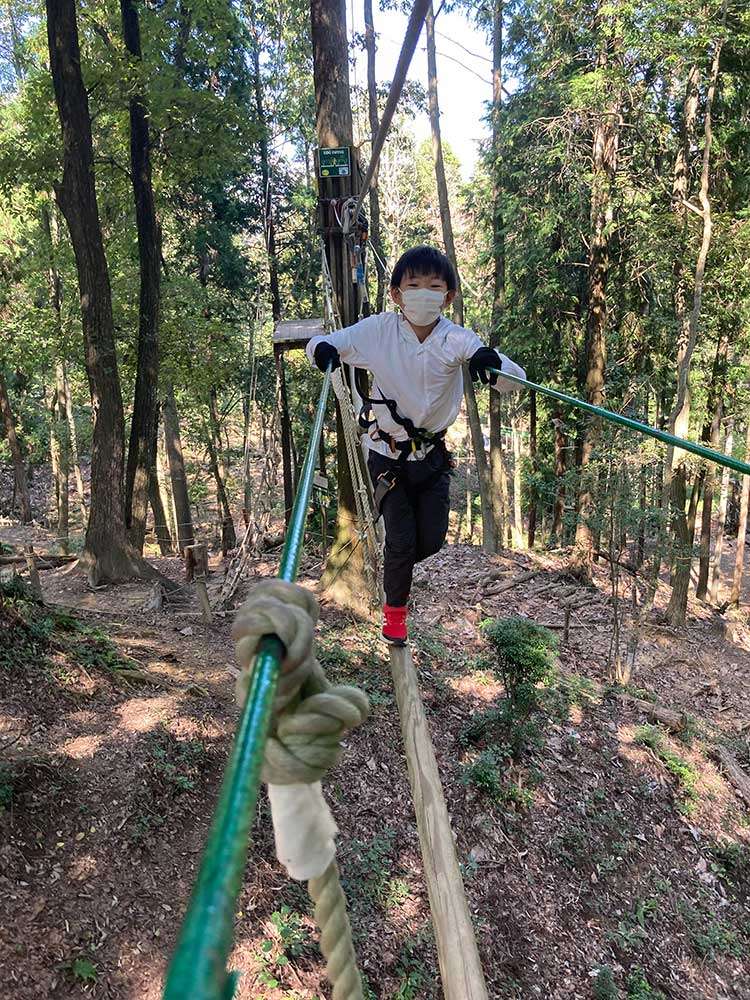 Despite my worries, the father and son gamely tried many activities.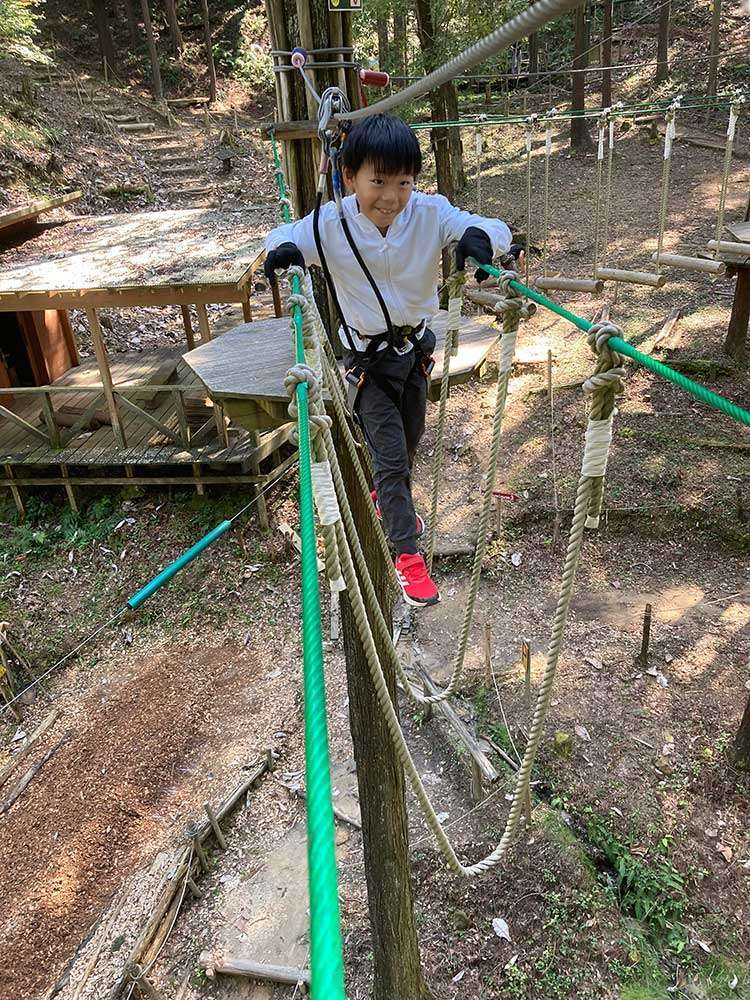 Sometimes, with his father's help, my son works his way slowly but steadily through challenging courses.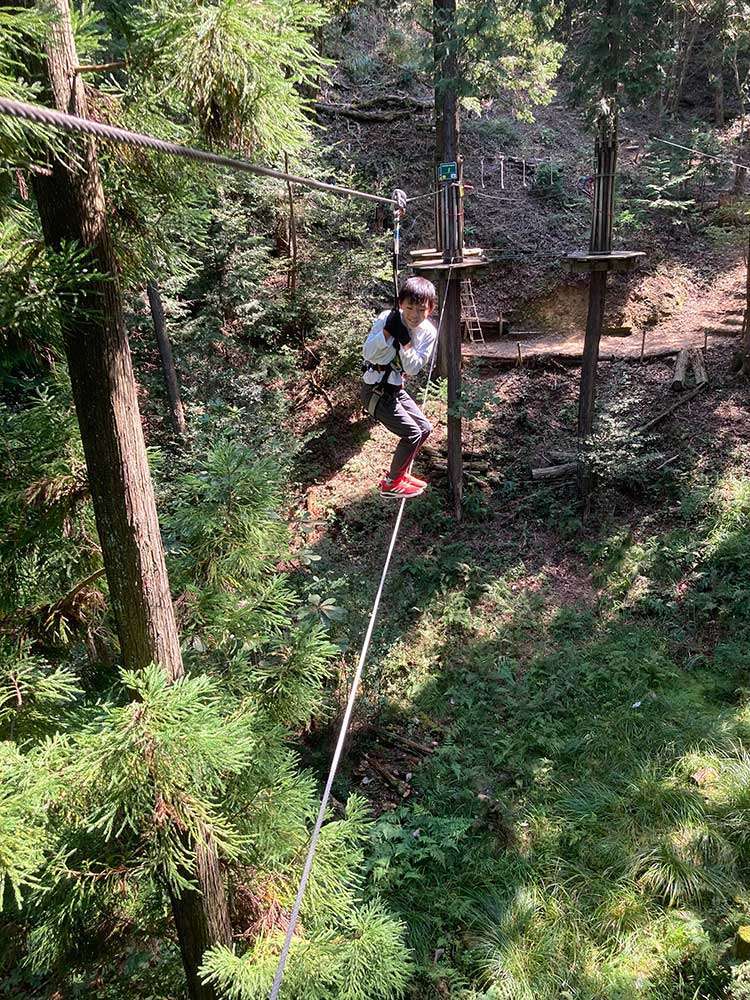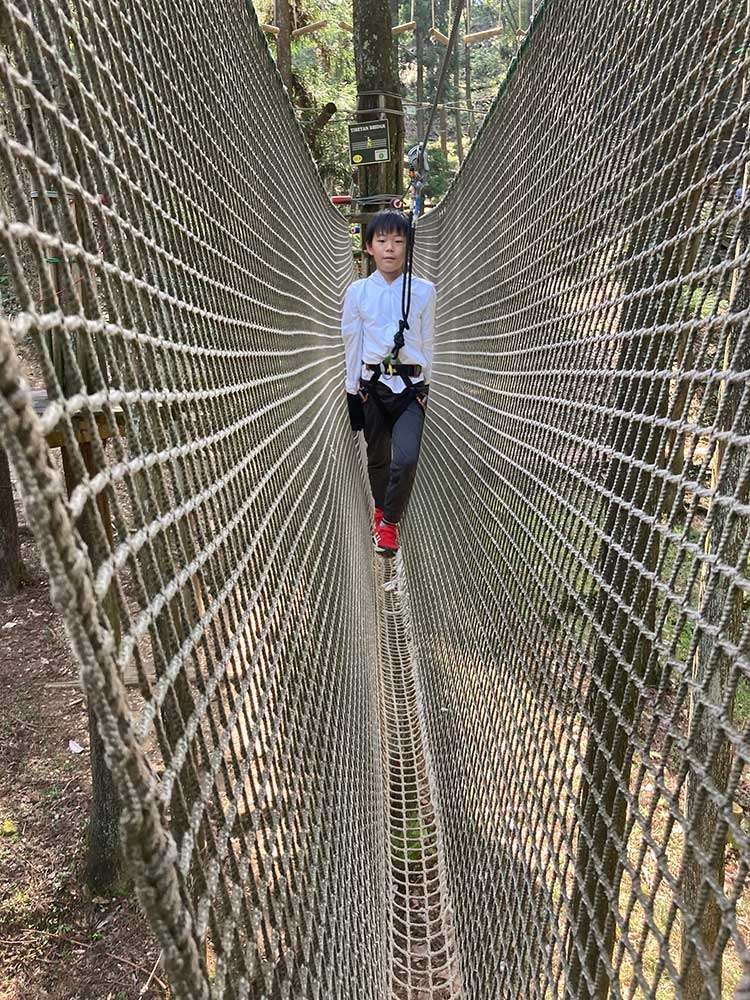 I thought he would be scared of the height, more than 10 meters above the ground, but his serious and happy expressions made me realize how he had grown up. I am afraid of heights, so I especially respected him as I watched him from the ground with our doggie Apollo.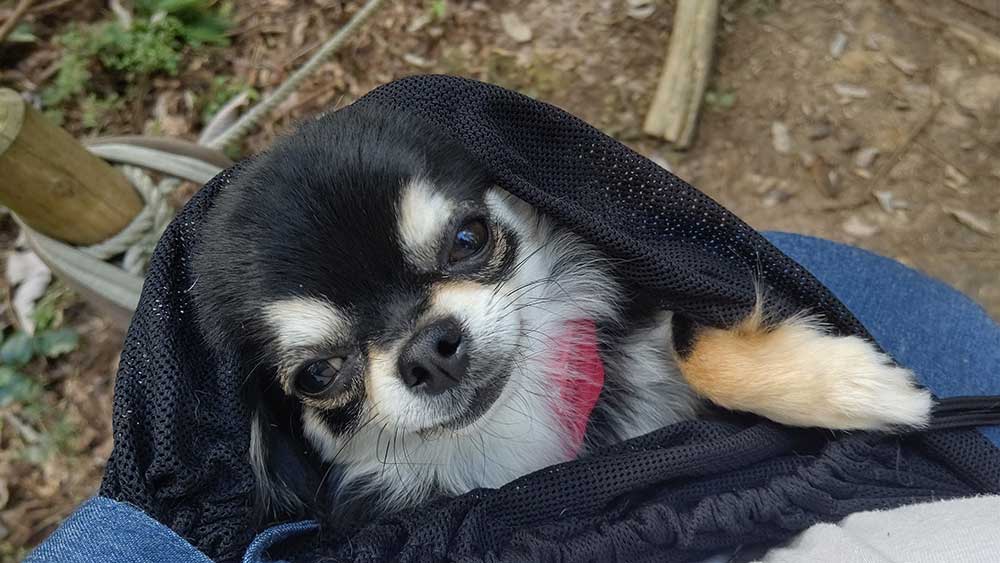 Since I didn't participate, I thought it would be easy for me to just watch them enjoying themselves, but I had my own challenge course just walking along the paths. It was harder than I thought, especially as I was toting a dog weighing about 3 kg! Observers must wear comfortable clothes and sneakers too. A good thing about being in a forest is: it was cooler than I had expected, in the shade of tree cover. (As of October 2, 2022)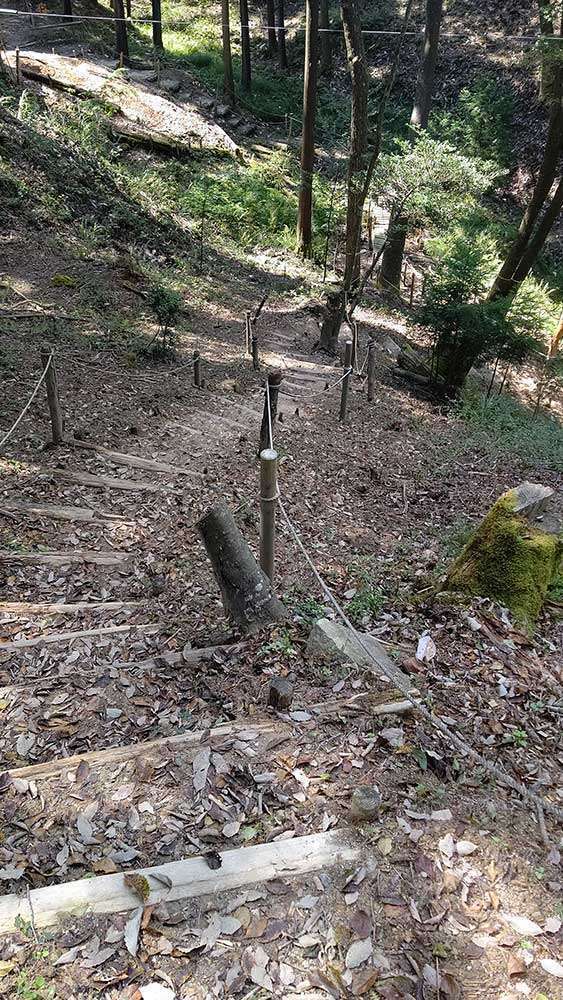 The first hurdle: Tarzan Swing
Meanwhile, my activity team was bravely trying the Tarzan Swing! Even my husband seemed thrilled by trying this new experience. I was sure my son was even more nervous. But when it was his turn, he descended more easily than I thought!
Just watching him, my heart was pounding. Between you and I, I was moved to tears when I saw him complete the descent. 
About 60% of the activities are completed here. More to come.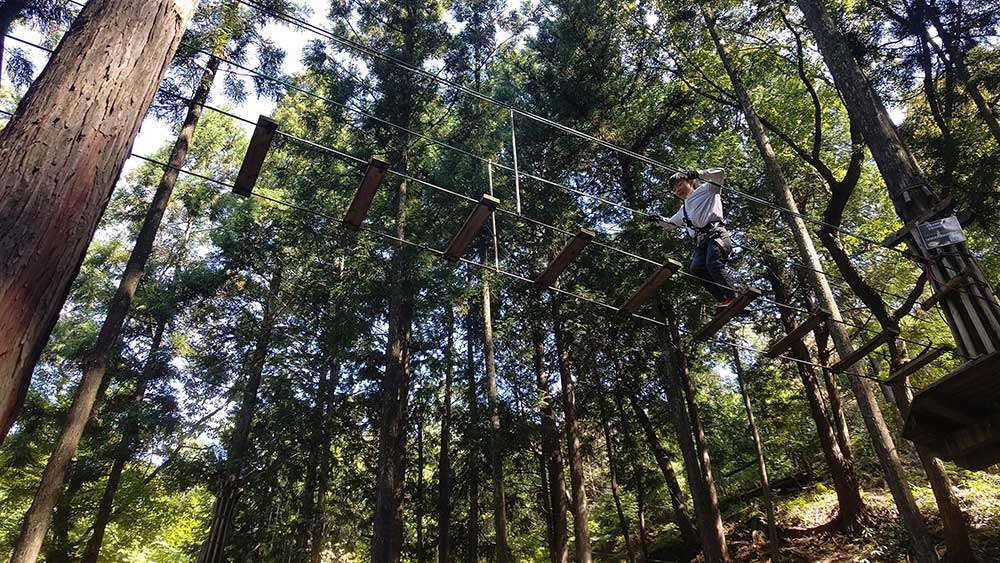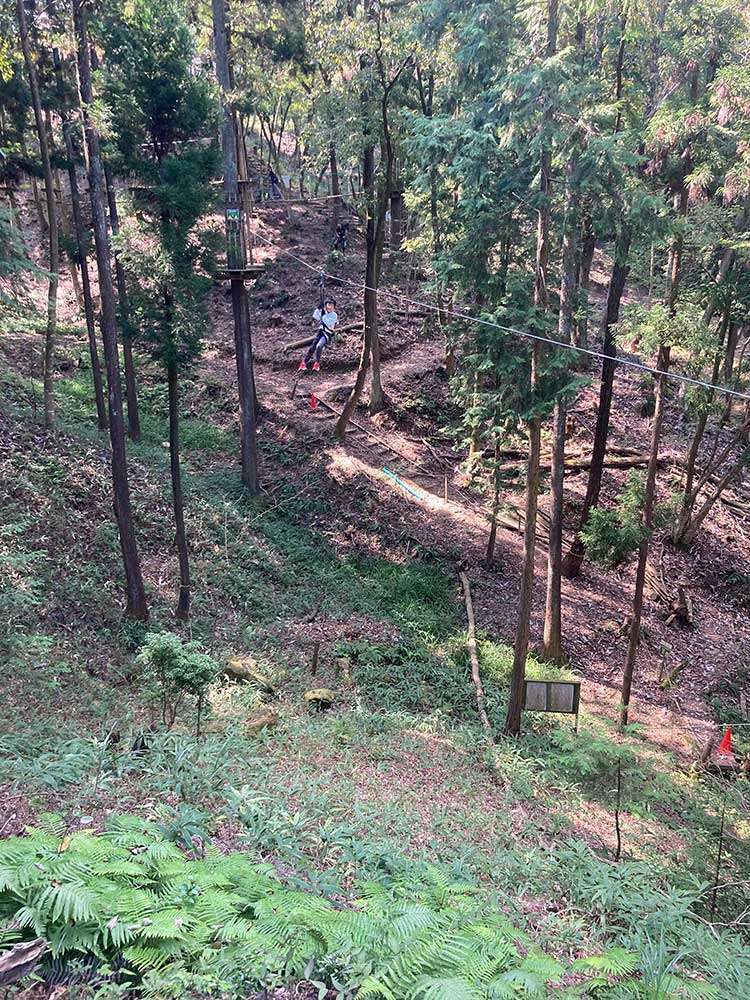 Finally, the main attraction: a 140-meter-long zip-line!
I moved ahead of my two guys to where I could see the last zip line! I waited in the waiting area for about 15 minutes, then I got a phone call that they would do the 140-meter twin zip-lining now!
The two zipped cheerfully alongside each other, looking at the spectacular view! Even I, the observer, couldn't help but exclaim, "Sugoi! (Wow!)." This 140-meter zip-line can be experienced for an extra 1,000 yen per person (as with the Adventure Course, there is a height limit of 140 cm).
If you are interested in the activity but worried about your physical fitness, this zip-line activity alone will be a good experience for you.
The father and son, who completed all the activities, were covered in mud but looked so lively.
The official website says it takes 2 hours to finish all the activities, but it took them 2.5 hours. I think it would take less than 2 hours for adults only.
Although the two challengers seemed to have already reached their physical limits, they wanted to try out the trampoline.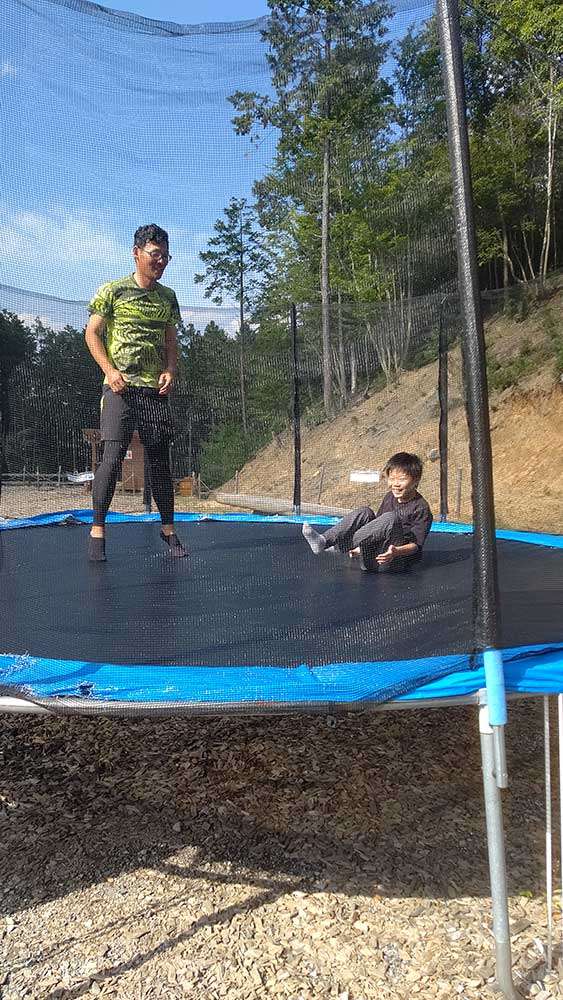 The trampoline fee is 500 yen for five minutes per pair (limit of three people and total weight of 120 kg per trampoline). The two played only for five minutes as my husband's physical strength was waning. My son seemed to want to do more, but my husband's and my legs were too weak. Children are really energetic.
After a great time at Boken-no-mori Yamazoe, we headed home. My son, who had been hyper all day, slept soundly on the way home. He enjoyed the activities so much that he asked when we would go again as soon as he got home. It was such a delightful day for both us parents and our kid.
Do you want to:
Feel the fresh forest air?
Have fun with your child/children?
See your child's/children take on challenges?
Then I recommend you experience these tree-top adventures in Yamazoe!
Here is some additional info. Forest Park Konoyama, located on the other side of the Meihan Expressway, has a cafeteria where you can have lunch (weekends and holidays only), as well as a sheep farm. If you have time to spare, visit there, too.
Boken-no-mori Yamazoe

Location: 1680 Mikadani, Yamazoe Village, Yamabe-gun, Nara Prefecture
Access: 2-minute drive from Konoguchi (神野口) Exit of Meihan Expressway.
Car GPS: enter this phone number 07056554010
Fees: 2,000 yen - 6,000 yen (including insurance)

Forest Park Konoyama (Mt. Kono)

Location; 888-1 Fushiogami, Yamazoe Village, Yamabe-gun, Nara Prefecture
Access: 8-minute drive from Boken-no-mori Yamazoe