Access Info and Attractions on Approach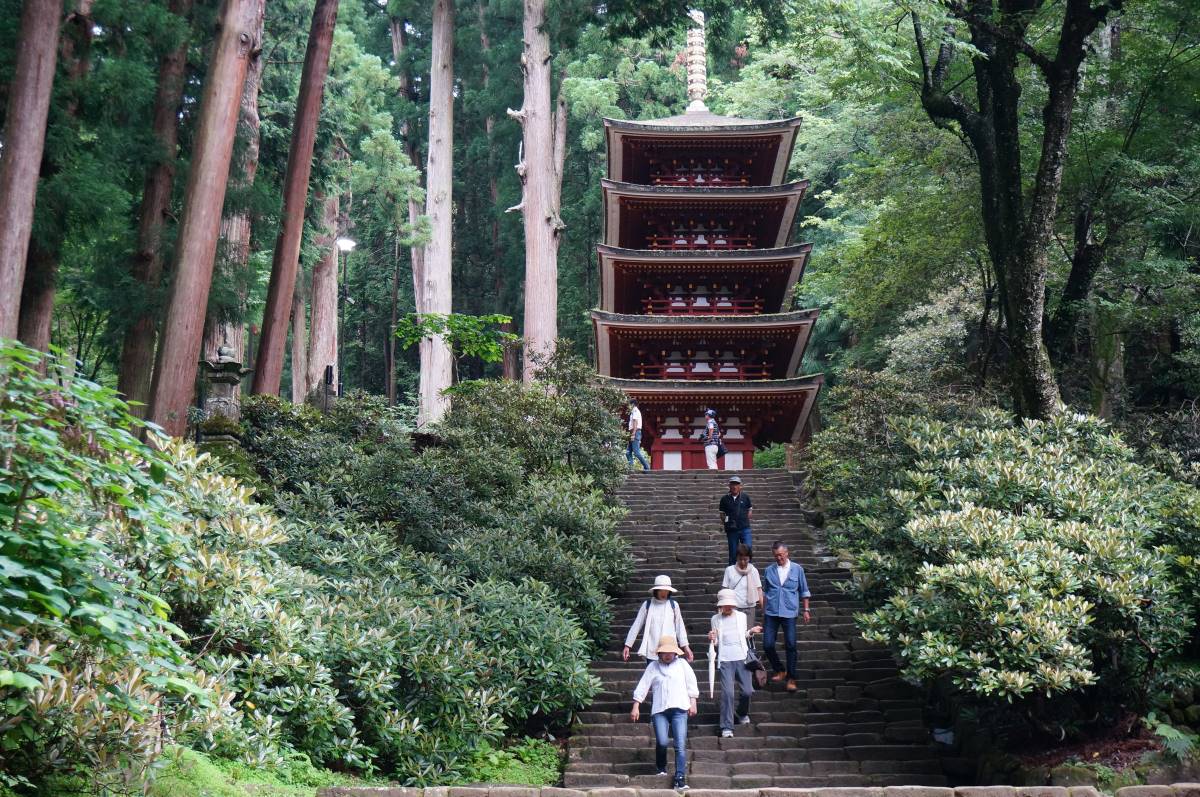 Hello, my name is Miyako from Nara. The other day, I have been to Murou-ji Temple which is located in Uda city in Nara prefecture.
In this travel journal, firstly, I will explain how to get to Murou-ji Temple by public transportation; and, secondly, I will introduce the attractions you can enjoy on the approach leading to Murou-ji Temple, for example, special foods and local shops only in there.
Murou-ji Temple is a great tourist destination to feel the brilliance of nature and Japan's historical legacy, so why don't you visit this unmissable place in the eastern Nara?
How to Get to Murou-ji Temple
First, I will explain how to get to Murou-ji Temple.
Murou-ji Temple is located in Uda city in the eastern part of Nara prefecture. Uda city is a nature-rich city surrounded by mountains, and it is famous for "Yamato Tea (Yamato-cha)" and "black beans (kuromame)" grown in the fertile soil.
Here are two ways to get to Murou-ji Temple.
By car
By train and bus
If you would like to go to Murou-ji Temple by car, you can check the above route map. Today in this section, I will explain the easiest way to get to Murou-ji Temple by train and bus.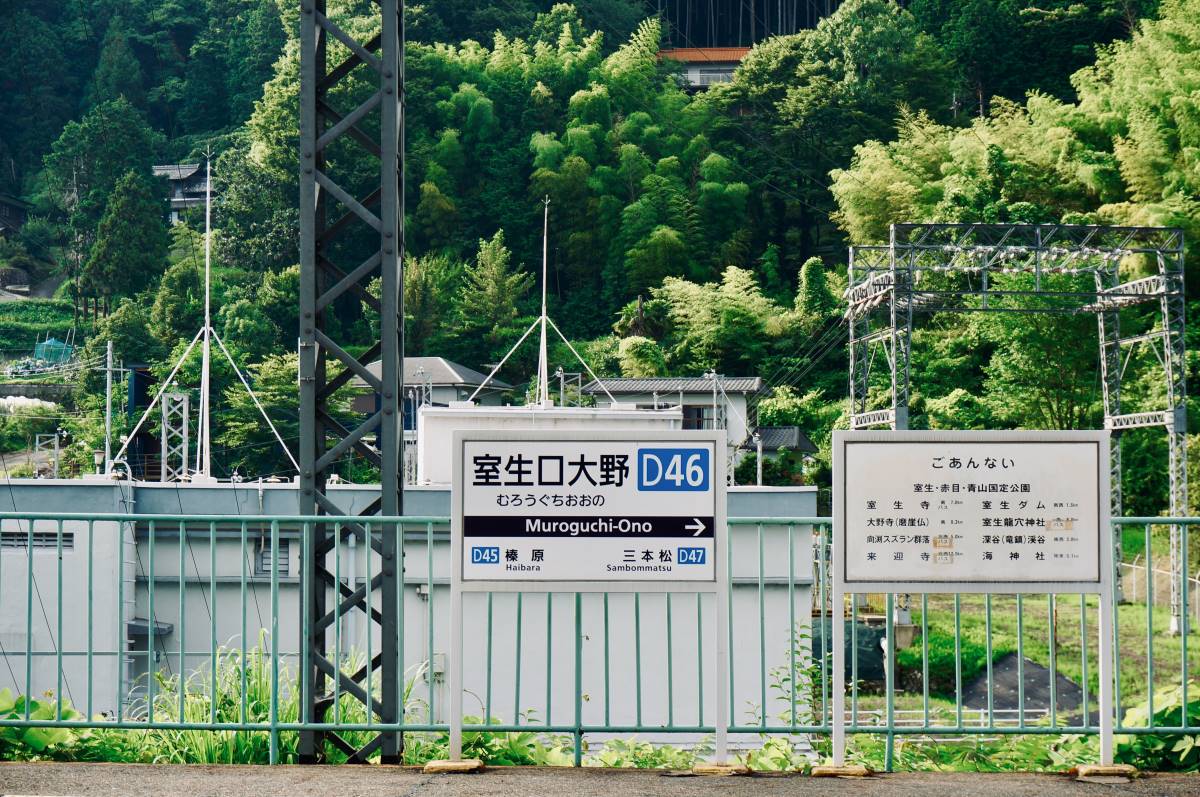 First, take the Kintetsu Osaka Line to reach "Muroguchi-Ono Station". You can take any trains other than Limited Express.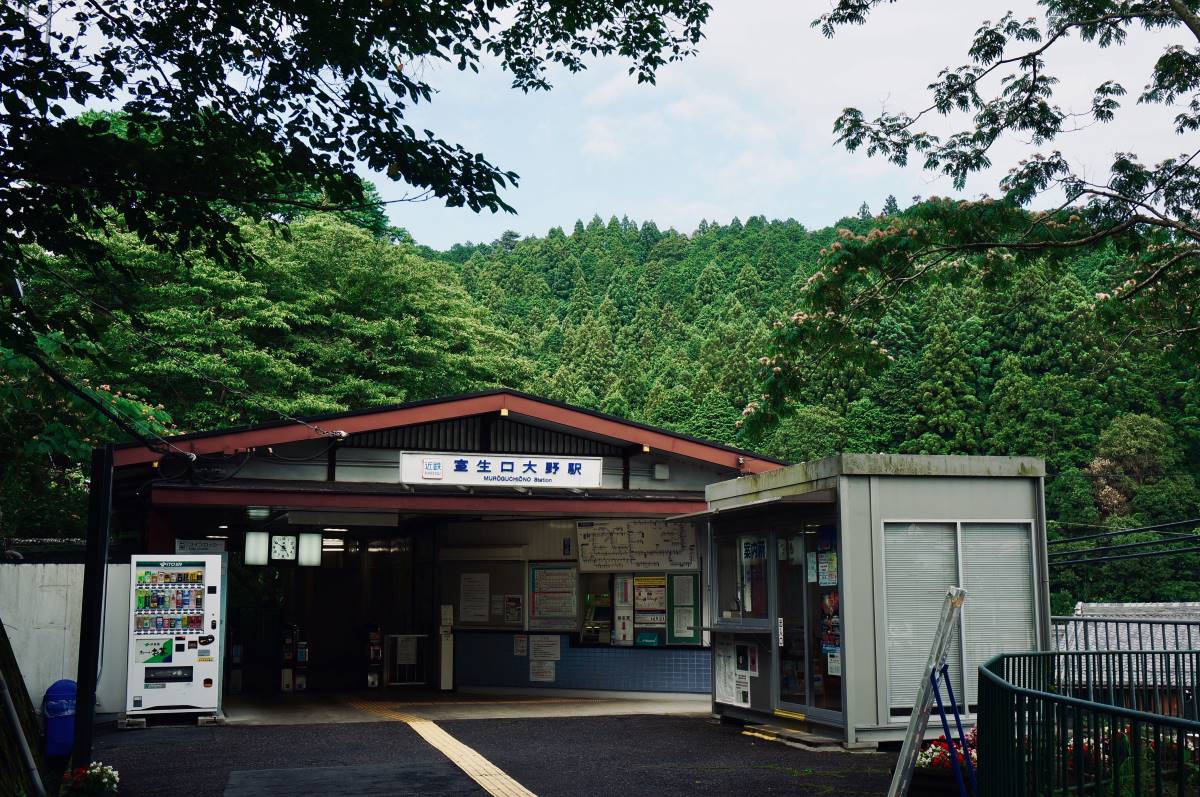 This is "Muroguchi-Ono Station". It is surrounded by a rich natural environment and you can hear the music of birds.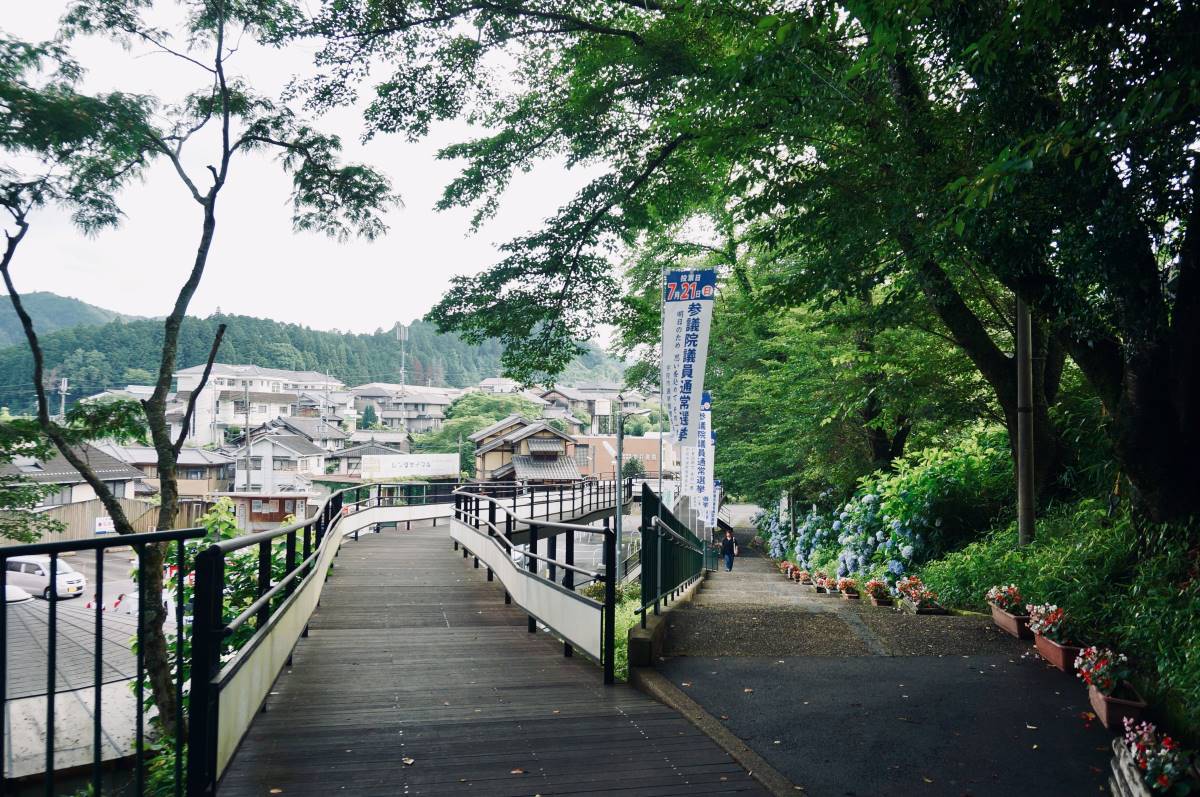 After you exit through the ticket gate, go straight and down the stairs just in front of the station.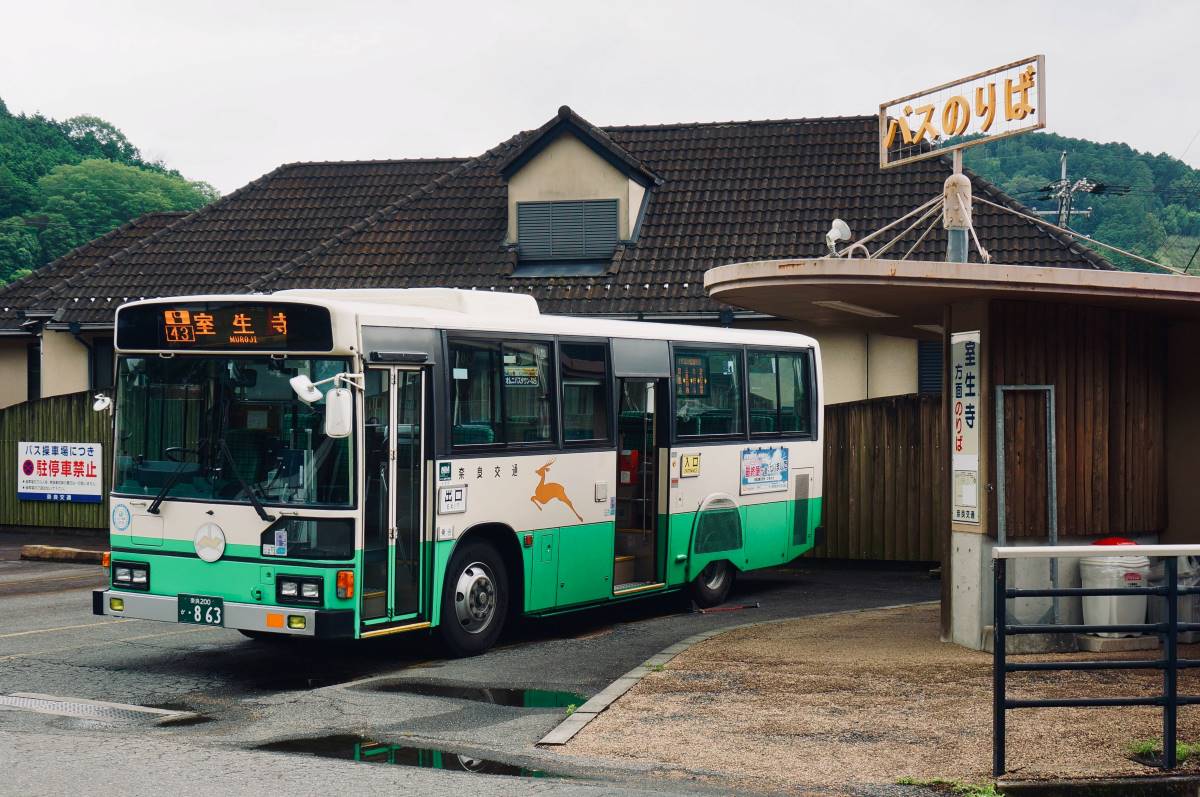 Once you walk down the stairs, you will see the bus stop on your left side. Get on a bus bound for "Muroji (室生寺)", the one-way bus fare is 430 yen, and it will take about 15 minutes to reach Murou-ji Temple.
Notice: Before going to Murou-ji Temple, please check the timetable for buses on "Sightseeing Guide - Nara Kotsu Bus". Usually, there is one bus per hour. During the spring and autumn tourist seasons, the timetable is subject to change and extra buses will be available.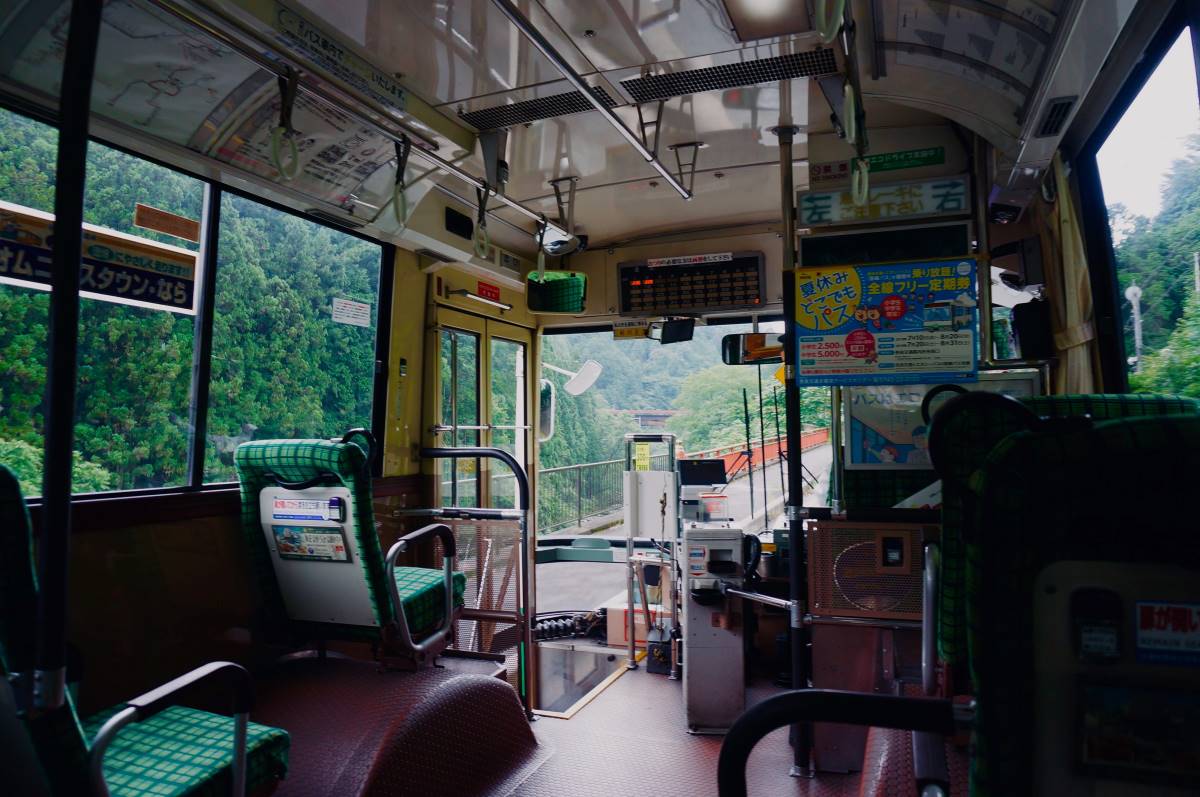 Except for the peak sightseeing seasons, the buses will not be crowded. Take a seat wherever you like and enjoy the view from the window while the bus goes on the winding mountain road.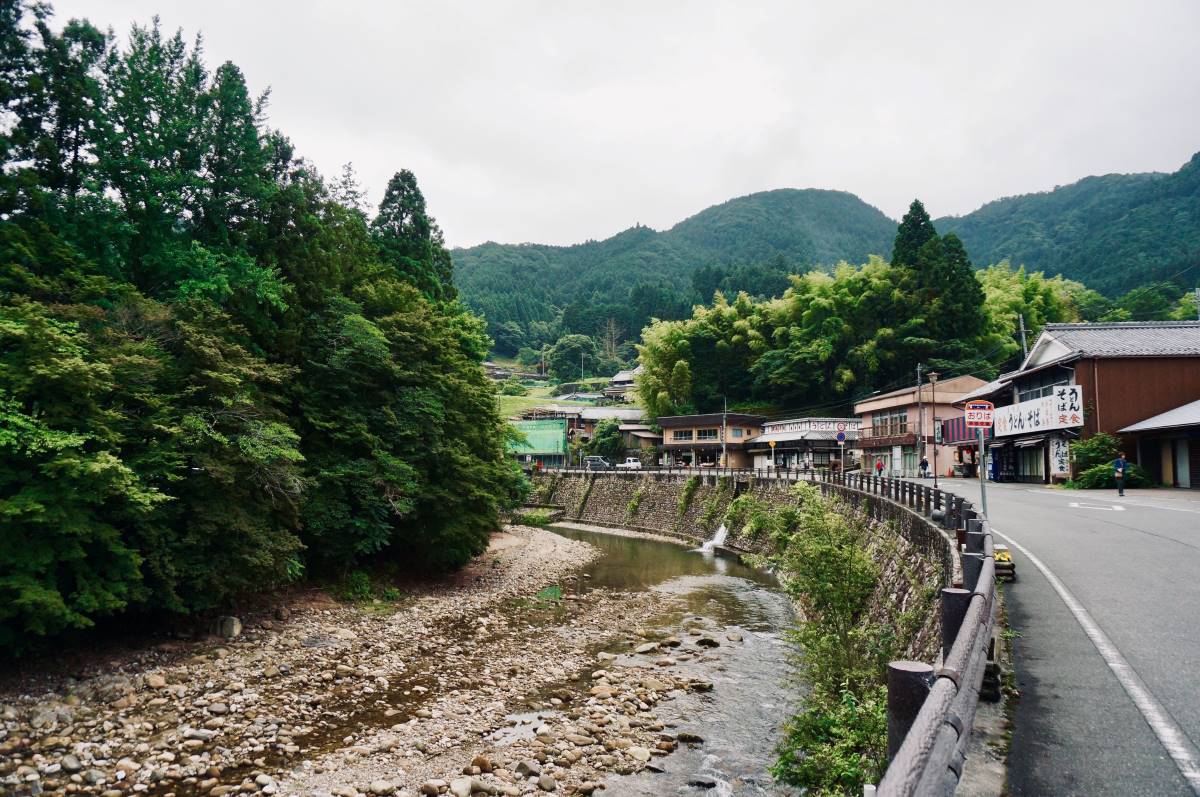 It will take about 15 minutes to arrive at "Muroji", the final bus stop. If you look around, you will see mountains in all directions and also a beautiful river flowing at the foot of the mountains. In this rural town, you can enjoy a peaceful atmosphere and a breathtaking landscape of Japan which cannot be found in urban cities.
Enjoy the Attractions on Approach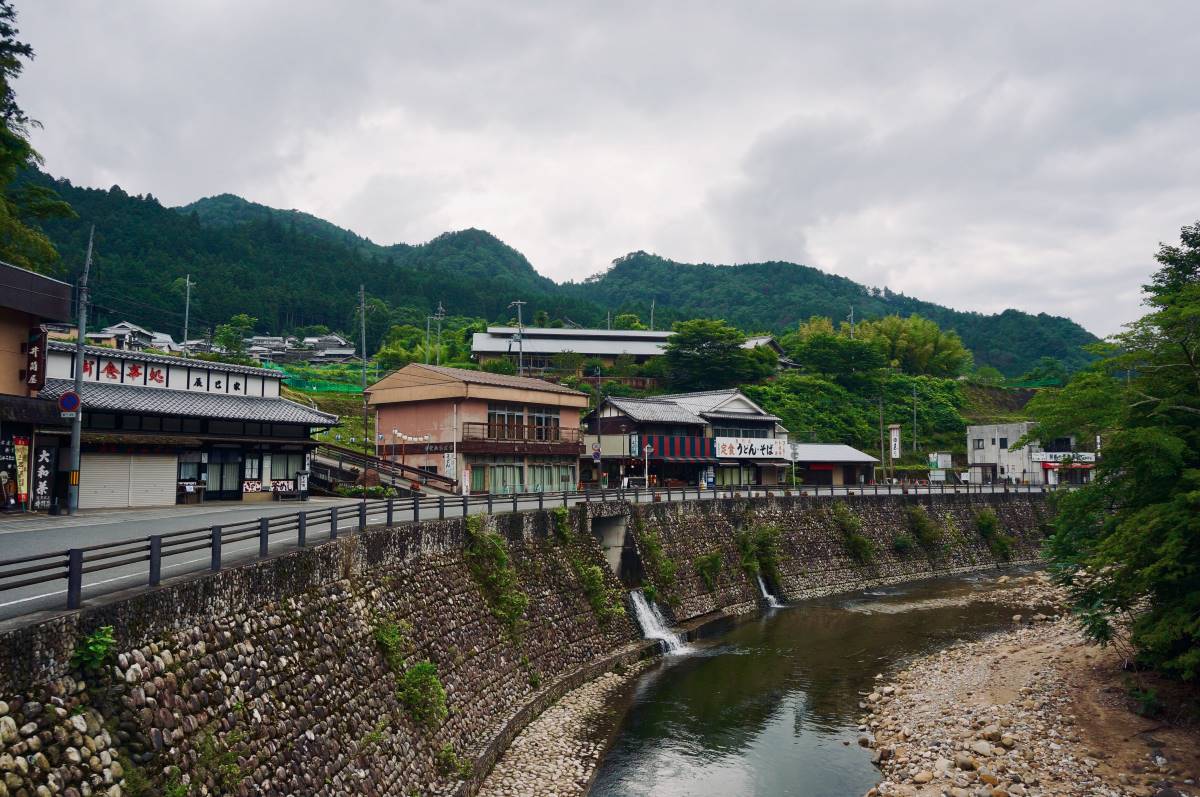 It will take about 5 minutes on foot from the bus stop to the entrance of Murou-ji Temple. Along the way, there are charming restaurants and souvenir shops that have been around for a long time. I will introduce some delicious foods and attractive shops worth trying and visiting!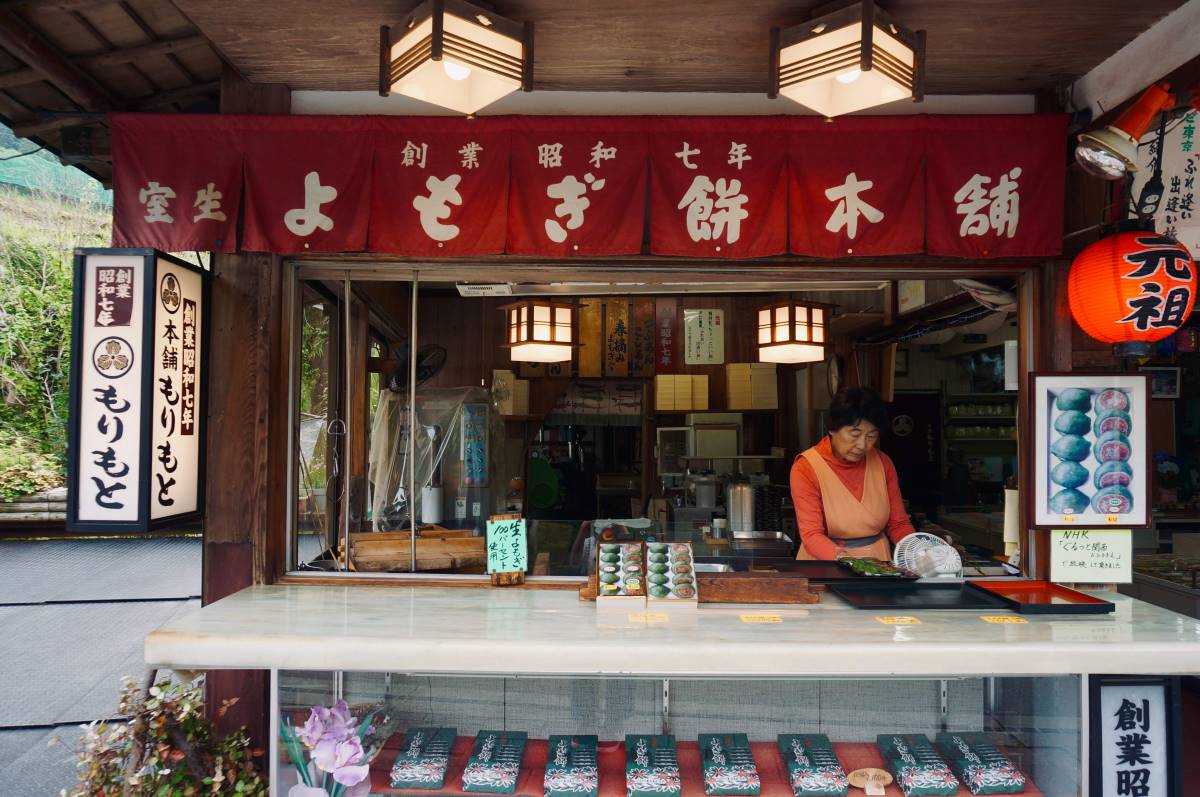 Just across the road from the bus stop, there is a popular rice cake shop called "Muro Yomogi Mochi Hompo Morimoto (室生 よもぎ餅本舗 もりもと)" established in 1932.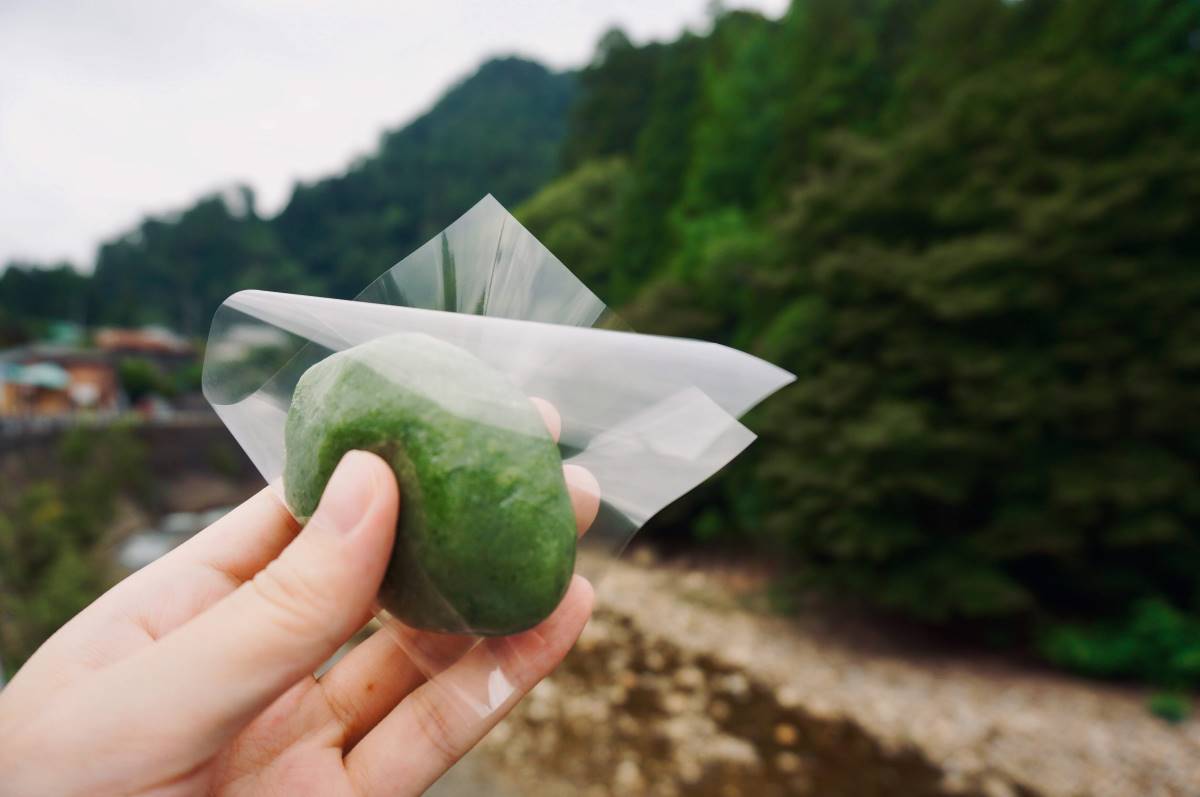 Yomogi mochi is a specialty of this shop which is made from mochi (traditional Japanese rice cake) and young leaves of mugwort. You can choose from two types of yomogi mochi, one filled with smooth sweetened red bean paste (110 yen) or the other one filled with chunky sweetened red bean paste (130 yen).
What I have in my hand is a yomogi mochi with smooth sweetened red bean paste. The freshly pounded mochi is very soft and stretchy, the red bean paste is just right sweet, and the flavor of the locally grown mugwort is so well recognized. Those are the perfect combination of Japanese traditional confectionery.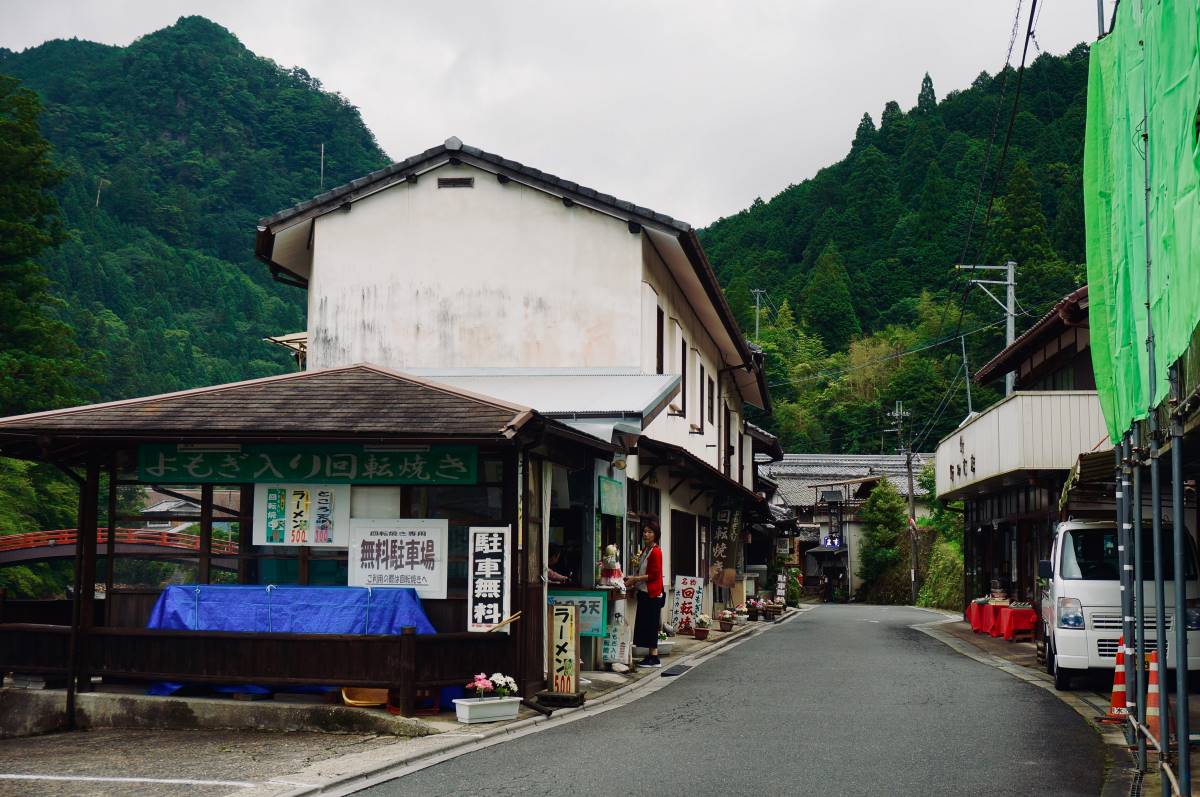 As you keep going along the street, you will find a shop on your left side where customers stopping by one after another.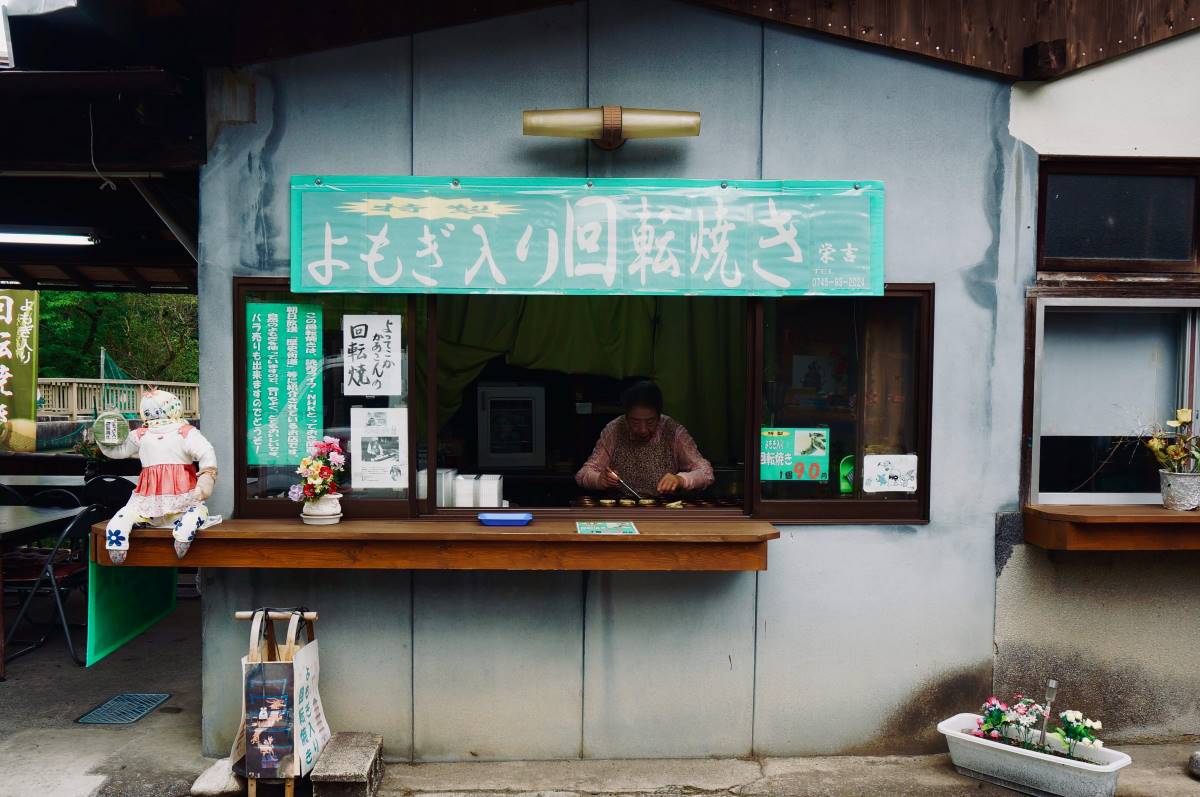 This is one of the popular shops on the approach, the shop name is "Eikichi (よもぎ入り回転焼き 栄吉)". It is noted for a Japanese traditional sweet called "Kaiten-yaki (also called "Imagawa-yaki" in some regions)" which is made with flour dough and sweetened red bean paste.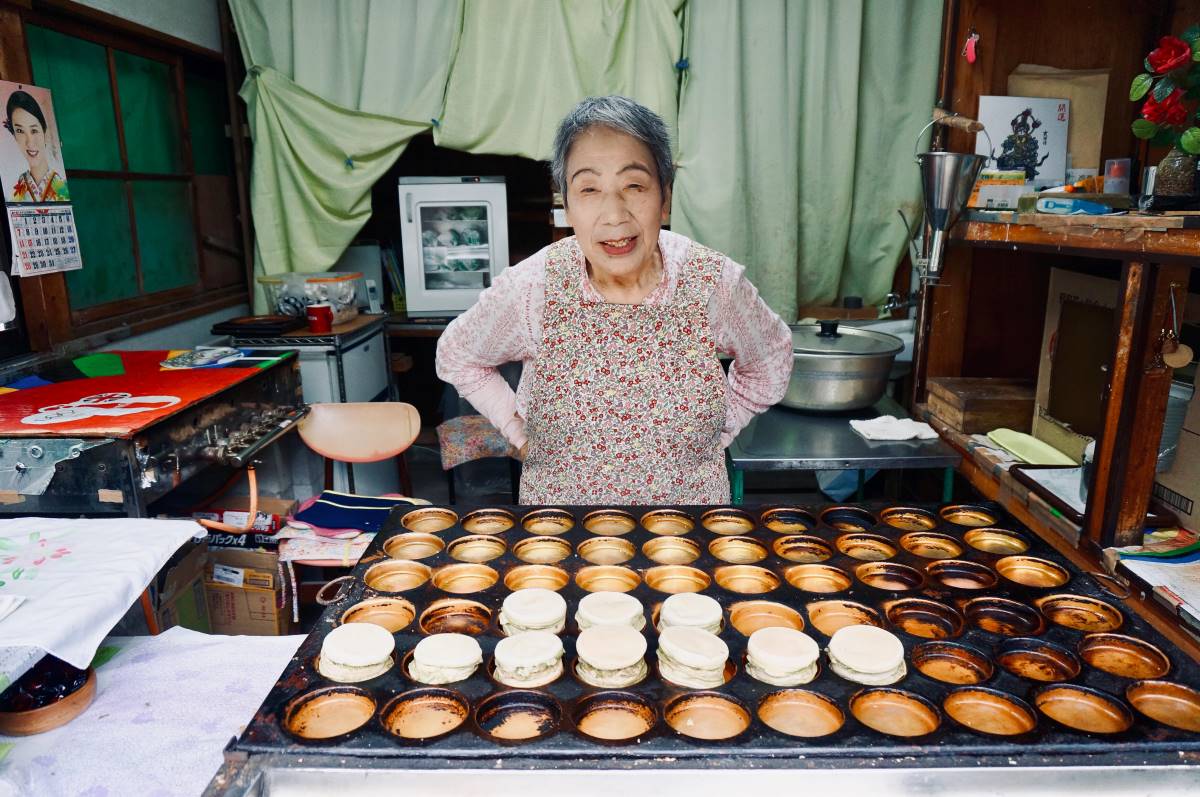 This friendly smiling owner always gives a hearty welcome to each customer. According to her, Eikichi's Kaiten-yaki is mixed with fresh mugwort and this is the only place you can appreciate this unique flavor.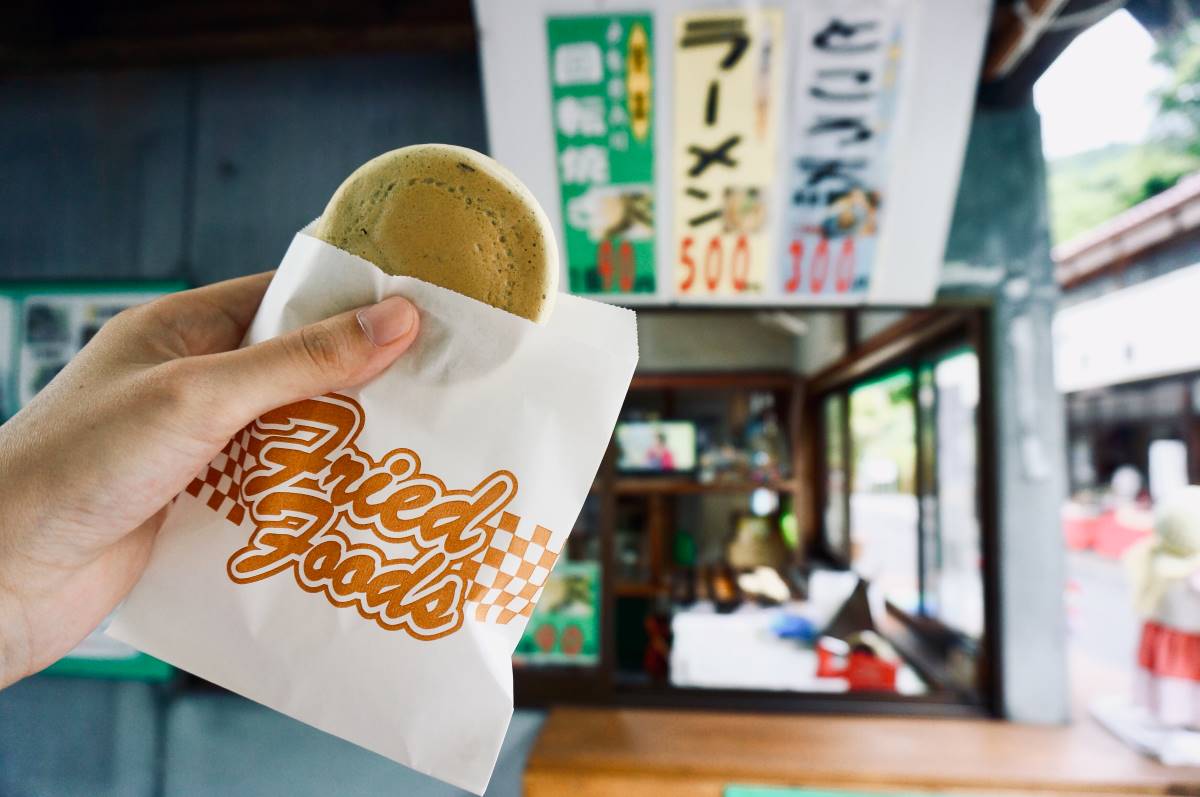 The freshly made Kaiten-yaki is 90 yen apiece. You can enjoy the firm flavor of the mugwort, the fluffy texture of the dough, and the perfect sweetened red bean paste. It is too delicious and you will definitely want to get another one!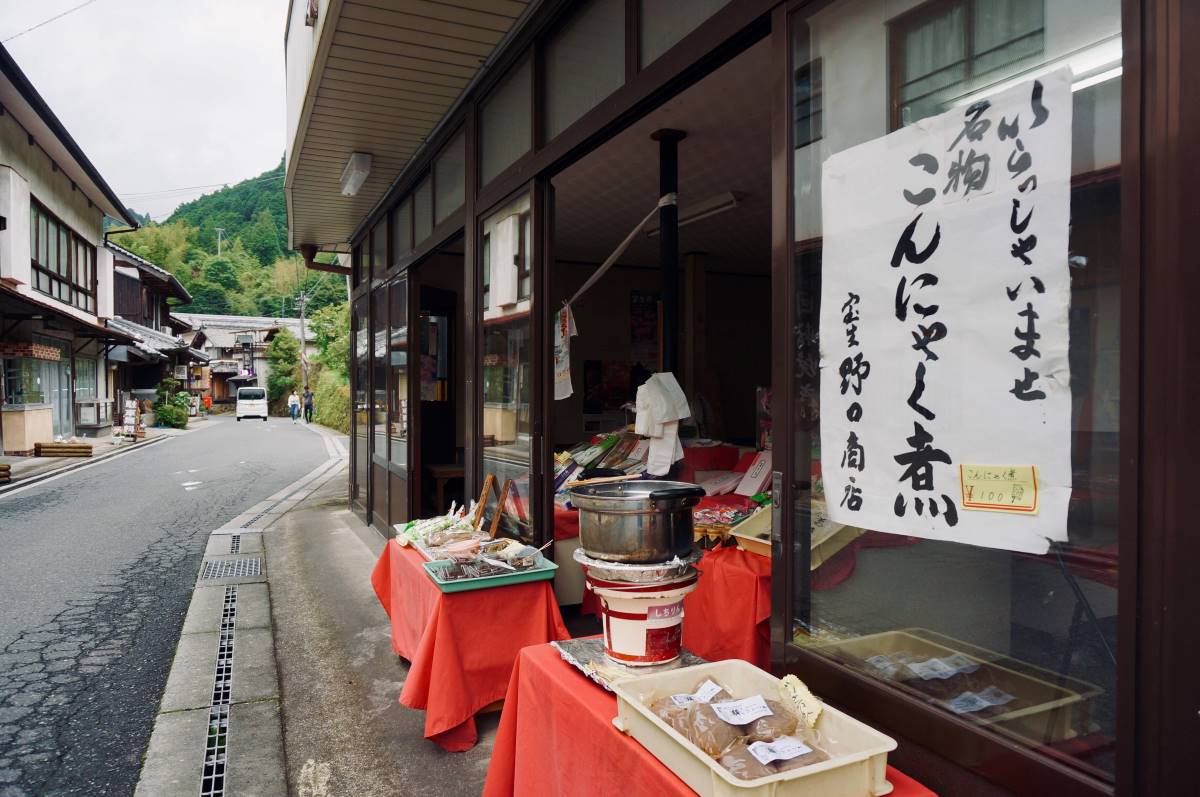 As you go forward, you will find a local shop on your right side.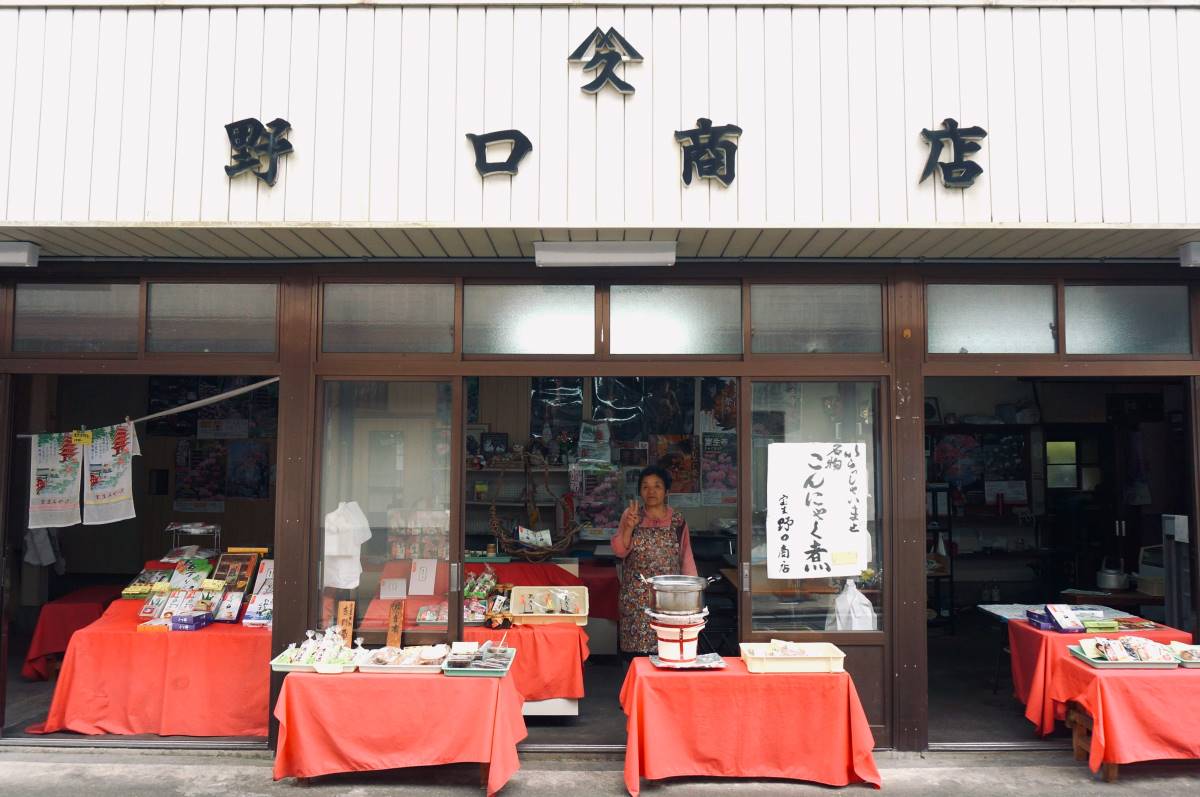 This is "Noguchi-shouten (野口商店)" which sells a nice variety of products and homemade foods, for instance, Japanese pepper of tsukudani (preservable food boiled down in soy sauce), and simmered Japanese konjac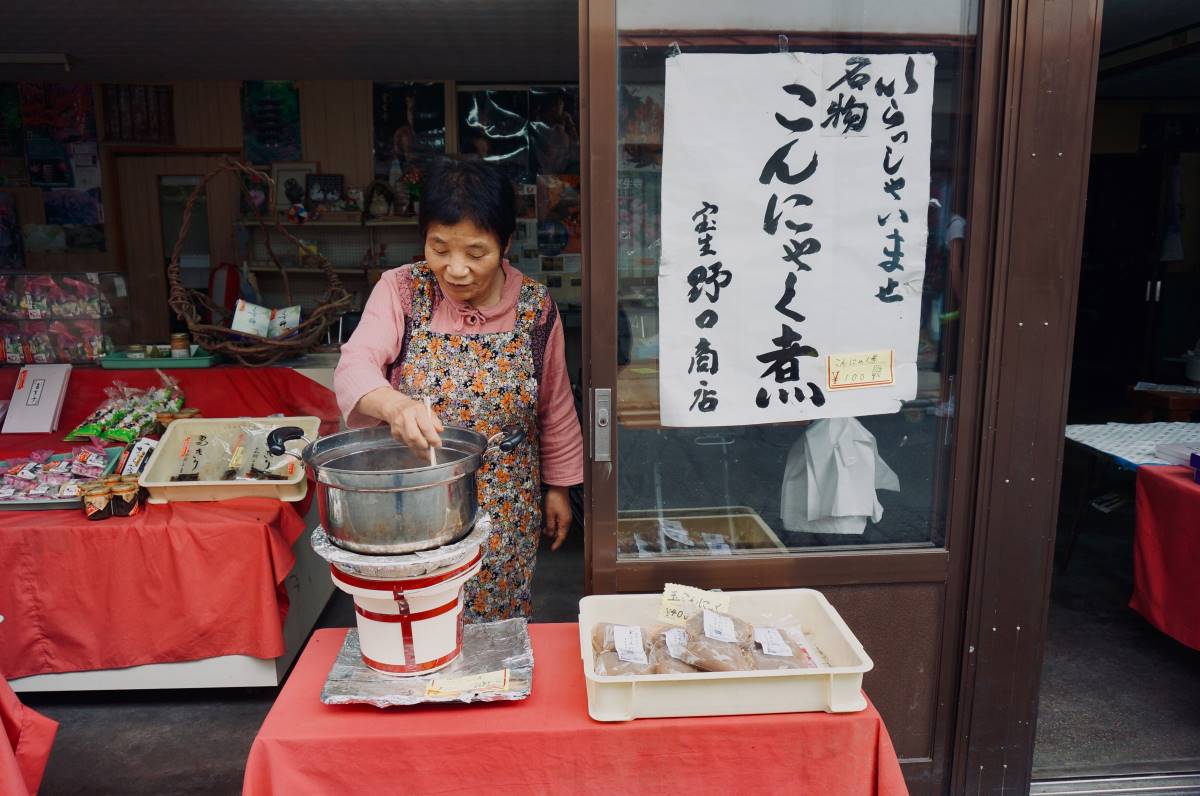 The landlady always interacts with customers with full of kindness, making tea for travelers and teaching them sightseeing information around here.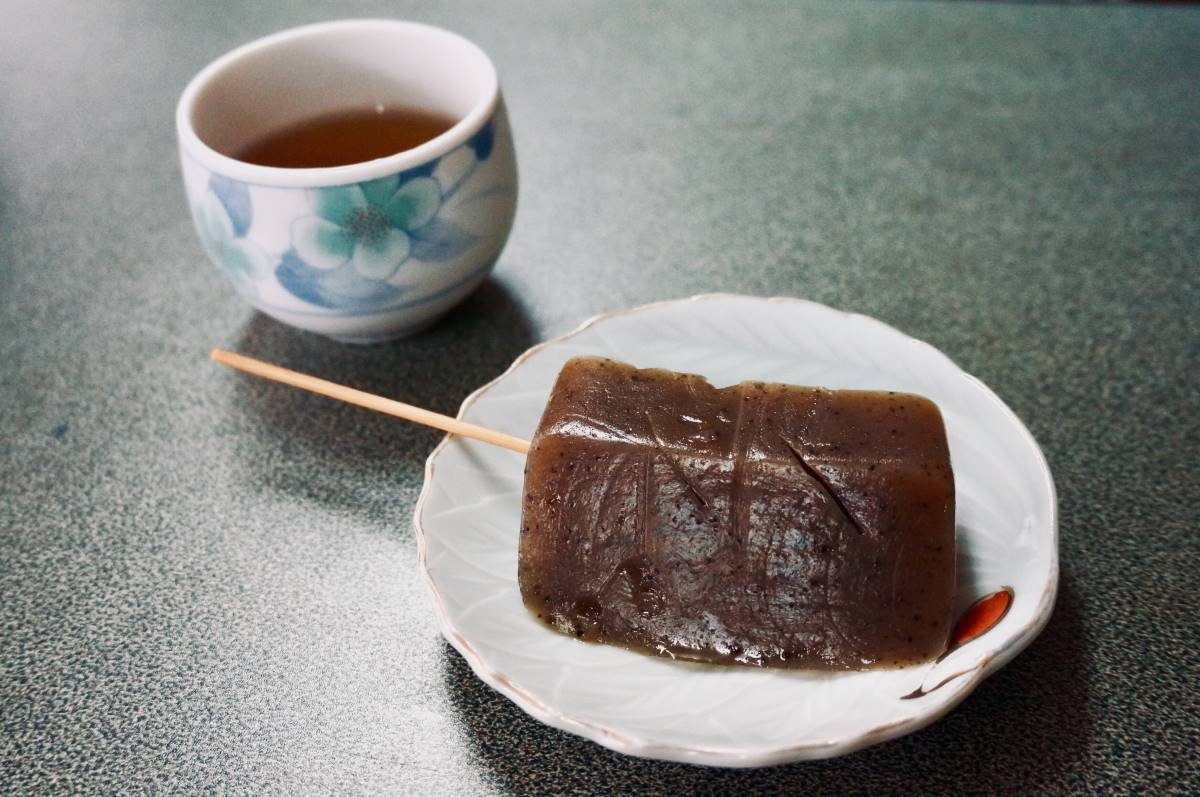 This "simmered Japanese konjac (Konnyaku-ni)" is the specialty of this shop and it is 100 yen apiece. Only the best ingredients have been used in making this delicious food, which are dashi (Japanese soup stock) and soy source of high quality. The konjac is simmered for enough time, so it can soak up a lot of flavor. It may be sold out in the afternoon, so I recommend you to try it on the way to Murou-ji Temple.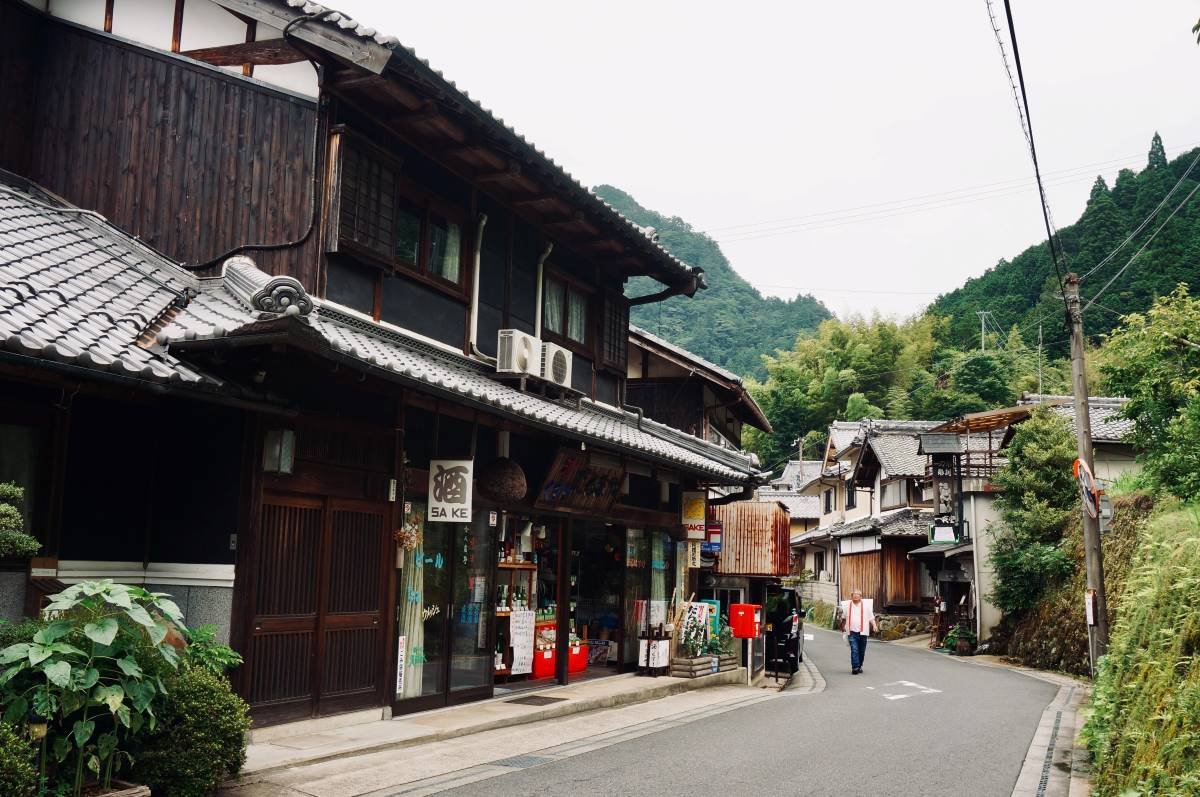 This town preserves a nostalgic landscape of the good old days.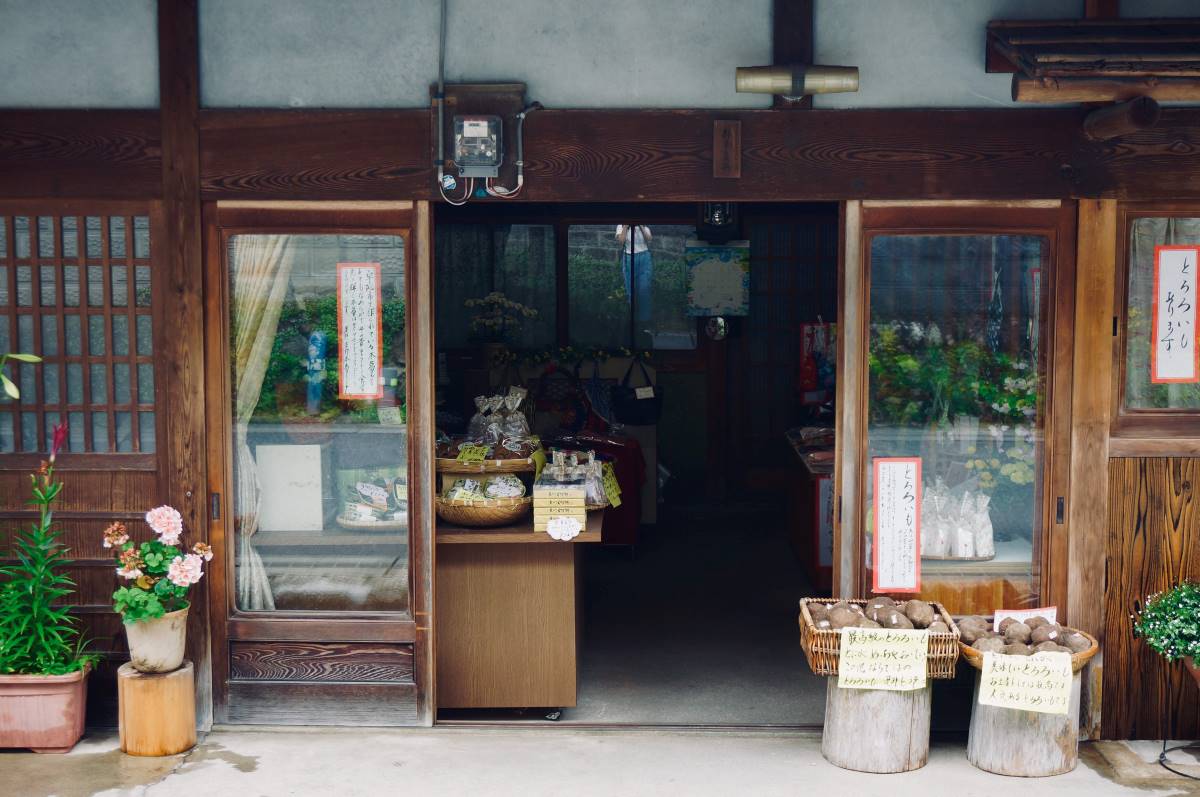 This store is especially beautiful. Inside of it, there are a lot of items that are perfect as souvenirs for your family and friends.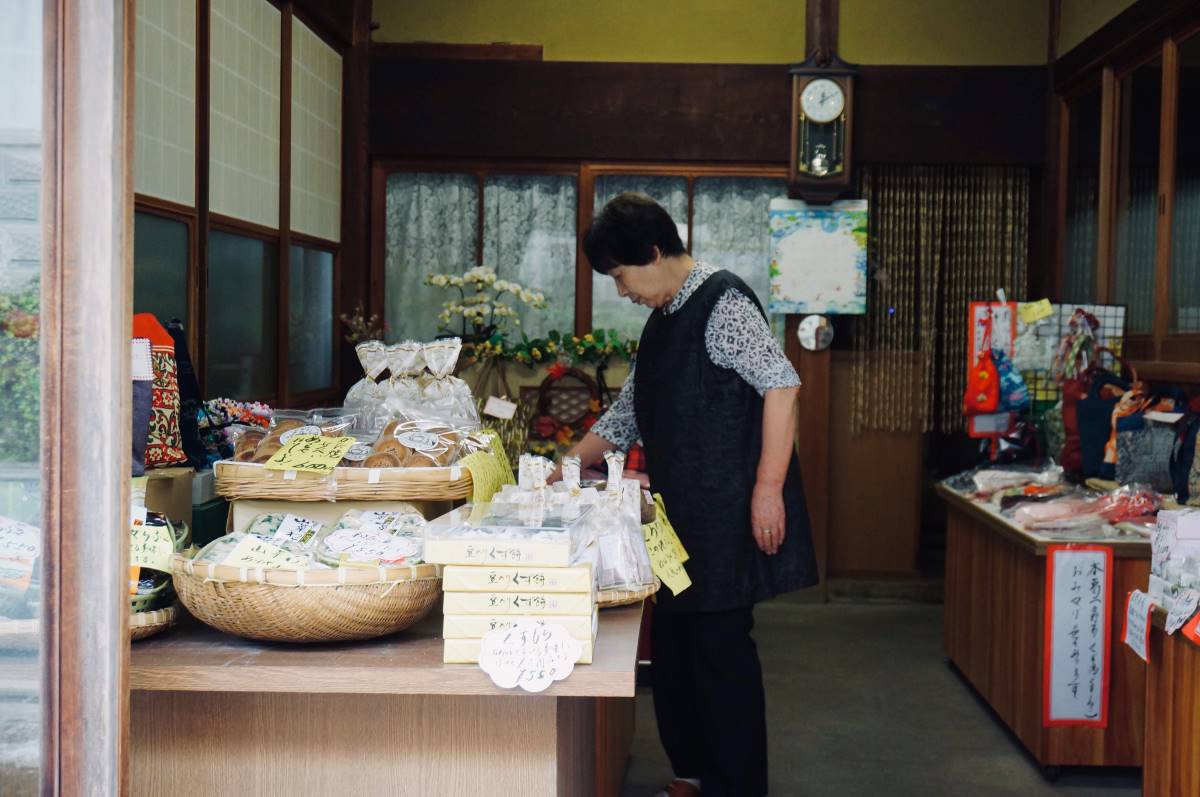 Actually, this store used to be a renowned rice cake shop named "Muro Kusamochi Hompo (室生草もち本舗)" that is also featured in a famous novel. After the rice cake shop went out of business last year, she started a souvenir store that only sells high-quality products strictly selected by herself.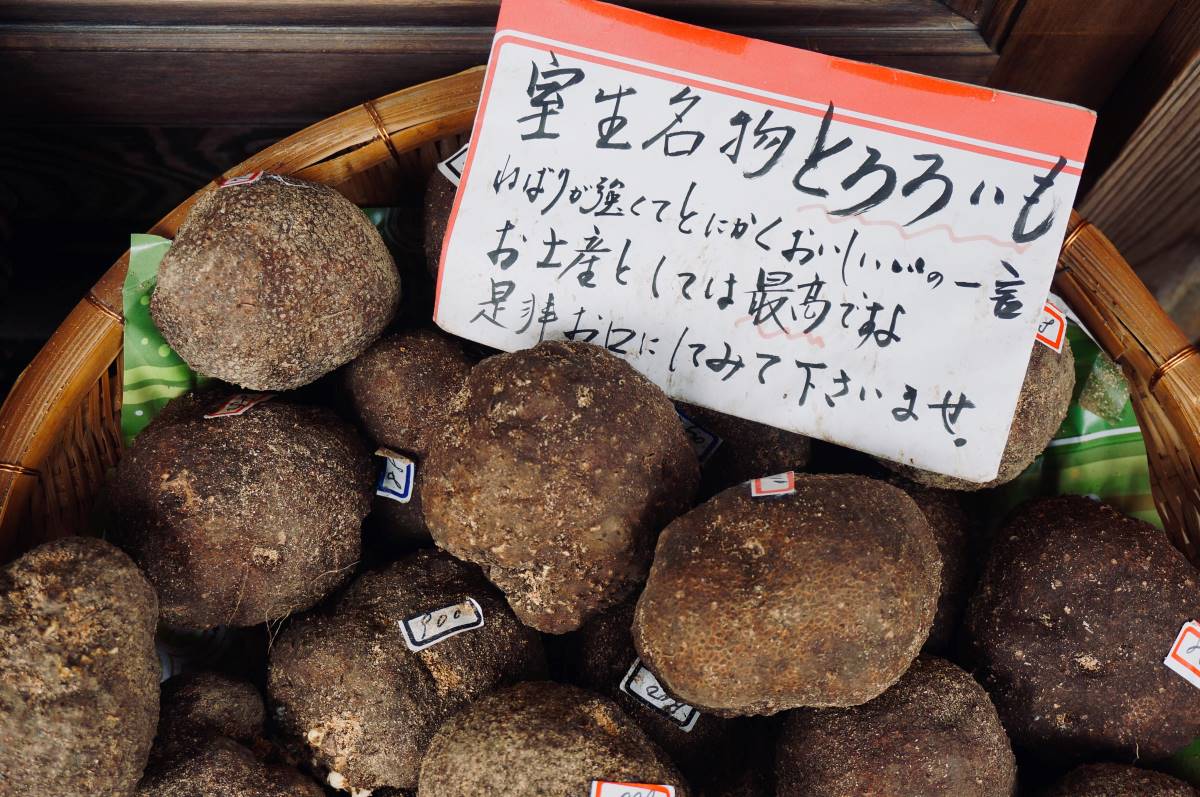 This yam (tororo-imo) is one of the recommendations and a specialty food of Muro. It is very sticky and has a superb flavor compared to the other yams. Grated yam goes down well with freshly cooked rice. Try to enjoy the rich natural flavor.
Next to the souvenir store, there is a cozy coffee shop called "Cafe Muro (喫茶むろう)".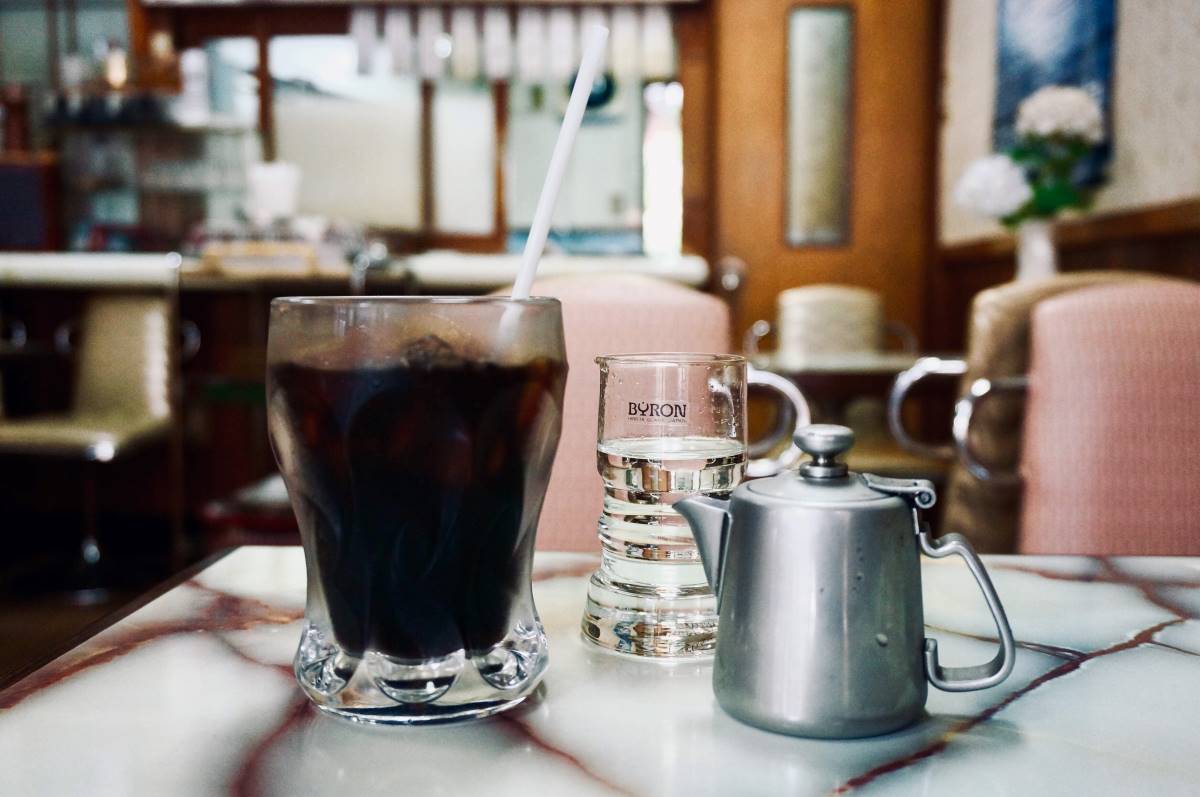 This is the iced coffee brewed by the tasty and fresh well water (400 yen). I would like you to savor this coffee black, because it has refreshing flavor without miscellaneous taste.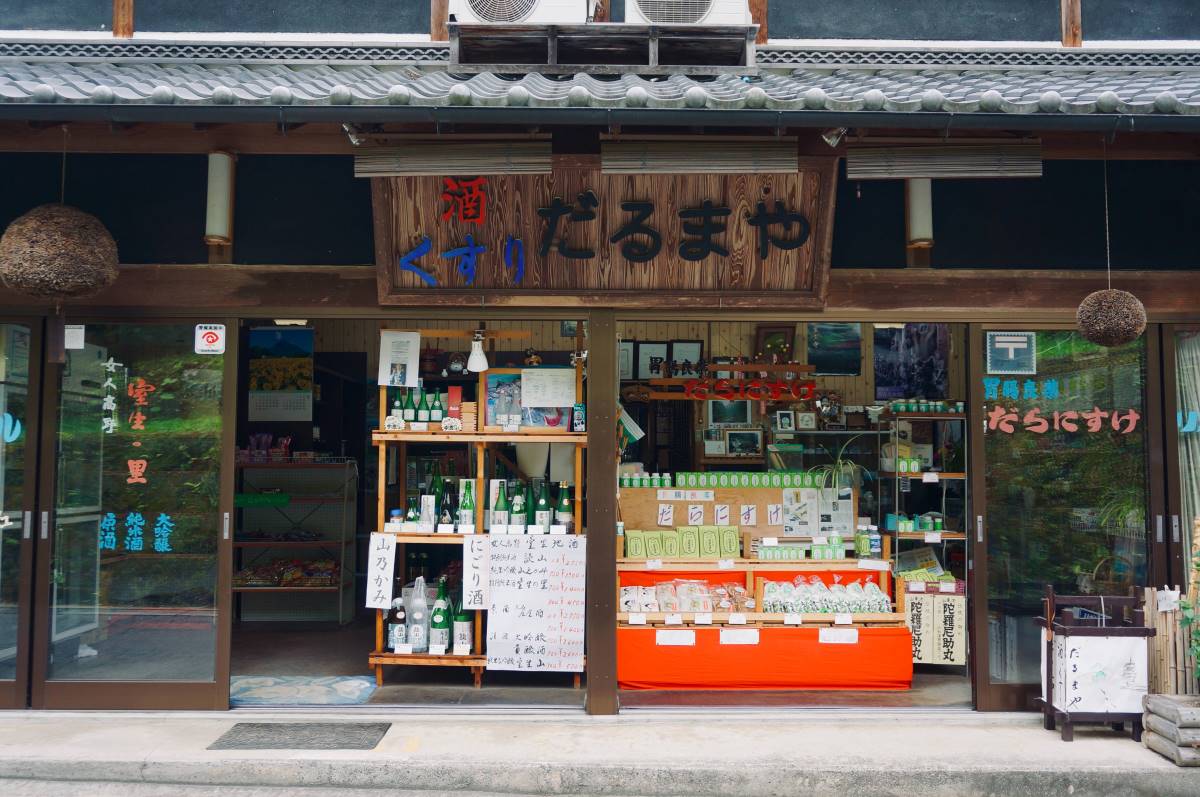 On the approach, there still left other attractive shops you should visit. This is "Darumaya (だるまや)" where you can buy locally brewed sake and traditional Japanese medicine called "Daranisuke (だらにすけ)".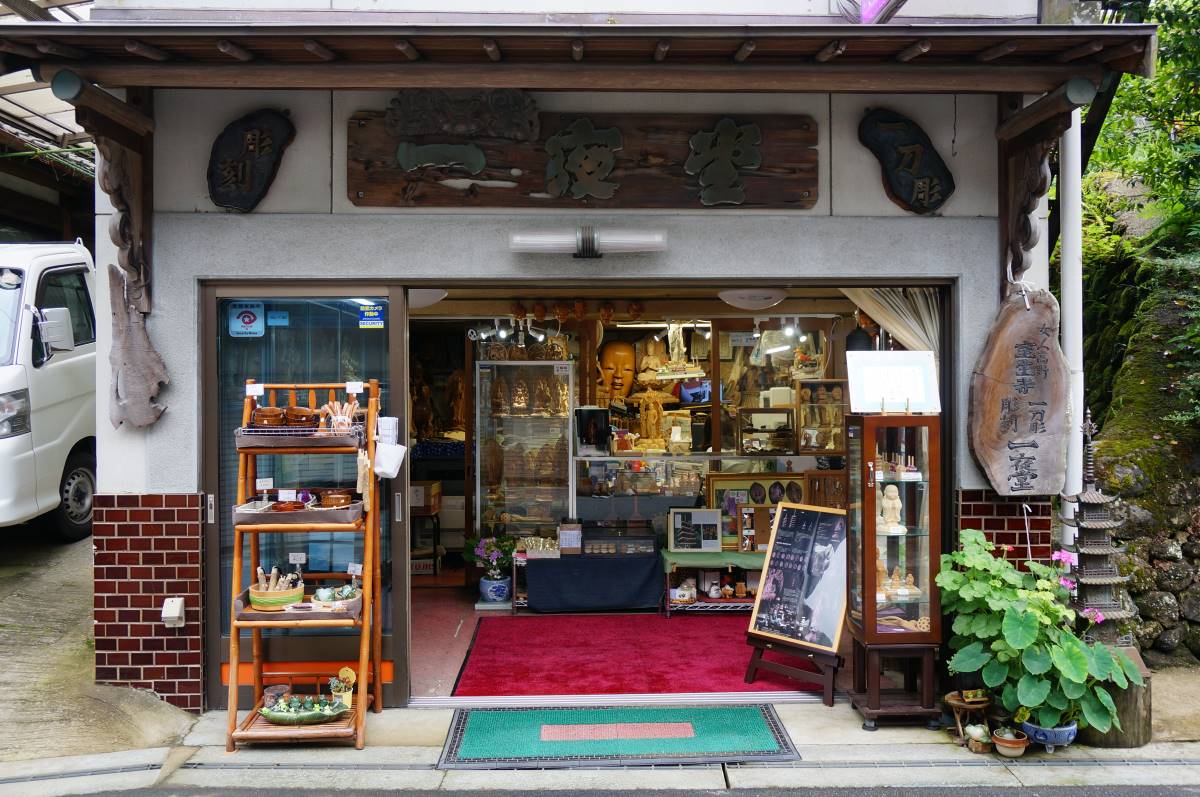 This is "Ittobori & Carving Ichiyado (一刀彫彫刻一夜堂)". The owner creates statues carved out of wood with an ancient Japanese woodworking technique. You will be overwhelmed by the delicateness of the Buddha statues on display.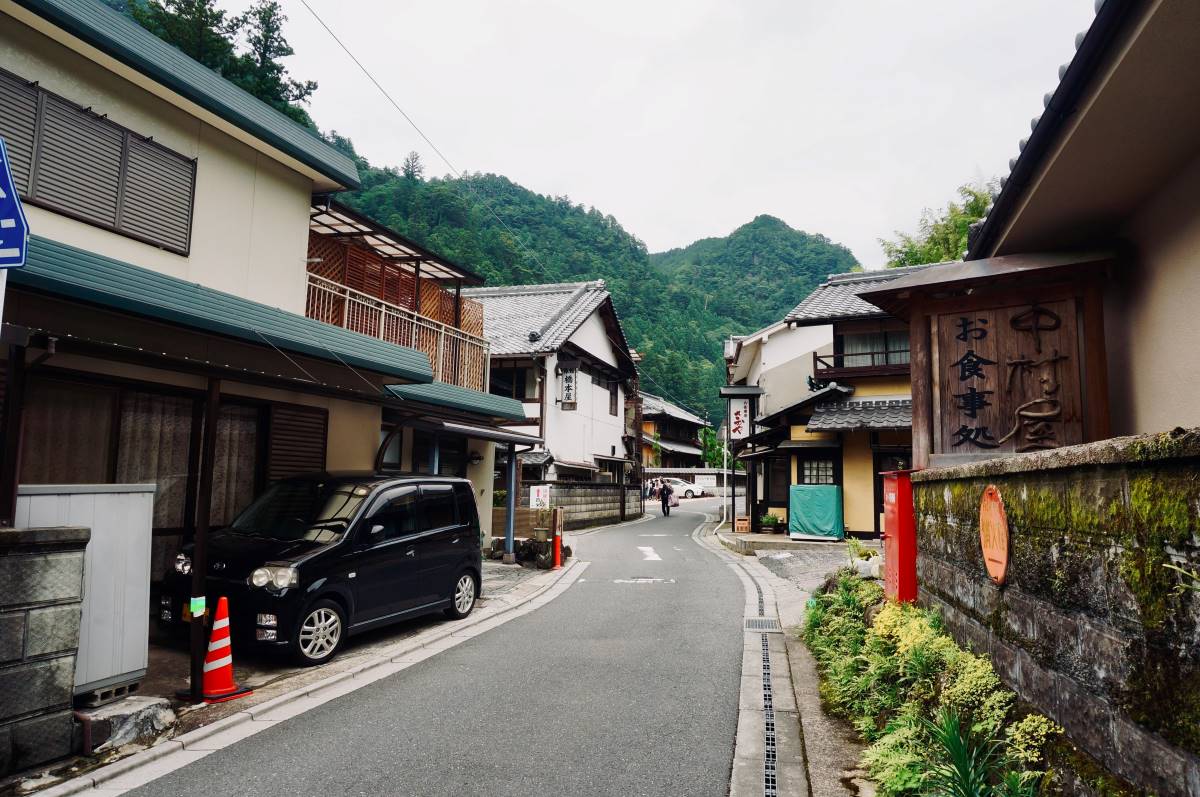 Along the way, you can also find some restaurants that are perfect for lunch. On your right side, there is a quaint restaurant named "Nakamuraya (中村屋)".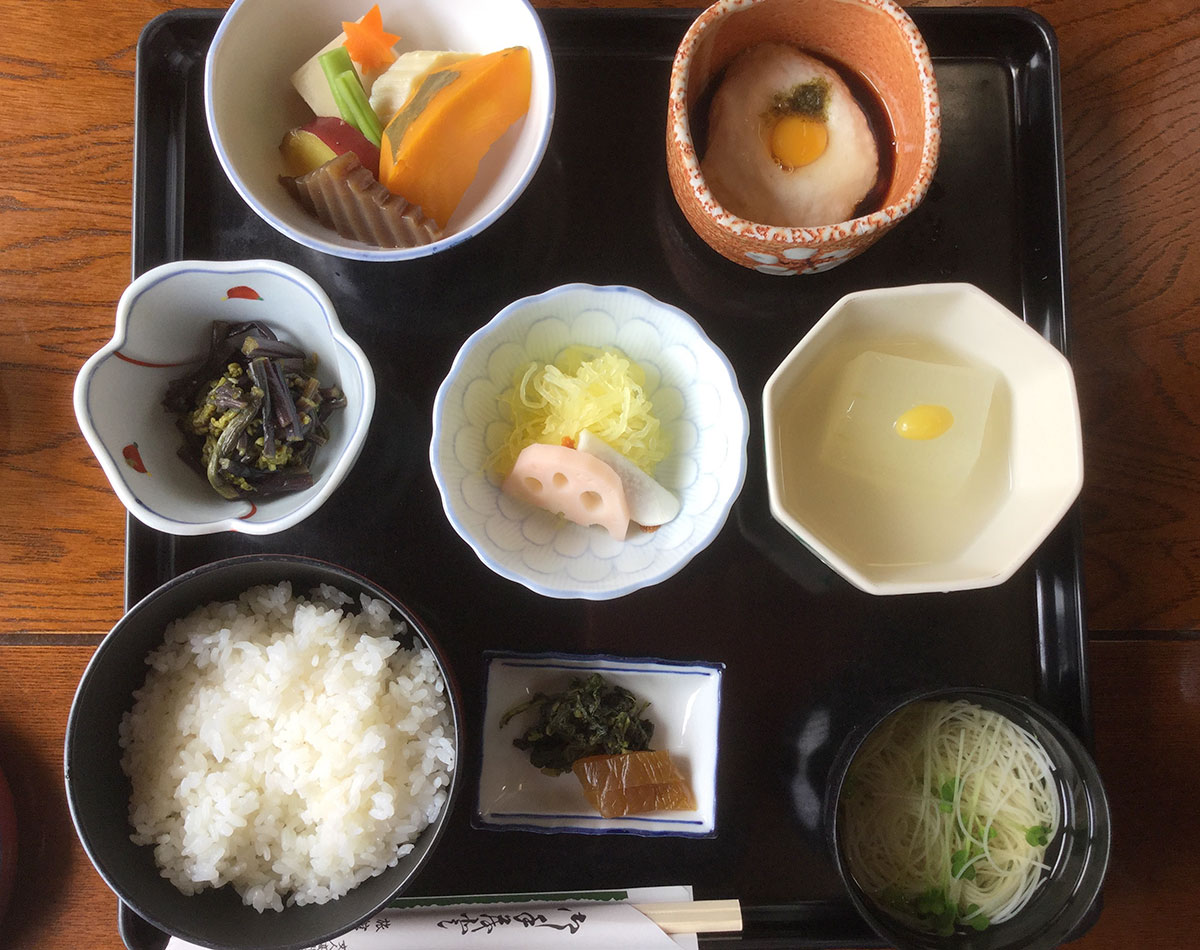 You can eat Japanese cuisine with edible wild plants and hand-stretched Miwa Somen .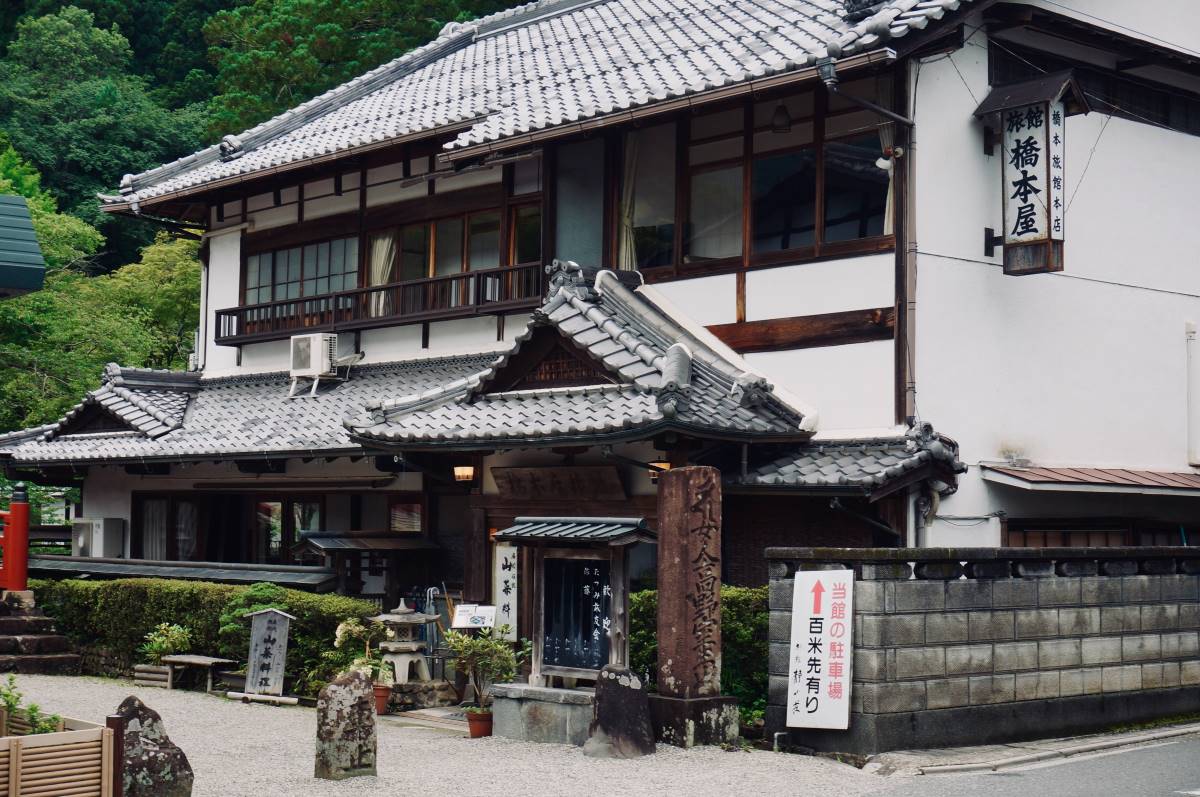 This "Hashimotoya (橋本屋)" is a traditional Japanese restaurant with an attached inn. It has a long history, established in 1872, and noted for the Japanese cuisine with edible wild plants and grated yam. Enjoy taking in the traditional Japanese atmosphere in there.
At last, the entrance of Murou-ji Temple is just ahead of "Hashimotoya". I will introduce the attractive landscape of Murou-ji Temple in my next article.
Please come to Muro where delicious food, green scenery, and warm people are waiting!
Access Info
By car
25 minutes from Meihan Expressway national highway "Hari (針)" IC, or
25 minutes from Meihan Expressway national highway "Kokura (小倉)" IC via "Yamanami Road"
By train and bus
From Kintetsu "Muroguchi-Ono Station" take a Nara Kotsu Bus bound for "Murou-ji"
5 minutes from the bus stop to the Murou-ji Temple
Links
Murou-ji Temple Travel Guide #2
More info about Murou-ji Temple on this site