You have not been to Japan until you stay in a traditional Japanese inn, ryokan. We had to perform the formal and visit Taisenkaku in Nabari, the home to the ninja warriors. We started our journey on a Sunday afternoon. We enjoyed natural beautiful hilly sceneries throughout the journey, and being autumn, the trees with different leaves shades made the place look heavenly. We could not resist taking pictures. The journey took approximately 50mins by train from Edobashi station to Akameguchi station. Upon arriving at the station, the inn driver was waiting for us, already. Impressive. We scaled up the hills, the roads were a little scary, but after 10mins, finally, we were at the inn.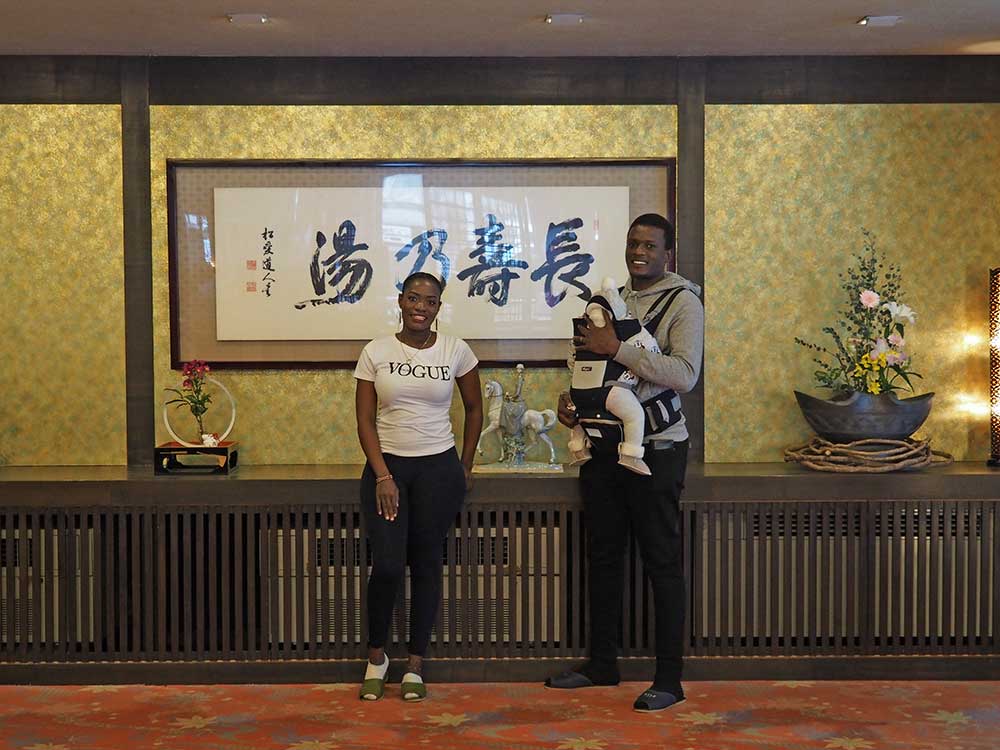 It is said that the first impression lasts the most. Well, the welcome was warm and genuine. Furthermore, one could tell that service mattered to the staff. The check-in took less than 4mins as we waited in the inn lobby. The cleanliness was on another level. No street shoes were allowed in the inn. We took off our shoes just before stepping on the reception area and left them there. They were later stored in small labeled lockers, Japanese slipper culture sandals were provided. The staff were beautifully dressed in kimonos, gave us goosebumps, and could not wait to try our yukata, the home wear version of kimono. Later I learned that I tied it the wrong way. "Always wear your kimono with the left side over the right when you are alive, I was told." Well, we look beautiful in the picture, right?
Rooms and Interior
Although inns are considered a bit old school, one can tell that a great designer was employed to make it visually appealing while using the most to bring out the traditional Japanese theme, bringing out what the area is famously known for, the ninja warriors. Their artifacts beautifully decorated the corridors and other public areas.
The room was spacious enough for us. Everything we could need was provided a flat-screen tv, a nice kettle and tea set, a zataku (short-legged square table) and zaisu(Japanese chair with no legs but a regular chair back), a beautifully laid tatami floor and a comfortable chair and coffee table placed at the balcony window making us enjoy two things at a go, green tea and a great view of the vast expanse of the natural environment. Quality linen, big fluffy pillows, warm duvet, and super comfortable futon, though it was a bit small for two adults. The hotel prepared two futons, but our daughter used one. We believe that parents must sleep together. It was our first time using a futon, and we could not tell the difference with sleeping on the bed. We indeed had a great night's sleep. The lighting was good, and one could choose which type of lighting they preferred, from refulgent radiant to candlelight. Too bad we had to faff around to find the light switch when we woke up to feed the baby. Moreover, very importantly, the room had plug sockets.
At the end of the day, it is all about the rooms. Accommodation plays a significant role in an overall enjoyed stay. Furthermore, in most cases, an individual can tell a hotel's quality from the quality of its bathrooms. The inn had a great shower room, excellent guest supply, and an ultra-modern toilet.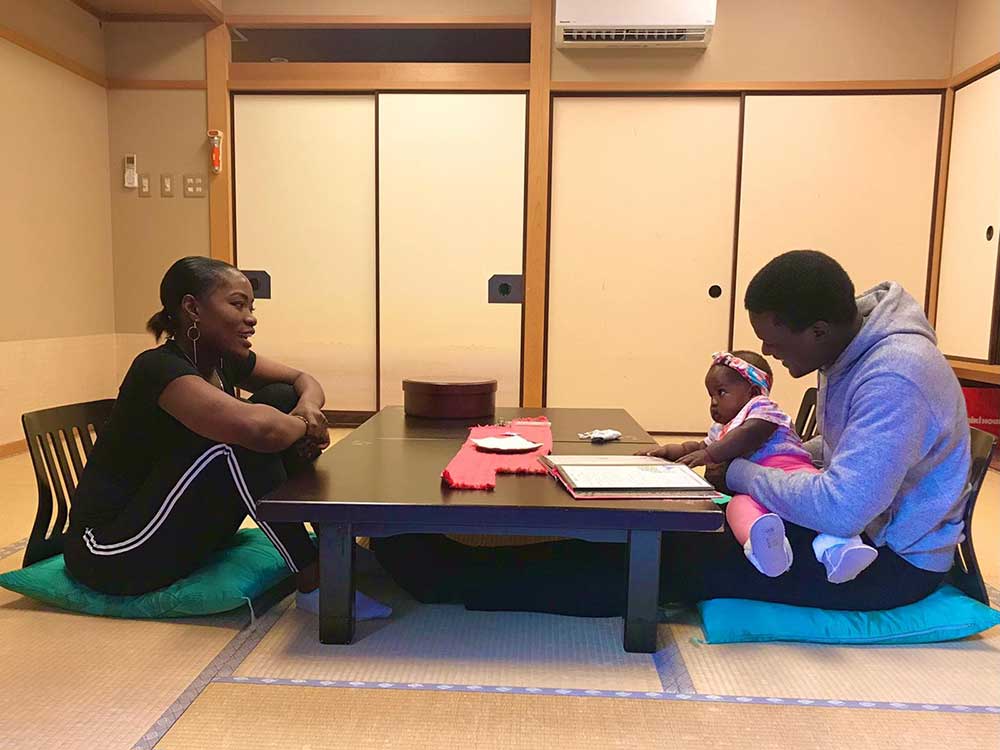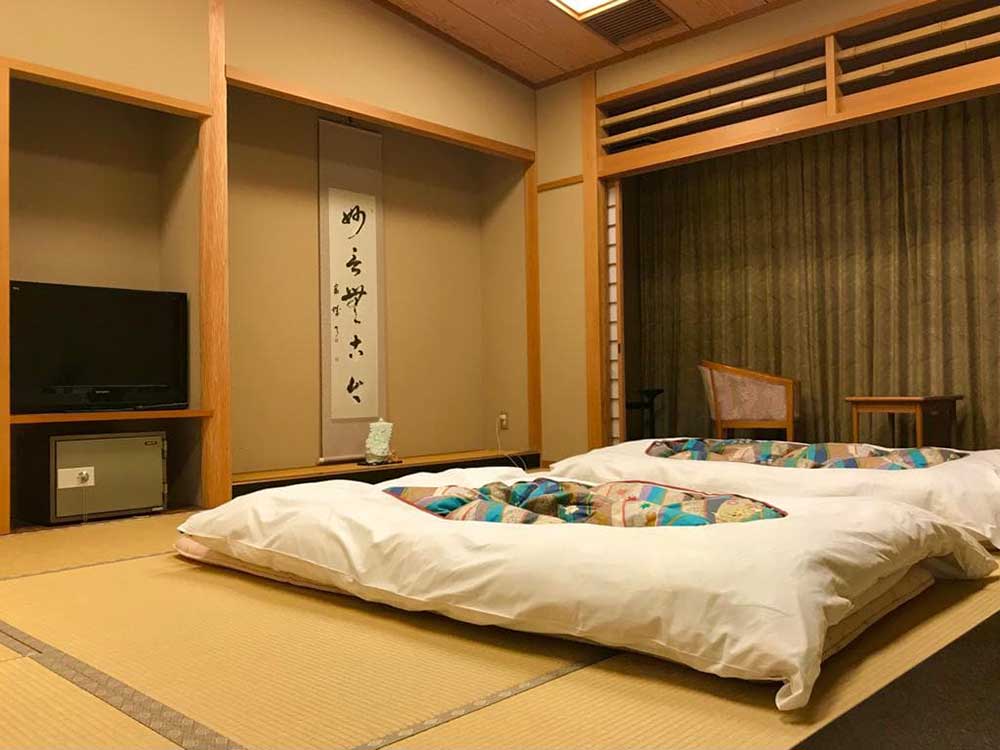 We stayed a few minutes in the room, then went out, had a quick sneak peek of the museum located adjacent to the inn, and learned a few Japanese cultures and stories for another day. Then we proceeded to the BAMBOO LANTERN ILLUMINATION, which was five minutes walk away. OMG, the view was breathtaking, the place looked blissful, the air was filled with a scent of wildflowers, and the smell of grass after rain, the sound of the natural waterfall spiced up the environment.
I would have loved to enjoy the ONSEN (natural hot bath) but well, I could not. First, I had a baby, and second I heard anyone with a tattoo is not allowed to, yet to find out, and lastly, I felt a little uncomfortable.
Food Venture
Now to the food. We had a few bites of street food on our way back to the inn. Dinner was served at 7 pm that was our preference. We cooked everything for ourselves; on the table, wow, the varieties were diverse from red meat, white meat, seafood, carbohydrates to a variety of vegetables and, of course, a variety of dressings and seasonings. We tried everything served. Sashimi and shellfish being my first time, I could not take more. Everything was "Oishiii", and all washed down with a cold beer, one cannot help but let out a long, satisfied aaaaaah.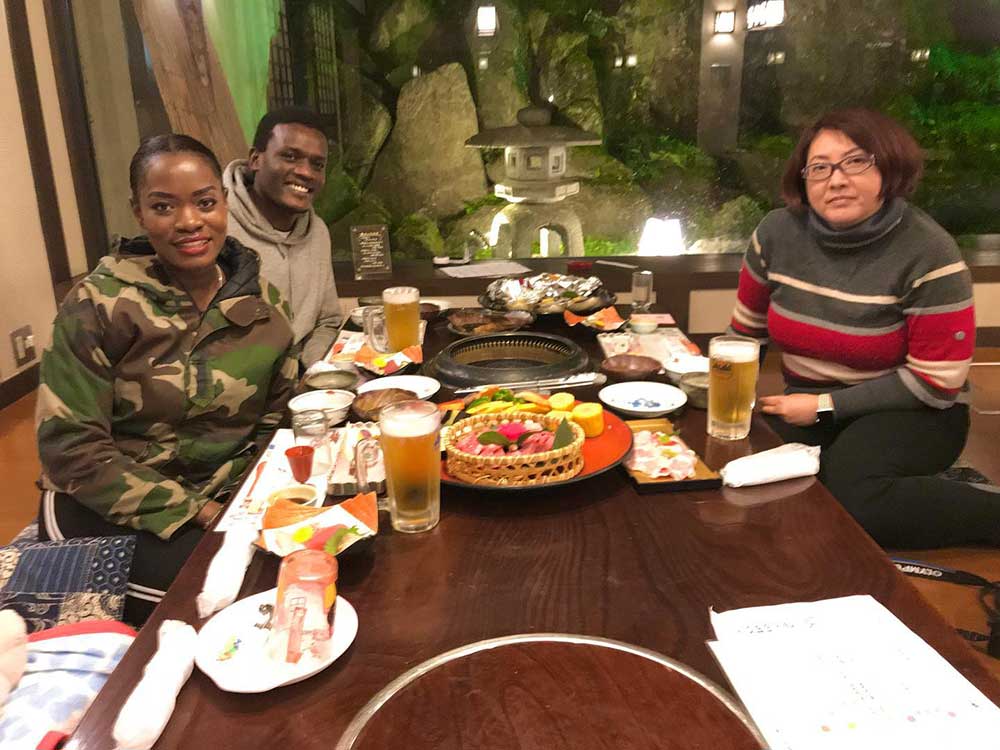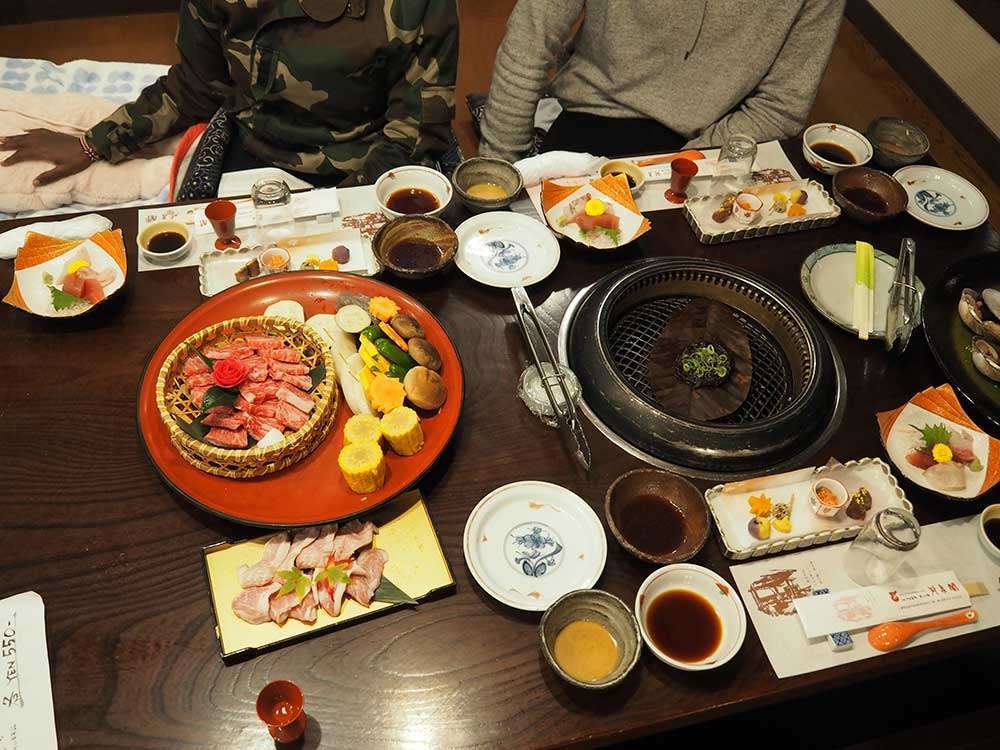 Most inns offer bed and 2 meals (dinner and breakfast) type of package. It was a good breakfast, all Japanese delicacies like miso soup, boiled rice, fresh salad, and green tea. This breakfast was worth getting up to.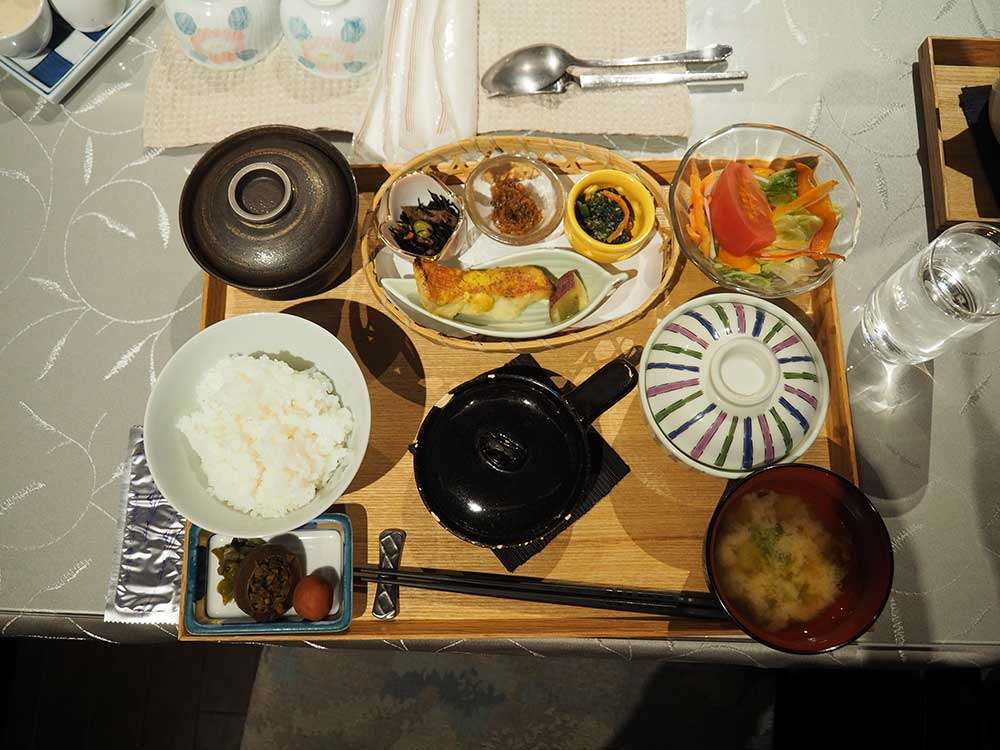 Wrapping It Up
In our opinion, we had an experience superior to many hotels we have stayed. During check out at 10 am, we were given free candies and bought souvenirs at the inn gift shop. We were given a ride to the train station, after which we boarded a train to Tsu. The inn offers its services in spades. My husband forgot his charger in the room, and the inn was kind enough to send it to us. The three stages of goods and service consumption were satisfied. They earned our trust, and our wish is always to go back and to refer others.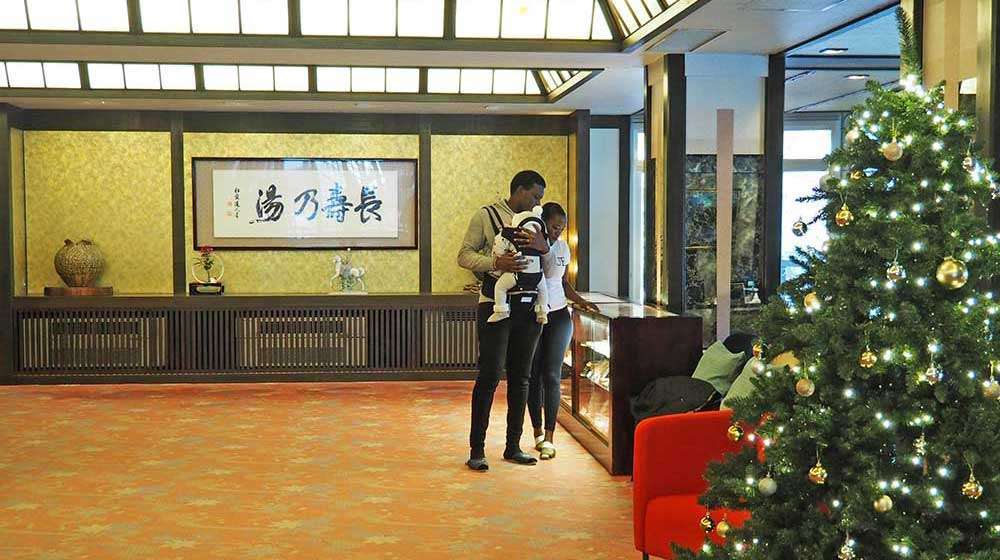 Taisenkaku

682 Nagasaka, Akame-cho, Nabari City, Mie Prefecture

Related blog post