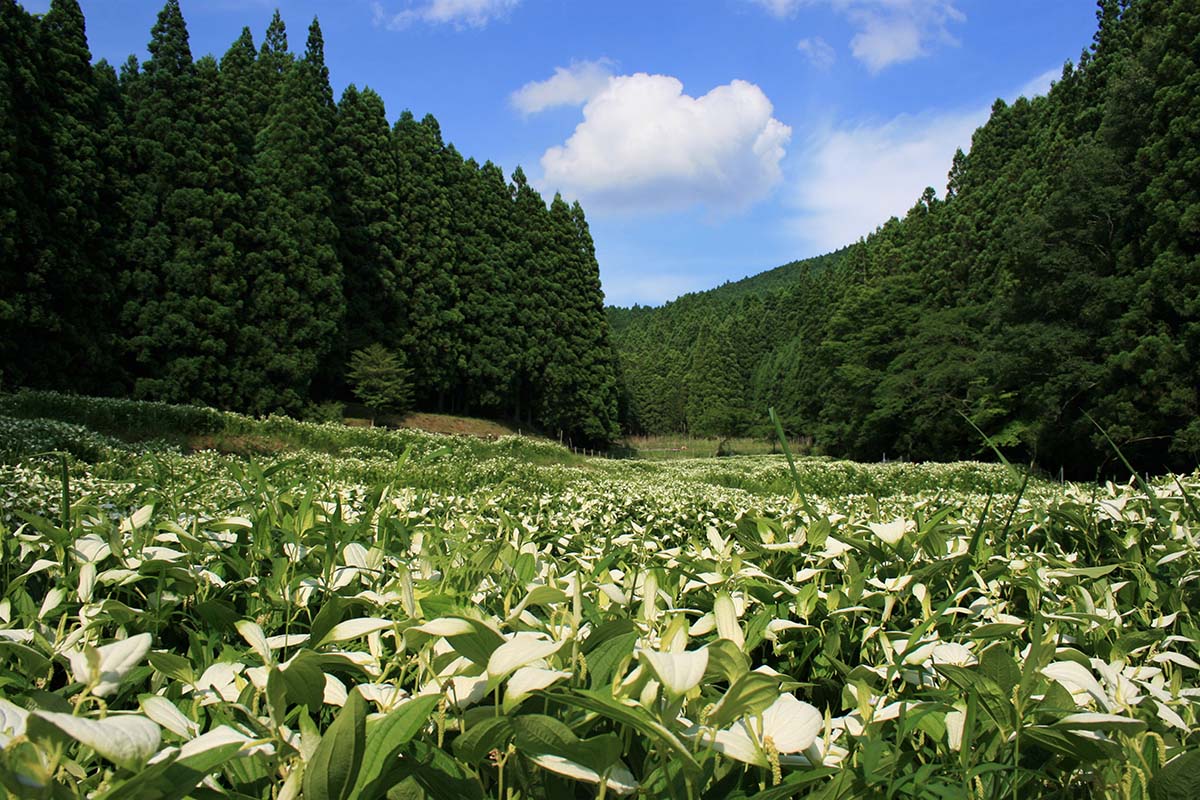 Hello, everyone. I am Megu, and I've come again along with the change in seasons. Every night, it is so sweltering that it is difficult to sleep well…what a troubling season it has become. While I consider tearing off the thick down duvet, I constantly want to be enveloped in something, so I spend my time sweating bucketloads of sweat.
Yes, I want to be soothed.
This time, I heard that there is a place where you can see captivating white lizard's tails everywhere in a place called Mitsue Village in Nara Prefecture, so I decided to try going there. Starting from July, the leaves of lizard's tails gradually turn halfway white, and white flowers shaped like ears of grain bloom. (Learn more here)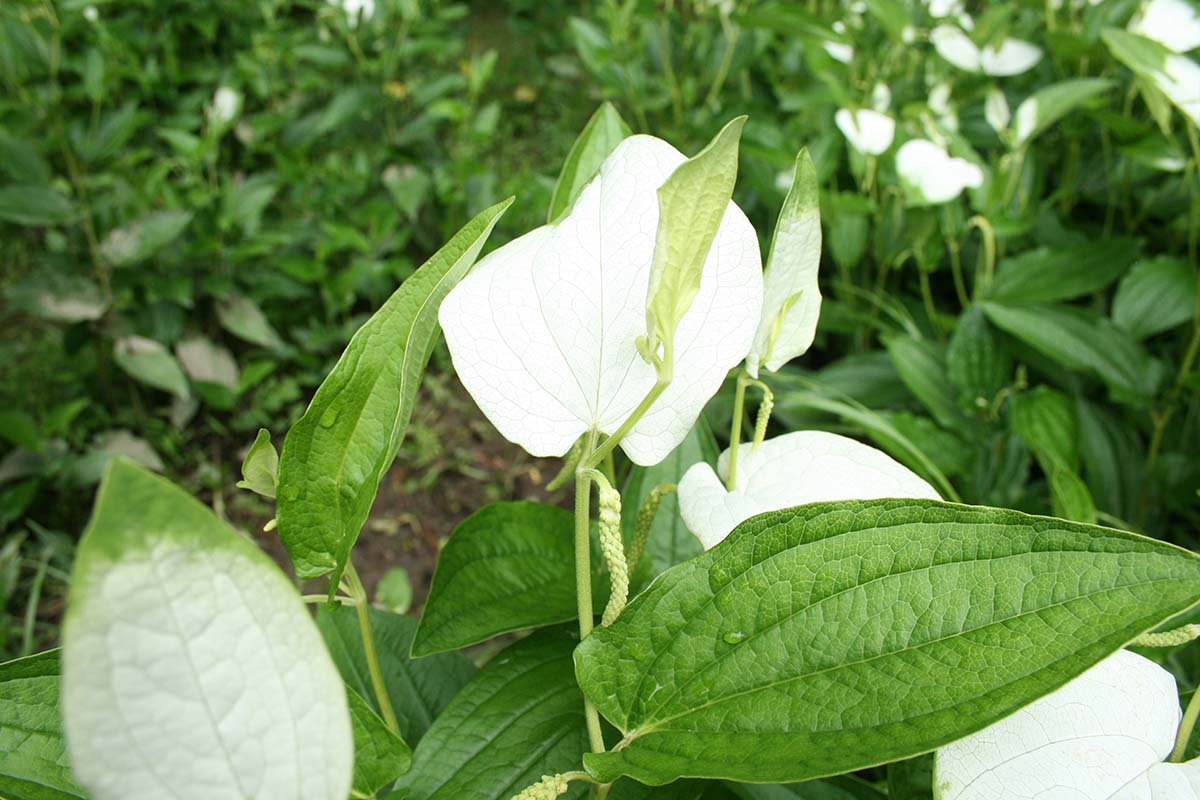 First, head to a roadside station before going to the lizard's tail garden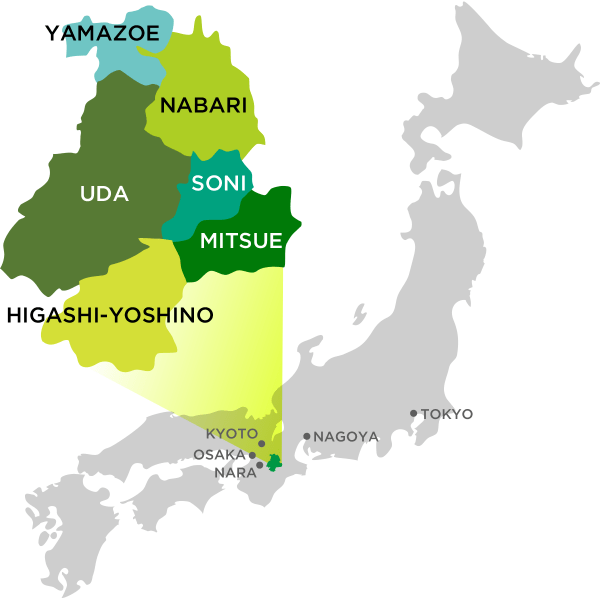 The location of the "Lizard's Tail Garden of Okada Valley" is not clearly known, and it is somewhat enshrouded in mystery. Apparently, it is located in a small village which has a population of about 1,500 people and sits on the border separating Nara Prefecture and Mie Prefecture. It is about an hour and a half away from Osaka by car. For now, I decided to drive to a local hot spring facility, "Himeshi no Yu," which is also the roadside station of Mitsue Village.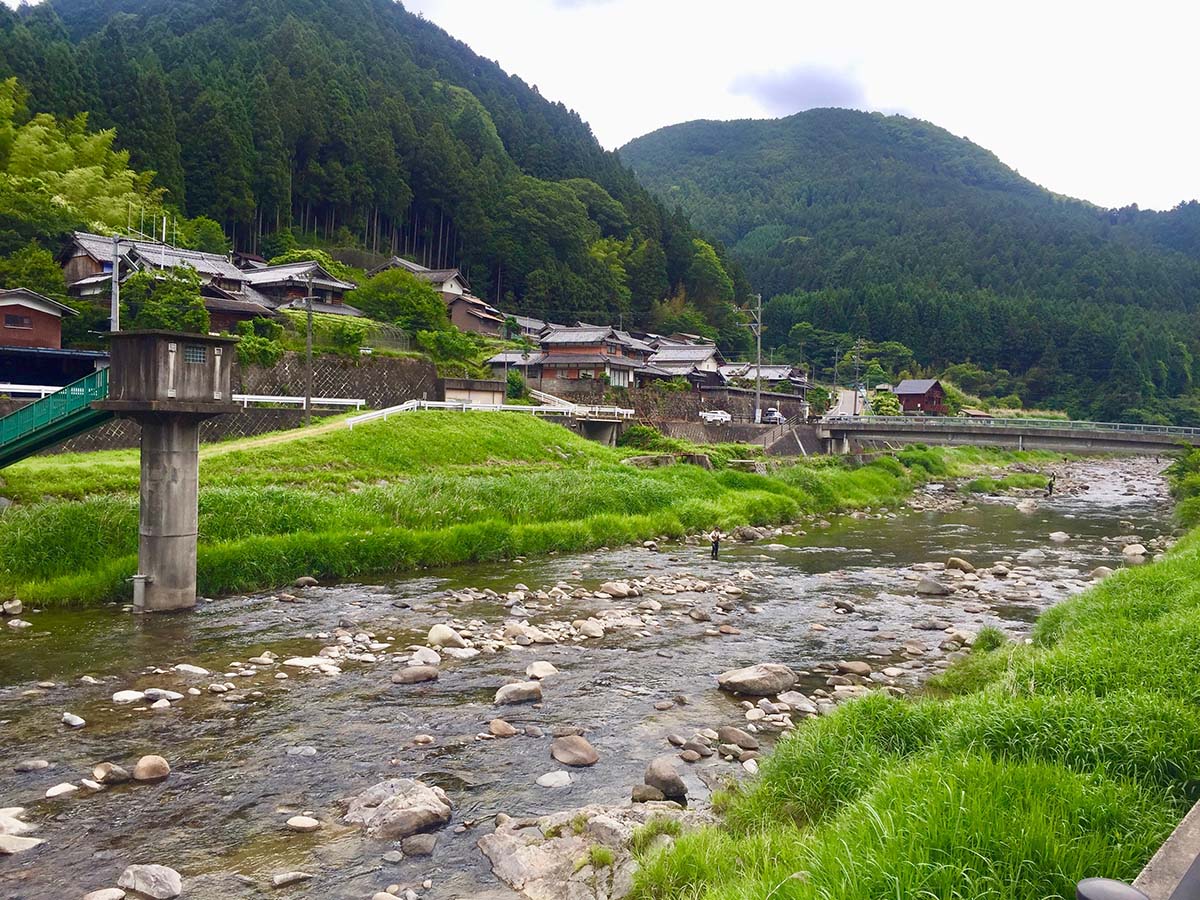 On the way to the village, I travel along the tranquil and beautiful river by car while enjoying the cool breeze of early summer.
Apparently, trout-fishing is currently in season, and even though it was a weekday, there were many people enjoying fishing. If you want to fish for trout, buy an entry ticket at the neighborhood store.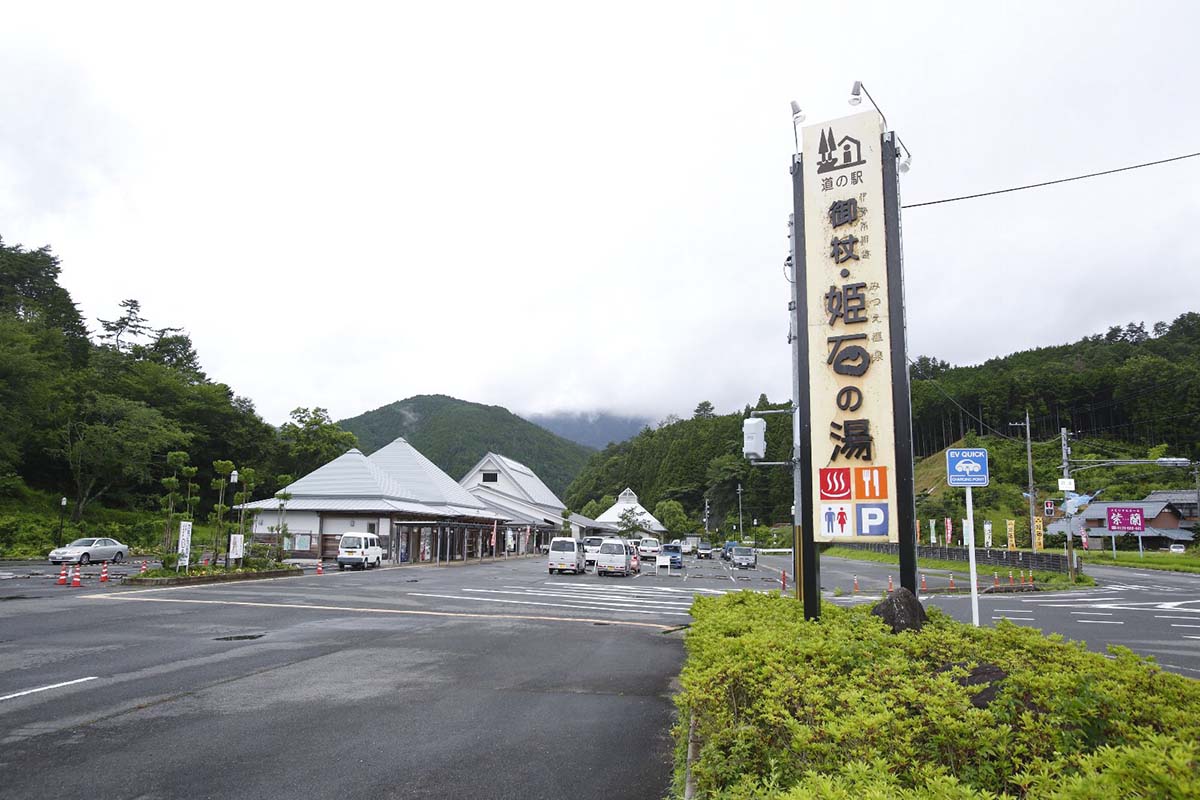 I have arrived at "姫石の湯 (Himeshi no Yu)". You can have a toilet break here, or you can also have a meal here, and stop by to soak in the hot spring on your way back. You can also purchase local specialties and fresh and juicy vegetables that have been harvested locally.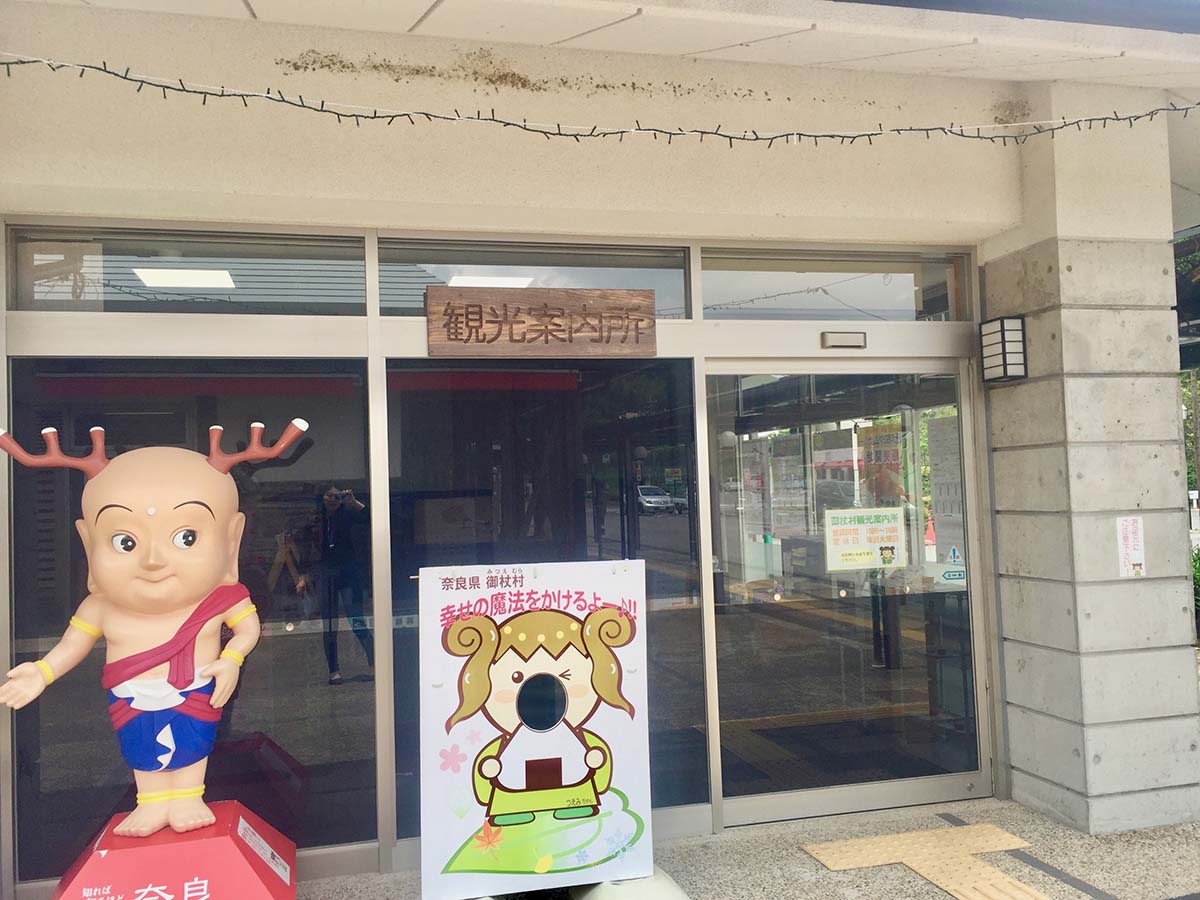 Nara Prefecture's mascot, "Sento-kun" (left) and Mitsue Village's local scot, "Tsuemi-chan," (right) welcome you under the blazing sun. What a surreal sight. Actually, this is a tourist information center. Thus, I asked a beautiful lady from Mitsue Village how to get to the lizard's tail garden. According to the lady, it is a five-minute drive from here. She told me to park my car at the former site of a kindergarten about a five-minute walk from the lizard's tail garden. Where on earth is the Lizard's Tail Garden of Okada Valley…? The devilish mischievousness of the lizard's tails in not simply showing themselves thrills me.
The charm of Mitsue Village, where beautiful nature remains, as well as the lizard's tail garden and the warmth of the villagers

Now then, I will set out for Himeshi no Yu. I proceed straight along the path by which I came. As I proceed, a pizza restaurant that is famous in Mitsue Village immediately appears on my right. The married couple that runs it does so with fastidiousness, and I have visited it several times. The inside of the store is fitted with a genuine pizza oven, and the pizzas that they serve are fresh, piping hot, and so delicious.

There is an intersection after passing this pizza restaurant, "Pizzeria e Trattoria Renone," so let's turn left. It just so happens that there is a simple signboard with Mitsue Shrine written on it as a landmark.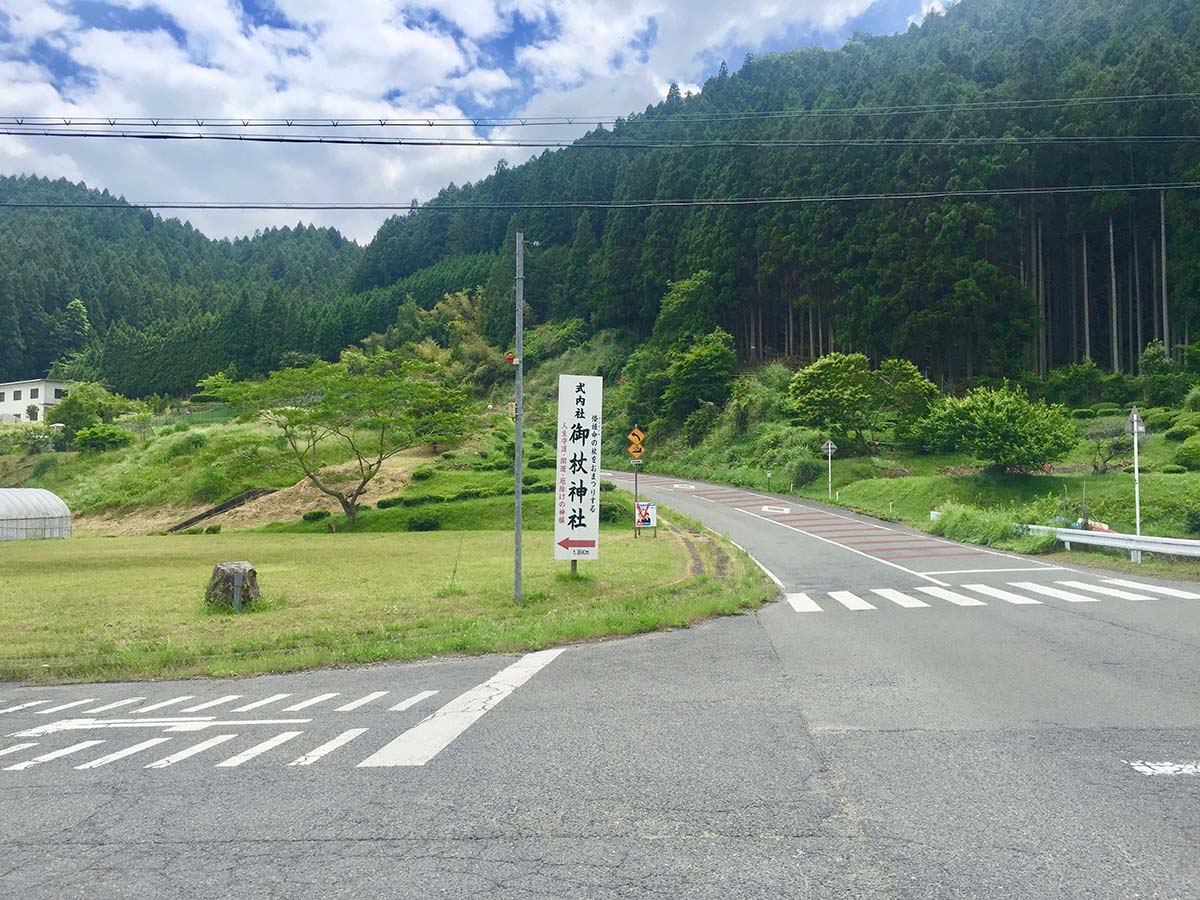 This time, I turn left at the end and cross a small bridge before immediately turning right. The landmark is a bus stop with Tsuemi's face stuck to it.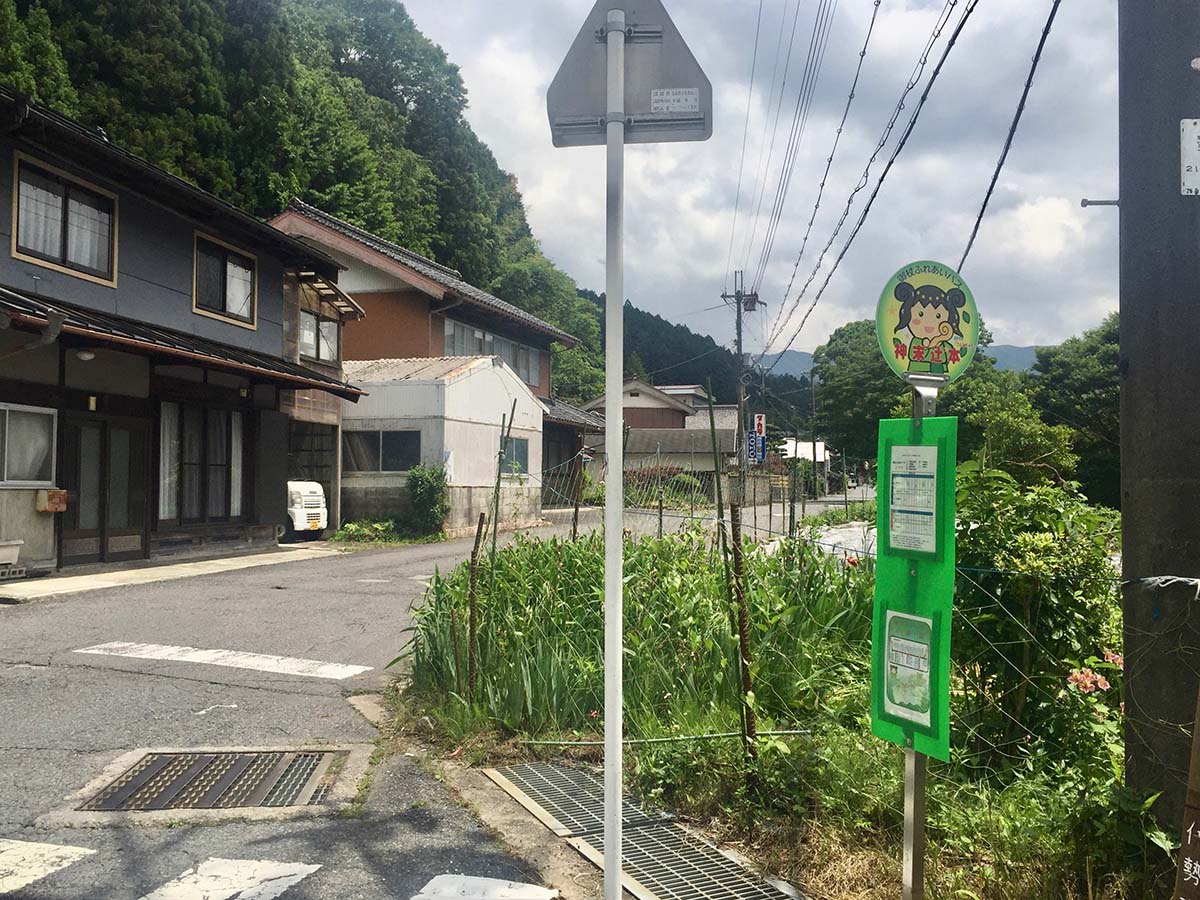 Having no sense of direction, I wander about, not knowing which road to take, and asked a kind old lady in a store right next to the small bridge. According to the old lady, I should turn left at the signboard with "東禅寺" (it reads "Tozen-ji") written on it just there.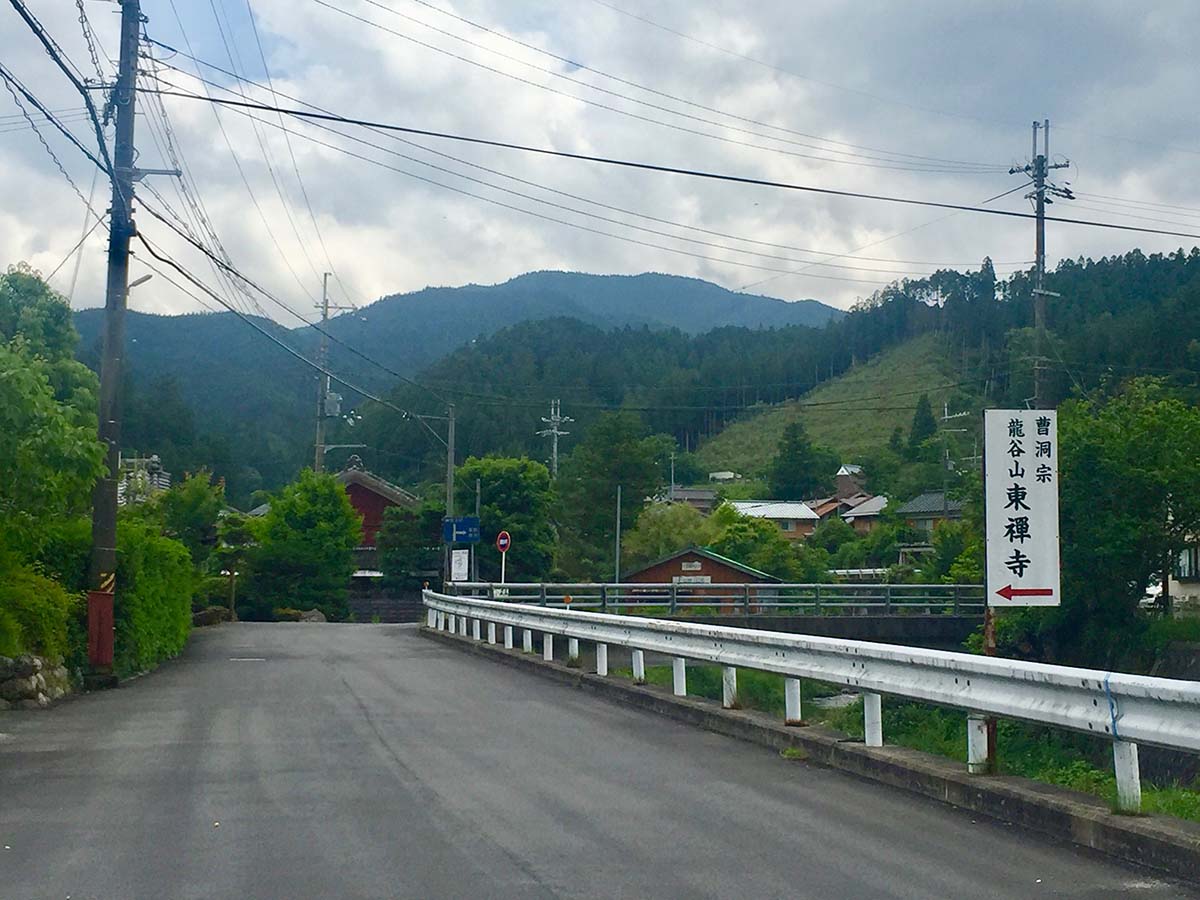 This is the signboard.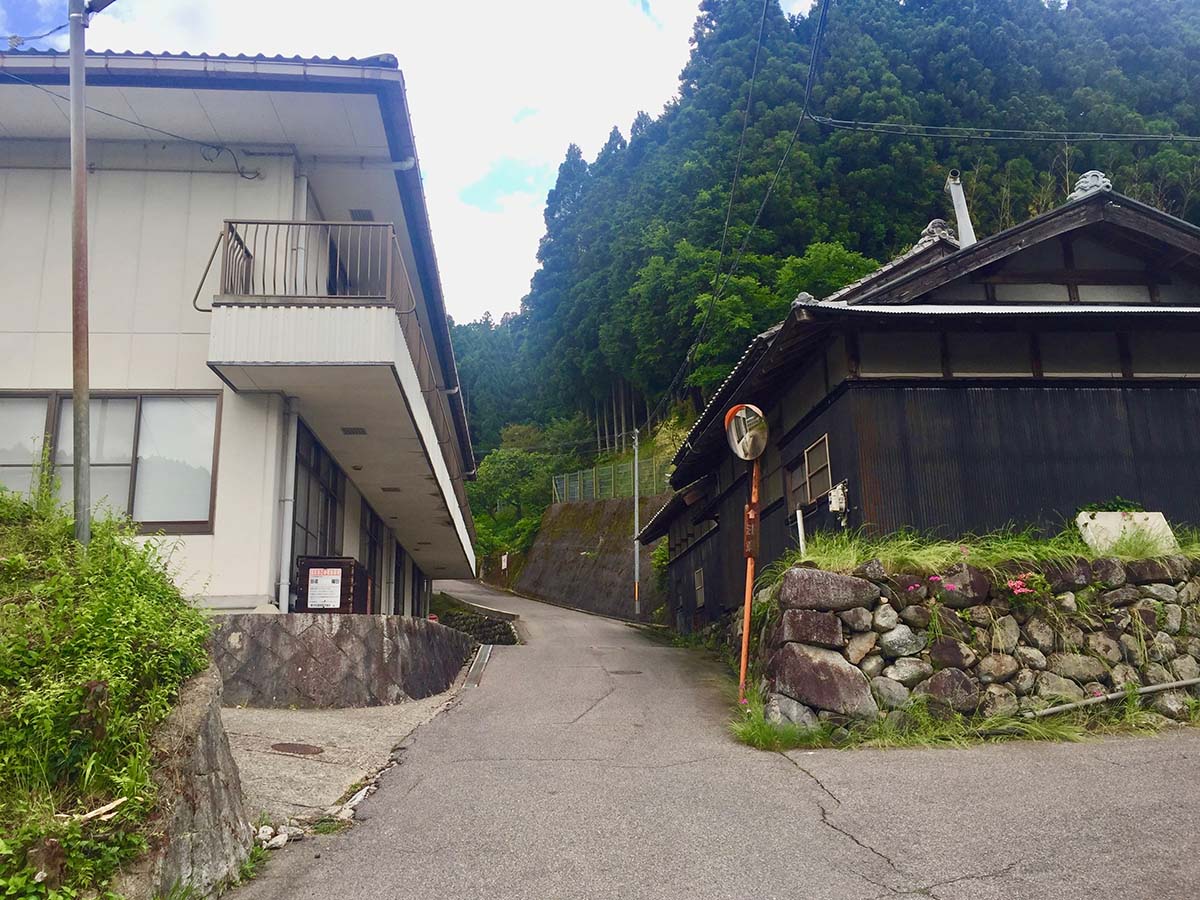 When I do so, there is a white building, so I turn left again there to find the carpark that I was told about at the tourist information center.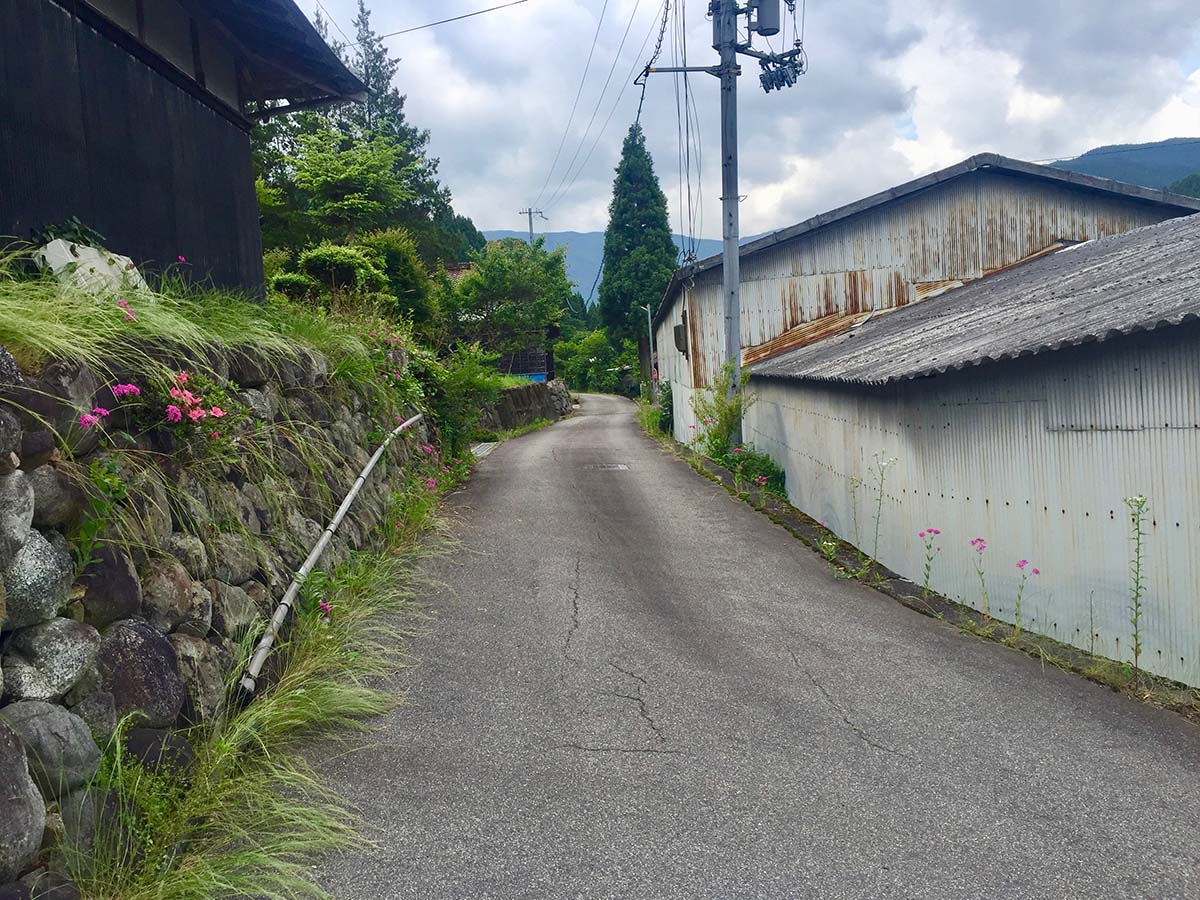 Once you get out of the car, first, take a deep breath to monopolize the delicious air of Mitsue Village. Once you are done with your deep breath, walk straight along the path opposite the white building. You should immediately reach the Lizard's Tail Garden of Okada Valley! …However, being a genius at getting lost, I headed toward a different path yet again.
At this time, I discovered another old lady on the hill road! I climb up the hill road and ask if this path is the right one. She says, "It's not this one. You poor thing!"
As I go this way and that, a motorbike swept up from behind me. To my amazement, the first old lady from the store near the bridge had come to show me the way.
The old lady says, "I live in Mitsue Village but I've actually never gone to the lizard's tail garden. But I'll show you the way!" What a kind and cool lady.
I had asked at least three to four villagers for directions to get to this point, but despite my awful sense of direction, everyone was terribly kind and, more than the lizard's tail garden, I was fascinated by the kindness of the people of Mitsue Village from the start until the end. Having been shaken and completely desiccated by the hardships I had faced in the city, I felt as if a drop of luxurious serum had been absorbed.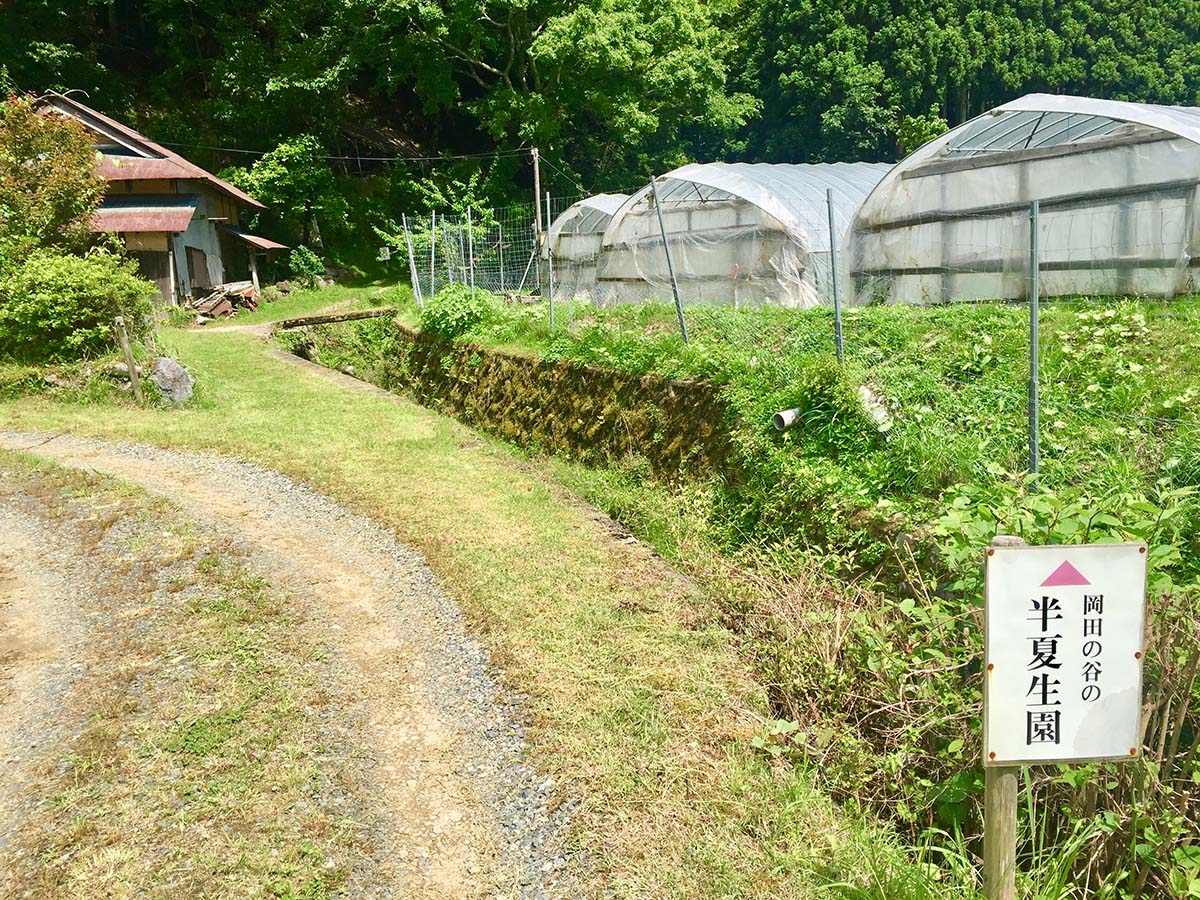 As I cheerfully spoke with the old lady, a small signboard with "半夏生園 (lizard's tail garden)" written on it came into view.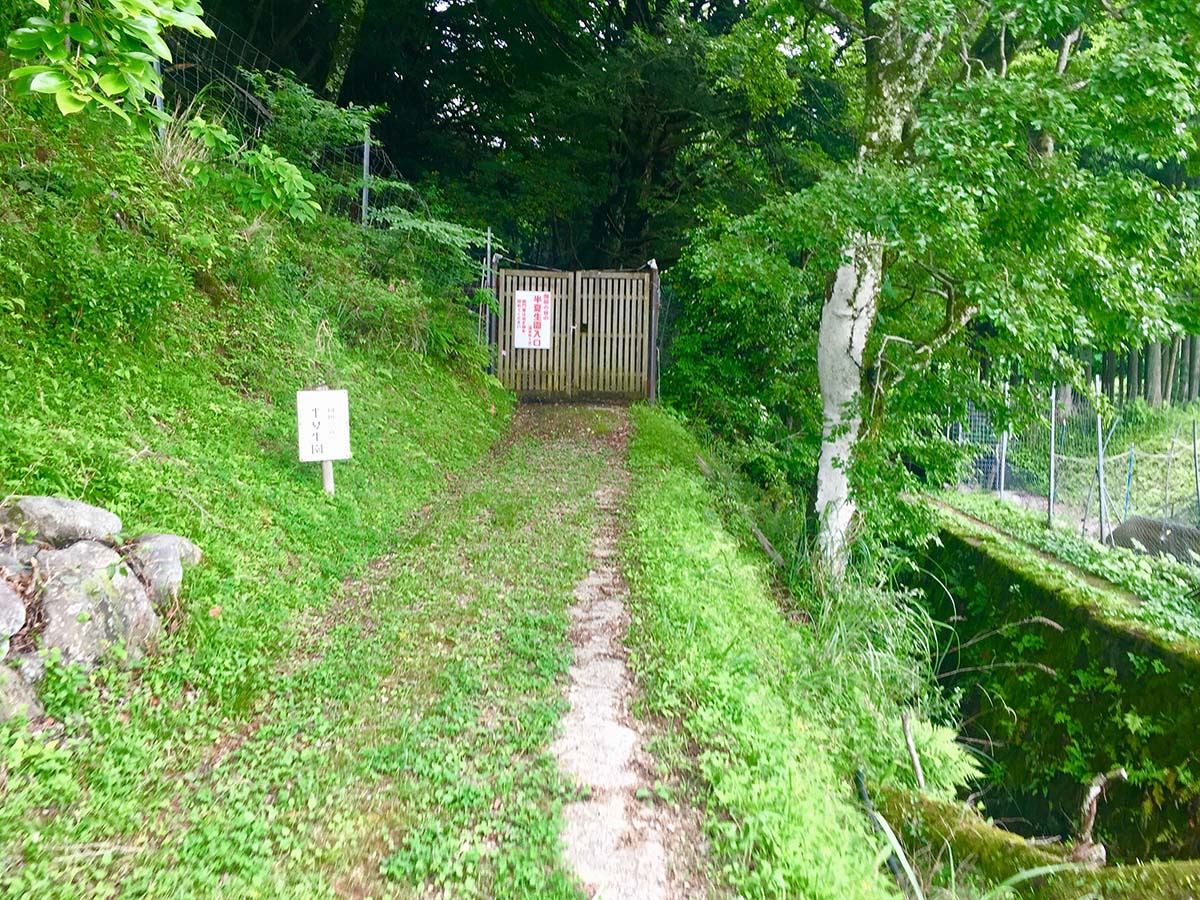 As I proceeded further, a majestic gate appeared. I recalled that the beautiful lady at the tourist information center had told me, "Deer will willfully enter, so please be sure to close the front gate of the lizard's tail garden."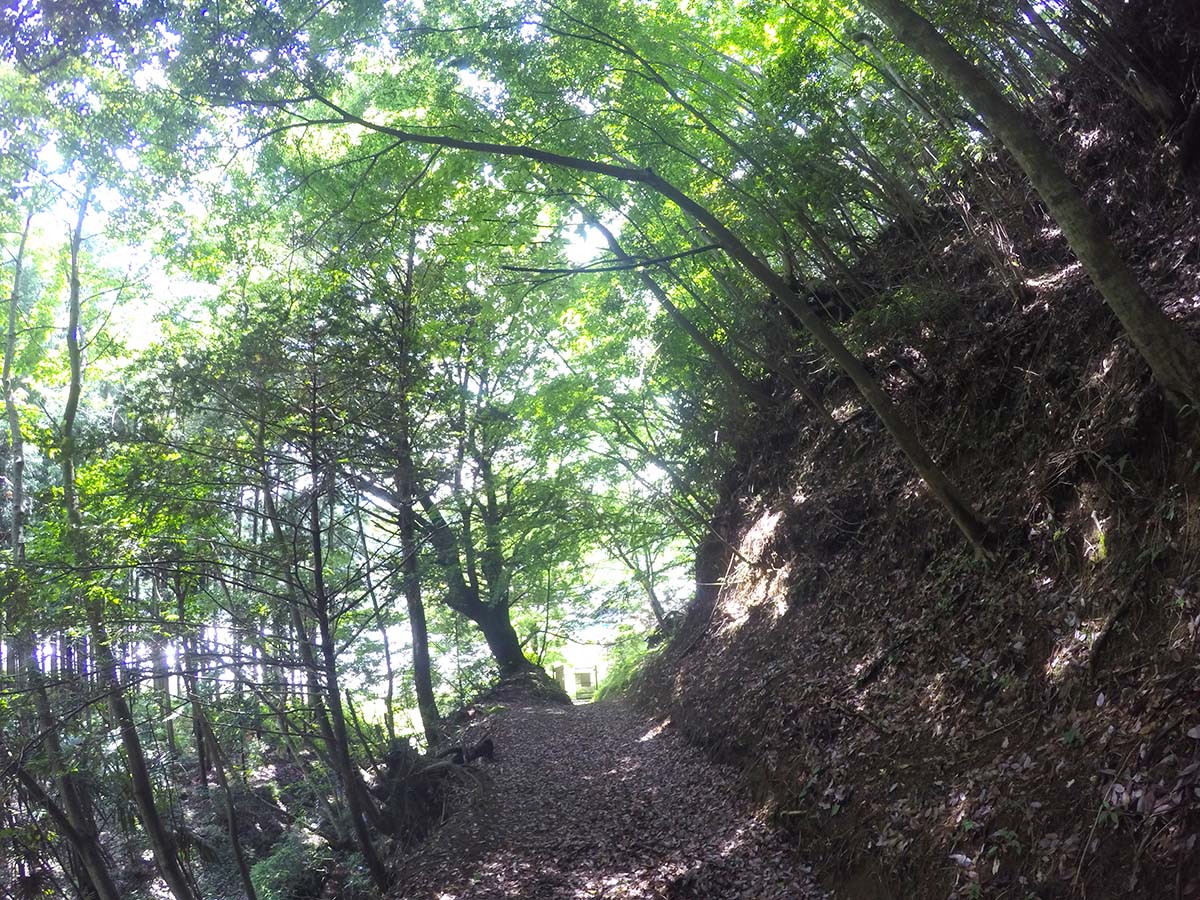 On the other side of the gate was an incredibly wonderful space! It was as if I had wandered into the world of Ghibli.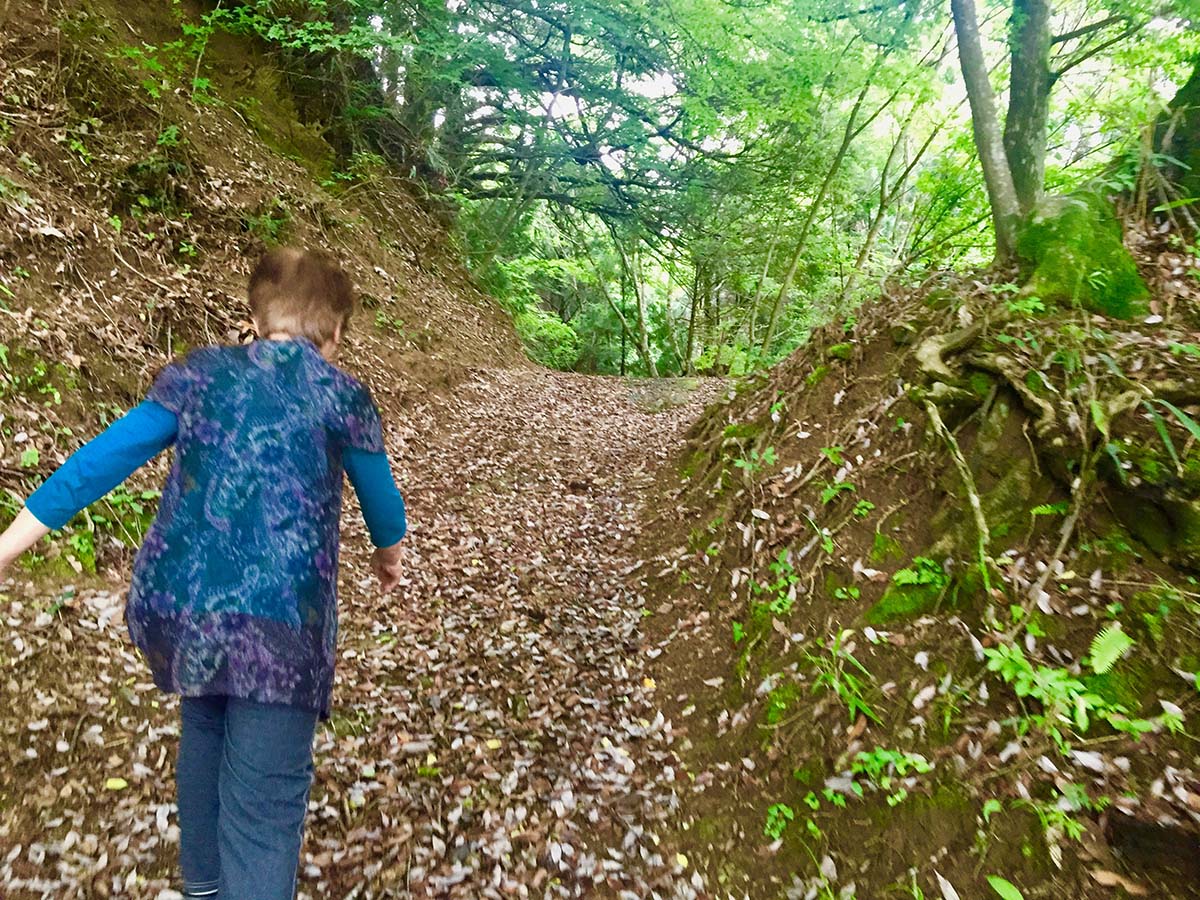 The Ghibli-style path that I proceed on with the old lady. What a rare experience!
At the end of the path resembling the world of Ghibli lies the Lizard's Tail Garden of Okada Valley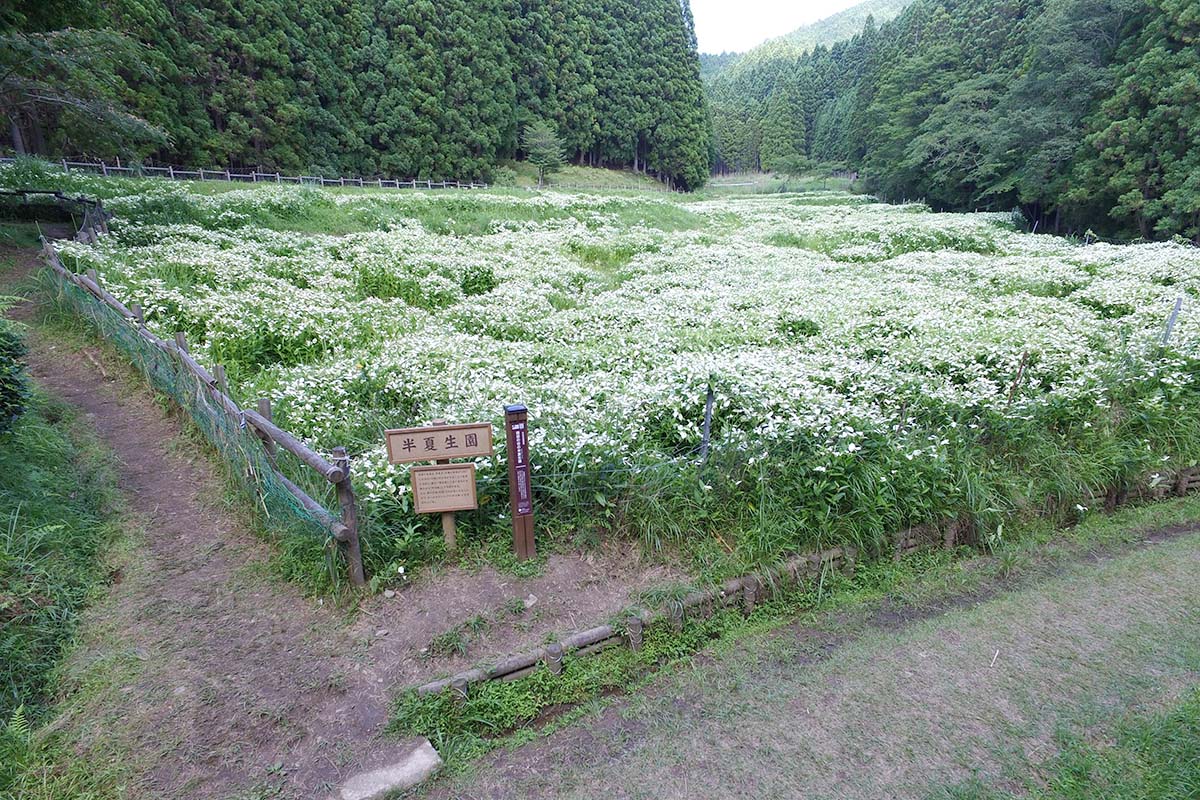 The lizard's tails spread out over about 3,000m2. The lizard's tails here have been designated as a semi-endangered species of Nara Prefecture and have also been registered as scenic assets of Nara Prefecture. According to the old lady, the people who used this land as paddy fields in the past planted lizard's tails, hoping that this place could be used as a tourist attraction in the village, and the result is this lizard's tail garden. It can be viewed anytime for free.
The lizard's tails usually peak between early to late July, and apparently, there are also people who come from far away just to see them. There are also a few places that offer accommodation in Mitsue Village, so you can also leisurely stay the night. Buses also operate, but there are not many of them, so going by car is probably the best way!
An event will be held near the entrance of the lizard's tail garden only on weekends and public holidays during the period from July 6th to July 21st (2019), from 10 a.m. to 3 p.m. Apparently, additive-free pickles, fresh vegetables produced in Mitsue Village, special roasted cold-brew coffee, and other local specialties will be sold. How frustrating! I have no choice but to go again!
Love for the villagers
Ease of finding the place
Hidden level