The periods mentioned below are the average peak times. The peak periods mentioned below are those in the average year.
Tube Leaf Ginkgo at Kasuga Shrine (Tsuchiyahara)
Historic Site
MID NOV - LATE NOV
This large ginkgo tree at Kasuga Shrine is said to be 400 years old and known for its unusual leaves that grow in tube shapes alongside their more normal counterparts. The ground is covered with ginkgo leaves like a golden carpet during the peak season in November. Spotting a tube leaf is believed to bring happiness.
Please note that there are two Kasuga Shrines in the area, which are only 10 minutes' drive away from each other.  The one with the ginkgo tree is at Tsuchiyahara, not Momonomata.
Address
1249 Tsuchiyahara, Uda-gun, Mitsue Village, nara Prefecture
Kono-ji Temple & Forest Park Konoyama
For Families, Near Highway
MID NOV - LATE NOV
This old temple is situated on Mount Kono, only a 15-minute drive away from the Konoguchi Exit of Meihan National Highway. The mountain is an outdoor park called "Forest Park Konoyama", so kids can enjoy more than just seeing autumn views such as feeding adorable sheep (at Mee Mee Farm), woodwork (at Mokko-kan) and fabric craft making (at Yomo-kan). Don't forget to stop by the restaurant "Eizanko", where you can enjoy good food and panoramic views.
Konoguchi (神野口) exit of Meihan National Highway Forest Park Konoyama: Yomo-kan parking lot Walk up to Kono-ji Temple Kono-ji Temple Observatory Walk back to Yomo-kan parking lot Mee-Mee Farm & Yomo-kan Yomo-kan parking lot Eizanko
Narrow roads exist
Hours
Yomo-kan
: 9:30 am - 16:30 pm (Check-in by 3:30 pm, closed on Wednesday*)
Mee-Mee Farm
: 9:30 am - 4:30 pm (Closed on Wednesday*)
Eizanko
: 10:00 am - 4:00 pm (Closed on Monday & Tuesday*)
*If a national holiday falls on a closed day, the facility will be closed on the next business day.
Nabari-Soni Scenic Route
Scenic Drive
EARLY NOV - LATE NOV
This is one of the most popular scenic drives in the Kansai region. Starting from Nabari downtown, you first see a collaboration of a blue lake and colorful autumn leaves. As you drive, you will be enjoying the change of scenery––dramatic rock formations of Kaochidani Valley.
The route is leading you to Soni, which has been declared as one of the most beautiful villages in Japan. In Soni, the must-see spot is Soni Highland, which offers magnificent views of silver pampas grass in the daylight, gold at the dusk. If you have time, we recommend you going to Byobuiwa Sheer Cliffs. As the name Byobuiwa shows (it means 'folding screen rock' in Japanese), you will see 200 meters (650 feet) of a rock wall with colorful leaves at its bottom.
There are some nice cafes and restaurants on the way, so it's a good idea to fill your stomach with delicious food made with locally grown vegetables.
Murou-ji Temple
Historic Site / Accessible by Public Transport
EARLY NOV - EARLY DEC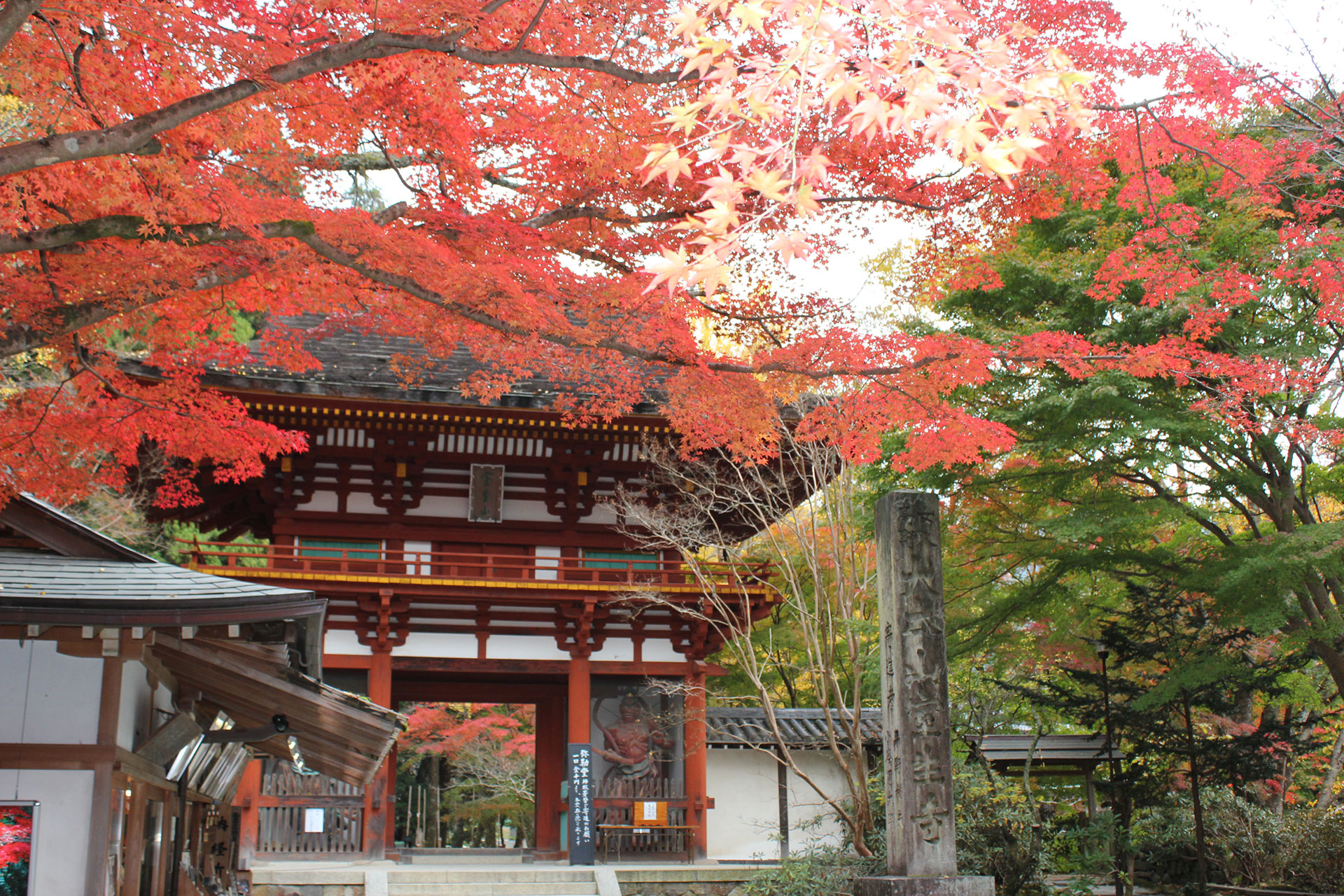 One of the most famous temples in Nara Prefecture, Murou-ji attracts the most people during the autumn foliage season. You will get the best of both worlds––appreciating the ancient history of Japan and flaming colored leaves! 
Muroguchiono Station Take Bus to Murou-ji Murou-ji Temple
Address
78 Murou, Uda City, Nara Prefecture
Hours
8:30 AM to 5:00 PM (April to November)
9:00 AM to 4:00 PM (December to March)
Admission fee
Adults: 600 yen
Children (age 12 and under): 400 yen
Public transportation
Get off at Muroguchiono (室生口大野) station, take a bus bound for Murou-ji (室生寺) and get off at the final stop. Walk for 5 minutes.
For the bus timetable, please check here.
Parking
Available
More links
Murou-ji Temple Travel Guide #1
Murou-ji Temple Travel Guide #2
Akame 48 Waterfalls
Hiking Trail / Accessible by Public Transport
EARLY NOV - LATE NOV
Akame 48 Waterfalls, a top-rated hiking destination in the ENN area, becomes outstandingly beautiful in fall, surrounded with colorful leaves. You can either take a full trip to the end of the trail or hike halfway to relax at the rest area. Bamboo lantern illumination is held during the fall foliage season.
Akameguchi Station Take Bus to Akametaki Akame 48 Waterfalls Trailhead Akame 48 Waterfalls
Address
861-1 Akame-cho Nagasaka, Nabari City, Mie Prefecture
Hours
8:30 AM to 5:00 PM (April to November) 9:00 AM to 4:30 PM (December to March)
Bamboo lantern illumination
October 24, 2020 - Janurary 31, 2021 / 4:30 pm - 8:00 pm / Adults: 600 yen, Children (age 15 and under): 300 yen
Entrance fee
Adults: 500 yen Children (age 15 and under): 250 yen
Public transportation
Take the Kintetsu-Osaka line to Akameguchi station (赤目口), then take a bus to the entrance of the falls, Akametaki (赤目滝). The bus costs 360 yen one way (180 yen for children). Taxis from the station are also available: 1,500yen - 2,000yen
More link
The best short hike in Kansai