Blessed with rich nature, East Nara Nabari attracts the most visitors in autumn, the season you can enjoy beautiful colored leaves. On this page, we'll introduce the area's popular autumn foliage spots, along with facilities and stores in the area.
・The best times to visit mentioned below are the average peak times.
・Please check the operating days and hours before you visit the store.
・Please note: Events may be canceled or stores and facilities may be closed depending on the COVID-19 situation.
Kaochidani Valley - Soni Highland Scenic Route
Driving & Cycling
The Nabari-Soni Line, which runs from Shorenji in Nabari City, Mie, to Soni Village, Nara, via Kaochidani Valley, is one of the most beautiful driving routes in Kansai.
Let's start off by enjoying some delicious sweets at ARCH SHORENJI, located near Shorenji Lake. The route runs along the reservoir lake, and after passing it, you will see soaring sheer cliffs covered with red and yellow trees along the river. Then the route takes you to Soni Village. Soni Highland, famous for its silver grass covering the land, is a must-visit spot in autumn.
After the visit to the highland, you can stop by at Farm Garden. They sell sweets, craft beer, fresh vegetables, and other souvenirs.
More about Kaochidani Valley  |  More about Soni Highland  |  More about Farm Garden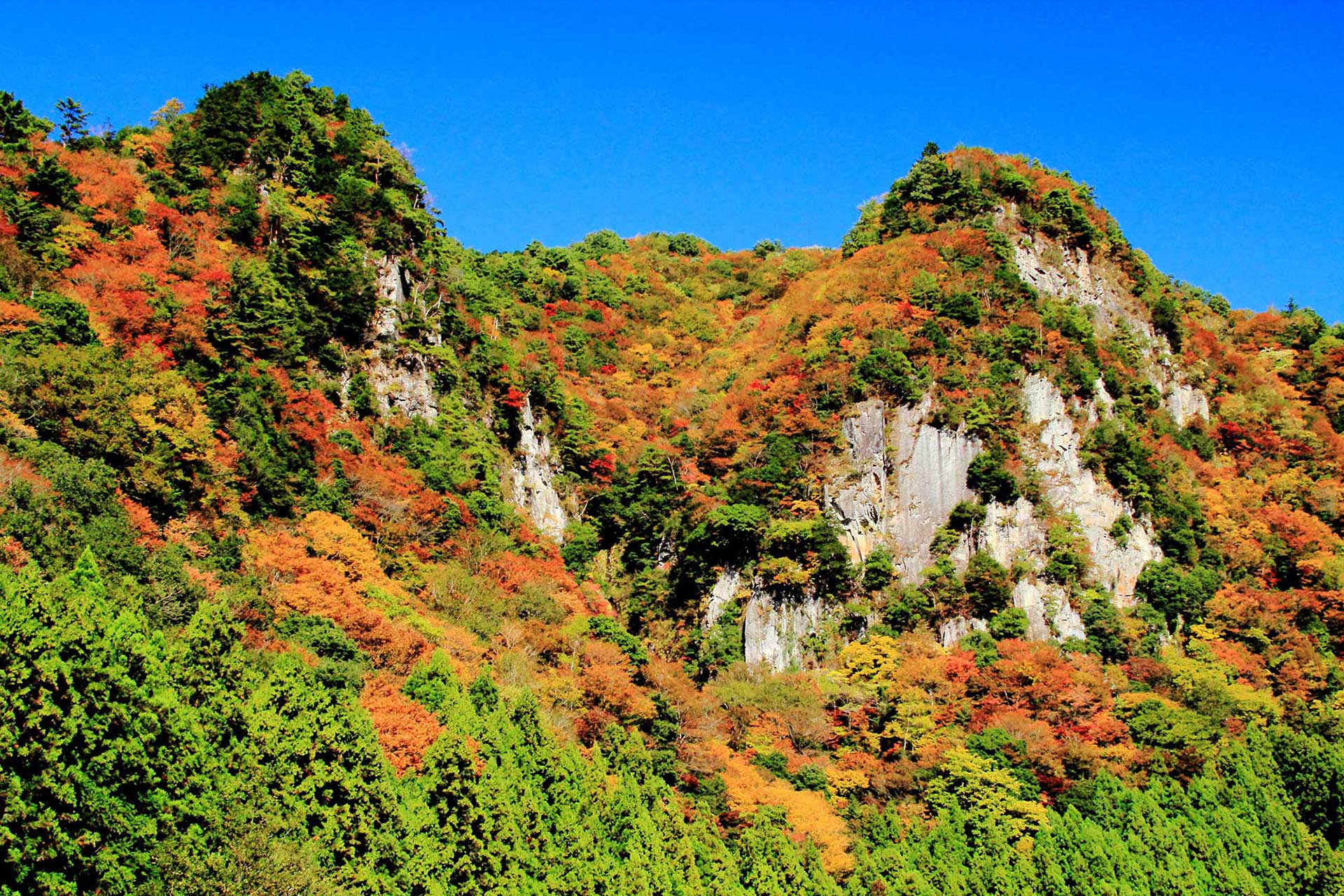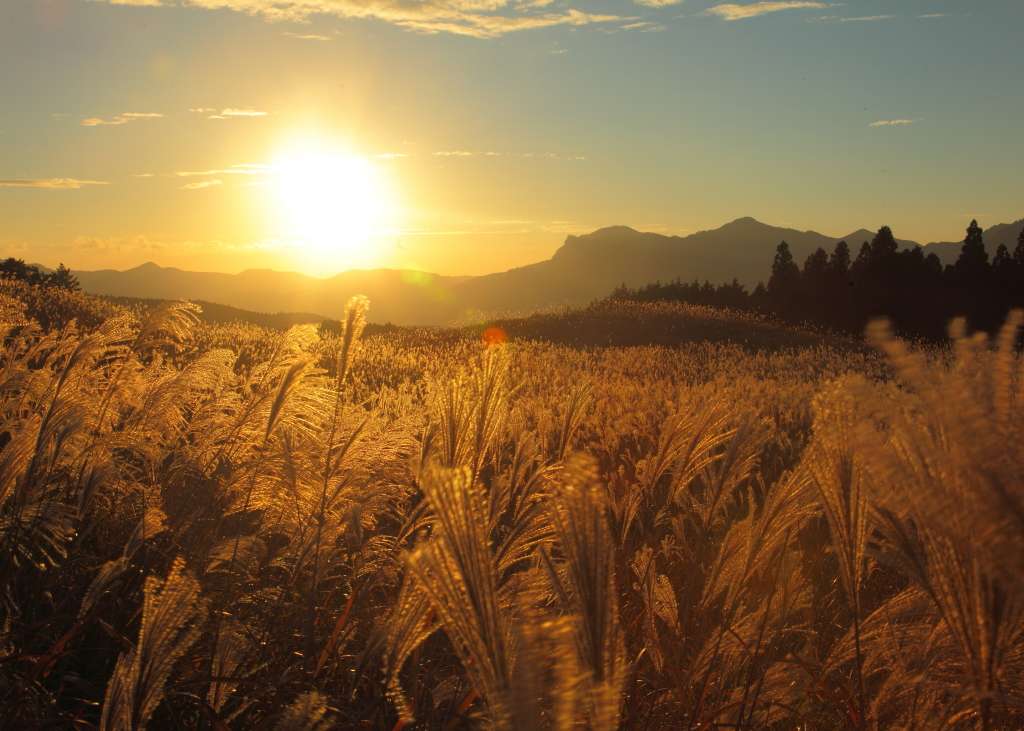 Kono-ji Temple & Forest Park Konoyama
Religious Site  / Family / Near Highway
Kono-ji Temple is located on Mt. Kono, about a 15-minute drive from the Meihan Expressway. In autumn, the mountain paths and gates are decorated with red maple trees. The entire mountain is designated as an outdoor park called Forest Park Konoyama, which offers fun activities, especially for children. You can visit the popular spot Mee Mee Farm and play with sheep after you visit to the temple. There is a place to eat, too. At Café Restaurant Eizanko, you can enjoy dishes made with local ingredients while looking out the window at the panoramic scenery.
More about Kono-ji Temple  |  More about Forest Park Konoyama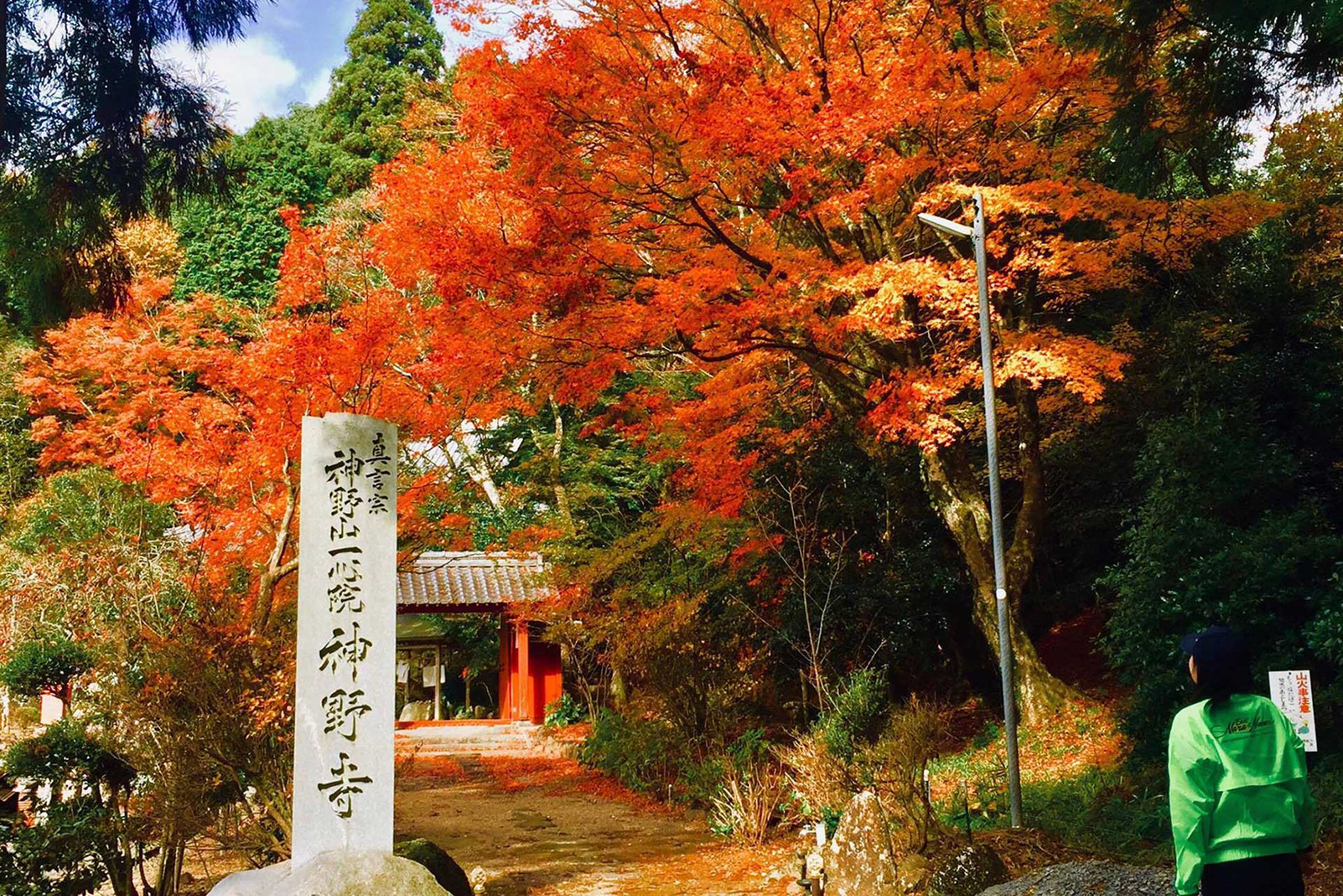 Niukawakami Shrin to Hingashi no Taki Falls
Religious Site
Enjoy the autumn colors around Niukawakami Shrine, a historic shrine in Higashiyoshino Village. The foliage continues along the Takami River that flows in front of the shrine. Walking 5 minutes and you get to Hingashi no Taki falls, where you see breathtaking scenery with the contrast of the clear blue water and the blazing colored leaves.
After enjoying autumn colors, why not take a break at a stylish cafe?
More about Niukawakami Shrine  |  More about Hingashi no Taki Falls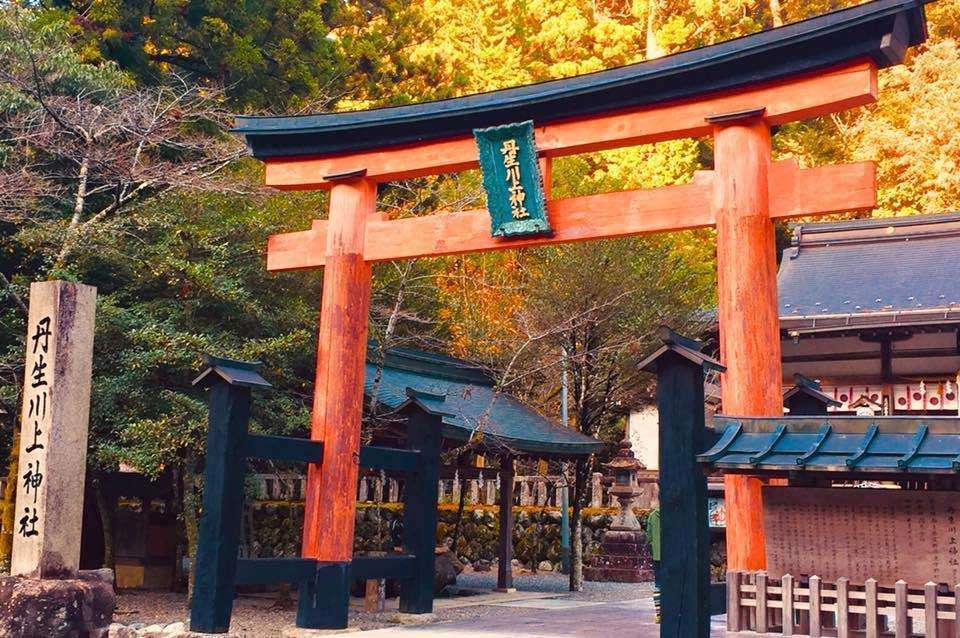 室生寺
Religious site / accessible by public transport
Known as Women's Koya, Murou-ji Temple is the most crowded with people during the autumn foliage season. The fiery red maples that decorate the temple grounds and the pagoda are a sight to behold. Appreciating the colorful leaves and immersing yourself in history is a unique way to enjoy autumn at Murou-ji Temple. There are many stairs at the Temple, so it may be a good idea to have lunch before entering the gate.
Learn more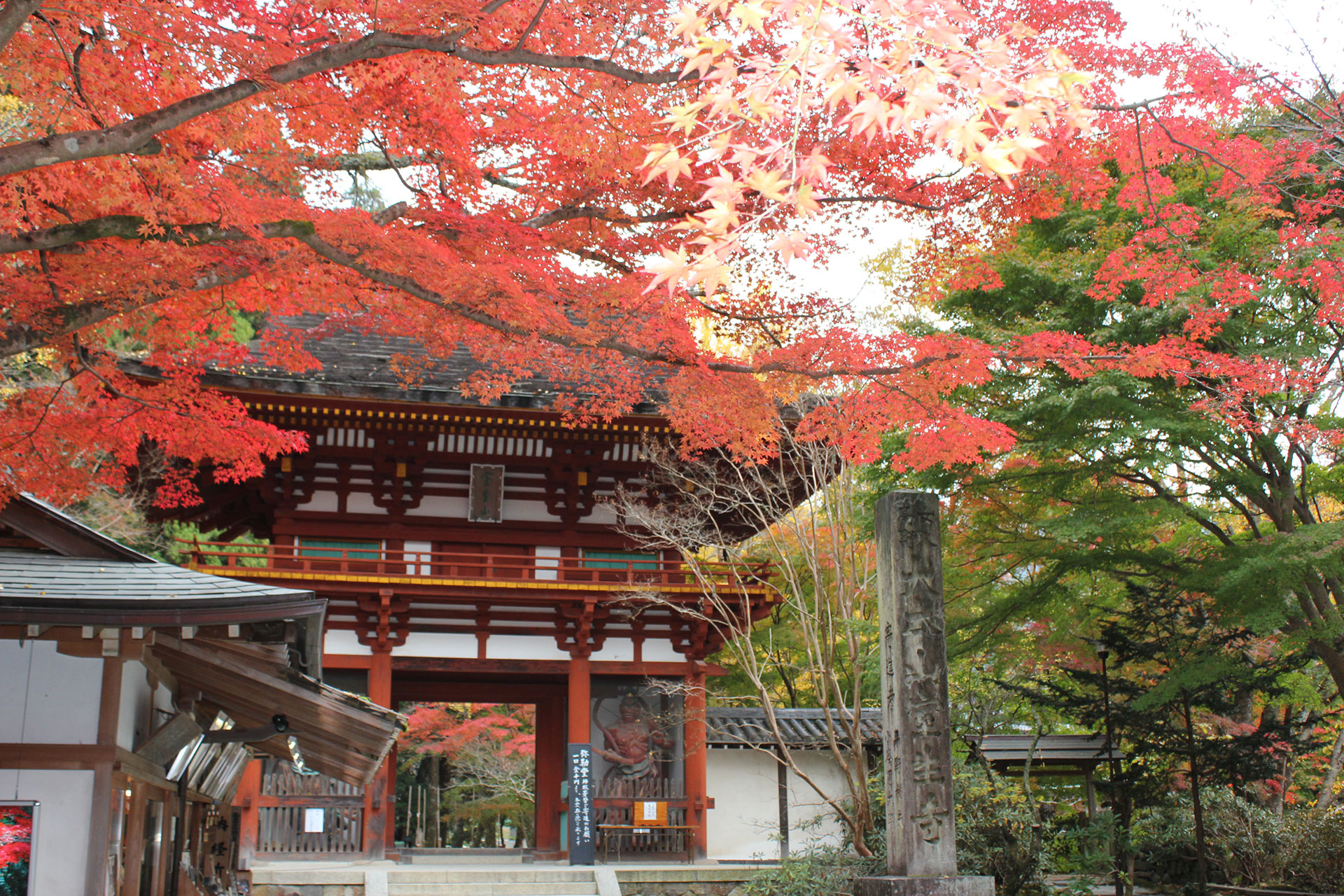 Kasuga Shrine at Tsuchiyahara, Maruyama Park and Himeshi Myojin
Religious Sites
During the autumn foliage season, the grounds of Kasuga Shrine at Tsuchiyahara (one of the two Kasuga Shrines in the village) are covered with a carpet of golden ginkgo leaves. It is said that if you find a leaf that is curled up, you will be happy.
About a 10-minute drive from the shrine is a rest area, Michi-no-Eki Ise Hon-kaido Mitsue, where you can enjoy meals using local ingredients at the attached Restaurant Yamazakura. They also offer a menu using river fish and game meat.
After lunch, go to Maruyama Park, another spot for viewing autumn colors, near the border between Nara and Mie prefectures. It is famous for its mountain cherry blossoms in spring, but you can see the beautifully colored leaves in autumn. And don't forget to visit Himeshi Myojin, a little place of nature worship next to the park. Once you step inside the space, you will be overwhelmed by its mysterious atmosphere.
On the way back, you can swing by the rest area again to relax at the Hot Spring, Himeshi-no-yu.
More about Kasuga Shrine at Tsuchiyahara  |  More about Maruyama Park  |  More about Himeshi Myojin |  More about Michi-no-Eki Ise Hon-kaido Mitsue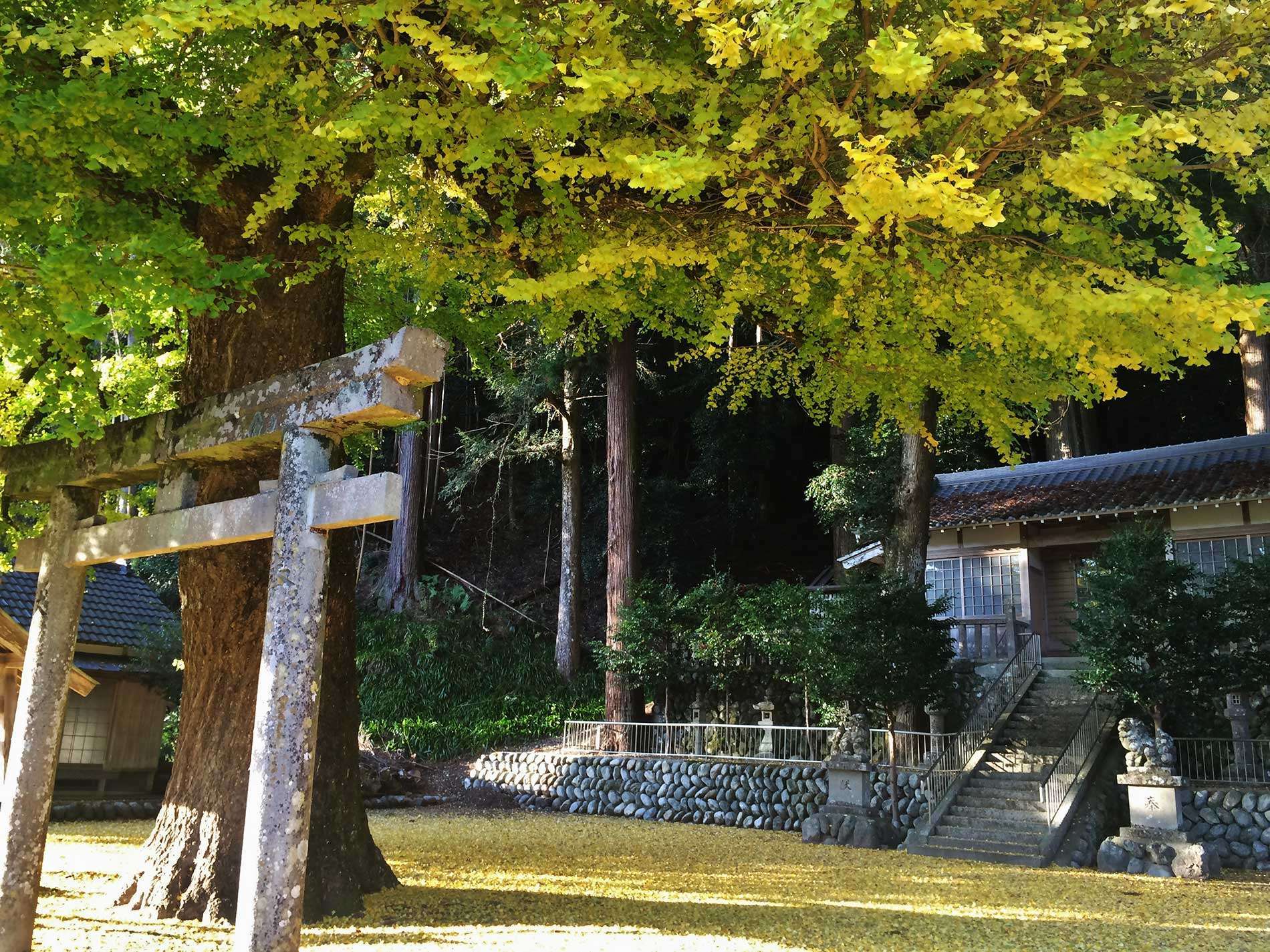 Akame 48 Waterfalls
Hiking / Family / Accessible by public transport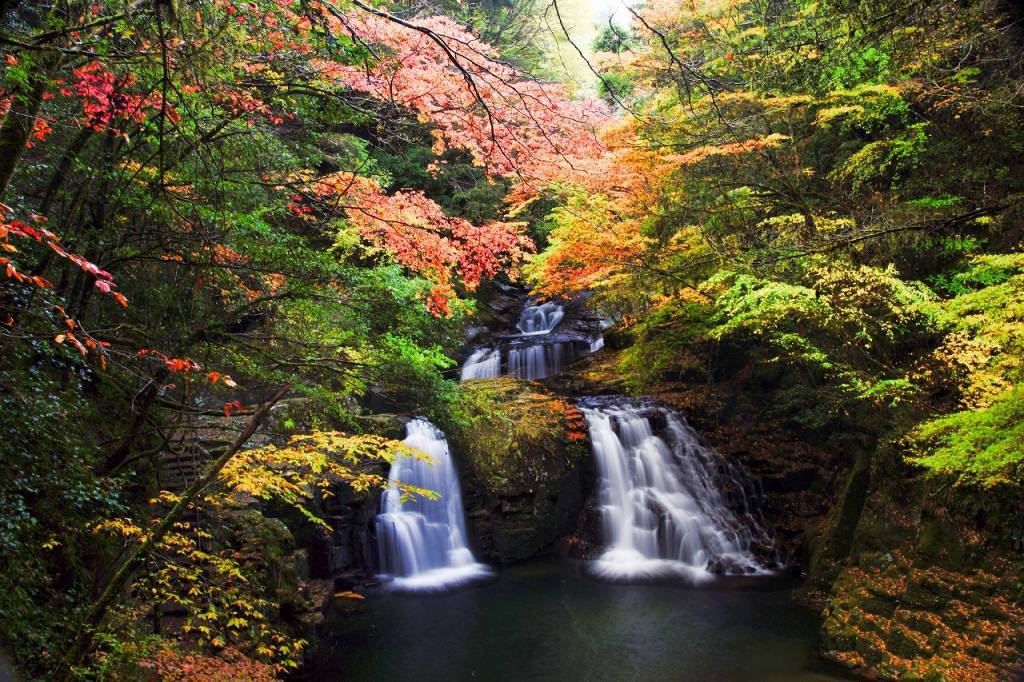 Akame 48 Waterfalls is one of the top-ranked hiking spots in the Kansai area and is crowded with many families, hikers, and photo enthusiasts during the autumn foliage season. You can relax in the middle of the hiking route while looking at the colorful leaves, or you can complete the course to the end, or you can experience ninja training in the Ninja Forest. The area near the trailhead will be illuminated with bamboo lanterns from October 23, 2021, to January 31, 2022.
Learn more