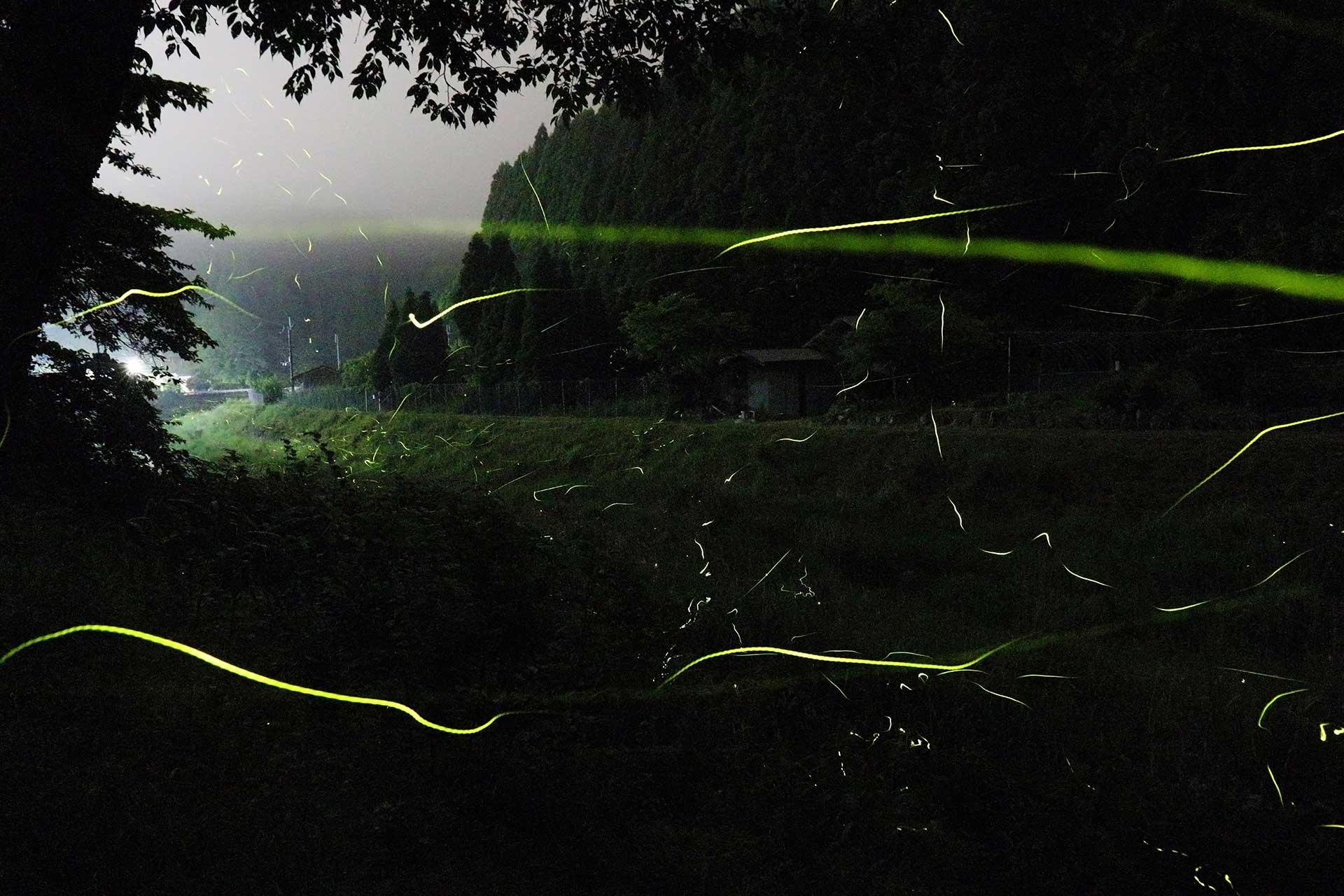 In East Nara Nabari, we start to see fireflies or hotaru near clear meadows and streams in early summer. Although you encounter lightning bugs here and there without hunting for them, we will tell you our recommended firefly viewing spots.
Genji-Botaru and Heiké-Botaru are the two dominant species that are seen in the area. Peak flashing for the Genji is usually in early to late June, the Heike in late June to early July. The Genji is larger, which makes the light bigger and brighter.
The best time to watch fireflies is from 8 p.m. to 9 p.m. Since the firefly watching spots are usually very dark, make sure you bring a flashlight just in case. We also recommend wearing something bright so that a driver can see you in the dark.
Please note that, depending on the growing conditions and weather, it is not guaranteed that you will be able to see them.
Shorenji River (Momiji-tei - Kawashimo Shrine)
Soni Village
The spot is along the mountain road between Nabari City and Soni Village, which parallels the Shorenji River. Park your car near the inn Momiji-tei, where you see a brown sign with '紅葉亭'.
Parking    Toilet (near Kawashimo Shrine)
Kaké Park
Soni Village
The place is located by the only traffic signal in the village. Park your car at the park and walk along the Shorenji River. You will find more fireflies toward the upstream, where it is darker without lights.
Parking (3 spaces)    Toilet
Maruyama Park
Mitsue Village
Genji and Heike-Botaru fly around in fallow fields and streams along the park.
Parking    Toilet    About Maruyama Park
Sankikan
Mitsue Village
Sankikan is an old elementary school turned into a hostel. Both Genji and Heike-Botaru are seen flying over the nearby river.
Parking    Toilet
Kasama River at Kehara and Iwaya
Yamazoe Village
You can find Genji-Botaru near the Kasama River that runs through Kehara-Iwaya District, the South part of Yamazoe Village.
Parking    Toilet
Ryuketsu Shrine
Uda City
The Murou River in Uda City is known as a habitat for fireflies, and the area near Ryuketsu Shrine is particularly popular for firefly watching.
Parking    Toilet    About Ryuketsu Shrine
Washika River & Takami River
Higashiyoshino Village
Fireflies can be seen where clear streams flow in Higashiyoshino Village. You will see them walking along the Washika River, which runs along Prefectural Road 16 southwest of the Michi-no-Eki, and also from the Miyuki Bridge over the Takami River near the statue of the Japanese wolf. Fireflies do not cluster in any particular area in the village, but you can find them flying throughout the village in early summer.
Parking    Toilet
Hinachi Dam Shinsui Park
Nabari City
You can see Genji-Botaru walking on the paths in Shinsui Park, a water park located downstream of Hinachi Dam in Nabari City.
Parking    Toilet