A Ride Through Autumn Foliage
Muro-Akame-Aoyama Quasi-National Park, which straddles the border between Nara and Mie prefectures, is packed with sights to see. The route offers a diverse array of landscapes including mountains, valleys, streams and lakes, and is especially beautiful during the autumn foliage season. The route is dotted with numerous sites of spiritual significance renowned for dragon worship since ancient times.
What is "East Nara Nabari Yamanami Ride"? Learn here.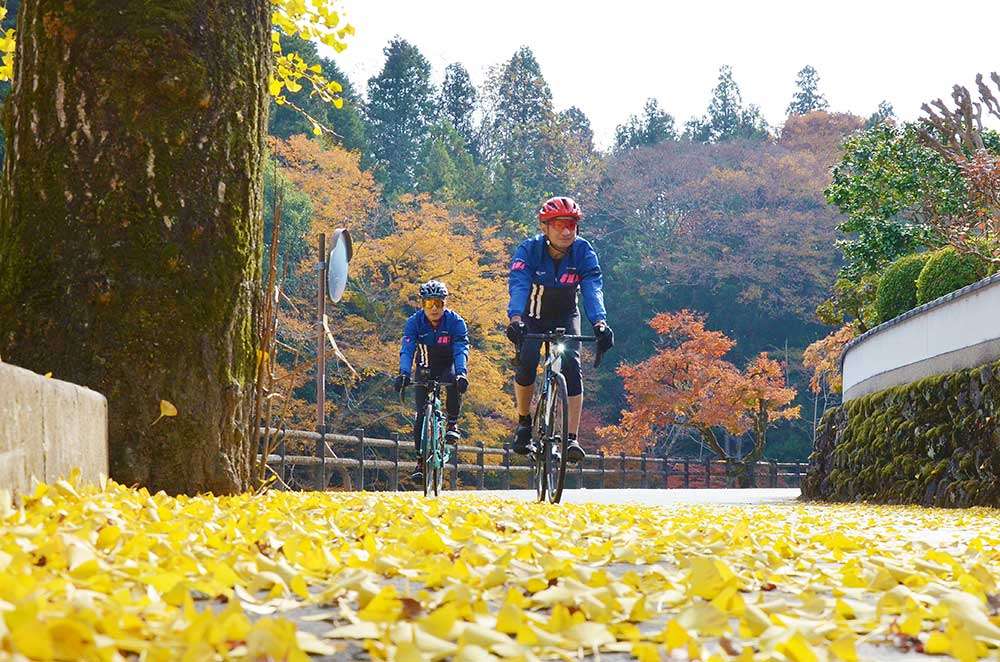 | | |
| --- | --- |
| Route | Nabari no Yu — Lake Shorenji — Kaochidani Valley — Soni Village — Ryuketsu Shrine — Murou-ji Temple — Ono-ji Temple — Akame 48 Waterfalls — Nabari no Yu |
| Distance | 66.7 km (41.4 miles) |
| Elevation gain | 980 m |
| Date | 8:00 am - 3:00 pm, November 21 |
| Difficulty | (based on the author's impression) |
Index
The Blue Surface of Lake Shorenji Reflecting the Autumn Foliage, Kaochidani Valley Bathed in Autumnal Colors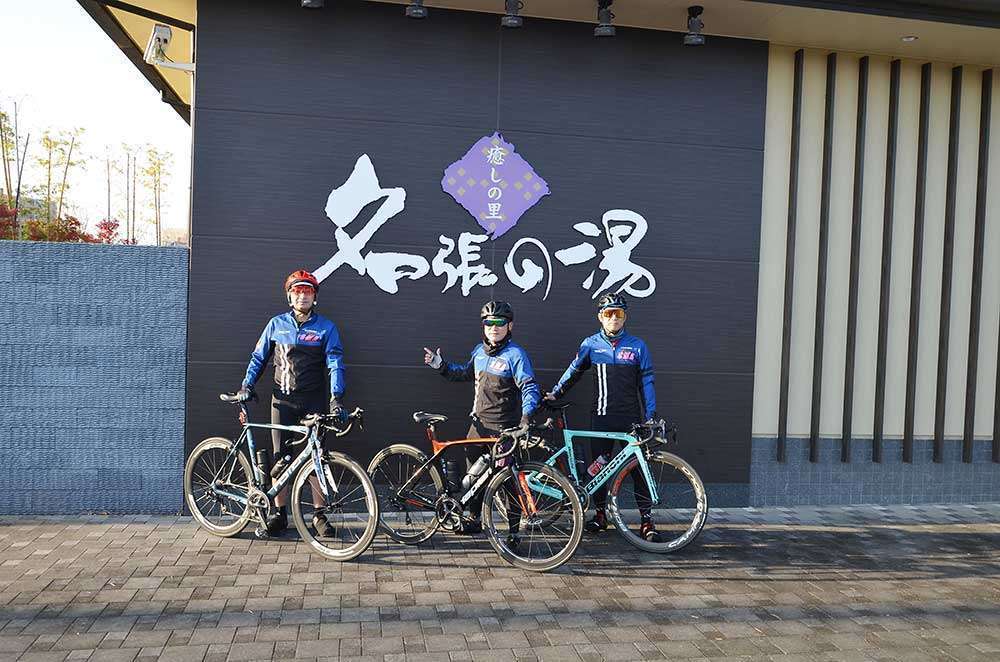 The starting point is a hot spring "Nabari no Yu [JP] " in Nabari City.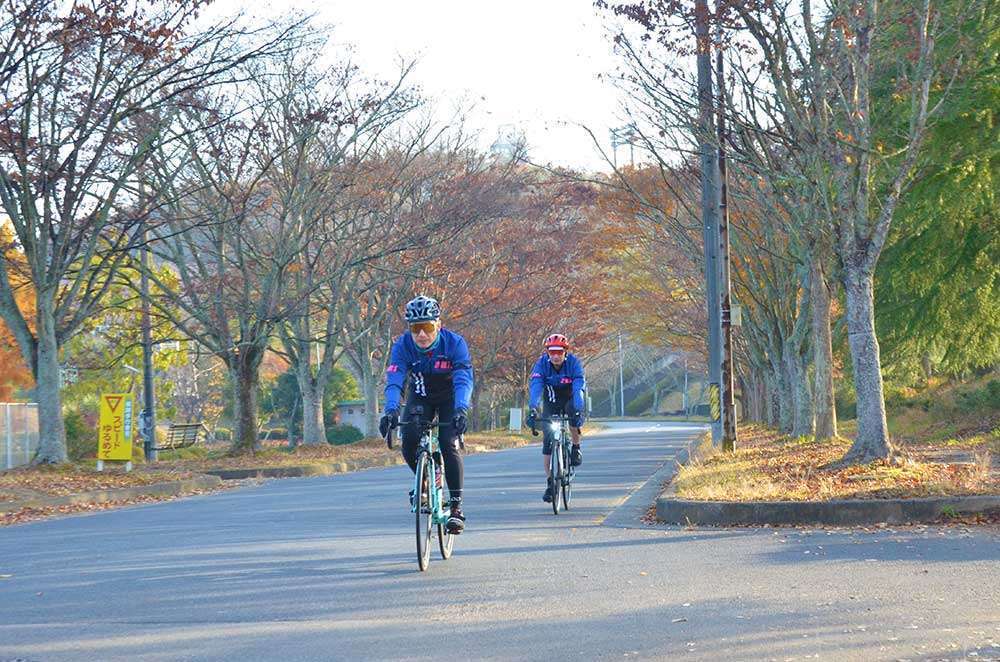 We crossed Route 165 to Nabari Central Park, where cherry blossoms create a tunnel from the end of March to the beginning of April, during which it bustles with many visitors enjoying the Nabari Cherry Blossom Festival. Continuing on the Nabari-Soni line, we headed up the hill to Lake Shorenji to start with a warmup. You may want to buy some snacks at the convenience store along the way. There are no stores for a while after that, and you will be entering the mountains.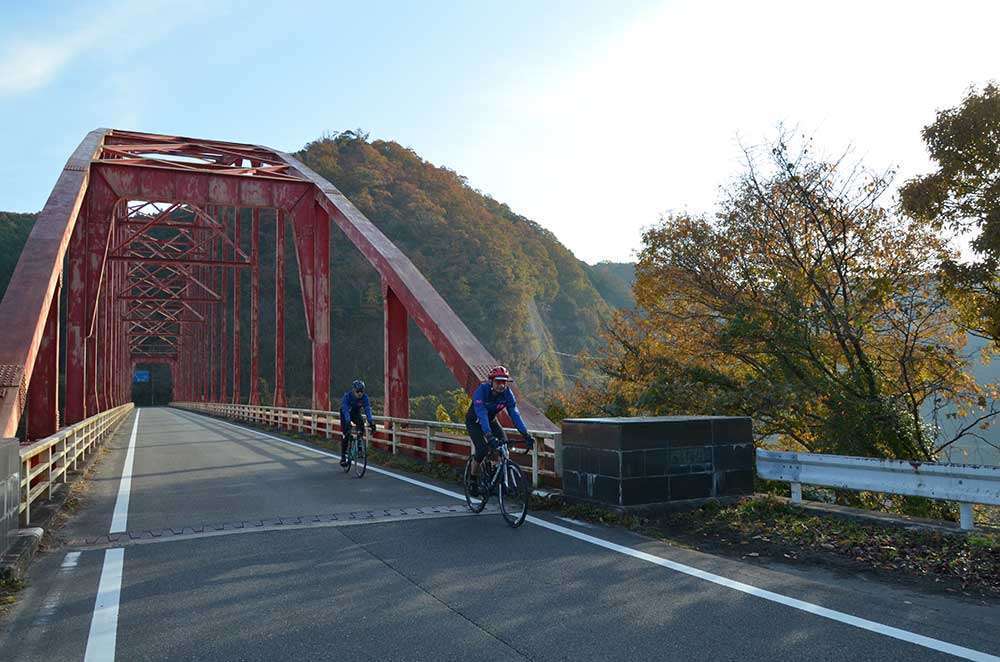 Crossing the red bridge over Lake Shorenji.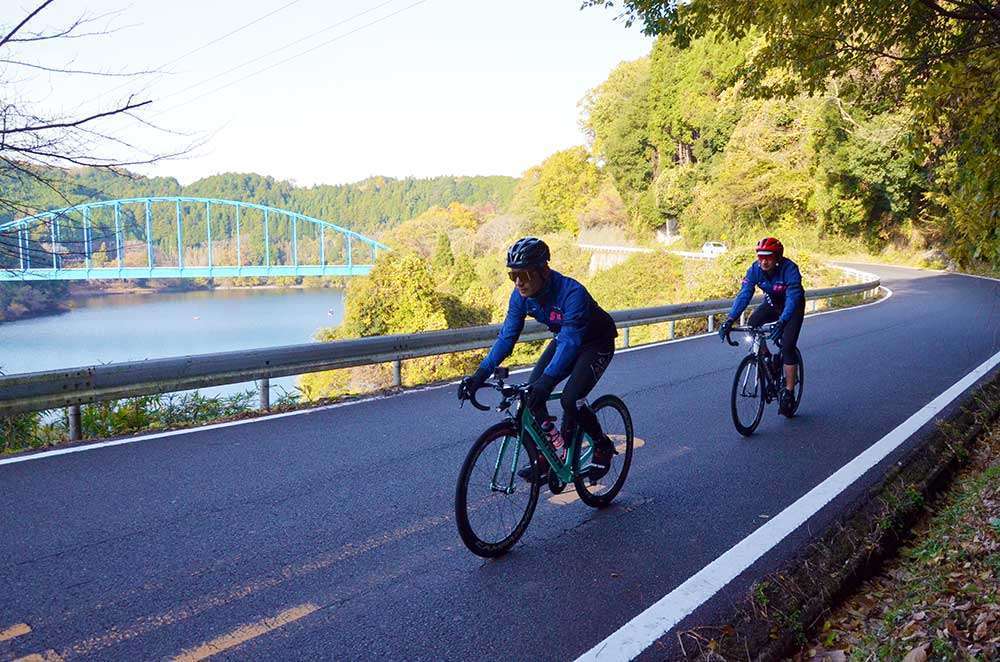 We continued straight and did not cross the blue bridge. The lake is beautiful with the reflection of the colored leaves.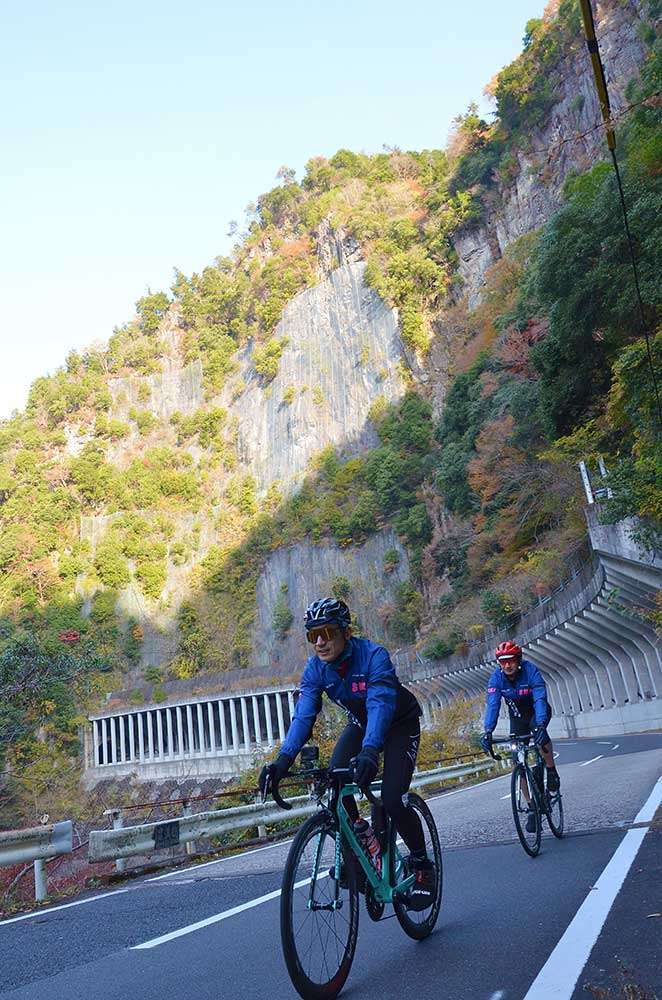 After passing through the tunnel upstream of Lake Shorenji, we reached the Kaochidani Valley. The rock face that looked as though it had been chopped with an axe stretched for some 8km.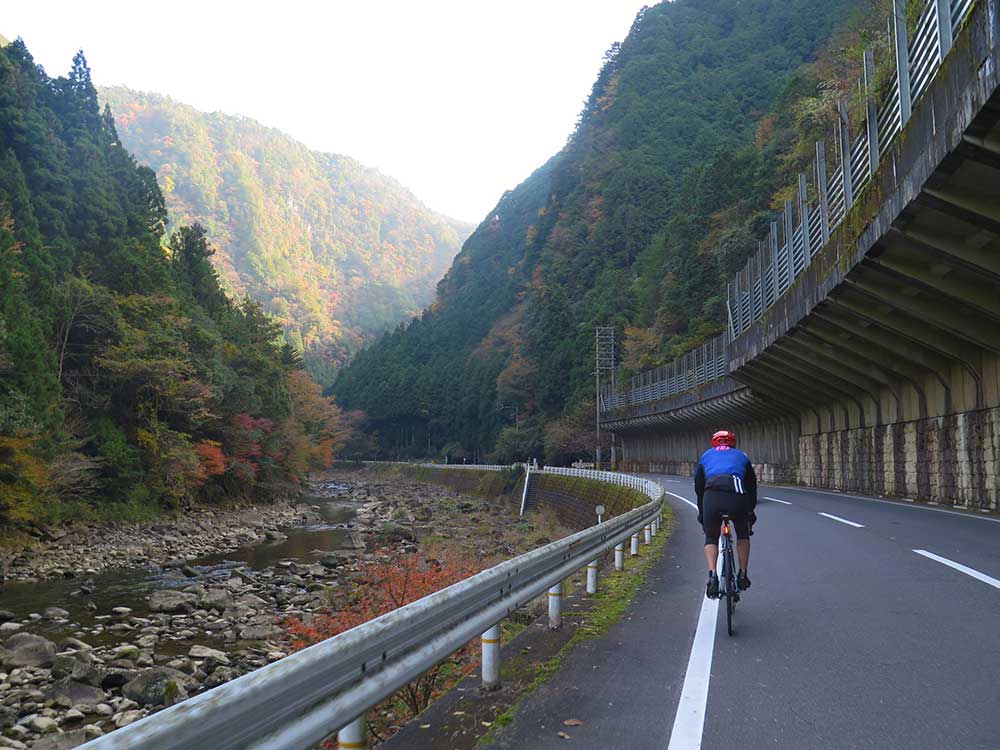 The beauty of bikes is that you can enjoy the autumn foliage while leisurely riding through it. A car wouldn't allow you such luxury. It was early in the morning, so the sun was not shining through the entire valley, but the light that occasionally filtered in was mesmerizing. You could have your break at Momiji-dani located along the route. Momiji-dani is a rest area with restrooms and a parking lot, where you can dip in the river during summer.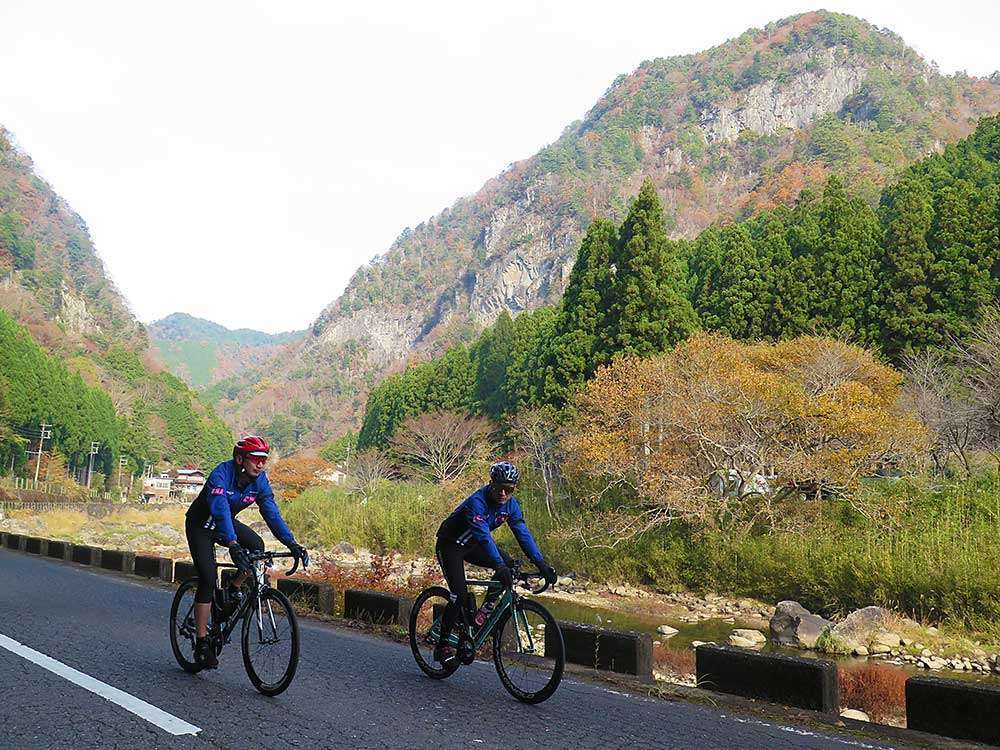 Some 200m tall vertical rock walls extended along our route. Among them, Kotaroiwa Cliff is the most well-known, which is also called Lion Rock because of its rock face that looks like a lion. After passing this point, we entered Soni Village.
Riding Through the Autumnal Soni Village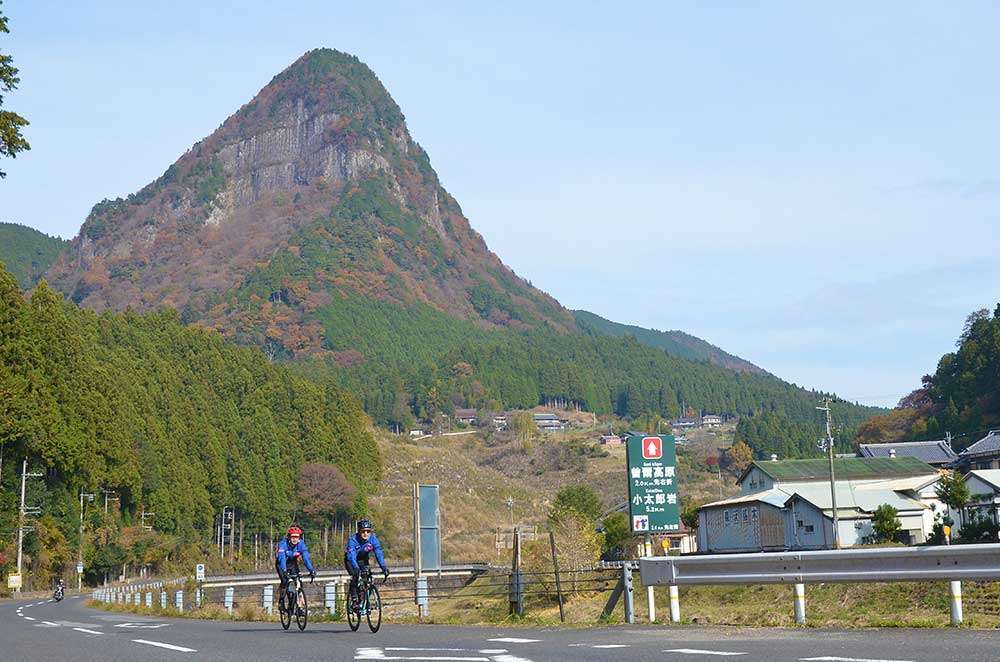 We continued through Soni Village while taking in its natural grandeur. The mountain in the back is Yoroidake (Mt. Yoroi or Armor Peak). It gets its name from its resemblance to a samurai's armor.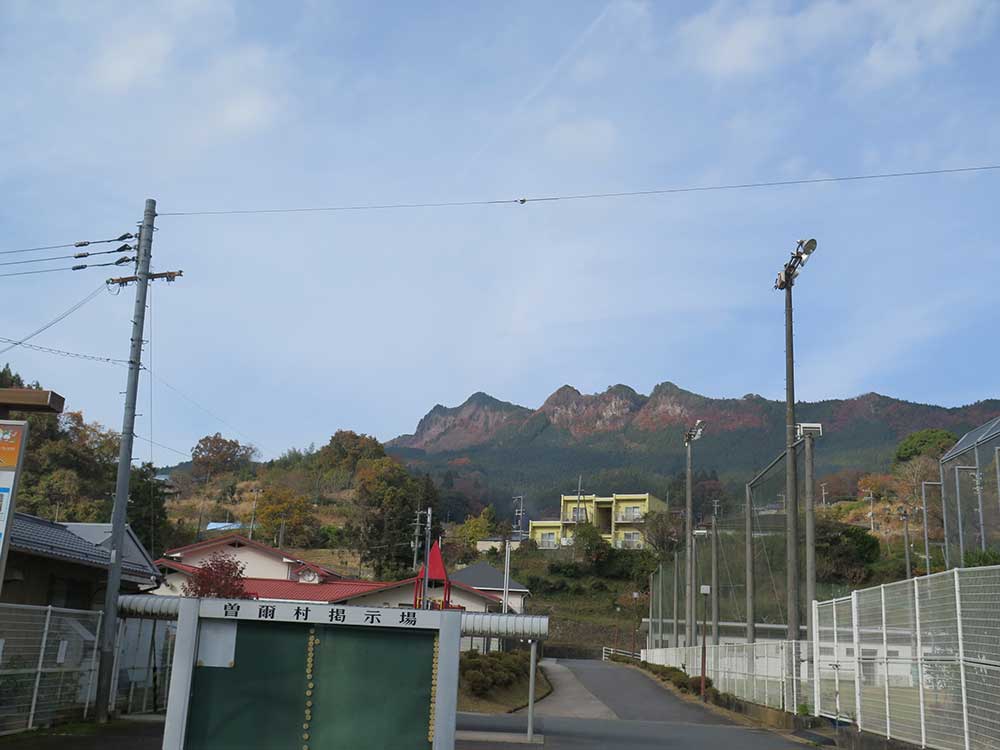 Soni Village has many unique mountains that were created by volcanic activity in ancient times, so you will never get bored riding through it. If you have time, you could stop by one of them, the Byobuiwa Sheer Cliffs.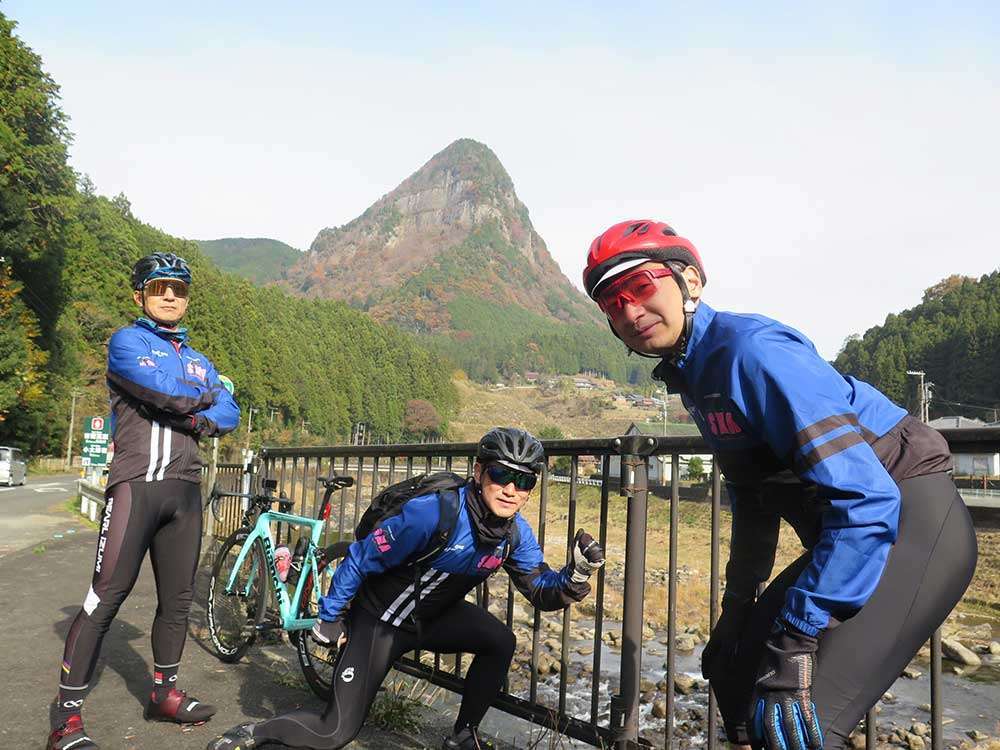 The 2.7 Inn and nearby stores are cyclist-friendly spots where you can take a break and use bike pumps for free.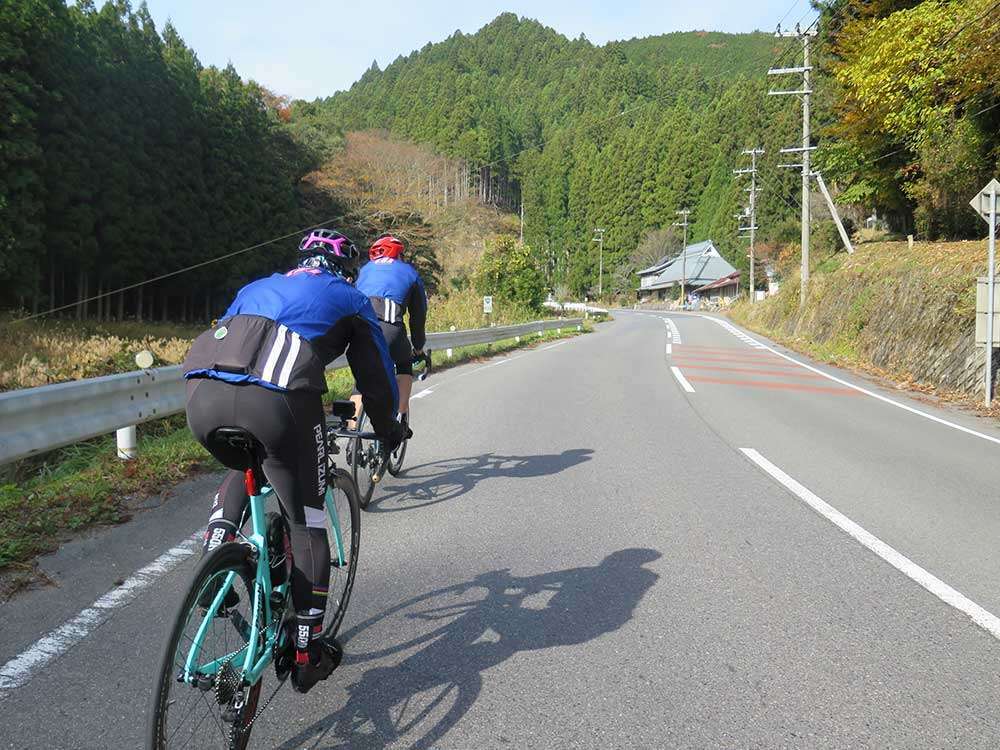 After a 3km climb up Route 369, there is an exhilarating descent to Murou-ji Temple, so hang in there! If you are not confident in your ability to ride uphill, try a lower gear.
Just as you are about to reach the top of the hill, you would normally turn right to go up the forest road, but on this day it was closed due to a landslide, so we went straight through a long tunnel. There were two tunnels in a row, totaling about 4km. You will get tired gradually as it is uphill, but please ride carefully. Be sure to turn on your front and tail lights!
After exiting the tunnel, turn right and head north.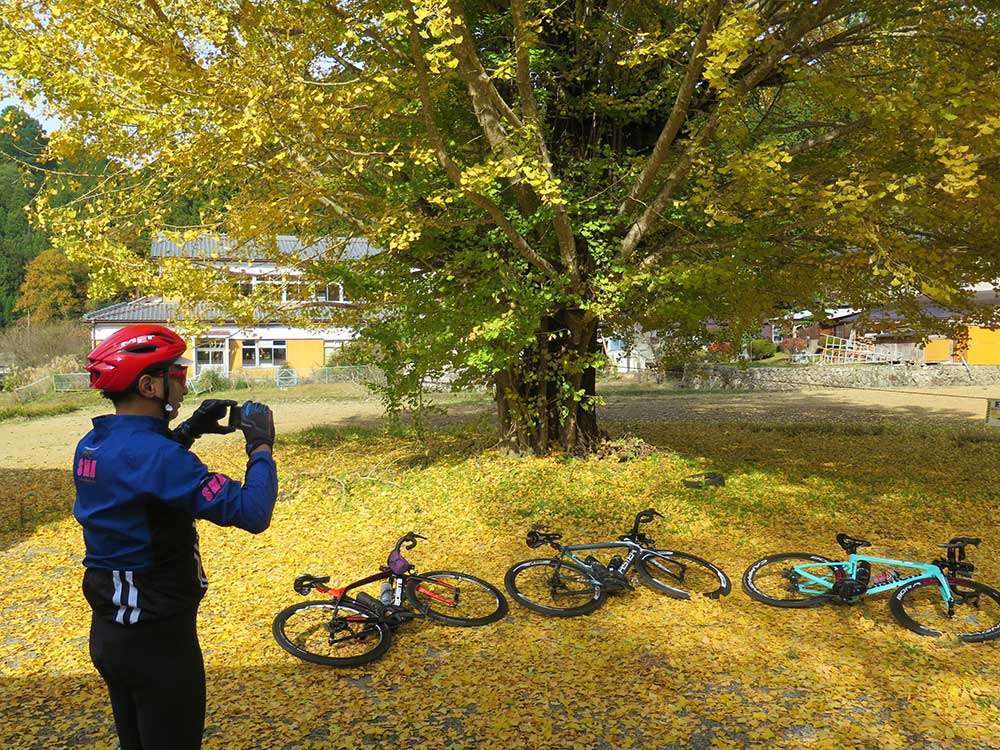 We found a large gingko tree along the road. The beauty of being on a bike is that you can stop by wherever and whenever you feel like it.
Enthralled by the Spiritual Power of Murou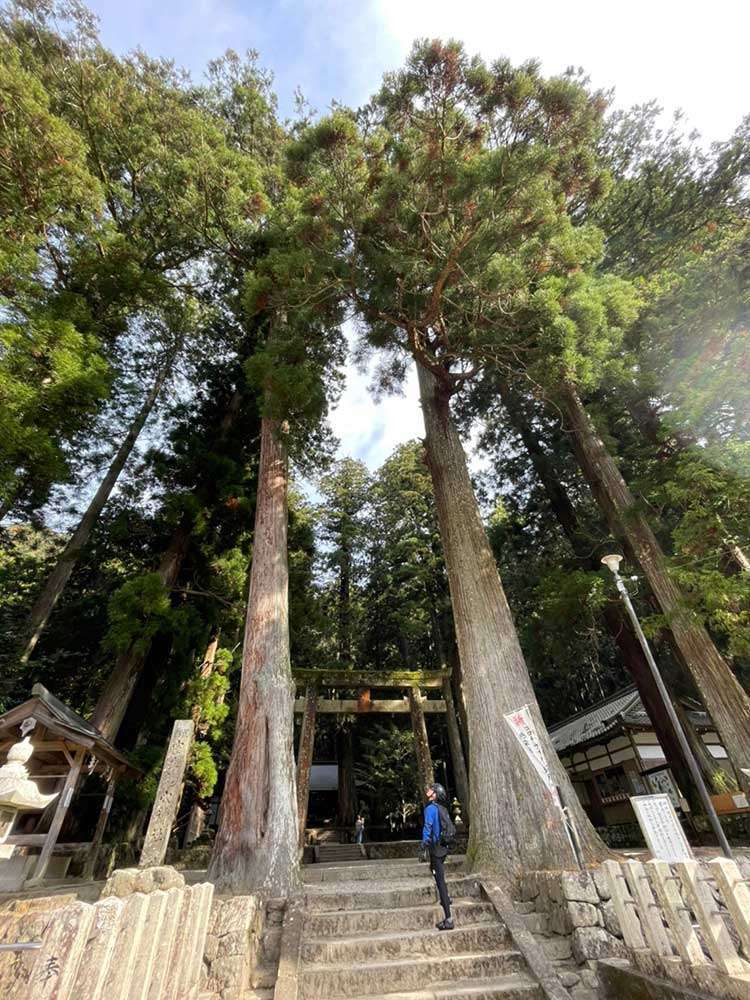 After riding for some time, Ryuketsu Shrine comes into view on the right. The mountains around here are dotted with caves due to their volcanic topography. These caves have been kept sacred since ancient times as the home of dragons who control the flow of water. It is said that in the Heian period (794-1185), messengers were sent from the Imperial Court to pray for rain. Passing through the torii gate leads you to a solemn realm. The area feels so spiritual, as though you could take in some of that power by riding through there.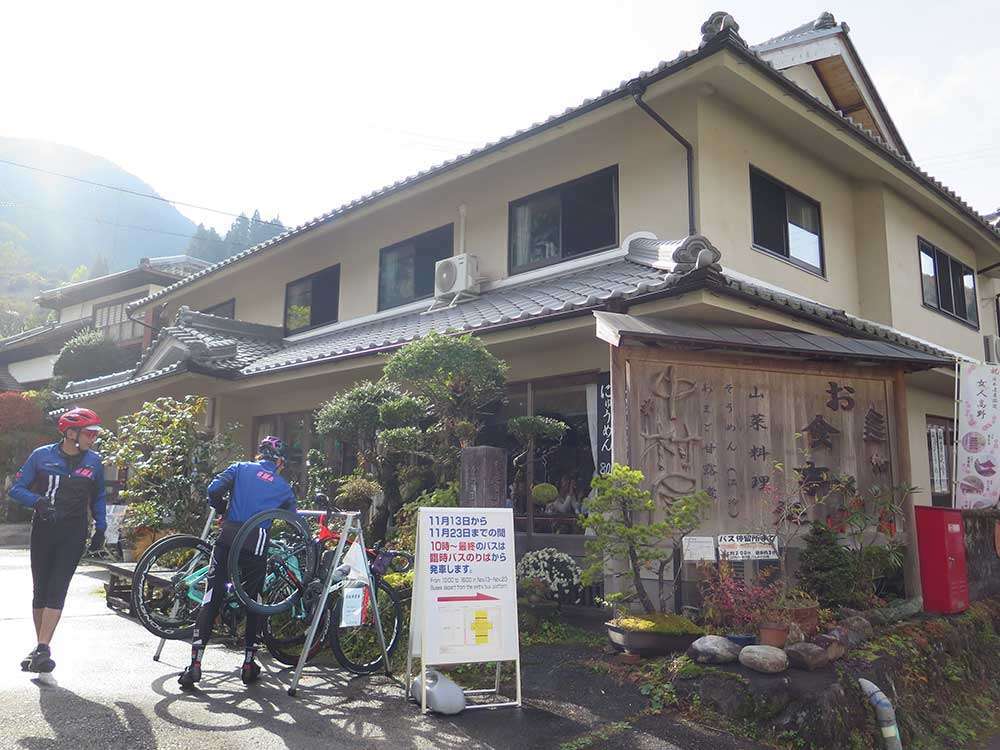 After a short ride through the town surrounding Murou-ji Temple, you will see the arched bridge. Right next to it is Nakamura-ya. This is where we had lunch this day. The restaurant also has a bike rack, so we recommend this place. No reservation is required, but it is a good idea to make one.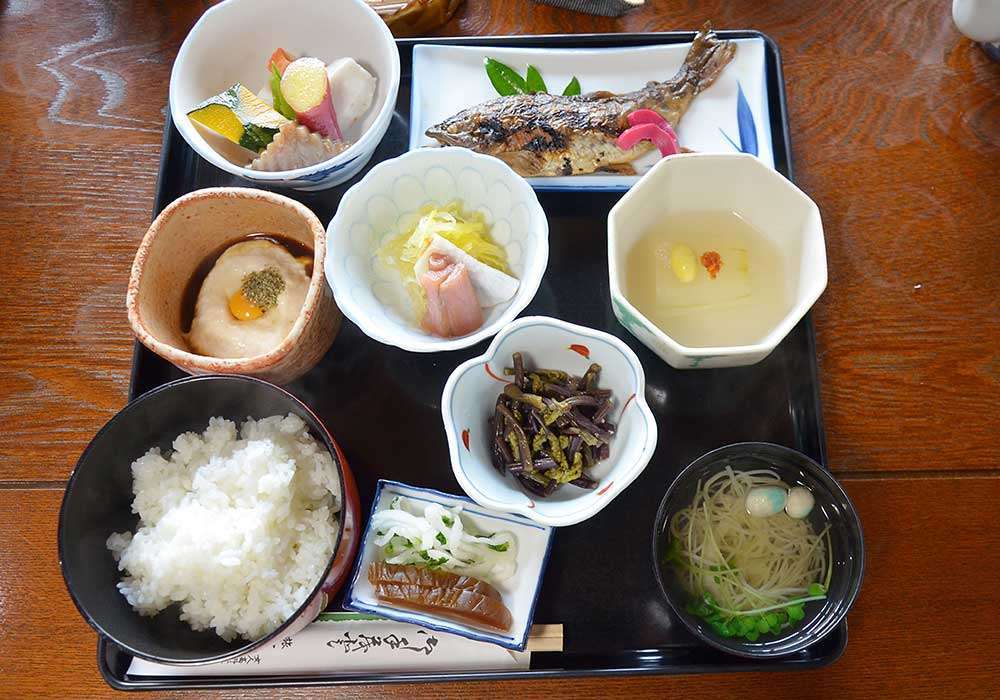 I ordered a set meal with a lot of wild vegetables. The fish was amago trout. The gentle taste that got the best out of the ingredients brought comfort to my worn-out body.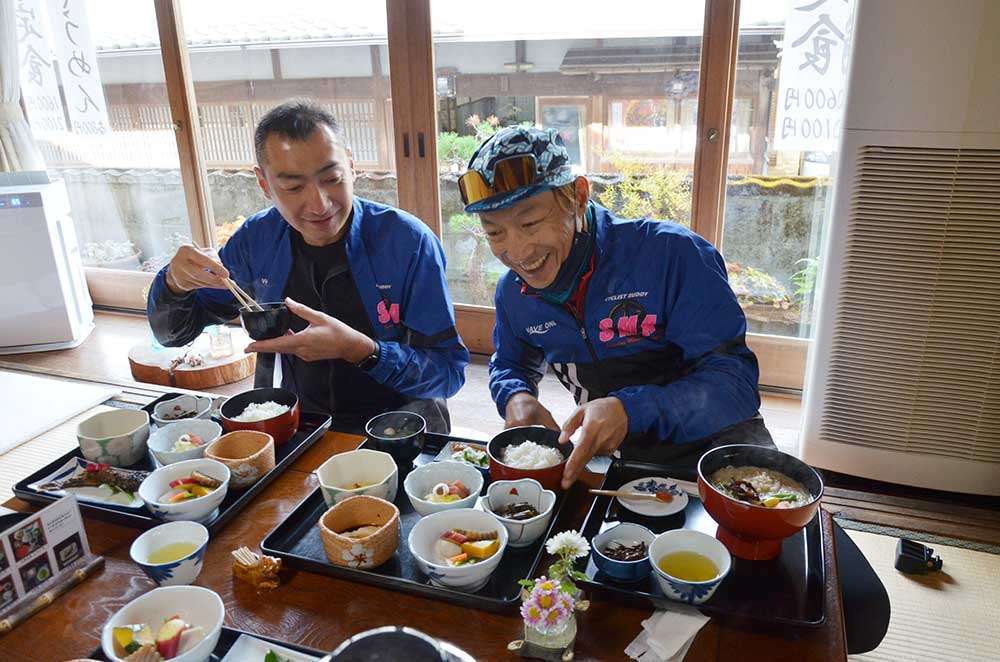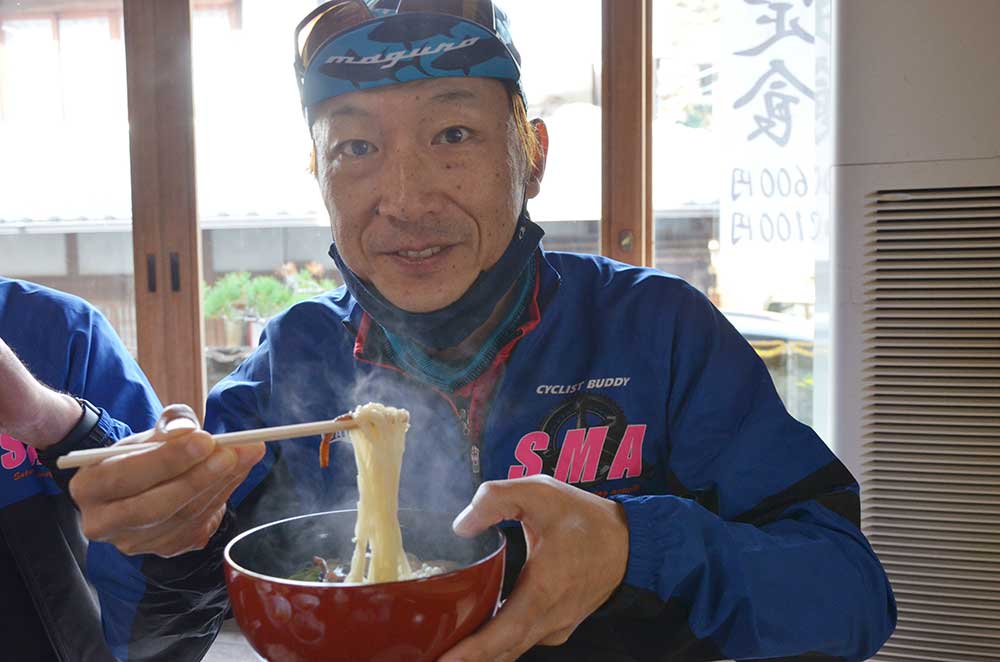 Sachi ordered somen noodles. It tastes even better when you add yuzu chili pepper, which has a bit of a kick and a citrusy aroma.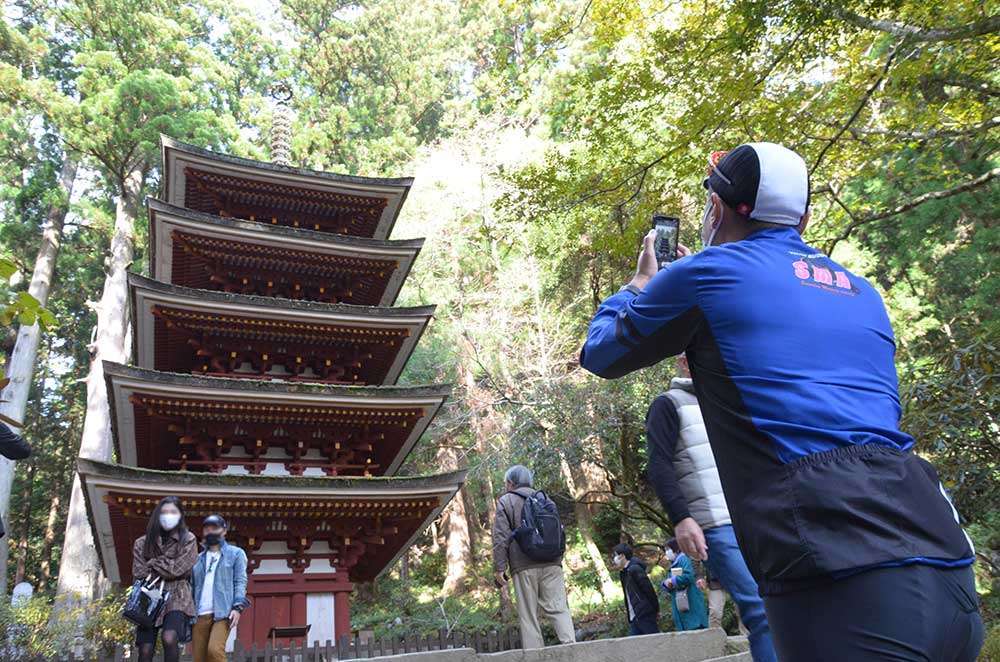 After lunch, we strolled around Murou-ji Temple. Nakamura-ya kindly agreed to let us leave our bikes on the rack.
In contrast to Koya-san which was not open to women, Murou-ji Temple is popularly known as Nyonin Koya, because women have been allowed to visit the temple since ancient times. Murou-ji Temple is an ancient temple adorned by spectacular cherry blossoms and rhododendrons in spring, and autumn foliage in fall. There are many things to see, such as the main hall, five-storied pagoda, and Buddhist statues. My stomach was filled and so was my heart.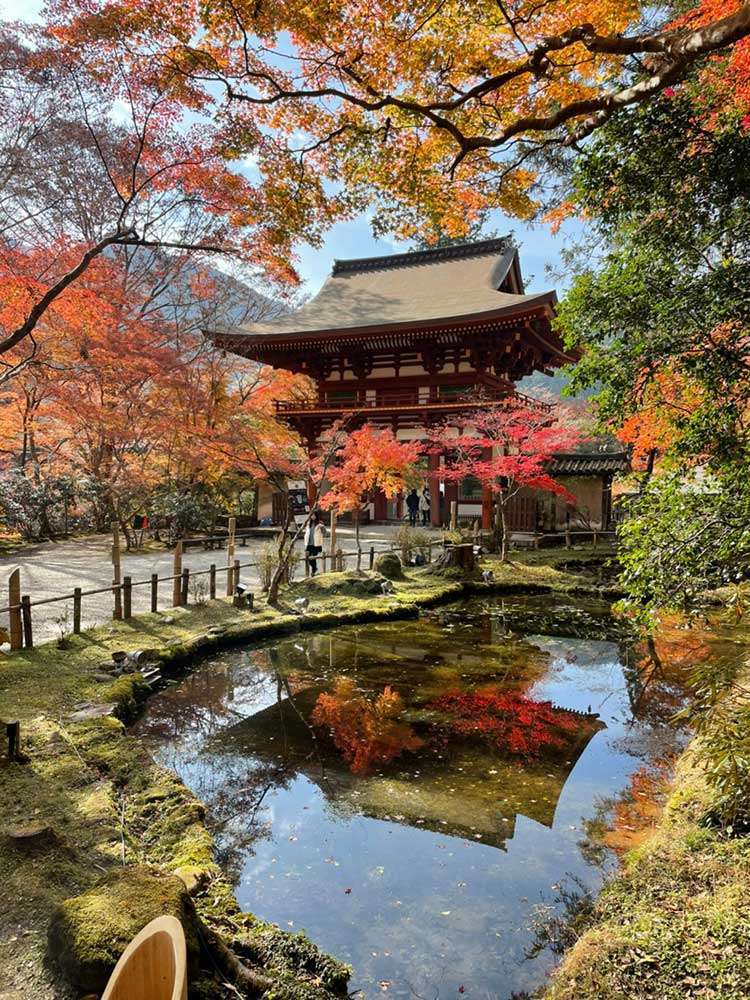 Murou-ji Temple is located on the same latitude as Mt. Miwa , Hase-dera Temple , and the Saiku Ruins . It is also known as a site of spiritual significance because it is on the "path of the sun" through which the sun passes on the vernal and autumnal equinoxes.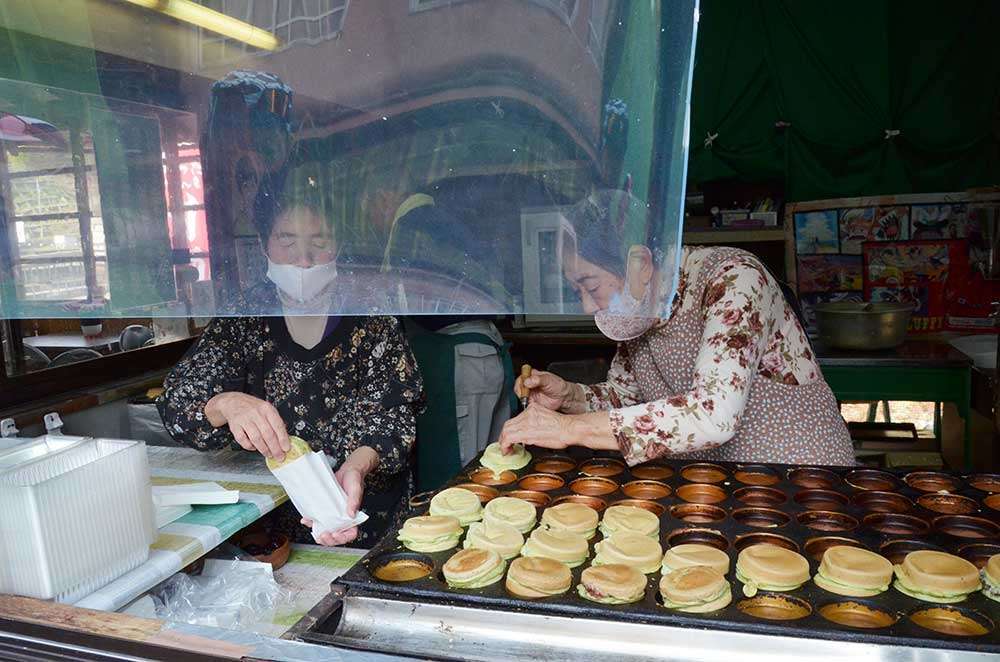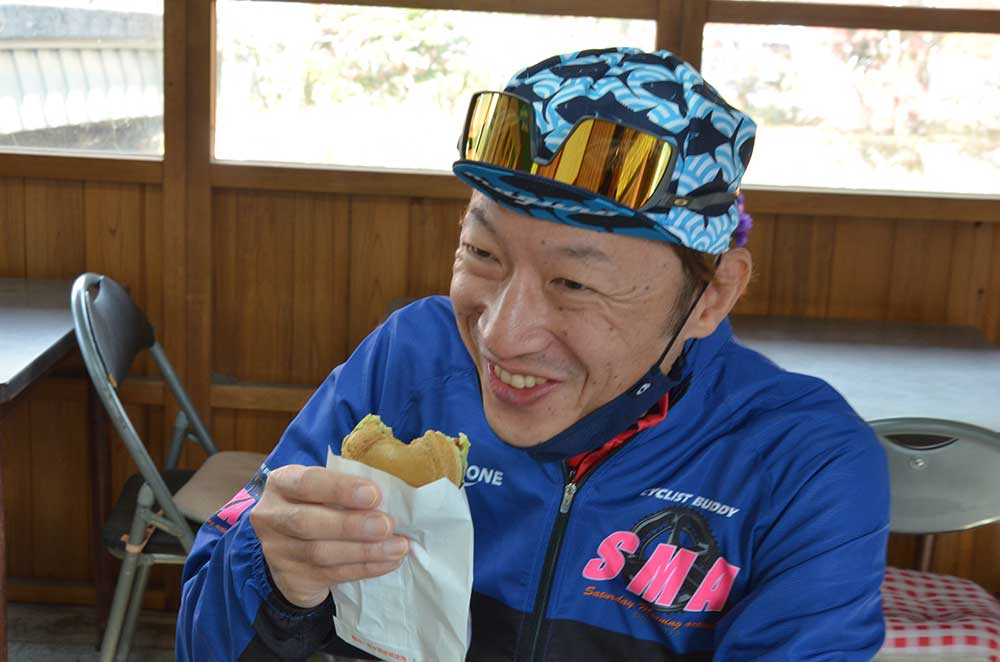 Kaiten-yaki pancakes and mochi made with mugwort are must-eats when visiting Murou-ji Temple. There is also a dining area.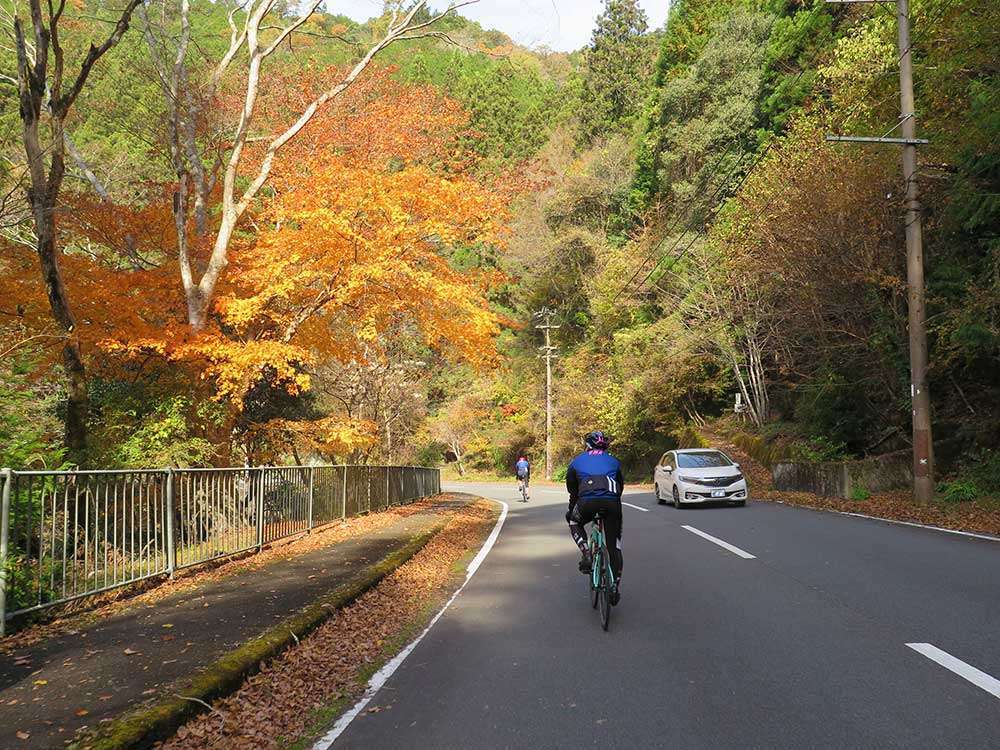 We went down along the Murou River from the town surrounding Murou-ji Temple and then turned left, and soon found ourselves going uphill. Going uphill after eating was hard, but it was only a short distance, so we kept pushing. A dam eventually came into view on our right.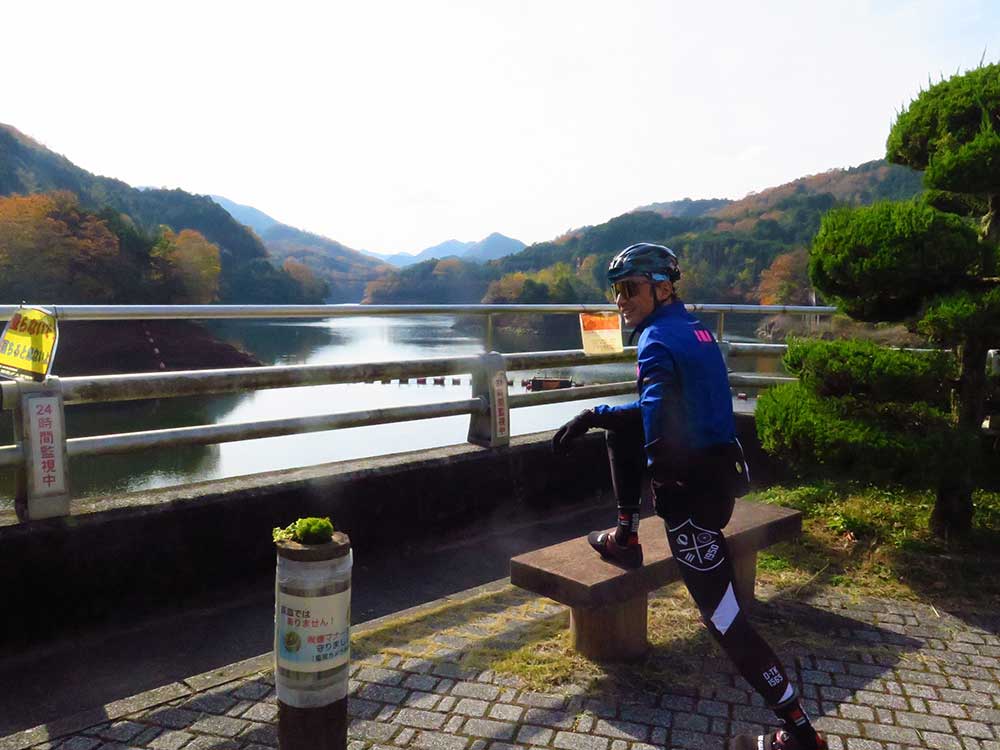 We took a short break. The view was great, and there was also a restroom.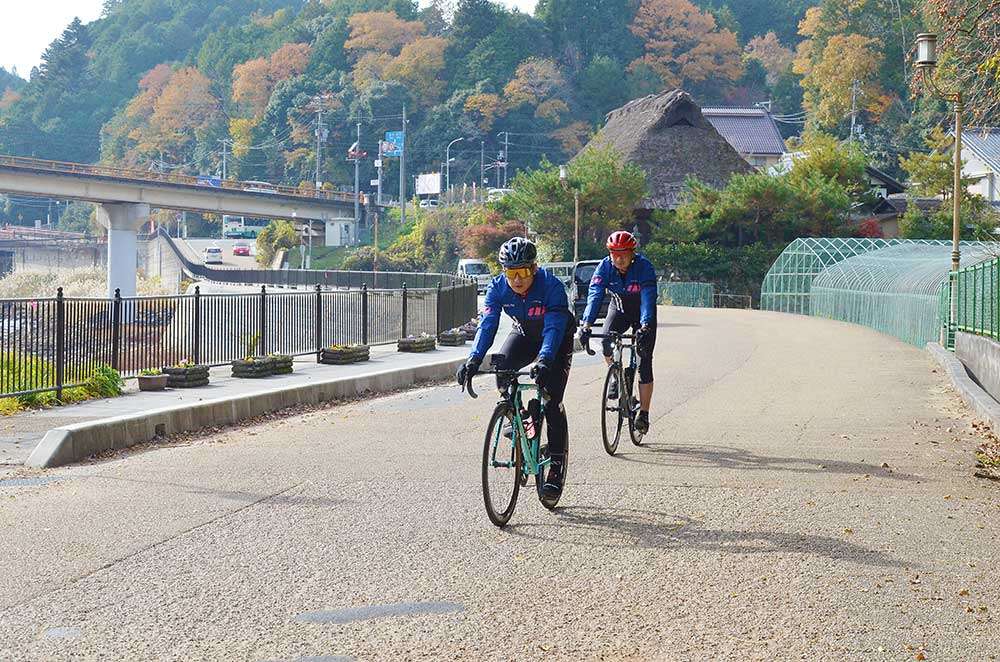 Passing under Route 165, we continued along the river. This area had a slightly nostalgic atmosphere.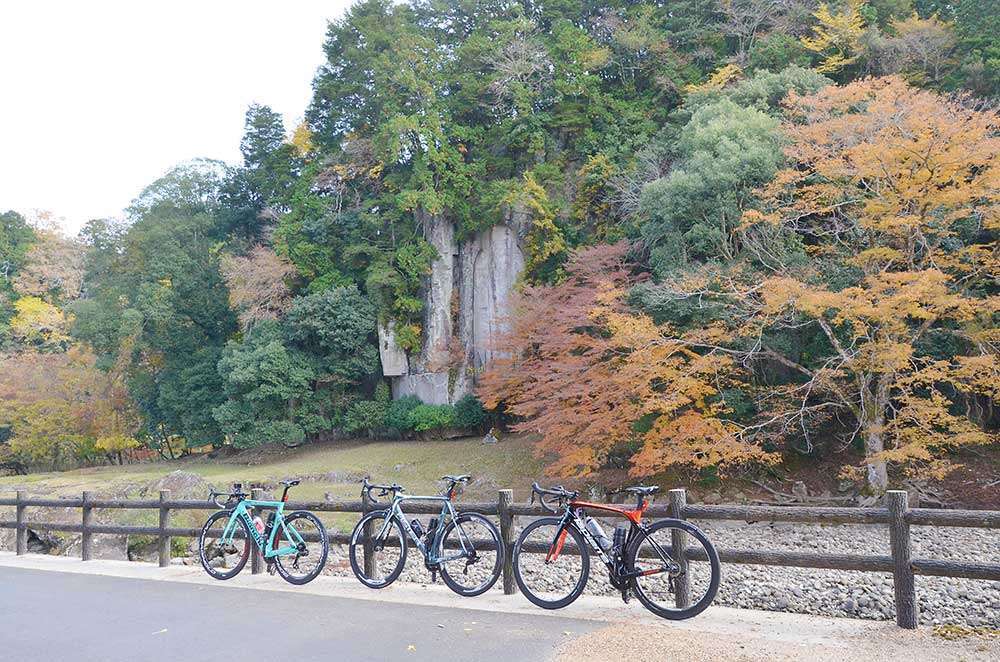 A quay with a Buddha statue carved on it came into view on our right. This statue is one of the largest of its kind in Japan at 13.8m tall, carved 800 years ago. The spiritual energy emanating on such a scale was truly astonishing.
The temple across the street, Ono-ji Temple, is famous for its weeping cherry trees and is a great place to visit in spring again. From here, we headed in the direction of Kintetsu Muroguchiono (室生口大野) Station.
To the Akame 48 Waterfalls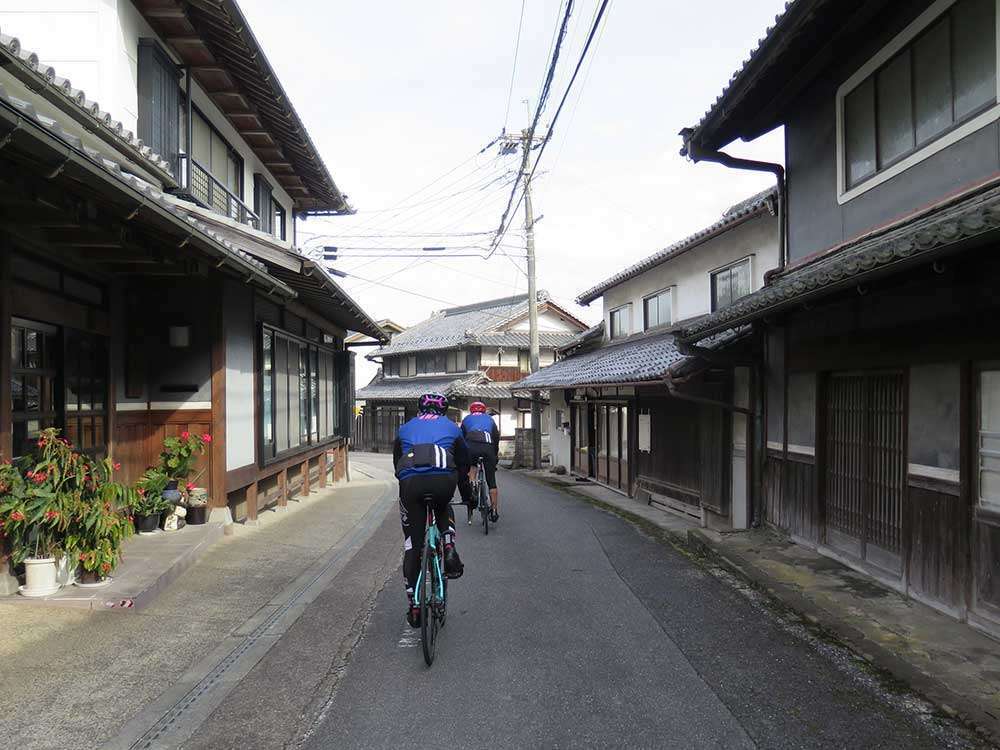 From Muroguchiono Station, we rode along the Hase Kaido road, which connected Yamato (now Nara) and Ise. This area offered a glimpse of bygone days as it once served as a post station.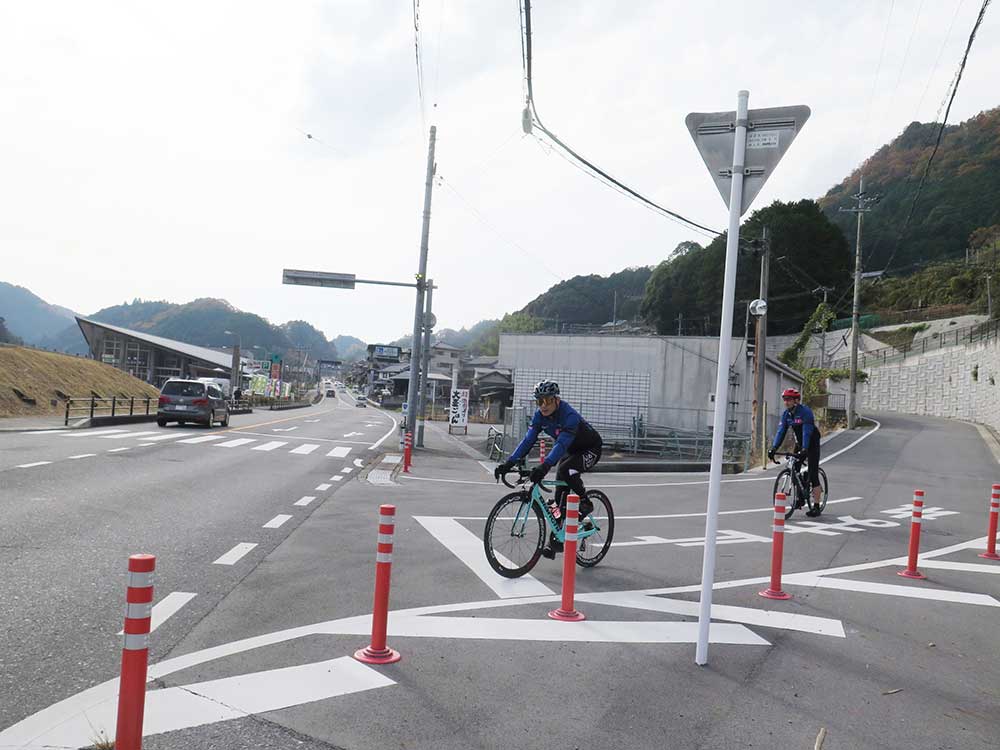 We exited onto Route 165 then turned right at the first traffic light, aiming for the Akame 48 Waterfalls.
If you are getting tired at this point, please continue on the national highway toward Nabari, because turning right would take you up another hill.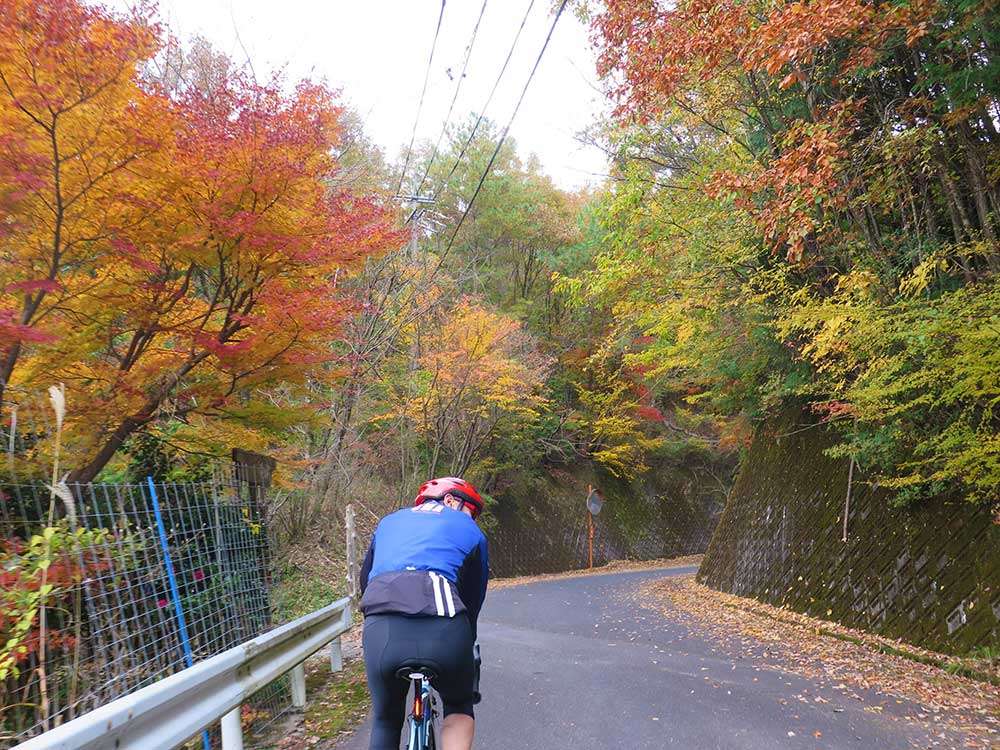 We followed an up-and-down road to Ryuguchi. Ryuguchi is the birthplace of Momochi Sandayu, the founder of the Iga school of ninja. The ascent from there to the Akame 48 Waterfalls is a well-known spot for autumn foliage among those in the know.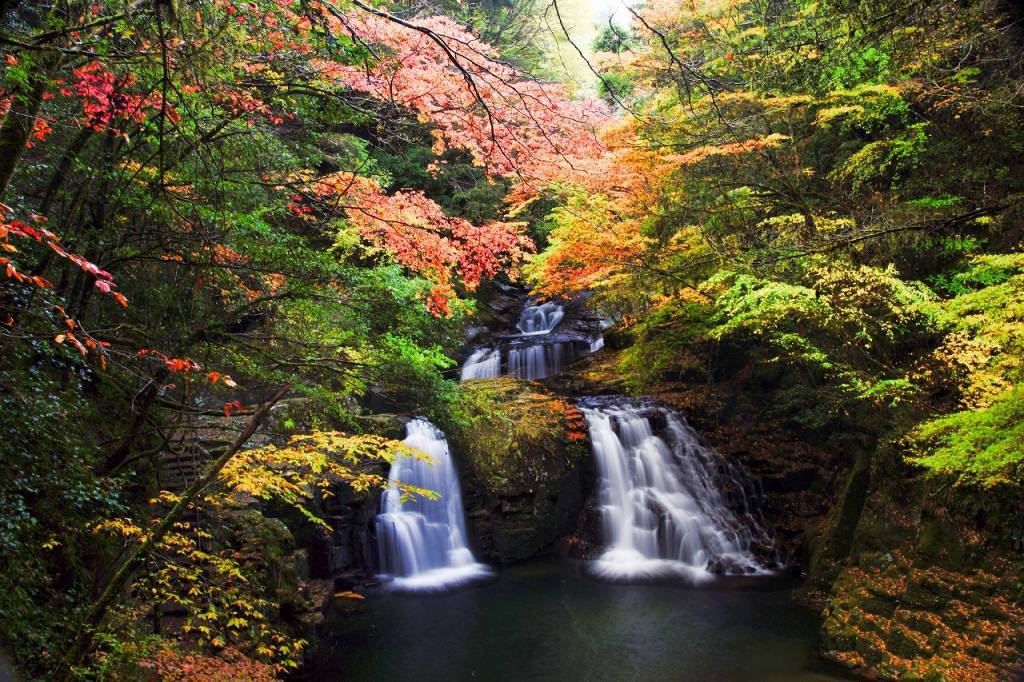 The area around the Akame 48 Waterfalls has a rugged terrain with many ups and downs, and is also a site of spiritual significance where ninja are said to have trained since ancient times. It is believed that visiting all of the waterfalls in the valley will grant you many wishes.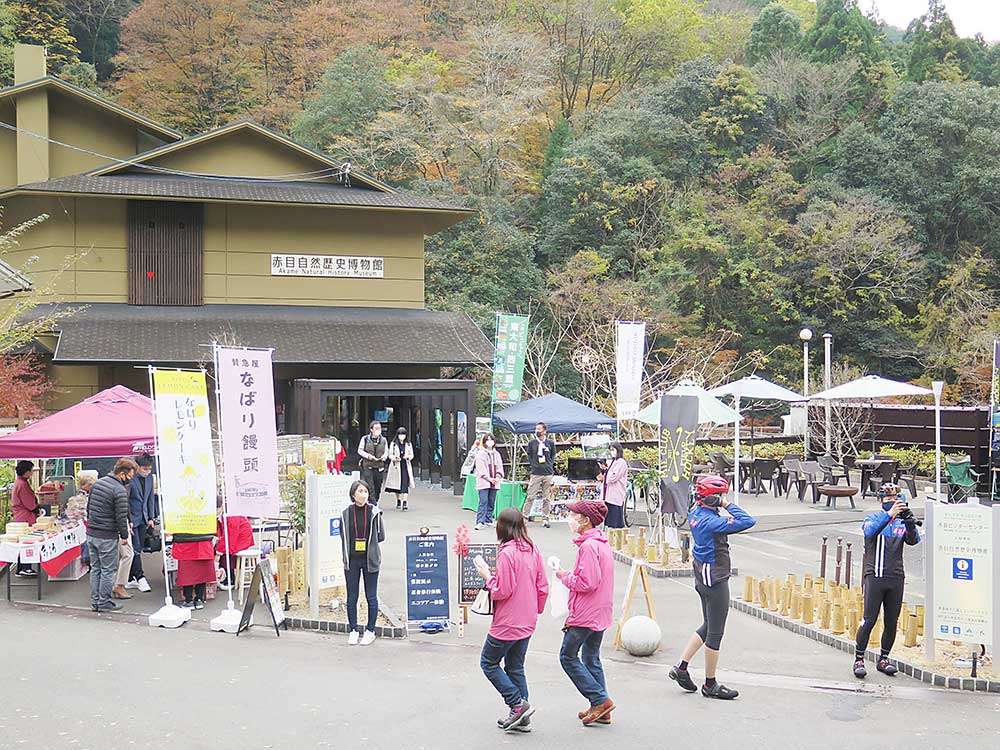 We arrived at our final destination, Akame Natural History Museum. There is a bike stand here. The museum is free to enter and has a cafe as well.
You might want to have comfortable shoes with you if you want to explore the Akame Waterfalls. It is about a 5-minute walk from here to the starting point of the waterfall trail.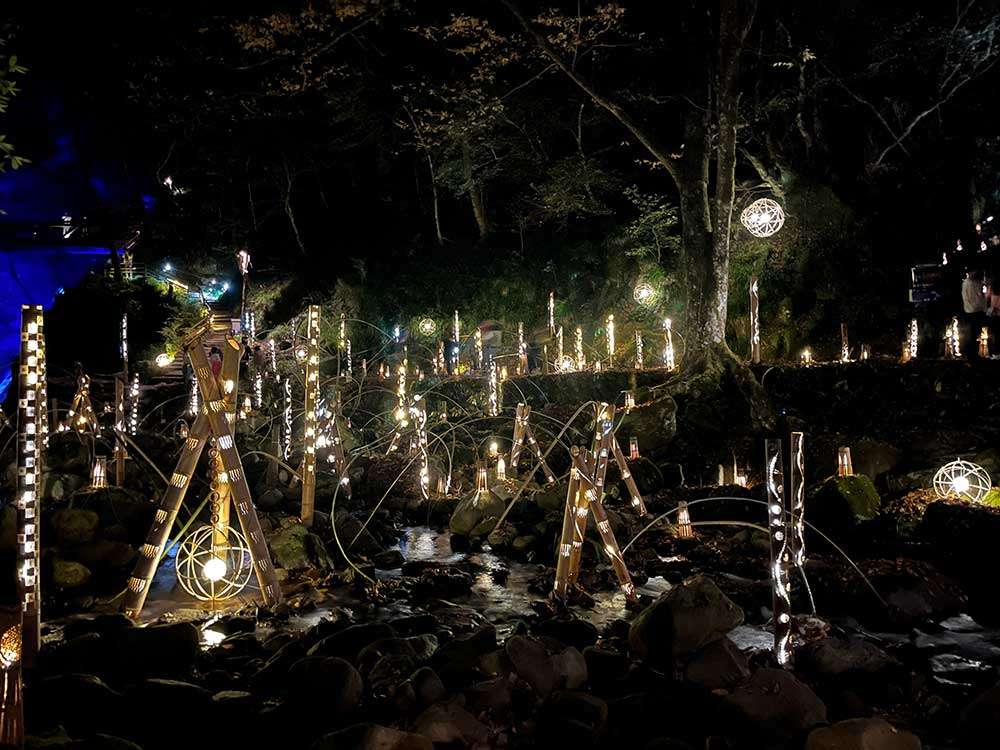 At the Akame 48 Waterfalls, bamboo lanterns are on display from autumn to winter.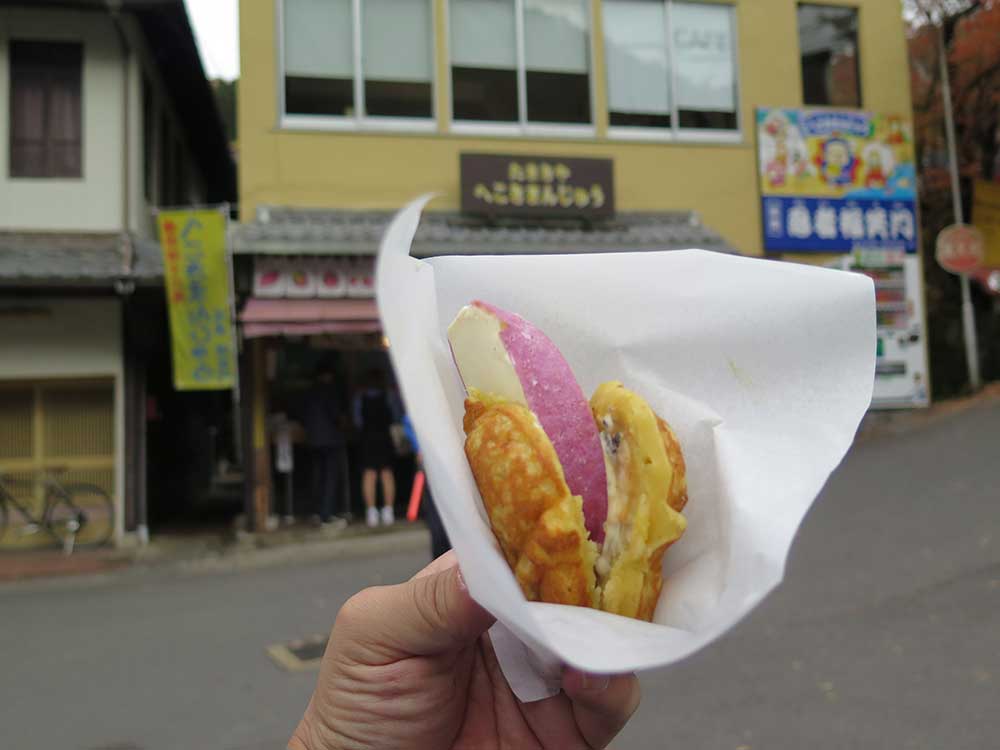 Across the street from the museum, there is a store selling the famous "fart buns (Hekoki-manju) [JP]."
Fart buns refer to sweet buns made with the natural sweetness of sweet potatoes, which is what gives them their appeal. It is a favorite sweet snack among local people from children to the elderly. The name comes from the fact that sweet potatoes make people fart when they eat them.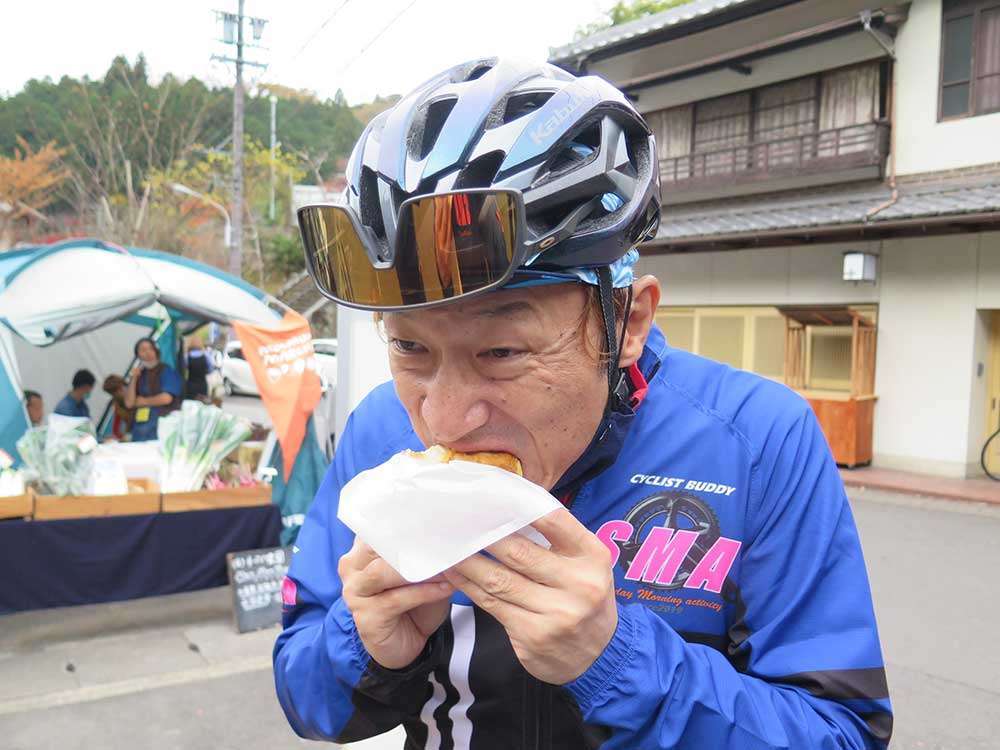 This day, I ordered "fart ice cream (Hekoki-ice)" for the first time. The ice cream was sandwiched between a warm fart bun. "You have to eat it as soon as you get it. Why are you wasting time taking photos!" Sachi insisted. The ice cream sandwiched between the warm fart bun starts melting quickly — you have been warned.
Historic Streets and the Nabari River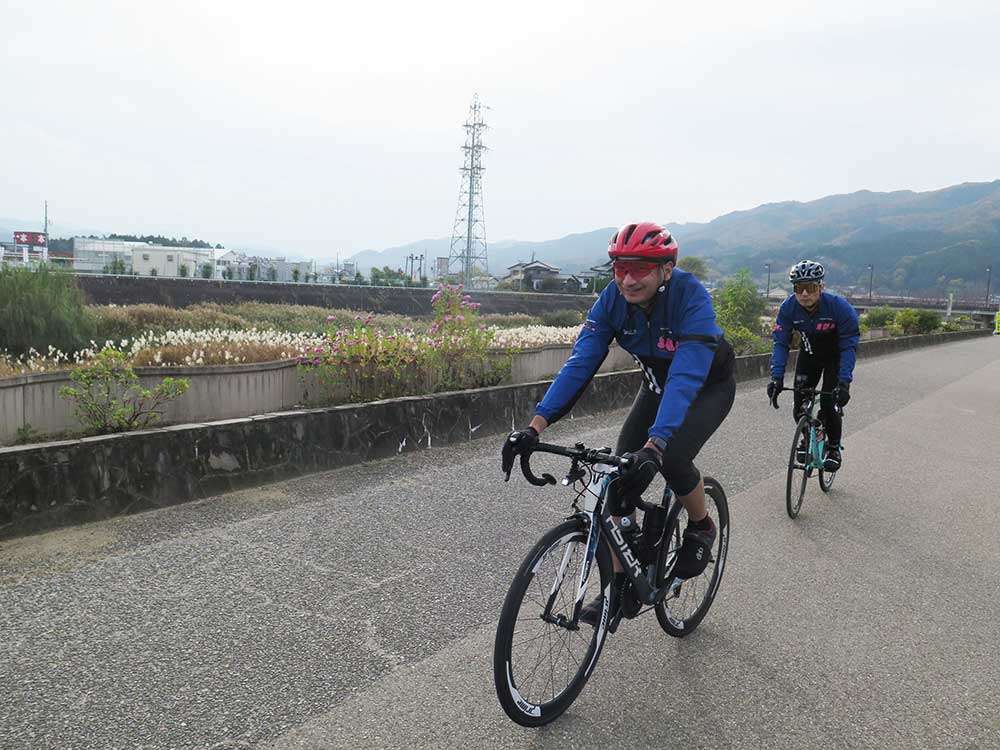 After leaving the bustling Akame Waterfalls behind, we took a refreshing ride along the river to the town of Nabari. Nabari is a river town, surrounded by many rivers and dams. It is reportedly rare to see an urban area sprawled out right next to a river like this.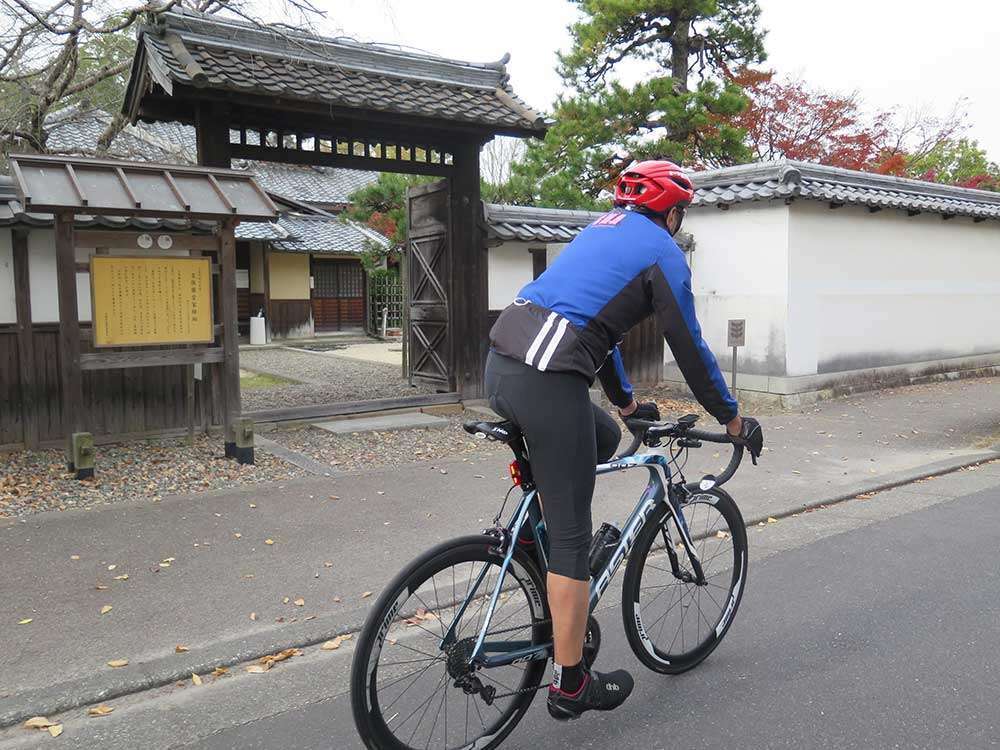 We passed through the historic streets of Nabari with its sake breweries and samurai residences to reach our goal, Nabari no Yu.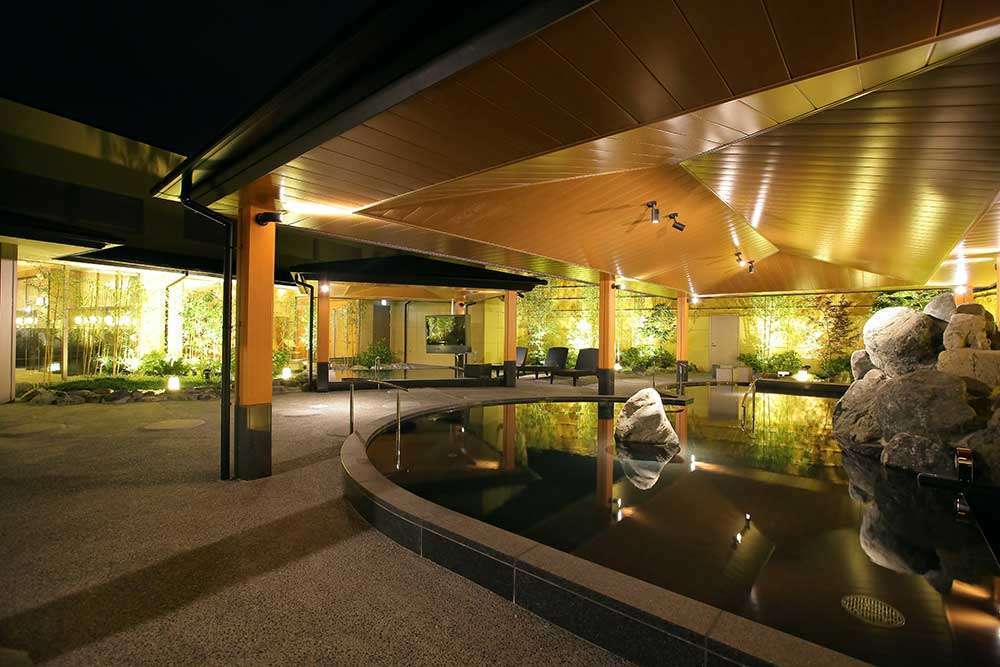 Nothing beats a soothing soak in Nabari no Yu after reaching our destination! That was a fun ride.
Other routes

Kaochidani—Murou—Akame 48 Falls