Take Me There, Country Roads
Almost heaven, west of Mie
Blue-green mountains, Nunome River
Life is old there, older than the trees
Younger than the mountains, but old as old can be.
Country roads, let me roam
To a place–where I am free
West of Mie, mountain mama
Take me there, country roads…
What is "East Nara Nabari Yamanami Ride"? Learn here.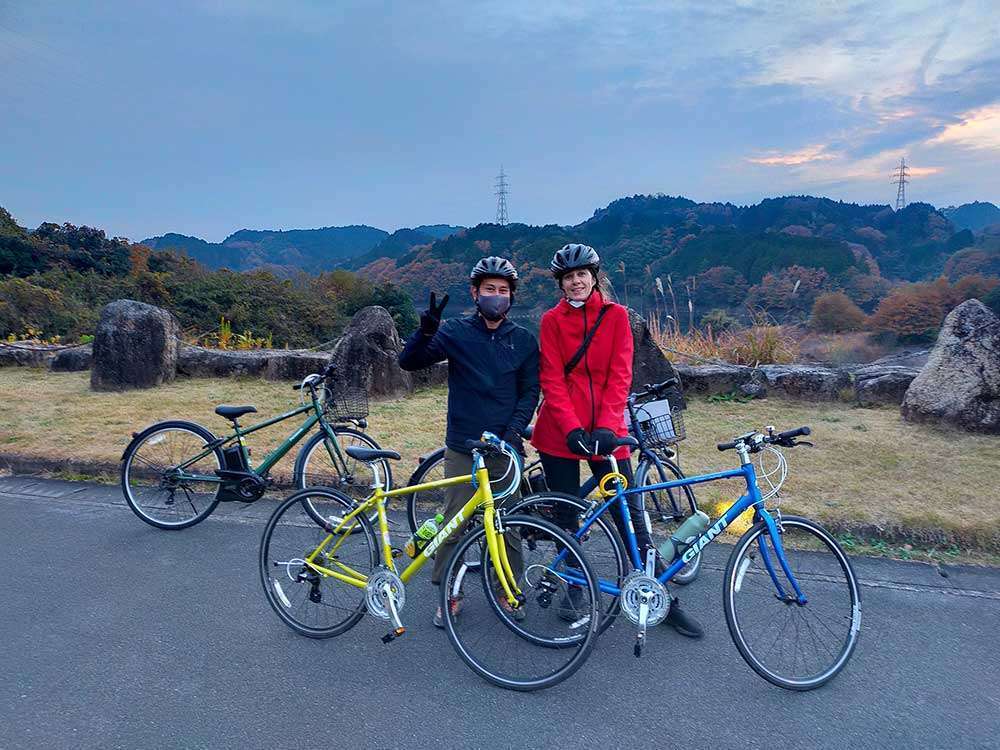 | | |
| --- | --- |
| Route | Daisan-Toco (bike rental) = Shimokawa Organic Farm = Kunizane Japanese Sword Works = Ushigamine = Lake Nunome = Daisan-Toco  Route map |
| Distance | 11.7 km (7.3 miles) |
| Elevation gain | 260 m |
| Date | November 21 |
West of Mie Prefecture, is the land-locked prefecture of Nara. In Nara City, deer wander the streets freely. The lesser-known blue-green mountains of the prefecture offer equally interesting experiences. I joined a cycling and cultural experience tour along eleven kilometers of country roads around Nunome Dam Lake one sunny Sunday afternoon in late November. I can't think of a better experience to connect with nature and local people. Pottering along on a trusty (not at all rusty) rental bicycle is an eco-friendly, enjoyable way to access three extraordinary experiences:
harvesting lotus root, then partaking in a hot lotus-based feast at tables in a field
meeting a master swordsmith at his backyard workshop
taking little-known forested trail to massive boulders, one engraved with Buddha's image about a 1,000 years ago, with a cavern you can enter under the boulder.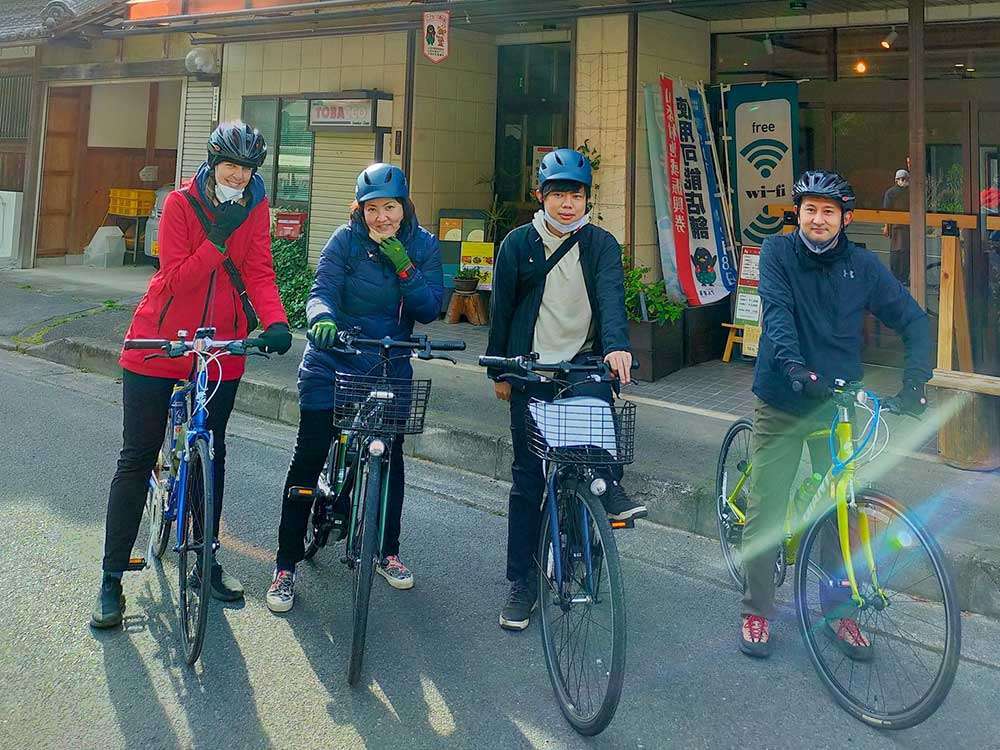 This cycling route starts and finishes at Daisan-Toco [JP] , a woody, airy, co-working space, with showers, rental-bicycles, and public laundry machines. From there, we coasted along the riverside past farmhouses for about two kilometers to Shimokawa Organic Farm [JP] where the Shimokawas host a lotus root harvesting and eating experience between October and April, and other farm experiences throughout the year.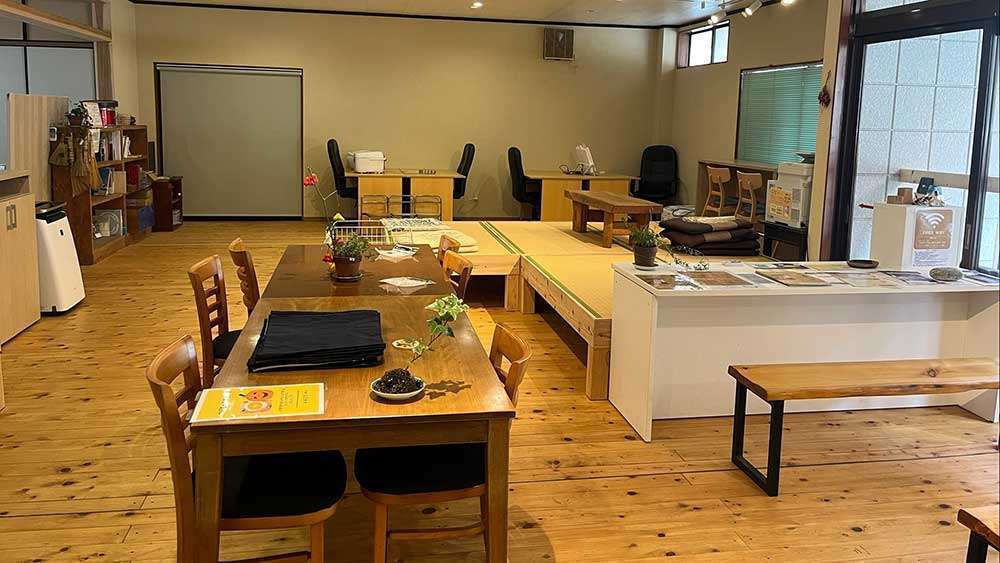 Harvesting Lotus Roots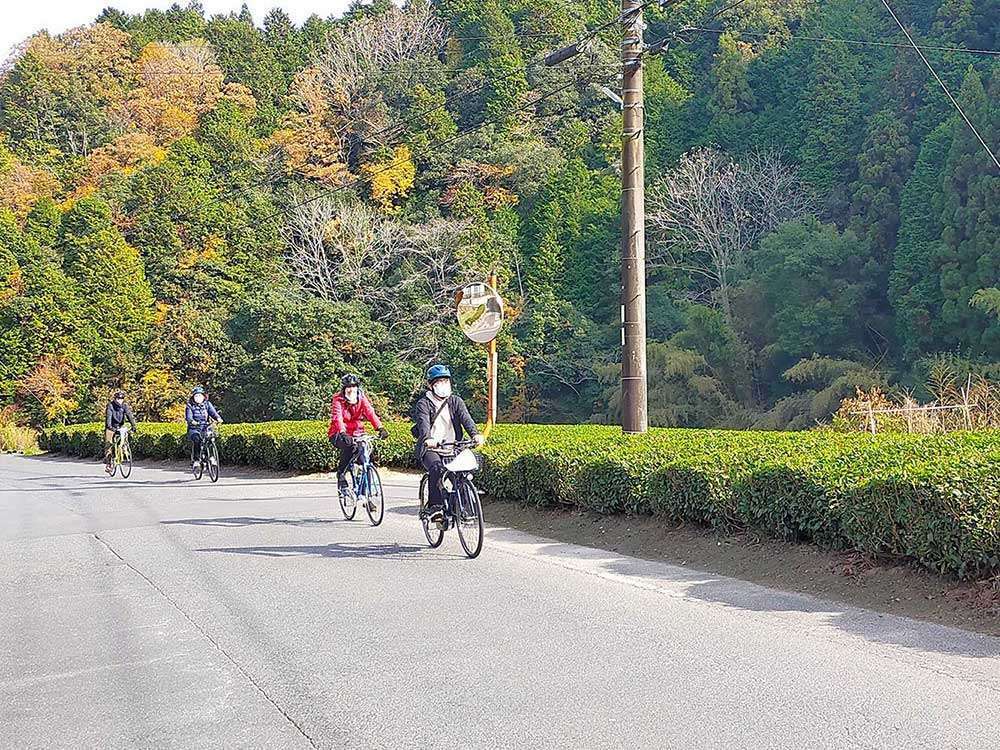 You may know the lotus as the symbol of Buddhism. Actually, Buddhism traces its origins in Japan to this region. These lotus roots are a special variety that grow horizontally in soil, not water as is usual. Lotus root is a starchy, bland, off-white long root with long tubular air pockets within; when sliced, these oval holes the size and shape of human nostrils make a pretty pattern, like the spaces between the spokes of a wagon wheel. Our host, Ms. Maki Shimokawa was sporting painted lotus root slices preserved as earrings!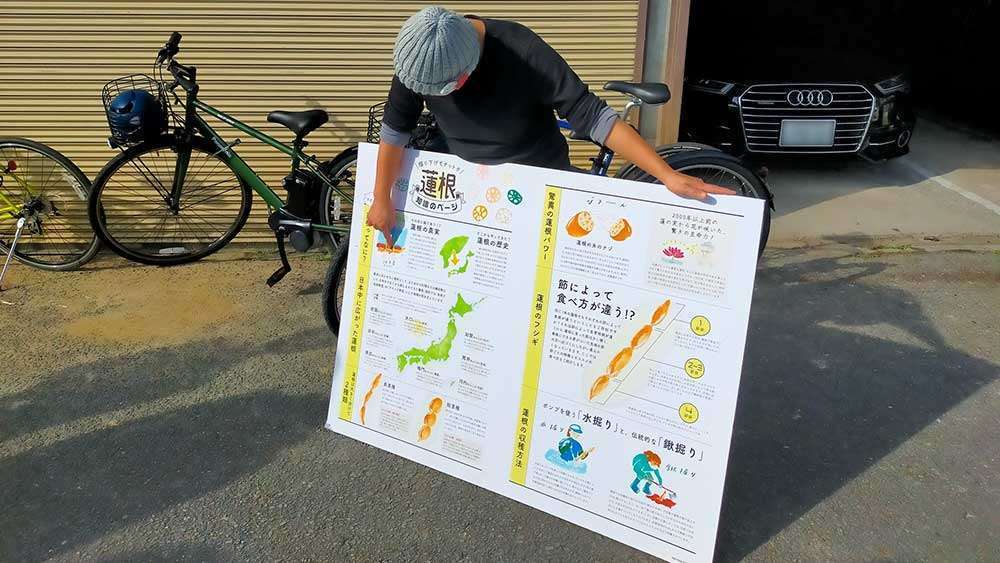 Dress for both cycling but squatting, kneeling or sitting on the ground, getting your hands in the dirt, possibly getting sprinkled with dirt. The guy beside me at lunch had a bit of dirt in his hair. Might I suggest a cap? We were each given a pristine, white pair of work gloves to wear, and a digging tool. I donned plastic bag shoe-covers from the 100 yen shop, more useful after a rainy day. Other participants were busy digging in their street shoes.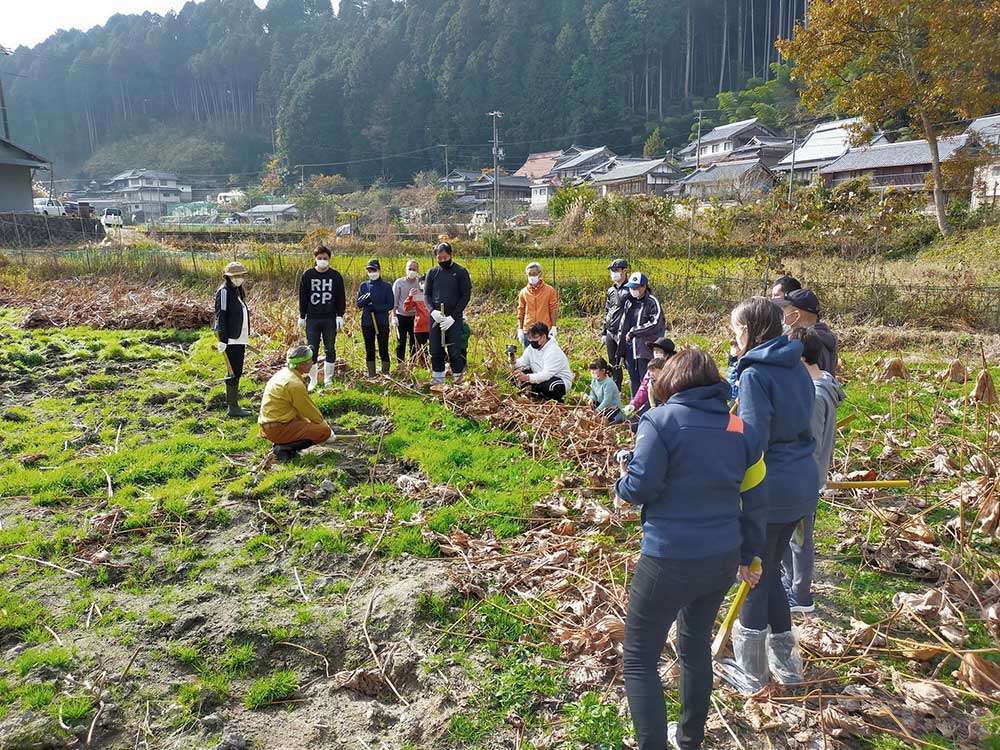 The field we gathered in was by a gurgling stream, below some roadside, hillside farm houses. After introductions and explanations (Japanese), Mr. Shimokawa demonstrated how to unearth the roots. We lined up and started digging.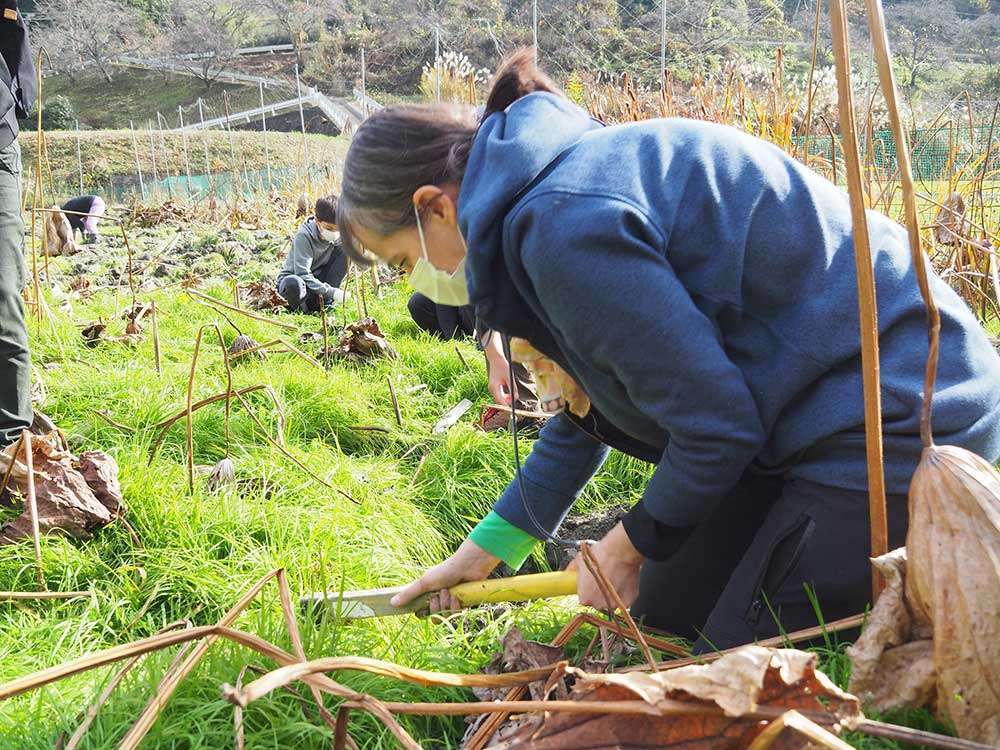 My family joined about eight other participants. Our roots seemed all connected. Harvesting this type of lotus feels like mining; to excavate it, you need to unearth a bit at a time. Lotus root can be as wide as your wrist, or as narrow as your thumb, and with this variety, several meters long. It takes patience, finesse and persistence to harvest it without breaking it. If you break it, as I did, no matter, as it will be cut up for lunch, but what pride (and what a good photo) you can take if you can get a nice long piece!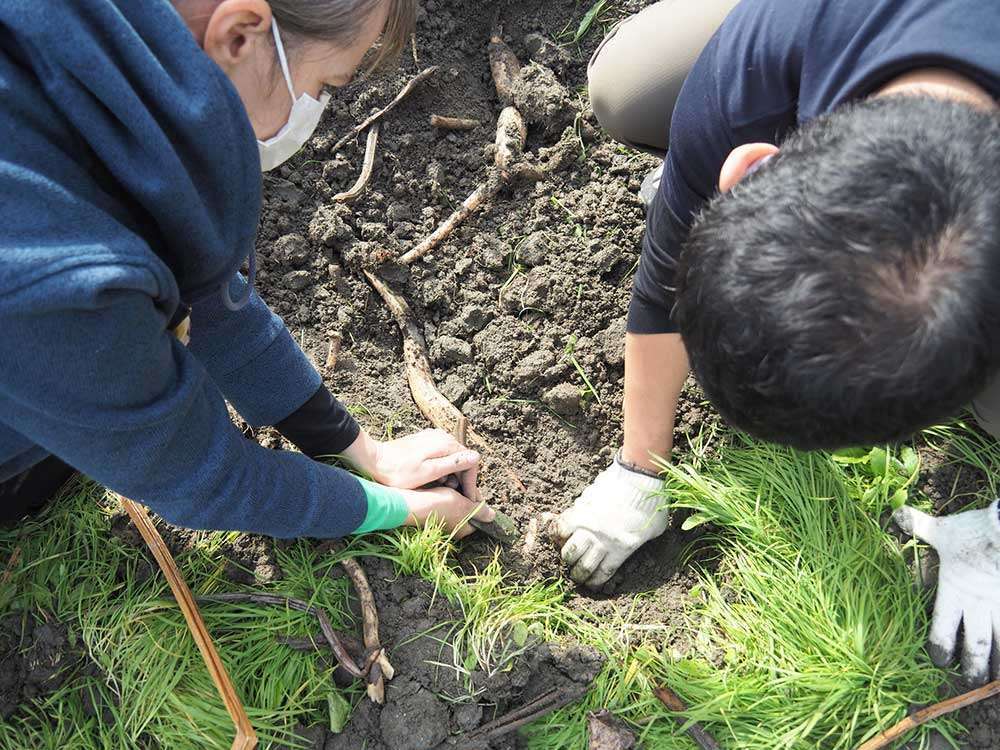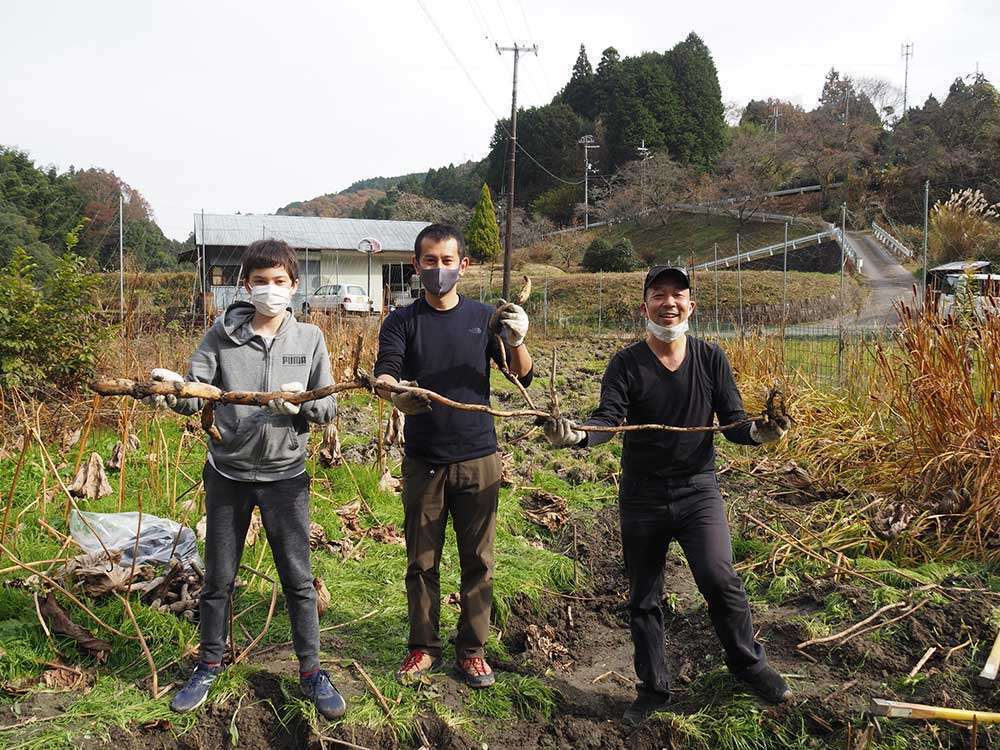 I felt warm, digging in the low November sun, while meeting others. Some of the guys in the group dug with focused intensity. Around noon, boxes of lotus root were carried off to be washed, thinly sliced and cooked.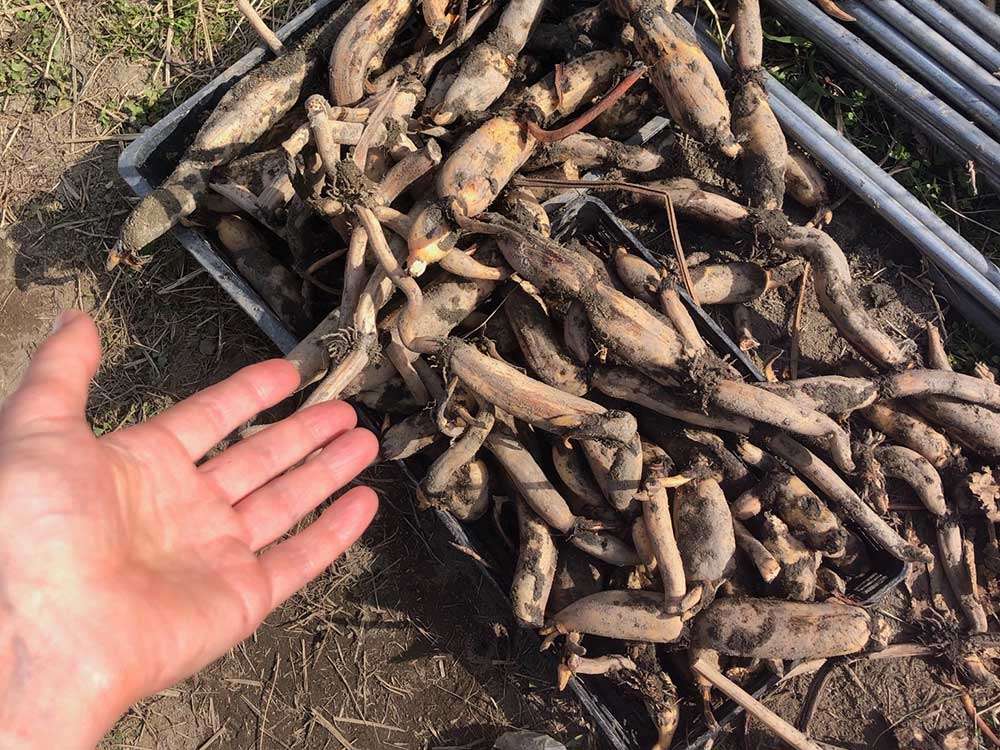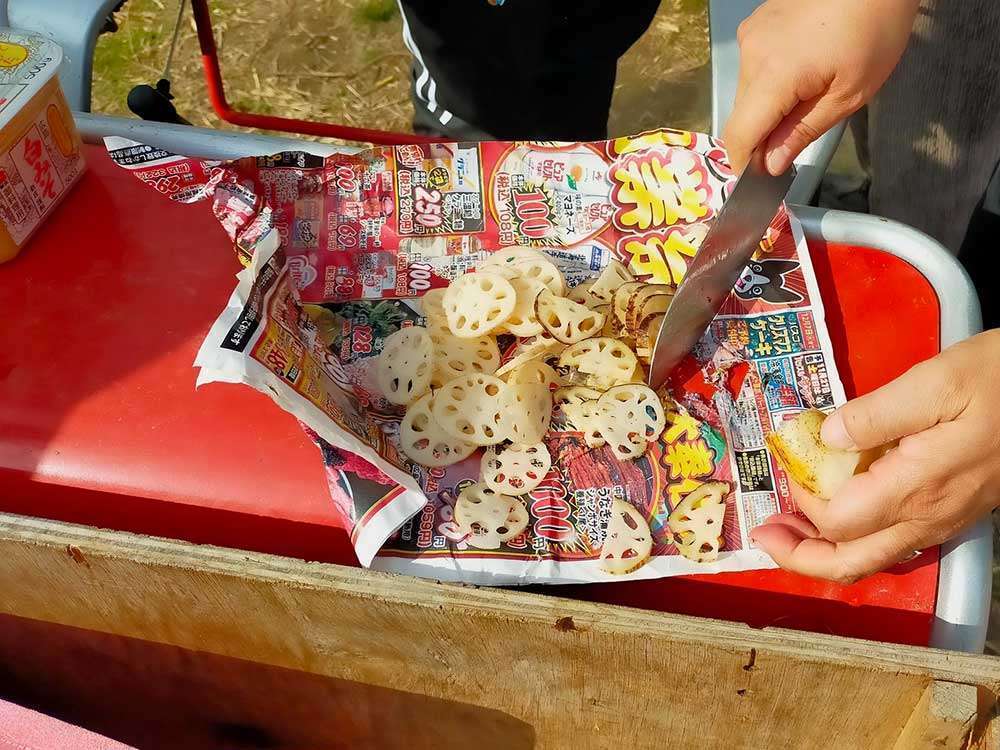 A big soup pot over an open fire burbled. Sections of bamboo had been split lengthways and filled with rice and water to bake in the fire embers.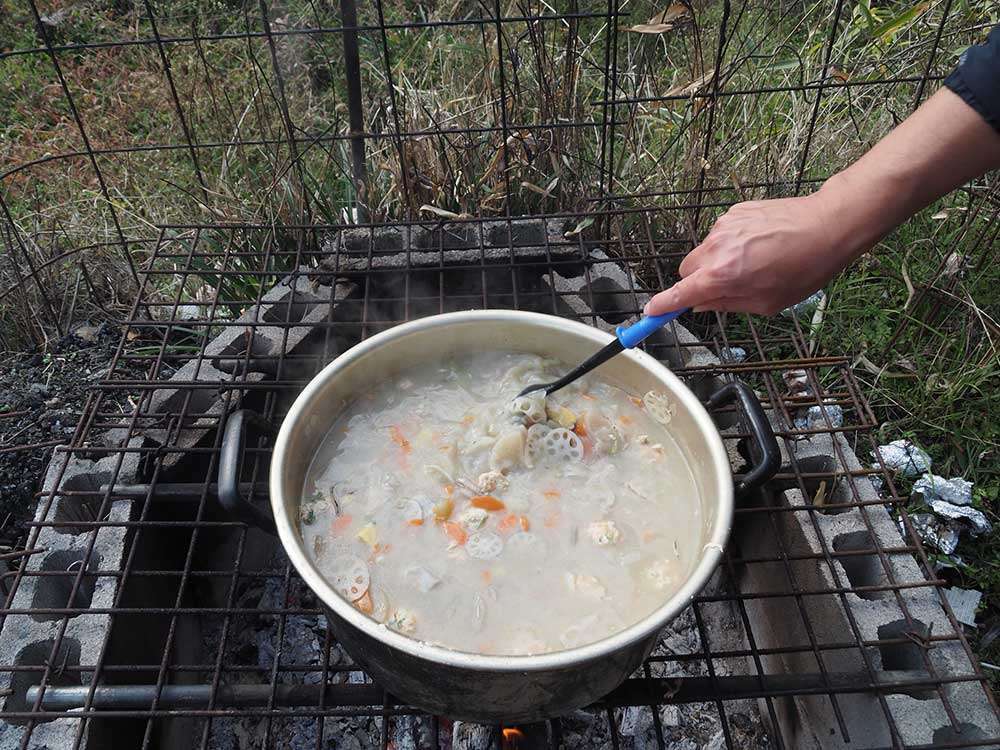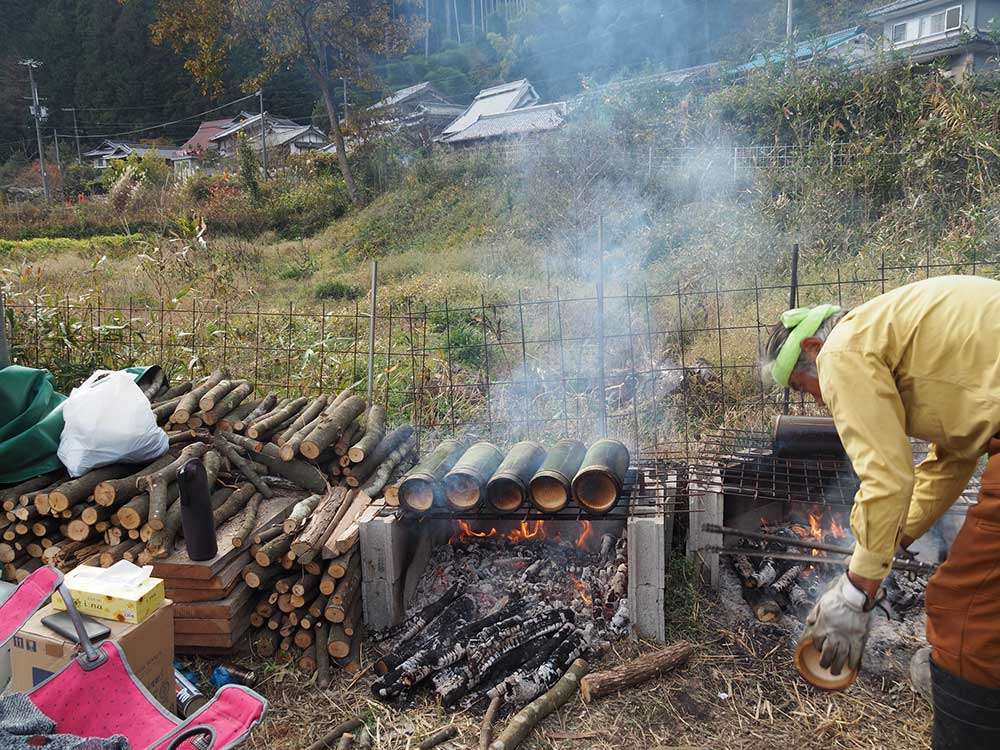 One at a time, we made our way down to the riverside to balance on rocks and wash our digging tools and hands. Platters of food started appearing on the tables set up on picnic sheets.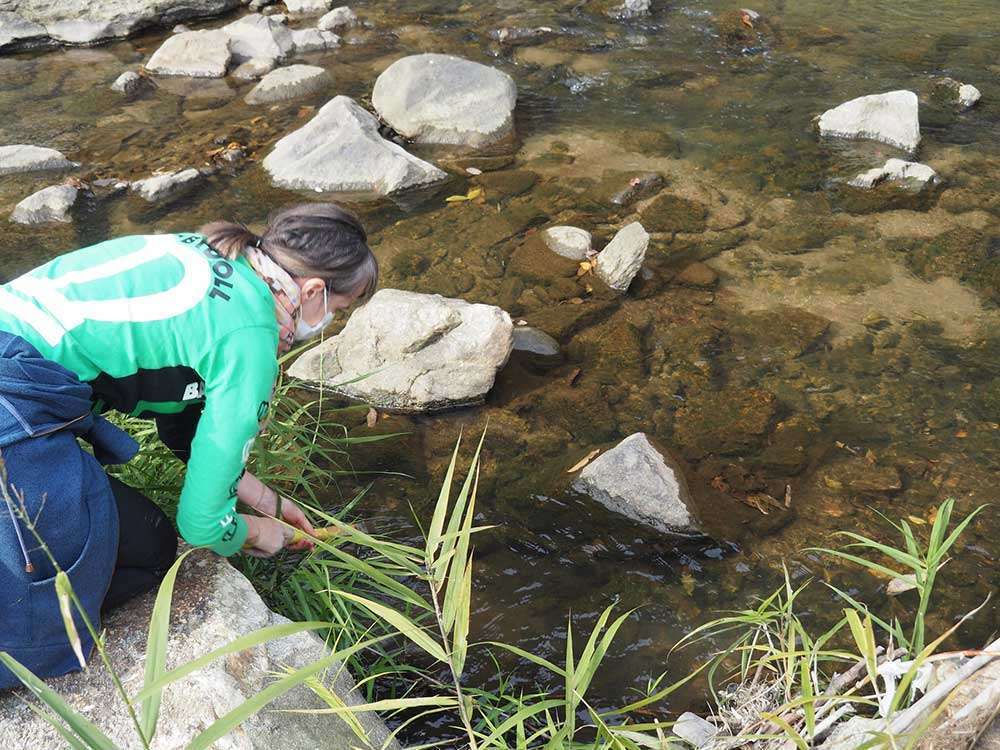 Boy, was it ever great – just the right combination of circumstances: sunshine, fresh air, fresh ingredients, cooking and eating in a field in a beautiful location, partaking in the labor, the suspense before the meal was served, Ms. Shimokawa's culinary finesse. By the time the plates had been cleared and we had used the washroom, it was 2 PM.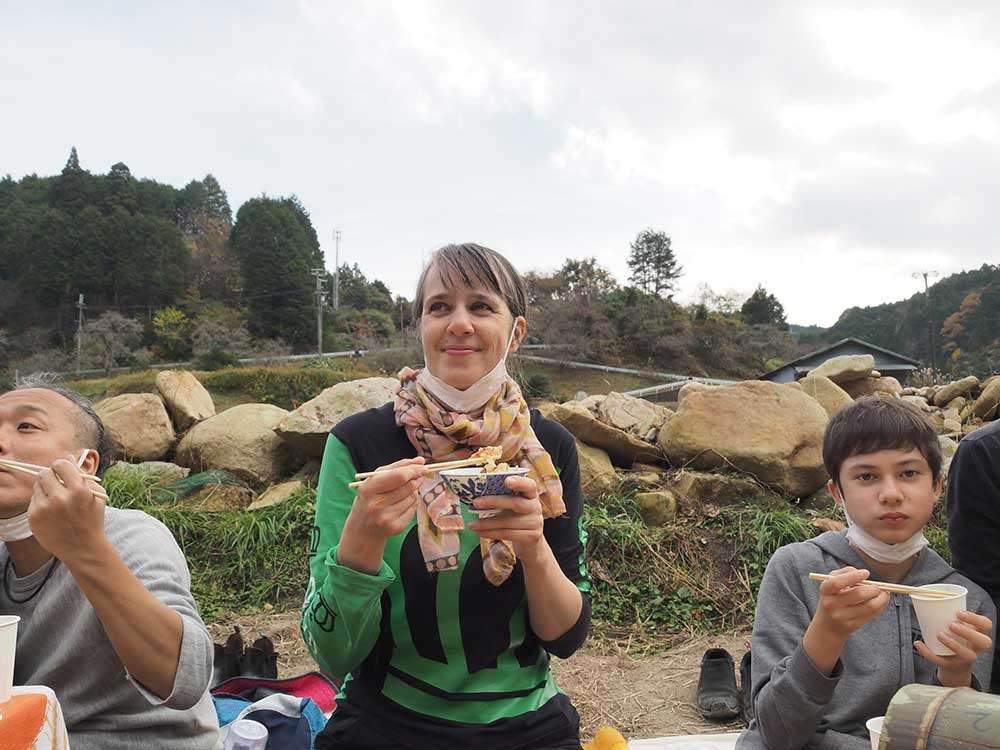 Visiting a Young Swordsmith
Bellies full, we hopped on our bicycles and headed for Kunizane Japanese Sword Works , which is a couple of kilometers from the Shimokawa Farm. This is part of a private residence. This stop would only work for very small groups. It felt very special. Six of us, including my husband and son, huddled around the workbench to see how a sword is made, from passing around a box of the raw iron, to seeing the iron, glowing orange, be whacked into shape.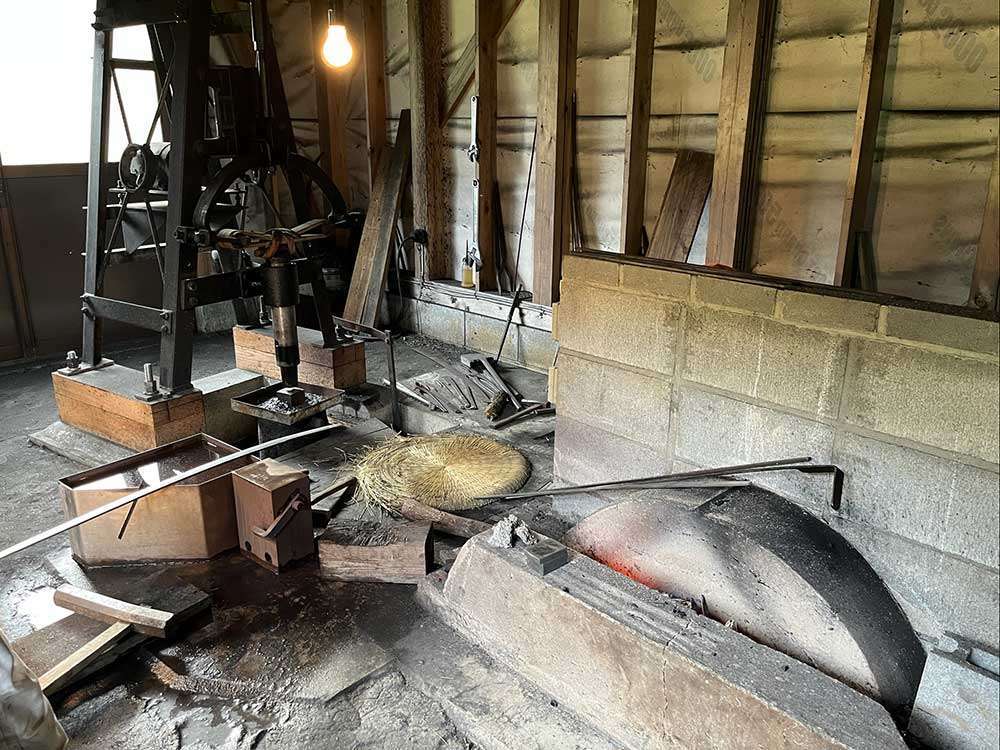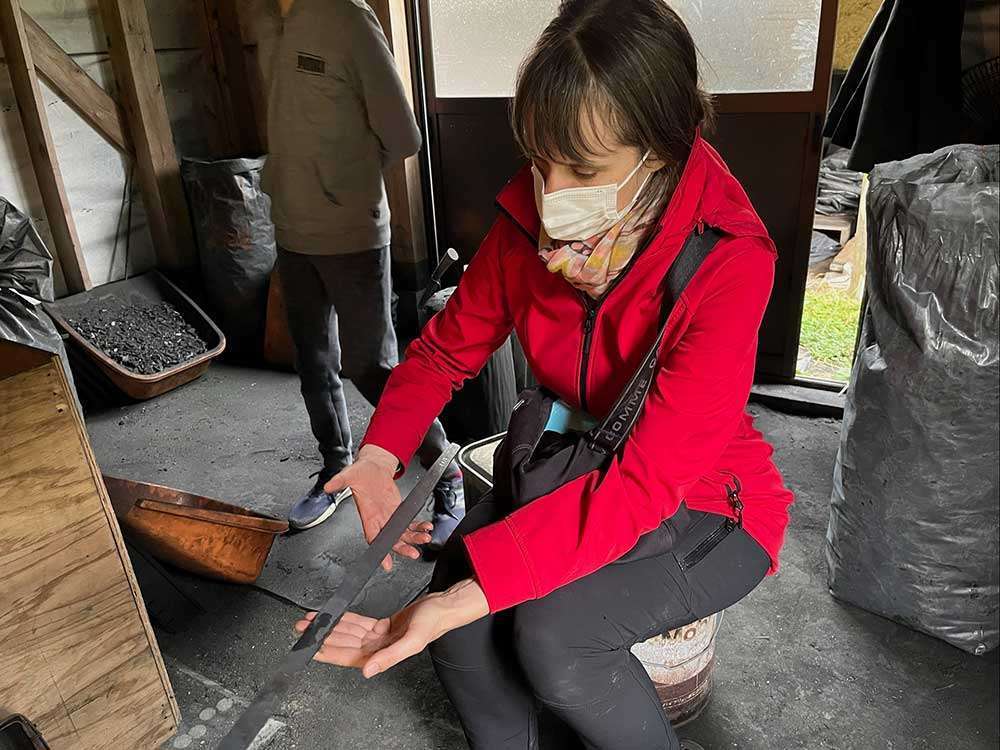 The process can take a year, and a custom made sword can cost as much as a new car. Mr. Kunizane, the swordsmith explained to us the meticulous, time-consuming process. It can take several failed attempts. Each failure is melted down again, even though it could have taken countless hours to get that far in the process. I can't believe it can take a year of constant refining to produce just one good sword. Swords outlive their makers, and are perhaps some of the longest-enduring, most beautiful handmade items in the world. Swords are like fingerprints, and experts can determine the maker by careful examination of the patterns in the metal. Mr. Kunizane takes orders from abroad (details on his website ).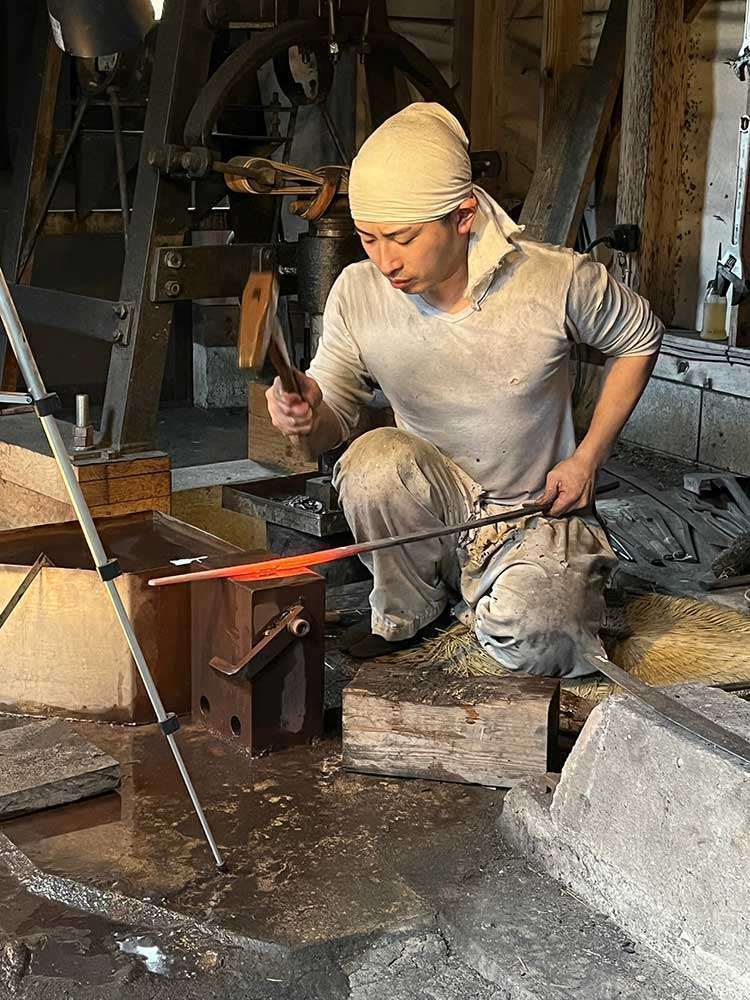 A Hunt for Megaliths
By 3:20, it was time to move on. We still had a short hike, and to cross the dam before sundown. Again, the cycling time was not long. We parked our bicycles at what seemed like a random place alongside the road, then we made our way up, up, up steps through the now darkening woods on the slopes of Mount Ushigamine, until we turned a corner and there it was–my first experience of a monolithic megalith.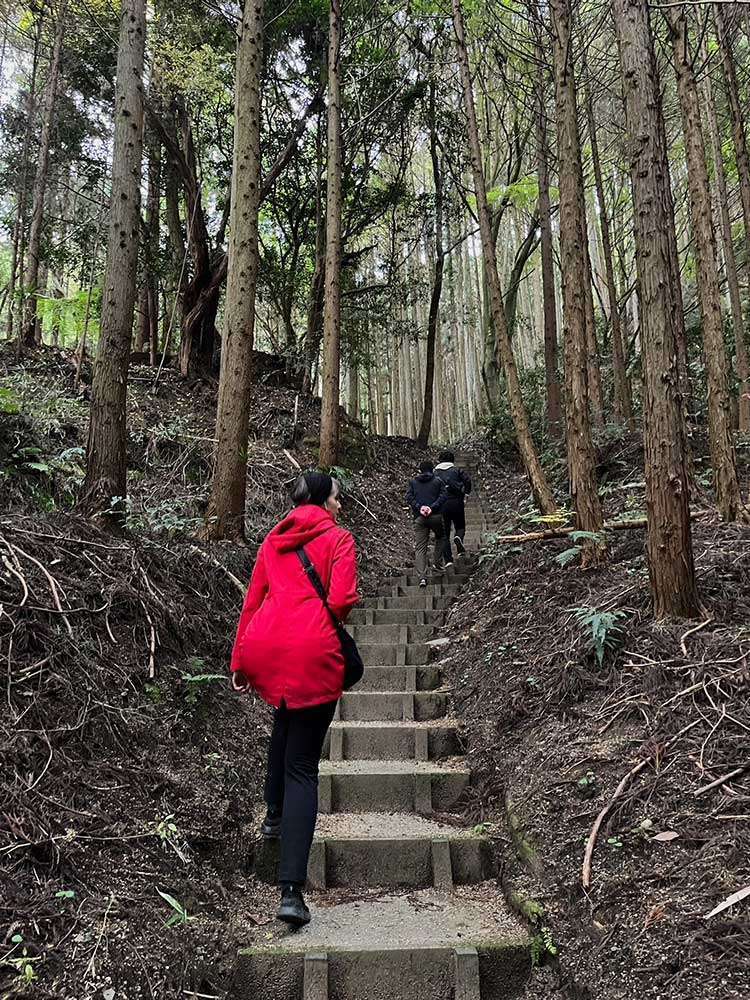 The first boulder, Iwaya, is about 16 meters in diameter and the perfect canvas for the image of a sitting Buddha. Ducking into the cave under Iwaya gave me an Indiana Jones moment. Do you dare? What is your fear? I am somewhat claustrophobic and worry about earthquakes, but this cave has been here for centuries; the chances of getting squashed under the boulder in a quake are next to none. Besides, we all need to go sometime, so why not pass into the next world quickly, under a monolithic megalith?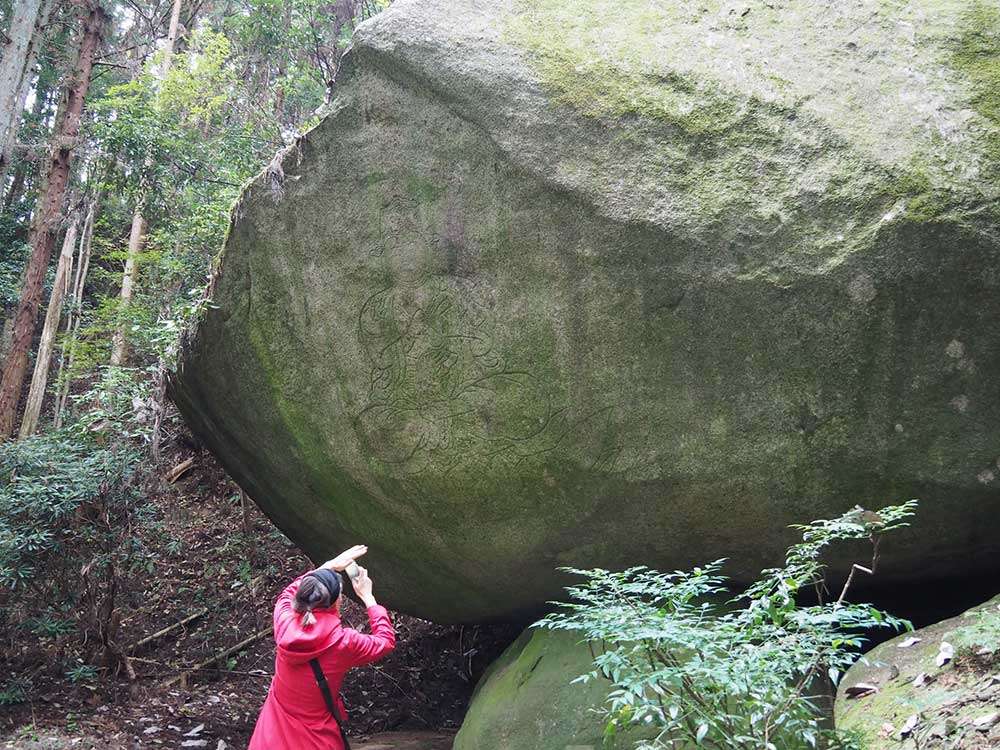 I ducked down into the dark, and, armed with an iPhone flashlight, illuminated Buddhist statues. I got the feeling that some kind of ceremony or ritual might be held there. A minute later, I emerged out a second giant "nostril" unscathed. A site I found online mentions that the statues in the cave are arranged so sunlight falls on them at the equinox.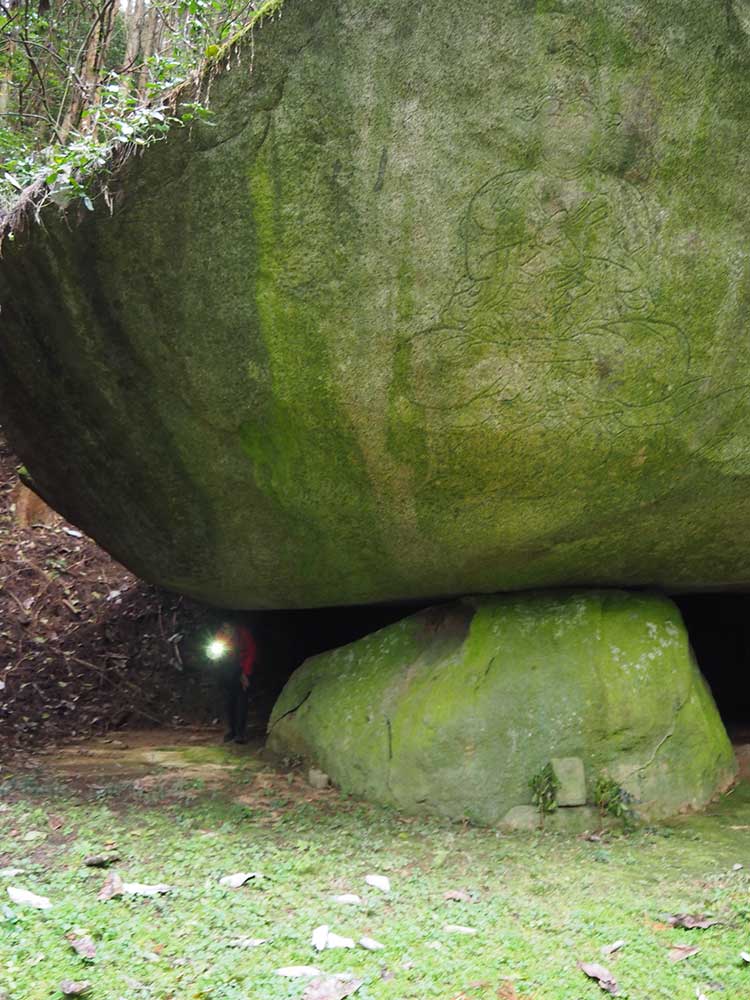 Nearby is Masugata Boulder in which carving tools are said to have been stored safe and secure, inside a rock locker high up on the boulder complete with square stone door.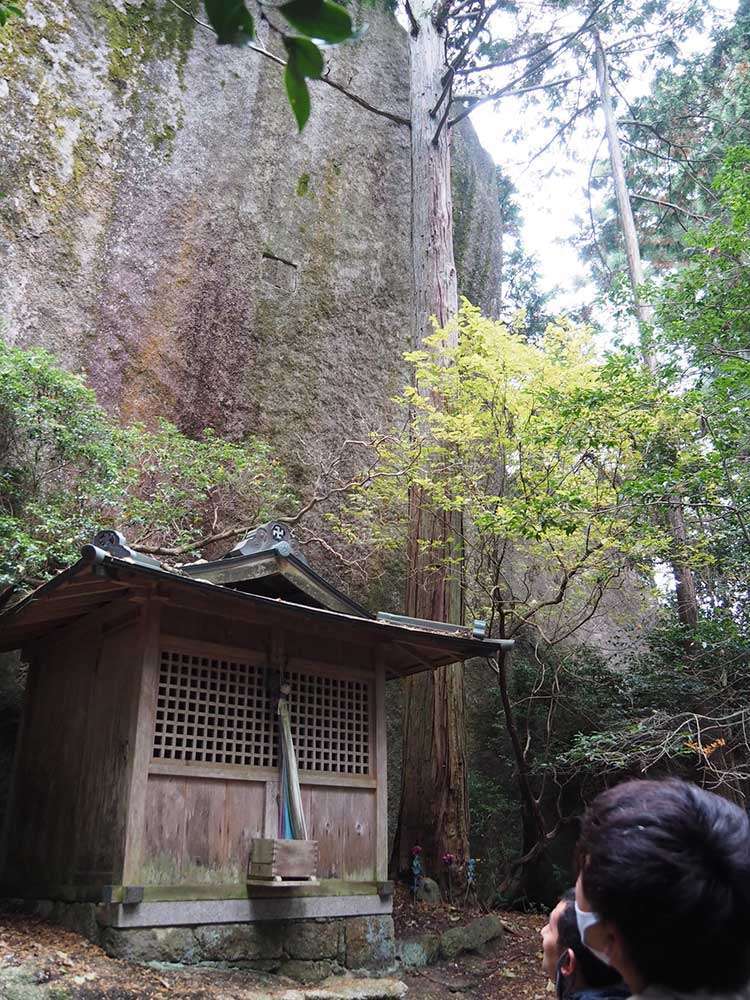 This is a holy and sacred place, a place to ignite curiosity and imagination but also to be solemn and respectful of a thousand years of history. Like the swordworks, this is an exclusive viewing, an honor and privilege.
Lake Nunome
The woods darkened as we descended to our bicycles for the last part of our ride, the dam, and the country roads leading back to Daisan-Toco. As we crossed the dam, we got a bird's eye view of landscaped lawns and shrubs, forested mountains and reflections in the water. By the time we handed back our bicycles at Daisan-Toco, it was about 5 PM or so. The sun had just set.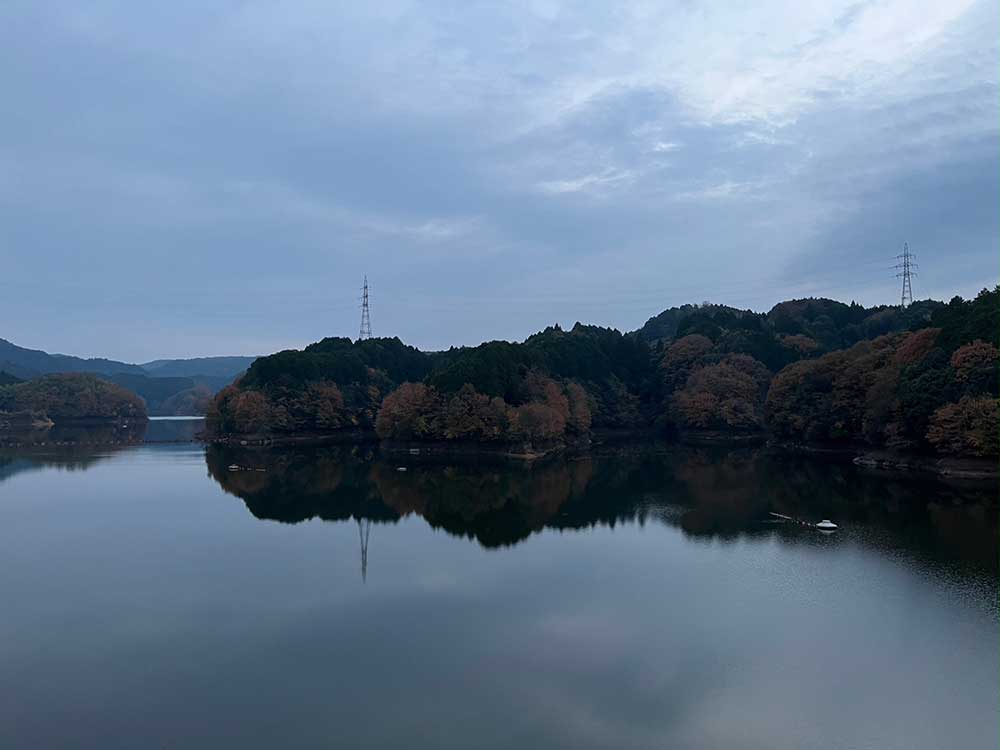 That night my family and I stayed in a cabin in Soni Highland and boy, did I ever sleep well after all that fresh air, activity and stimulation of my senses, after a "living-life to the fullest" kind of day.
Other short distance routes
Contact us for further information including guided tours