Kansai's Favorite Getaway, Soni
Soni Village is a destination for weekenders from Nara City and Osaka. It's time the Japanese let the rest of the world know about their favorite getaways like this one!
What is "East Nara Nabari Yamanami Ride"? Learn here.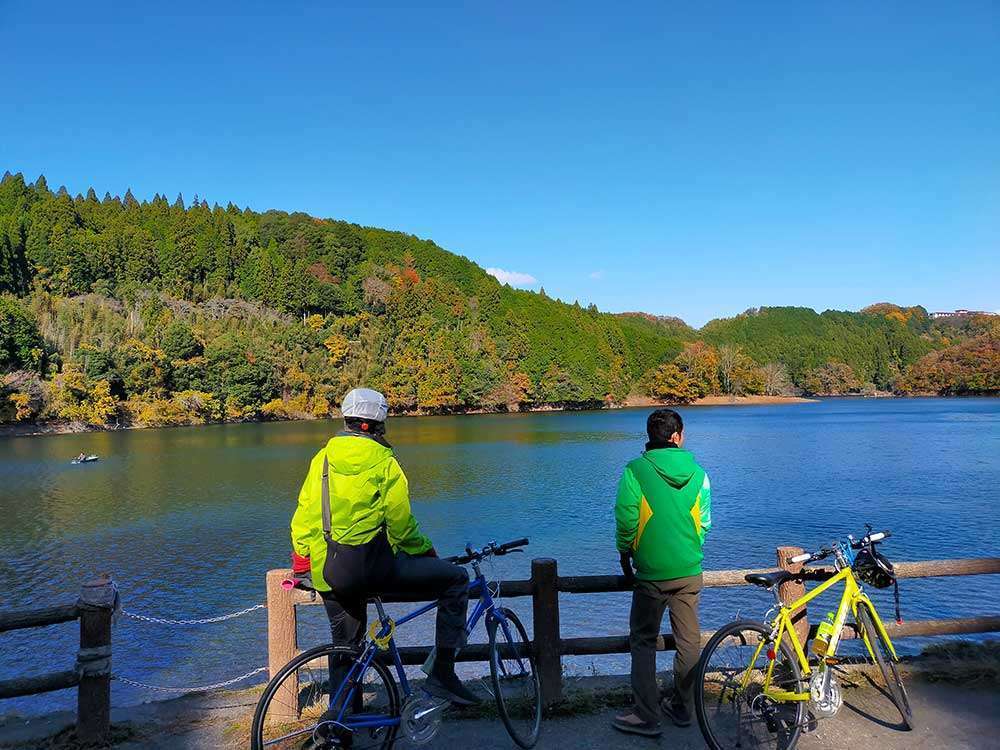 | | |
| --- | --- |
| Route | Nabari Station = Soninowa Kitchen 'Katte' (bike rental) = 2.7 Inn = Angelica Herb Garden = Urushi Base Soni 'Nenrin' = Kaochidani Valley = Lake Shorenji = Nabari Station  Route map |
| Distance | 23.4 km (14.5 miles) |
| Elevation gain | 158 m |
| Date | November 23 |
Since the COVID epidemic started, I have started solo-photo safaris by bicycle in the countryside. I found out Soni Village has a cycling route, one of half a dozen cycling routes recently developed by East Nara Nabari Tourism. I tried out all the rides. You don't need to be especially athletic to enjoy them. I am casual weekend rider, slow and steady.
In August, I reserved a cabin at Sun Village Soni for the long weekend in mid-November, when I expected the autumn colors to be at their peak. Besides camping and self-catering cabins, which require a car to access, there is a range of places where you could stay for this trip. I stayed at Smile Hotel [JP] on the third night, an economy hotel steps away from Nabari Station. If you want to relax in a hot spring after your ride and have catered meals, book a room at an inn in the area.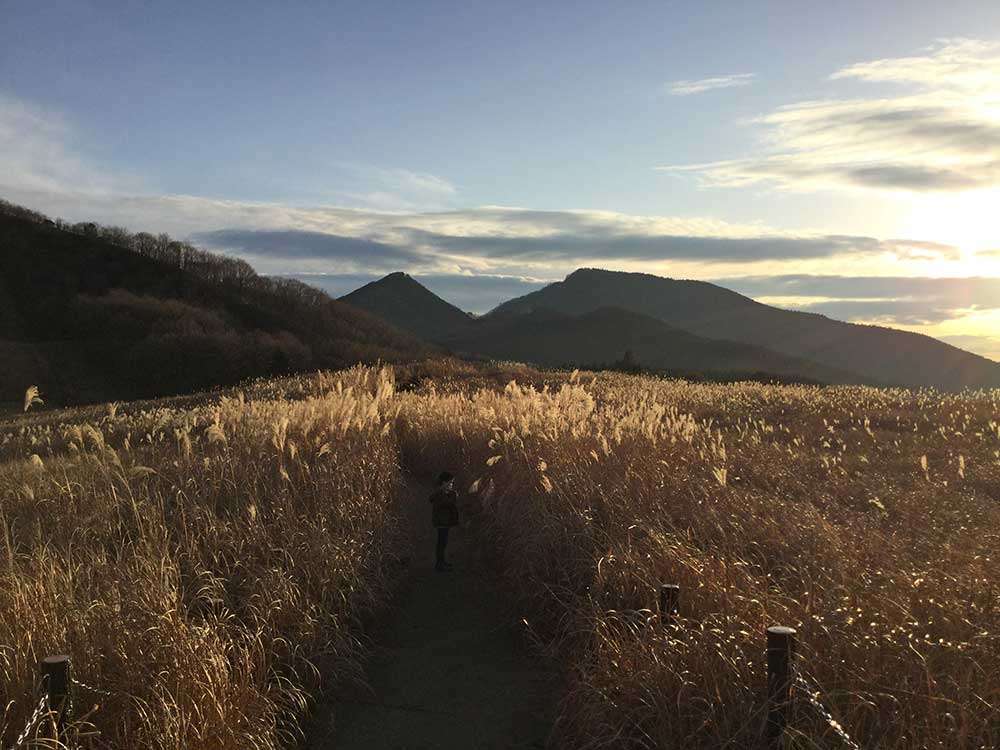 The closest major train station to Soni Village is Nabari Station. Get there by Kintetsu Limited Express train from Kyoto, Osaka-Namba, Kintetsu-Nara, Iseshi or Ujiyamada (Ise), or Nagoya Stations. Soni inns can pick up and drop off guests at Nabari Station. Other ways to cover the 20 kilometers between Nabari Station and Soni are:
rent a car from the east side of Nabari Station [download the roadmap (PDF: 3.1MB)]
take a taxi
ride a rent-a-cycle (uphill)
take a 50-minute bus ride from Nabari Station to Soni (infrequent).
At Nabari Station, use the West Exit to find the bus-exchange and Nabari Tourist Information (9 AM to 4 PM daily). Both are around the corner from Lawson convenience store. If you take the bus, or ride to Soni, the infocenter can take care of your bags (but be back by 4 PM!) or you can stash your bags in a coin locker at Nabari Station.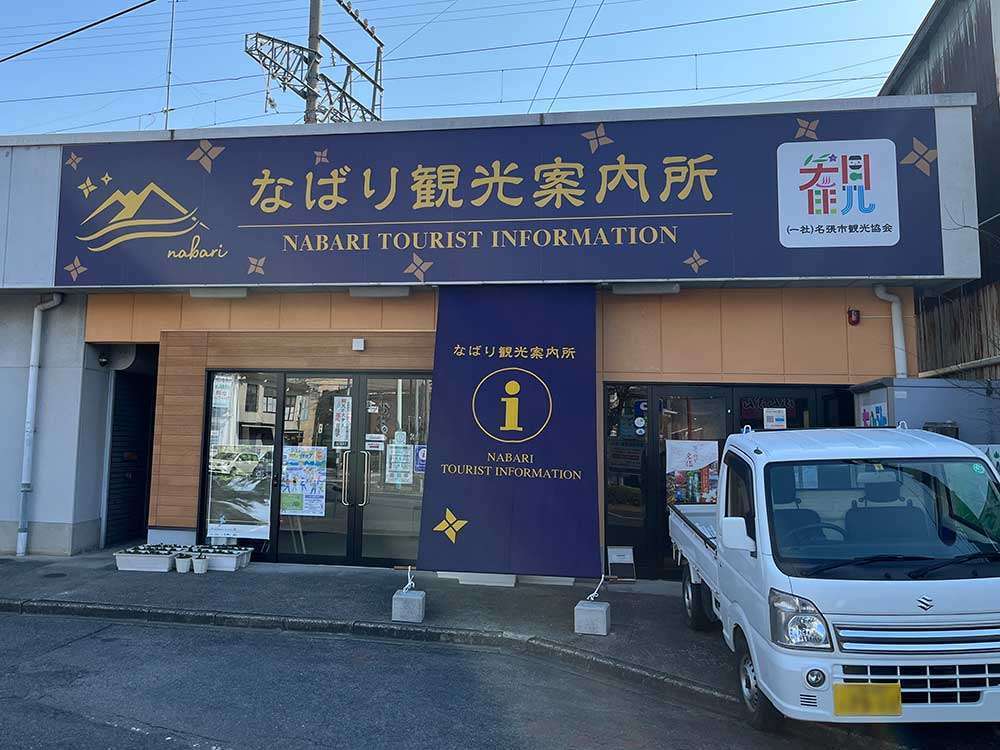 Community-oriented Kitchen
The bicycle tour starts at Soninowa Kitchen Katte , the hub of the village, across from Soni Village Office, not far from the bus stop.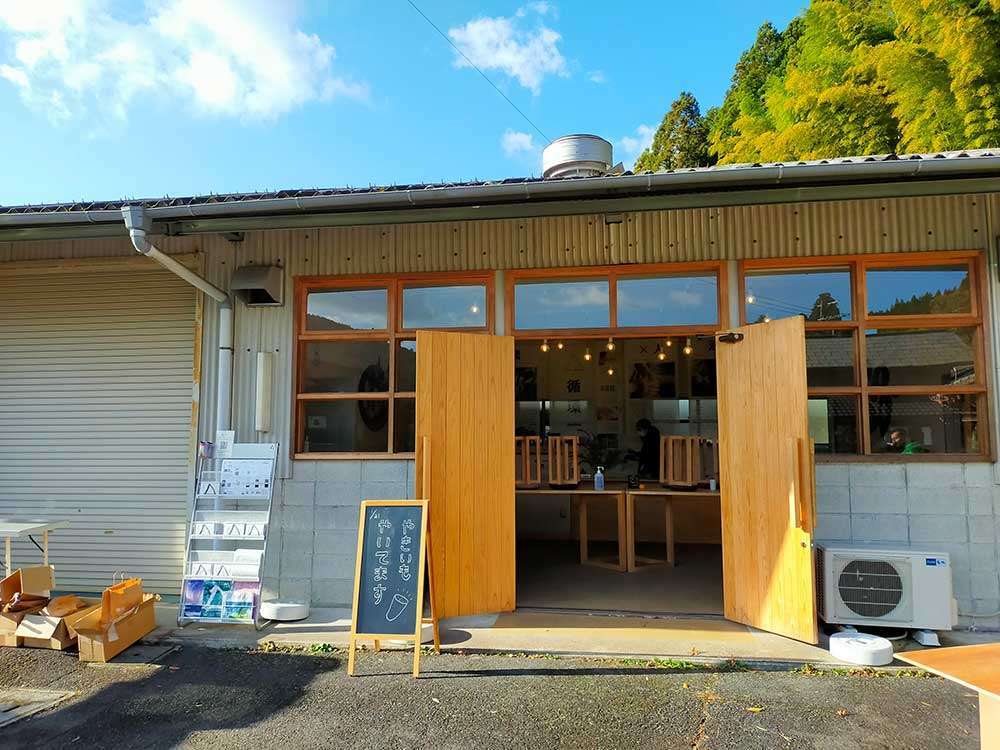 Soninowa Kitchen Katte is a shared industrial kitchen and local product outlet.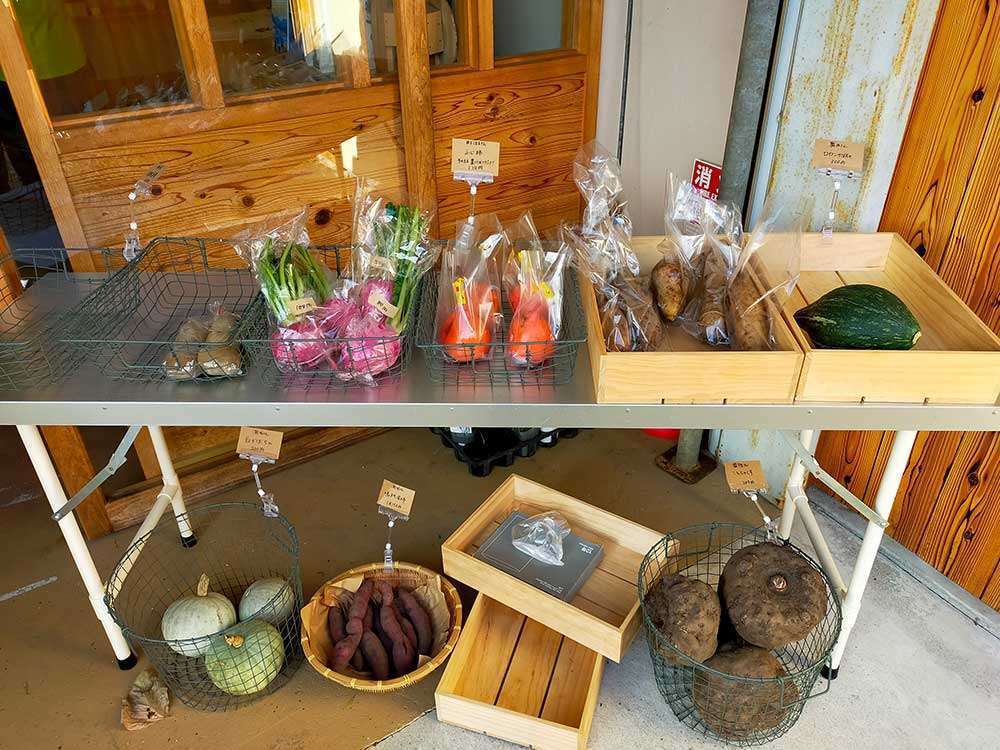 In the shop, I found hand-lacquered sumac wood chopsticks, Kaya nuts and kaya nut oil, health products, gourmet products made on site such tomato sauces made from local misshapen tomatoes, and yuzu citrus products—a specialty of the area. This starting point to the ride is grassroots, sustainable, community-oriented, organic, healthy, and beautiful in a simple way.
Online shop "Soninowa Marché" [JP]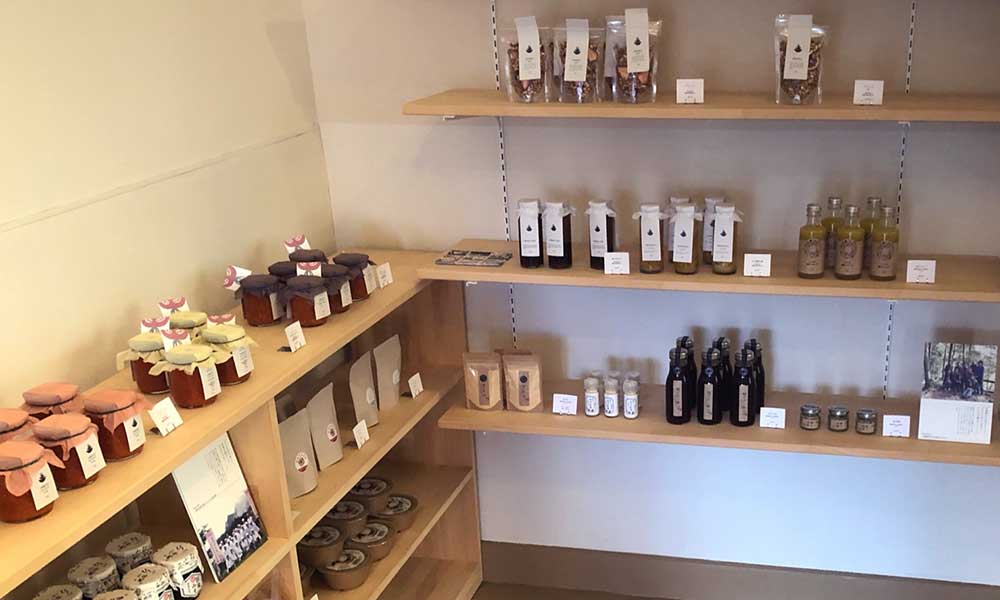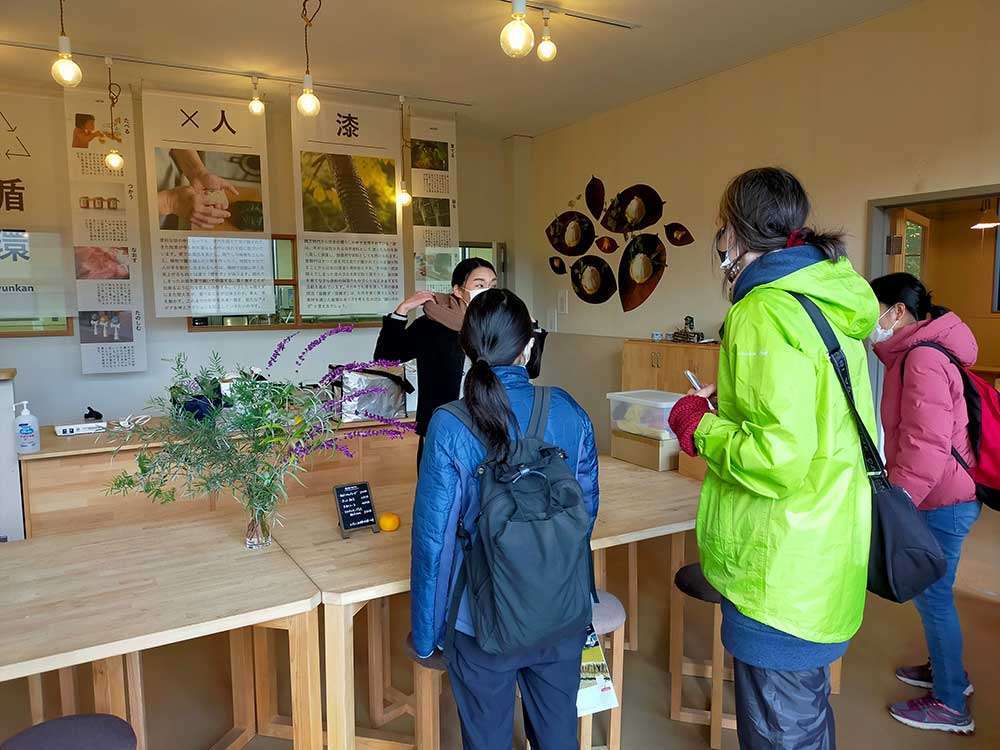 Soninowa Kitchen Katte is a likely place to start a conversation with locals. I encounter an English-speaking local resident from Thailand and we chat. She has been helping develop the community kitchen. Photos of her Thai-Japan fusion sweets can be seen on the wall, which made me realize how inclusive Soni is.
Related post: Craving for Thai Food? Foodie workshop in Soni
After using the comfortable woody washroom at Soninowa Kitchen Katte, and donning my gloves and neckwarmer, I stretch and step astride my two-wheeled cruising machine, a GIANT touring bicycle, to follow ride mate, Fujio-san. Next time, I may indulge in an electric bicycle. You can borrow a high-end, well-maintained electric-assist bicycle for 2,000 yen a day (9:30 AM-4:30 PM / to rent a bike, contact Soni Experience ).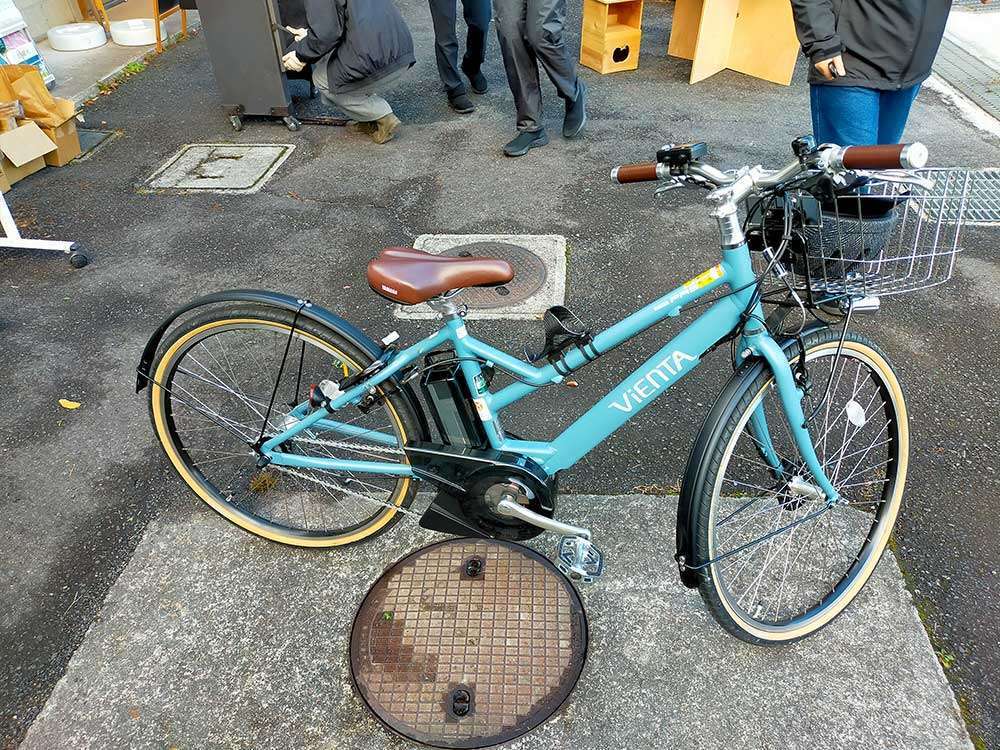 We careen around a curve to come to a store/inn called 2.7 where we gaze up at the iconic cliffs of Mount Yoroi and take photos.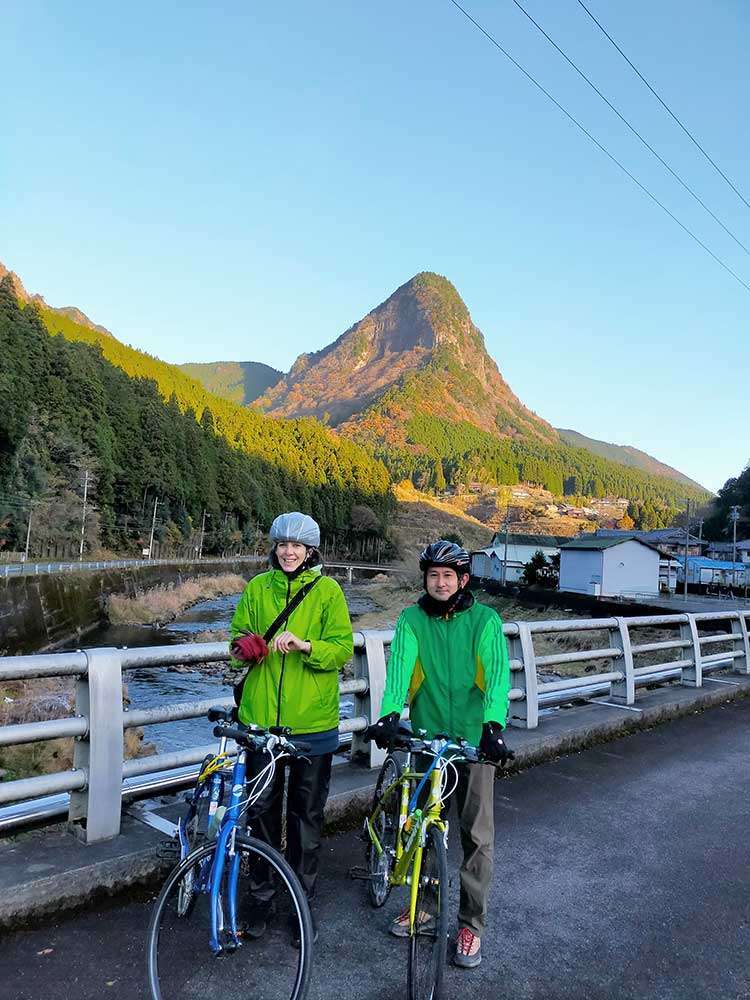 Japanese Angelica, a Traditional Herb
Next, we stop at the fallow community herb gardens about 500 meters further along, affording another great view of the Shorenji River and Kabuto Mountain. There I meet and chat with a local English-speaking tour guide, Sayaka-san. She enthusiastically describes the community's herb garden. In the growing season, camping, BBQ, harvesting experiences with a finale of fresh herbal tea in the garden are planned.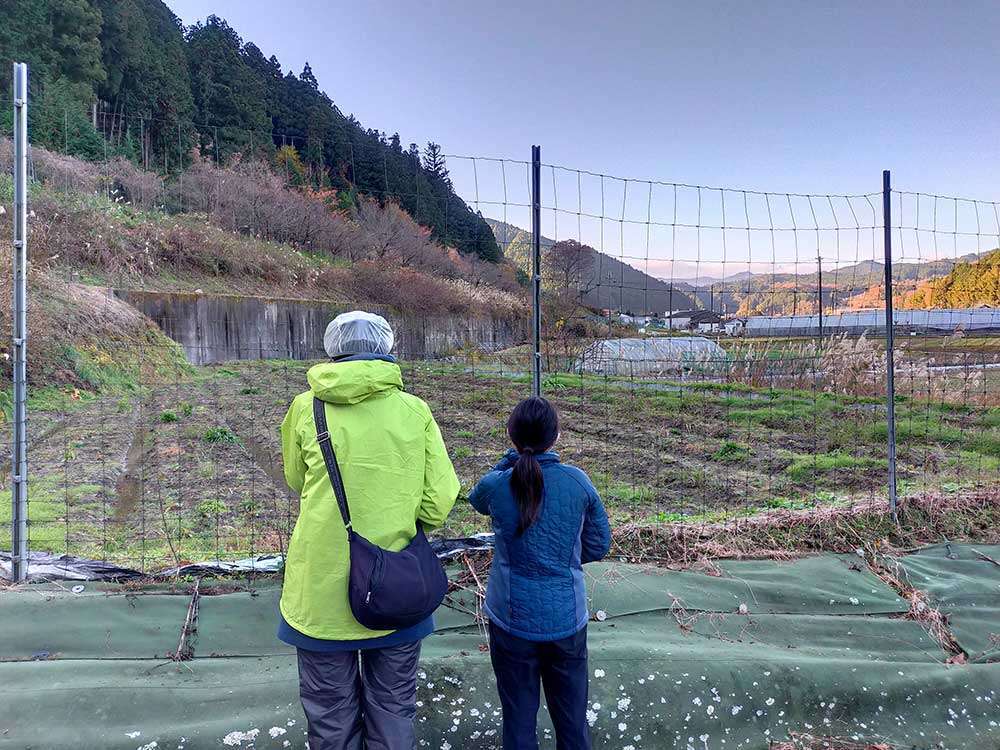 One of the main herbs grown is angelica (toki ) , a commonly used ingredient in traditional medicine (kampo). The roots are used to treat issues affecting ladies' reproductive organs.
Back at Soninowa Kitchen Katte, I sampled dried angelica leaf. It tastes like celery leaf (and belongs to the same family).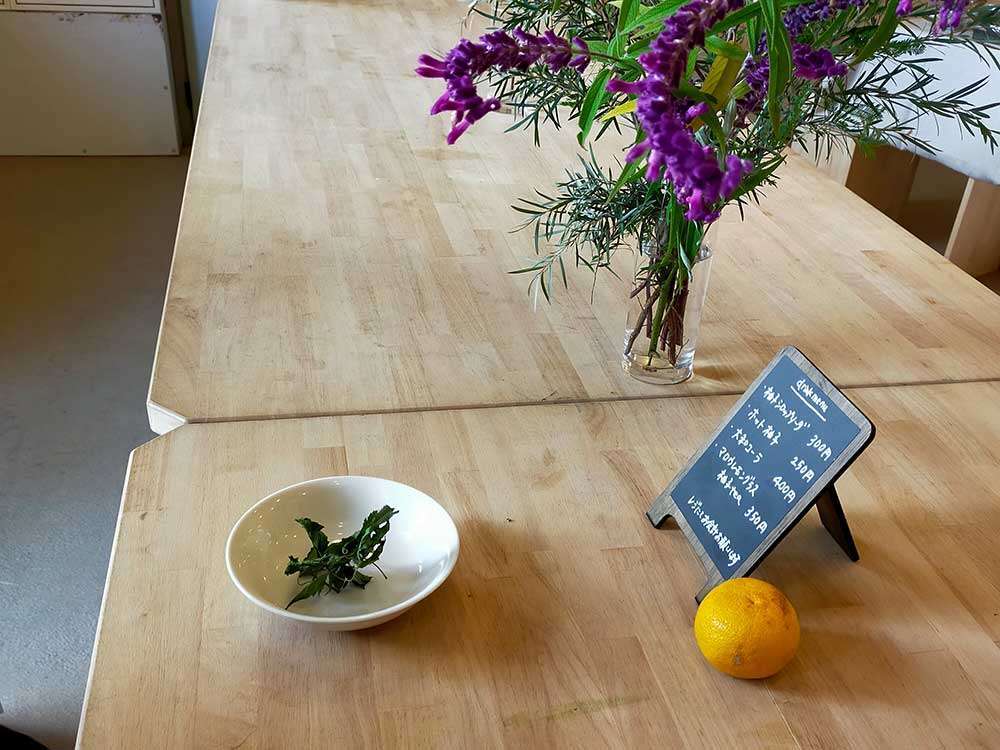 Learning about Urushi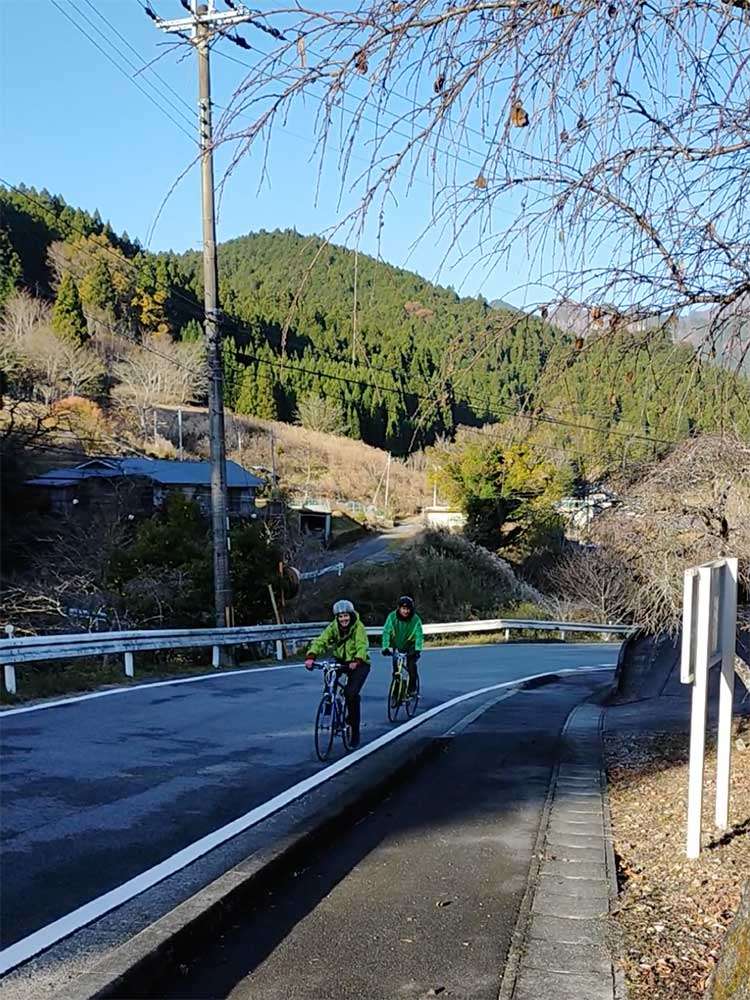 We start pedaling uphill. I worry we might be heading to the highlands. I wipe my cold nose, pushing pedals and panting. To my relief, the next destination is just a kilometer away, Urushi Base Soni "Nenrin" [JP] . This building represents a community initiative to revitalize the use of urushi (sumac) tree resin to make lacquerware. Japanese families use urushi lacquerware on special occasions like New Year's Day.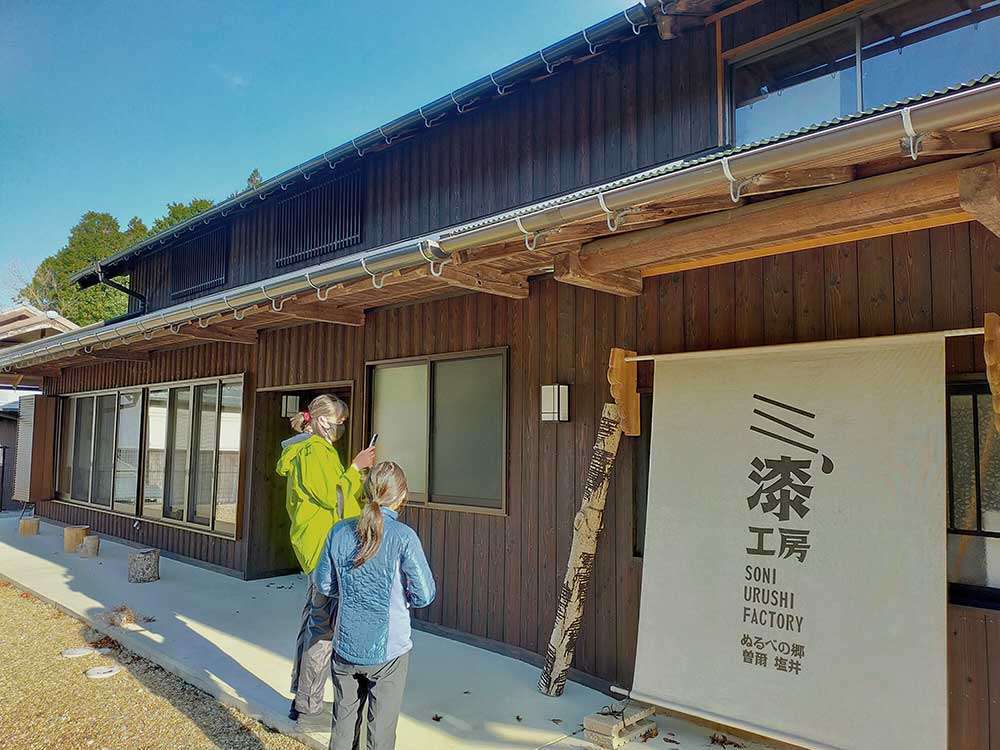 In 2005, some locals in Soni thought it a pity that the process of making lacquerware was becoming a dying art (pardon the pun). From that year, villagers have been planting urushi trees. I gaze in wonder at a hillside of young, leafless (November) urushi trees, which look umbrella frames blown inside out.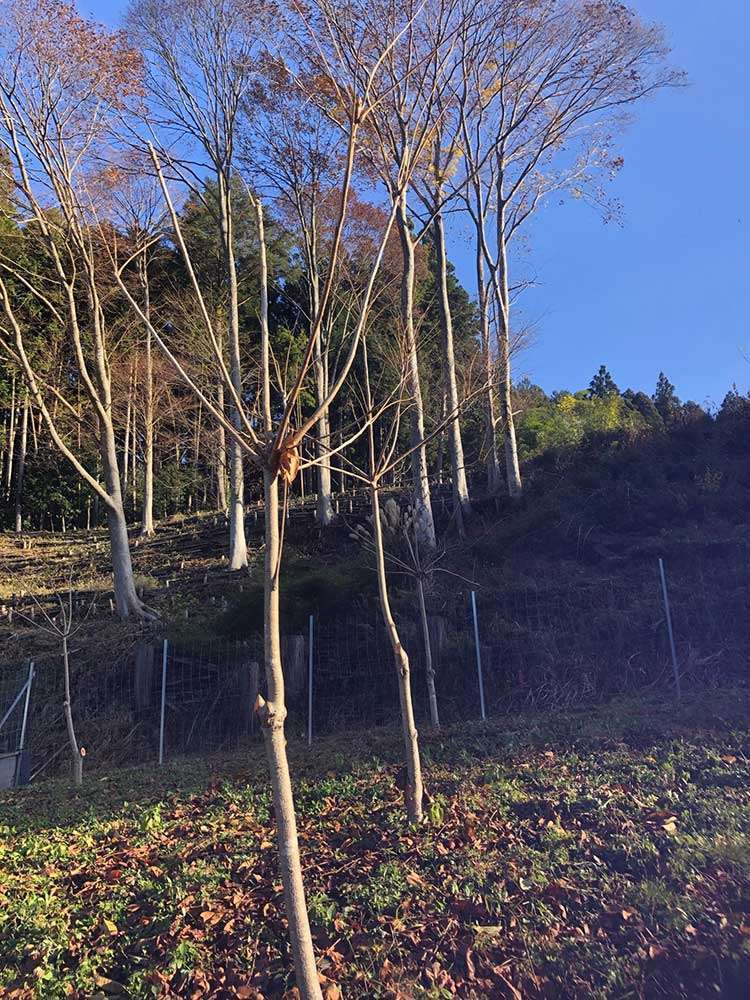 The community set up this one-story simple and beautiful building to host workshops and events such as:
kintsugi: repairing cracked pottery with urushi then gold. The process takes a few months as at least ten layers of lacquer are applied only after the previous layer has fully dried.
a 1.5 hour visitor-experience to hand-color a handkerchief with urushi wood chips.
making a persimmon leaf plate by applying Japanese paper and polish with lacquer until the leaf becomes harder than leather (sold also at Katte gift shop).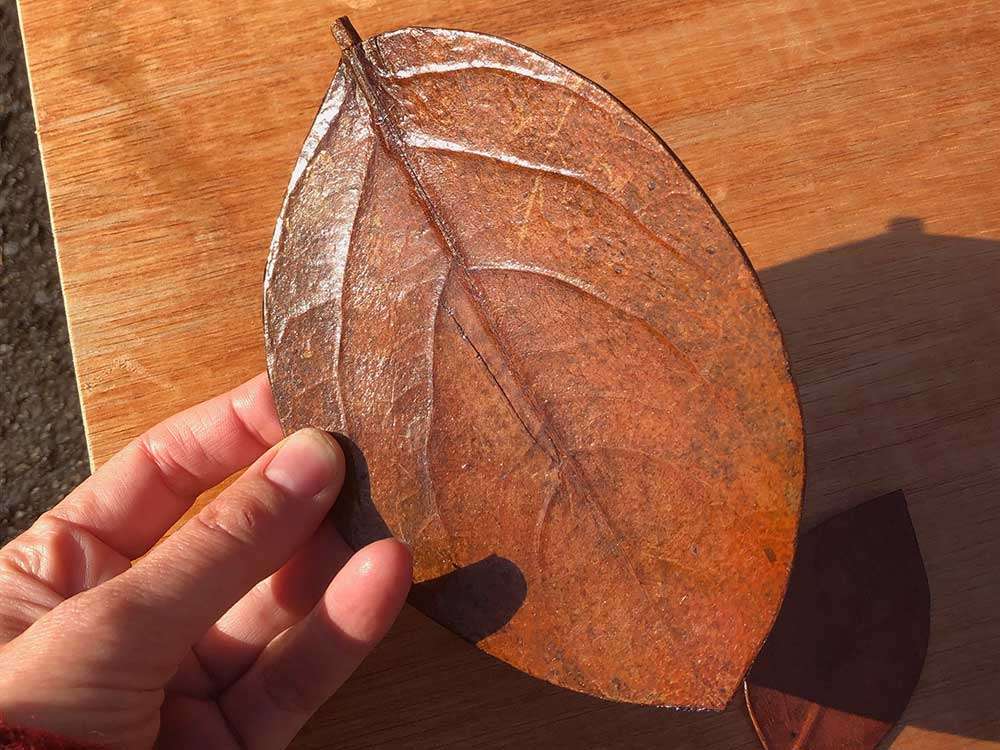 Both the sumac tree and its potent, allergenic resin, are called urushi. The urushi process has taken centuries to develop. The first step is to climb a tree the circumference of a fat man's thigh to cut horizontal lines into the tree's bark so it bleeds out the sap which the climber scoops by spatula. If only bears with sharp climbing claws could be trained to help out.
We take an uphill detour to see the scratches all the way up the trunk of a mature tree from urushi harvest.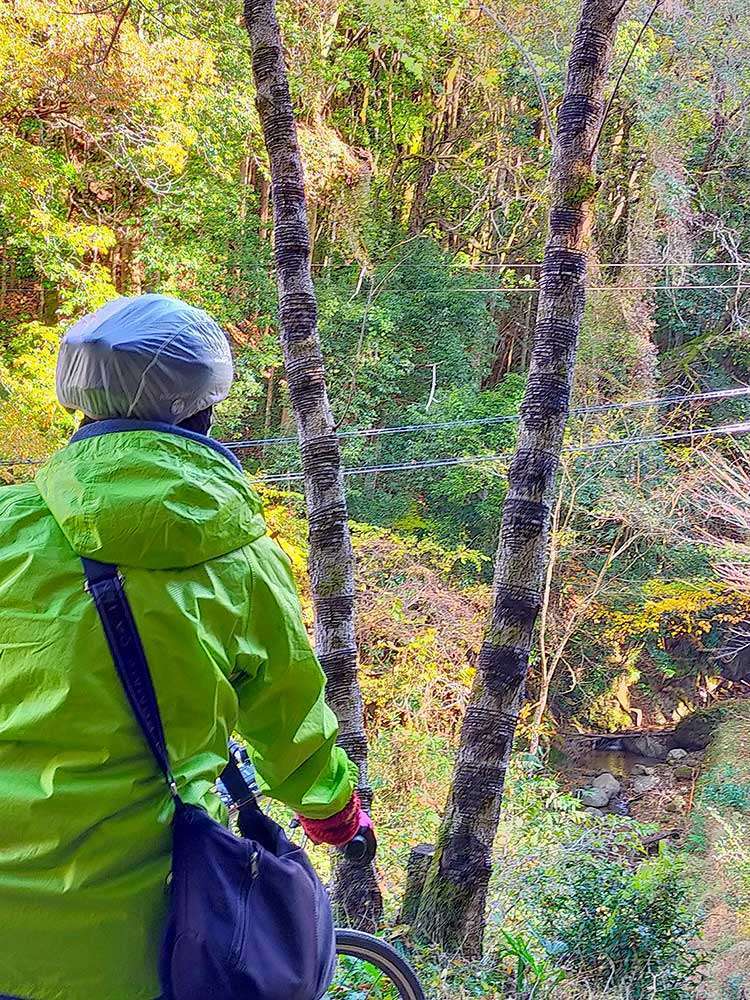 Renowned Scenic Route
Then coast down to the Shorenji River and follow the road and river north through a deep gorge known as Kaochidani. This gorge is 8-kilometers long.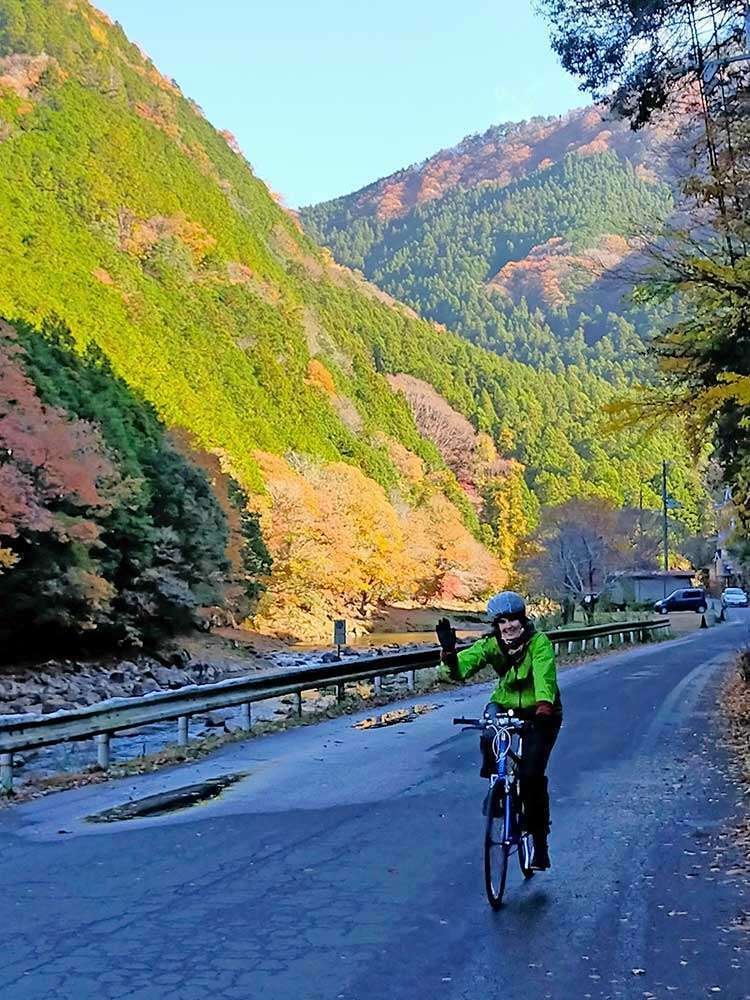 Momiji-dani is one of the scenic spots within the gorge. Momiji translates as Japanese maple and dani comes from "tani," which means valley. The maple trees in their colorful autumn costumes dapple the scenery.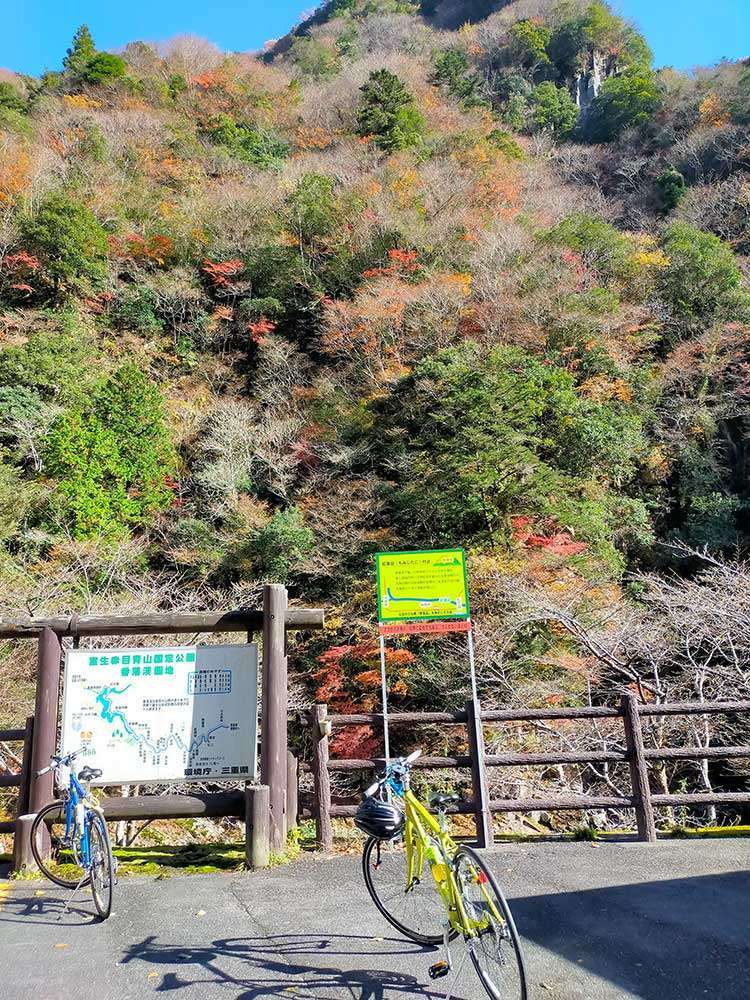 Another scenic spot a few kilometers farther into this gorge is Byobuiwa, two kilometers of cliff made of columns of rock. Earlier, when driving by this with my family, we spotted some sport-climbers up there!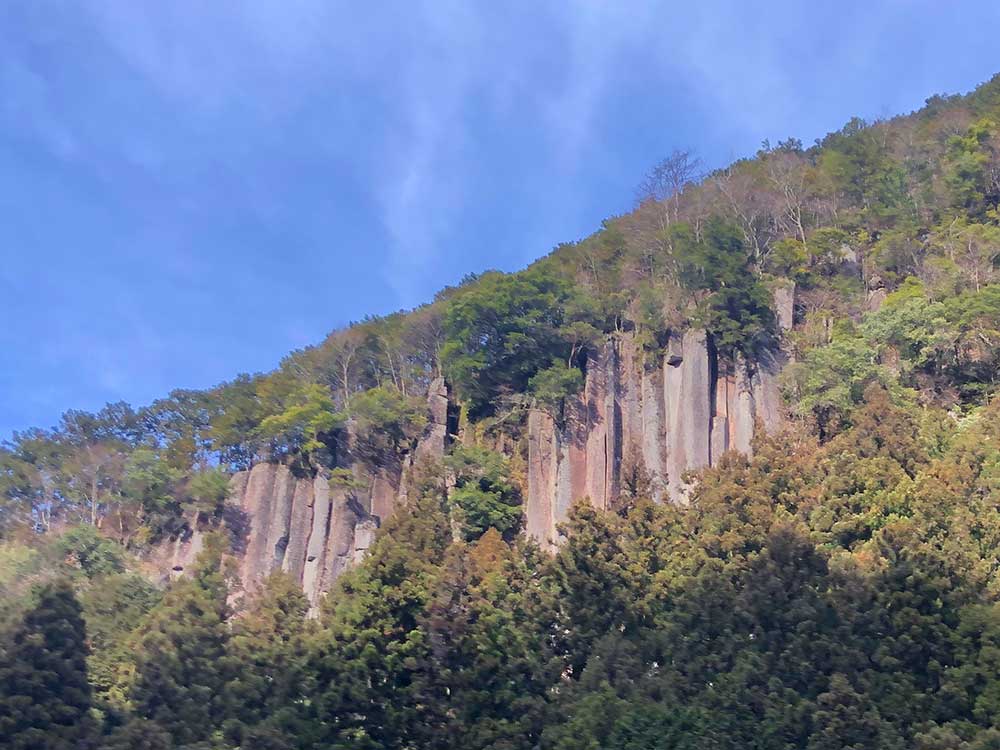 The narrow high road offers sweeping views of the lake below. We ride to the waterside then back up, and across the dam. Although it is a long weekend, traffic is light.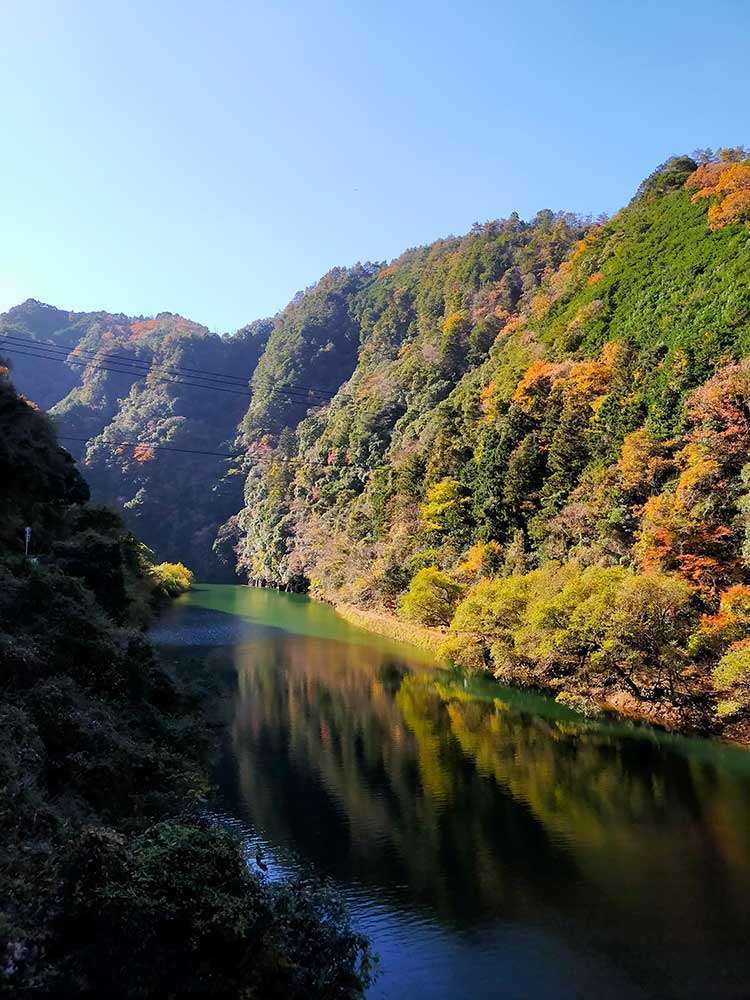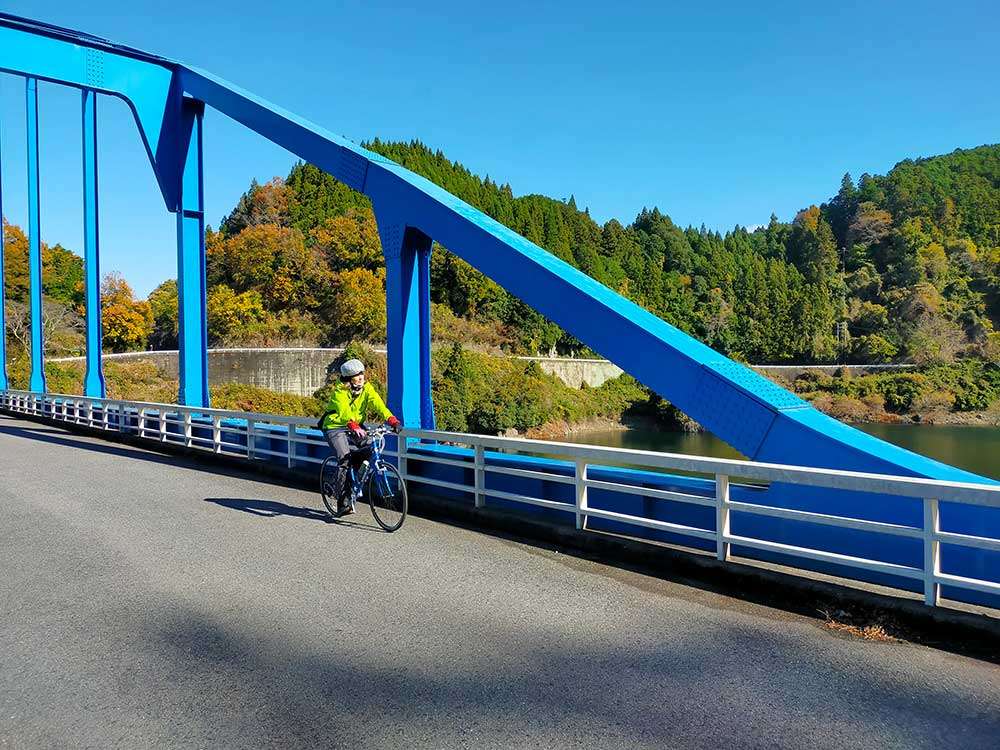 Post-ride Treats
Pine needles and leaves sprinkle down and the low sun casts long shadows as we pass Sekita Shrine. In November, the austere shrine gate (tori) frames a corridor of fiery maples leading to a golden carpet of fallen gingko leaves.
Minutes later, we park our bicycles outside Sankyuya [JP] a shop next to Lawson at Nabari Station, where we warm up with hot drinks and lemon cake.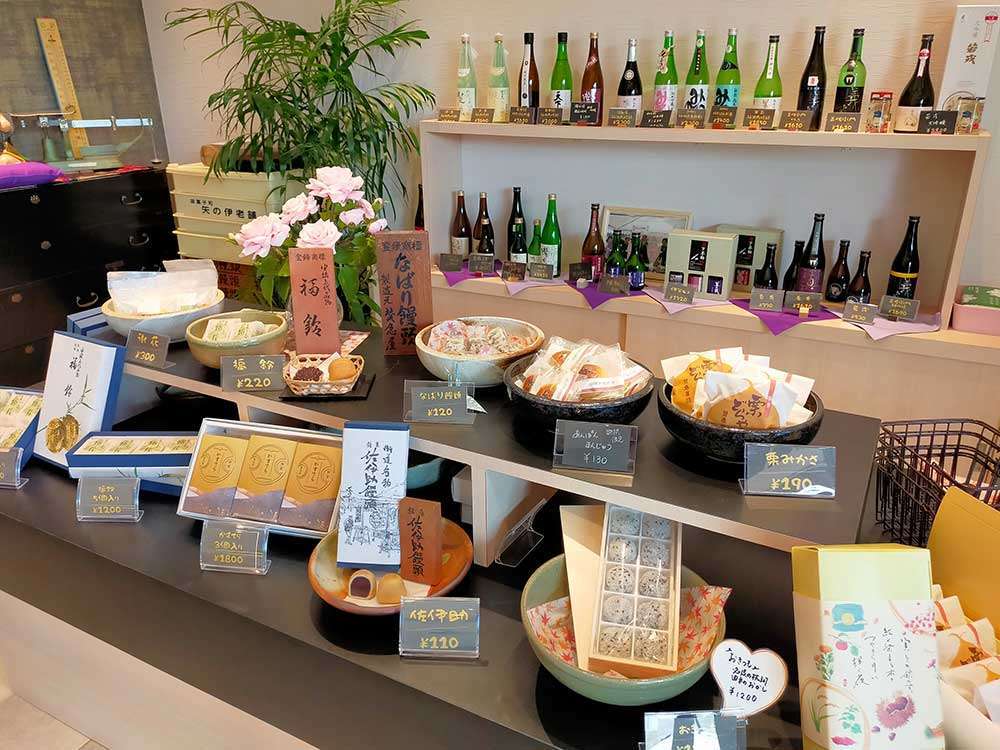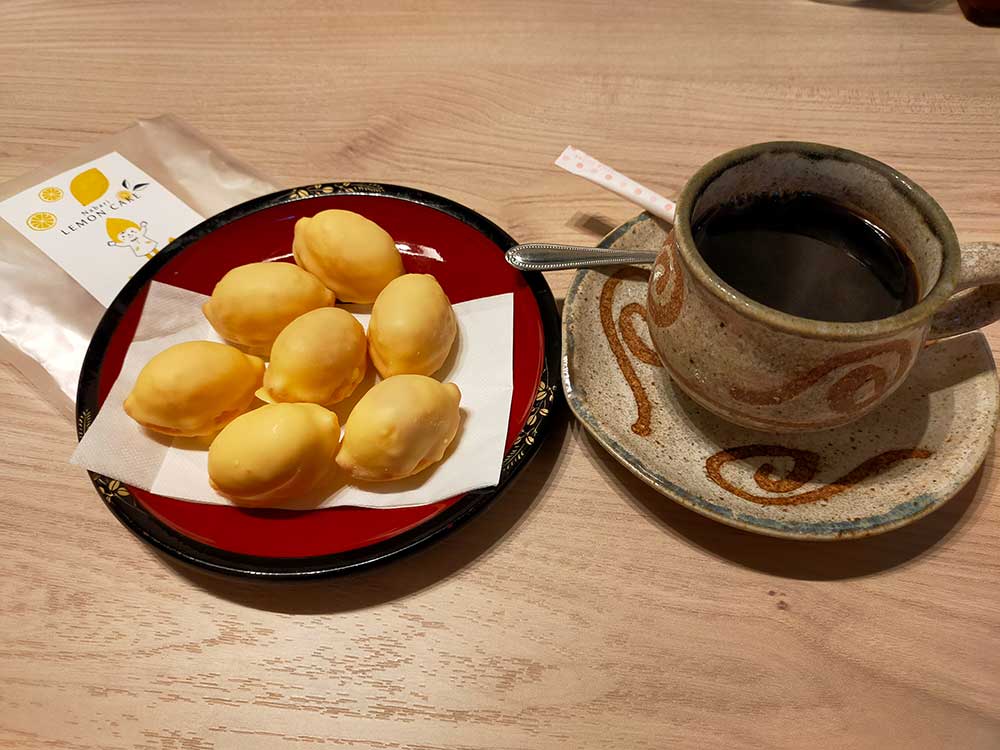 Other short distance routes
Contact us for further information including guided tours