Experiencing the Rural-Urban Divide
I was really excited to finally visit Mitsue area. My favorite Japanese movie is comedy/drama, Wood Job! (2014). Woodjob was filmed near Mitsue. A young man from Tokyo takes a forestry job. He finds himself in a mountain village, lacking cell phone reception, convenience stores, and traffic lights. The rural-urban divide is real! I love the slower pace, serene beauty and outdoor adventure experiences possible in areas like Mitsue and the best way to experience this, in my opinion, is by bicycle. Ever since I moved to Mie Prefecture in 2019, I have been enjoying exploring rural areas more and more by bicycle.
What is "East Nara Nabari Yamanami Ride"? Learn here.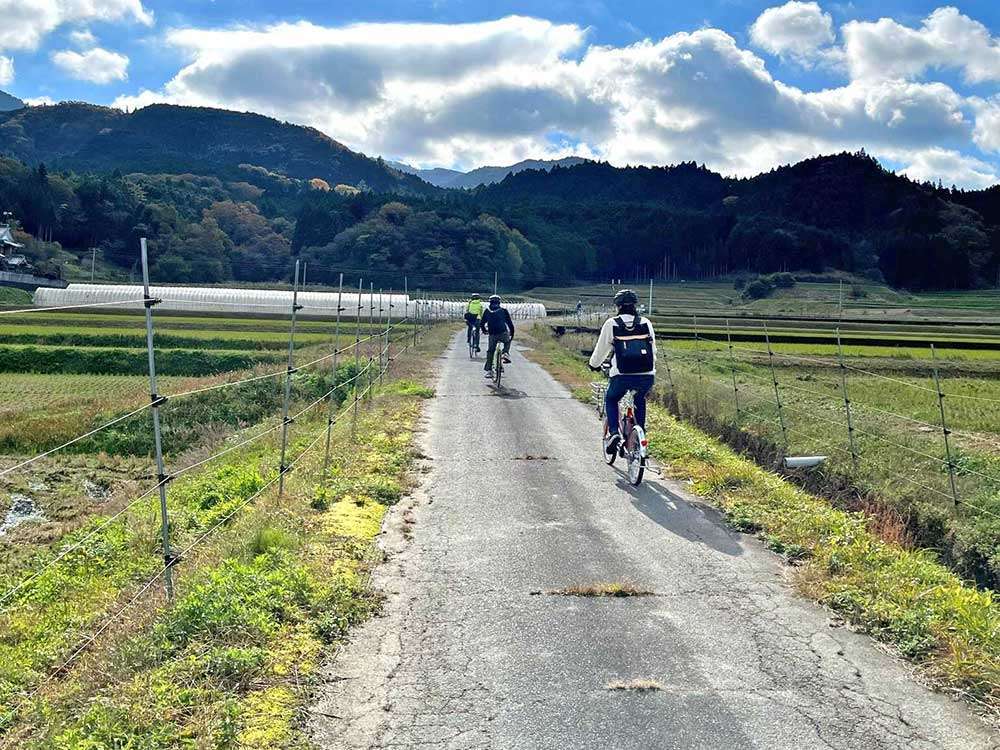 | | |
| --- | --- |
| Route | Michi-no-eki 'Ise Hon-kaido Mitsue' (bike rental) = Seven Wonders in Mitsue = Maruyama Park, Himeshi Myojin = Michi-no-eki Ise Hon-kaido Mitsue = Kunitsu Shrine (Misugi, Tsu) = Akaiwao Shrine = Lake Hinachi = Café Atre = Nabari Station  Route map |
| Distance | 28.5 km (17.7 miles) |
| Elevation gain | 424 m |
| Date | November 13 |
Riding an Ancient Pilgrimage Road
The cycling route starts at Michi-no-eki Ise Hon-kaido Mitsue, about 22 kilometers from Nabari Station. A michi-no-eki is a roadside rest stop and marketplace for local goods. This one also has a bicycle rental shop and hot spring. The bike rental shop and market open at 10 AM. The day I was there, on a Saturday in mid-November, a vendor was selling freshly made, warm baked sweet potato, dango (glutenous rice balls on a stick), corn dogs, and konnyaku (explained later) for 100 - 200 yen a piece. Bicycles rented from here can be left at Nabari Station.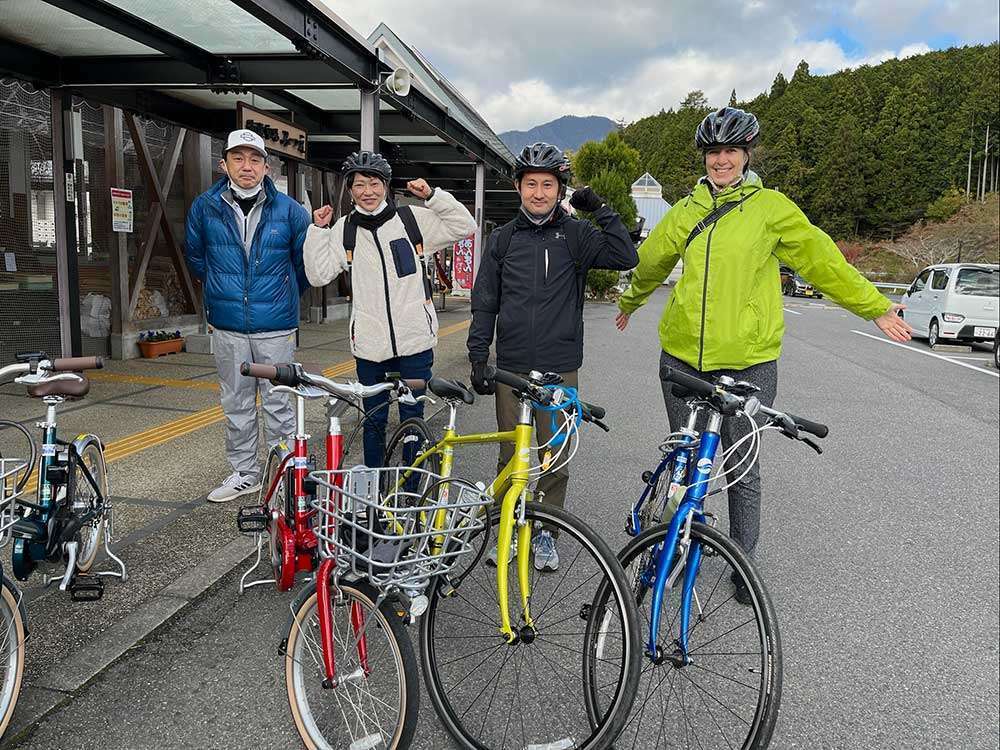 Bike rental at Michi-no-Eki Ise Hon-kaido Mitsue

Location: 6325 Kozue, Mitsue Village, Uda-gun, Nara Prefecture Phone: 0745-95-2641
Hours: 10 am - 4 pm, closed on Tuesday (if a holiday falls on Tuesday, it will be closed on the following weekday.)
Rental fee: 1,000 yen (return by closing time)
5 electric bicybles available. No reservation required.
This is called the Yamato-hime Pilgrimage Route. Yamato is the old word for Nara and hime (pronounced he-may) means princess. It is a pilgrimage route because Ise Hon-kaido, an ancient pilgrimage route to Ise Grande Shrine crosses through the area.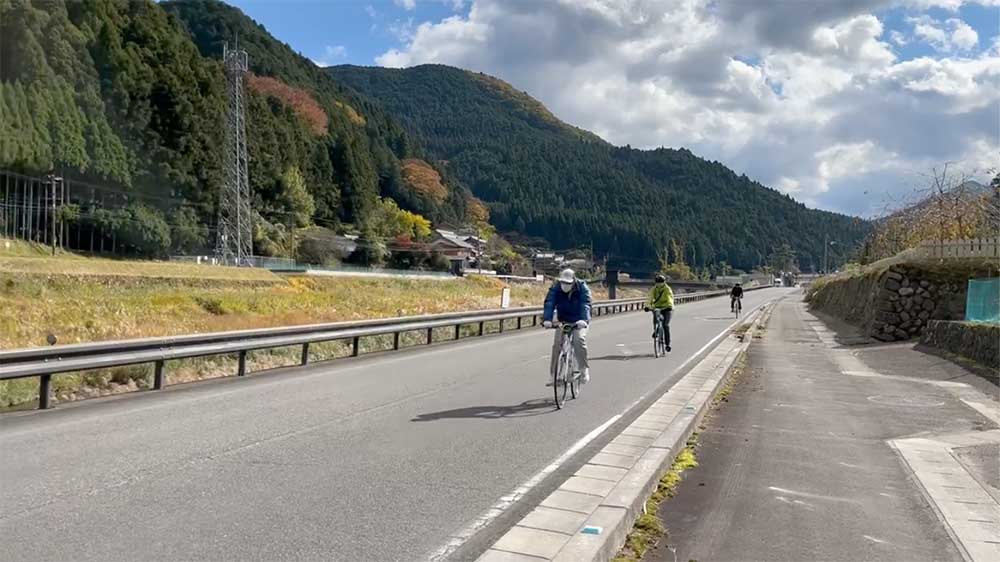 A local folk tale tells of Princess Yamato stopping at seven boulders in Mitsue known as the Seven Wonders on her way to Ise Shrine. Finding each "wonder" feels like a treasure hunt. Tall fencing around fields protects crops from deer and boar. To see the first wonder, you need to pass through a deer gate.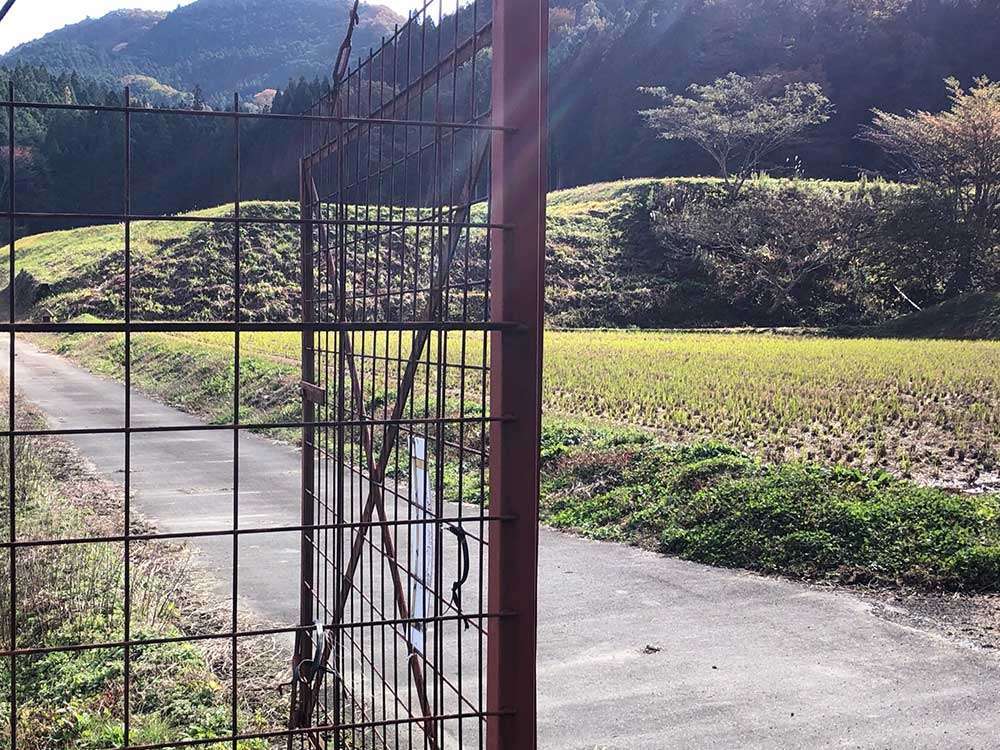 Seven Wonders in Mitsue
The first wonder is a boulder where Princess Yamato prayed for fertility. Can you guess why she chose that boulder? It is ok to touch it. I did. Look closely.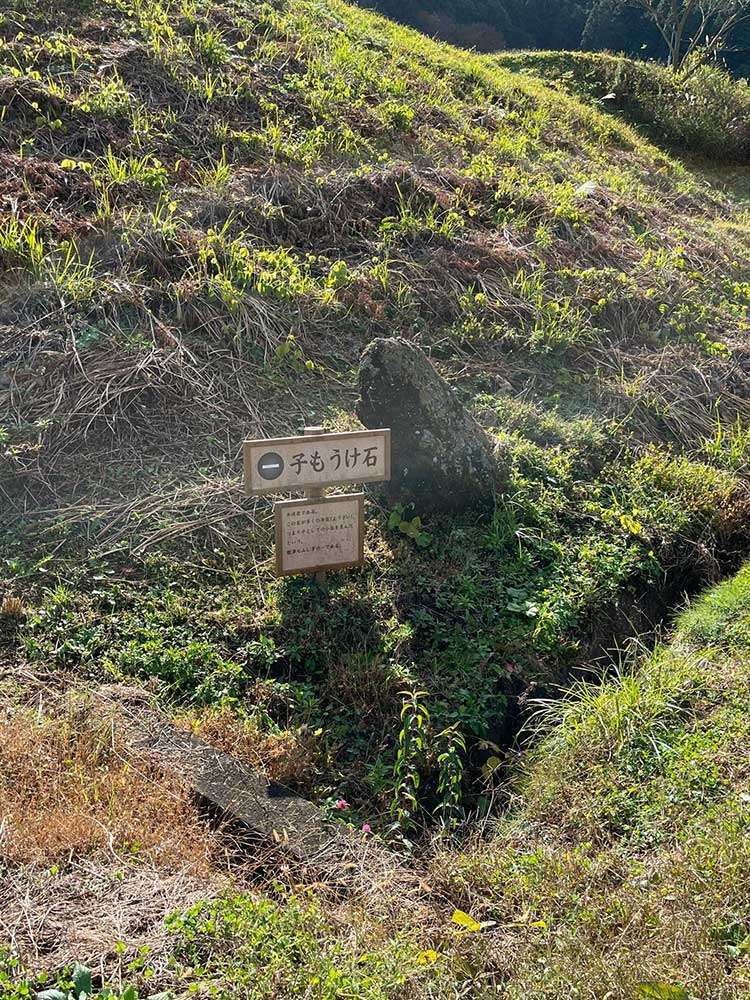 A numbered sign indicates which of the seven wonders you have found. Bring something to stamp as you will find a wooden box housing an inkpad and stamp at each wonder.
The second wonder is a bench-like boulder where Princess Yamato sat and gazed at the moon surrounded by picturesque farmhouses, near a giant stone lantern which marks the pilgrimage route. Was the lantern lit the night she gazed at the moon?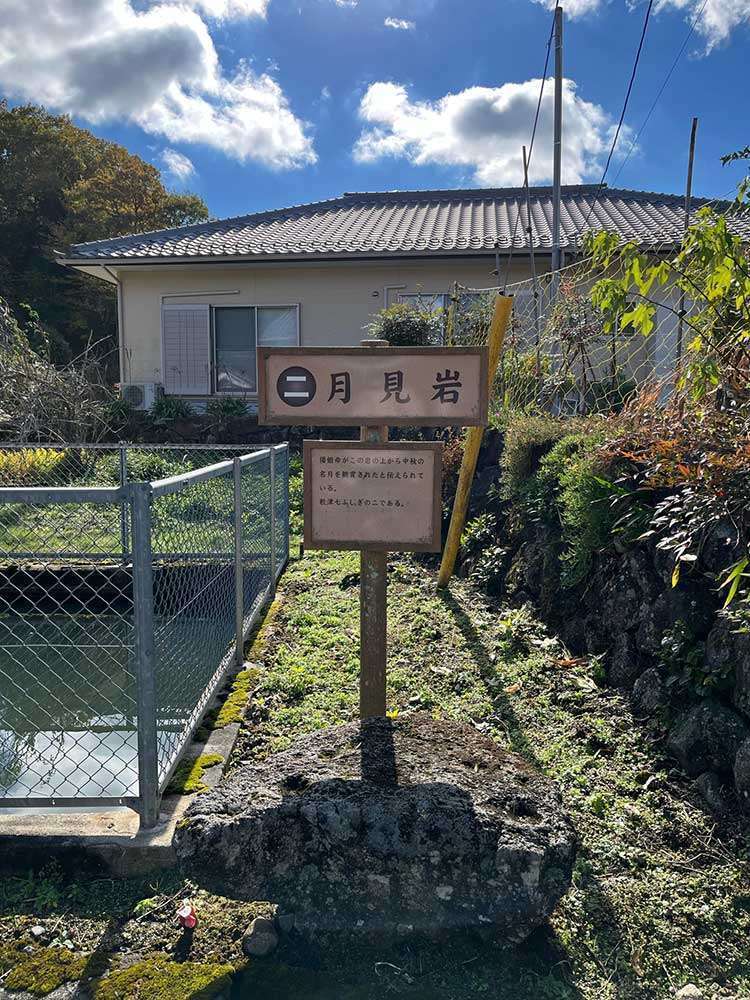 The next wonder is wedded rocks. I was more interested in the kiwis suspended above them.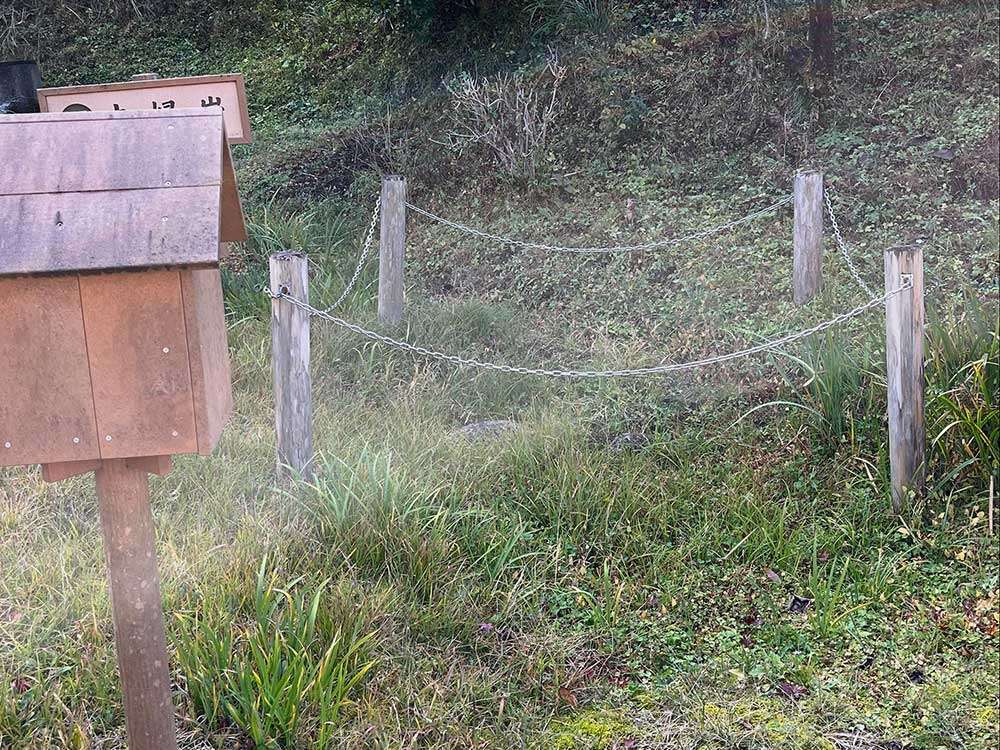 Meters away, find another rock "wonder" which marks the place where a famous monk dug a well with his cane.  That "wonder" is hidden in the entrance to a private residence. It is ok to take a look.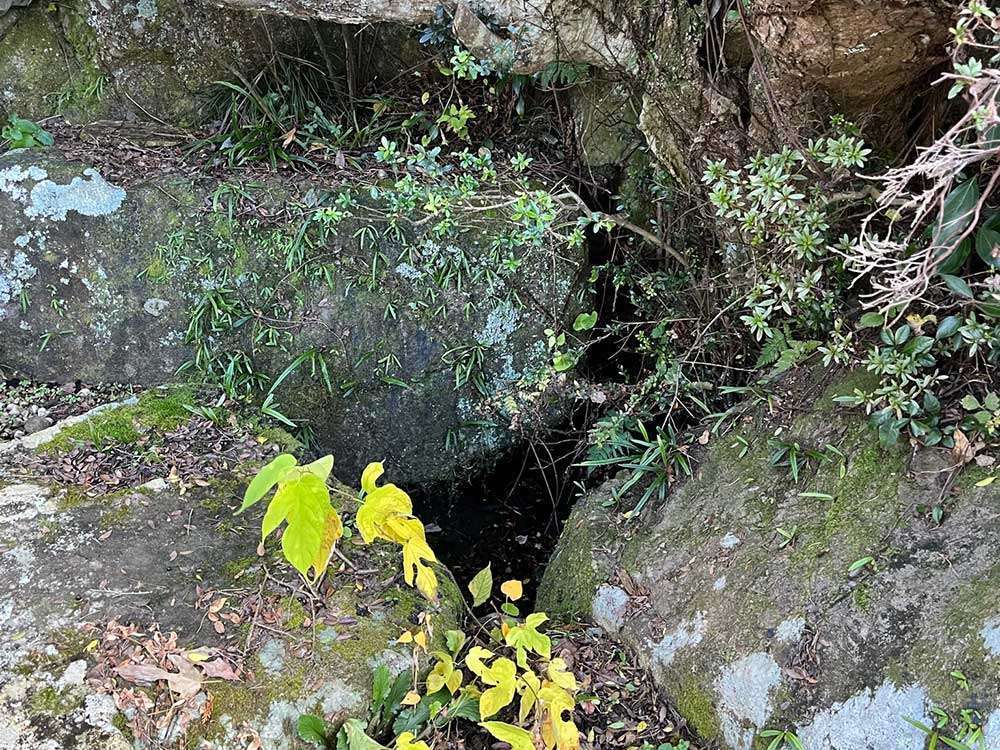 The Most Wonderful Wonder
The scenery changes to a hillside of cherry and maple trees, past Maruyama Park, ending at a small parking area where you can leave your bicycle.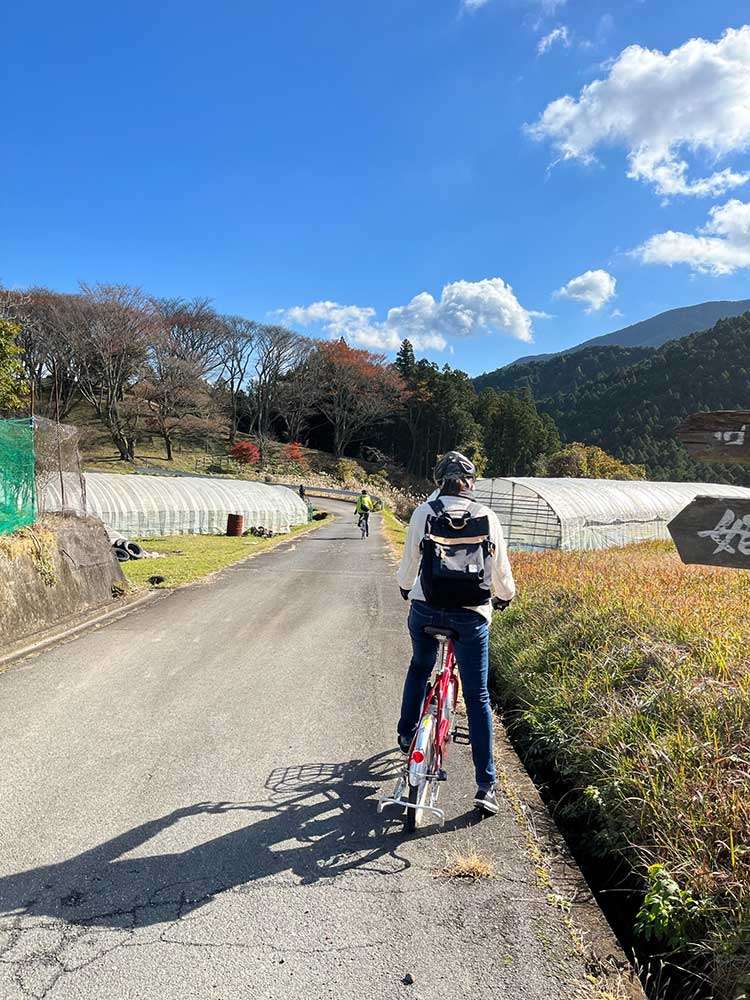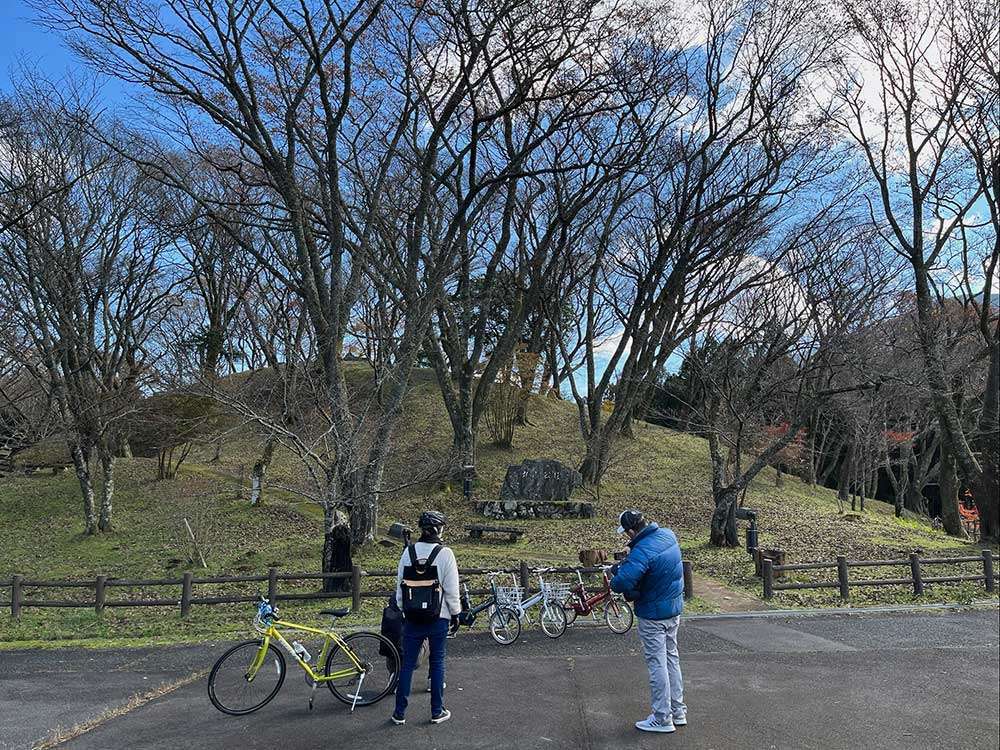 We sought out mossy steps leading down to the most wonderful of the Seven Wonders.
It's the woman's buttocks boulder at Himeshi Myojin.
It is sacred and should not be touched. The princess is said to have been cured of a gynecological disorder after praying here, which is far more pleasant than a visit to a gynecologist, don't you think?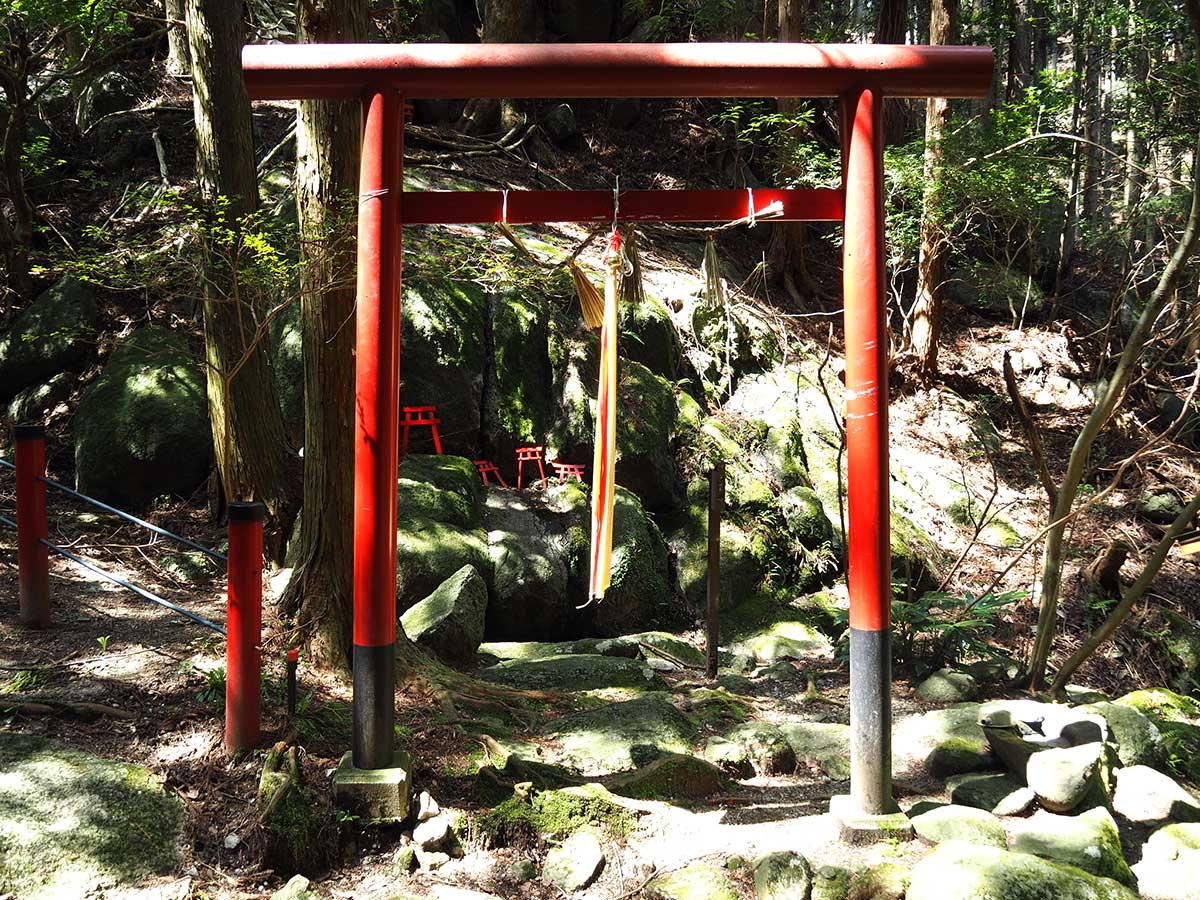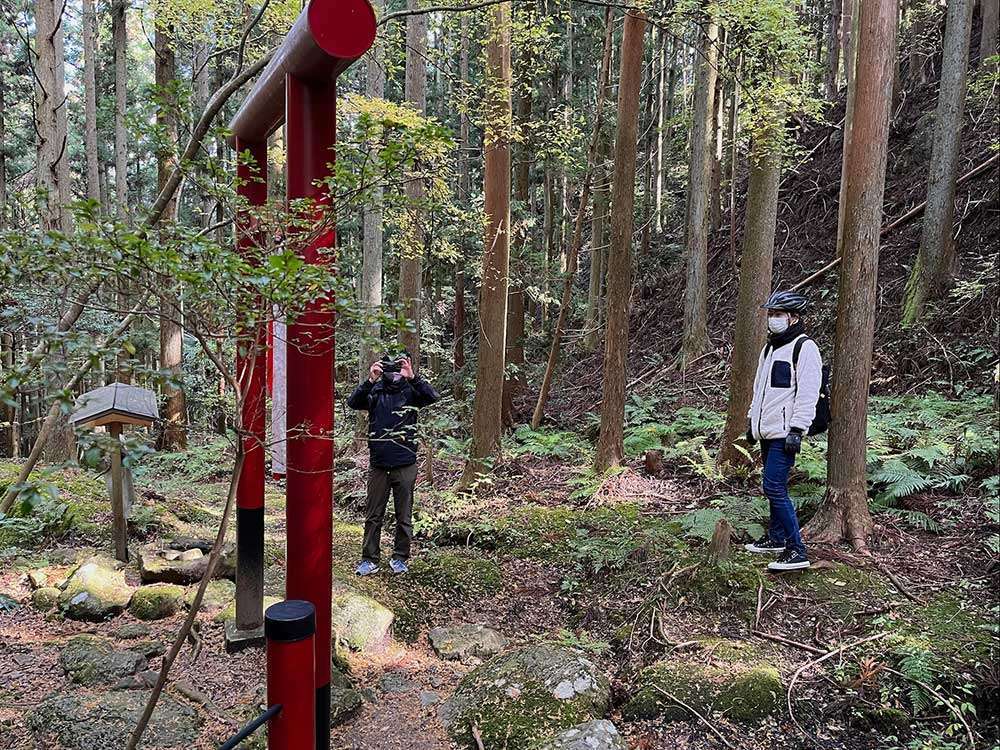 Related post: Himeshi Myojin, A Mysterious Hidden Sanctuary in East Nara
At last, we stopped at a boulder on which a golden rooster was said to have crowed at dawn on New Year's day. But that is only six wonders, what did I miss? Can you find it?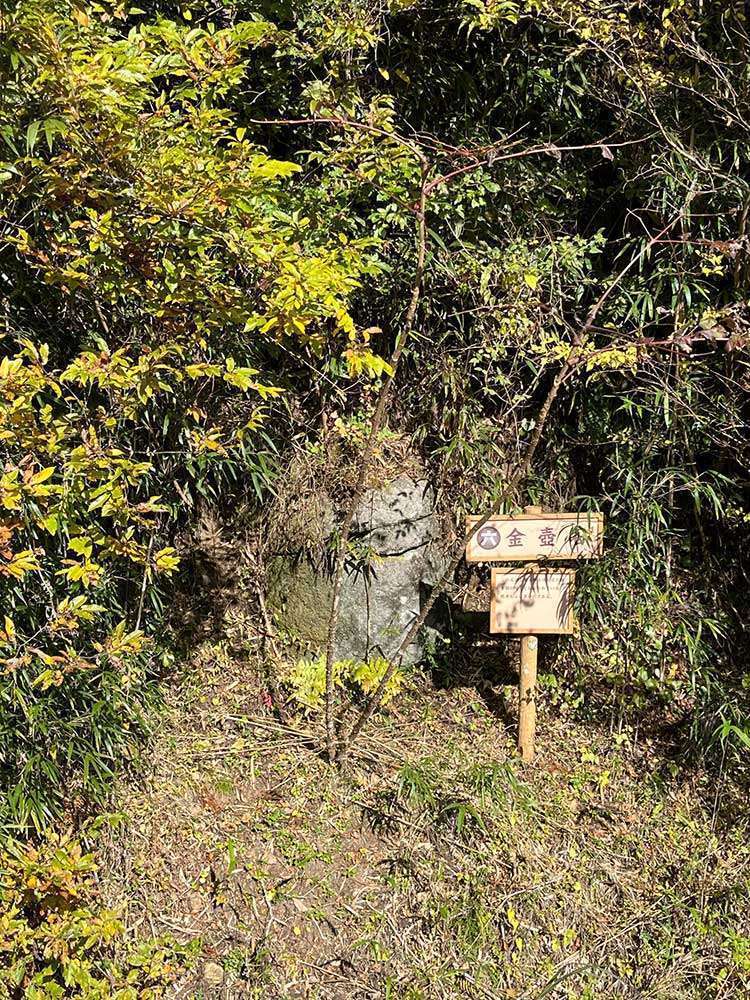 If you are only up for riding an easy few kilometers, you can opt to see just the Seven Wonders.
Wonderful Michi-no-Eki
Back at the michi-no-eki, I took a break and powered up on glutinous rice balls covered in a sweet, salty sauce.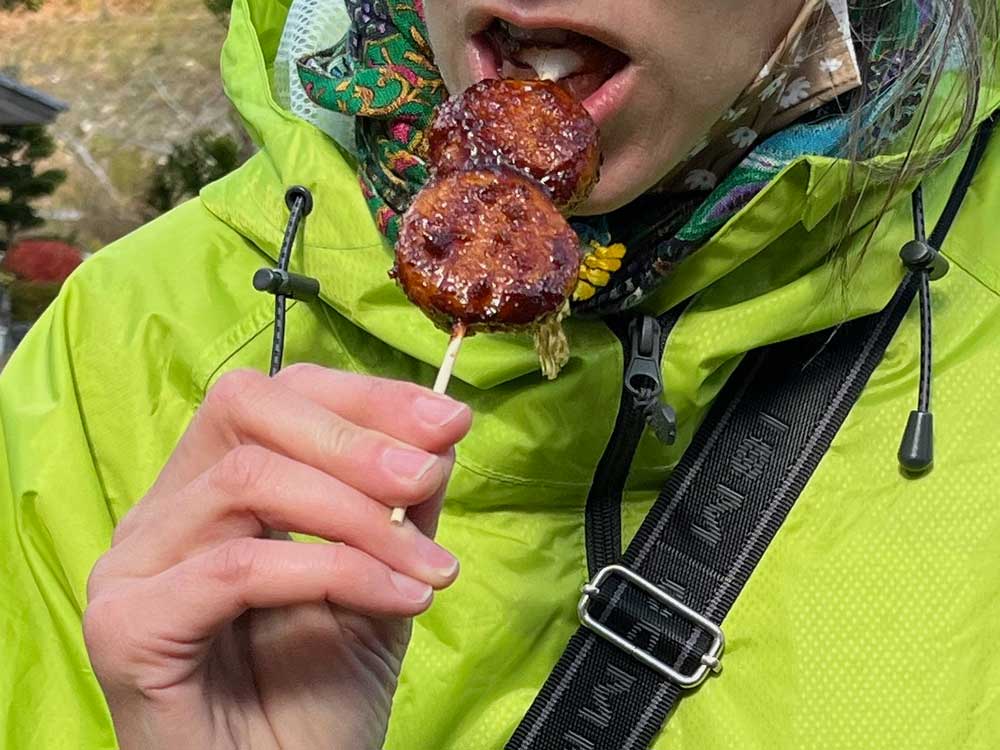 And then took a gander in the farmer's market where I found a Chinese cabbage bigger than a basketball, and a root vegetable that looked like a coconut.
My guide explained that this coconut-like vegetable is the main ingredient in the jelly-like, low-calorie, high-fibre konnyaku, sold next door. Will you take the konnyaku challenge?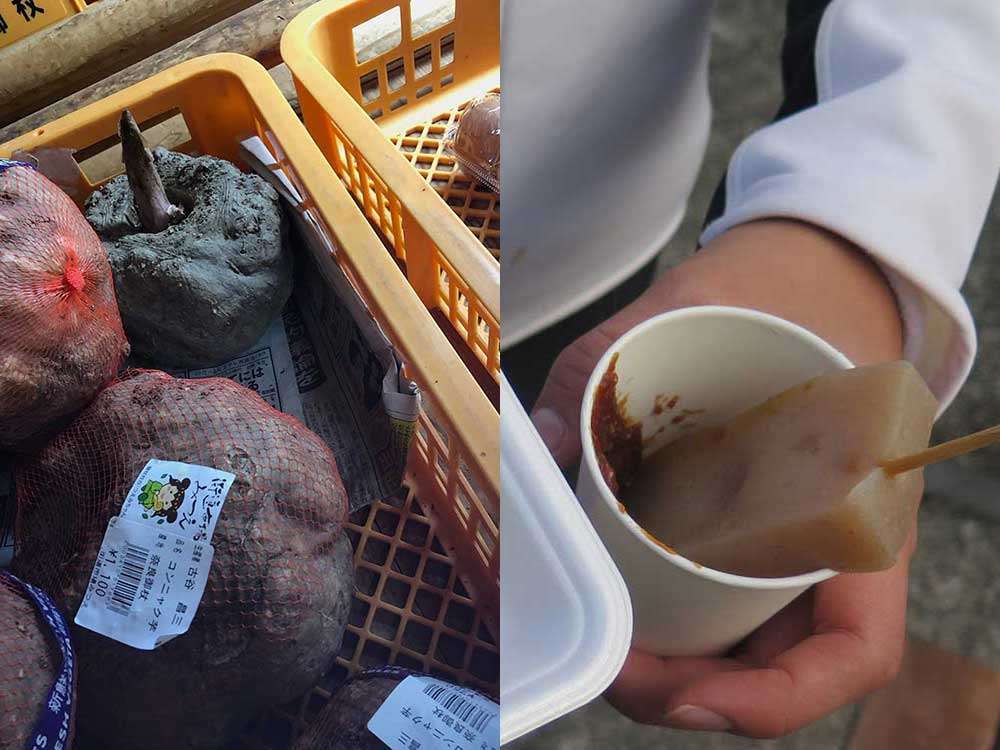 Kunitsu Shrine
Next, we cycled to the gingko nut-littered steps of Kunitsu Shrine (Misugi, Tsu, Mie Pref). I am not telling you what was at the top of the stairs. I was awed.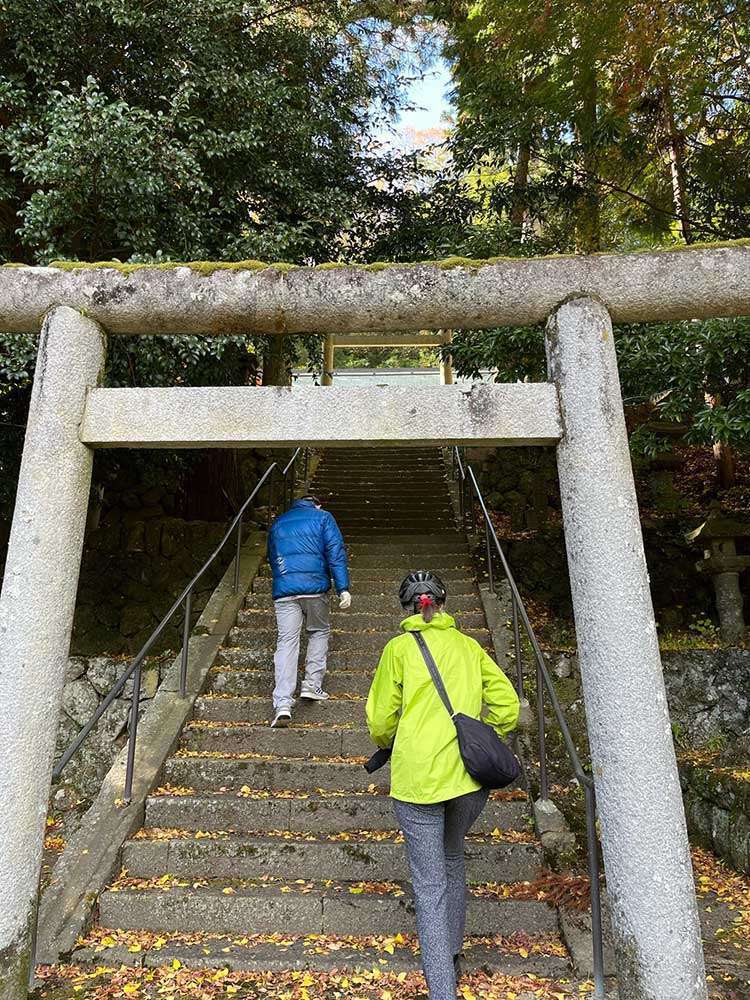 Akaiwao Shrine
Check it out! A little further along, we turned off the main road to access Akaiwao Shrine. I recommend locking your bicycle up on the main road and walking up this steep incline. We cycled up this 450-meter climb. My heart pounded hard pushing up this hill.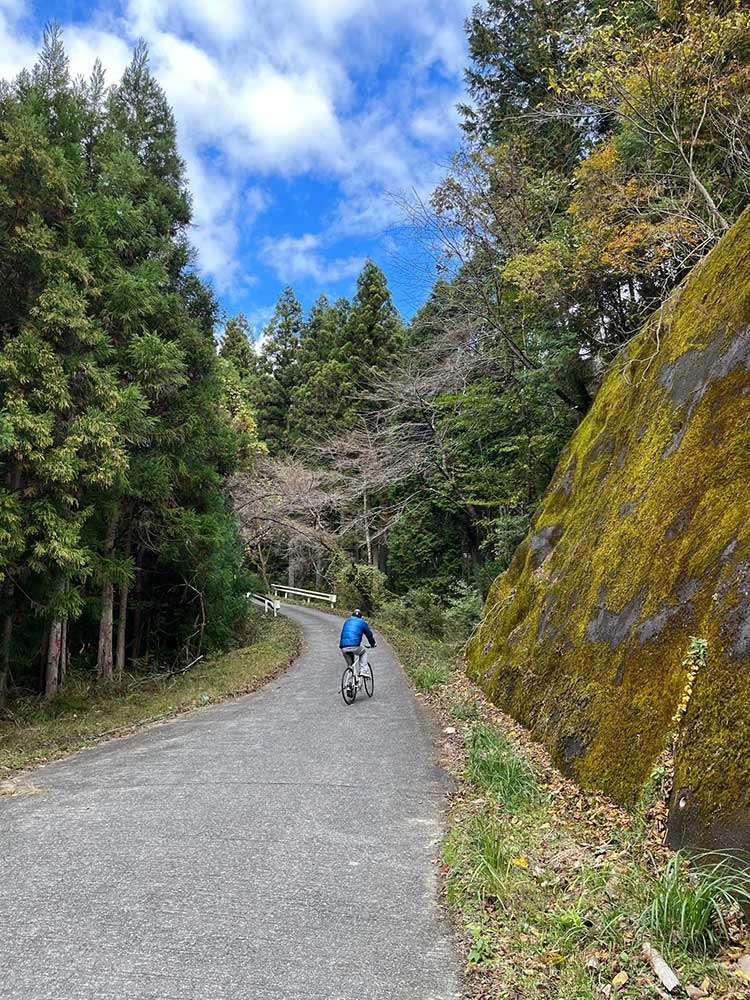 If you are not up for it, this 30 to 40 minute detour can be by-passed, however it took us only about 10 minutes to reach the roadside torii  (red shrine gate) marking the entrance to a scenic trail through the woods.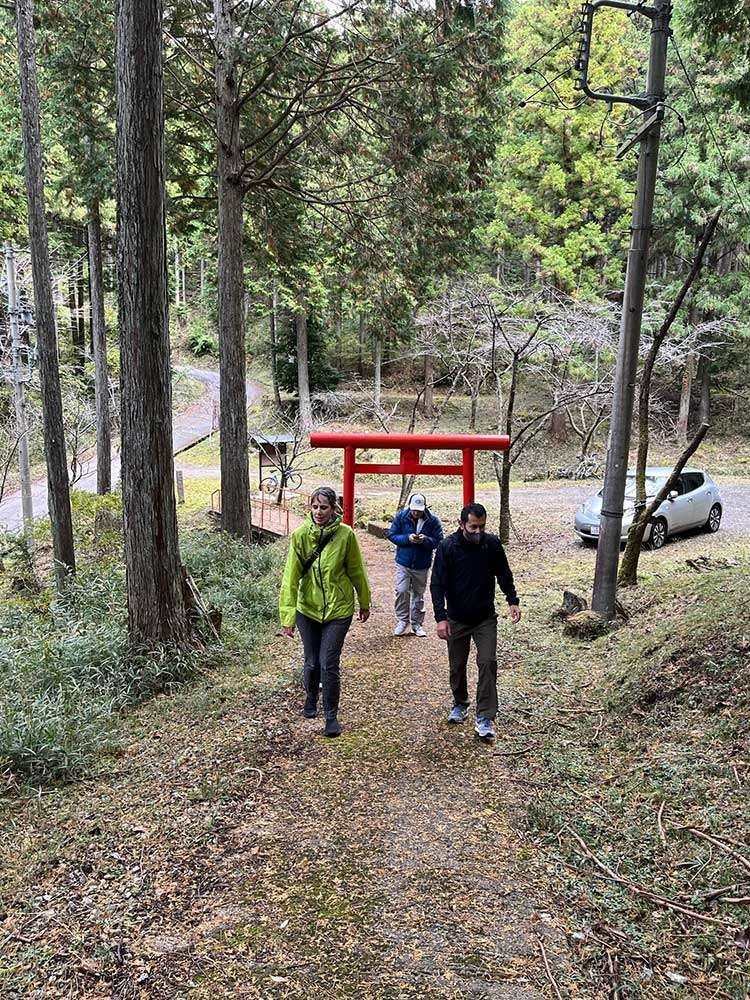 It's a nice change of pace to walk through the woods.
The trail leads to a shrine below a cliff of pentagon-shaped rocks made of volcanic rock.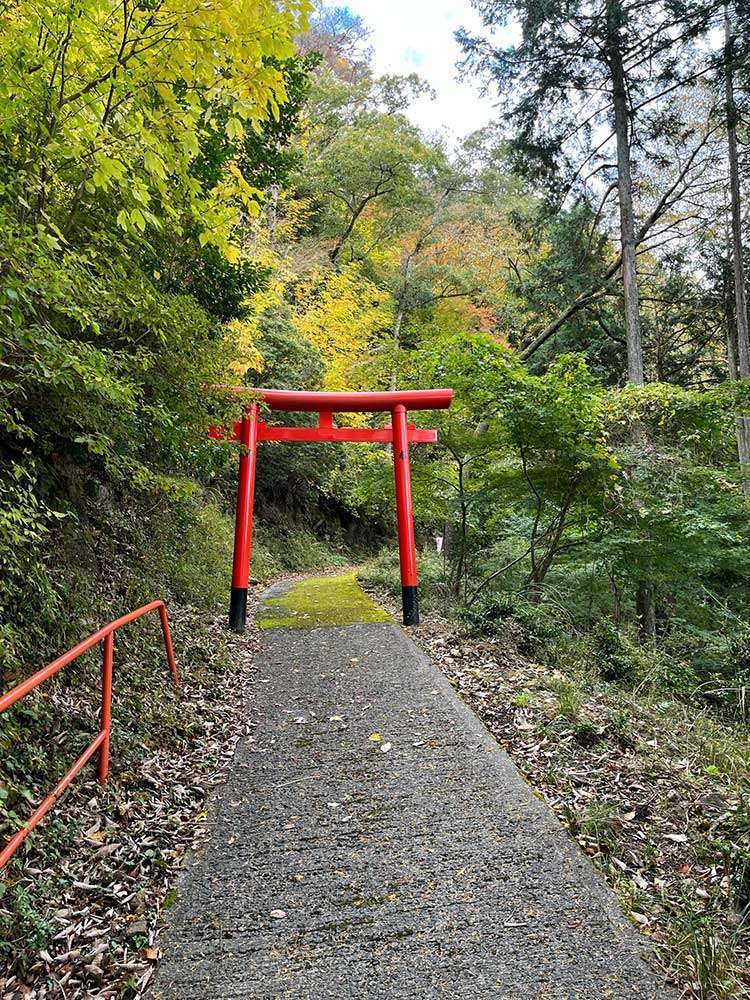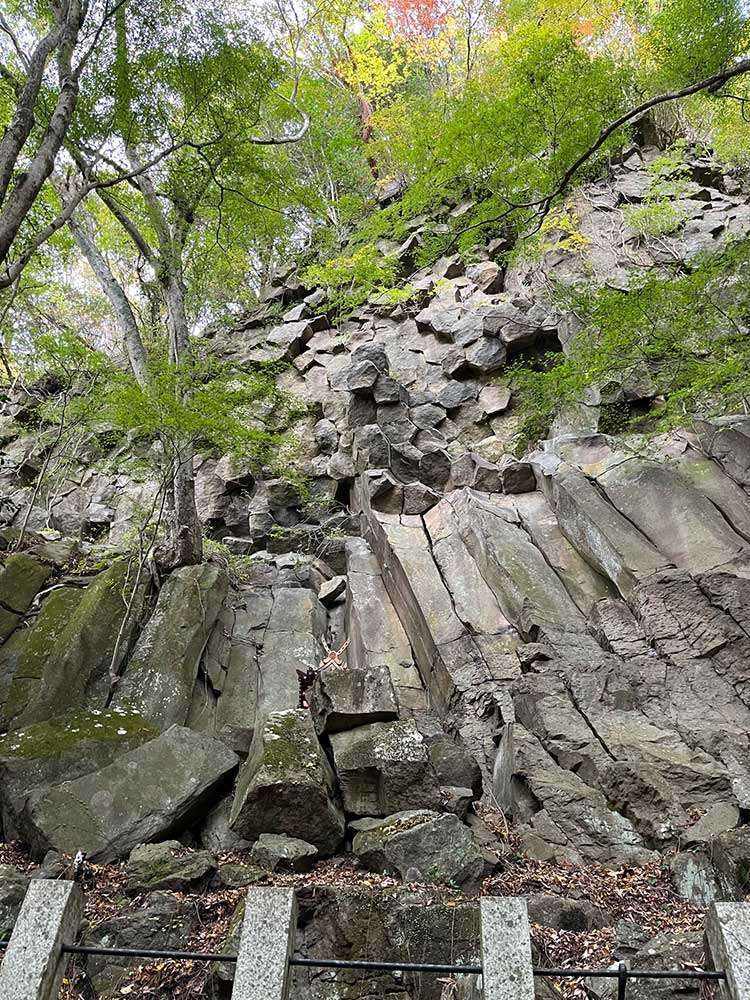 This is supernatural geological phenomenon similar to that found at Giant's Causeway in Ireland , but in this case, it is hidden and small, for your private viewing.
A few minutes further along…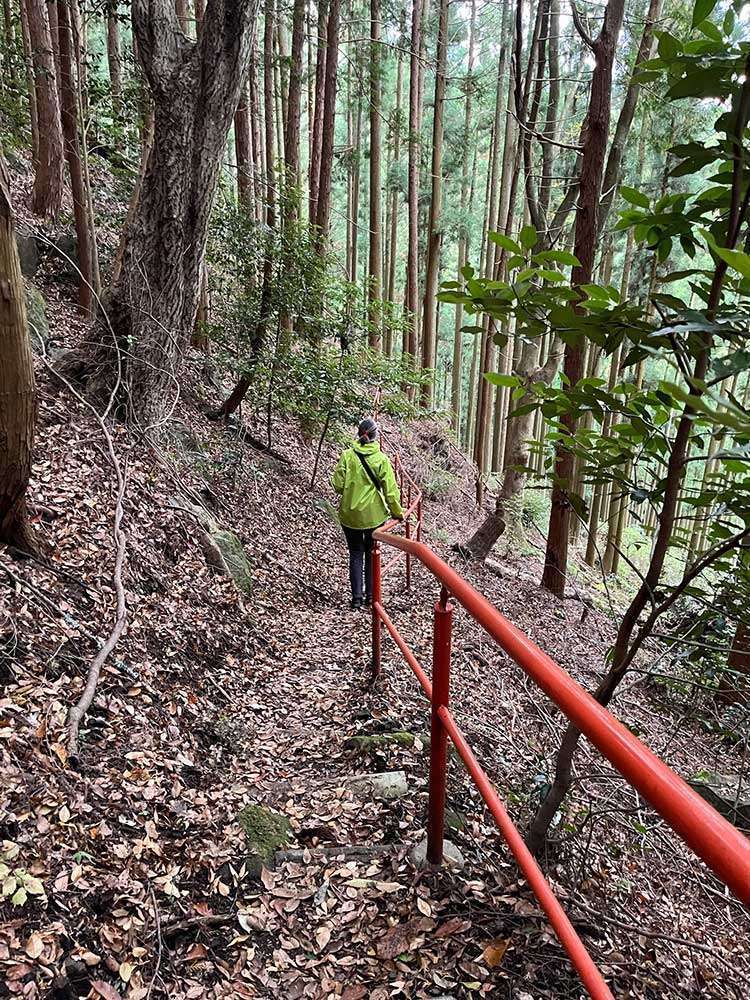 Another torii stands protecting a sacred wind tunnel, but it was not windy nor did it fit my image of a tunnel. Perhaps it depends on the day, whether you get a blast of air from it or not.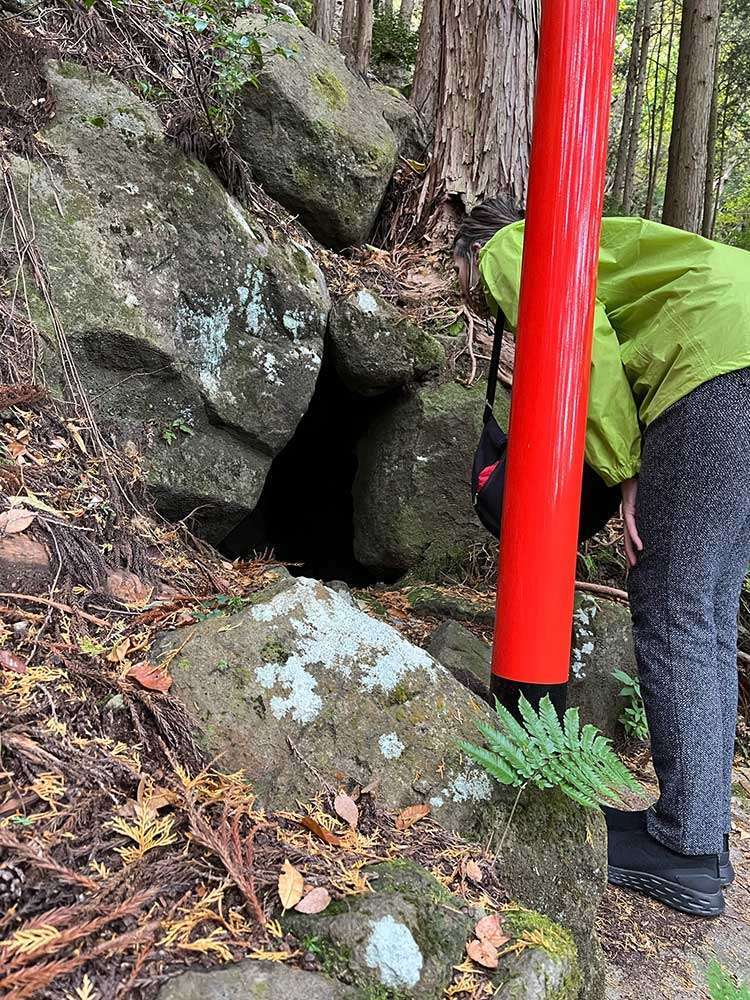 Late Lunch by the Lake
After that detour, we went a little off route and proceeded along riverside and cliff side lanes, past Lake Hinachi.
Traffic was sparse. The route offers sweeping viewpoints at pocket parks around the dam with benches and washrooms, and passes a Café Atre which specializes in galette and cake. How could we not stop there!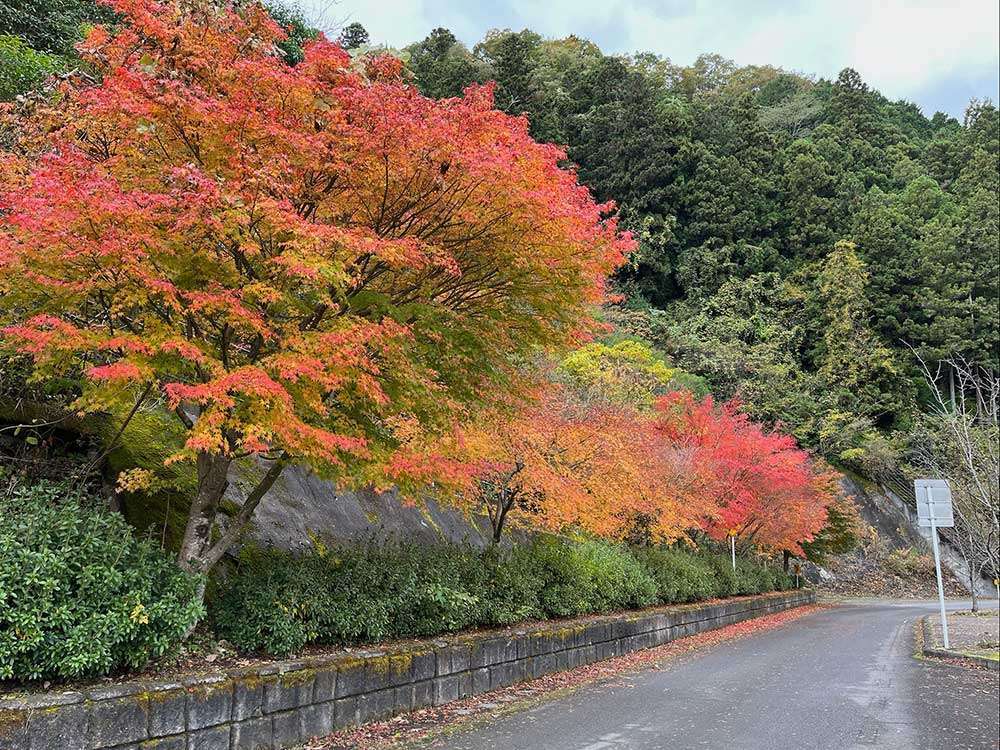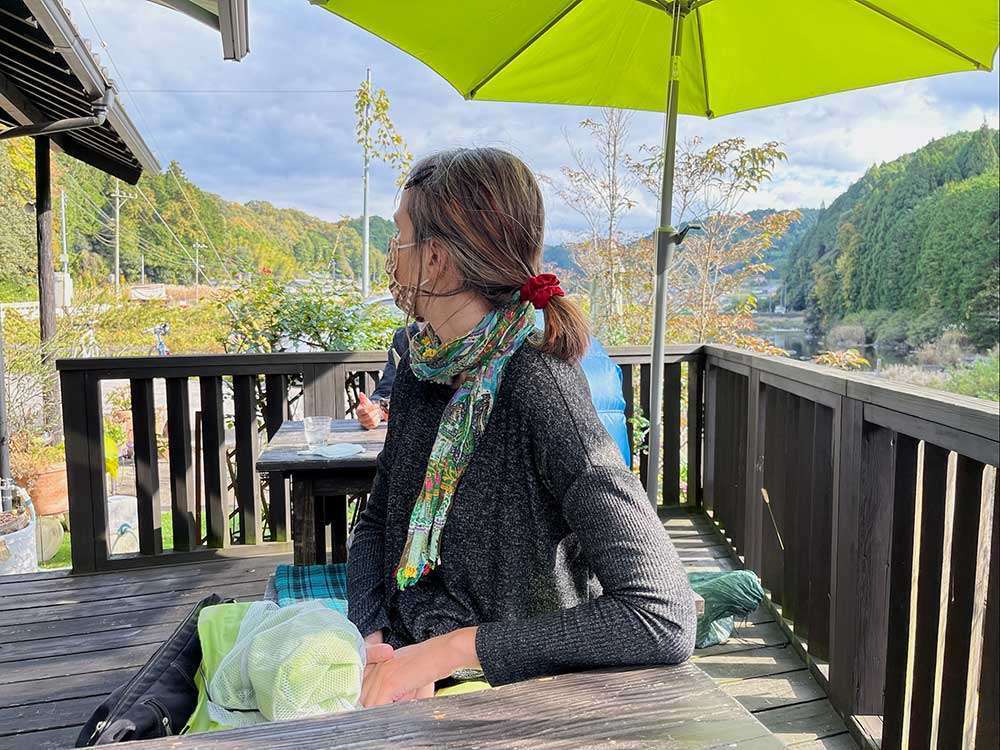 We enjoyed a beautiful view and a delicious lunch seated on a wood deck overlooking the river. I would like to rename this route "Piece of Cake," in reference of the cake selection at Café Atre, and amount of time you can cruise down hills.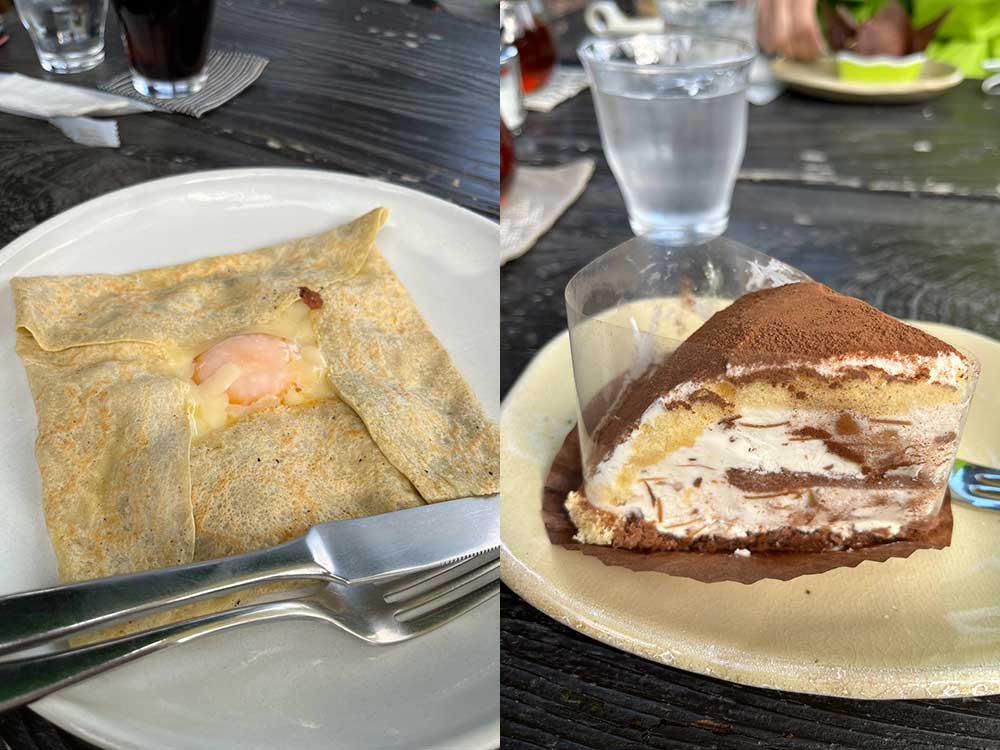 Actually, I stopped a lot to look at things like grass growing from a roof, wooden structures collapsing in on themselves, sunlight glinting off water, tidy little fields, wafting smoke from farmers burning weeds, tall grasses whispering, fishermen in little boats, steep red roofs, deep orange berries glowing in the sunlight.[1] What will you notice? Take it easy. Enjoy.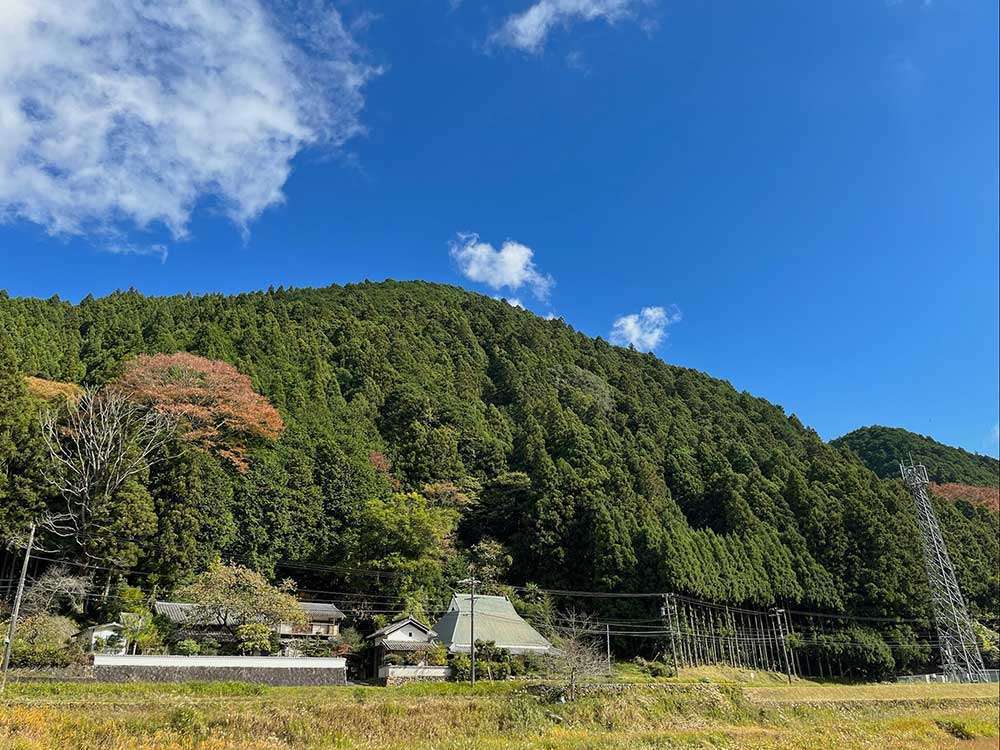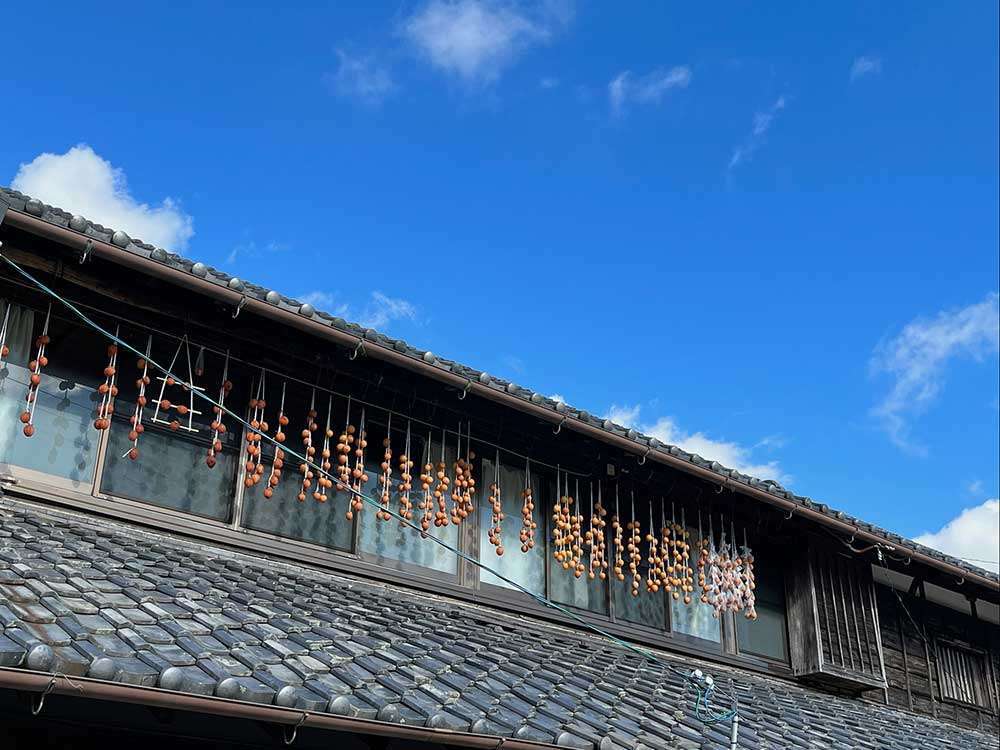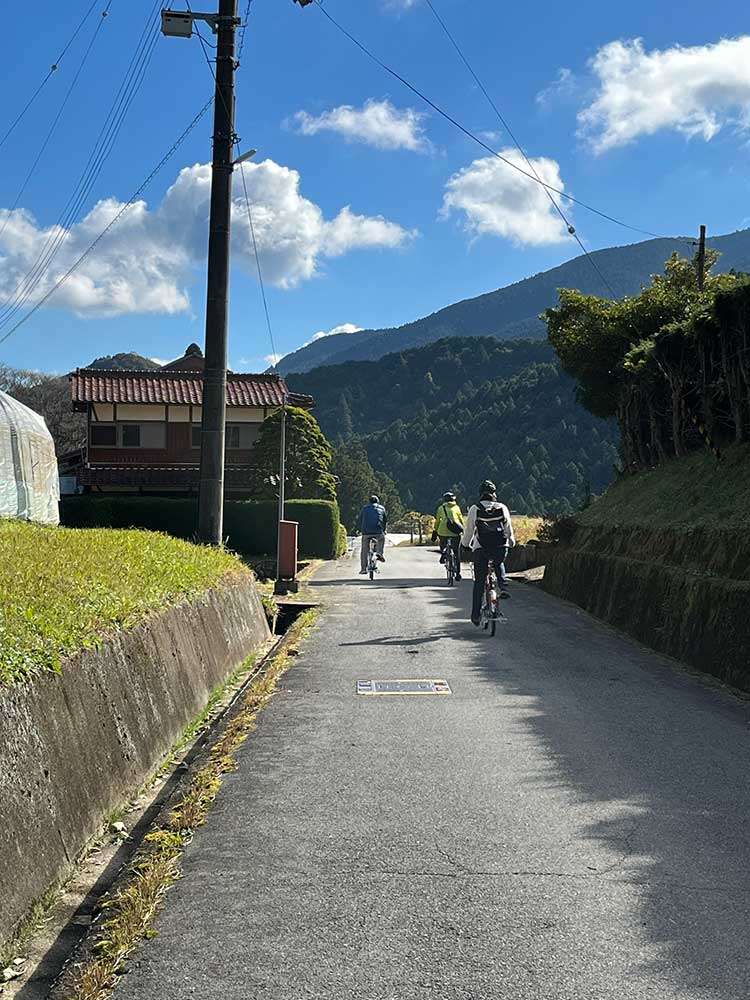 mamushi-gusa
, called this because the pattern on the bark of the stem resembles the pattern on the back of a local snake called the mamushi.
Other short distance routes
Contact us for further information including guided tours