Destined for Higashiyoshino, a Village of Clear Streams
Saturday, December 4th, 9 AM. It's a few degrees above freezing. I arrive at Nabari Station in Mie Prefecture by the Kintetsu Limited Express (limited stops between Ise Shima, Nara, Kyoto, Osaka and Nagoya). The folks from East Nara & Nabari Tourism greet me. We head to World Maple Park "Hirara", a 40-minute drive. From there, our adventure starts aboard touring-type rent-a-cycles. Electric-assist bicycles are also available.
What is "East Nara Nabari Yamanami Ride"? Learn here.
| | |
| --- | --- |
| Route | World Maple Park 'Hirara' (bike rental) = Location of Tenchugumi's Demise / Lucha Libro = Nishizen = Niukawakami Shrine = Hiyoshi no Sato Marché = World Maple Park 'Hirara'  Route map |
| Distance | 30.4 km (18.9 miles) |
| Elevation gain | 389 m |
| Date | December 4 |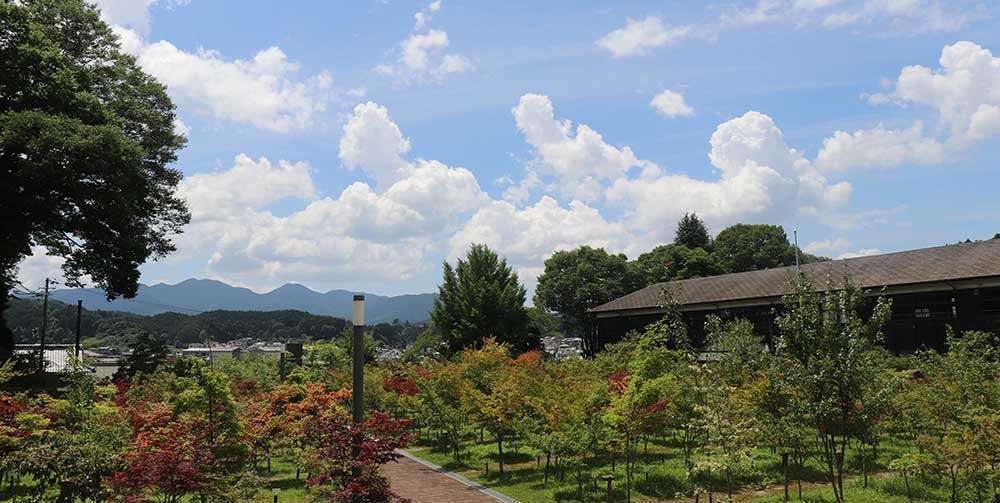 As a homesick Canadian, I am curious about this maple park. It turns out to be the loveliest public school I have ever seen in my 20 years in Japan––all wood. It was built the year my father was born, 1935.
The doors of World Maple Park "Hirara" open at 10. It's 9:50. I use the washroom then don my riding gear: windproof gloves, a head and face cover, a wool cardigan, a down jacket. I have rain pants in a bag, which saves me when there's a gentle rain, but is a bit too hot, and hampers my pedaling up hills. I unzip my jacket for steamy climbs, and zip up for the windy descents.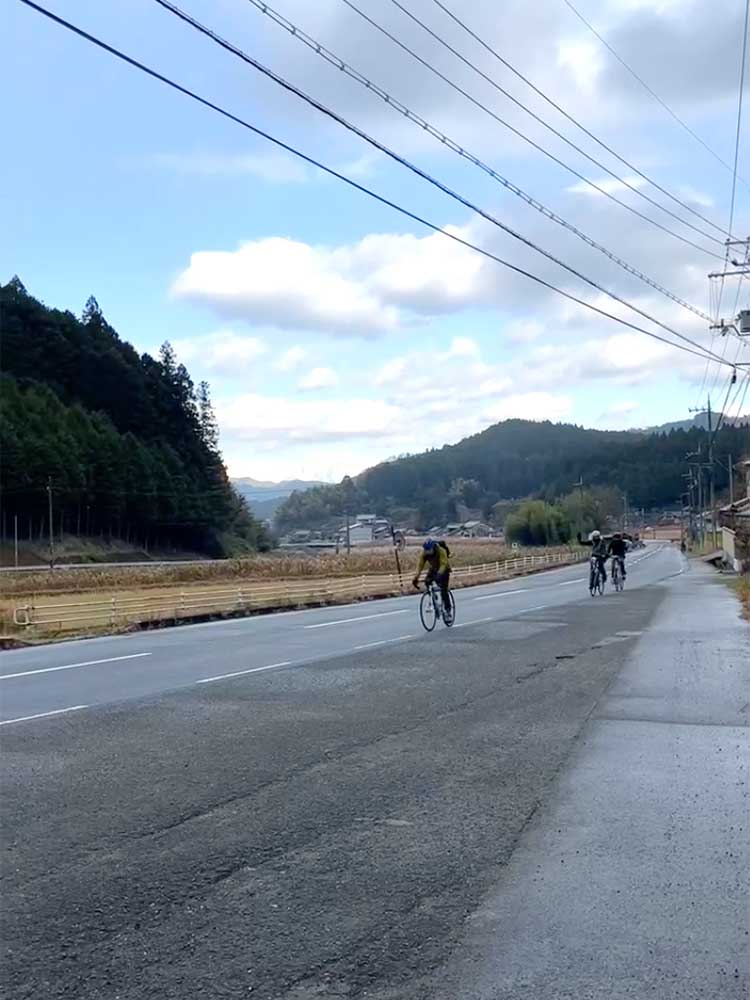 10 AM. We coast down gentle hills. I can hear birds chirps, my breath, the whirring of my tires against the pavement. Between the first stop and the last stop, no more than six cars pass. We pass farmhouses, shrines, red bridges, waterfalls, Jizo statues and quirky things like logs in a shed wrapped in plastic, but mostly we pass by forests, fields, and lots of moss.
"Café Alice," says a rustic sign outside what looks like an inviting gardener's cabin. Then I pass "AgriFarm " (blueberries), "Kinoko no Yakata [JP] " (mushrooms). The road feeds into a tunnel. My guide veers to the right, down a narrower road into a narrower valley. I catch glimpses of the river below, through cedar trees, likely planted around the time I was a child. We pass some attractive large wooden buildings along the riverside. "Inns and guesthouses," explains my ride-mate, Fujio-san.
A Little Library in a Valley
After about eight kilometers, we pull over at a footbridge, a well-timed break! We walk over the boulder-strewn river to the grave of a historical figure who fought to keep Japan closed some 150 years ago.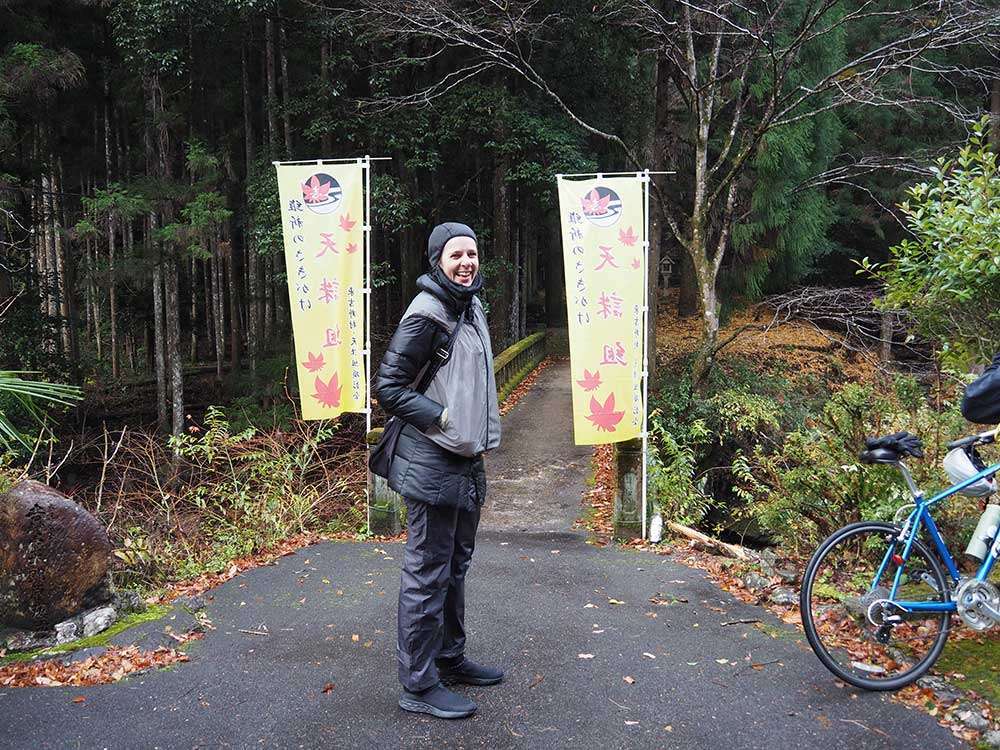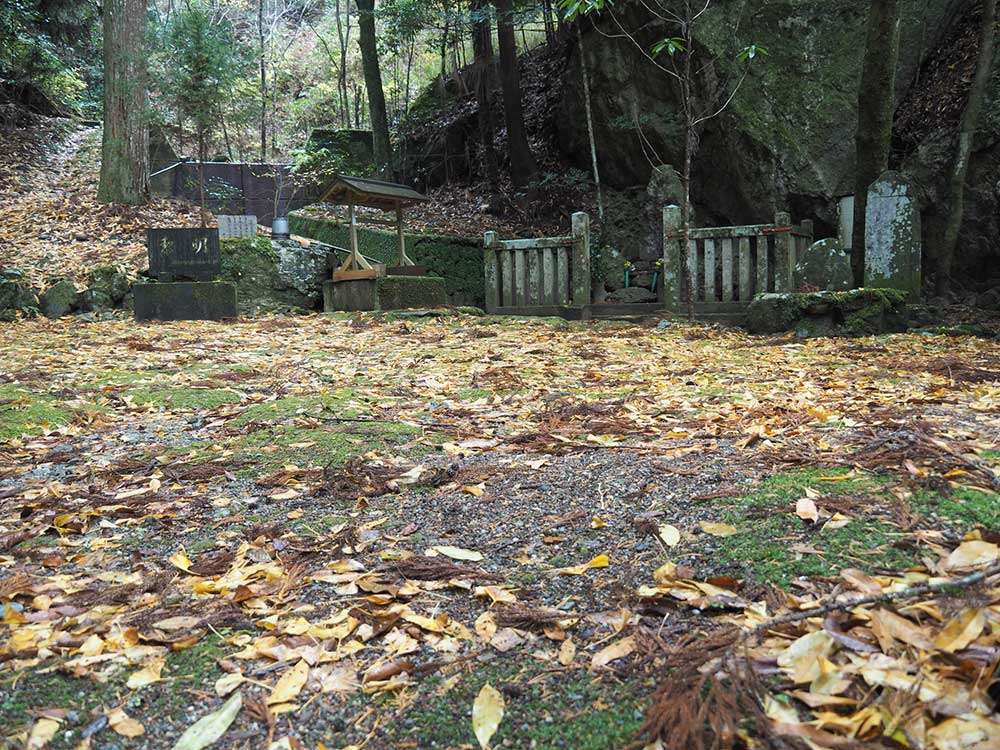 To the left, a path leads to a tiny little building that serves as the area's library. As with all things along this route, opening hours are irregular. The library is closed. I yearn to see inside.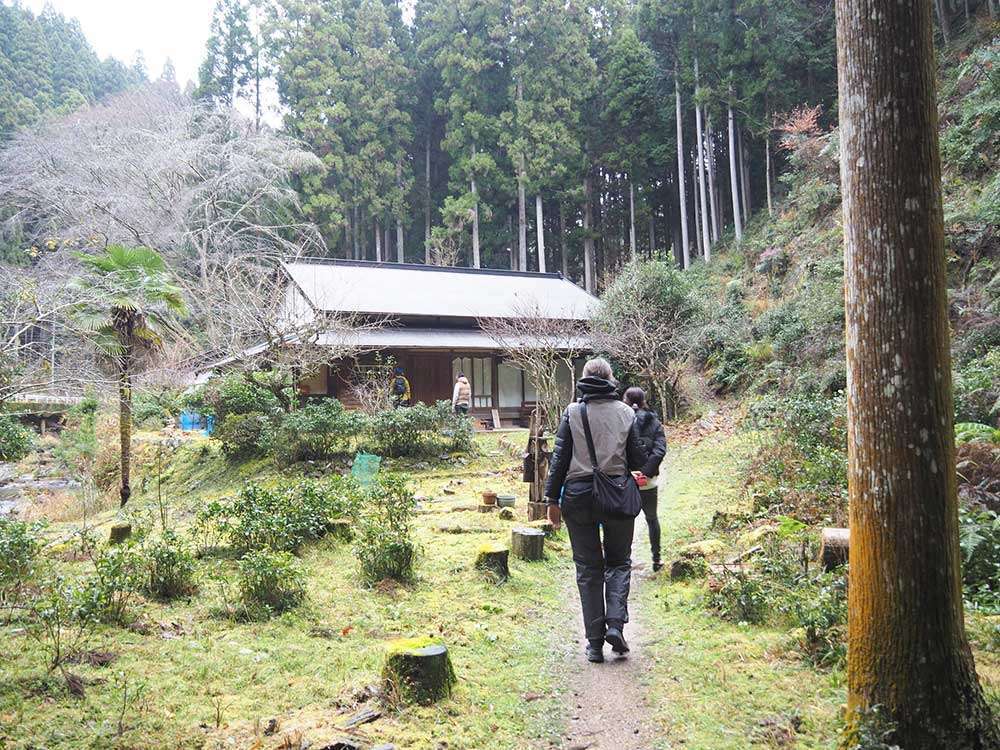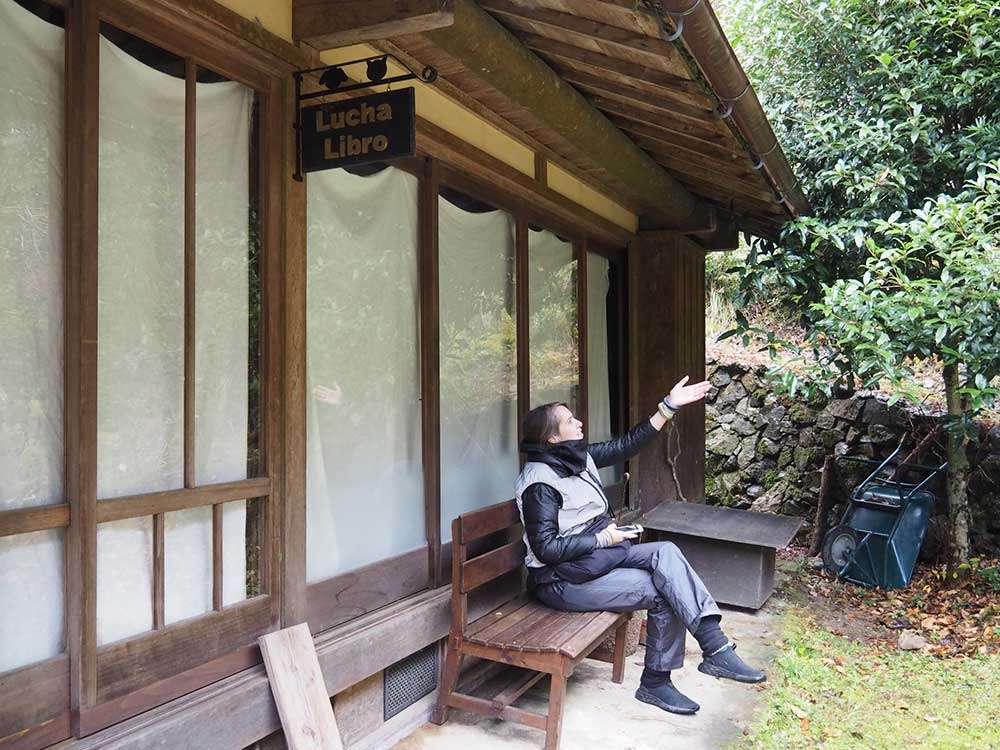 Another ride-mate, Inoue-san, grew up in this village and lives nearby. He tells me he took the bus to elementary school, but in Junior High, he rode his bicycle. I consider what it might be like to grow up here, and how that compares to my childhood in the mountains of British Columbia.
Fueled by Wagashi
A couple of kilometers further along, wooden storefronts, weathered and enduring, line the road for 500 meters or so. Calligraphy and a smart noren cloth hang outside the entrance of Nishizen confectionary shop, above the kind of sliding Japanese doors that rattle a little.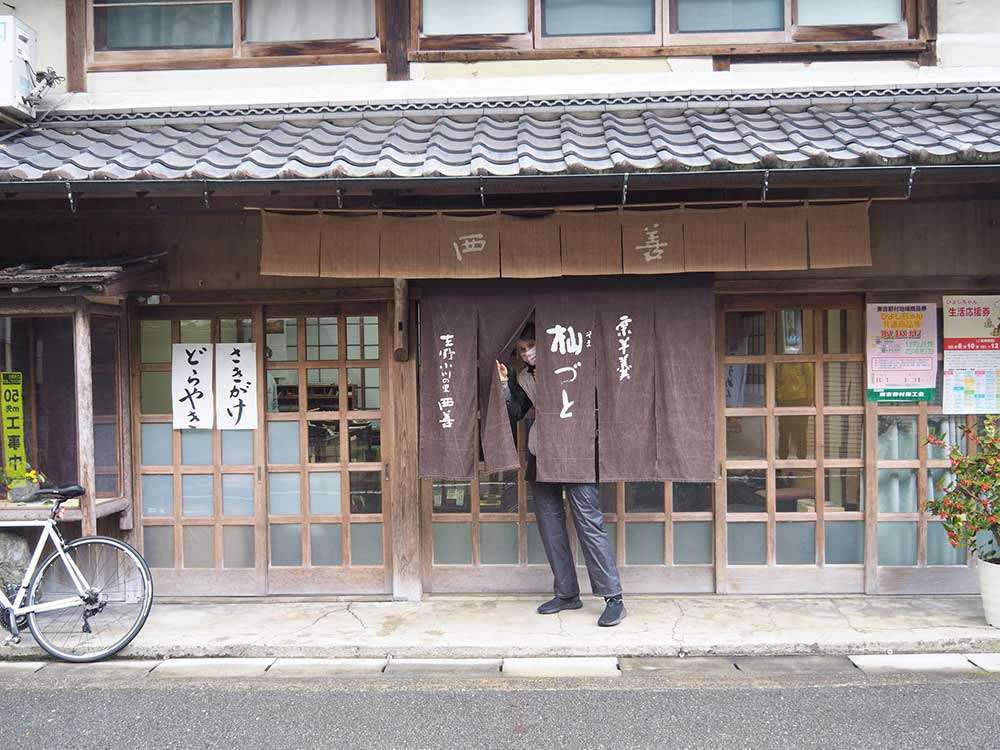 This confectionary shop dates back as far as the memorial site we just visited. The owner serves us green tea with red-bean cake. I select tiny, soft, melt-on-your tongue sugar nuggets as gifts for my Japanese teachers. Each delicate, beautifully-packaged box costs less than 500 yen. Japanese people buy sweets by the box to give to coworkers and relatives at special occasions.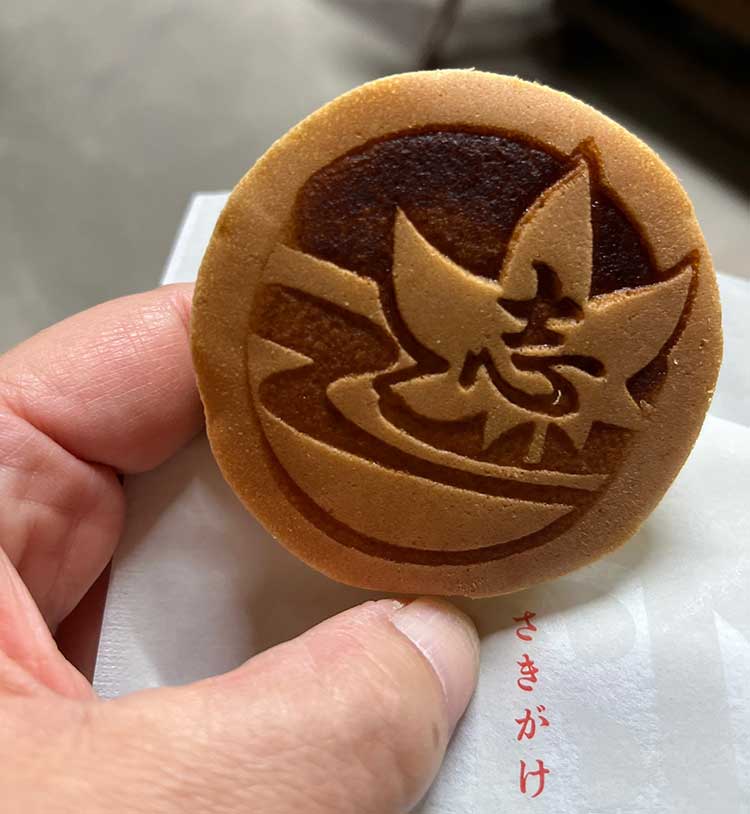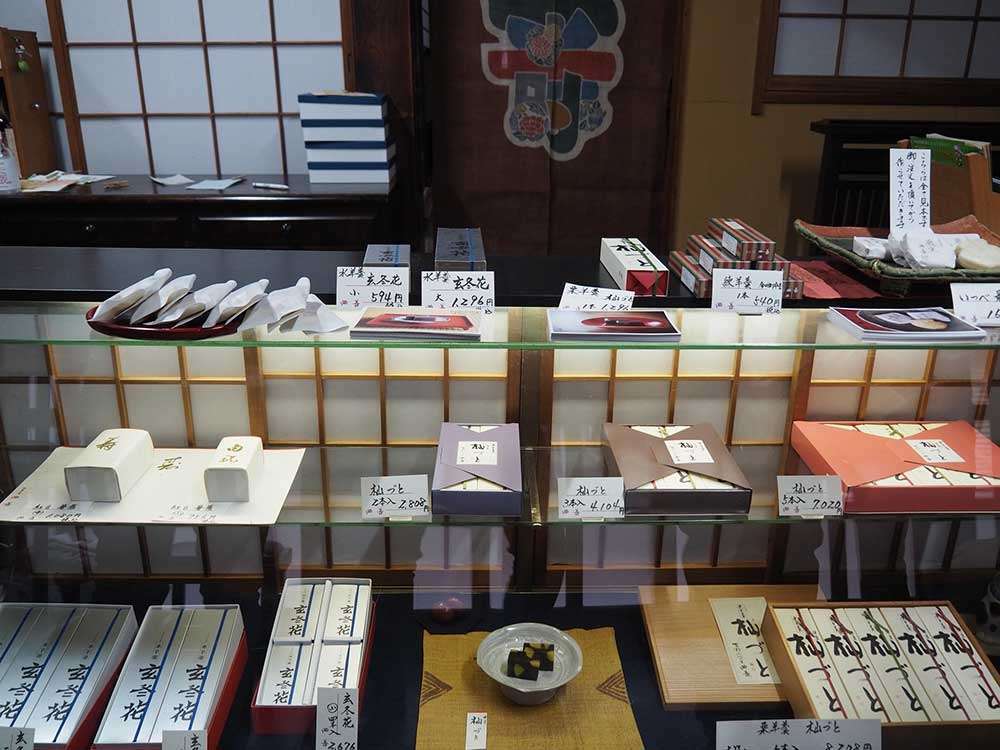 Fueled with bean-paste, we pedal faster past a steep-roofed farmhouse that appears to be the busiest place in the village.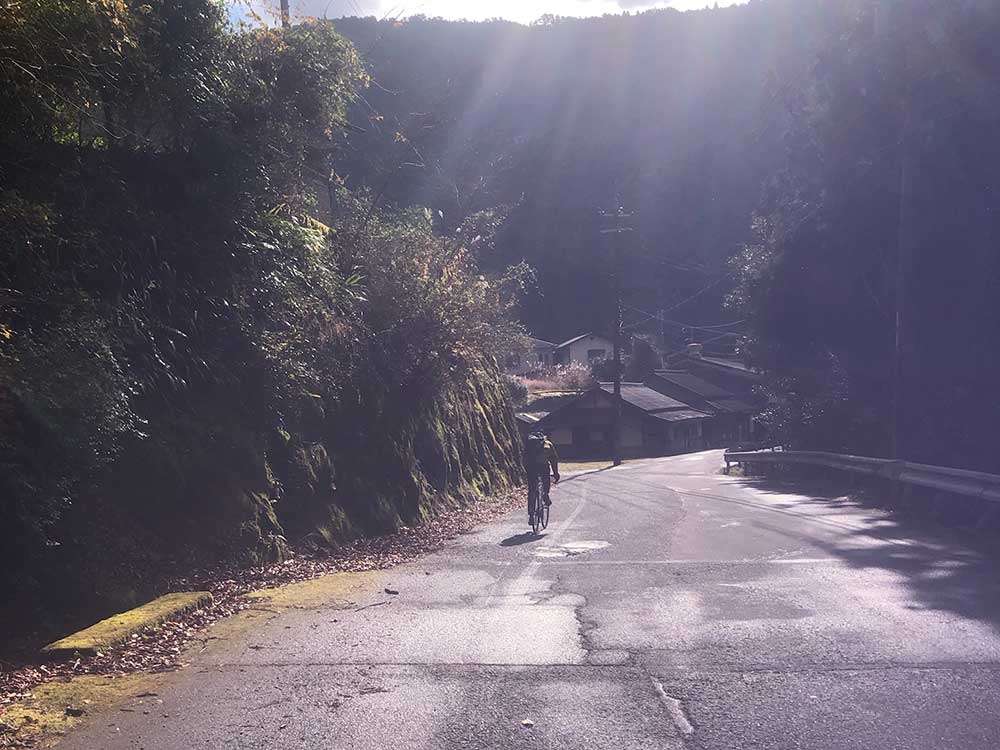 Later, I look it up: it's Mugiwara Bakery [JP] , housed in a 300 years old farmhouse. The owners grow their own yeast, use stone-milled flour from Japanese-grown wheat and aim for ingredients as local and organic as possible.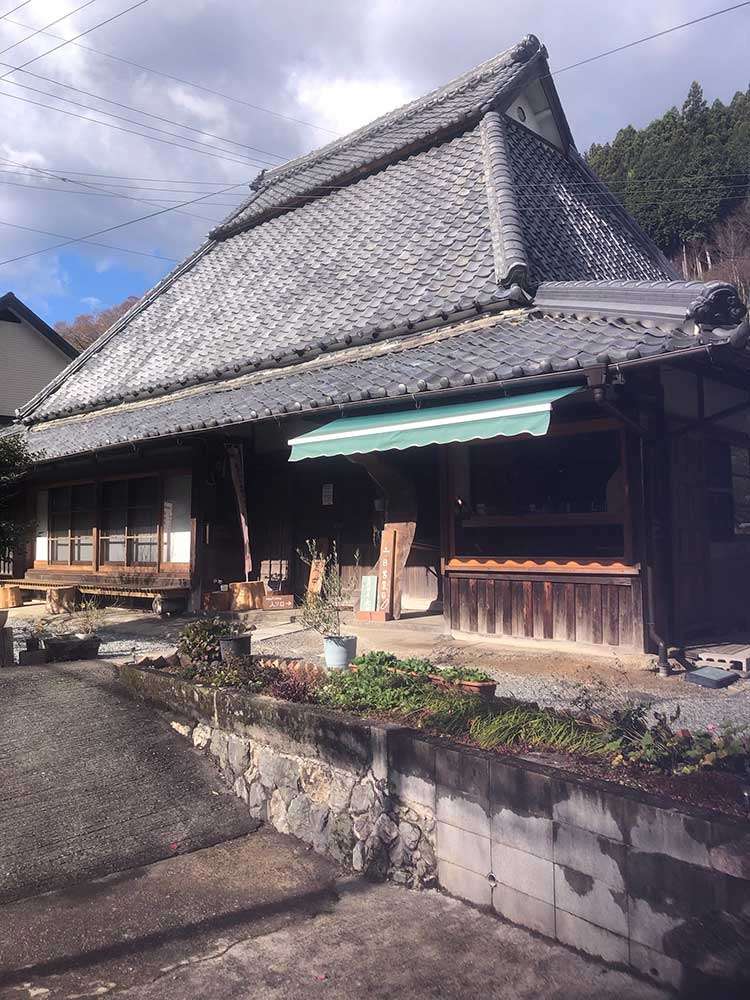 Akiko-san, who is taking pictures of this ride, tells me that she has been wanting to check out this bakery. Apparently, goods sell out by noon, and this bakery is only open on weekends. I leave a bit of my heart there, to come back to another day.
Crystal Streams
Next comes Niukawakami Shrine (Middle Shrine), built in 675 to enshrine the deity of water. In 1922, a local scholar identified this shrine as being one of the highest ranking shrines in all of Japan (one in a million) during the Heian era (794-1185).
I ask the priest at the kiosk that sells amulets about the paintings of a black horse and a white horse that flank the offering box, where visitors pray. He explains that in ancient Japan the highest-ranking governors and officials owned horses. Horses were one of the most valuable assets a person could own. A black horse would be presented to this deity when rain was needed, and a white horse to pray for the end of rain.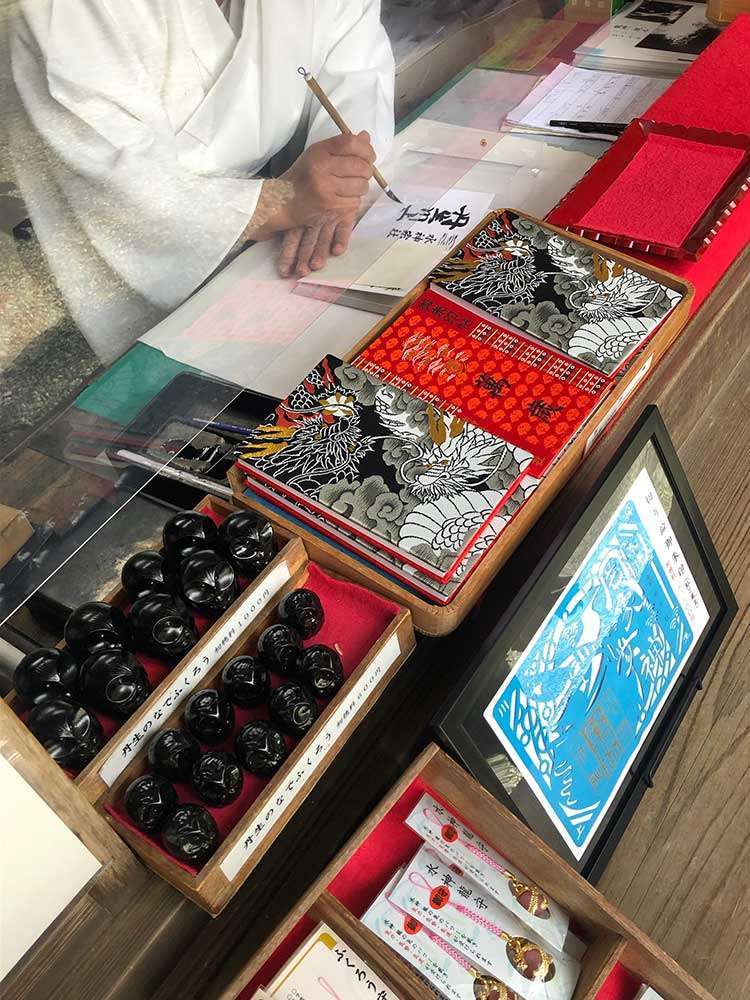 I grew up with horses and cannot fathom what a horse would eat in this woody valley. The priest explains that tall grass like at nearby Soni Highland grew here too, and the horses could eat that. To this day, you may see a horse at big festivals at this shrine. I ask why the flagpole is striped, black and white (see the photo above the last). Can you guess?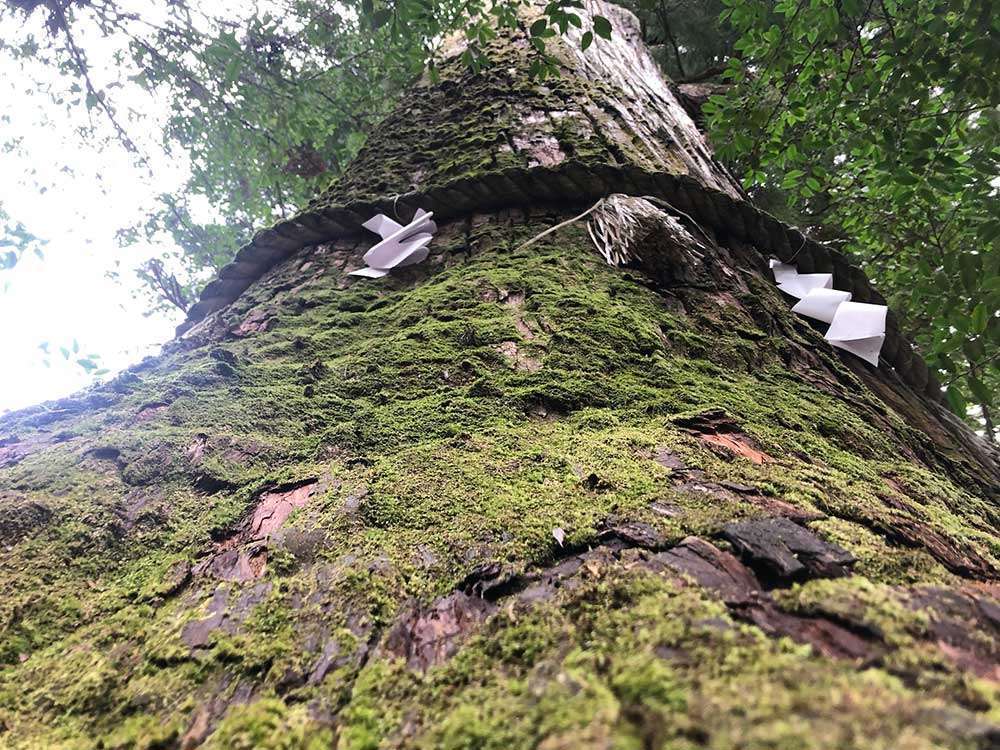 The towering, moss-covered cypress tree in front of the shrine in all likelihood was a sapling when Japan's first Emperor, Jinmu, prayed here. That tree has power. It has seen so much, heard so many prayers, and a sapling grows from its massive roots. It may be just me who feels something special about that tree.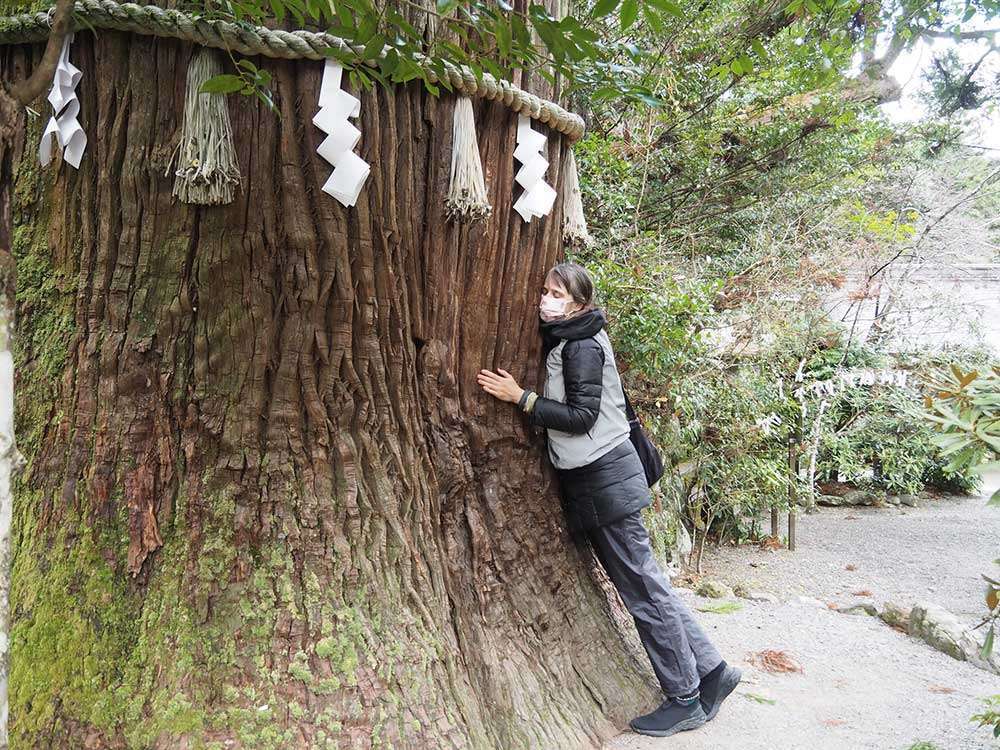 For you, it may be the water. This route follows the crystal clear waters of the Takami River. Between the shrine and the tree are two paper-cup dispensers and a well. You may sample sacred water from a sacred well. Refreshing! The shrine's website [JP] (even the most ancient shrine have websites!) mentions a special lantern, tea house, owl statue to touch for overcoming adversity and "dragon ball" you can purchase, entrust your wish to and receive a blessing from by tossing it into the waterfall.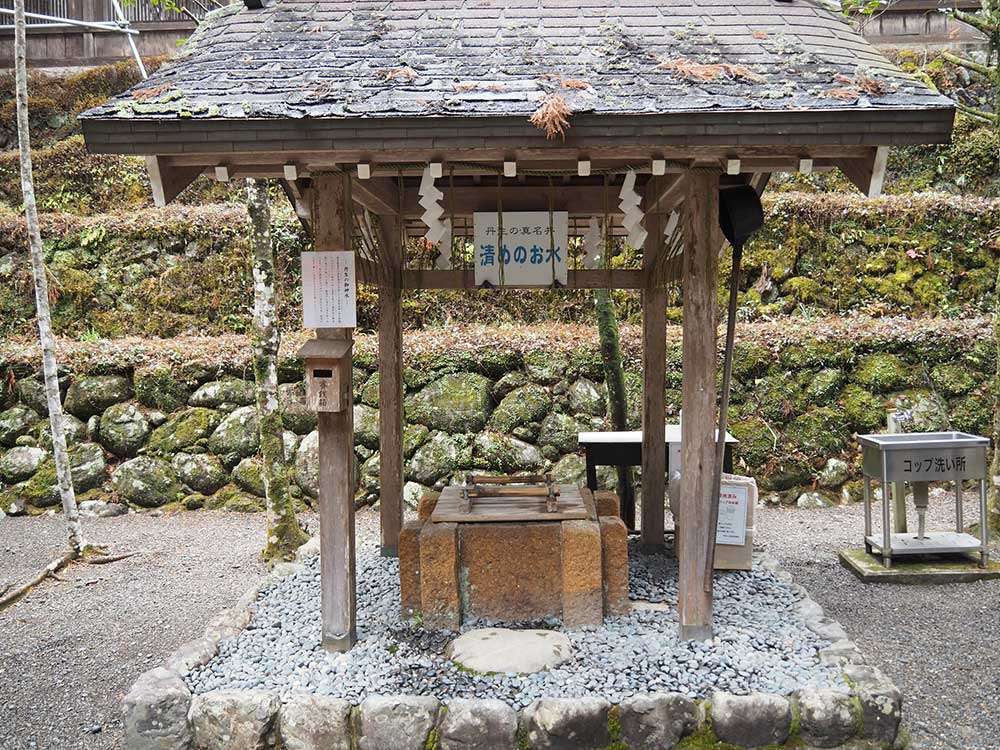 We approach the waterfall which flows into "the pool of dreams" where Jinmu, Japan's first Emperor, prayed. A red footbridge leads us to the base of the falls, Hingashi-no-taki.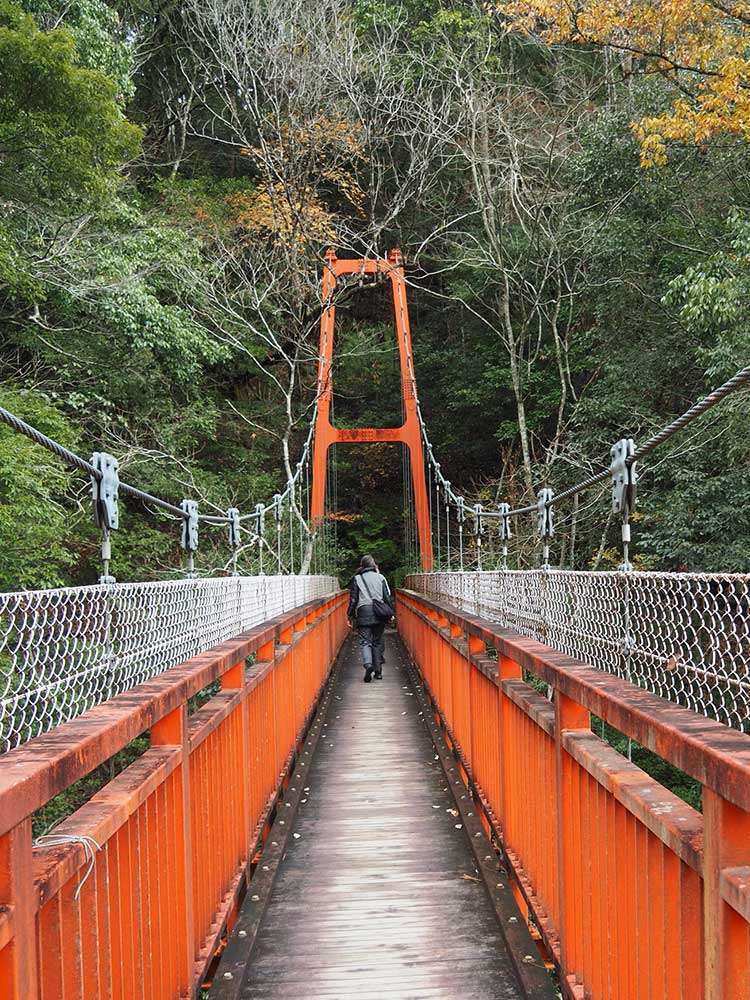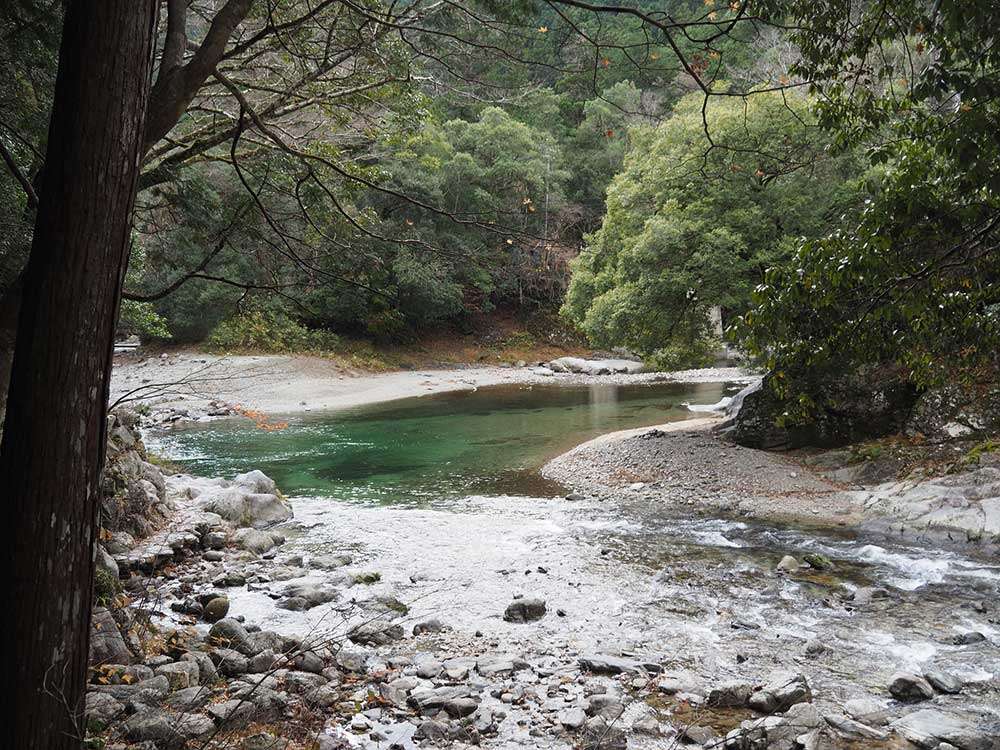 Then, we cross another bridge just above the falls.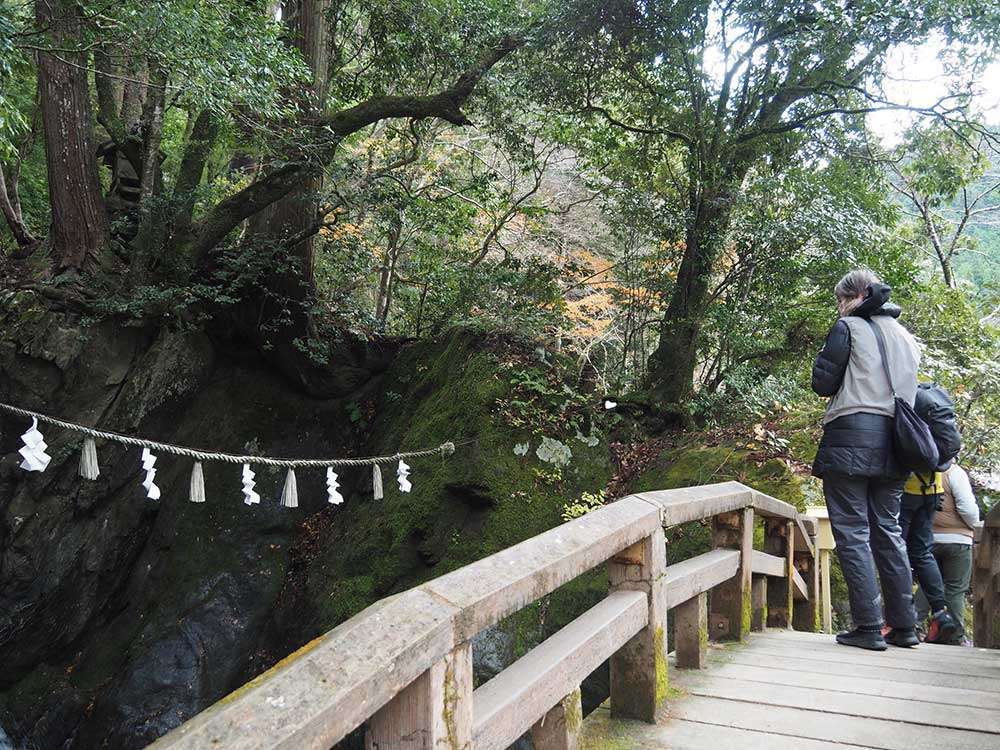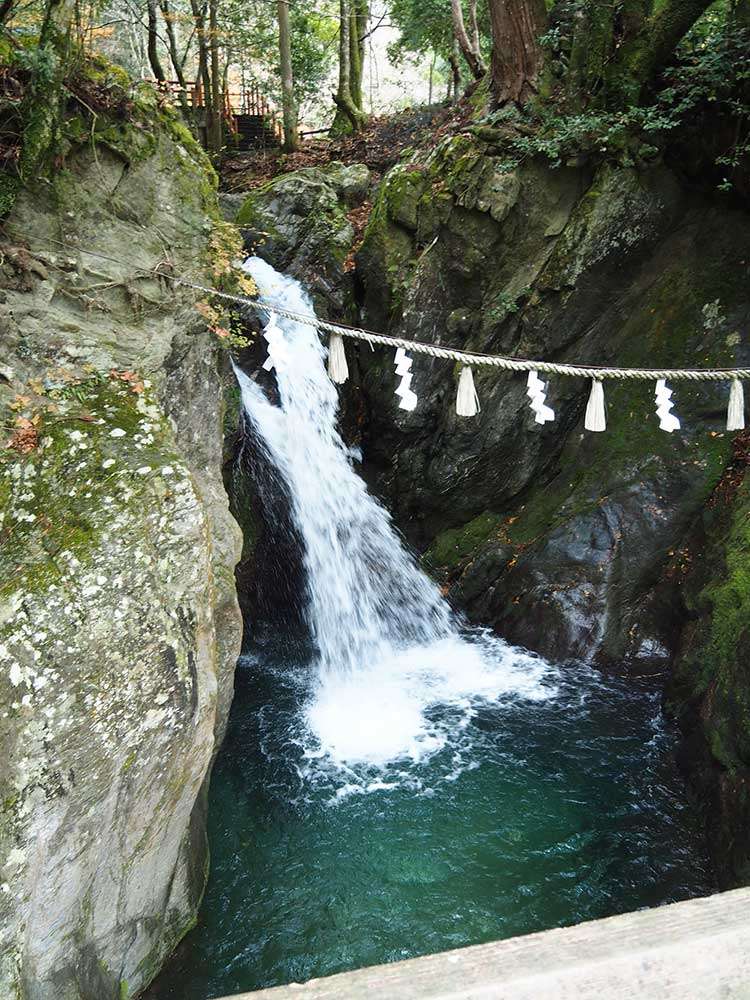 A group of elderly men are having a BBQ party on the rocks nearby. The scent of their food wafts over to us. I am getting hungry.
Back on our bicycles, the road zig-zags up, up and up some more. My legs spin as I make incremental progress using my easiest gear. Fujino-san points out something. Is that a village down there in the valley? Our lunch stop? No, he is pointing out the famous profile of Mount Takami, "Matterhorn of Kansai." I can't believe I didn't stop to see it! Next time!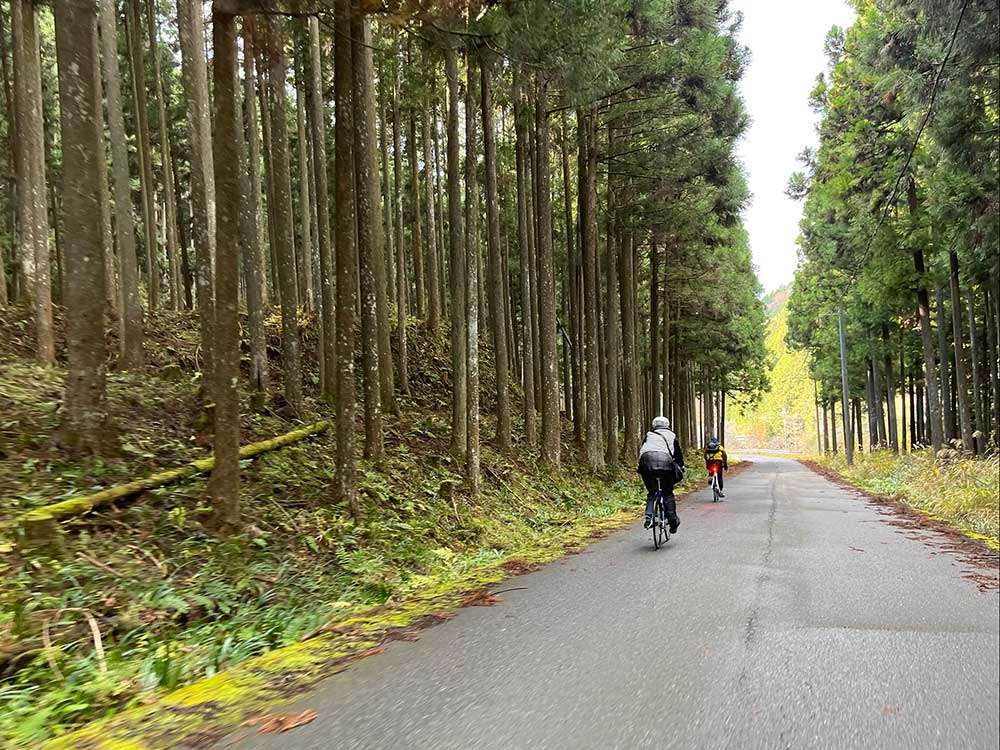 Lunch Time at a Little Road Stop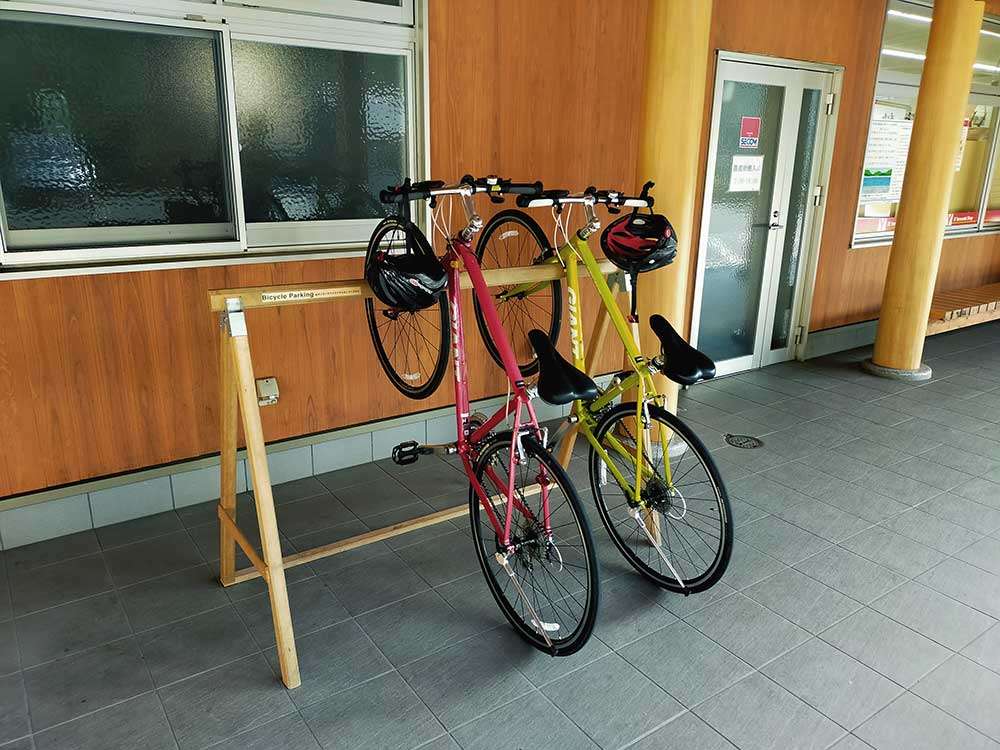 About 1 PM. We reach the summit and coast down, down, down to Hiyoshi no Sato Marché a road stop with public washrooms, bicycle racks, local products, vegetables, snacks, and a noodle-kitchen. This area is known for its somen noodles. The shop sells dried noodles in an array of pastel colors, as well as citrus peel seasonings.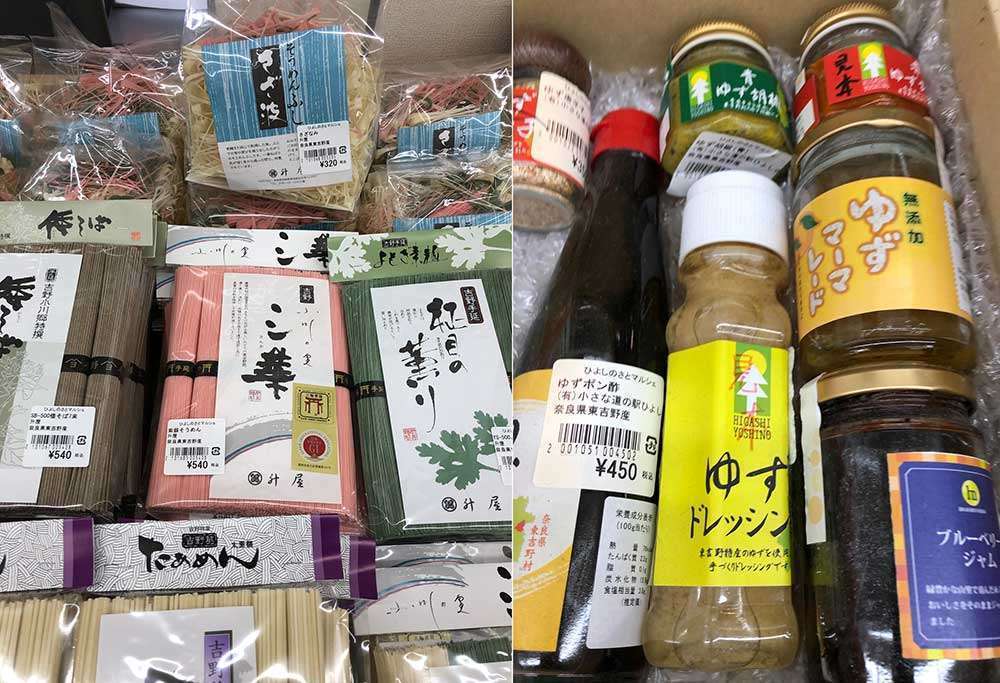 My noodles topped with half a boiled egg, a large tempura shrimp, and two sheets of fried tofu. This lunch hit the spot. Can you see the spot of spicy yuzu-kosho seasoning to the right? I added it, encouraged by all the Japanese folks around me. Yum!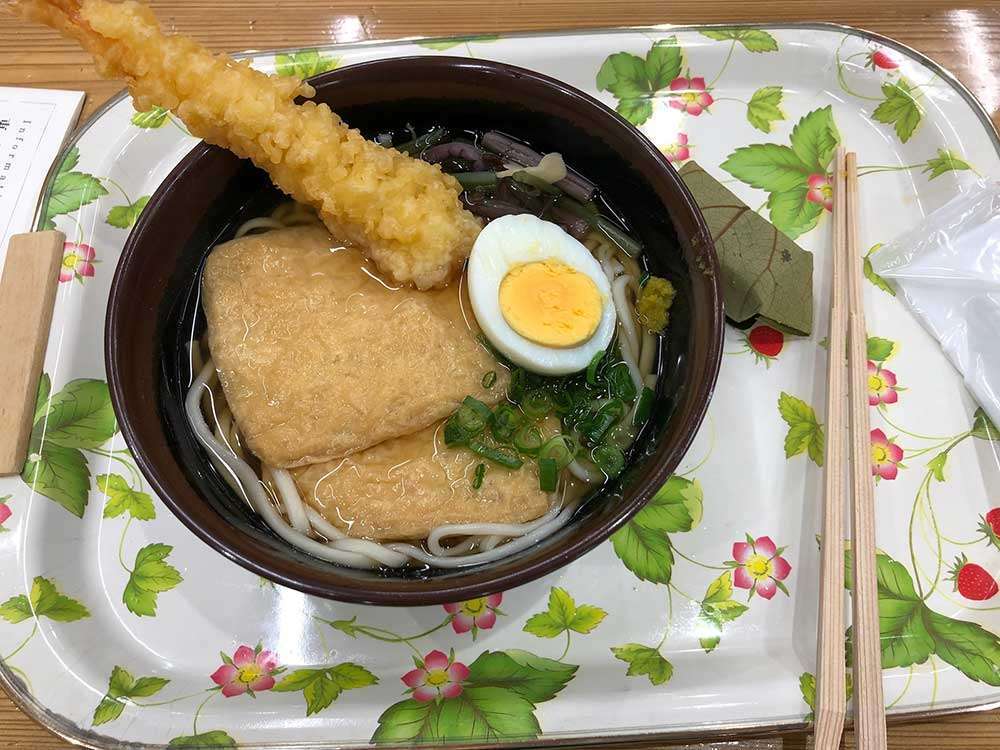 World Maple Park 'Hirara'
There is one more hill climb, then the route passes through a short tunnel and loops back to the road taken at the beginning of the ride. As with any journey, coming back feels faster than going. We pull into World Maple Park as the sun sets. It is almost 5 PM.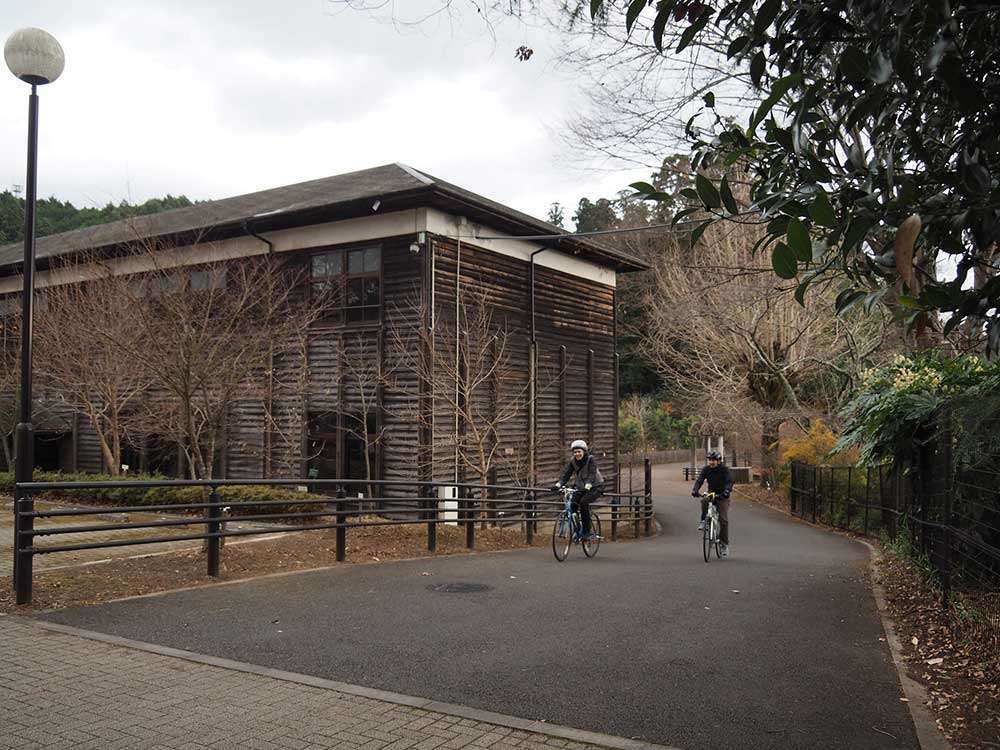 I order a plate of pancakes just before the café's kitchen closes. They are cute, small and thick, like flattened cupcakes and come with ample maple syrup. I do not leave a drop. I pour the remains into my teacup, and gulp it down in one shot. Yum.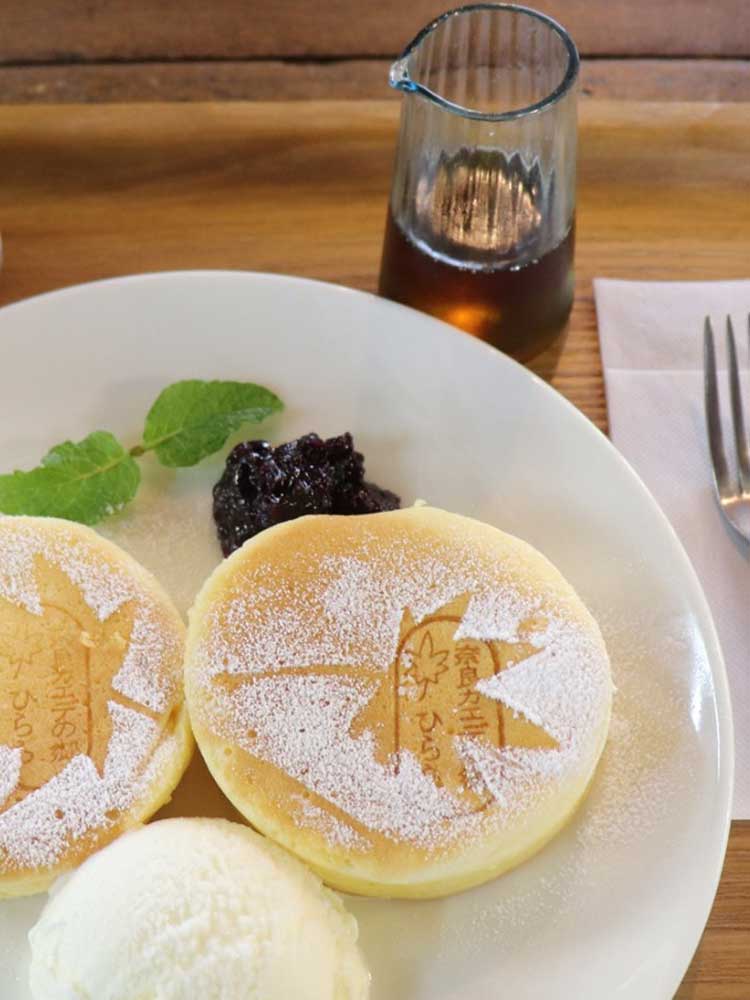 There is just time enough to walk around inside the old school. No matter when you were born, it is "natsukashi" (nostalgic). I stroll down the woody halls looking through glass panes at wooden desks and chairs, and imagine a simpler, pre-plastic, pre-electronics, pre-mass production era. I run my hand over the thick dark wood of the banisters in the stairwell, no doubt hand-carved from a massive tree.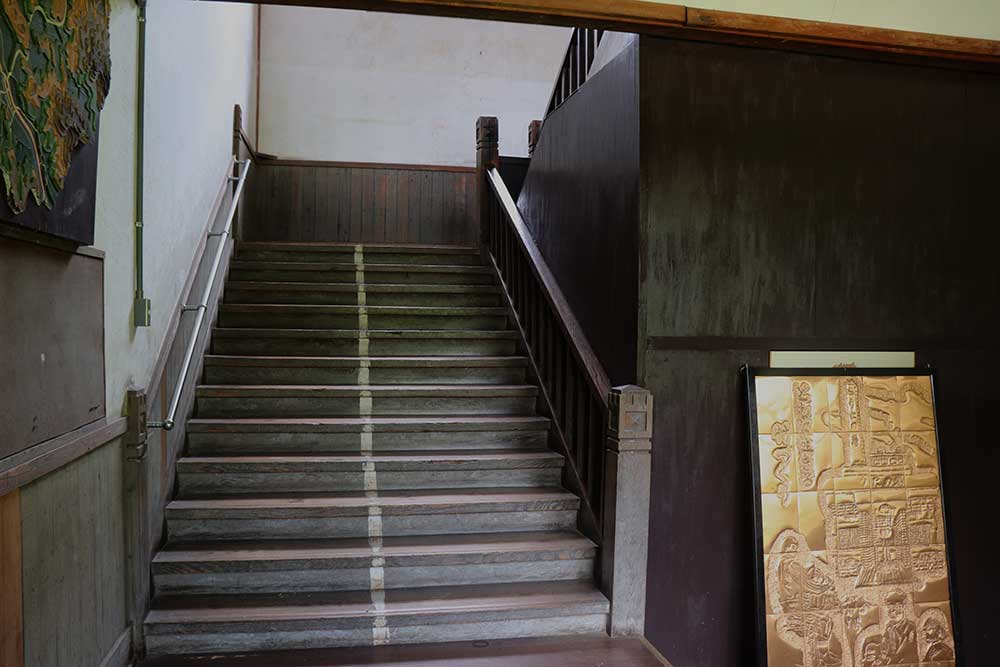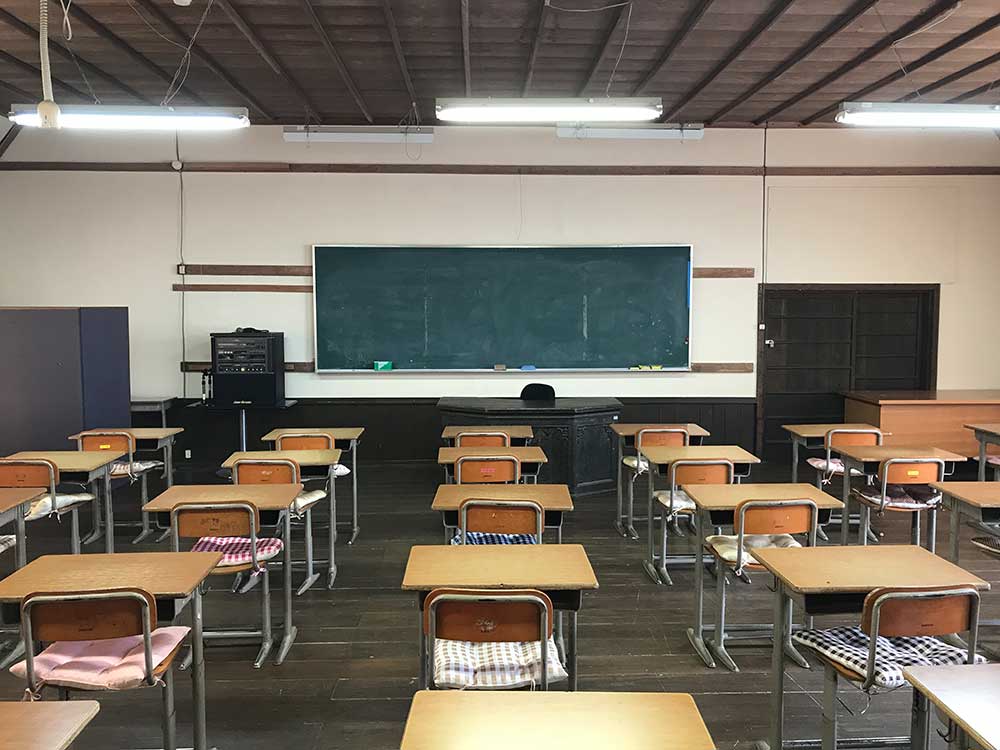 Back outside, on the former playing field, I stand in awe of the place, the vision, the community that collaborated to create World Maple Park "Hirara". A maple-tree collector in Osaka donated the trees in 2005. The leaves had long since blown away. The trees appear full of potential, younger and slimmer than I, planted close together, taking the place of the kids that once played here. I wonder what the field will look like in 50 or 100 years. What a fantastic way to breathe new life to this grand old school.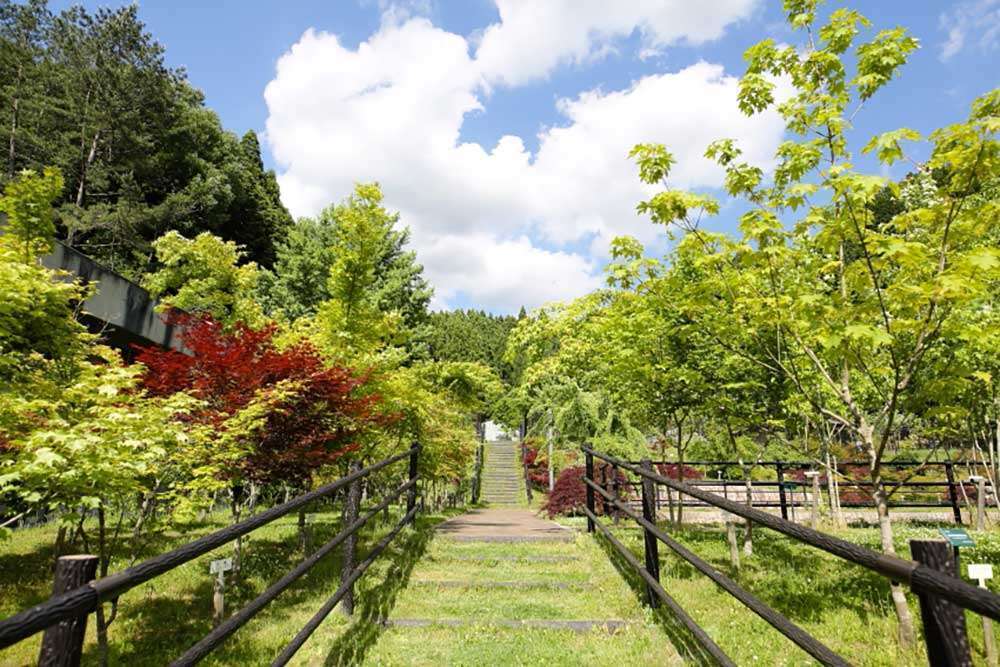 Other short distance routes
Contact us for further information including guided tours